Lying alongside Delaware's attractive Atlantic Ocean coastline is the hugely popular resort town of Rehoboth Beach. Often called the 'Nation's Summer Capital', the seaside city has an almost endless list of fun attractions and outdoor activities for holidaymakers to enjoy.
Besides its brilliant beach and bustling boardwalk, the tourist town has numerous amusement parks, waterparks and mini-golf courses to visit. Some great tax-free shopping are also part of the things to do in Rehoboth Beach with several interesting historic sights and pretty nature spots dotted up and down the coast.
Rehoboth Beach lies not too far from Washington DC and Virginia, Maryland and Pennsylvania too, so hordes of visitors pack its sands each year. With its lively yet laid back ambience and friendly and welcoming outlook, it is no wonder the vibrant town sees generations of families enjoy their summers along its sunny shores.
12. Jungle Jim's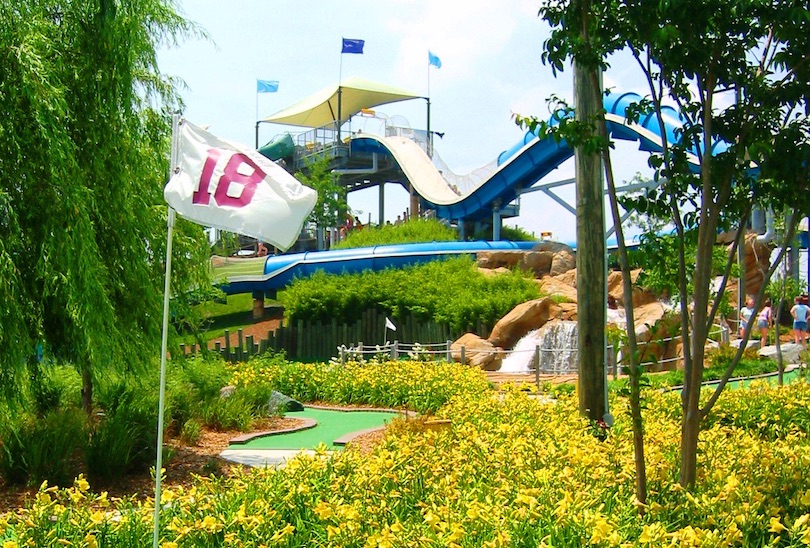 Mike Mahaffie / Flickr
The largest waterpark in Delaware, the Jungle Jim's lies just five minutes drive from the beach and boardwalk. A firm favorite with families, it also has mini-golf courses, batting cages and a go-kart track for young and old alike to enjoy.
Full of fun slides, the park's wildlife-themed pools and lazy river cover a huge area with sunbathing sections and snack stands. As well as its wild and wet wave pool and much calmer kiddie pool, there are also bumper boats and floats for guests to make use of.
Aside from swimming and splashing about, you can race about the tracks, play mini-golf and grab a bite to eat at the shady poolside cafe.
11. Rehoboth Beach Bandstand
If you want to listen to some live music, catch a show or watch a film, the now iconic Rehoboth Beach Bandstand is definitely the place to go. During the summer months, the historic open-air entertainment venue hosts countless free concerts, comedy acts and movie nights.
Located just off of the busy boardwalk, the beautiful old bandstand can be found at the end of Rehoboth Avenue. Erected in 1963, it is surrounded by dozens of brilliantly white benches with its atmospheric stage overlooking both the beach and Atlantic.
Thanks to all the superb tribute bands, orchestras and jazz groups that perform here, both locals and tourists flock to the bandstand to enjoy its varied schedule of events.
10. Indian River Life-Saving Station
Susan Smith / Flickr
Just a short drive south of the center, you can find the interesting and educational Indian River Life-Saving Station. Nestled within Delaware Seashore State Park, it has umpteen artifacts and exhibits for visitors to peruse on the history of shipwrecks and life-saving in the area.
First built in 1874, the quaint Queen Anne-style station has since been lovingly restored to its original appearance. Once part of a larger complex, the distinctive red and yellow building was used for nighttime beach patrols and daring rescues at sea.
Now preserved as a National Historic Landmark, its magnificent museum highlights the dangers of the Delaware coast by looking at dozens of shipwrecks that occurred up and down its shores. After exploring its exhibits, you can always sunbathe or stroll along the delightful beach outside.
9. Cape May-Lewes Ferry
A wonderful way to see a bit more of the city's scenic surroundings is to take a wind-swept ride on the Cape May-Lewes Ferry. From Lewes next to Cape Henlopen State Park, it takes you across the Delaware Bay to Cape May in neighboring New Jersey.
Originally intended to be an important transportation link in the area, the ferry crossing is now very popular with tourists too. This is because the big boats offer up some fabulous views from their decks of lighthouses, beaches and capes. Dolphins and seals can sometimes be spied swimming about.
In addition, the 85-minute crossing helps foot passengers, cars and buses travel quickly between the beaches and seaside cities of Delaware and the Jersey Shore.
8. Junction and Breakwater Trail
Mike Mahaffie / Flickr
Another excellent option if you're looking to explore the area and get some exercise is to walk, run or cycle along the Junction and Breakwater Trail. Stretching six miles in total, the pretty paved path winds its way from Rehoboth Beach right up to Lewes and the Cape Henlopen State Park.
As it mainly follows in the tracks of the former Pennsylvania Railroad, the trail passes through both built-up communities and pristine nature spots. Historical sights such as a World War II observation tower and charming century-old bridge also line the picture-perfect route.
Most people, however, come to bask in the breathtaking landscapes, scenery and nature with wetlands and woods lying next to the trail's fertile farms and flower-filled fields.
7. Tanger Outlets
Along the Coastal Highway heading out of the city you can find the enormous Tanger Outlets; one of the biggest and best places to shop in the state. Its complex has over a hundred brand-name shops and designer stores to explore with restaurants and cafes also dotted about.
Since opening in the nineties, the massive mall has attracted locals and out-of-towners alike with its whopping number of stores and super tax-free savings. As well as GAP and Levi's, it contains Nike, Old Navy and The North Face. Many cosmetic stores and home decor shops are also on offer.
After having shopped 'til you drop, you can always stop for a tasty meal or quick drink at Applebee's or Chipotle.
6. Cape Henlopen State Park
At the entrance of Delaware Bay is yet another idyllic spot for visitors to enjoy: the incredible Cape Henlopen State Park. Home to unspoiled pine forests, wetlands and dunes, its dramatic coastline and divine beaches lie just to the east of Lewes.
Actually, one of the first public lands to be set aside in the States, its scenic confines and wonderful wildlife have been protected since 1682. Besides ambling about, you can birdwatch or camp around the cape. While its Seaside Nature Center houses engaging exhibits on its fauna and flora.
One of its most popular trails is the gorgeous Gordons Pond due to its awe-inspiring views over the dunes, wetlands and Atlantic. Sunbathing and swimming are also favorite pastimes of locals, as is surf-fishing.
5. Penny Lane Mall
Located right in the heart of downtown is Penny Lane; a charming and colorful European-inspired, open-air mall. Lined by cozy cafes and enticing little boutiques, the shopping street is fun to explore. Everything from art and accessories to clothes, souvenirs and sunglasses are on sale here.
Despite its smallish size, you can easily spend quite a lot of time browsing the quirky, cute shops and pretty storefronts. The whole street has a lovely look and feel to it. There are also several local cafes and small restaurants scattered about.
As it is conveniently placed just a stone's throw from the beach, boardwalk and Rehoboth Avenue, it is almost impossible to visit the seaside city without stopping by the mall.
4. Delaware Seashore State Park
Occupying a long, narrow stretch of sand between the Rehoboth and Indian River bays and the Atlantic, is Delaware Seashore State Park. Sure to delight nature lovers and outdoor aficionados alike, its beautiful beaches, dunes and shallows lie just south of the city center.
As it is bordered on all sides by sparkling waters, the park has long attracted swimmers and surfers to its shores. Others instead prefer to lounge on the beach and sunbathe or go clamming and crabbing amidst the shallows. Sailing and windsurfing can also be enjoyed in the protected waters of its bays.
One of the state's most popular and picturesque parks, it was first founded in 1965 with generations having summered at its serene and secluded campgrounds.
3. Funland
Around the same time, the family-friendly Funland opened up along the bustling Rehoboth Beach Boardwalk. Packed with thrilling rides, exciting carnival games and an arcade, it really is a must for families with young ones in tow.
Impressively enough, five of the original rides are still running with generations having experienced the same excitement and emotions on its drop tower and Ferris wheel. On top of the gigantic swings and Pirate Ship, there are bumper cars, carousels and a haunted house. Plenty of claw machines and carnival games are also dotted about.
Aside from all the affordable rides and attractions, it is Funland's lively yet laid back atmosphere and sense of nostalgia that attracts people back year after year.
2. Boardwalk
As well as offering outstanding views over the beach and ocean, Rehoboth Beach Boardwalk is lined by innumerable attractions and eateries. This makes the pleasant seaside promenade a treat to stroll along as there is always something new to see and do.
Built in 1873, the wooden boardwalk stretches just over a mile in length next to the city's sun-kissed sands. Besides Funland and Penny Lane Mall, it has concerts and performances at the bandstand to enjoy alongside several arcades, ice cream stalls and mini-golf courses.
In addition, some fabulous seafood restaurants and souvenir shops border the lively boardwalk. Countless cafes and bars are also tucked away amidst all the hotels and holiday homes.
1. Enjoy the Beach
As the city often calls itself the 'Nation's Summer Capital', no trip to town can be complete without spending at least some time at its brilliant beach. After having taken in the sights, sounds and smells of its boardwalk, reclining on the welcoming warm sands is the perfect way to relax and unwind.
While it can get crowded in the summer months, the broad beach is always sparkling clean with its waters usually being pretty calm. This makes it ideal for both sunbathing and swimming, while some superb surfing and deep sea fishing can be had offshore.
Once you've topped up your tan and basked in the beach's fine views, you can always grab a bite to eat or drink at one of the numerous eateries that line the boardwalk.
Map of Things to Do in Rehoboth Beach, DE