Looking for a relaxing escape from the hustle and bustle of everyday life? Then get your flip-flops on and enjoy the summer sun on some of the nicest beaches around! Delaware is going to charm your socks off.
There are plenty of beach destinations in Delaware, and they are known for being family-friendly and easygoing. There are lots of outdoor activities you can do, but relaxation will be the focus of your beach holiday in Delaware.
If you're looking for crazy beach parties and a booze up, the best beaches in Delaware probably won't be for you. However, if wholesome and restorative is what you're looking for then pack your bags and get ready for a great time!
10. Fenwick Island State Park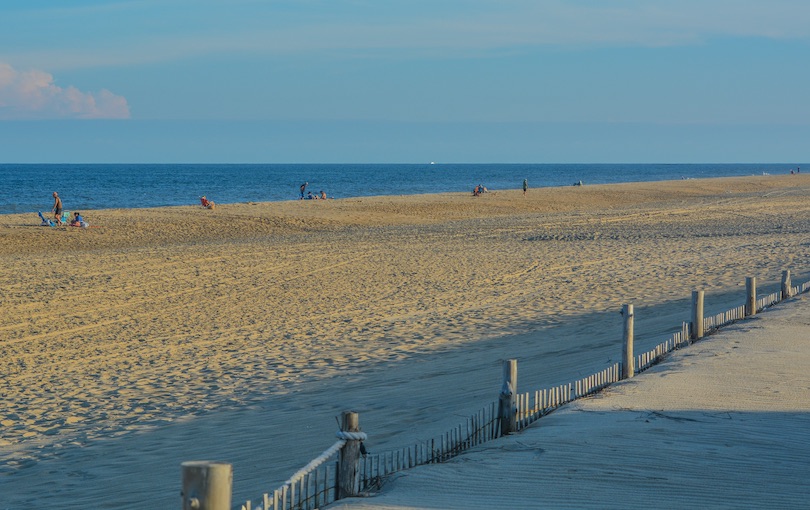 This incredible state park offers its visitors three miles worth of stunning beaches and access to the Little Assawoman Bay. It is also home to a World War II-era fire control tower that once played a part in protecting the Delaware coastline from invaders.
There's a handy bathhouse with showers, changing rooms, and a snack bar! Another winning trait of the beaches at Fenwick Island State Park is that they are wheelchair accessible, so everyone can enjoy the beach – as it should be!
Whilst you're here you can kayak or paddleboard in Assawoman Bay, or go on a big adventure and sail out into the Atlantic. If you had something a little more chill in mind, spend the day sunbathing on a sandy beach instead.
9. Woodland Beach
Woodland Beach is in the town of Smyrna. It's a little more wild and untamed than other beaches, and surrounded by tall grasses. In the summer it's warm and inviting, and in winter it occasionally gets snow!
The stark contrast of the sand, sea, and snow is stunning – whatever season you visit you'll be delighted by this little beach.
Take a leisurely stroll along the sand in your bare feet and spend a slow day collecting seashells to take back home. Let the views of the Atlantic take your breath away, and catch some holiday shots to show off to everyone when you get back!
8. Broadkill Beach
Broadkill Beach is along Delaware Bay. One peculiar thing about it is that it became the first Horseshoe Crab Sanctuary in Delaware in 2000. Careful where you step, you don't want to get your toes pinched!
The beach borders the Prime Hook National Wildlife Refuge, so there's lots of nature and wildlife right by. It's more remote and secluded than other Delaware beaches, so if a solitary walk along the beach is what you're wanting then you'll love it here.
You can go swimming, kayaking, stand up paddleboarding, surfing, and fishing on the white sand beach. Although it's a town beach, it's a very small town that has the basics (like tackle and ice cream) but not much more!
7. Slaughter Beach
The little town of Slaughter Beach has its best attraction in its name! As well as tourists, the beach is also a hotspot for some fantastic wildlife. It attracts shorebirds and Terrapins that come here to nest. The hatchlings emerge around April and May.
Another famous inhabitant is the Horseshoe Crab, and you might even catch a glimpse of a Monarch butterfly as it flutters by. If you love biology and marine wildlife, this is a great choice.
But even if you aren't a wildlife enthusiast, the long stretch of uninterrupted sandy beach is enough to lure anyone in for a day of sunbathing or a gentle stroll along the beach at sunset.
6. Dewey Beach
If you're looking for a mix of relaxing beach days and more lively nights, then you're going to love the beaches at Dewey Beach. The town is nestled in-between the ocean and a broad bay, so there are plenty of places to go swimming and enjoy stunning views of the water.
The beaches are within walking distance of all the best restaurants, quaint shops, and a cold beer! What more could you want? A simple day on the beach and a plate of fresh seafood before hitting the bars sounds like a perfect holiday.
There are a few different beaches around town to choose from; you could spend a few hours strolling the long stretch of sandy white beachfront, then go and enjoy the sunset hue by Rehoboth Bay.
5. Lewes Beach
Going on holiday with the whole family and looking for somewhere that everyone will enjoy? Lewes Beach is great for those who want to skip the surfing and are looking for a splash and paddle instead.
Because the beach is in a bay, it's hidden away from the sometimes rough Atlantic waves. This makes it the perfect spot for families with young kids.
Situated at the edge of Delaware Bay, Lewes Beach has great views of the ocean in the distance and offers a charming little town as a backdrop to your enchanting beach holiday. If you want to do something adventurous you can rent some kayaks or paddleboards.
4. Delaware Seashore State Park
Fancy some adventure? Look no further! There are options for everyone at Delaware Seashore State Park. Come and surf at the North Inlet Day Area beach, fish off a more rocky area of the coast, or kayak around Rehoboth Bay from Savages Ditch.
There's more than just beaches to explore at Delaware Seashore State Park. Take a walk to the top of the Indian River Inlet Bridge and soak up the breathtaking views of the Atlantic Ocean; this is a great spot to catch a sunset.
If you fancy mixing some education in with your beach adventure, head to the Life-Saving Station and find out about the brave surfmen that patrolled the coast over 100 years ago keeping everyone safe.
3. Bethany Beach
Bring your sun lounger and sit back in Bethany Beach! The town itself has a relaxed feel and lots of great shops you can wander around. If you're looking for an easy escape to the beach then Bethany Beach is the perfect solution.
There are often free events going on at the town's beach too – like music concerts and outdoor movies. Bored of the beach? Walk along the boardwalk and do some window shopping for a while, then grab a beer.
Bethany Beach is great for families, friends, and couples. It has a great mix of activities for everyone, and you can't go wrong with a sunny day on a sandy beach!
2. Rehoboth Beach
This super family friendly beach destination in Delaware has lots of entertainment in store, aside from slow days on the beach. Spend the morning catching a tan, building sandcastles, and enjoying the cold sea breeze.
The blue waters are inviting, so don't miss out on a cold splash in the Atlantic. When you're done with the beach, take kids to Funland and watch them squeal in delight on the fair rides. An ice cream will be the perfect end to a fun and sunny day.
It's a popular spot, so it can get crowded in summer. But luckily if the beach is looking too full for your liking you can walk the long boardwalk and make the most of the great dining options and shops along the way.
1. Cape Henlopen State Park
Cape Henlopen State Park was made public back in 1682 by William Penn, who opened up the six miles of shoreline you can now freely investigate. There are lots of things to do, like fishing from the jetty or catching some waves in the surf and fishing area.
The park is a popular fishing spot, and even has a fishing pier that is open all year round for 24 hours a day. Never tried night fishing before? Why not give it a go! There are also lots of walking and cycling trails around the park with pretty wildflowers along the way. Conveniently, there is a bathhouse with all the facilities you'll need.
Map of Beaches in Delaware