Lying just off the coast of mainland Malaysia, the gorgeous island of Langkawi is a breathtakingly beautiful place to visit, and it fully deserves its nickname 'the Jewel of Kedah.' Located in the Andaman Sea, Langkawi is the largest and most popular island to visit in an archipelago of the same name that is made up of a dazzling ninety-nine islands.
The only inhabited island in the archipelago besides Tuba, Rebak, and Dayang Bunting, there are plenty of tourist attractions in Langkawi, with lots of idyllic beaches, sparkling waterfalls, and wonderfully wild nature parks for you to explore.
Although Kuah, its main town, only has a population of some 30,000 people, there is a surprising amount for visitors to see and do, and its lovely laidback atmosphere will make you feel at home in no time at all. Due to the astounding nature on show, Langkawi is a top-rated beach destination, and many people use it as a base for exploring the rest of the nearby islands.
In this post, we'll cover:
15. Temurun Waterfall
Nestled away amongst the rainforest just a short distance away from Datai Bay, Temurun is the tallest waterfall on the island and definitely warrants a visit if you have the chance. Plunging some 200 meters, Temurun Waterfall's white waters course down the rock face to the pool below, which is hemmed in on three sides by rocky cliffs that rear up above it.
As well as basking in the stunning scenery, visitors can take a refreshing dip in the pool or enjoy a picnic on its banks. With lots of colorful butterflies flitting by, and playful macaques to be spotted in the surrounding trees, Temurun Waterfall is a delightful place to spend a couple of hours.
14. Underwater World Langkawi
Boasting some 500 different types of fish and marine species, Underwater World Langkawi is the place to go if you want to learn more about the island and archipelago's many underwater marvels. The largest aquarium in the country has an almost endless array of tanks for you to wander past; these are home to everything from seahorses and stingrays to sharks and turtles.
As each tank in the aquarium has an informative display for you to read, at the end of the day, you'll come away having learned everything there is to know about coral reefs, reptiles, and tropical rainforest ecosystems.
The main attraction is its amazing underwater tunnel, which takes you through a gigantic tank where a myriad of colorful fish and sea creatures flit by you on all sides.
Located at Pantai Cenang, Underwater World Langkawi is part of a vast shopping complex, so you can go shopping or grab a bite to eat after having seen the aquarium.
13. Dayang Bunting Island
Lying just a short boat trip or jet ski to the south of Langkawi, Dayang Bunting is the second-largest island in the archipelago and is a very popular tourist attraction. Meaning 'Island of the Pregnant Maiden Lake,' Dayang Bunting's distinctive outline does somewhat resemble that of the pregnant fairy princess from the local legend after whom it is named.
The lake in question – the largest freshwater lake in the country – looks absolutely incredible, with its glimmering waters tucked away amongst forest coated mountains. In addition to swimming or kayaking around the lake, visitors can also go on a hike in Dayang Bunting Marble Geoforest Park and explore the island's many interesting rock formations and caves.
12. Tengah Beach
Located in the southwest of the island, just a stone's throw away from famous Cenang Beach, Tengah is a much quieter and peaceful option than its noisy neighbor. Replete with fine white sand, gently swaying palm trees, and marvelous views out over the shimmering turquoise waters, Tengah really does look like it has just appeared out of a magazine.
Stretching almost a kilometer in length, Tengah Beach is ideal for families, and several all-inclusive resorts are found dotted along its scenic shoreline.
11. Eagle Square
Boasting a huge eagle statue that looks out over the surrounding waters, Eagle Square in Kuah is one of the most recognizable and iconic humanmade places on the island. Besides the twelve-meter tall statue that dominates the square, there are also some lovely little fountains and gardens on show, as well as a couple of cafes and restaurants.
Offering up fantastic views out over the Strait of Malacca, Dataran Lang – as it is known in Malay – is well worth a visit, and a number of other attractions, such as Langkawi's fantastic night market, lie nearby.
10. Crocodile Adventureland
With almost 4,000 crocodiles and alligators residing in the park, Crocodile Adventureland is the place to go if you want to see the fearsome reptiles up close and personal. Besides learning all there is to know about how they live and behave in the wild at the park's educational center, there are also some different shows for you to watch.
These include watching the crocodiles be fed by hand and seeing them leap out of the water to snap tasty morsels from the air. One of the main attractions is Bujang Lang – an enormous crocodile reputed to be one of the largest in the world.
9. Mahsuri Tomb and Museum
Known by all of the islanders, the legend of Mahsuri is infamous in Langkawi. With her last words before she was killed, falsely accused of adultery, the innocent Malay princess laid a seven-generation curse on the island and its people.
Now a popular tourist and school trip destination, Mahsuri's tomb also has a fascinating museum for you to visit. Inside, you'll find some life-size dioramas that take you through Mahsuri's tragic story. In addition to this, there is also a traditional Malay house to explore. This showcases various household items and farming utensils that people would have used back in Mahsuri's day in the early 1800s.
8. Langkawi Night Market
One of the most fun and tasty things to do on the island once dusk falls is to head to the lively Langkawi Night Market. As the market sets up in a different location each evening, it is a good idea to check where it'll be beforehand; one night it will be in Kuah and on another Kedawang, Padang Matsirat or Pantai Cenang.
Great fun to wander around, the makeshift stalls and stands sell everything under the sun – from t-shirts and souvenirs to handbags, sunglasses, and paintings. The main draw, however, is the amazingly cheap and delicious local fare that vendors offer.
Grilled seafood and chicken satay are amongst the most popular dishes. With a very relaxed and welcoming feel to it, the Langkawi Night Market is not to be missed if you want a taste of the local culture and cuisine.
7. Gunung Raya
Standing at 881 meters, Gunung Raya is the tallest mountain on Langkawi. It is named after a mythical giant, which is said to have been cursed and turned into the peak itself. To get to the top, you can either drive or hike. Both options take you through some absolutely stunning rainforest scenery.
As lots of wildlife and different types of birds reside within its dense canopy, you may even spot a flying fox or eagle on the way if you're lucky. From atop of Gunung Raya, you can enjoy amazing views out over Langkawi, with the best panorama being from its observation tower.
6. Tanjung Rhu Beach
Located on the northernmost tip of Langkawi, Tanjung Rhu is one of the most beautiful beaches on the island. Its secluded setting means that its pristine sands are always clean and uncrowded.
With craggy limestone islets lying offshore amidst glimmering turquoise waters, and thick jungle backing onto its white sandy beach, Tanjung Rhu certainly does make for a spectacular sight.
While part of the beach is reserved for guests of the high-end resorts that lie at one end of it, the rest is free for you to lounge on to your heart's delight. From the beach, it is well worth renting a little boat that will take you to see the surrounding natural sights such as Gua Cherita – an enchanting local cave.
5. Cenang Beach
The most famous and indeed most popular beach on the island, Cenang in the southwest of Langkawi has everything you could ever want in a beach. Stretching for almost two kilometers, its fine powdery sands are bordered by lots of fantastic bars, restaurants, and hotels, with Underwater World Langkawi found at one end.
As well as its many amenities, there is a wealth of great watersports for you to try, out with jet-skiing, snorkeling, and paragliding all popular. As it is renowned for its sunsets, many people head to its bars and cafes as evening approaches to watch the sun go down and bring another day in paradise to a close.
4. Telaga Tujuh Waterfalls
Surrounded by thick jungle, the majestic Telaga Tujuh Waterfalls count among the island's most magical sights. It is easy to imagine that fairies once did bathe in its seven pools, as the legend dictates. Gushing down the side of Mat Cincang Mountain, the series of waterfalls plunge into seven different pools, each of which you can bathe in.
The scenic setting really does it make a peaceful place to spend an afternoon. In the surrounding trees, you can often spot hornbills and macaques. As Telaga Tujuh can only be reached after a steep forty-five-minute climb up the mountain, its various pools and viewpoints offer breathtaking views out over the rest of the island.
3. Langkawi Wildlife Park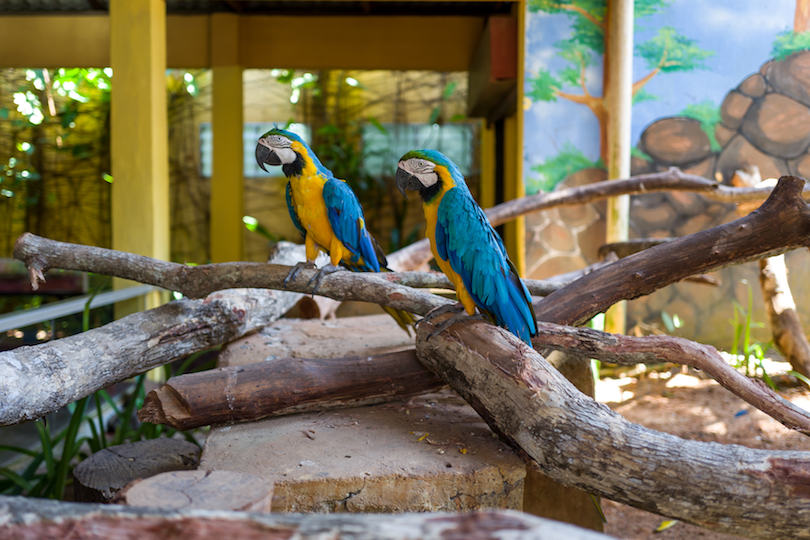 Home to some 2,500 exotic birds and a host of different animals such as crocodiles, deer, raccoons, and porcupines, Langkawi Wildlife Park makes for a great day out for all the family.
While there are loads of brightly-colored toucans, flamingos, and parrots for you to look at, the highlight is the enormous aviary which you can walk through; this houses some 1,500 birds, all flying free.
At the various feeding sessions that are held throughout the day, you can get up close with some of your favorite animals while an informative handler tells you all there is to know about them.
2. Kilim Geopark
Encompassing colossal limestone rock formations, beautiful beaches, and large lagoons, Kilim Geopark is full of amazing landscapes for you to explore. As the park is made up of various river basins with several islands lying just offshore, the best way to see its many wonders is to take an unforgettable boat trip around its swamps, rivers, and mangroves.
Formed over millions of years, Kilim's stunning scenery lies in the north of the island, and many people credit its craggy outcrops with having protected Langkawi from the worst of the terrible tsunami that struck in 2004. With monitor lizards, crocodiles, and dolphins to be spotted amongst its murky waters, as well as colorful birds and playful monkeys flitting about the forest, Kilim Geopark will astound nature lovers with all that it has to offer.
1. Langkawi Sky Bridge & Cable Car
A phenomenal feat of engineering, the Langkawi Ski Bridge curves gracefully through the air from its location atop of Mount Mat Cincang. The views from its pedestrian walkway are simply out of this world.
Suspended high above the mountain's densely forested slopes, the bridge stretches 125 meters in length and is one of the most famous and popular tourist attractions in Langkawi.
To reach the Sky Bridge, visitors can take an incredible 15-minute cable car journey up the side of the mountain. On the way, you pass above sparkling waterfalls, with the gorgeous forest canopy beneath you. The cable car starts at the Oriental Village. Here you can find souvenir shops and the brilliant 3D Art in Paradise Museum.
From both the cable car and Sky Bridge, you'll be able to enjoy some of the best views on the island; on a clear day, you can even see Indonesia glinting off in the distance.