Located in the west of Borneo Island, Kuching is the capital and largest city of the state of Sarawak in Malaysia. Set in a picturesque spot on the banks of the Sarawak River, not far from the South China Sea, the city has long been an important trading post. As such, it is home to an intriguing mix of different peoples, cultures, and cuisines.
Throughout its history, Kuching has been ruled by everyone from the Sultan of Brunei to the Japanese, and the adventurer James Brooke rather incredulously made it his own personal kingdom. Consequently, there are a lot of interesting historical sights to be found around town, with galleries, museums, and old colonial buildings all on show.
In addition to all of these tourist attractions, Kuching is ideally located if you want to explore the wild jungles and rugged coast that Sarawak is renowned for.
In this post, we'll cover:
12. Chinese Museum
Once the courthouse of the Sarawakian Chinese, this delightful museum now hosts a whole range of different exhibitions on the customs, cultures, and lifestyles of the nine main Chinese communities that came to live in the city. Among the extensive collection are lots of fantastic artifacts, photographs, and traditional costumes for you to peruse. These document the history of the Chinese in Kuching since they first started migrating to the city around the year 1830.
The pastel-colored colonial-era building lies on the banks of the Sarawak River and is just a stone's throw away from the gorgeous Tua Pek Kong Temple, which is an important holy site for the local Chinese community.
11. The Old Courthouse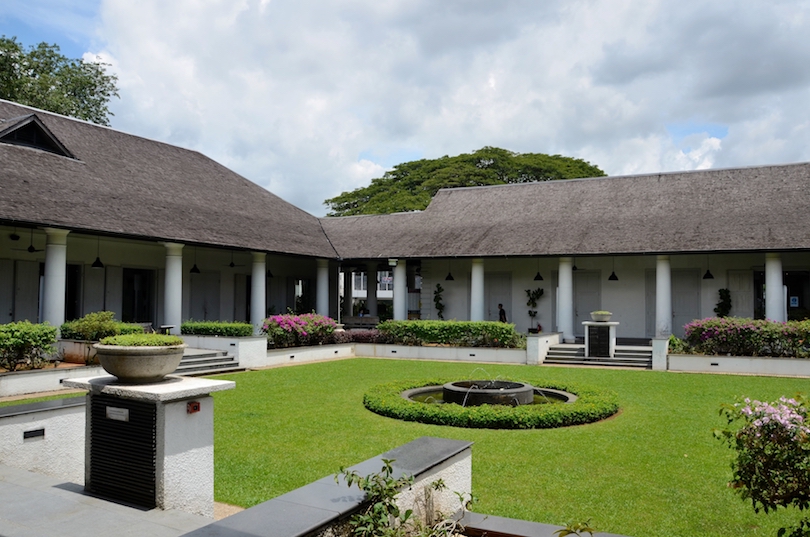 Built all the way back in 1871, the Old Courthouse was once the administrative center of the city. As such, it occupies a prominent place along Kuching's waterfront. Its verandahs, pavilion, and Round Tower are very peaceful to walk around and showcase some wonderful architecture from different epochs.
Nowadays, the lovely old colonial building is home to the fantastic Ranee Museum, which looks at the life and times of Margaret de Windt, the former queen of Sarawak. There's also a bar and restaurant. In addition to this, there are several venues located in the Old Courthouse that host art exhibitions and cultural performances.
10. Sarawak Museum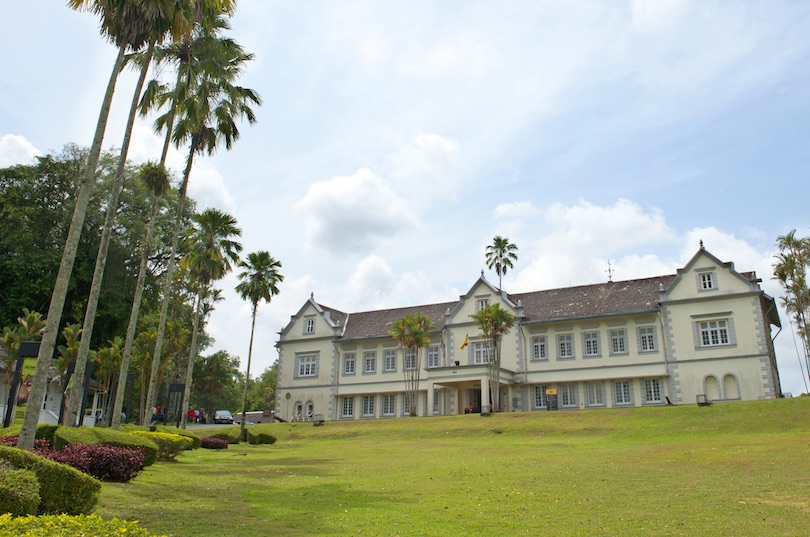 The oldest museum in the whole of Borneo, the Sarawak Museum was first opened in 1888. Since then, it has educated countless numbers of people on the rich history, culture, and heritage of the island's many indigenous groups.
With lots of interesting ethnographic artifacts, local handicrafts, and wildlife specimens on display, the museum really is fascinating to wander around.
The extensive collection is housed in a charming old building that dates to Victorian times. With the perfectly manicured lawns all around it, it wouldn't look out of place in Merry Old England. Due to re-open in mid-2020 after lengthy renovation works, the Sarawak Museum is well worth visiting if you want to learn more about Borneo and Kuching's captivating past.
9. Mount Santubong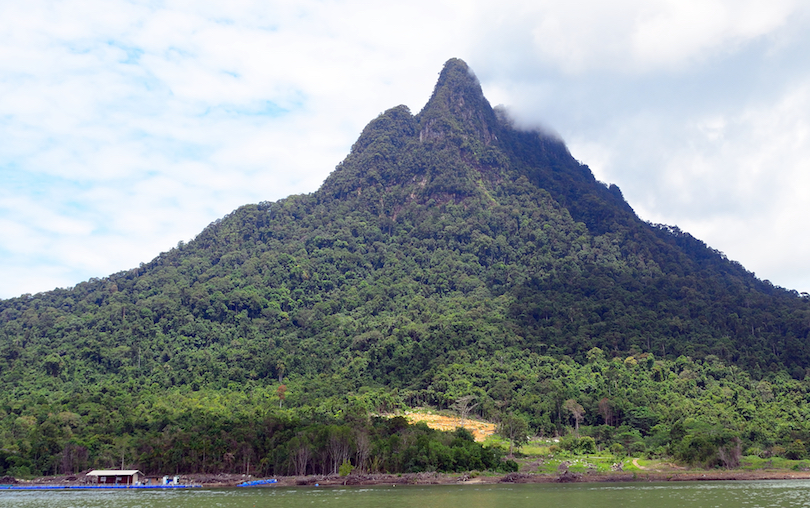 Located around half an hour's drive to the north of Kuching, Mount Santubong lies at the heart of a delightful national park of the same name, with lots of great outdoor activities and beautiful scenery on offer. Towering above its surroundings, the mount dominates the park, and its forested slopes rise dramatically above the glistening waters of the South China Sea.
Trekking through the lush rainforest to reach its summit is a marvelous experience, and the views from up high are simply spellbinding. With wildlife in the shape of proboscis monkeys and colorful hornbills for you to spot, Mount Santubong certainly makes for a memorable and nature-filled day out.
8. Fort Margherita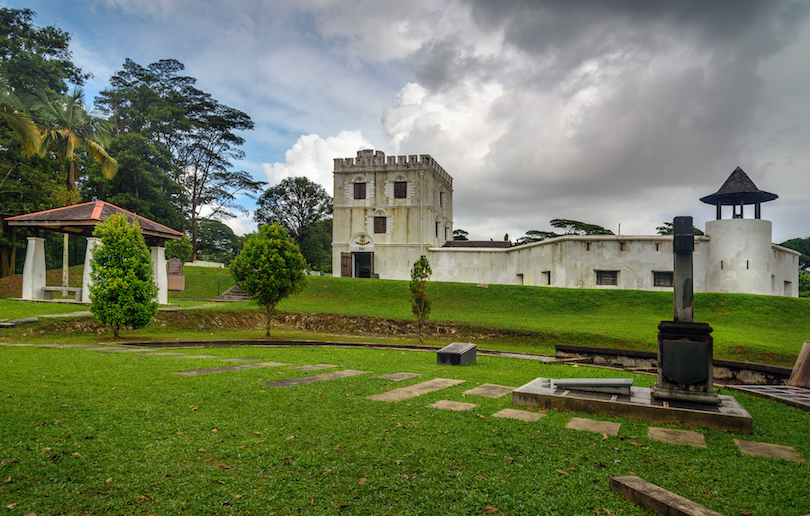 Overlooking the lively Kuching waterfront, Fort Margherita was built in 1879 on the banks of the Sarawak River to help protect the city from attack. One of the main attractions in Kuching, the dazzling white walls and turrets of the fort stand out against the greens of the lawns and trees that surround it.
Besides exploring the impressive fortifications, visitors can also take a look around the fort's Police Museum, which has an amazing collection of old armaments and armor, including cannons, pistols, and swords.
7. Sarawak Orchid Garden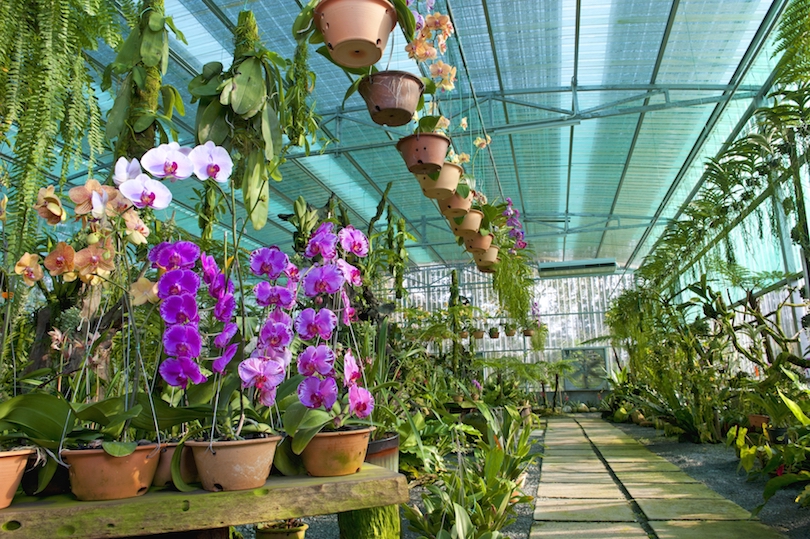 Located just a short walk away from Fort Margherita, the Sarawak Orchid Garden is a delight to stroll around, with a myriad of different plants, flowers, and orchids lining its peaceful pathways and greenhouses. Tastefully laid out, the garden is very well looked after, and there are over 75,000 plants on display.
The gorgeous Normah Orchid – the state's flower – can be spotted here and there. To get to the orchid garden from Kuching waterfront, you can either walk across the Darul Hana footbridge or take a short boat ride across the river.
6. Waterfront Promenade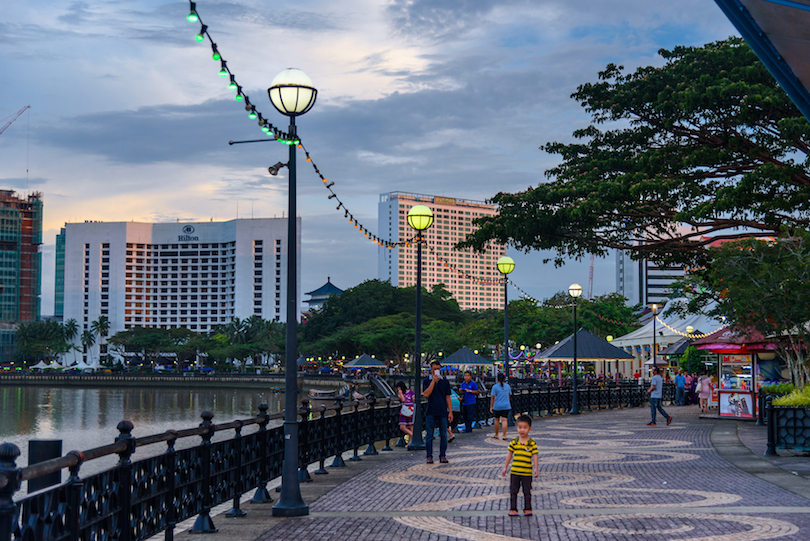 Covering the south bank of the Sarawak River, Kuching's scenic Waterfront Promenade stretches for just under a kilometer, and for many people, it is the heart of the city. Taking you past such sights as the Chinese Museum, Square Tower, and the India Mosque, the promenade really is a beautiful place to go for a walk and has a lovely laidback feel to it.
On the opposite bank, you can see the impressive Astana and Fort Margherita rising before you; at night, lots of young couples congregate here to take a romantic stroll when everything is beautifully illuminated. As a number of cafes and food kiosks line the way, the waterfront promenade is also a great place to grab a bite to eat.
With so much for you to see, no trip to Kuching can ever be complete without having ambled along the promenade at least once or twice.
5. Gunung Gading National Park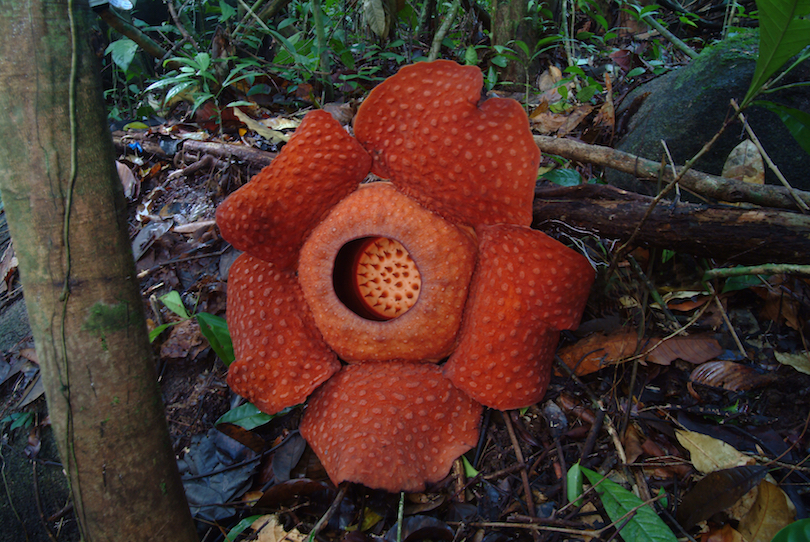 Although Gunung Gading National Park is blessed with lots of stunning scenery, fantastic treks, and fantastic wildlife, it is the enormous Rafflesia flower that is undoubtedly the star attraction. Reaching up to a meter in diameter, the parasitic plant is remarkably the world's largest flower. It can take months and months to grow, only to bloom for just a couple of days.
While it certainly does make for an impressive sight, the national park has loads of other natural wonders for you to enjoy, with plenty of trails and paths snaking their way through the dense rainforest that coats its mountainous terrain.
Lying around two hours away from Kuching, Gunung Gading National Park is just about doable as a day trip. While visiting its many twinkling streams and waterfalls, you may even catch a glimpse of an orangutan or two peacefully swinging through the jungle.
4. Kubah National Park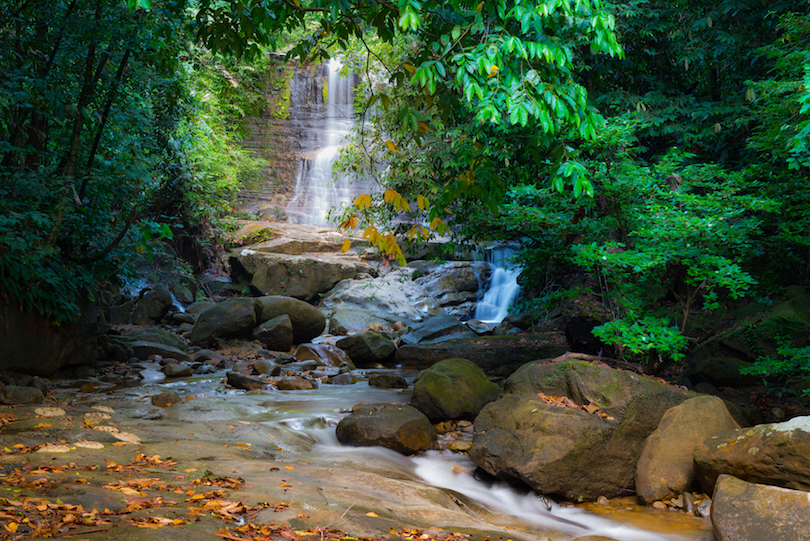 Despite calling itself 'the home of palms and frogs,' Kubah National Park has much more to offer, although you certainly will see plenty of them dotted around the rainforest. Hidden away amongst the dense undergrowth are lots of colorful orchids, as well as a number of beautiful waterfalls for you to make your way to.
As it lies just half an hour's drive to the west of Kuching, many locals enjoy coming here at the weekend to go for a walk in the forest or cool off in one of its pretty streams or bathing pools.
3. Sarawak Cultural Village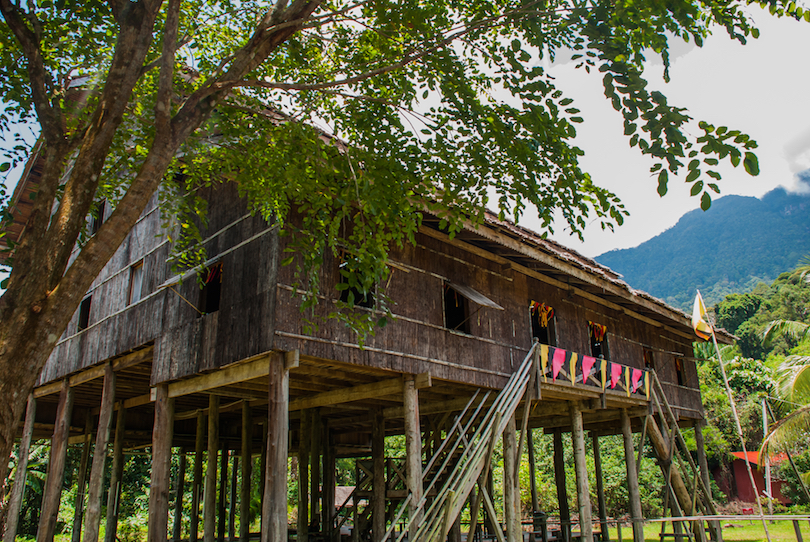 If you're interested in learning more about Borneo's various indigenous peoples and cultures, then a visit to the Sarawak Cultural Village is a must. The living museum has seven traditional buildings and longhouses for you to wander around, and each of these displays an architectural style from a particular group, such as the Malay, Chinese, or Penan.
In addition to this, you'll see lots of locals dressed in their traditional attire making handicrafts using ancient techniques. These live demonstrations show you how the indigenous groups once weaved, carved, and cooked. Twice a day, the locals put on a dance and music performance which proudly showcases their rich cultural heritage.
2. Bako National Park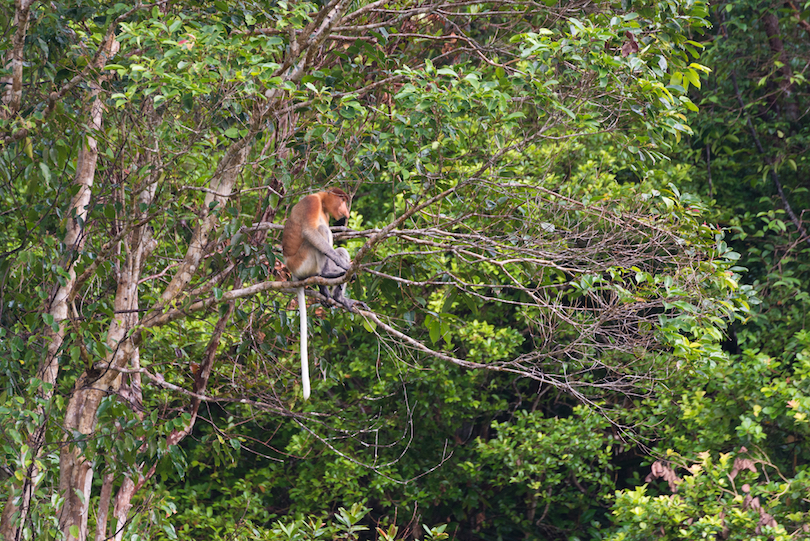 The first national park to be established in Sarawak all the way back in 1957, Bako is home to an incredible range of different landscapes and ecosystems. Lying just half an hour away from Kuching, it is one of the most popular national parks with both locals and tourists alike, and it is easy to see why.
Jutting out into the South China Sea, the peninsula on which it lies is home to jagged cliffs and secluded beaches, with some pretty mangroves also on display. Its tangled mess of dense rainforest is a delight to explore, and lots of hidden waterfalls and sparkling streams can be found here and there.
As there are a plethora of fantastic paths and trails for you to hike along, many people end up staying a night or two in Bako. On top of its astounding natural sights, Bako National Park also boasts a vast array of wildlife, and over 150 types of birds have been spotted within its confines. With proboscis monkeys, bearded pigs, monitor lizards, and pangolins all on show, the park really is well worth visiting.
1. Semenggoh Nature Reserve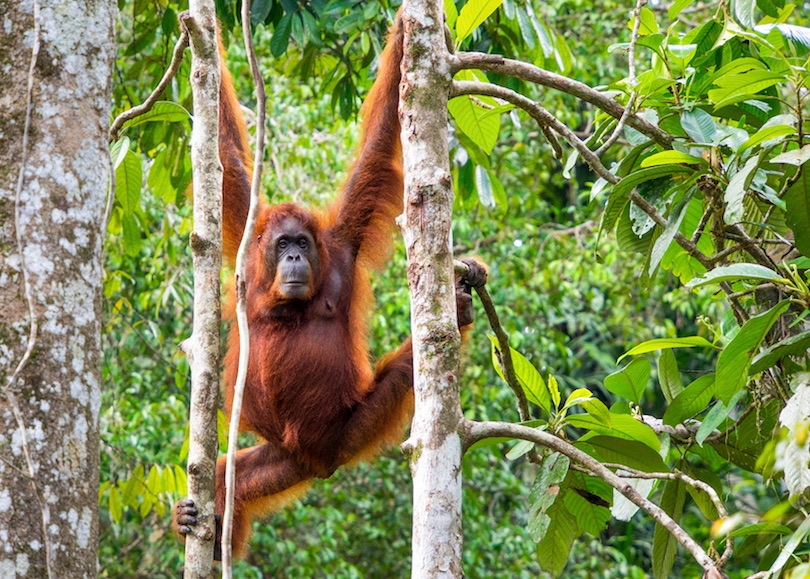 For many people, Borneo is synonymous with orangutans, and Semenggoh Nature Reserve is one of the best places to see them in the world. The reserve has long run a successful rehabilitation program for orphaned or rescued orangutans, and thankfully, all of them have since been released back into the wild. As such, they roam free around the rainforest at their will, coming and going as they please.
Many of them, however, still return to the center for a free meal a couple of times a day. Seeing the orangutans happily munching away on the fruit that is left out for them is an amazing experience, and is undoubtedly one of the highlights of any trip to Kuching – or even Borneo, for that matter.
Besides seeing them up close and personal, visitors to Semenggoh Nature Reserve can also go on a walk around its premises and enjoy the colorful fauna and flora of the rainforest.
Best Time to Visit Kuching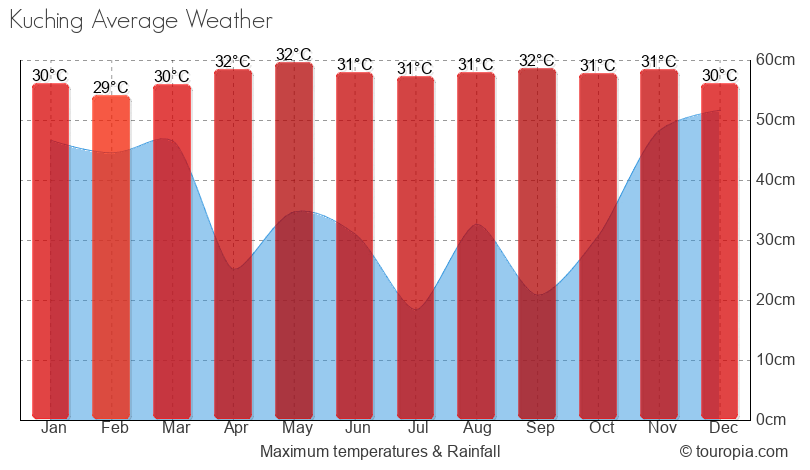 With temperatures remaining between 30 and 33°C (86 to 91°F) and each month seeing a lot of rainfall, you can't really visit Kuching and avoid the heat, sun, humidity or rain. As such, many just visit when they have a holiday or plan it around one of its numerous fun festivals.
As the driest months are from April to September (though that's not saying much!), loads of people visit then. July and August are of course the peak season due to the school holidays with prices being higher. Conditions are also best then for exploring the center, sunbathing or trekking about its lush, steamy jungle. Huge events include its Gawai Dayak Festival and Rainforest World Music Festival in June.
From October to March, the riverside city sees an incredible amount of rain tips down. If you don't mind the sudden strong showers, prices are lower and there are barely any crowds at its caves, jungle lodges and wildlife sanctuaries.
Although extremely wet with pretty much every single day seeing at least some, if not a lot, of rain, December is the most popular month along with August. Prices again rise as people pour in for the holidays. Some also visit for Chinese New Year in either January or February.