Lying on the northwest coast of Borneo, the Malaysian city of Kota Kinabalu is an increasingly popular tourist destination, and it is easy to see why. Besides its scenic waterfront that borders the South China Sea and bustles with life, visitors can delve into its thriving arts and culture scene or explore its excellent market.
Although it is one of the fastest-growing cities in the country, with new developments seeming to pop up every day, it still retains much of its considerable charm, with plenty of interesting historical sights and old buildings on show.
While the city center has a lot for you to see and do, KK (as it is commonly known) also boasts a wealth of astounding natural tourist attractions, with beautiful beaches, verdant rainforest, and idyllic tropical islands all found nearby. Now much more than just the administrative, industrial, and commercial capital of the region, Kota Kinabalu is a destination in its own right and the gateway to untold riches.
12. Atkinson Clock Tower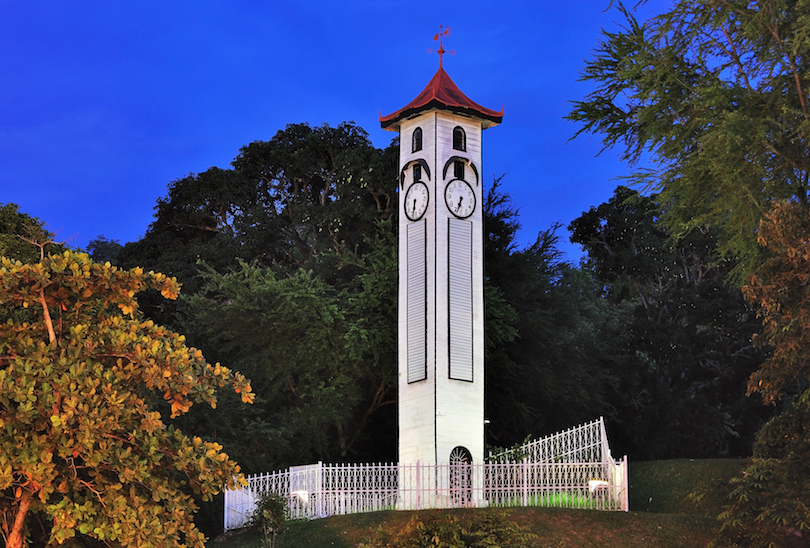 As it was remarkably one of only two structures to survive the violent bombing of Kota Kinabalu that took place during World War II, Atkinson Clock Tower is one of the city's most important and oldest landmarks. Built all the way back in 1902, the dazzlingly bright white clock tower is named after Francis George Atkinson. This man was the first District Officer of Jesselton – KK's colonial name – who sadly died at just twenty-eight years of age after having helped establish the city.
Set in a picturesque spot upon a hilltop overlooking the waterfront, the clock tower has some great views out over the sea for you to enjoy; Tunku Abdul Rahman Marine Park can be spotted in the distance.
11. Signal Hill Observatory Platform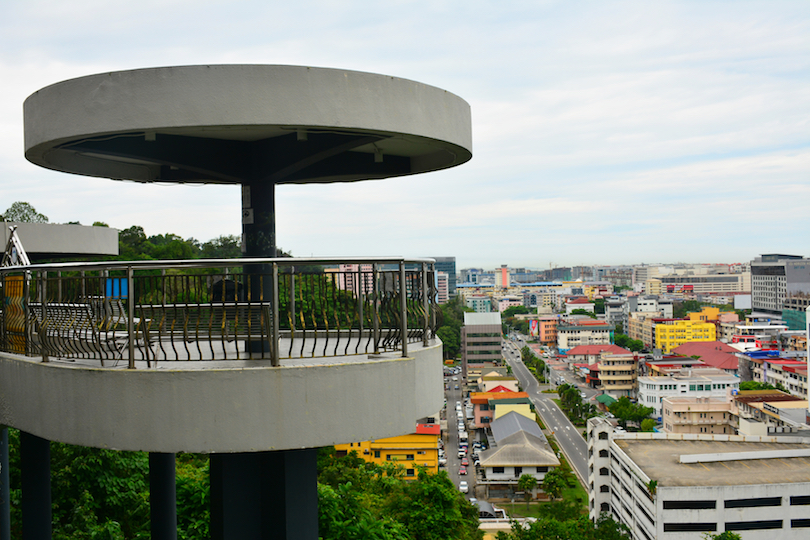 Lying just a short walk away from the Atkinson Clock Tower, the distinctive-looking Signal Hill Observatory Platform is a great place to head to if you're looking for a spectacular view out over Kota Kinabalu. Nestled amongst the forest that coats the hillside, the observatory's two white circular roofs certainly stand out against the foliage.
From its viewing platform, you have uninterrupted views out over the city below. The best yet busiest time of day to visit is at sunset, when the islands and sea sparkle in the light of the setting sun.
10. Kota Kinabalu Waterfront
Dotted with bars and restaurants, nightclubs and cafes, Kota Kinabalu Waterfront is one of the liveliest parts of the city and is busy at any time of day. With shopping malls and hotels also located along the KK Waterfront, it is a microcosm of the city itself, as it has everything you could ever want right there.
As night falls, people descend en masse to the waterfront to enjoy some delicious local food, live music, or cocktails. The lively atmosphere is intoxicating. Many of its establishments have brilliant views out over the sea and are a great place to watch the sunset.
9. Sabah State Museum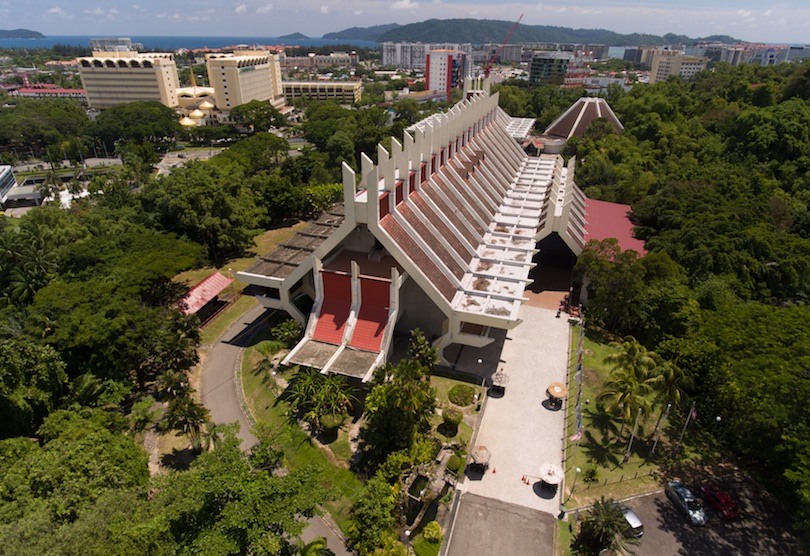 A fascinating place to explore, the Sabah State Museum has a lot of interesting artifacts and collections that look at various aspects of the rich history, heritage, and culture of Sabah – the state in which Kota Kinabalu is located.
As the fantastic Sabah Art Gallery and brilliant Science and Technology Museum are also found at the site, the museum complex has something for everyone to enjoy and is particularly ideal for families.
With galleries on Islamic civilization and archaeology alongside ethnographic and zoological displays, the Sabah State Museum provides a comprehensive look at everything to do with Sabah and the city of Kota Kinabalu.
8. North Borneo Railway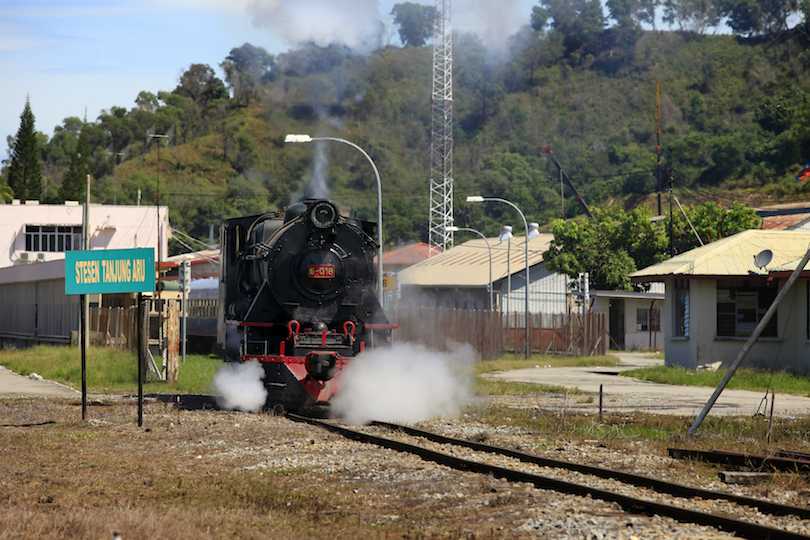 Running from Tanjung Aru Station to Papar Town, the North Borneo Railway is a delight to ride along. The historic route takes you through some beautiful steamy jungle scenery, with stupendous views out over the coast popping up from time to time.
Originally founded in 1896 to ferry tobacco around the state, the scenic ride now makes for a popular day out, and the service runs twice a week on Wednesdays and Saturdays. While basking in the marvelous views, visitors can sit back and relax in one of the old carriages that trundle along behind the steam engine and enjoy the delicious 'tiffin' colonial lunch that is served aboard the train.
7. Night Market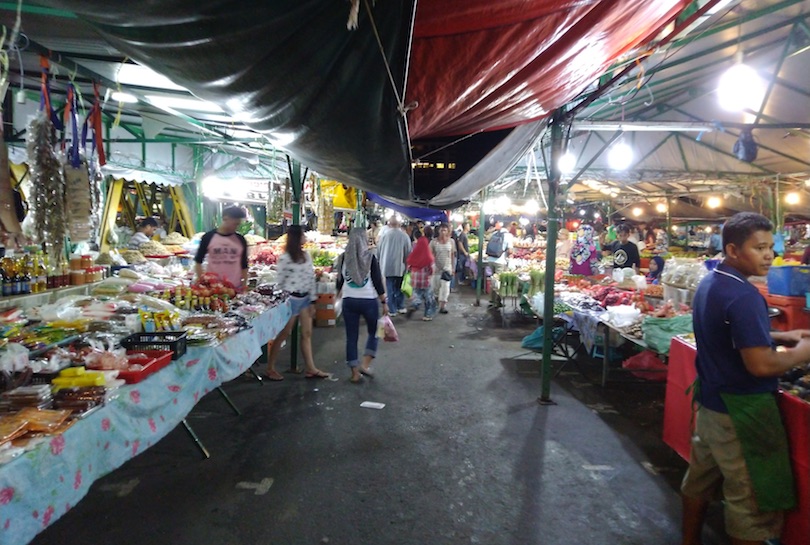 Great fun to wander around, Kota Kinabalu's lively night market is not to be missed as it has some of the best seafood and street food around. The multitude of stalls that line the waterfront are laden with stacks of fish, meat, and local delicacies for you to try out. The enticing aromas swirling through the air will make your mouth water.
Once you've made the hard choice of what to eat, take a seat at one of the many tables that lie beneath the row of gazebos and wait for your food to appear. As loads of locals come here for dinner, the night market is a great place to immerse yourself in local life and enjoy the chaotic ambiance.
6. Kota Kinabalu City Mosque
As it is set on Likas Bay with water partially surrounding it, Kota Kinabalu City Mosque is often referred to as the 'Floating Mosque' due to the illusion that it is bobbing peacefully on the surface. Reflected in the glassy waters that lie around it, the mosque looks incredible, and it's no wonder that people flock to take pictures of it.
While its stunning setting is one of its main draws, the architecture is equally delightful, with four elegant minarets rising above its blue and gold dome. The largest and most beautiful mosque in the city, Kota Kinabalu City Mosque is also well worth visiting at night, when the lights that illuminate it are magnificently reflected in the waters around it.
5. Gaya Street Sunday Market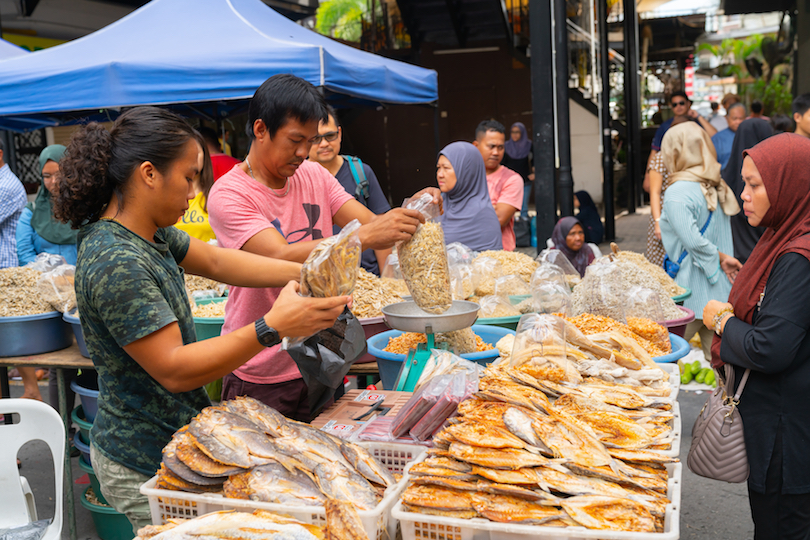 Kota Kinabalu's Gaya Street is where the city's Chinatown is located. It is here on Sundays that a fun and festive street market is held. The ramshackle collection of stands and stalls is a great place to pick up souvenirs. Vendors sell local handicrafts, antiques, and accessories, with jewelry and clothes particularly popular purchases.
As the market finishes at 1 PM, it's a good idea to head to Gaya Street quite early on; many of the stalls are there from as early as 6.30 AM. Afterward, you can always head to one of the surrounding Chinese restaurants and coffee shops to admire your buys and grab a bite to eat.
4. Tanjung Aru Beach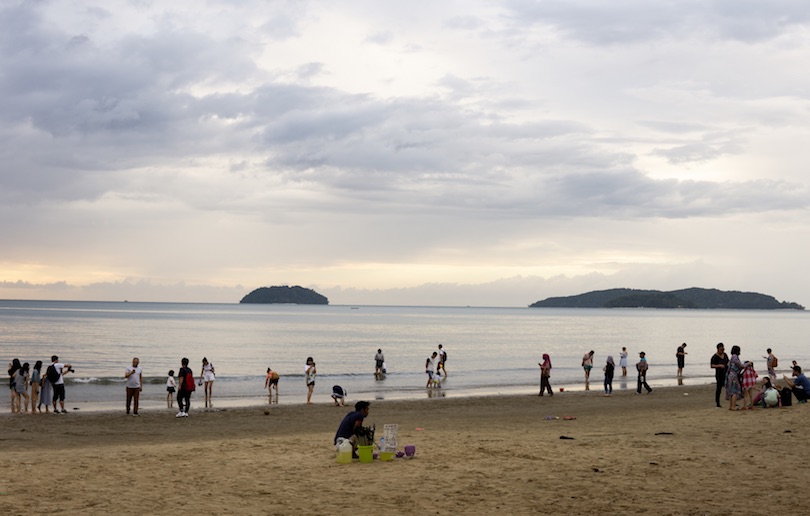 Lying around a 20-minute drive from the city center, Tanjung Aru Beach is a delightful place to kick back and unwind. Its golden sands look out over the South China Sea, with Tunku Abdul Rahman Marine Park lying in the distance. Here you can go swimming, enjoy some fantastic water sports, or simply sunbathe to your heart's content.
As it is the most popular beach in Kota Kinabalu among locals, it can get quite crowded during the weekend, when people come to have a picnic or barbecue as the sun sets over the sea. With loads of bars and food stalls lining Tanjung Aru Beach, you can easily spend the whole day here, and there is lots of delicious local food and snacks to be had.
3. Mari Mari Cultural Village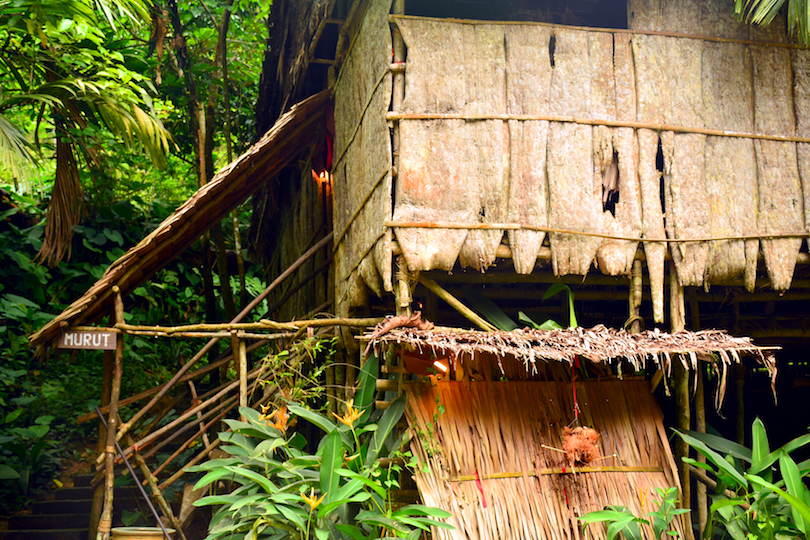 For people interested in learning more about the rich history and culture of the state of Sabah's many indigenous groups, no visit to Kota Kinabalu is complete without stopping by the Mari Mari Cultural Village. Located in the lush jungle that lies the northeast of the city, the themed village has five tribal areas for you to explore; these provide a look at how different groups once lived as hunters, fishers, and rice farmers.
As well as showing you their various lifestyles, traditions, and customs, you can also learn how to cook some of their meals and make some of their local handicrafts. At the end of the tour around the Mari Mari Cultural Village, there is a 30-minute cultural dance performance for you to enjoy.
2. Tunku Abdul Rahman Marine Park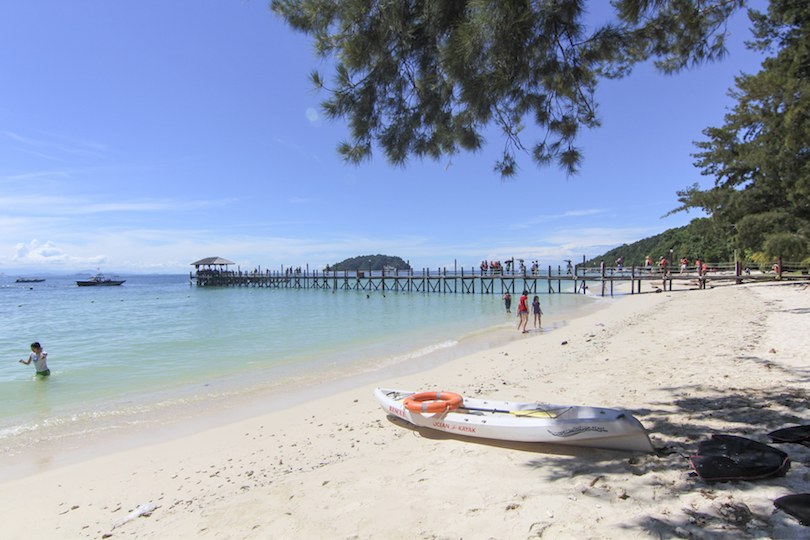 Established in 1974, Tunku Abdul Rahman Marine Park is home to five of the most idyllic islands imaginable. It is justifiably one of the most popular tourist attractions in Kota Kinabalu and the state at large. Lying just a short boat trip away from KK, the marine park has a myriad of fantastic outdoor activities for you to enjoy, with snorkeling and scuba diving being the most popular.
Besides exploring its underwater wonders, visitors can go on a hike through the dense jungle that blankets the islands, or relax and lounge on one of its many gorgeous sandy beaches.
Each of the islands has its own unique appeal, so while Sulug is popular with people looking for an untouched island paradise, it is better to head to Manukan or Sapi if you want amenities, hotels, and restaurants. A biodiversity hotspot both above and below water, Tunku Abdul Rahman Marine Park is not to be missed out on for all the amazing scenery and waters sports it has to offer.
1. Mount Kinabalu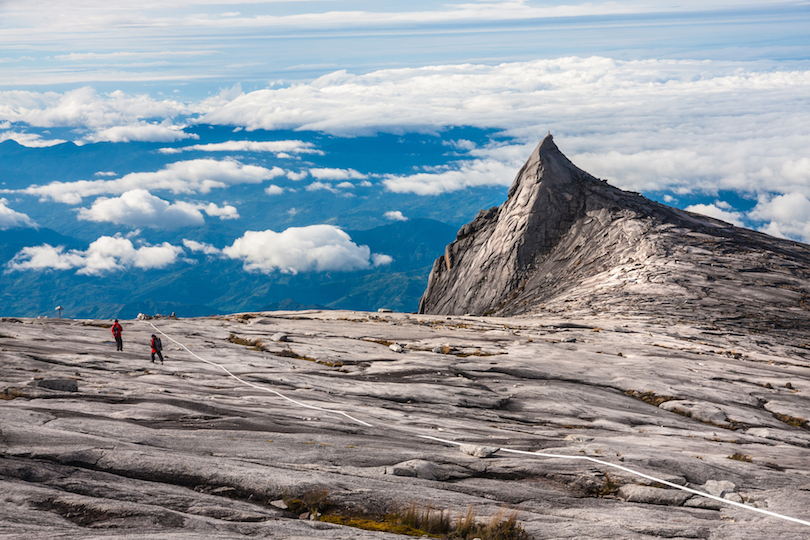 Surrounded by a wild and rugged national park of the same name, Mount Kinabalu stretches dramatically towards the heavens from amid the enormous Crocker Range that dominates Borneo's skyline. Standing at 4,095 meters, the Malay Archipelago's highest mountain is very popular with both hikers and rock climbers. It is said to be one of the easiest mountains in the world to summit, as no climbing equipment or special skills are required.
While it is just about doable in a day from Kota Kinabalu, most people camp overnight at Laban Rata to acclimatize, then continue on their way to the top the next day. On the way, you pass through a variety of different landscapes ranging from grasslands and forest to alpine meadows and bare rock.
Mount Kinabalu is one of the most biodiverse places on Earth. With around 6,000 plant species and over 300 types of bird for you to catch a glimpse of, there is always something new for you to see along the hike.
Once you finally make it to the top, you'll be greeted by one of the most stunning views imaginable as the whole of Borneo stretches away before you. Well worth the effort, hiking to the top of Mount Kinabalu certainly makes for a memorable experience.