Spain is a surprise to those who have the image of having to fight for towel space at one of its crowded beaches or sipping sangria while watching a bull fight or flamenco. From the ancient monuments left by the Romans and Moors, the medieval castles of the interior, the white villages in inland Andalucía or the vibrant cities of Barcelona and Madrid, there is a great mixture of things to do in Spain.
The landscape varies just as widely. The evergreen estuaries of Galicia could hardly be more different from the deserts of Almería or the rugged mountains of the Sierra Nevada. And then there are the countless glittering beaches that dot the Spanish coast. Although busy in summer even along the coast of the big tourist Costas some enjoyable beaches can easily be found.
With delicious tapas and seafood dishes to try and unique tourist attractions in Spain like Alhambra and the Sagrada Familia to see, it is no surprise millions head here each year on holiday.
In this post, we'll cover:
33. Avila Walls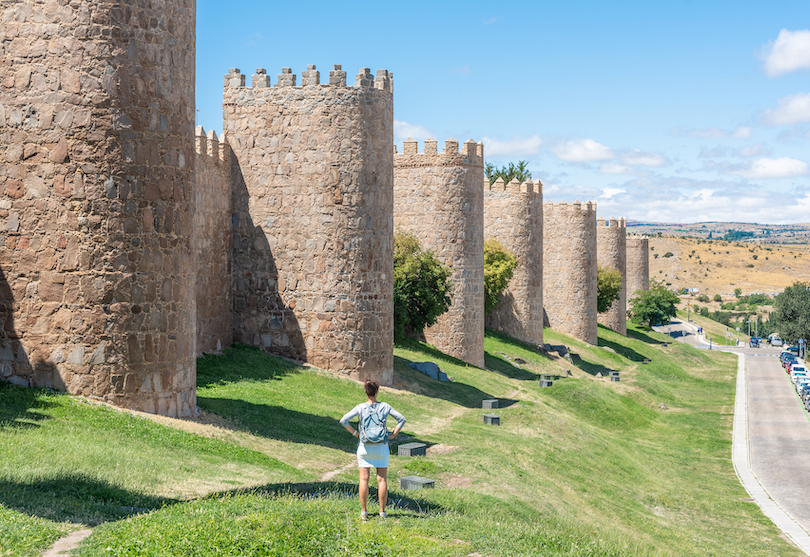 Most known for its massive medieval walls, the small city of Avila lies roughly ninety minutes drive northwest of Madrid. Surrounding its atmospheric Old Town, the imposing ring of fortifications make for an impressive sight.
Very well-preserved, the sturdy stone walls and 88 semicircular towers were completed between the eleventh and fourteenth centuries. Stretching 2.5 kilometers in length, they are studded by nine huge gates, the most eye-catching of which is Puerta del Alcazar.
Just over half of their old ramparts are now open for visitors to amble along. From atop the twelve meter-high walls, there are fine views over Avila's roofs and the surrounding countryside. An astounding feat of engineering, they are majestically lit up at night.
32. Seville Cathedral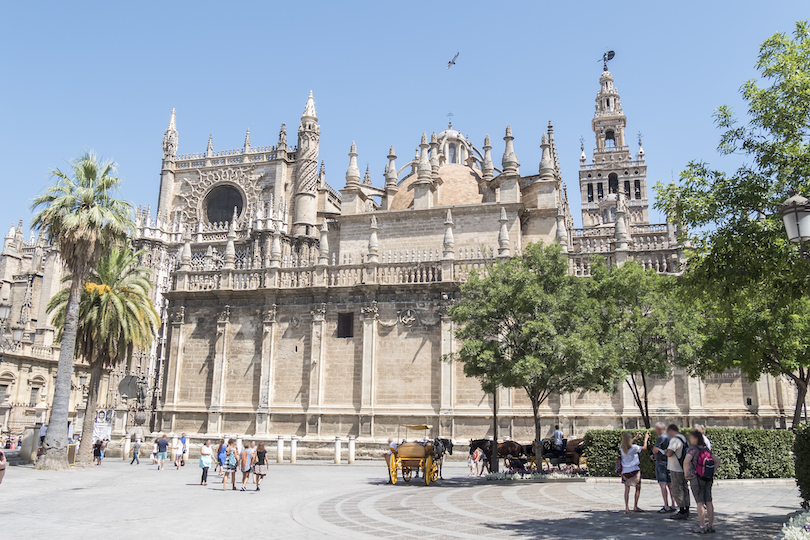 One of the largest churches in the world, Seville Cathedral can be found right in the heart of town, not far from the Guadalquivir River. Asides from ogling at its staggering size and splendid artwork, you can enjoy phenomenal panoramas from atop La Giralda – its ginormous 105 meter-high belltower.
Absolutely enormous, it was built on the site of the city's former great mosque following the Reconquista. To highlight Seville's wealth and the triumph of the Christian faith, no expense was spared. Exhibiting some gorgeous Gothic architecture, the important place of worship has lovely facades and flying buttresses to admire.
Inside is even more arresting as vaulted ceilings overlook intricately carved choirs and colourful stained-glass windows. It also houses the tomb of Christopher Columbus while its 37 meter-high main altar is considered one of the finest in the world.
See also: Where to Stay in Seville
31. Roman Theater of Mérida
Head two hour's drive directly north of Seville and you'll come across the remarkable Roman Theater of Mérida; another of Spain's most iconic landmarks. Fascinating to explore, its elaborate stage area, statues and semicircular seats now create some fantastic photo opportunities.
As Merida was the cultural and economic capital of the Roman Empire's westernmost province, a large theater was erected here in 16 BC. Still in excellent condition, its stage consists of two floors of blue-veined marble columns flanking a central arch. Between them are sculptures of Ceres, Pluto and Proserpina among other gods and characters.
After snapping some photos, you can stroll about its peaceful peristyle or the equally old Roman amphitheater alongside it. In summer, plays, concerts and flamenco shows are still held on its 2000 year-old stage.
30. Ordesa y Monte Perdido National Park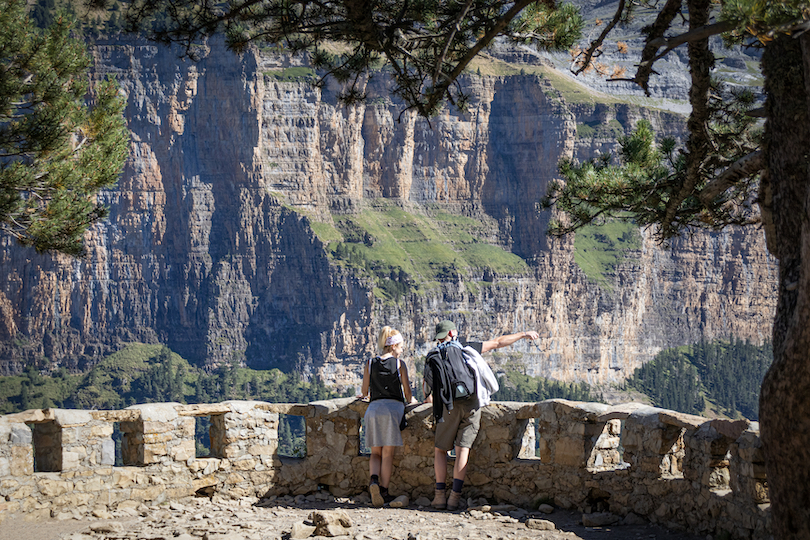 Home to lots of stunning landscapes, scenery and nature, Ordesa y Monte Perdido National Park is located high up in the Pyrenees, right on the French border. Offering up some absolutely epic hiking, its soaring mountains and sweeping valley views are out of this world.
Founded in 1918 to protect the unique fauna and flora of the Ordesa Valley, it was later enlarged to encompass more of the rugged mountain range. Amidst its dramatic karst landscapes run rivers and waterfalls with the cacophonous Cascada del Cinca being the most breathtaking.
As you hike along its trails, you can enjoy unbelievable views of the seemingly endless valley and its resplendent greenery. Particularly keen mountaineers won't want to miss summiting the 3,355 meter-high Monte Perdido – the third-highest peak in the Pyrenees.
29. Salvador Dali Museum in Figueres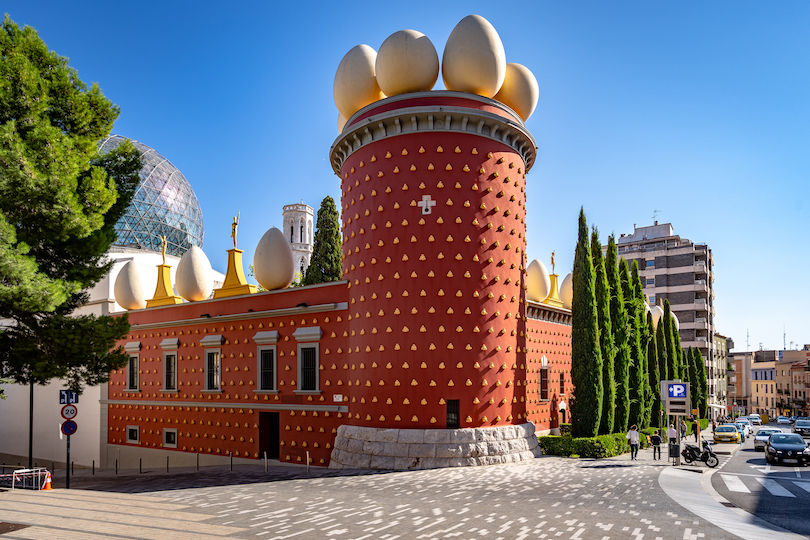 Impossible to miss, the Salvador Dali Museum in Figueres is immediately recognized by its extravagant exterior. Set right in the center – the hometown of the surrealist artist – it holds the world's largest collection of his works.
Actually designed by Dali, its bright red castle-like building is topped by both giant eggs and a geodesic dome. Opened in 1974, its galleries are packed with thought-provoking installations and artworks. Fantastical furniture pieces also lie next to surreal sculptures while its unusual layout makes the whole experience even more immersive.
Full of unique paintings and sculptures, the museum is among the most visited in Spain. While everything was incredible, we really loved the humongous hall beneath its dome and the gold statues studding the walls of its courtyard outside. The only downside was that it was hard to get good photos as everywhere was packed when we visited.
28. Corralejo Sand Dunes, Fuerteventura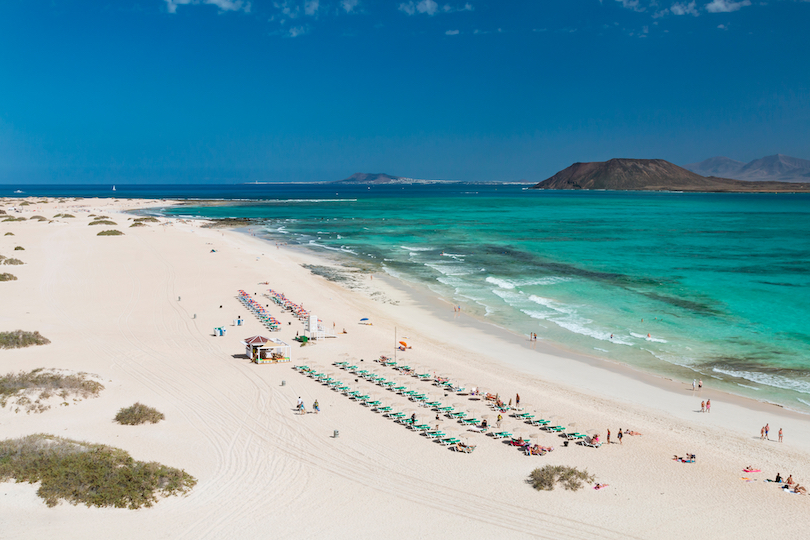 Covering a vast swathe of the northeast of the island is the spectacular Corralejo Sand Dunes. One of Fuerteventura and the Canary Islands' most captivating parts, its white sand beaches and sparkling waters offer all kinds of fun outdoor activities.
Bordered by craggy volcanoes and craters to one side and the immense Atlantic to the other, its rolling dunes were protected as a nature reserve in 1982. Formed over many millennia out of small shells, its sands are ever-changing due to the strong winds that strike the coast.
As you trudge across all its bleak yet beautiful landscapes, you can capture their striking formations and colors on camera. Apart from lounging on its beaches and swimming in the sea, there is exciting surfing and kitesurfing to enjoy.
27. Medieval City of Cuenca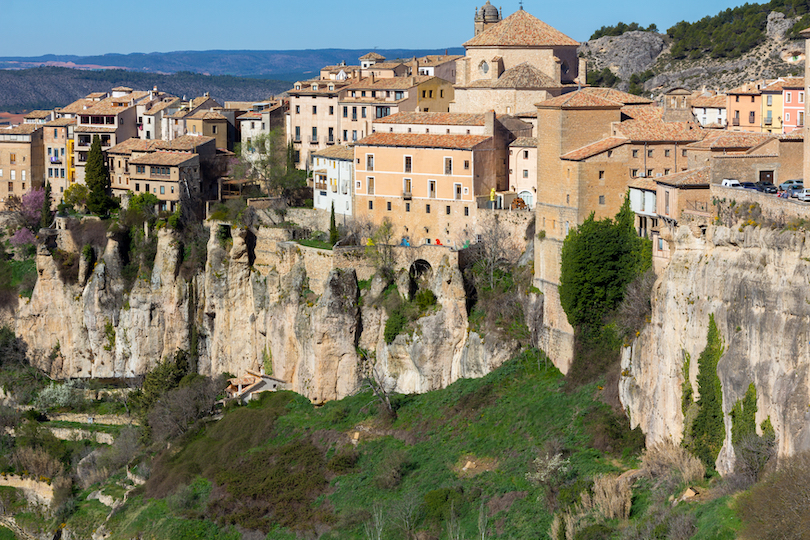 One of the most attractive medieval cities in the country, Cuenca has an atmospheric old center to explore. Built atop a rocky spur overlooking the Jucar and Huecar rivers, it is most famous for the 'hanging houses' clustered along its cliff edge.
Due to its strategic setting, it was founded by the Moors in the eighth century, between Madrid and Valencia. Visitors can see the crumbling ruins of their former fortress after having strolled along its charming cobble streets, past rows of pretty old buildings.
The highlight though is of course its gravity-defying hanging houses. For the best views, venture across the high-up San Pablo Bridge which itself is also quite impressive. The medieval city's precarious position has often seen Cuenca called the 'Eagle's Nest. It's easy to see why once you head up there yourself!
26. Alcázar of Segovia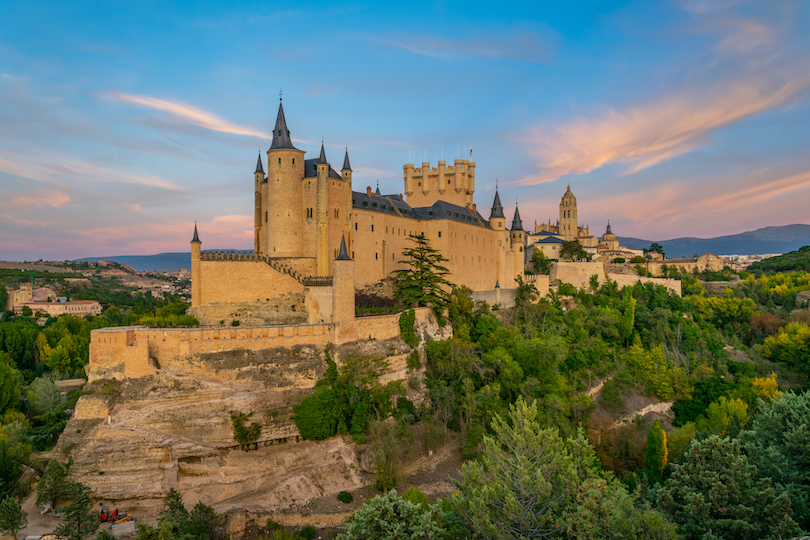 Appearing almost as if out of a fairytale, the Alcázar of Segovia rises majestically above the city and countryside surrounding it. Said to be the inspiration for Cinderella Castle at Disneyland, its ornately decorated rooms and armory are now open to tour around.
One of the most-visited tourist attractions in Spain, it has remarkably stood atop its rocky crag since at least the twelfth century. Over the years, twenty-two kings and countless other nobles resided in the castle with Isabella I having been crowned here. Representing the power and authority of the Castilian monarchs, its impenetrable walls are bordered by a deep moat with elegant towers rising towards the heavens.
Inside, the royal residence is lavishly furnished with fine tapestries, paintings and suits of armor. Aside from inspecting its artworks and architecture, commanding views can be enjoyed from its keep.
25. Prado Museum, Madrid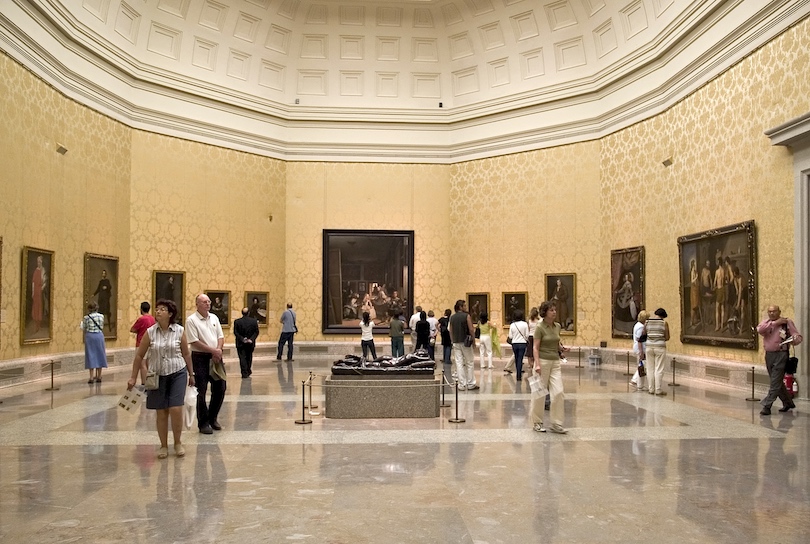 One of Madrid's must-see sights, the Prado boasts one of the world's biggest and best collections of European art. Located in a expansive palace-like building dating to 1785, it is most known for exhibiting El Greco, Velazquez and Goya, who represent the golden age of Spanish art.
Opened to the public in 1819, the Neoclassical-style museum's endless galleries display tens of thousands of paintings, prints and sculptures. Assembled by the Hapsburg and Bourbon monarchs of Spain, its artworks now span from the twelfth to twentieth century.
Wandering about its impeccably presented rooms really is an amazing experience if a bit exhausting! We couldn't believe the huge size of the museum and absolutely loved The Garden of Earthly Delights by Hieronymous Bosch.
24. City of Arts and Sciences, Valencia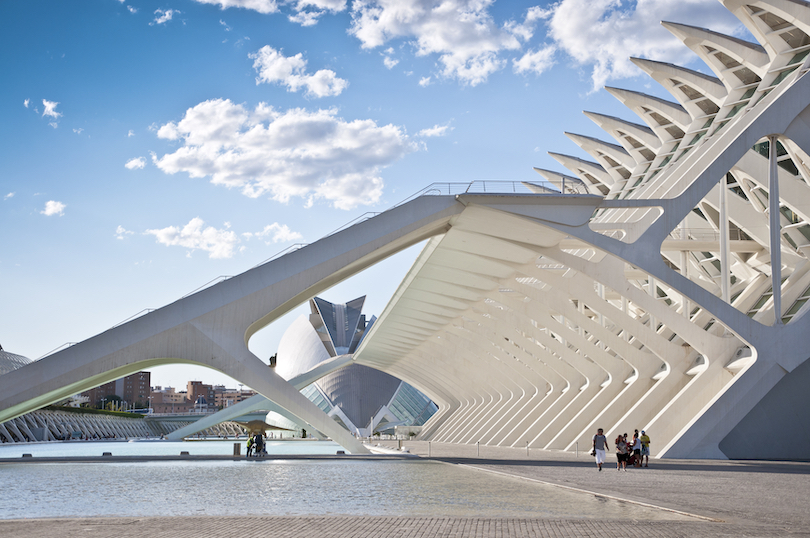 With enough attractions to keep you occupied for days, the City of Arts and Sciences is Valencia's standout site. One of the '12 Treasures of Spain', the state-of-the-art complex has everything from an aquarium and IMAX to various arts venues and entertainment areas to check out.
Built on the drained riverbed of the river Turia, the futuristic-looking science park boasts some of the most eye-catching contemporary architecture around. Each building and bridge showcases a unique, interesting design with their curved metal and glass frames creating astonishing shapes. This alone and the pretty pools around them already make the complex worth visiting.
Other than admiring its architecture, you can attend plays, concerts and sporting events. Hundreds of species of animals, plants and fish are also displayed in its oceanographic park and the enclosed L'Umbracle garden.
See also: Where to Stay in Valencia
23. Costa del Sol Resort Towns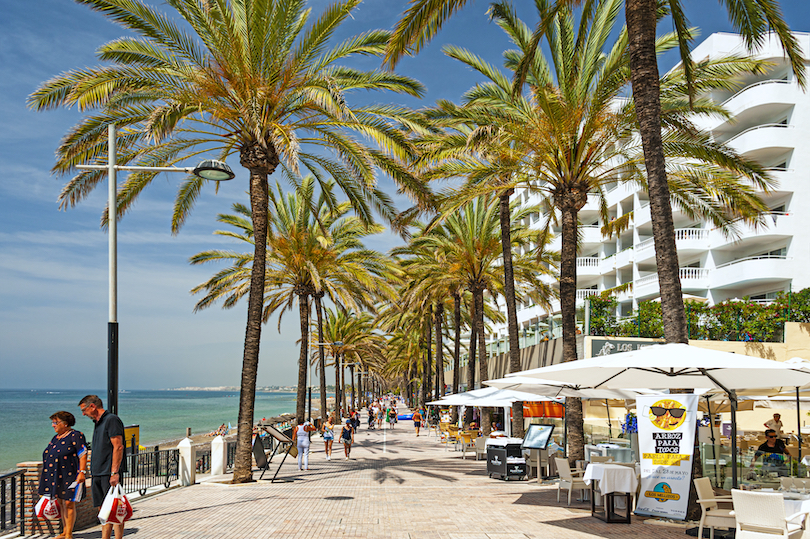 If instead of city trips and sightseeing you're after some sun, sea and sand, then heading to the Costa del Sol is one of the best things to do in Spain. Strung out along its gorgeous coastline are countless resort towns with pristine beaches also dotted everywhere.
One of the country's most important tourist areas, the 'Sun Coast' stretches around 150 kilometers, from Nerja in the east to Gibraltar in the west. Quite built up, the main spots people go include Benalmadena, Fuengirola and Marbella. Here you can sunbathe and swim or enjoy some nice seafood restaurants and nightlife.
Should you tire of the beach, you can hit up museums and historic sites in the region's capital Malaga. The white towns of Andalusia near here are also ideal for day trips due to their scenic settings and cute centers.
22. Timanfaya National Park, Lanzarote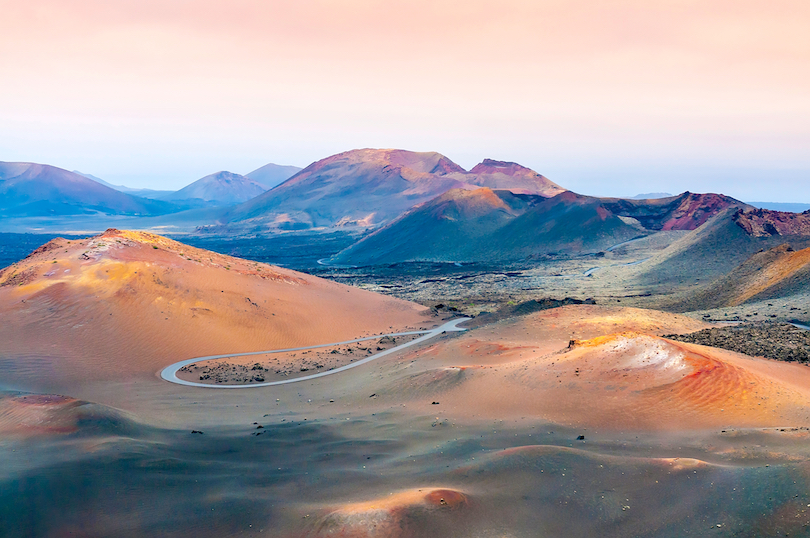 Covering an entire quarter of Lanzarote, Timanfaya has lots of Martian-like landscapes for you to explore. The island's main attraction, its volcanic cones, soils and lava fields have exciting coach tours and camel rides to take through the inhospitable area.
Now a national park, its wasted reaches were created between 1730 and 1736 when over a hundred volcanoes erupted. Completely destroyed by the force of everything, its bleak black and red rocks are a testament to Mother Nature's awesome power.
Although quite touristy, we really enjoyed our lurching camel ride up the side of a crater. We also got some great selfies with our sturdy steed and loved the spellbinding vistas of the volcanoes' striking silhouettes.
21. Camino de Santiago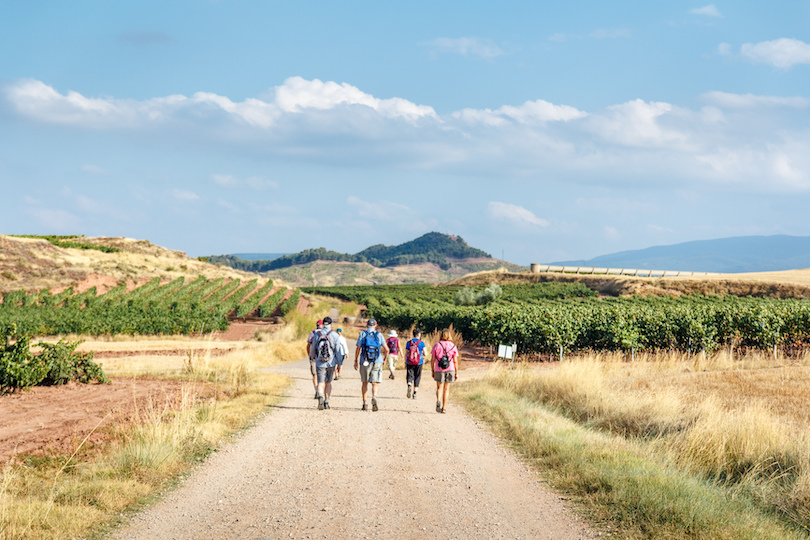 Crisscrossing their way about northwestern Spain and even further afield are a series of pilgrims' paths known as the Camino de Santiago. Very rewarding to hike, they lead you to Santiago de Compostela; the ornate cathedral which houses the shrine of James the Apostle.
Known in English as the 'Way of St. James', the network of pilgrimages has now been in use for well over a thousand years. Popular with medieval Christians, the trails meander their way through peaceful countryside or by steep coastal cliffs. Yet others still start in either France or Portugal with the end goal always being the cathedral in Galicia.
After days of hiking through quiet forests and fields and staying in rather rudimentary accommodation, arriving at the thirteenth-century shrine is an unforgettable experience.
20. Toledo Old Town
Up until the sixteenth century, the hilltop city of Toledo served as the capital of Spain. As such, its Old Town is packed with important palaces and churches while its immense Alcazar presides over everything. Numerous buildings also date back to the Moors and several synagogues lie in its Jewish quarter.
Known as the 'City of the Three Cultures' due to these influences, it was established in Roman times. Surrounded on three sides by the Tagus River, its narrow streets are a treat to get lost amongst. After becoming disoriented, you'll suddenly emerge in front of its large Gothic-style cathedral or the vibrant Plaza de Zocodover.
Some of the best views we found of the picturesque town were from the Alcantara and San Martin's bridges. From down by the river, you can capture some great shots of their old stone bridges with the city's romantic walls, houses and towers rising behind them.
19. Ibiza Nightlife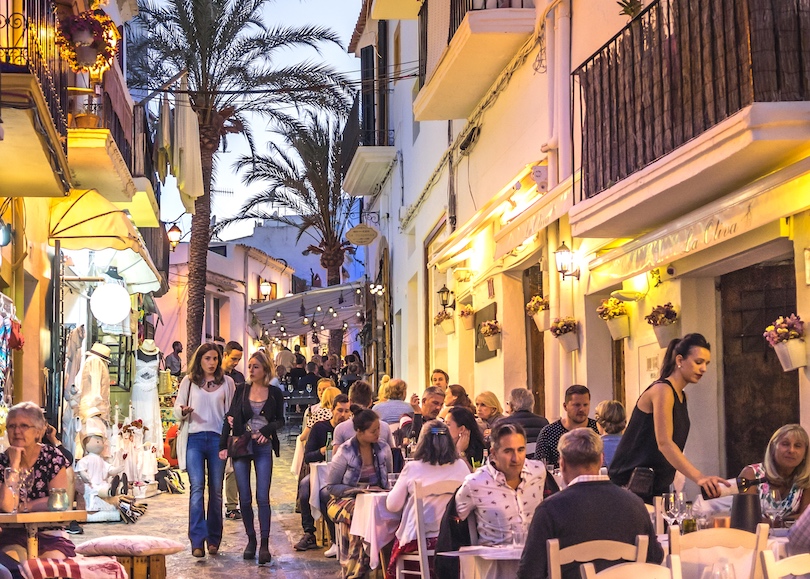 Notorious for its pulsating nightlife scene, Ibiza is the place to go if you want to dance the night away. Each summer, hordes of partiers pour into its pounding clubs, ready for a wild time. With famous venues like Pacha, Amnesia and Ushuaia all to hit up, it is no wonder the island is called the 'Party Capital of the World'.
Mainly focussed around Ibiza Town and Sant Antoni to the west, the isle's reputation is well-founded as rows of bars and clubs line their lively streets. Inside, big-name DJs put on high-energy sets which keep people dancing til dawn.
To recover from thrilling shows by Calvin Harris or David Guetta, roll your way to the beach and lie in the sun until the next night comes around. A must for music enthusiasts and party-goers, Ibiza really needs to be experienced!
18. La Rambla, Barcelona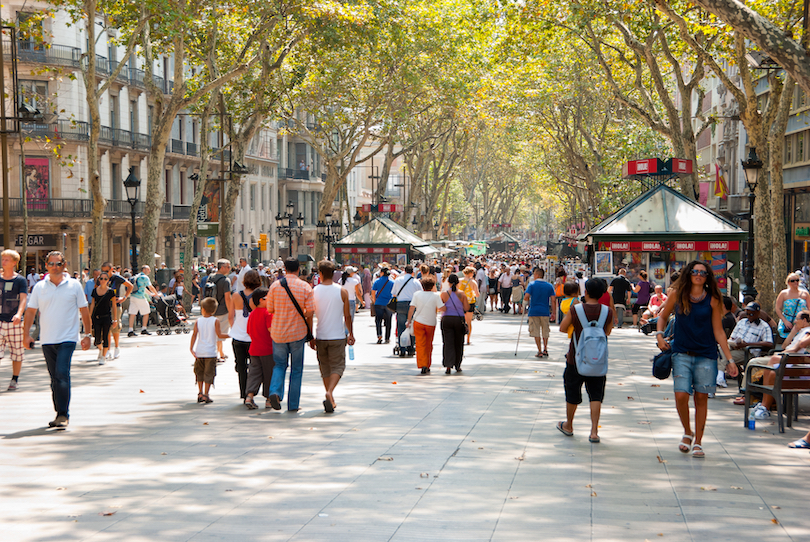 One of the city and country's most renowned streets, La Rambla cuts a line right through the center of Barcelona. Humming with life, the tree-lined walkway takes you past tons of shops, restaurants and some tourist attractions too.
Starting from Plaza Catalunya, the pedestrian street stretches 1.2 kilometers until Port Vell and the Christopher Columbus Monument down by the waterfront. Dividing the Gothic Quarter from the El Raval district, the busy boulevard is often referred to as Las Ramblas as it actually consists of a series of shorter streets blending into one another.
As you wander along, you'll come across musicians, caricaturists and street performers doing stunts – just watch out for pickpockets along the way! Although touristy, the vibrant La Boqueria market bordering it is yet another must-see site. While it and La Rambla's atmosphere are infectious, we would suggest eating in the streets off them if you're after a more authentic (and affordable!) experience.
17. New Bridge, Ronda
Set in one of the most stunning spots imaginable, Ronda sprawls atop a rugged ridge amidst all the mountains inland from the Costa del Sol. Its defining feature though is the gaping gorge that cuts the town in two. Across its deep, dramatic drop spans the New Bridge – its most photogenic and famous landmark.
Separating its Moorish Old Town from the new town (which 'only' dates to the fifteenth century!!) are the plummeting walls of the 120 meter-deep El Tajo Gorge. Known as the Puente Nuevo in Spanish, the bridge was built in 1793 to connect the two. Standing 93 meters in total, its three sturdy spans look absolutely spectacular sandwiched between the canyon's colossal cliffs.
From both the bridge and ridge of the gorge, you can enjoy phenomenal views over the town's houses clustered along its rim. The countryside below and the mountains in the distance also create some fantastic photo opportunities.
16. Burgos Cathedral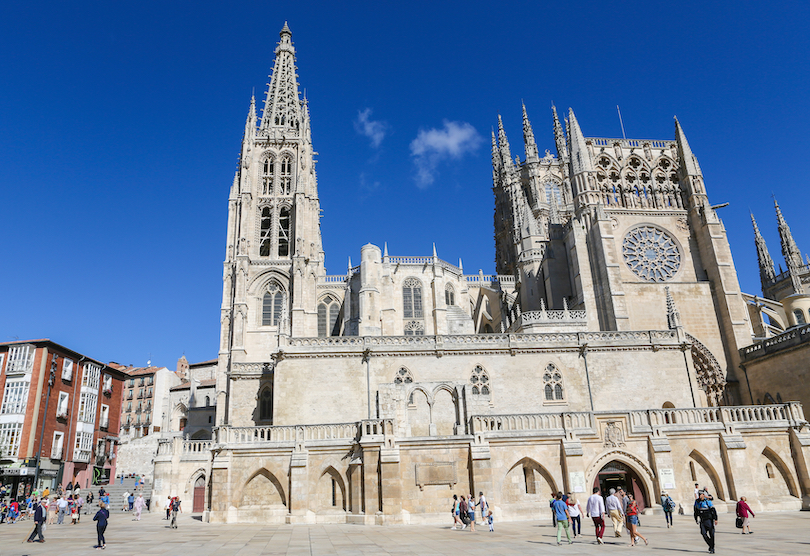 Most known for its massive and majestic cathedral, the small city of Burgos lies in the northwest in Castile and Leon. Exhibiting exquisite French Gothic-style architecture, the large landmark has extraordinary artworks and El Cid's ornate tomb to admire.
Rather reminiscent of the great cathedrals of Paris or Reims, its flamboyant facade and fetching rose window are flanked by two lofty bell towers. While work first began on the basilica in 1221, its elegant spires were only added centuries later.
Inside is arguably even more impressive as its dozens of chapels are all decorated with carvings, paintings and sculptures. Besides the final resting place of Spanish military hero El Cid, its gigantic, glittering altarpiece is definitely the cathedral's standout attraction.
15. Picos de Europa National Park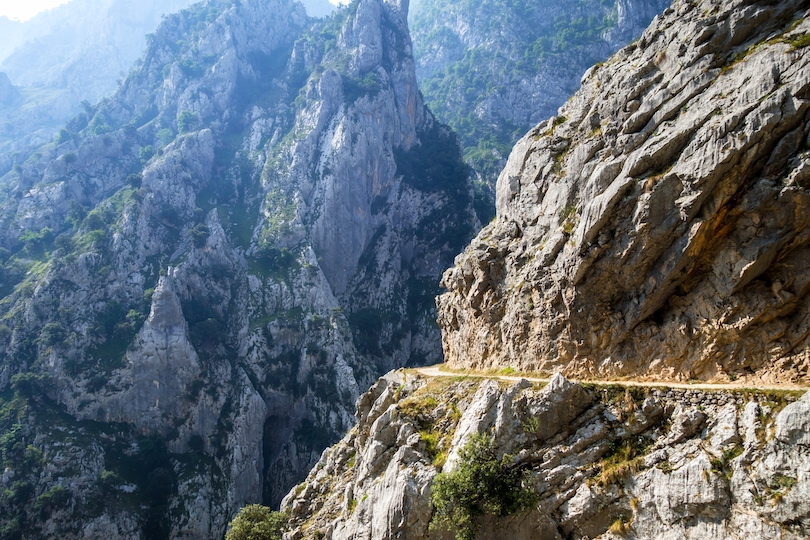 Boasting some of Spain and Europe's most awe-inspiring landscapes is the Picos de Europa National Park. Actually home to three distinct mountain ranges, its wild reaches lie just inland from the Bay of Biscay, in the northwest of the country.
The country's first national park, it was founded in 1918 to protect the area's river-filled gorges, rearing peaks and rare wildlife. Formed throughout millennia by slow-moving glaciers, its jagged mountains and glimmering lakes make for some fabulous viewing.
Sure to delight nature lovers, the picturesque park has a myriad of trails, rock climbing routes and camping sites to make use of. All its stupendous scenery and cute mountain towns are enthralling to explore with cable cars and ski resorts dotted here and there.
14. Plaza Mayor, Salamanca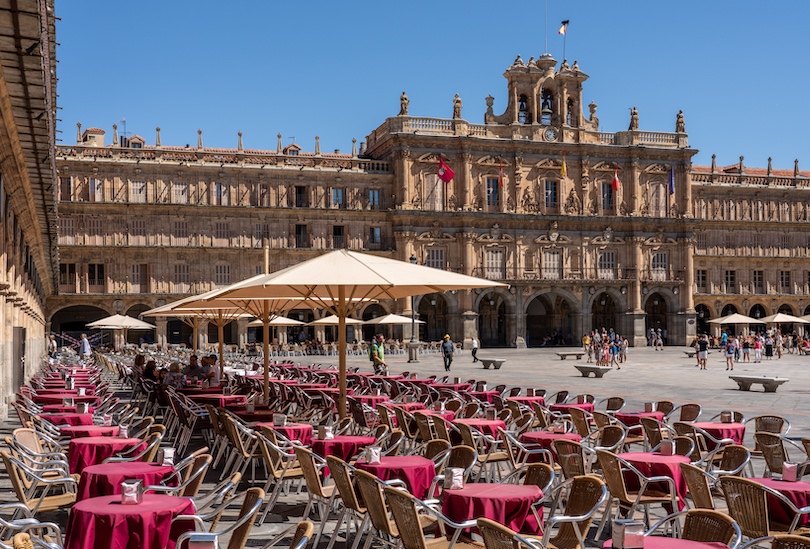 One of the largest squares in Spain, Plaza Mayor in Salamanca is surrounded by lots of lovely architecture and important buildings. Now home to heaps of shops, restaurants and cafes, it is the heart and soul of life in town.
Although now hard to believe, the plaza was constructed in 1755 on the orders of Felipe V to host bullfighting spectacles. Thankfully stopped in the mid-nineteenth century, all its broad paving stones are bordered by brilliant arcades and Baroque-style facades. The finest of these is its Town Hall, adorned with allegorical figures and the medallions of various monarchs.
Due to the gorgeous glow of its sandstone buildings, Salamanca is delightfully known as 'La Dorada' or the Golden City. While its warm hues already look arresting during the day, in the evening the entire plaza is magically illuminated by hundreds of lights.
13. White Towns of Andalucia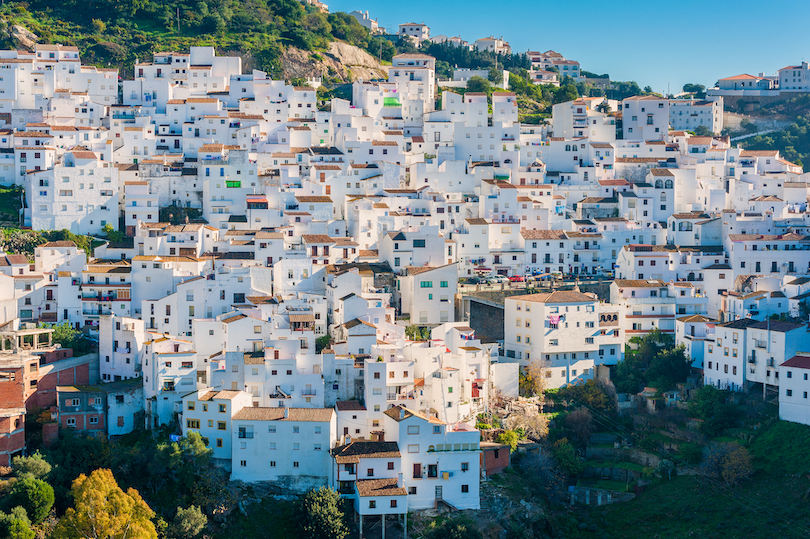 Scattered about the rolling hills and rugged mountains of southern Andalucia are a series of small settlements known as the White Towns. Standing out against the rocks, fields and vineyards, their historic centers are a treat to explore with their mesmerizing settings and views being just as good.
Known in Spanish as the Pueblos Blancos, the twenty or so scenic villages are strung about the provinces of Cadiz and Malaga. Known for their buildings' bright whitewashed walls, they are often set in heartachingly beautiful spots. Add in their charming plazas, churches and fortresses, and it is no wonder so many visit each year.
While you really can't go wrong, some of the most popular are Ronda and Arcos de la Frontera for their precipitous settings and views. Zahara de la Sierra also attracts plenty of visitors due to the craggy rocks and castle rising above it. Then again, Setenil de las Bodegas which is partially built into the side of overhanging cliffs is also pretty special!
12. Mallorca Beaches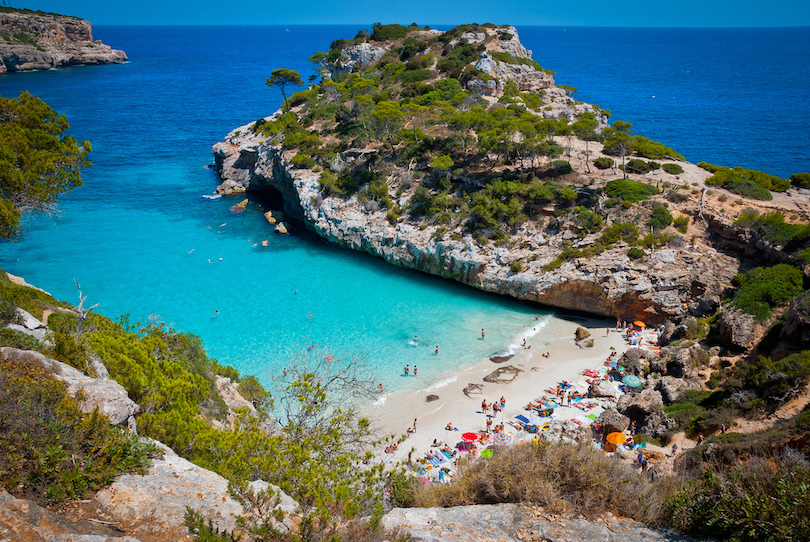 Each summer, thousands upon thousands of sun worshipers descend upon Mallorca to relax on its beaches. Long one of Europe's most popular holiday destinations, it has more than enough great resorts, good food and glorious stretches of sand to go around.
The largest of the Balearic Islands, its coastline stretches a whopping 550 kilometers with over 260 beaches studding its shores. While some are very lively and offer tons of amenities and watersports, others lie well off the beaten path.
Particularly idyllic, yet isolated, ones include Calo del Moro and Sa Calobra due to their soaring cliffs and stunning turquoise waters. If you're after a bit more life, the towns of Alcudia and Cala Millor contain numerous shops, restaurants and hotels. Asides from swimming and splashing around in the Med, both lie under an hour's drive from Palma, should you want a bit of culture.
11. Plaza de Espana, Seville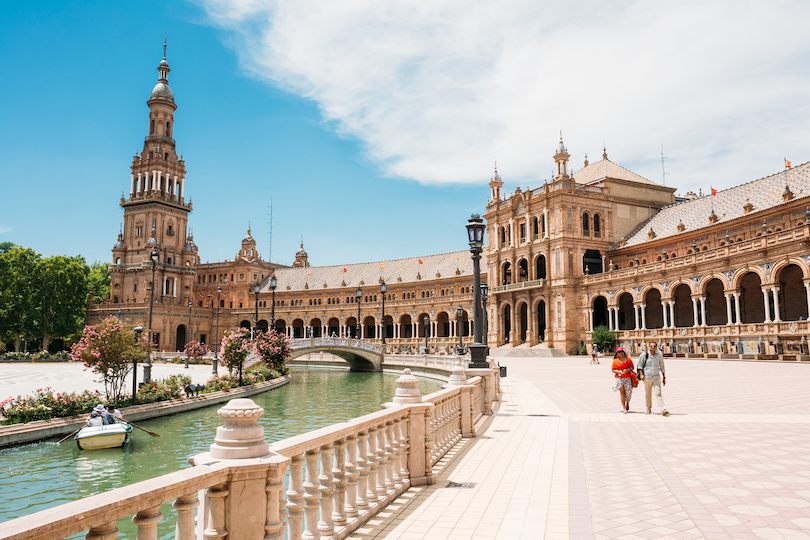 Another of the country's most iconic and elegant squares is Plaza de Espana in the heart of Seville. Recognized the world round, the semi-circular pavilion's gently curving pool and graceful colonnades create some fabulous photos.
Erected for the Ibero-American Exposition of 1929, its brick building exhibits an eclectic array of architectural styles. A mix of Art Deco, Baroque Revival and Neo-Mudejar, it is accessed via four bridges across a moat. Each represents an ancient kingdom of Spain while panels of colourful decorative tiles account for each province.
After snapping some pics of its facades from across the water or taking selfies in front of its tiles, it's nice to stroll around the lush, leafy Parque de Maria Luisa alongside it.
10. Mount Teide, Tenerife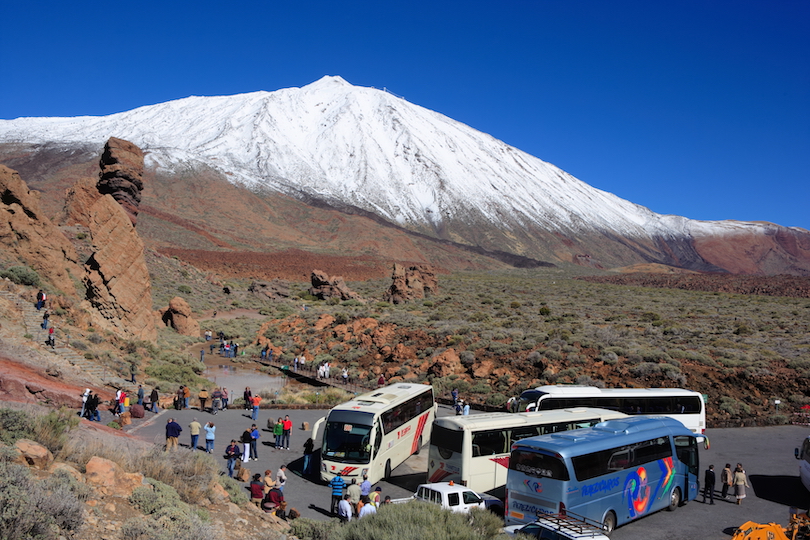 When visiting Tenerife, it's almost impossible not to spend some time exploring Mount Teide's incredible volcanic landscapes. Dominating the island, Spain's highest peak is now protected as a national park – one of the most-visited in the world.
Another of the '12 Treasures of Spain', the vast volcano's fiery reputation led to Tenerife being known as 'Isla del Infierno' or 'Hell Island' in the fourteenth and fifteenth centuries. Towering 3,715 meters, its sprawling lava-scarred slopes make it the third-largest in the world.
While hiking or driving about, you'll enjoy astonishing scenery and see remarkable rock formations. The most noteworthy is the 27 meter-high Roque Cinchado which makes for some great photos with Teide in the background. You can also take a long cable car ride up to its summit for breathtaking panoramas over the whole isle.
9. Guggenheim Museum Bilbao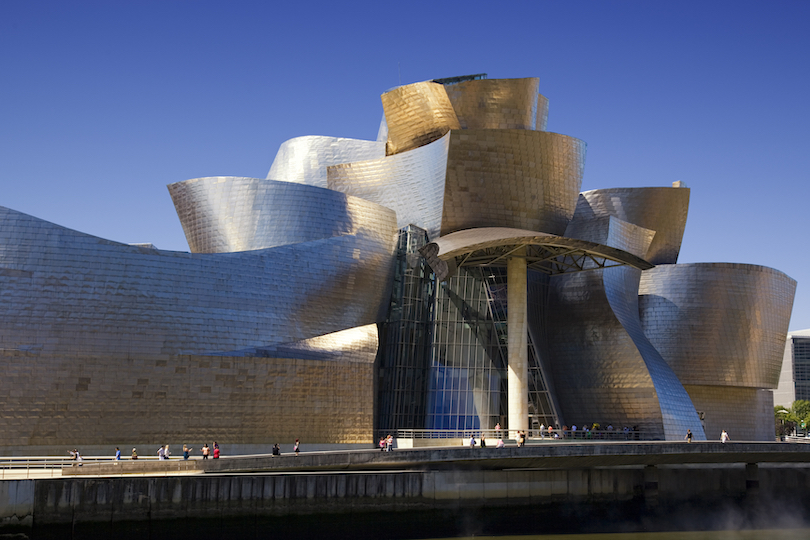 Housed in one of the most unique buildings you're likely to come across, the gleaming Guggenheim Museum is Bilbao's top tourist attraction. Lying by the Nervion River, its extraordinary architecture attracts just as many people as the contemporary installations within.
Unveiled in 1997, the twisting, turning shapes of its titanium and glass transformed the city's image with thousands now visiting just to see it. Created by Canadian-American architect Frank Gehry, its daring Deconstructivist design saw the Guggenheim instantly hailed as an architectural masterpiece.
Although its sensuous curves and striking silhouette steal the show, inside you'll find lots of interesting installations. Constantly changing, these focus on everything from Cubist creations and contemporary prints to sculptural pieces that defy definition. Highlights of its permanent collection include works by Andy Warhol and Jorge Oteiza among others.
8. Palacio Real, Madrid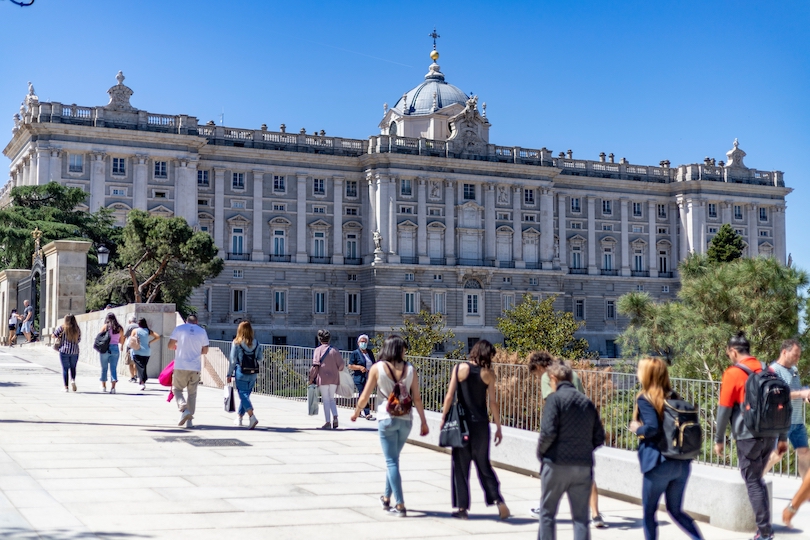 One of the largest and most lavish palaces in Europe, Palacio Real covers an enormous area, just west of Madrid's main square Plaza Mayor. Surrounded by grand gardens and squares, it boasts over 3,400 decadently decorated rooms, fifty of which are open to the public.
Now only used for state ceremonies, the over-the-top Rococo palace was the official residence of the Spanish royals for centuries. Completed in 1755, its imposing facade is lined by Ionic columns with various statues and their coat of arms adorning it.
On tours of the palace, you can explore its sumptuously decorated state rooms full of art and antiques. Other than ogling at frescoes and examining fine tapestries and carvings, there are also the Throne Room and Hall of Mirrors to admire. The audio guide provides more information on the history of the palace, its armory and the royal family too.
See also: Where to Stay in Madrid
7. Running of the Bulls, Pamplona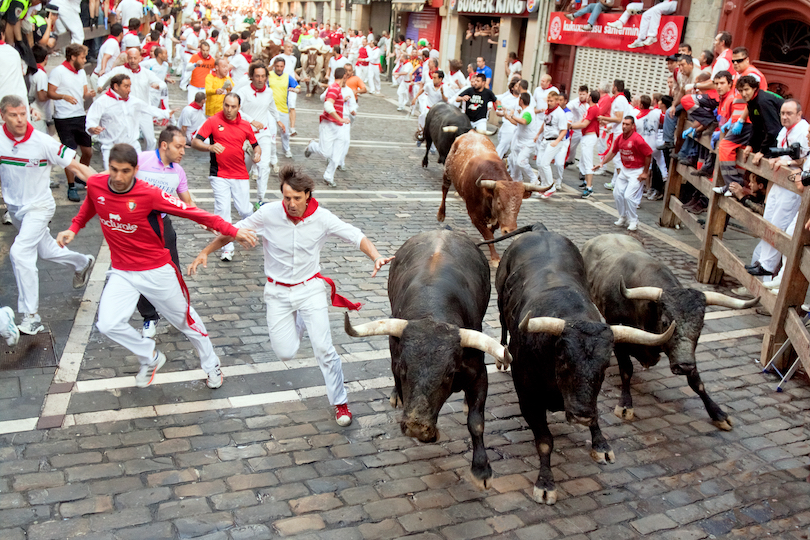 An exhilarating event like no other, the Running of the Bulls in Pamplona sees a dozen big bulls let loose and chaos break out. From boarded-off areas and balconies, you can watch thousands of thrill-seekers sprint through the streets before the stampeding toros.
Held every July during the San Fermin festival, the tradition is thought to have begun in the northeast in the fourteenth century. Known in Spanish as the 'encierro', it has eight electrifying bull runs to watch or take part in.
Each starts at 8 AM and ends just under a kilometer away in the arena where the bulls fight later that evening. Before that though, both they and the bright white-and-red clad participants have to navigate the Old Quarter's narrow, winding streets.
Watching them tear down alleys with a bellowing bull breathing down their necks really is a sight that will live long in the memory! Street parties, firework shows and traditional parades also take place alongside Basque sporting events and bullfights.
6. La Concha, San Sebastian
Regularly listed among the most beautiful beaches in Spain, La Concha curves its way gently about the large bay of the same name. Bordered by lush, green hills and bright white apartment buildings, it lies in the north of Spain, right next to the French border.
San Sebastian's defining sight, its soft sands are so named due to their distinctive shell shape. Lying along the Bay of Biscay in the Basque Country, the beach is protected from the open sea so has some splendid swimming, kayaking and water skiing.
Besides basking on its sands or trying watersports, there are tasty seafood restaurants and beachside cafes to stop at. For unbelievable views over the beach, bay and its little island offshore, take a ride in its vintage funicular. At its summit, the historic amusement park offers sweeping panoramas over San Sebastian's spectacular coastal scenery.
5. Aqueduct of Segovia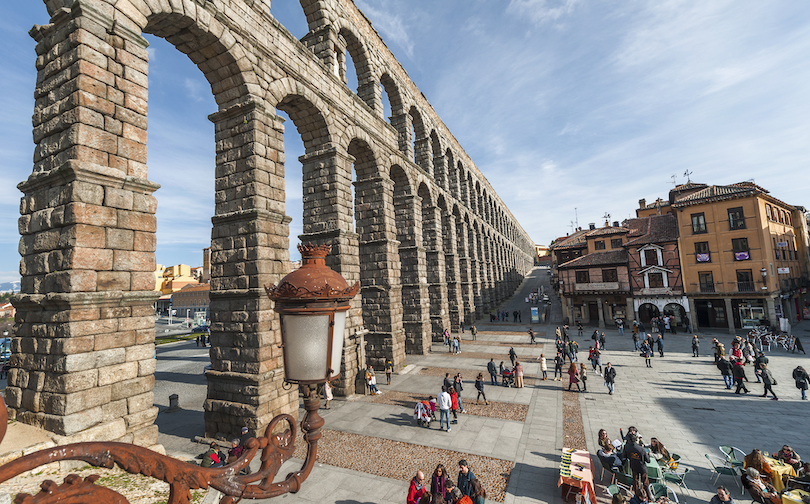 One of the best-preserved Roman monuments in Spain, the Aqueduct of Segovia makes its way from the mountains south of town right to the historic center. The city's main sight, it is still in remarkably good shape, having been used up until the seventies.
Dating to around 50 AD, the ancient aqueduct extends seventeen kilometers in length across valleys, hills and fields. Impressively made of 24,000 hulking great granite blocks wedged together without mortar, its 167 arches tower 28,5 meters at their highest point.
A magnificent feat of engineering, it channeled water from the Rio Frio in the mountains to the city's public baths, fountains and private homes. The best view of the enormous aqueduct is in Plaza del Azoguejo in the heart of the Old Town. This is where it reaches its maximum height and the best photos can be had.
4. Sagrada Familia, Barcelona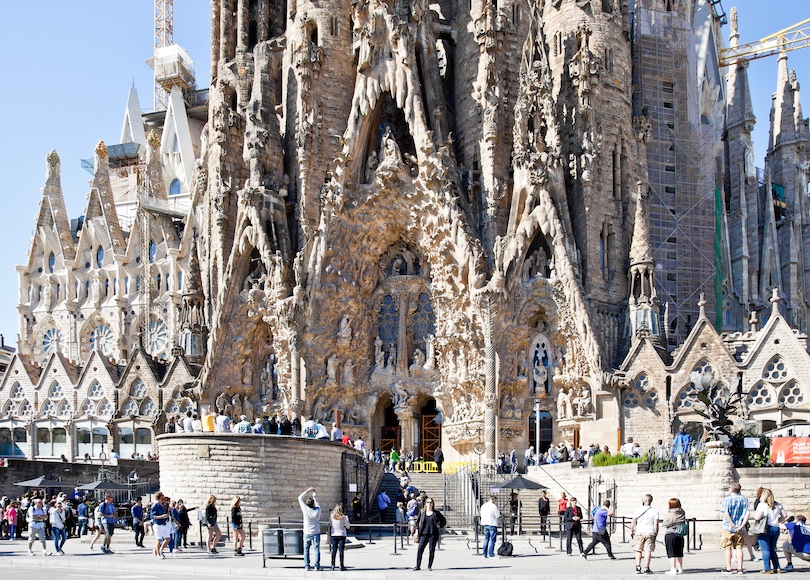 Barcelona's most popular and famous attraction, the iconic Sagrada Familia is unlike any other church in the world. Full of fantastical features inspired by nature, its immense facades and intricate spires need to be seen to be believed.
Designed by the revered Catalan architect Antoni Gaudi, work on the basilica began in 1882 with its soaring towers and two of its facades still yet to be completed. Incredibly imaginative, it includes Art Nouveau, Gothic and Catalan Modernist elements – just not like you've seen before.
While we baulked at the steep admission, we're so thankful we went in as its colossal tree-like columns and colourful stained-glass windows create quite the ambience. Its audio guide also provides more info on its history, architecture and Gaudi's inspirations.
One of the best buildings we've seen, its dramatic size, sculptures and dancing colors make for some brilliant photos. From atop its tall towers, you can enjoy unrivaled views over all of Barcelona before you.
See also: Where to Stay in Barcelona
3. El Escorial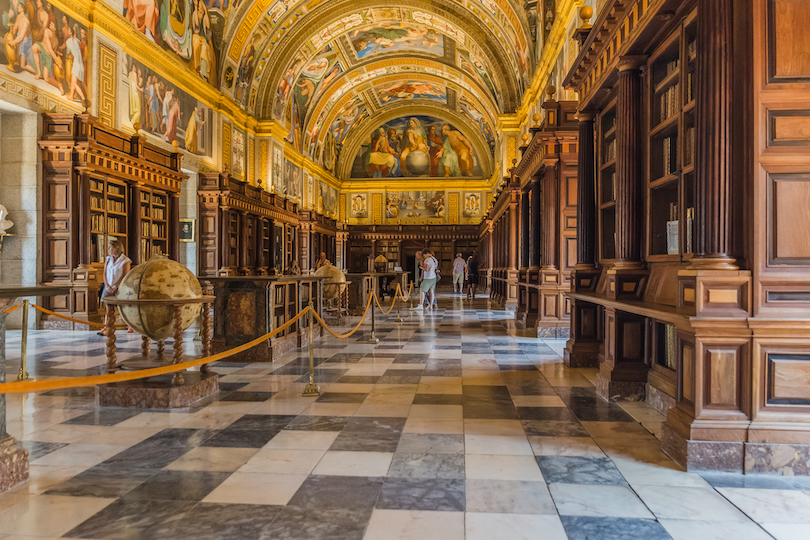 Once the political center of the Spanish Empire, El Escorial exhibits some exquisite architecture with priceless artworks and frescoes decorating its rooms. Nestled amidst the foothills of the Sierra de Guadarrama, it can be reached just in an hour from Madrid, either by car or public transport.
The largest Renaissance building in the world, it was constructed in 1584 on the orders of King Philip II. To reflect Spain's influential role at the center of the Christian world, no expense was spared on its resplendent royal palace and marvelous monastery.
As you tour its lavish apartments, basilica and pantheon, you'll find a plethora of pretty old artworks and intricately-painted ceilings. In the latter, 26 kings and queens are also buried in majestic marble sepulchres, highlighting El Escorial's historic importance.
Besides gasping at phenomenal frescoes in its library, you can examine masterpieces by Durer and El Greco in its art gallery.
2. Mezquita of Cordoba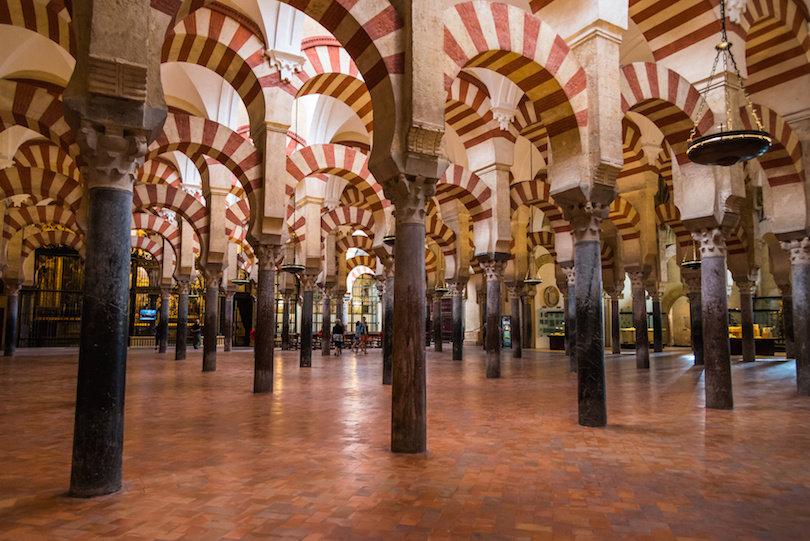 Not to be missed out, the Mezquita of Cordoba is without a doubt one of the country's finest buildings (and that's really saying something!). Yet another of the '12 Treasures of Spain', its elegant prayer hall and airy courtyard are hemmed in by the narrow medieval streets of the Old Town.
One of the most important examples of Islamic architecture, the Great Mosque was built in 785. Following the Reconquista, it was converted into a cathedral though most of its ornate, Moorish-era elements still remain. This is because its nave and transept were inserted into the center of the building, preserving its original look, style and feel.
Almost appearing like a fortress, it is most famed for the forest of red-and-white striped pillars and arches in its main hall. Decorating its basilica are an elaborate altar, carvings and dozens of chapels full of religious treasures and artworks. Its courtyard also has a lovely orange grove to amble about while delightful views can be enjoyed from its tower.
1. Alhambra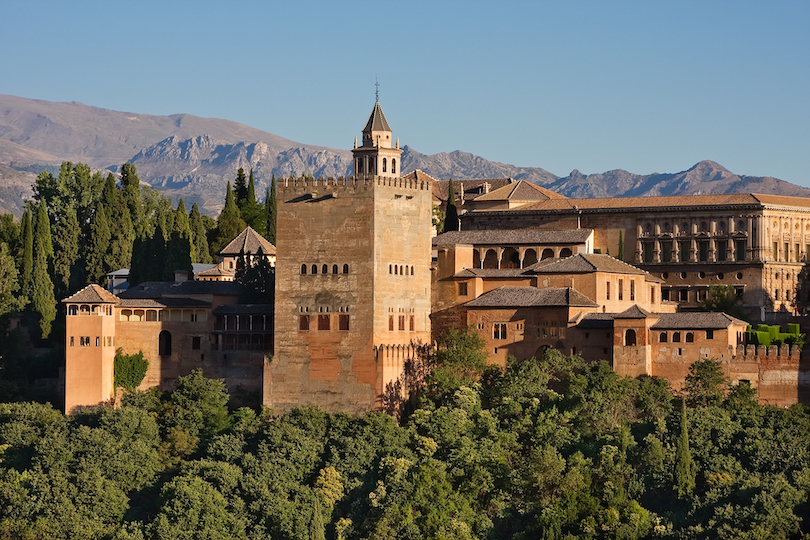 Another of Andalusia's architectural gems is the expansive palace and fortress complex of Alhambra which sprawls across a hill in Granada. One of Spain's top attractions, its courtyards, halls, gardens and citadel are utterly captivating (if exhausting!) to explore.
Once home to the Nasrid sultans, its ornamental architecture and gorgeous gardens represented the epitome of culture and civilization in Europe at the time. While work first started on the site in 1238, most of its standout features date to the fourteenth century.
Needing at least half a day to see, its highlights include the picturesque Patio of the Lions and the Generalife's immaculate orchards, gardens and water features. The ruins of the Alcazaba – its former Moorish fortress – and the Renaissance palace of Emperor Charles V also need to be seen. An amazing place, Alhambra boasts loads of beautiful Islamic architecture with its spellbinding natural setting being just as impressive.
Map of Tourist Attractions in Spain