Italy is home to the greatest number of UNESCO World Heritage Sites in the world. High art and monuments are to be found everywhere around the country. Its great cities of art, like Rome, Venice and Florence are world famous and have been attracting visitors for centuries.
Besides its art treasures Italy also features beautiful coasts, alpine lakes and mountains. No wonder it is often nicknamed the Bel Paese (beautiful country).
With so many amazing sights, putting together a compilation of things to do is no easy task. The following list of top tourist attractions in Italy however should give a good indication of why over 40 million foreign tourists visit this country ever year.
In this post, we'll cover:
33. Trulli of Alberobello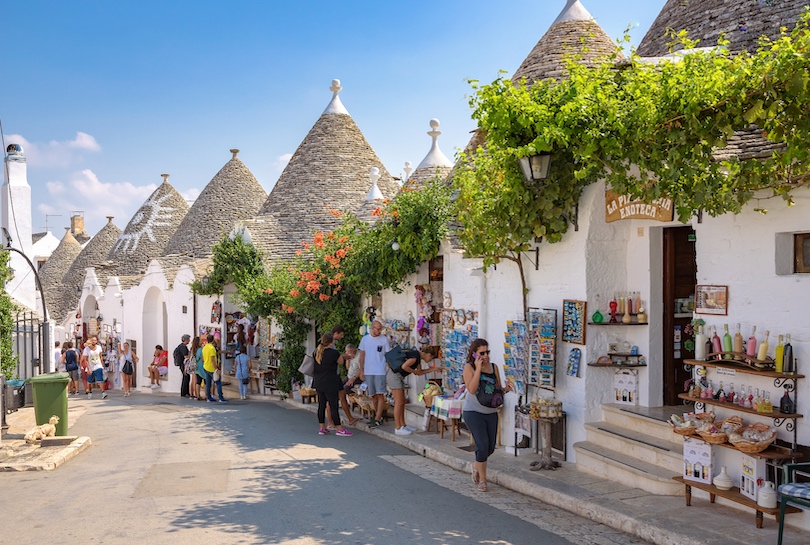 The Trulli of Alberobello is a group of conical-roofed houses located in the town of Alberobello, in the Puglia region of Italy.
Built in the 14th century, the houses are made of stone and have a distinctive conical roof comprised of flat stones. Ingeniously they were put together without the use of mortar.
Over the years, The Trulli of Alberobello has become a popular tourist destination, attracting scores of visitors interested in traditional architecture and local history.
In 1996, the Trulli of Alberobello was declared a UNESCO World Heritage site, recognising its cultural and architectural significance. Many of them have been restored and converted into holiday homes, restaurants, and shops. Thus, allowing visitors to experience this unique aspect of Puglia's cultural heritage.
32. Island of Procida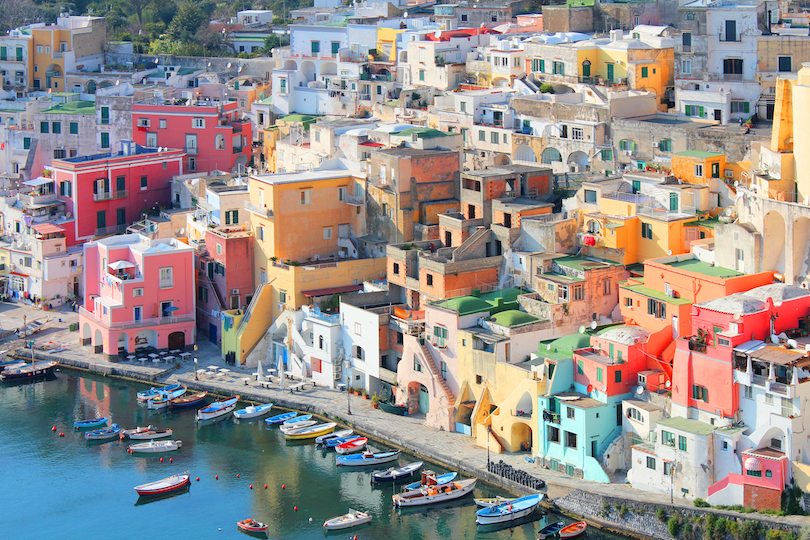 Procida is a small island located in the Campania region of Italy, within the Bay of Naples.
The island is known for its colourful houses, picturesque fishing villages, and charming streets.
Radiating a serene and unspoiled atmosphere, Procida is a popular destination for tourists who want to get away from the more crowded and touristy destinations of the nearby Amalfi Coast.
The island is famous for its incredible seafood cuisine. It also has a vibrant local culture that includes several festivals and events. Most notably, these include the Festa di Sant'Antonio Abate in January and the Festa di Santa Maria delle Grazie in September.
For those who want to go there, Procida is easily accessible by ferry from Naples, Ischia, and the Amalfi Coast.
31. Ponte Vecchio in Florence
The Ponte Vecchio is one of Florence's most famous landmarks.
Rich in character, the medieval bridge crosses the Arno River and is lined with shops. Many of which sell gold jewellery and other high-end items.
The Ponte Vecchio has been a center of commerce since the 13th century and is one of Europe's oldest and most historic bridges.
Remarkably, the Ponte Vecchio was also the only bridge in Florence to survive the German retreat during World War II. It has since become a symbol of the city's resilience and history.
A hugely popular tourist attraction, the bridge is often crowed with tourists. Visitors can admire its picturesque architecture, stroll along its bustling shopping streets, and take in the views of the Arno River.
30. Verona Arena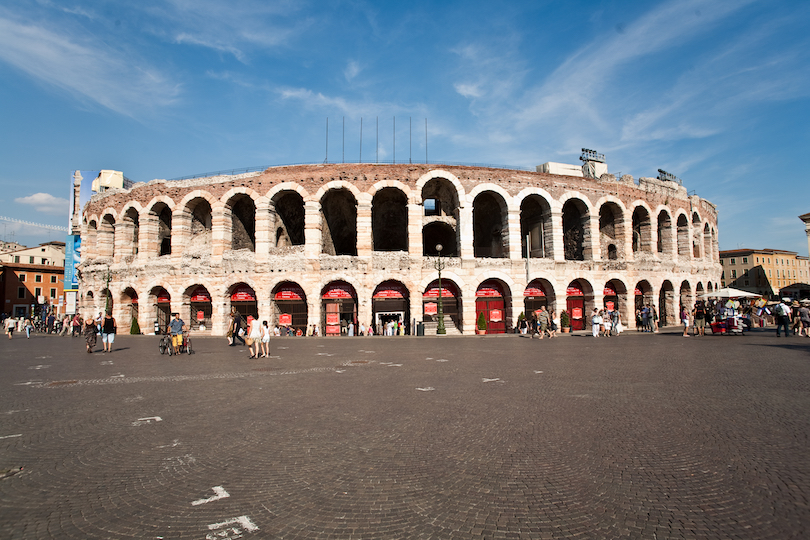 The city of Verona is largely known for its role in the play Romeo and Juliet, but dating back even further is the Verona Arena. This incredible arena is actually a Roman amphitheater constructed 2,000 years ago.
Despite its age, the Verona Arena is remarkably well preserved, and at its peak it hosted performances for more than 30,000 people.
It is still in use today as a performance venue, enjoying a status as one of the largest open-air opera venues in the world. Over the years, famous operas like Aida, La Traviata, and Romeo and Juliet have all been performed here.
Surrounded by restaurants, cafes, and shops, the area around the venue is a popular spot for evening walks. Thus, making it a hub of cultural activity in Verona.
29. Herculaneum
Herculaneum was an ancient Roman city destroyed, along with Pompeii, in the eruption of Mount Vesuvius in 79 AD.
It was preserved for centuries under layers of ash and pumice before being discovered in the 18th century.
Since then, it has become a popular tourist destination and a key site for studying ancient Roman life and culture. The site is known for its well-preserved buildings and innovative use of concrete and waterproofing techniques.
Herculaneum was a smaller city than Pompeii but is better preserved, with many buildings and frescoes still evident.
Visitors to Herculaneum can see a range of well-preserved ancient structures, including houses, thermal baths, and a theatre. Also visible are the remains of shops, public squares, and streets.
28. Elba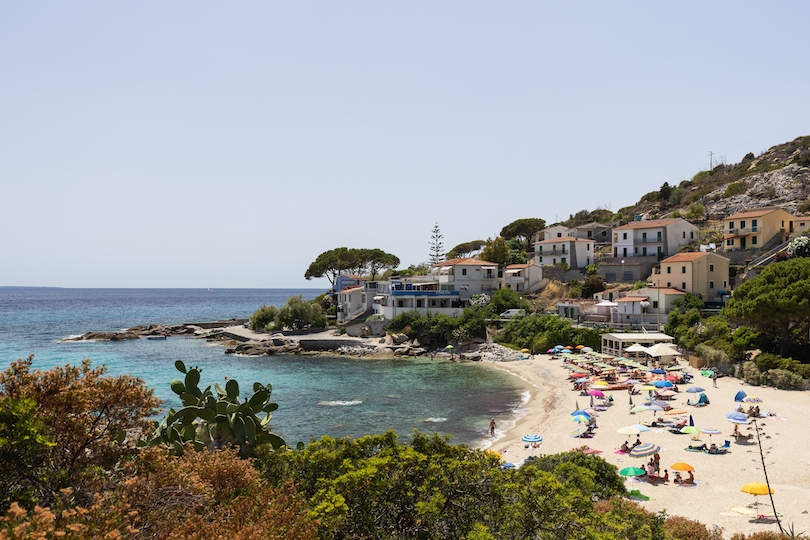 Elba is an island nestled off the coast of Tuscany in the Tyrrhenian Sea.
The island has a long history, and it was previously inhabited by Ligures Ilvates, Greeks, Etruscans and Romans. Elba's most famous resident, however, was Napoleon, who was banished to Elba in 1814. Napoleon's winter and summer homes still stand, and they are available for the public to tour.
Easily accessible by ferry from the mainland, it is the largest island in the Tuscan Archipelago. It is also a popular holiday destination for Italians and international tourists.
Known for its beautiful beaches, crystal-clear waters, and rolling hills, Elba is covered in vineyards and olive groves. The island is also rich in culture. Boasting several quaint medieval towns and historic fortifications, you should explore if you have the time.
One of Elba's big attractions is that it is a fantastic destination for outdoor activities, including hiking, cycling, and water sports. It is also noted for its local cuisine, particularly seafood and olive oil.
27. Gran Paradiso National Park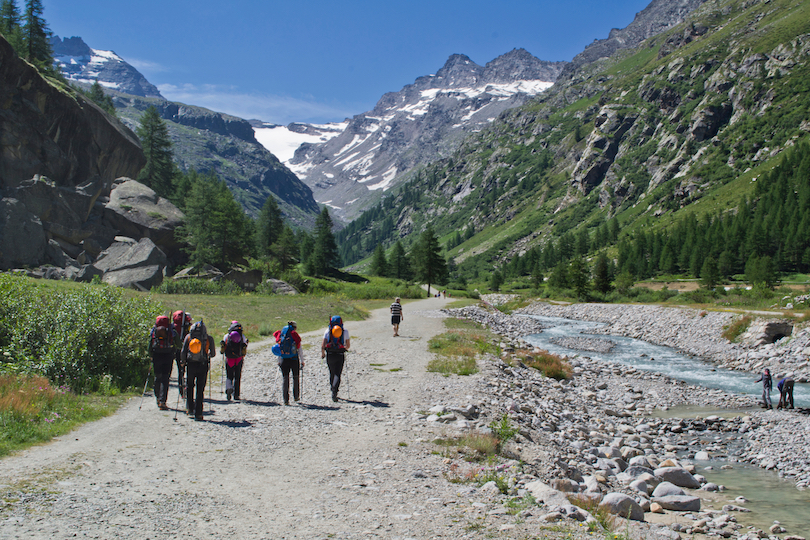 Nestled in the Graian Alps is Gran Paradiso National Park, a gorgeous destination with stunning mountain views and incredible hiking opportunities. The Gran Paradiso National Park was first established as a way to protect the local ibex population.
The wildlife today includes those ibex as well as badgers, wolves, lynx, ermine and more than 100 bird species.
The park is easily accessible by car from the nearby towns. Seasonal things to do include summer hiking, spotting the foliage in autumn, cross-country skiing in winter and photographing flowers come spring.
Its main attraction is the Gran Paradiso peak, the highest mountain entirely in Italy. Scaling the peak provides sensational panoramic views of the surrounding valleys and peaks.
26. Palazzo Ducale in Urbino
The Palazzo Ducale is an enormous Renaissance palace located in the city of Urbino, in the Marche region of Italy.
Designed by the famous architect Luciano Laurana, it was built in the 15th century and served as the residence of the Duke of Urbino.
The Palazzo Ducale features some notable architectural elements. They include a central courtyard, a grand staircase, and a series of loggias and balconies.
The palace is also known for its outstanding art collection, which includes pieces by artists such as Piero della Francesca and Raphael. The latter of which lived and worked in the palace during the Renaissance.
Today, the Palazzo Ducale is a museum and cultural centre. It is open to visitors, who can explore its halls, courtyards, and exhibitions.
25. Trevi Fountain in Rome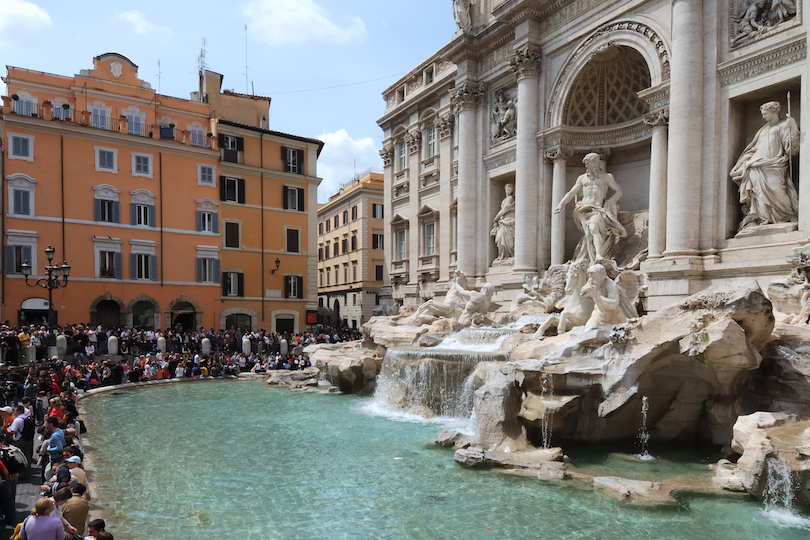 One of the must-see attractions in Rome is the Trevi Fountain. The fountain was constructed in 1762 by Nicola Salvi, and it depicts the god Neptune surrounded by underwater creatures in battle.
Trevi Fountain is known as a place to throw in a coin to secure a return trip to Rome, and throwing two coins can secure a loving relationships with a Roman man or woman.
When lit up at night, the fountain looks spectacular, and many visitors come to see it under illumination in the dark. It is a popular spot for evening strolls and is a romantic venue to propose to your loved one.
See also: Where to Stay in Rome
24. Santa Maria delle Grazie in Milan
The Holy Mary of Grace, or Santa Maria delle Grazie is a church and Dominican convent located in Milan. The church was built in the 15th century and is best known for being the home of Leonardo da Vinci's famous painting of 'The Last Supper'.
Depicting the moment when Jesus told his disciples that one of them would betray him, the painting resides in a refectory attached to the church. It is one of the world's most famous, impressive and studied works of art and attracts millions of visitors annually.
Today, Santa Maria delle Grazie is a UNESCO World Heritage Site. As well as the famous painting, visitors can also explore the church and its enchanting surroundings. Should you wish to come here, it is best to arrive early, or just before it closes, to beat the crowds.
See also: Where to Stay in Milan
23. La Pelosa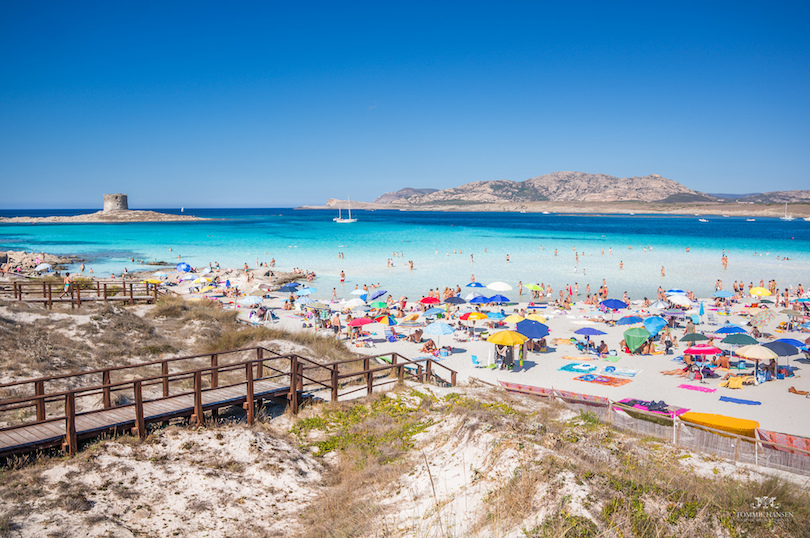 Tommie Hansen / Flickr
Off the western coast of the mainland, and in the heart of the Tyrrhenian Sea, is the island of Sardinia.
While Sardinia boasts a number of stunning beaches, none is so picturesque or well-known as La Pelosa. The beach is so spectacular because of its sandy shores and shallow waters, making it easy to see right down to the ground through crystal-clear sea.
La Pelosa is often compared to the Caribbean, bringing some of the tropics to Italy. Surfing, kayaking and even scuba diving are all possible things to do at or near La Pelosa.
22. Basilica of San Vitale in Ravenna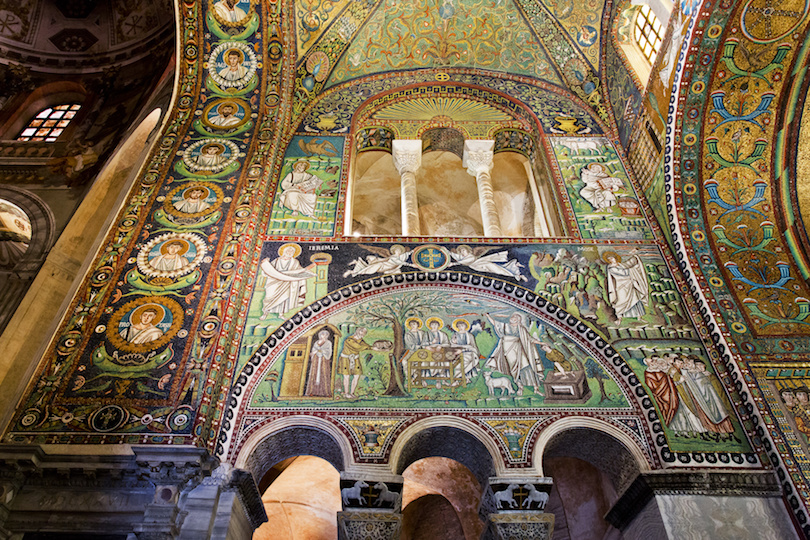 Dating back to the 6th century, the Basilica of San Vitale is a spectacular church in Ravenna.
Renowned for its Byzantine architecture, the church is famous for its stunning mosaic decorations. They cover its walls, ceilings, and floor and depict scenes from the Bible.
The church is also known for its circular plan, a unique feature among early Christian churches. Its grand dome, which dominates the structure's interior, is also notable.
The Basilica of San Vitale is yet another UNESCO World Heritage Site in Italy. The church is open to visitors, who can explore its interior and admire its intricate mosaic decorations.
If you want to fully appreciate its historical and cultural significance, it is worth booking a guided tour of it.
21. Dolomites
The Dolomites are a spectacular mountain range in the northern Italian Alps. They are known for their distinctive jagged peaks, which are made of dolomite rock and have a characteristic reddish-brown color.
A popular tourist destination, The Dolomites attract outdoor enthusiasts, nature lovers, and adventure seekers.
It offers visitors many opportunities for outdoor activities, including hiking, rock climbing, mountain biking, skiing, and snowboarding.
The area is also famous for its picturesque alpine landscapes, lush green valleys and crystal-clear lakes. All of which form stunning views of the surrounding mountain ranges.
The Dolomites are also home to several historic villages, including Castelrotto, Cortina d'Ampezzo, and Selva Val Gardena. They are popular places to visit for those seeking a traditional Italian alpine experience.
20. Basilica di San Francesco in Assisi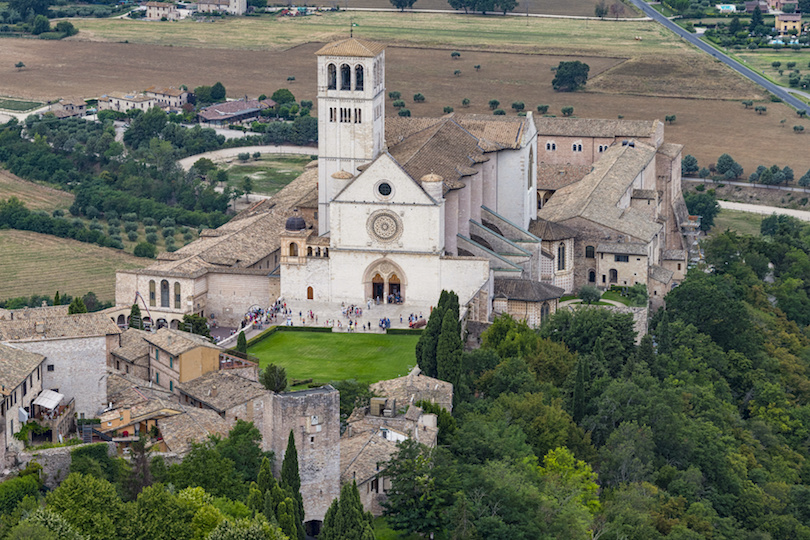 The Basilica di San Francesco, or Basilica of Saint Francis, is one of the most significant religious pilgrimage sites in Italy. Located in Assisi, the basilica was constructed in the 13th century to honor Saint Francis himself.
Although Saint Francis was a man of simplicity and poverty, the basilica is anything but. The Romanesque structure was built with two levels as well as a crypt, ornate windows and thousands of pieces of art.
The Basilica di San Francesco consists of two churches, the Upper Church and the Lower Church.
The Upper Church is famous for its frescoes, painted by some of the greatest artists of the Italian Renaissance. Most notably Giotto, Simone Martini, and Pietro Lorenzetti. These frescoes depict scenes from the bible and of the life of St. Francis. The Lower Church is better known for its simplicity and elegance.
19. Sassi di Matera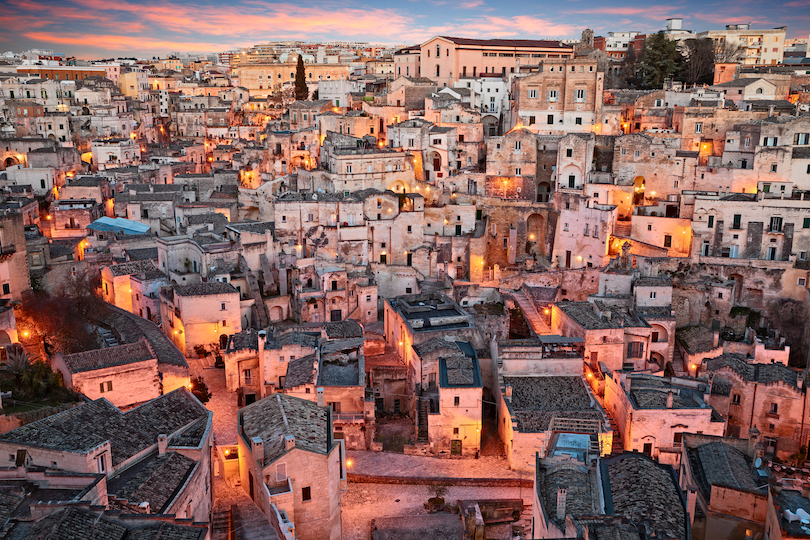 In the town of Matera, there are a collection of ancient cave dwellings known collectively as the Sassi di Matera. These dwellings are thought of as the very first human settlement in all of Italy, and they may be as many as 9,000 years old.
The dwellings are carved right out of the rock, and many of these caves still house homes, businesses and cafes today. It is an incredible experience to tour ancient caves from early humans and then sip local wines from a similar cave just a short walk away.
18. Mount Etna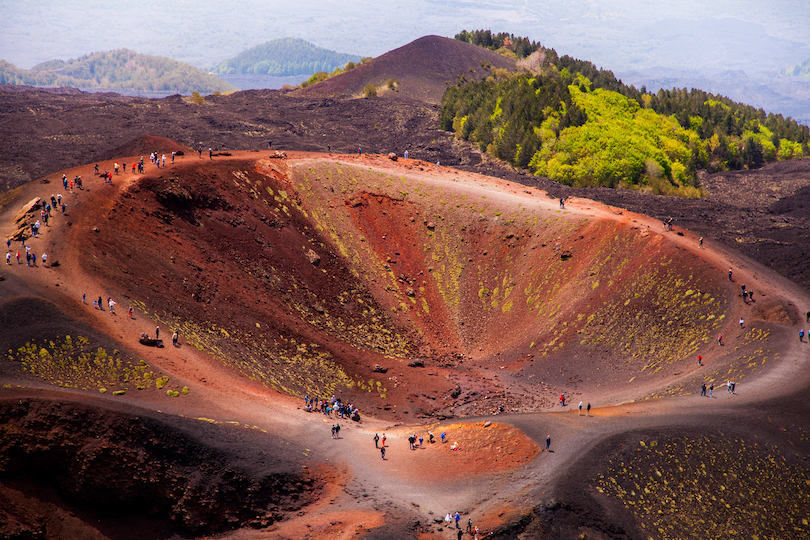 Mount Etna is an active volcano located on the east coast of Sicily. It is one of the most active volcanoes in Europe and can erupt a few times a year.
Geologists and volcanologists consider Etna to be a vital site for scientific research. Experts study it to understand its volcanic activity and the processes that shape the Earth's surface.
Located within a national park called Parco dell'Etna, the precipice towers to a height of about 3,329 metres. It dominates a landscape of lush forests, rolling hills, and rugged, volcanic terrain.
Walking along the craters and fissures is one of the most spectral things to do in Italy and those who dare to get close enough can see the lava or steam. The volcanic soil is renowned for growing grapes, which means the visitors to Mount Etna will have access to an array of fantastic local wine.
17. Duomo of Orvieto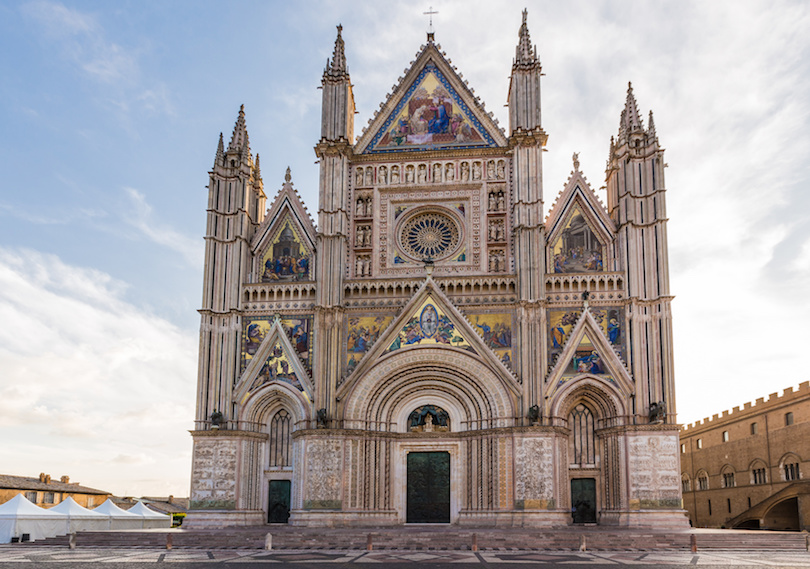 The Duomo of Orvieto is a cathedral located in the central Italian town of Orvieto.
Famous for its magnificent façade, it is one of the country's pre-eminent examples of Gothic architecture.
The cathedral was built over several centuries, starting in the 13th century and dedicated to the Virgin Mary. It was conceived to be a grand and imposing structure that would demonstrate the power and wealth of the town.
Its façade has sculptures and reliefs depicting scenes from the Bible. It also portrays intricate patterns and the lives of saints and allegorical figures.
Inside, the cathedral's interior is equally impressive. Much of the artwork in the Duomo, which depicts apocalyptic stories and tales from Revelation, were done by Luca Signorelli.
16. Pizza Napoletana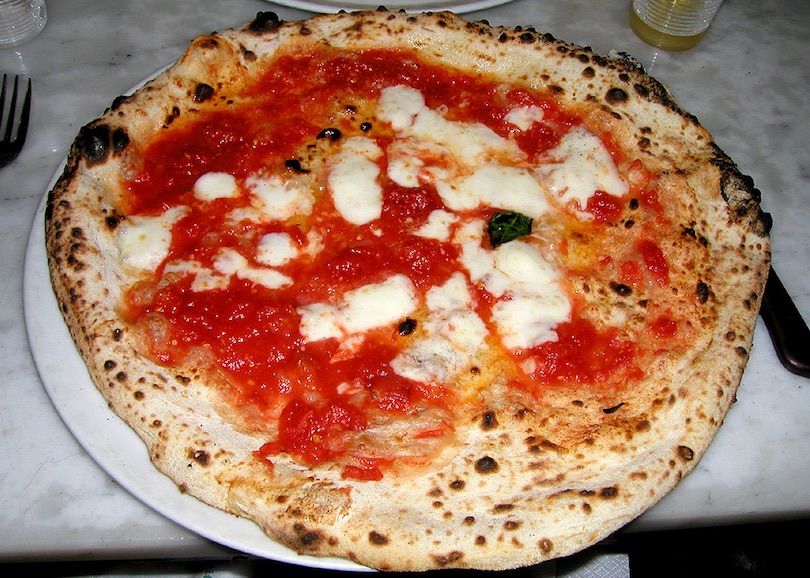 While you'll find excellent pizza all over Italy, there's one place that's absolutely the best: Naples. This is where pizza was born and where it's still king.
Unlike pizza in places like the United States, Neapolitan pizza is generally very thin-crusted and saucy and is expected to be eaten as a whole pie while sitting down.
Although every pizzeria in Naples makes a decent pizza, some places display the label "Vera Pizza Napoletana" which indicates that the pizzeria follows the standards of The Naples Pizza Association.
See also: Where to Stay in Naples
15. Portofino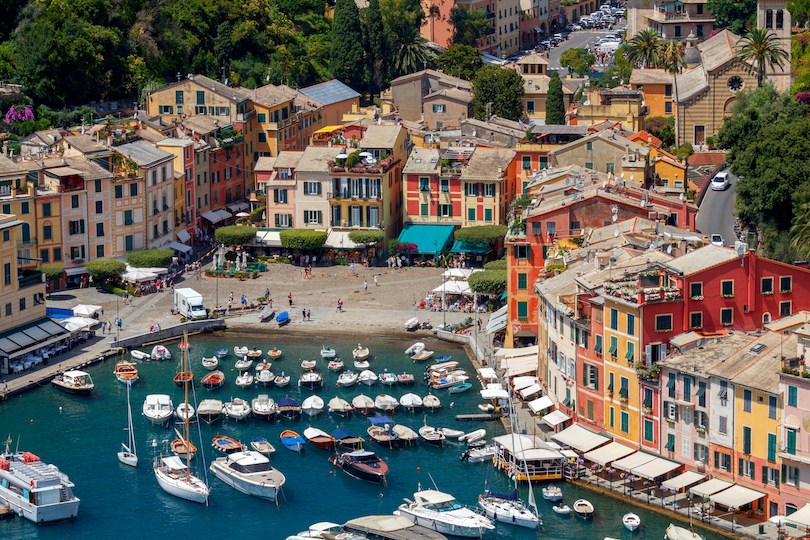 With its picture-perfect harbor, verdant scenery and haphazard rows of hilltop and waterfront homes, Portofino is one of the prettiest towns on the Italian Riviera.
Located just a short drive south of Genoa, the little fishing village has been a popular day-trip destination for centuries.
Portofino is home to landmarks like the 16th century fort called Castello Brown and the 11th century church called St. Martin, but the real attraction in Portofino is the relaxed way of life.
Visitors come to stroll along the Ligurian coastline, shop for souvenir glass jewelry and dine on Italian cuisine paired with the local Pinot Grigios.
14. St. Mark's Basilica in Venice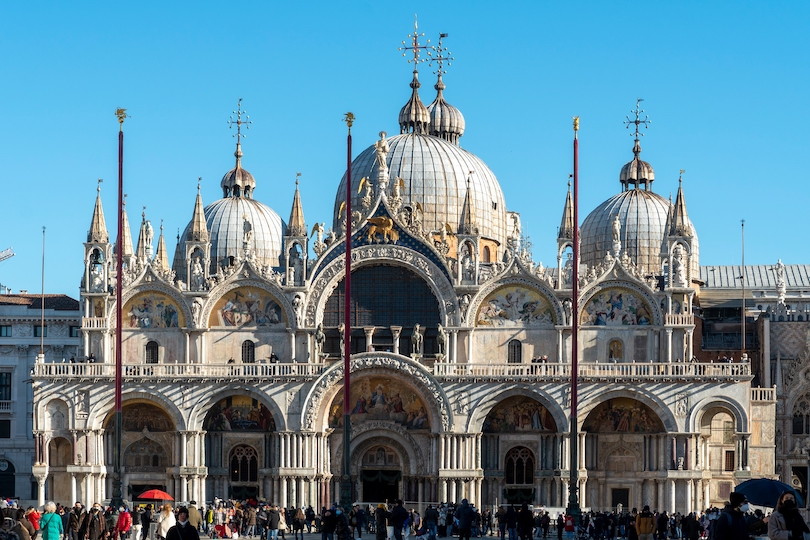 St. Mark's Basilica, known to locals as the Basilica di San Marco, is the crowning jewel of the Piazza San Marco in Venice.
The enormous church was completed in the 11th century, and it boasts more than 500 columns, several stunning domes and countless Byzantine mosaics that use gold extensively.
Also of note are the bronze Horses of Saint Mark, which date back to antiquity and watch over the basilica's entrances. Be sure not to miss the treasury or the Museo Marciano, both of which contain a staggering collection of early gifts like jewels, sculpture and tapestries.
13. Capri
Capri is a small island located in the Gulf of Naples.
It is known for its stunning rugged coastline, crystal-clear waters, scenic cliffs and grottoes. Capri is also famous for its luxurious lifestyle, attracting many wealthy visitors and A-List celebrities.
The island accommodates several cultural and historical landmarks. These include the Villa Jovis, which served as the Roman Emperor Tiberius's residence. It also hosts the Blue Grotto, a sea cave renowned for its intense blue light. Surrounded by charming cafes and shops, the Piazzetta is a picturesque square that is also well worth visiting.
Whilst on Capri, there are also many opportunities for outdoor activities on the island. Visitors can enjoy swimming and boating. Exploring the many scenic trails and paths hat wind through its rugged terrain are also popular things to do.
12. St. Peter's Basilica in Rome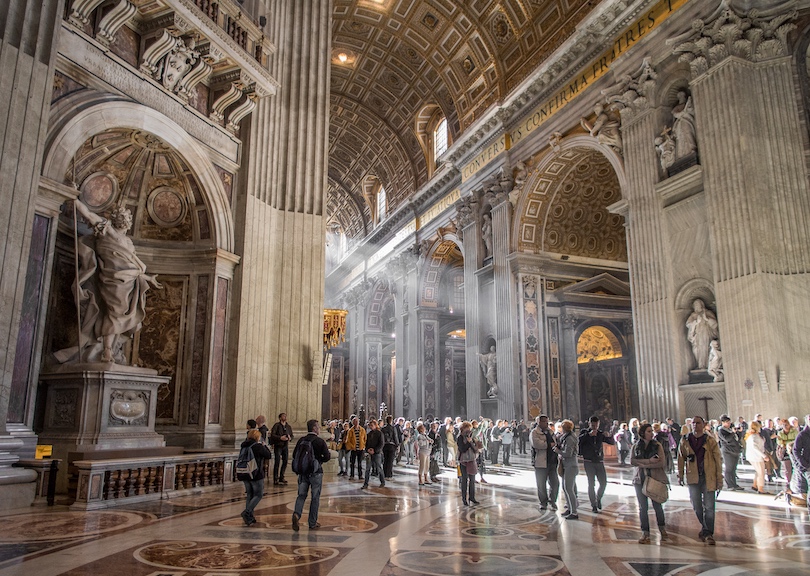 The star attraction of the Vatican in Rome is St. Peter's Basilica. Arguably, it is the most famous church in the world. It is also the centre of the Catholic Church.
The basilica is named in honor of St. Peter. One of the twelve apostles of Jesus, he is said to be buried beneath its altar.
The current building was completed in 1626 after over 120 years of construction. It is a huge church with an interior that could fit a space shuttle together with its booster rockets. The St. Peter features a mix of Renaissance and Baroque architectural styles.
Many people come to St. Peter's Basilica for mass. However, even if you are not religious, it is worth coming here to see the impressive artwork.
That includes several sculptures by Michelangelo. It also incorporates its stunning centrepiece dome, designed by Bramante, Michelangelo, and Bernini.
11. Valley of the Temples
The Valley of the Temples is an archaeological site in Agrigento on the island of Sicily.
It is notable for containing the remains of several ancient Greek temples from the 5th century BC. These include the Temple of Hera (Juno), the Temple of Concordia, and the Temple of Heracles (Hercules).
The site impresses with its well-preserved Doric-style columns and the stunning views it portrays of the surrounding countryside.
As a UNESCO World Heritage site, it is one of the most important examples of ancient Greek architecture outside of Greece.
A prominent attraction in Sicily, The Valley of the Temples is a must-visit for those interested in archaeology, ancient history, and architecture.
10. San Gimignano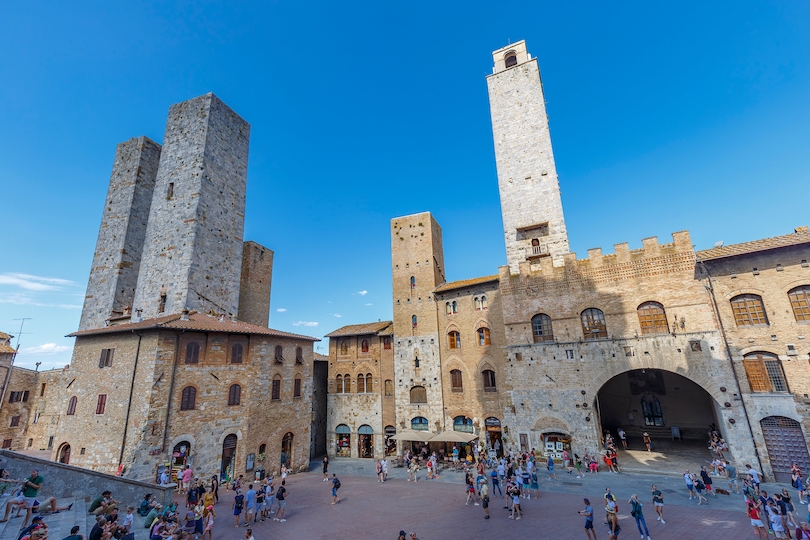 San Gimignano is a picturesque hill town in the Tuscan hills of Italy. It is famous for its well-preserved medieval architecture and its 14 iconic towers.
At the height of San Gimignano's wealth and power, more than 70 towers were built to defend the town against enemy attacks.
After the plague devastated the city in 1348, San Gimignano's power faded, which kept enemies away and preserved many of the city's medieval towers.
Easy to get to from Florence and Siena, the town is known for making delicious white wine – Vernaccia di San Gimignano. It also has a vibrant atmosphere, with several celebratory events and festivals taking place throughout the year.
9. Manarola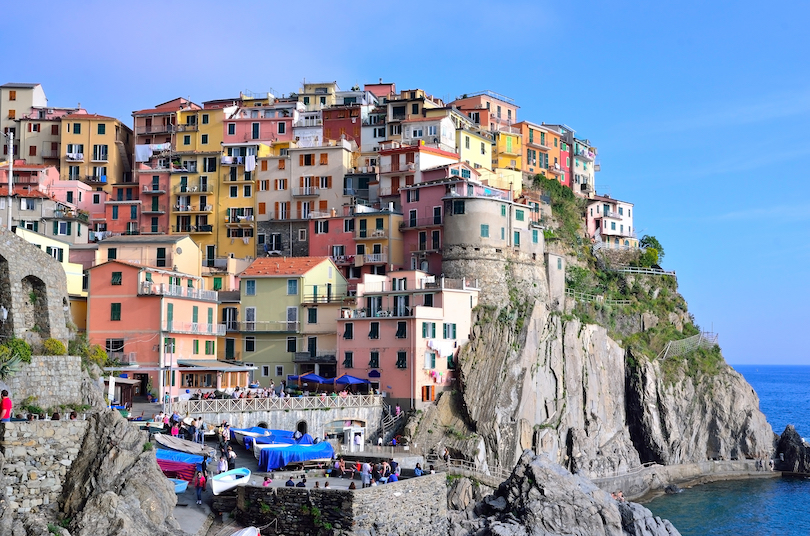 Located in the province of La Spezia, Manarola is a small town in the Liguria region of Italy.
It is best known as one of the fabulous five towns that make up the Cinque Terre.
Manarola features brightly colored houses, steep cliffs, and breathtaking views of the Ligurian Sea. It is a favored destination for those who enjoy photography and painting.
The town is a popular destination for tourists who like hiking and boating. It also has several quaint cafes and restaurants that serve delicious menus of local cuisine.
If you don't fancy walking the Cinque Terre trail, don't worry, you can always get to Manarola via the train line that connects the five towns.
8. Leaning Tower of Pisa
The world famous Pisa Tower was built over a period of about 177 years. Soon after the construction started in 1173 the tower began to sink due to a poorly laid foundation and was left alone for almost a century.
When the construction resumed the engineers built higher floors with one side taller than the other to compensate for the tilt and the tower was finally finished in the 2nd half of the 14th century. Since 2001, the famous tower in Pisa is again open to those wishing to climb it's 296 steps.
7. Lake Como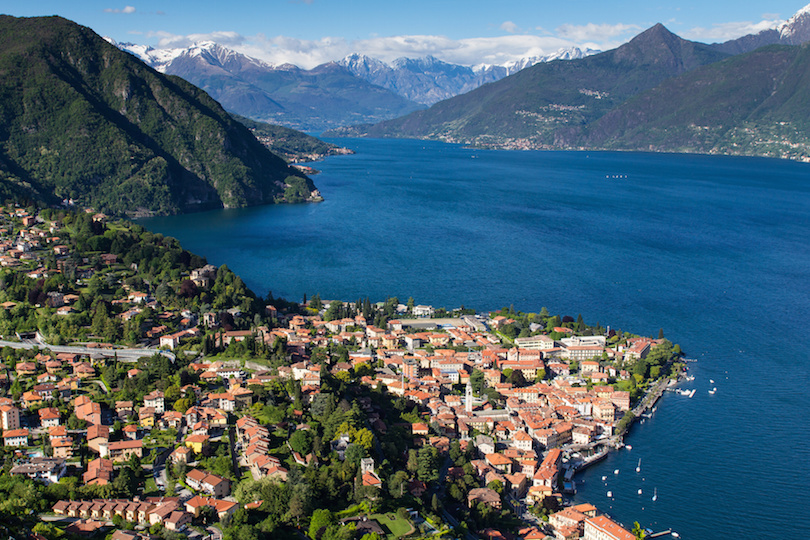 Lake Como is part of the Italian Lake District an area popular with visitors for well over 100 years for its combination of fresh air, water, mountains and good weather.
The lake is shaped much like an inverted 'Y', with two branches starting at Como in the south-west and Lecco in the south-east, which join together half way up and the lake continues up to Colico in the north.
Lake Como is famous for the attractive villas which have been built here since Roman times. Many have admirable gardens which benefit from the mild climate and are able to include tropical as well as temperate plants.
6. Positano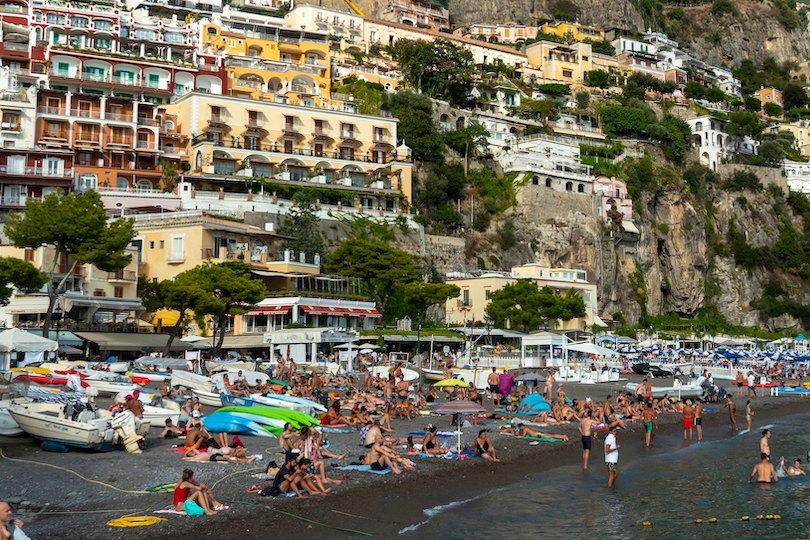 Positano is a small town located on the Amalfi Coast, a stretch of coastline renowned for its rugged terrain, scenic beauty, picturesque towns and diversity. The city seems to be scattered from top to bottom down a hillside leading to the coast.
Though Positano grew and prospered in medieval times, by the mid 19th more than half of the population was gone. In the 20th century it went from being a poor fishing village to one of the most popular tourist attractions in Italy with the help of author John Steinbeck who wrote about its beauty.
5. Pompeii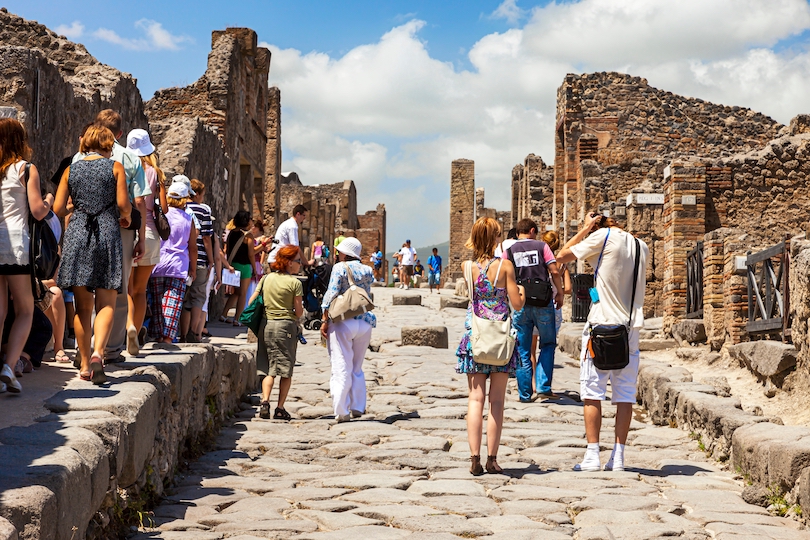 Pompeii was an ancient Roman city near present-day Naples, buried by the volcanic eruption of Mount Vesuvius in 79 AD.
But far from being destroyed, the city, along with its buildings, streets and art, were preserved under layers of ash and pumice.
Today, Pompeii is one of Italy's most popular tourist destinations. It also is a significant archaeological site, offering a glimpse into daily life in ancient Rome.
The ruins include well-preserved public buildings, such as the forum, temples, and bathhouses. It also incorporates private homes, which feature elaborate frescoes and mosaics.
When visiting Pompeii, be aware the site is very exposed to the elements. So make sure you take an umbrella with you if it looks like rain. Also, wear a hat on hot, sunny days.
4. Piazza del Campo in Siena
One of Europe's greatest medieval squares, the Piazza del Campo is the principal public space of the historic center of Siena, Tuscany. It is renowned worldwide for its beauty and architectural integrity.
The Palazzo Pubblico and its famous tower, as well as various palazzi signorili belonging to the wealthiest of Siena families surround the shell-shaped piazza.
The twice-per-year horse-race, Palio di Siena, involves circling the Piazza del Campo, on which a thick layer of dirt has been laid, three times and usually lasts no more than 90 seconds.
3. Santa Maria del Fiore in Florence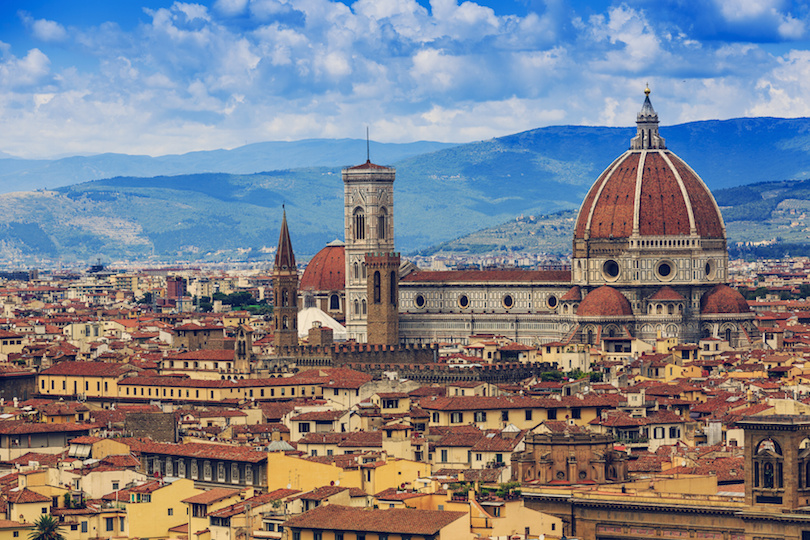 Santa Maria del Fiore is the main cathedral of Florence. Also known as the Duomo, it is one of the city's most famous landmarks.
A remarkable example of Gothic architecture, the cathedral took over 140 years to be built. On completion in 1436, it was consecrated by Pope Eugene IV.
The cathedral is known for its distinctive pink and green marble facade and its massive dome, designed by Filippo Brunelleschi. At the time, it was regarded as an engineering feat. It remains one of the largest domes in the world.
The interior of the cathedral is richly decorated with frescoes and features a large nave. It also boasts ornate side chapels and a high altar.
2. Grand Canal in Venice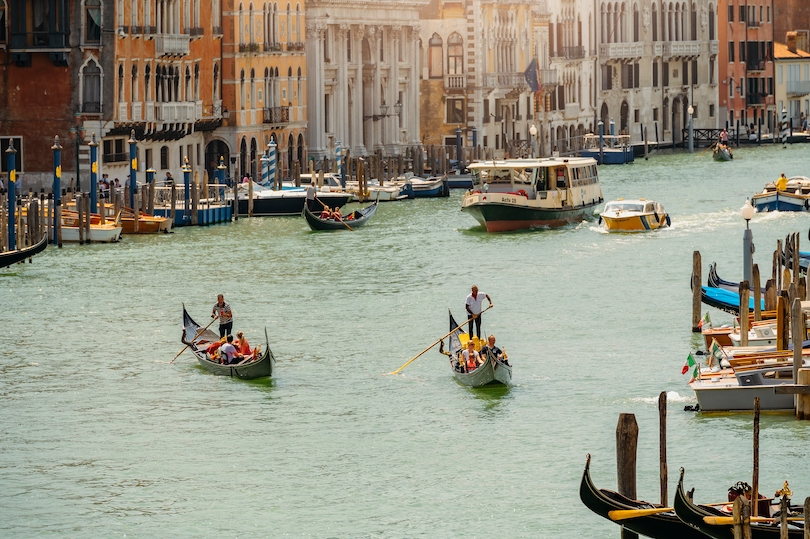 Referred to as "The City of Water", Venice is the crown jewel of water cities.
Though, Venice has decayed since its heyday and has more tourists than residents, with its romantic charm it remains one of the top tourist destinations in Italy. The central waterway in the city is the Grand Canal, and it snakes its way through the city between the lagoon and the Saint Mark Basin.
While strolling through Venice offers plenty of opportunities to see the Grand Canal, the best way to experience it is on the water. Locals get around via the water buses called vaporetti, but many travelers prefer the private water taxis or even the romantic gondola.
See also: Where to Stay in Venice
1. Colosseum in Rome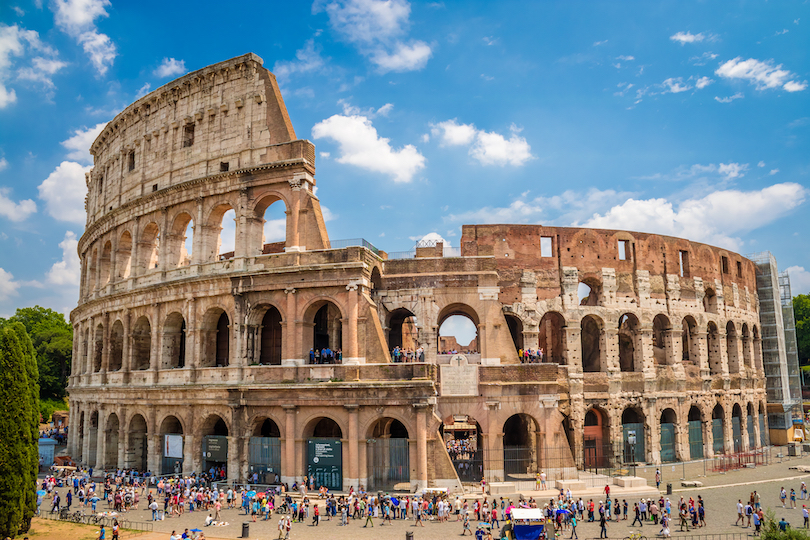 The Colosseum is arguably Italy's most famous attraction.
Rome's historic amphitheater is one of the greatest engineering feats of ancient times. Completed in 80 AD, it was used for gladiatorial contests and public spectacles, such as animal hunts and mock sea battles. At its peak, it could seat up to 50,000 spectators.
Whilst it has been damaged over the centuries due to natural disasters, looting, and stone quarrying, much of the structure remains.
Now protected as a UNESCO World Heritage site, The Colosseum can be visited independently or as part of a guided tour.
However you choose to see it, a good tip is to visit this venue about an hour before sunset. That way, you see it during the day. Then at dusk, and most spectacularly under lights at night, as the light fades.
Map of Tourist Attractions in Italy
© OpenStreetMap © MapTiler © Touropia