Located in the heart of Europe, Germany today maintains the continent's most powerful economy. However it is probably best known for its World War II history and the country's even more recent times when it was split into East and West; everybody knows about the Berlin Wall, which came down less than 30 years ago. There's a load of culture, natural beauty, and much older history to discover in this large European nation.
You'll find much of this in Bavaria, southern Germany, where you can soak up the Bavarian Alps, explore some truly charming medieval towns, and get involved in the infamous Oktoberfest. In the north, you can explore beaches and old port towns from the Hanseatic period.
Map of Places to Visit in Germany
© OpenStreetMap © MapTiler © Touropia
In this post, we'll cover:
Berlin wows with its famous clubs and huge museums, as does Frankfurt with its skyscraper-laden cityscape. Plan your trip to this fantastic European travel destination with our list of the best places to visit in Germany.
17. Regensburg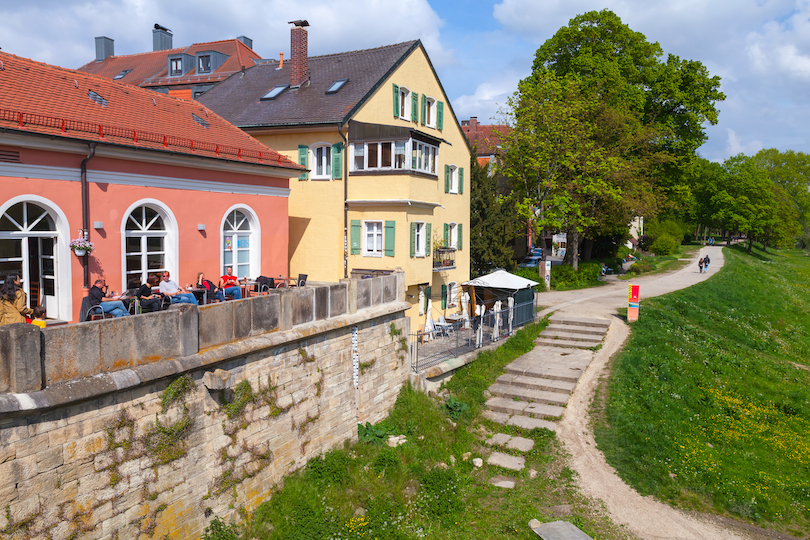 Lying at the spot where the Danube, Naab and Regen rivers meet, Regensburg in Bavaria is one of the oldest towns in the whole of Germany and a very popular tourist destination. Founded by the Romans in 179 AD, it boasts almost two thousand years of history, with its remarkably well-preserved medieval old town the star of the show.
Here you'll find loads of fine architecture and important historical landmarks, with countless churches, chapels and monasteries dotted about its ancient streets. Of its many tourist attractions, the gorgeous Gothic cathedral and impressive 12th century Stone Bridge should not be missed out on; they represent the best of the area's art, architecture and engineering.
Renowned for its historical and architectural treasures, Regensburg also has a laidback, youthful feel, as well as a lively cafe and bar culture. It is this easy-going atmosphere that has regularly seen it referred to as the 'northernmost city of Italy.'
16. Hamburg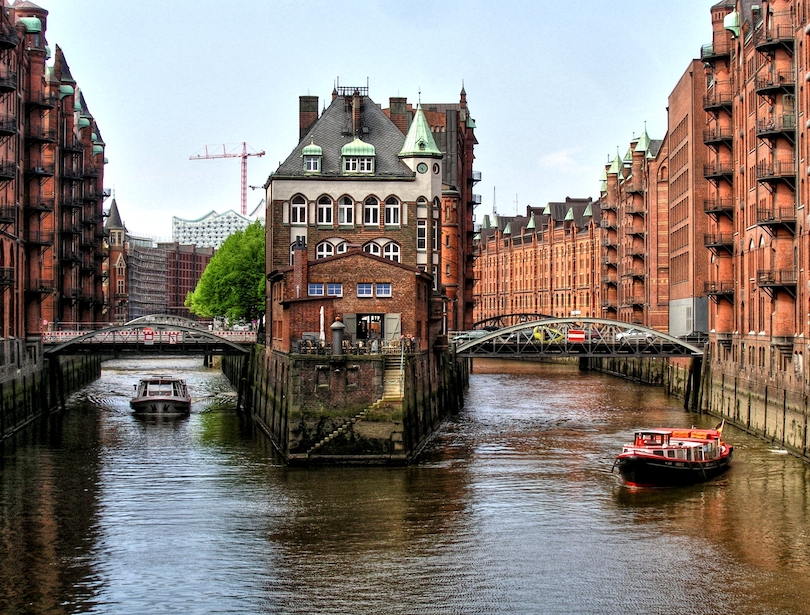 Located on the banks of the Elbe River, just a hundred kilometers from the North Sea, Hamburg has long been one of Europe's busiest and most important ports. Once part of the Hanseatic League, it is now Germany's second-largest city and is noted for its maritime identity and pulsating nightlife.
Much of life in the city and its history, culture, and heritage is linked to the canals and waterways that weave through town. Next to the harbor, for instance, you can find the strikingly modern Elbphilarmonie concert hall and old brick warehouses. One of the city's main landmarks is its beautiful Neo-Renaissance Rathaus.
Hamburg is also famed for its seedy red-light district, where you can find live music venues, cool cocktail bars, and trendy clubs. It is actually here on the Reeperbahn that The Beatles got their big break and forever changed the world of music.
15. Rugen Island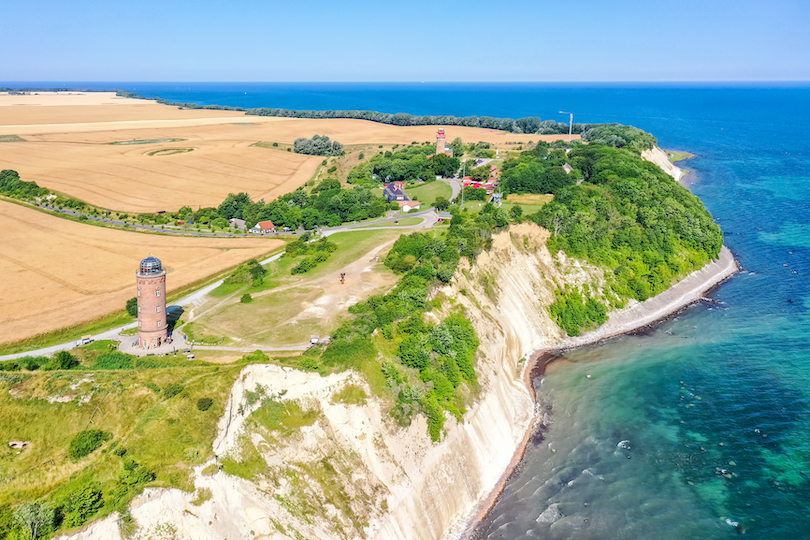 Favored for its remarkable landscapes and romantic seaside resorts, Rugen Island has flourished as a popular tourist destination since the 18th century. Located in the Baltic Sea as part of the state of Mecklenburg-Western Pomerania, Rugen Island is the largest island in Germany, connected to the mainland by the Rugen Bridge and Rugen Causeway.
Charming villas, historic old towns and beautiful beaches all draw tourists to Rugen Island, but the star attraction is the Jasmund National Park, famous for its unique chalk cliffs rising 161 meters over the sea. Of these majestic cliffs, the largest is known as Konigsstuhl, or King's Chair. Legend has it that in ancient times, a newly crowned king would climb to the top of this cliff and sit in a chair to demonstrate his power.
Another notable feature of Rugen Island is Cape Arkona, East Germany's northernmost tip, where tourists can visit an old lighthouse, remnants of a Slavic castle and a picturesque fishing village.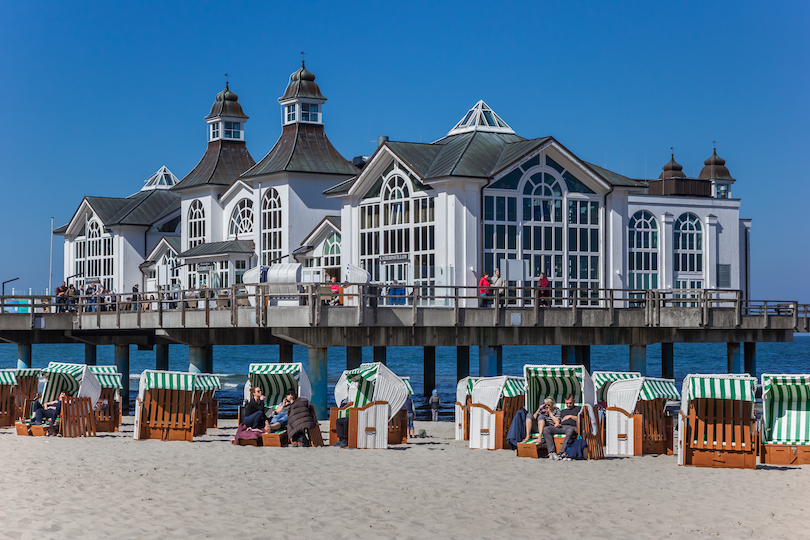 Among the island's many seaside resorts, a few most popular include Binz, Sellin, Gohren and Sassnitz. Tourists will find a wide variety of recreation here ranging from golf to horse riding, cycling, windsurfing and hot air balloon trips.
Rugen Island can be reached by car across Germany's longest bridge, by train and ferry service. Within the island, buses run between all major towns. Many of the main attractions are car-free, so walking and cycling are good alternatives. A great way to explore Rugen Island is by its steam-powered train, called Racing Roland.
14. Lake Constance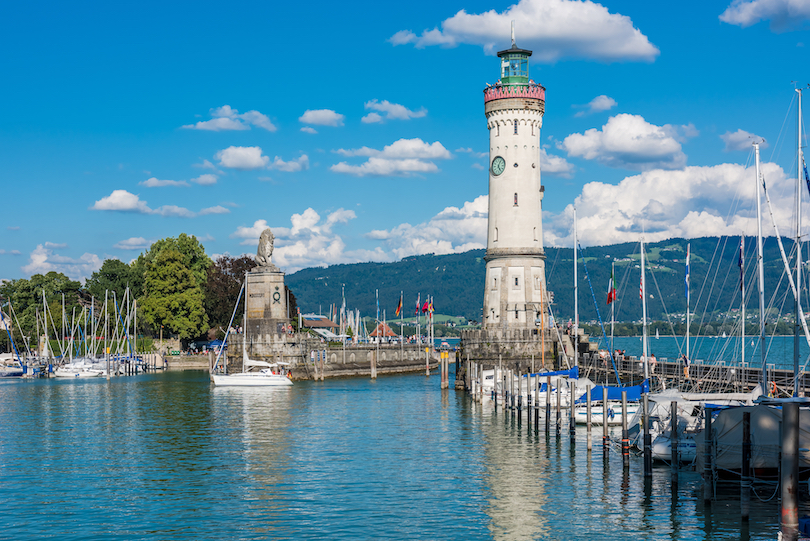 The third-largest lake in Central Europe, Lake Constance is nestled in the foothills of the Alps straddling the German, Austrian and Swiss borders. It is made up of three main parts, with the Obersee – or 'Upper Lake' – connected to the Untersee (Lower Lake) by Seerhein – a small section of the Rhine River.
Long a popular place to go, Lake Constance is blessed with crystal clear waters and a mild and sunny climate, as well as lots of gorgeous scenery. This makes it ideal for swimming, sunbathing and sailing. Cycling along its serene shores and hiking in the surrounding vineyards and orchards are popular pastimes.
Besides the ample recreational activities, the lake is also noted for the picturesque towns and villages hugging its shores. On the German side, visitors can delight in exploring the lively and historic university city of Konstanz and the idyllic island town of Lindau.
On the Swiss side, phenomenal views of the lake can be enjoyed from atop the 2,500 meter high Santis Mountain. Bregenz, in Austria, is famed for its floating stage that hosts concerts and operas in the summer.
13. Bamberg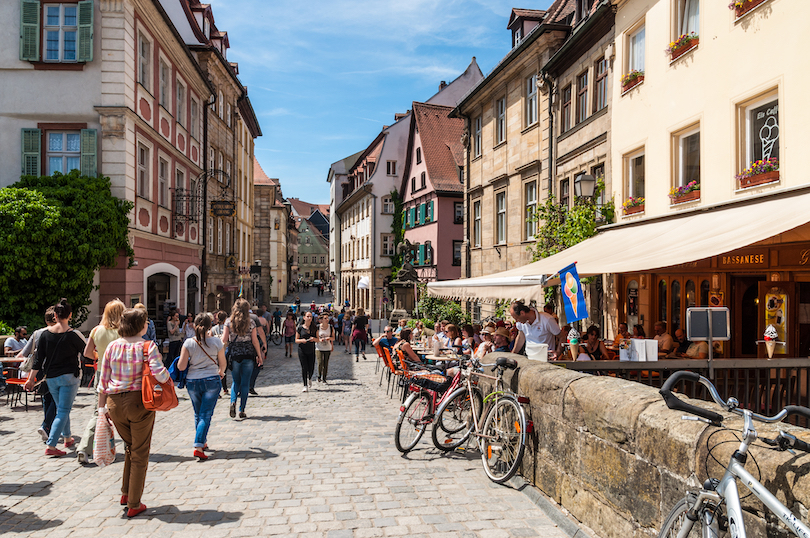 Widely considered one of Bavaria and Germany's most attractive towns, Bamberg is built over seven hills, with various canals and the Regnitz river running through it. It was once the seat of the Roman Catholic Archdiocese of Bamberg, and, for a brief period, the center of the Holy Roman Empire, so wealth poured into its streets, with architectural marvels erected around town.
As such, history and heritage can be found wherever you go. The narrow medieval streets of Altstadt are particularly enthralling to explore. Here you'll find an impressive Romanesque cathedral and centuries-old Rathaus. The twin spires of Michaelsberg Abbey and the turrets of Altenburg Castle can be spied nearby.
Nowadays, Bamberg is a very pretty and pleasant place to visit and is home to an abundance of pavement cafes, bars and restaurants. Many of these serve its famous smoked beer, which can also be sampled in the numerous breweries scattered around town.
12. Cologne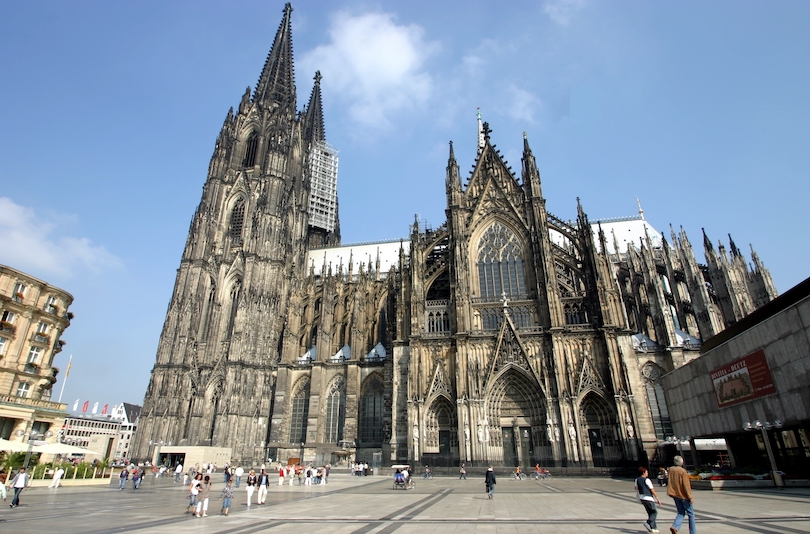 It may have been nearly destroyed from heavy bombing during World War II, but Cologne today is one of the largest cities in Germany and a major European metropolis. Situated on the Rhine River in the German federal state of North Rhine-Westphalia, Cologne offers several interesting tourist attractions, a buzzing nightlife, stylish hotels, and a stellar arts and culture scene.
The city's informal symbol, the Cologne Cathedral, a stunning Gothic church that claims to contain the gifts of the Magi mentioned in the Bible is must visit. Moreover, the Twelve Romanesque Churches are magnificent examples of medieval architecture.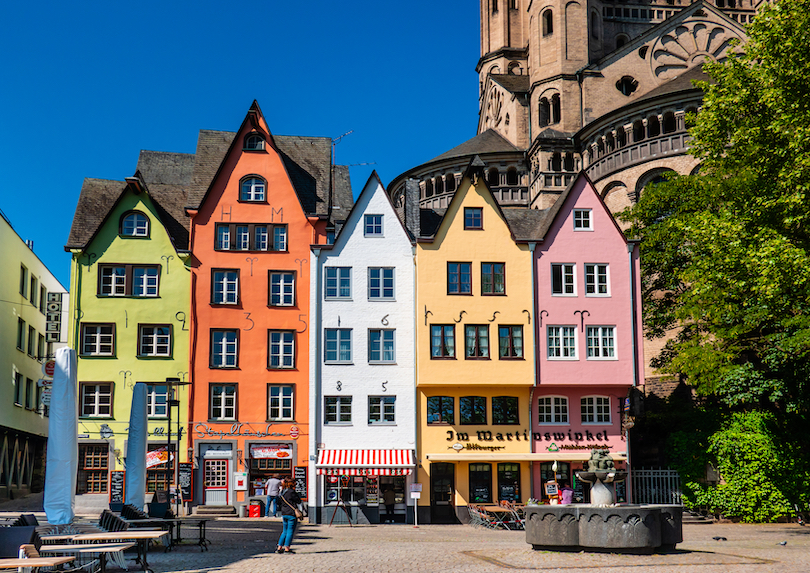 As a leading culture center in the Rhineland area, Cologne boasts an outstanding collection museums. Two of the most important include the Wallraf-Richartz Musem for its fine medieval art, and the Farina Fragrance Museum, which details the history and production of the city's famous perfume, Eau de Cologne.
Every year, Cologne hosts one of Europe's largest Carnival festivals, attracting hundreds of thousands of visitors, and filling the streets and pubs with costumed people, music and dancing. However, even outside of festivals, tourists will find no shortage of nightlife choices in this city of many pubs, bars and clubs. Cologne is known for its unique beer, called Kolsch, which is served cold and fresh in every bar in town.
11. Leipzig
The largest city in Germany's federal state of Saxony, Leipzig is often called the City of Heroes for its leading role in the 1989 democratic revolution and the fall of the Berlin Wall. Leipzig is also known for its vibrant arts and culture scene shaped by famous music composers like Bach, Richard Wagner and Felix Mendelssohn. Tourists today can enjoy performances of Bach's music at the St. Thomas Church where Bach once served as choir leader and is now buried.
In addition to numerous museums and historic sites like the Old Town Hall, the city boasts several of Germany's oldest and most impressive structures such as the Napoleonic Monument to the Battle of the Nations and Reichsgericht, the former high court of the Reich.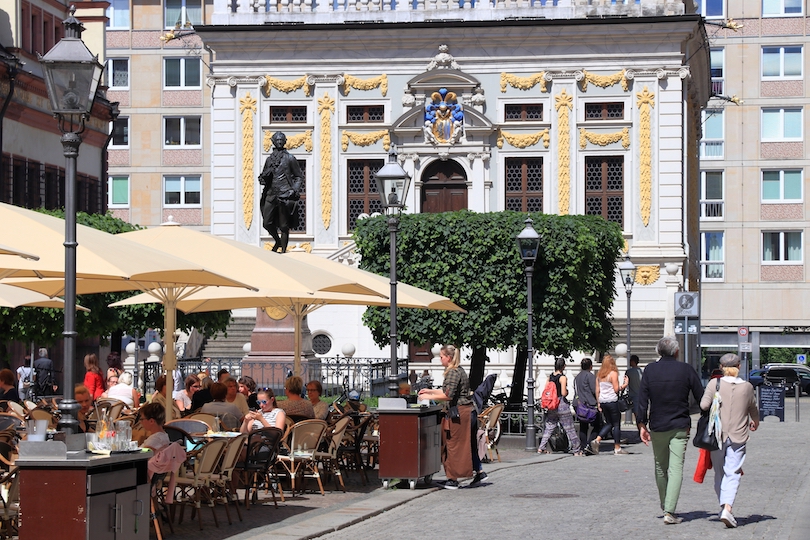 One of Europe's largest town squares, the Augustusplatz, is situated at the central campus of the city's university, which is the second-oldest university in Germany. What's more, Leipzig is home to Germany's oldest botanical garden and one of the country's largest zoos.
Leipzig is host to a number of annual festivals such as the Bach Festival, the world's largest Goth festival and an international balloon festival. For nightlife, tourists will find a variety of pubs, bars and dance clubs within the city, especially along the street of Karl-Leibknecht-Strasse, nicknamed "Karli."
10. Nuremberg
Once the unofficial capital of the Holy Roman Empire and home of several German kings, Nuremberg is now the second-largest city in Bavaria and acts as an important economic, cultural and social center.
Due to its wealth and prestige, arts, architecture and culture have long flourished in the city. Marvelous museums, gorgeous Gothic churches, and an impressive imperial castle can be found dotted about its medieval old town. Much of its historic center was rebuilt and restored following the heavy bombing campaigns that destroyed most of Nuremberg in WWII.
Many people now associate the city with the infamous Nuremberg Trials; however, its rich art and cultural scene, interesting historical sights, and fantastic cuisine and nightlife make it a popular place to visit. It also hosts the largest Christmas Market in Germany, where visitors can buy gingerbread and local handicrafts and sample traditional sweets and gluhwein.
9. Black Forest
Named after the dark, dense woods that cover its valleys, hills, and mountains, the Black Forest is nestled in the southwest corner of Germany. One of the most picturesque and popular places to visit in Germany, it is home to lots of natural sights and charming towns and villages.
Tucked away amidst its confines are gushing rivers, sparkling lakes, and flower-filled meadows, as well as a myriad of lovely hiking trails and cycling paths that take you past stunning scenery. The sunniest and warmest part of the country lends itself perfectly to outdoor activities, with skiing and snowboarding available in the winter months.
The forested mountain range also has its fair share of historic towns. Freiburg – the 'Jewel of the Black Forest' – and the spa town of Baden-Baden attract the lion's share of visitors. In addition, centuries-old abbeys and monasteries can be found here and there, as well as scenic vineyards, fairytale castles, and modern ski resorts.
8. Lubeck
As one of the largest Baltic seaports in Germany, Lubeck is located in the country's northern-most state, Schleswig-Holstein. Founded in 1143, Lubeck served for several centuries as the capital seat of the Hanseatic League. Although it was the first German city to be bombed and damaged during World War II, Lubeck still retains much of its medieval architecture, making it a popular tourist destination.
Dominated by seven Gothic churches, the city's Old Town presents an attractive setting of romantic medieval architecture intertwined with modern day infrastructure. A walk through the old, narrow streets offers views of historic sites like the stunning cathedral, the 12th century Town Hall, the famous Holstentor (the old city gate) and the house of Thomas Mann, the 1929 winner of the Nobel Prize for Literature.
The bustling streets of Huxstrasse and Fleischhauerstrasse are lined with restaurants, art galleries, book stores and souvenir shops. A stroll along the city's harbor allows tours of old Hanseatic warehouses and old shipping vessels now fashioned into museums.
Lubeck is well known for its production of the confection, marzipan. Local legend says that marzipan originated in Lubeck during a time of famine when almonds and sugar were the only available staples. The city also boasts its own wine specialty called Rotspon, which can be found in every shop of Lubeck.
7. Romantic Rhine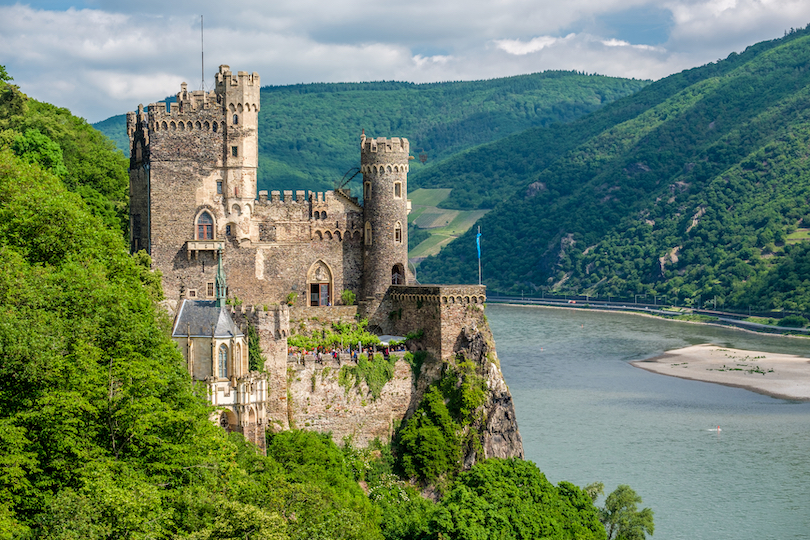 Stretching between the cities of Bingen and Bonn, Germany, the Middle Rhine flows through a dramatic geological formation called the Rhine Gorge. This region features a spectacular landscape dotted with medieval castles, picturesque villages and terraced vineyards.
Tourism flourished here after aristocrat travelers brought much attention to the area during the Romanticism period of the 19th century and the area became known as the Romantic Rhine. The inspiration behind poems, painting, operas and legends, the Romantic Rhine today is a major tourist destination in Germany.
A journey through the Romantic Rhine presents splendid views of medieval castles perched on nearly every hillside. Built between the 12th and 14th centuries, these castles range from ruins to fortresses and majestic palaces. One of the most well-preserved is the Marksburg Castle while other significant ones include Stolzenfels, Pfalzgrafenstein, the Electoral Palace and the Stahleck Castle, which offers overnight accommodation.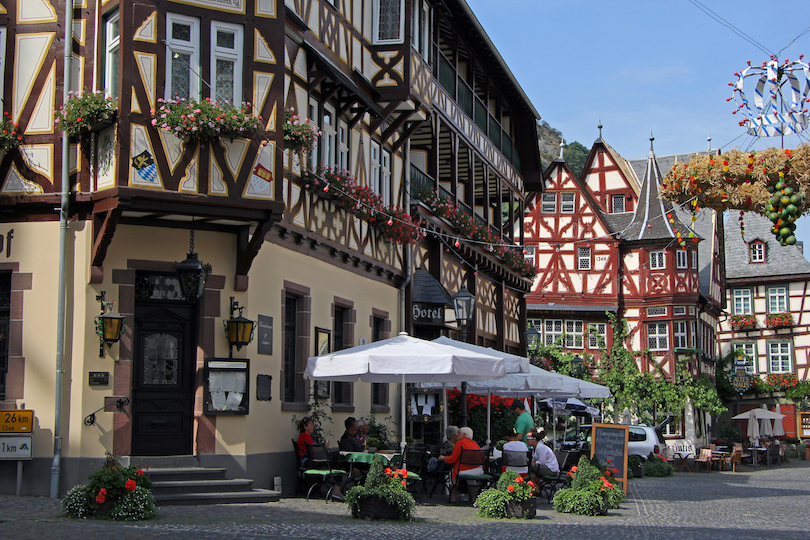 Bathed in color and history, the charming villages along the Rhine Gorge provide excellent sightseeing opportunities as well as cafes, shops and hotels. The town of Bacharach is particularly beautiful in its setting of half-timbered buildings, cobblestone streets and terraced vineyards.
The region's most famous natural attraction is the Lorelei, the deepest and most narrow section of the Rhine Gorge, which features a large, treacherous rock that caused several boating accidents prior to the 19th century. Because of its unique echo, the rock inspired a legend that claims a beautiful siren sat upon the summit, luring sailors to their deaths.
The best way to experience the Romantic Rhine is by a riverboat cruise. However, there are also highways and trains that run along both sides of the river. Additionally, tourists can explore the beautiful region by scenic walking trails and cycling routes.
6. Dresden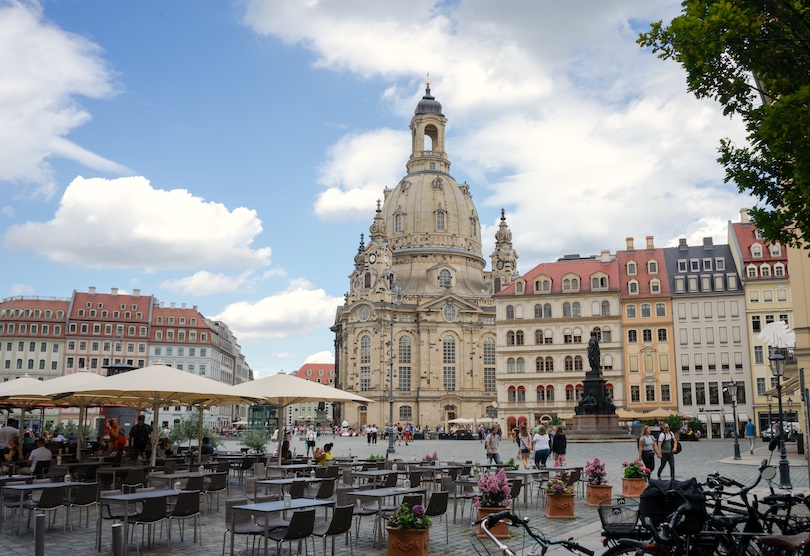 Before it was severely damaged from World War II bombings, Dresden was known as the Jewel Box because of its lavish collection of stunning art and architecture. After many years, the city has restored much of its former glory. The capital of the federal state of Saxony, Dresden is one of the largest urban districts in Germany, serving as an important center of government and culture.
Dresden offers several interesting landmarks such as the beautiful plaza of Bruehl's Terrace and the magnificent palace complex known as the Zwinger. The Old Town also contains a number of historic sites like the stunning Frauenkirche cathedral. Impressive art galleries and museums abound in the city, particularly the Green Vault, which houses thousands of exquisite precious gems, jewelry pieces and fine art works.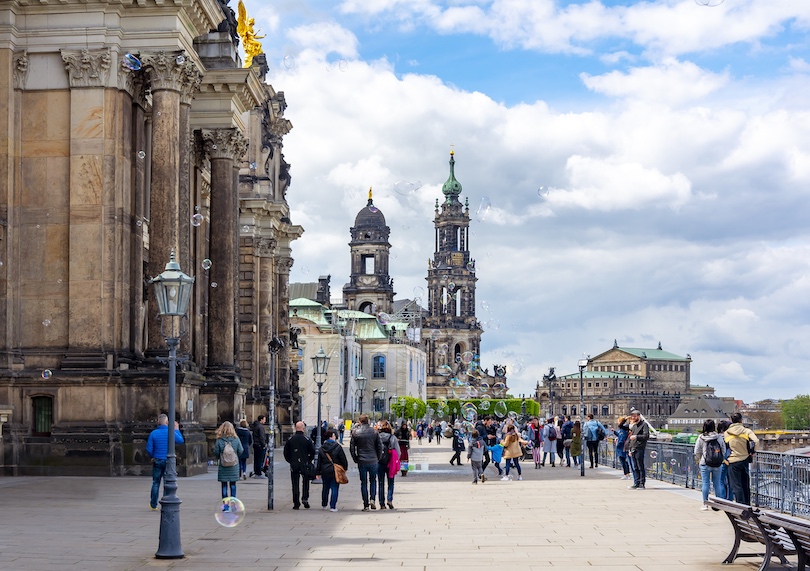 An important culture center, Dresden boasts many cultural institutions of which the Semper Opera is most widely esteemed. The city plays host to several annual events that include Europe's largest Jazz festival, the Dixieland Festival.
Amid the bustling city, open green spaces like the Big Garden offer outdoor leisure activities and relaxation while the River Banks presents summer sports, barbecues, concerts and outdoor cinema. Getting around the city center is easy by walking, cycling and bike taxis.
5. Rothenburg ob der Tauber
Renowned for its magnificent medieval old town, its well-preserved architecture, and charming cobbled streets, Rothenburg ob der Tauber is one of the most popular stops along Germany's Romantic Road. Rothenburg is also famous for the stores that carry Christmas items all year round and for having an outstanding Christmas market each December.
Overlooking the banks of the Tauber River, the Franconian town looks very much as if it has just emerged out of a fairytale. Beautiful old buildings can be found within its ancient walls. Be sure to visit the Town Hall, the seat of city government since medieval times. Climb the steps of the 13th-century hall's tower for stunning views of the city.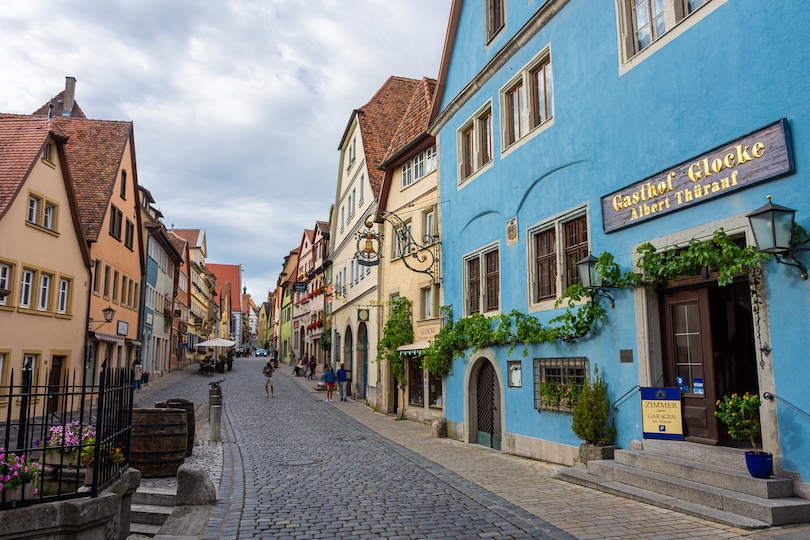 Remarkably, it was actually Rothenburg ob der Tauber's outstanding beauty that spared much of the town from being destroyed in WWII. The US Secretary of War called off bombing raids to protect and preserve its history and heritage.
Nowadays, however, its picture-perfect nature means that Rothenburg ob der Tauber can get quite crowded. It is well worth staying the night, as when evening falls, most tourists depart, and peace and romance returns to its lovely lamplit streets.
4. Heidelberg
With historic treasures like the medieval Old Bridge, the Heidelberg Castle, the Church of the Holy Spirit and the Knight St. George House, it is no wonder that Heidelberg is a popular tourist attraction. The city center's main street, Haupstrasse, is packed with pubs, restaurants, open-air cafes, hotels and shops selling the likes of beer steins, cuckoo clocks and German sausages.
Not far from the Old Town is Thingstatte, an outdoor amphitheater, originally constructed by the Nazi regime to promote propaganda events. Today, this intriguing site is the scene of concerts, celebrations and other special events.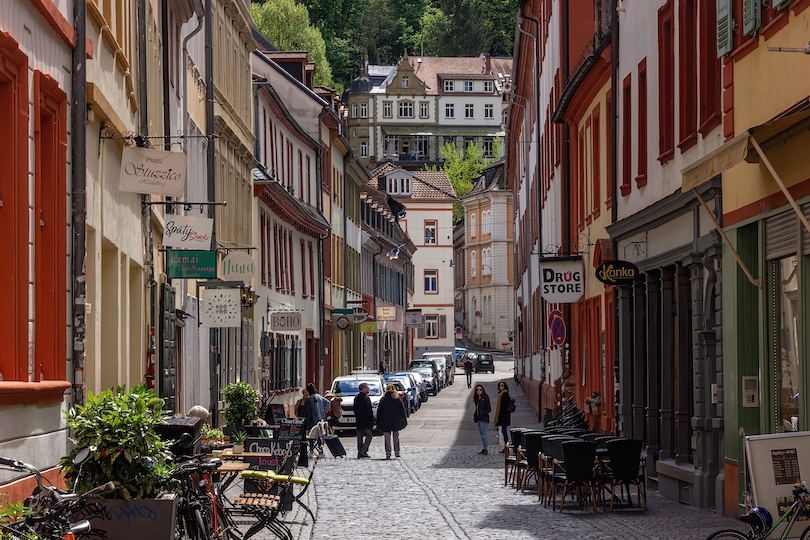 Home to Germany's oldest university, Heidelberg's long academic history can be retraced along the Philosopher's Walk, a scenic footpath often walked by many earlier philosophers and professors. Likewise, the city's arts and history can be experienced in its many theaters, galleries and museums that include the Carl Bosch Museum, Palatinate Museum and Bonsai Museum.
The city hosts several lively annual festivals and cultural events such as the Ball of the Vampires, Carnival, Classic Music Festival, International Easter Egg Market and Christmas Market.
3. Fussen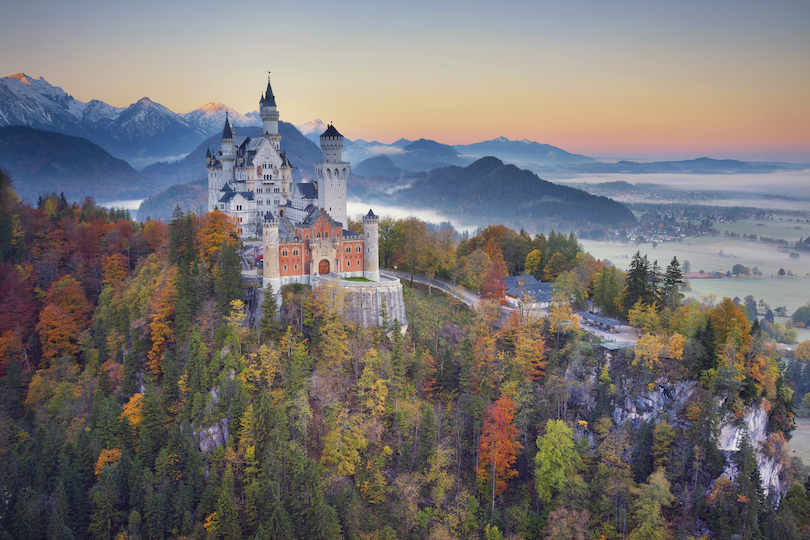 Set in a scenic spot at the foot of the Alps, Fussen is the last stop on the Romantic Road and can be found right in the south of Bavaria, just a kilometer from the Austrian border. While the enchanting town is well worth exploring in itself, most people visit for the three fairytale castles that lie nearby.
Although Hohenschwangau and Hohes Schloss look impressive with their prominent hilltop positions, arresting architecture, and imposing turrets and towers, the real showstopper is Neuschwanstein Castle. Commissioned by King Ludwig II, the one-time royal retreat looks so magical that Walt Disney's Sleeping Beauty Castle was modelled on it.
Fussen has a quaint, well-preserved old town that is home to pretty, pastel-colored buildings and the 9th century St. Mang's Abbey. The nearby hills and mountains also have countless nature trails for visitors to explore, which boast breathtaking views.
2. Munich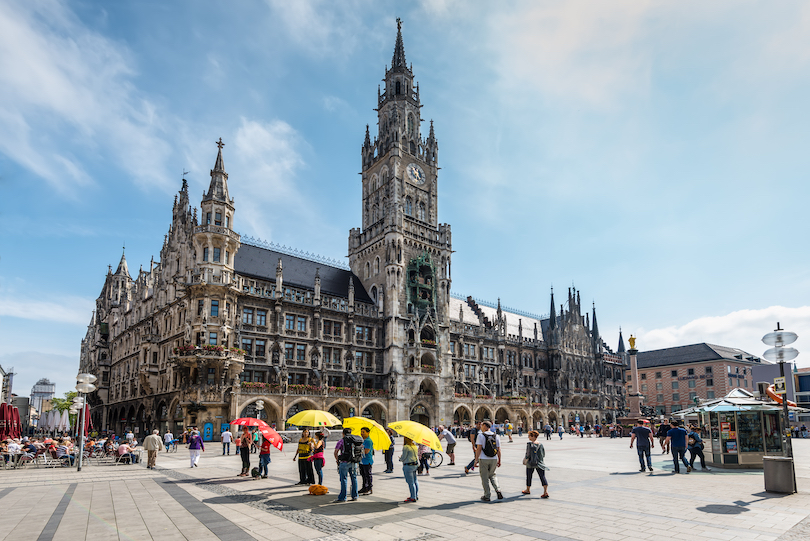 Best known as the origin of the world famous Oktoberfest, Munich is a major international hub for research and technology. The capital of the state of Bavaria, Munich is Germany's most prosperous city, boasting research universities, global companies like BMW and state-of-the-art science museums such as the Deutsches Museum.
However, Munich is not all business. This vibrant city offers one of Germany's best culture scenes, presenting several sophisticated opera houses and theaters like the National Theater. The city center is an attractive blend of classic and modern architecture, teeming in historic churches, medieval walls and royal palaces as well as bustling shopping centers and art galleries.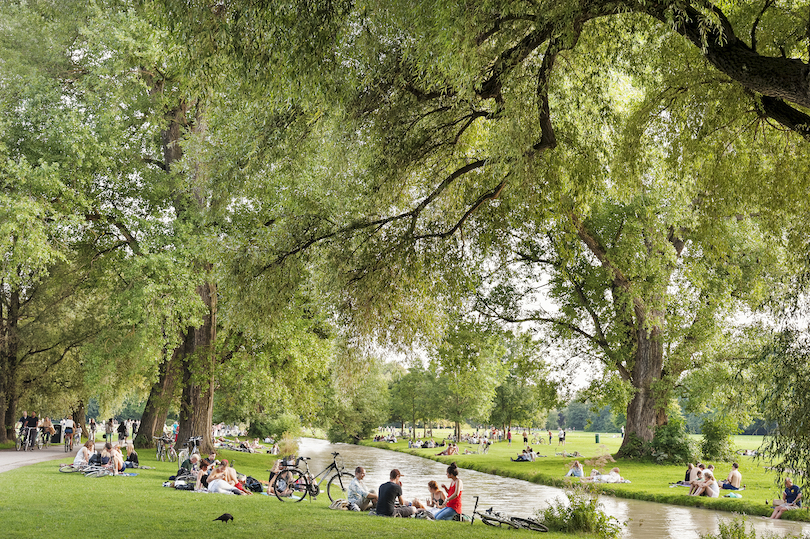 Munich's neighborhoods also offer their share of lush green spaces, which include the English Garden, one of the world's largest public parks. Munich is home to sports teams consisting of basketball, ice hockey and a championship football club.
Munich's Oktoberfest began in 1810 with a royal wedding celebration. Today, this famous beer festival draws millions of visitors every year to take part in the revelry that involves several gigantic beer tents, delicious Bavarian food, fun competitions and millions of liters of beer. No matter what time of year tourists visit, they can experience Munich's beer gardens and beautiful beer halls.
1. Berlin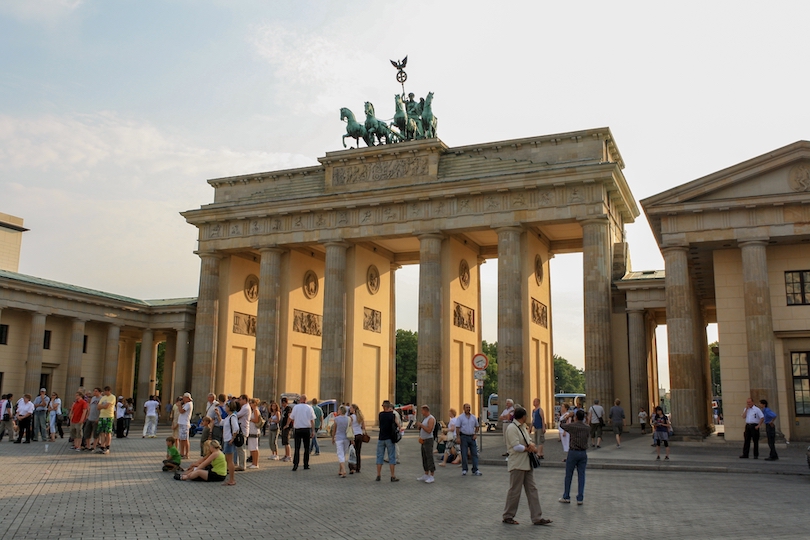 A federal state and the capital city of Germany, Berlin is widely associated with its World War II history and former division of East and West Germany by the Berlin Wall during the Cold War. Since the fall of the historic wall in 1989, Berlin today is now a vast, unified city diverse in ethnic groups and abundant in sightseeing attractions, culture and nightlife.
Many tourists are drawn to Berlin's famous historic structures, which include the Brandenburg Gate, Reichstag and the Holocaust Memorial. Although most of the Berlin Wall was demolished, there are some portions still standing near Checkpoint Charlie and the Reichstag.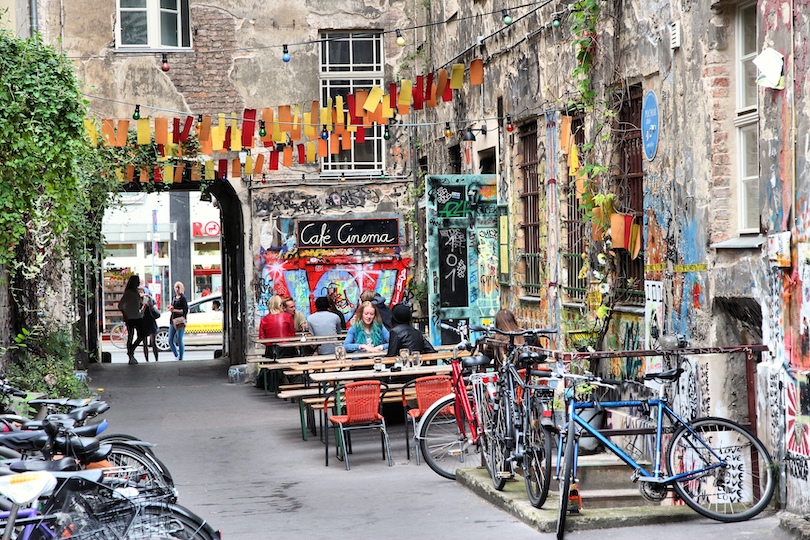 Berlin is respected for its high concentration of museums, namely Museum Island, which comprises a collection of museums that house impressive relics, temples and even reconstructed villages from many of the world's ancient civilizations.
See also: Where to Stay in Berlin
However, a visit to Berlin is not all about history. With two zoos, swimming lakes, public parks and dozens of nightlife venues, Berlin offers plenty for everyone in the family. The city also hosts annual festivals such as the Long Night of the Museums, Carnival of Cultures and the glamorous Berlin Film Festival.