Though the country is often more associated with chilly alpine sports than warm weather outdoor activities, Germany's lakes have always held a central position in the lives of its citizens, who flock to them in droves during their summer breaks.
Many of the most beautiful lakes in Germany lie in the Alpine region along its borders with France, Austria, and Switzerland. Since they're high altitude or alpine lakes, they're mainly fed by snowmelt during the short spring thaw and are exceptionally deep and full of cold, clear water.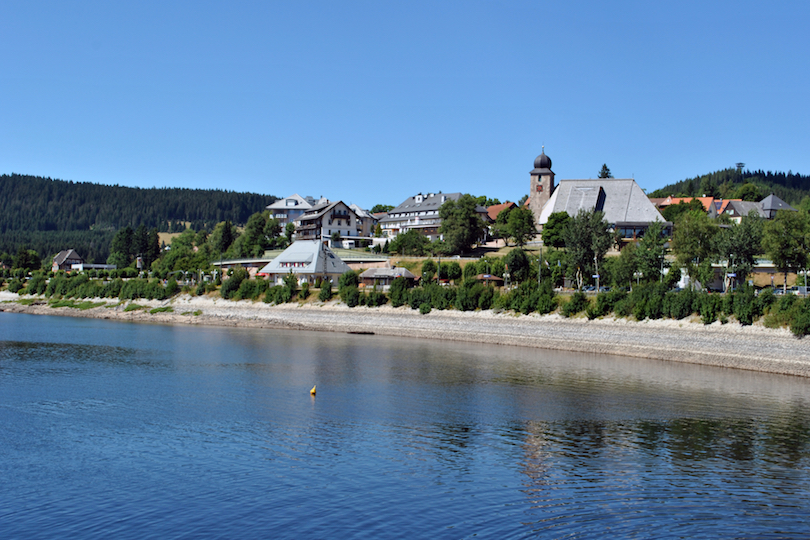 Located in Germany's southwestern Black Forest region near its borders with Switzerland and France, Lake Schluchsee is a natural lake that has increased in size greatly since the '30s, when a dam was built across the River Schwarza.
Known for the low, tree-covered mountains that surround it, the lake attracts visitors year-round from all over Germany and neighboring countries.
The dam and the arched stone railroad bridge compliment the natural beauty nicely. Stately alpine-style hotels and villas dot the shore, giving it a postcard-like feel reminiscent of past decades.
During the warm months, the lake can be busy with sail, paddle, and powerboats, but for those looking to escape the crowds, there are relatively remote stretches of shoreline that are easily accessible as well.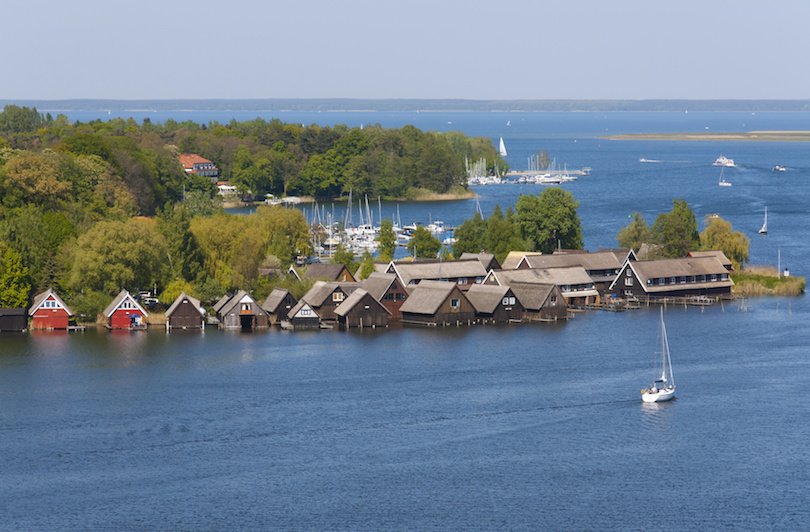 Lake Müritz is located in the northern German state of Mecklenburg–West Pomerania, between Hamburg and Berlin. It is particularly well-known for the colorful cabin – boathouses that are favorite vacation accommodations for summer visitors.
Many of the small villages dotting the lake's shores are similar, all-wooden structures, though they're usually not as colorful and are almost medieval in appearance. The lake's full shape and deep water make it a favorite with boaters, and guided lake tours are available.
Lake Müritz is beautiful year-round, but especially so in the autumn when the leaves have turned their vibrant fall colors, and in winter when the trees are blanketed in snow. The land around the lake is flat, which makes for unobstructed vistas in nearly every direction, and it's bordered by the popular Müritz National Park.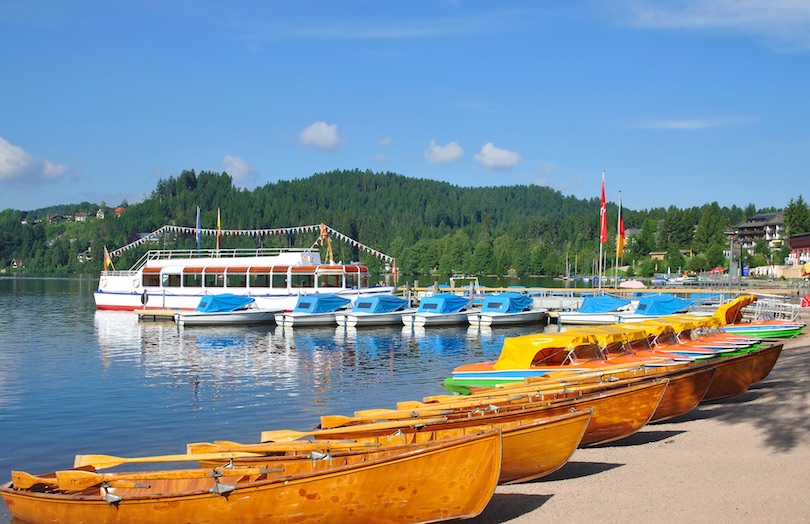 Due to its location inside the Sudschwarzwald Nature Park and its relative proximity to cities like Stuttgart and Freiburg, Lake Titisee is a magnet for summer travelers, many of whom come from nearby Switzerland and France.
Because of its southern location and the frequent winds that churn its surface, it often freezes more slowly and later in the year than other nearby lakes, making it a favorite for those intent on eking out a few more weeks of recreation before packing it in for the winter.
The lake sits nestled between large but gently rolling hills. Its shoreline is home to majestic and often colorful resorts and villas, most of which are traditionally styled and remain open year-round.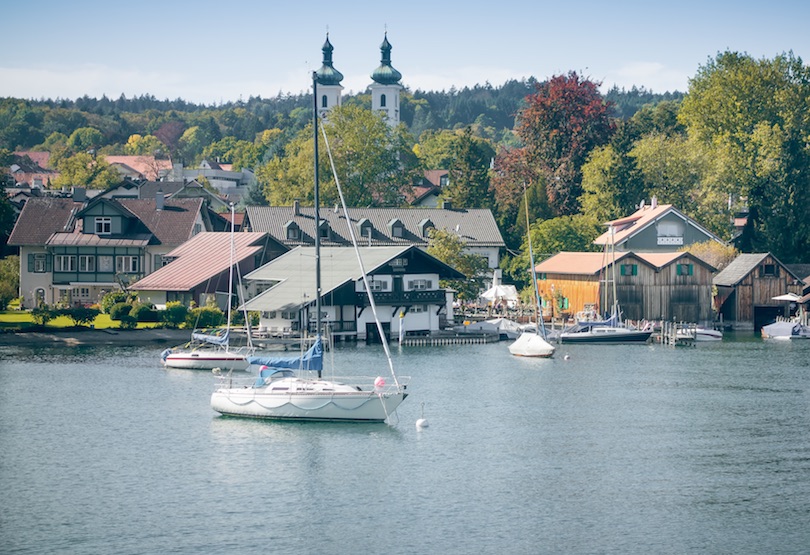 Lake Starnberg is Bavaria's second largest lake and is the outdoor recreation destination of choice for many Munich residents looking to escape the rigors of city life. The lake is nearly five miles long, and as far back as the 17th century was a favorite retreat of the city's elite.
Though it's surrounded by natural beauty, it's probably not a good choice for travelers looking to avoid the crowds. But for those who aren't put off by masses of visitors, there are plenty of accommodation and activity choices to more than make up for its popularity.
With the massive and often snow-covered Alps looming in the distance, it's one of the country's most scenic lakes. Though there are towns, resorts, and rental properties around the lake, it still retains its natural feel, with an air of remoteness despite its proximity to Munich.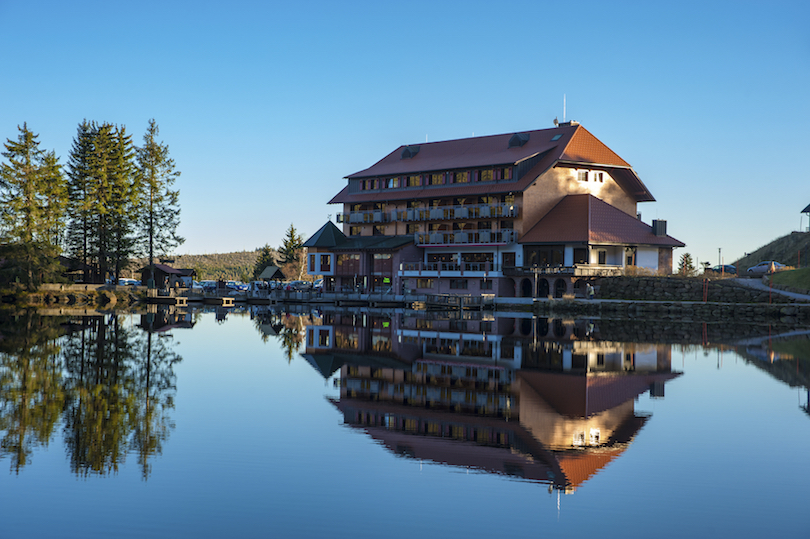 Though not big by German lake standards, what Lake Mummelsee lacks in size it more than makes up for with beauty and tranquility.
Located inside the Black Forest Nature Park not far from the border with France between Strasbourg and Stuttgart, rumor has it that a mermaid inhabits the lake. Though that may just be a marketing gimmick, there's no doubt it's a mystical place worthy of such a claim.
Nearly the entire lake is surrounded by steep, pine tree covered hills that give it the feel of its more northern alpine lake cousins. Due to its relative lack of development, it's one of the lakes most often visited by wildlife and outdoor enthusiasts and nature photographers.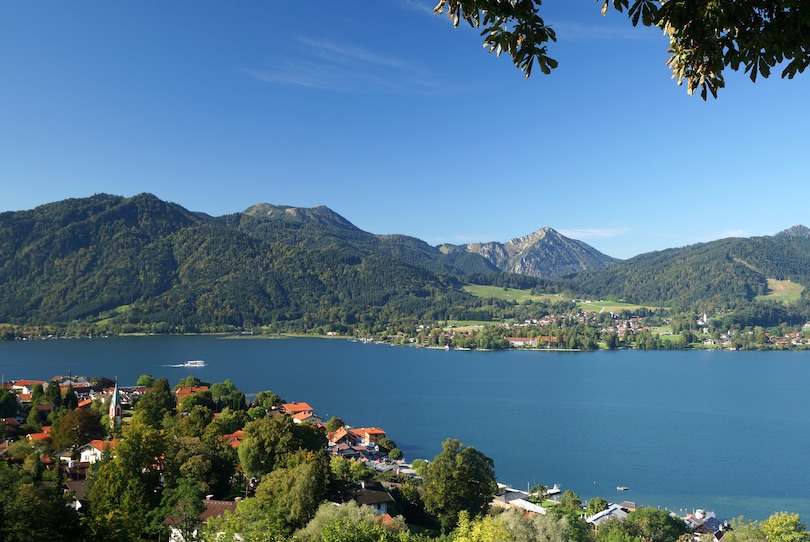 Located in the Bavarian Alps south of Munich near the Austrian border, Lake Tegernsee is an enchanting realm of snow-white swans, clear water, and colorful lakeside villas. It takes a backseat to none when it comes to peaceful and jaw-dropping aesthetics.
During the relatively short spring and summer seasons, the nearby towns, beaches, and forests come alive with the vibrant colors of sailboats, wildflowers, and the clear, blue sky. Unlike many other lakes where the mountains are far off in the distance, on Lake Tegernsee, they nearly come up to its shoreline, making for unique and stunning photo ops.
It's possible to take a train from Munich to the lake, and boat tours are favorite activities as well.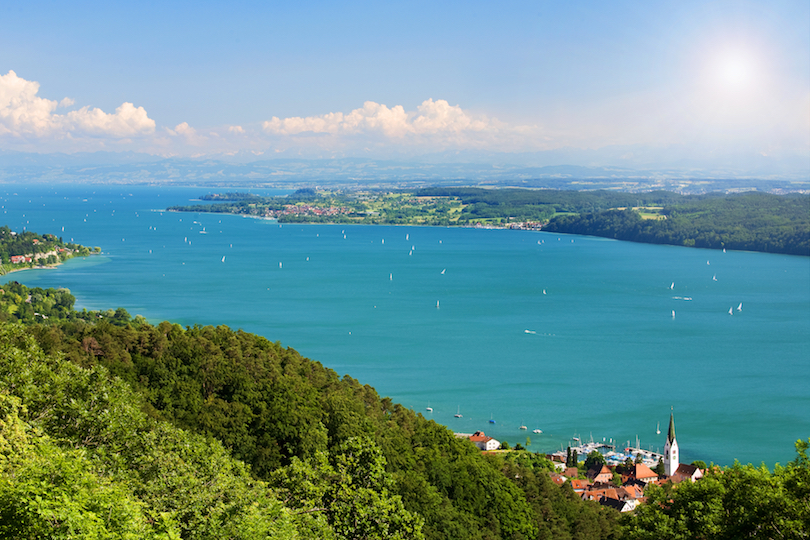 Often referred to as Lake Constance, Bodensee is located on the Rhine River in the northern Alps. Straddling the German-Swiss-Austrian border, it's a favorite destination for a multitude of travelers.
The German side of the lake features a handful of reconstructed lakeside villages mimicking the originals that were the homes of fisherman and traders in centuries past.
It's also home to Salem Castle, which was built in the 10th century and is considered to be one of Germany's most well-preserved historic gems. During summer months, the lake is often dotted with hundreds of colorful sailboats, especially near the stretch of water around the famous lighthouse and lion statue, making for amazing photographs.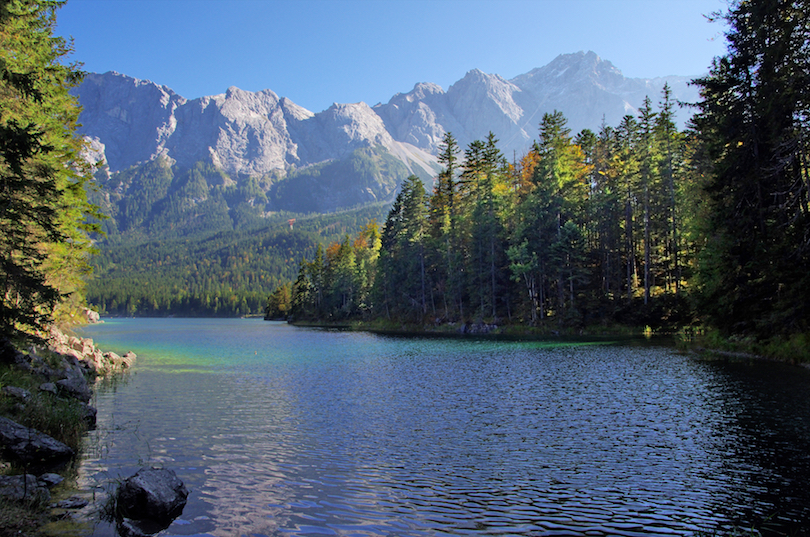 Located near the base of Zugspitze – Germany's highest peak – Lake Eibsee's amazingly clear waters often reflect the mountain's image, making for a stunning backdrop that's a favorite of couples looking to make their wedding day something special.
Lake Eibsee is also considered one of Bavaria's cleanest lakes. Though it sees its fair share of tourists during the summer months, it still retains much of the quaint charm that's often lost when tourism transitions from a trickle to a flood.
Its proximity to such magnificent mountains also makes it one of the area's most photographed lakes; many of the towering mountains near its shores are stark mixes of pine forest and barren rock, which make for a fantastic contrast.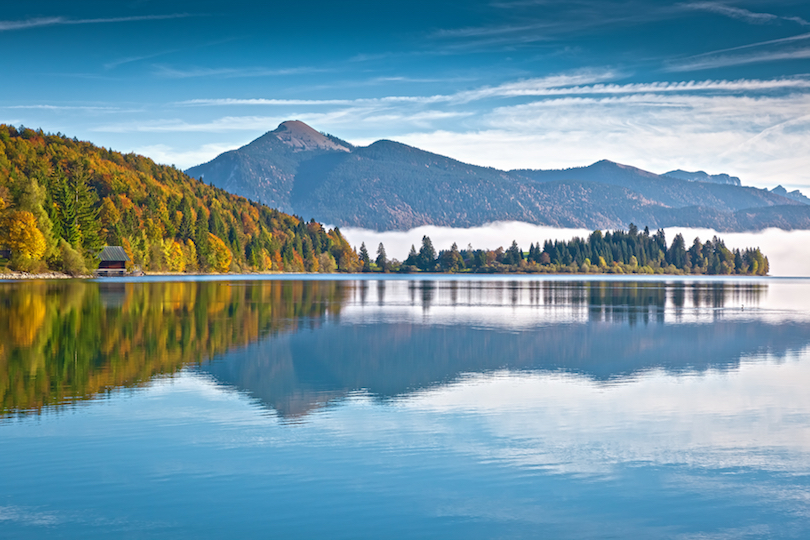 One of Germany's largest and deepest alpine lakes, Lake Walchensee is about 50 miles south of Munich in the Bavarian Alps. Despite its beauty, it is often less crowded than other nearby lakes, so it is a great option for travelers looking to commune with Mother Nature.
The lake's clear waters often take on a variety of blue hues, which stand in pleasant contrast to the stark mountains in the background. Due to its massive wind-swept surface area, it's a favorite of windsurfers.
For now, it's slightly off the beaten path, but that won't be the case forever.
Of all of Bavaria's alpine lakes, Lake Alpsee may be the most beautiful and idyllic.
Nestled deep in a gorge that was formed eons ago, the surrounding mountains slope steeply down into its deep waters. Even during the warm summer months when tourism is in full swing, many of the distant mountain peaks remain snow-covered, making it seem more like an oil painting than a real-life scene.
The lake is known for its native white swans, nearby castles (including the famous Neuschwanstein castle), and the hiking trails that meander through the lakeside mountains. Surprisingly, it's often overlooked by visitors, who don't learn of its existence until they see it from above while visiting Hohenschwangau Castle.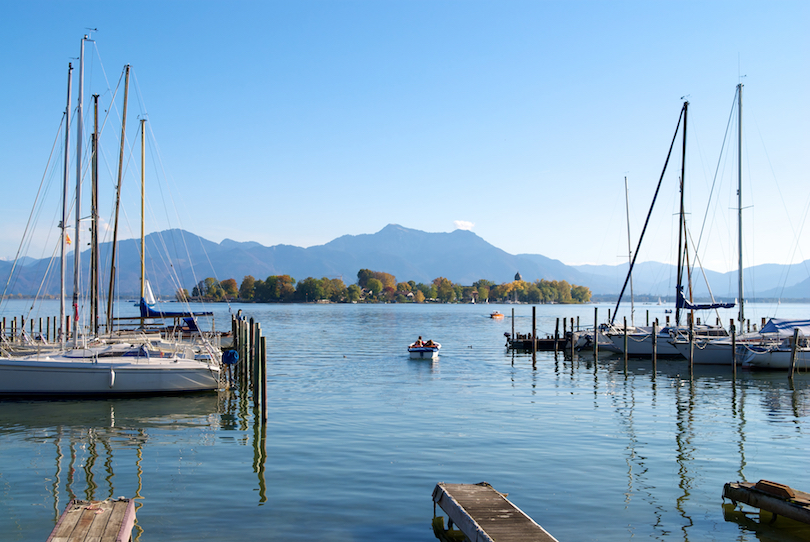 Often referred to as the Bavarian Sea due to its impressive size, Lake Chiemsee is fed by multiple rivers and is roughly equidistant between Munich and Salzburg in neighboring Austria. The lake was once much larger than it is now, and many smaller lakes that were once part of it dot the adjacent forests and mountains, presenting fun hiking opportunities.
Despite its rugged mountain surroundings, the lake area has been inhabited for centuries. The Seebruck archaeological site and museum at the northeast corner is the former site of a Roman-era settlement and is an interesting option for those visitors interested in history.
The lake's shores and a few of its islands include traditionally-styled resorts that are open year-round.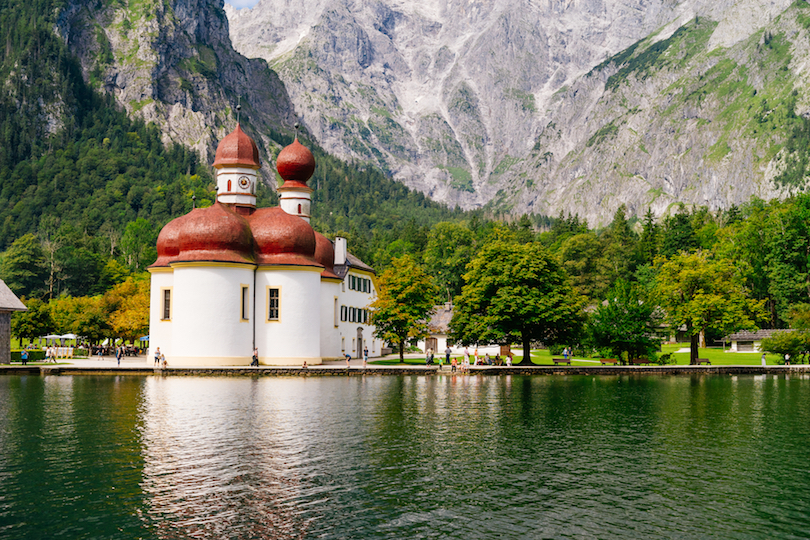 For those who've already visited Lake Königssee, it's no wonder that it's often referred to as Germany's most beautiful alpine lake.
Located within the boundaries of the Berchtesgaden National Park, it is known for St. Bartholomä Church, which was built in the Eastern-European Orthodox style that looks more Russian than it does German. The lake's inlets and coves include traditional wooden lodgings and boat docks that haven't changed in centuries, and the steep mountains come nearly to the water's edge in many areas.
Electric boat tours are reasonably inexpensive and offer guests the best views of the lake, in addition to a historical narration that's available in a number of languages. Unlike other nearby lakes, fishing isn't allowed, but a small commercial fishery provides ample smoked fish which are local delicacies.