Bavaria is the southern German region with a culture all of its own. In fact, many of Bavaria's traditions and much of its cuisine are often conflated with Germany as a whole; beer halls, bratwurst, and that typical Bavarian architecture that makes everything feel as though it's from a fairytale.
And in some ways – with its lofty mystical mountains, lush green valleys studded with forests, serene mirror-like lakes as big as seas, crumbling ruins, and still-standing castles – Bavaria really is like a fairytale. From its sublime nature to its charming medieval towns and villages, there's almost no end to the best places in Bavaria you could be visiting on a trip to Germany.
In this post, we'll cover:
17. Franconian Lake District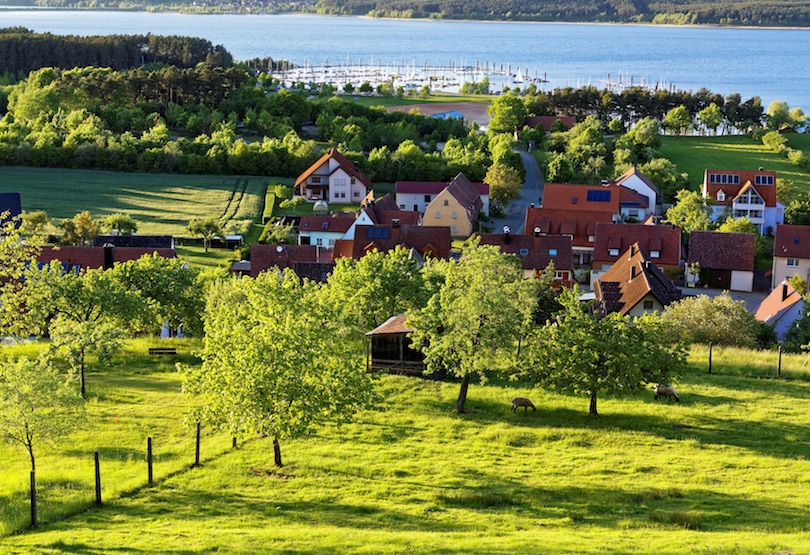 The Franconian Lake District is located in northern Bavaria southwest of Nuremberg. It's made up of five lakes – Hahnenkammsee, Altmühlsee, Rothsee, Dennenloher See, and Brombachsee. The latter, in fact, was created by one of Germany's largest-ever water-management projects.
Man-made or not, this and the other lakes form an unspoiled area that's ripe for outdoor activities. Surrounded by meadows and small villages, the lakes are also ringed with several beaches, with water sports and hiking the order of the day. Camping, or staying in cozy guesthouses, has to be the best way to see the Franconian Lake District.
16. Nuremberg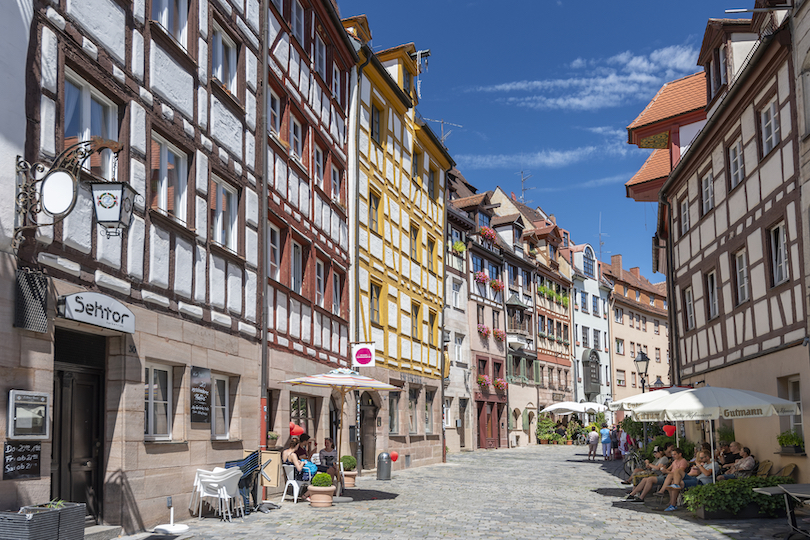 The second-largest city in Bavaria, Nuremberg is a busy, lively city that's popular with international travelers and locals alike all year. Best known for the Nuremberg Trials, this city was formerly the residence of German kings, and is the site of the fantastic Nuremberg Castle; built in 1495, it's a medieval wonderland.
Much of the city was destroyed during World War II. Thankfully, most of the charming Altstadt (Old Town) was constructed afterward, using original stone no less, giving Nuremberg back its medieval charm. The city's Christmas Market marks one of the most popular times to visit Nuremberg.
15. Landshut
Situated between Munich and Regensberg, Landshut is a pretty medieval town. It is best known for the Landshut Wedding, a quadrennial re-enactment of a medieval wedding, including jousting, feasting and knights' tournaments.
One of its best sights has to be St. Martin's Church. This brick Gothic church was built in 1389 and features a soaring spire, making it the tallest church in Bavaria. There's also Trausnitz Castle, founded in 1204, that today boasts Renaissance architecture.
The Landtor area is a beautiful place for shopping, eating, and drinking amid the historic buildings of the Old Town. Landshut is also conveniently located close to Franz Josef Strauss International Airport, and the town boasts a surprising amount of lodgings set in charming heritage buildings.
14. Augsburg
One of the oldest cities in Germany, having been founded by the Romans in 15 BC, it's also the largest town to be located on Germany's Romantic Road. From the 13th century, Augsburg was actually an independent city-state – and a pretty wealthy one at that. Evidence of its former glory can still be seen today in the attractive buildings of the town, from the Baroque Town Hall to its 11th-century Romanesque cathedral.
Interestingly, Augsburg boasts the world's oldest welfare housing, The Fuggerei. Built in 1516, these houses are still lived in to this day and remain very affordable. Today, Augsburg it's a university town with many pubs and a welcoming pedestrianized zone.
13. Linderhof Palace
Situated in Schloss, southwest Bavaria, the Linderhof Palace is one of King Ludwig II of Bavaria's crazy castle creations. It's the smallest of the three royal palaces contrived by the ruler, and notably, the only one that Ludwig lived to see completed.
Modeled on Versailles, the Linderhof Palace features some extremely opulent Rococo style interiors, with an abundance of ornate carvings and gold leaf. It also features an intricate Moorish-style "Moroccan House," as well as the man-made and very sparkling Venus Grotto. With its beautifully sculpted gardens – free to stroll around – its setting in the foothills of the Bavarian Alps provides a picturesque backdrop.
12. Wurzburg
The Main River slices through Würzburg, a town on the Romantic Road, giving it a charming riverside location. It's a lovely place to explore, complete with a history of architecture and art, as well as some excellent wines.
The top sight in town is the Würzburg Residenz, a bold Baroque building – arguably, one of the most beautiful in Germany – complete with an iconic zig-zag staircase and home to the world's largest fresco. There's a lively student scene in town that makes it a fun place to stop off and enjoy local life in the intricacies of Würzburg's cobbled streets.
11. Dinkelsbuhl
Dinkelsbühl was founded in the 8th century by Carolingian kings. Today, many Germans think of this town as Germany's most beautiful, and it's easy to see why. Set on the Romantic Road, most of Dinkelsbühl is made up of charming medieval houses painted in bright pastel colors that makes for something you'd see in a fairytale.
Wander the fortified walls, count the 18 towers, and be taken back in time. Every year, the townspeople celebrate their surrender to Sweden during the 17th-century 30 Years War; surrendering saved this beautiful spot from destruction.
10. Regensburg
Regensburg is located on the banks of the Danube and is famous for its very well preserved medieval heart. The icon of the city, however, is its stone bridge. This 12th-century structure straddles the river, with a whopping 16 arches making an impressive sight indeed.
Regensburg Cathedral is a Gothic masterpiece with ornate spires and detailing dating back to the 13th century. There's even a Roman-era city gate – the Porta Praetoria – built in 179 AD. The town is flanked by medieval towers, one of which is an imposing 50 meters tall. Needless to say, staying in Regensburg is like staying in a fantasy novel.
9. Lake Constance
Also known by its German name, Bodensee, Lake Constance is a glimmering turquoise alpine lake that borders Austria and Switzerland. The lake is fed by the Rhine River and is made up of two parts – the Untersee and the Obersee.
Best visited in the summer months, this 63-kilometer-long lake is edged by attractive resorts and campsites. There are also a few attractive cities, including Lindau, which is situated on an island full of medieval and half-timbered buildings
Swimming, sailing, and windsurfing, as well as hiking opportunities in the hills, make up the lake's outdoor activities, while keen cyclists will enjoy the cycle path that encircles Lake Constance itself.
8. Franconian Switzerland
Franconian Switzerland is one of Germany's oldest vacation destinations. The area was named by 19th-century poets and artists, who likened the sublime landscape in this part of Upper Franconia to that of Switzerland. The rest is history.
Located in a rural area, there are nevertheless many things to do. From boat trips along the River Wisent, exploring its thousands of caves and rock climbing, to discovering ruined castles and quaint villages, Franconian Switzerland also boasts the highest density of breweries in the world. This means every village in the area has at least one pub where you can enjoy a cold beer.
7. Garmisch-Partenkirchen
Garmisch-Partenkirchen is located in Southern Bavaria and is an incredibly charming place to explore. Formerly two towns – Garmisch on one side of the river, and Partenkirchen on the other – they were conjoined by the Nazi government in 1935 prior to the 1936 Winter Olympics, held in the newly composite town.
Not only famous for houses boasting wood carvings and the Italian-influenced Bavarian frescoes, Lüftlmalerei, this Garmisch-Partenkirchen is also located in the shadow of Zugspitze, Germany's highest mountain at 2,962 meters above sea level. Skiing in the winter, hiking in the summer – this alpine town has it all.
6. Chiemsee
Often dubbed "the Bavarian Sea," Chiemsee is the largest lake in Bavaria and is a beautiful spot for a relaxing retreat on the water's edge. The main resort town of Priena is a popular destination for wealthy Munichers, though there are several other towns to suit other types of travelers.
There is also a selection of islands to explore on the glassy waters of the lake, reachable by boat. One of these is Herrensel, where you'll find one of King Ludwig's castles – the Herrenchiemsee. Another palace influenced by Versailles, this 19th-century edifice was one of the most expensive buildings in Bavarian history. There's also an Augustinian monastery located on Herrensel.
5. Berchtesgaden
Berchtesgaden is an alpine town that features incredible views of the local icon – Watzmann. This is Germany's third-highest mountain, creating a sublime backdrop to the town with its imposing 2,713 meters of granite. Other mountains flank the area, making Berchtesgaden beautiful beyond belief.
Hiking trails abound in the area during the summer, particularly around the nearby and very spectacular Konigssee. This is also where you'll find a more unlikely sight – the Eagle's Nest. A strangely dark tourist sight, the former mountain retreat of Hitler (who was afraid of heights) is now a restaurant and bar, complete with observatory platform.
4. Bamberg
Spread across seven hills at the point where the Regnez and Main Rivers meet, Bamberg is a very pretty Bavarian village. It boasts an Old Town that features a number of 11th-century buildings, such as Romanesque Bamberg Cathedral.
Because of its location on the two rivers, it's been dubbed "Little Venice." Here, you'll find old fishermen's houses that jostle for space along the waterfront. Amazingly, the old town hall of Bamberg is set on an island in the Regnez and is connected by two handsome stone arch bridges.
3. Munich
Famous for more than just Oktoberfest – taking place in the urban park of Englischer Garten – Munich is the Bavarian capital that bulges with bountiful beer halls and a beautiful old town to boot. The Altstadt is centered around the impressive Neo-Gothic Town Hall, with its iconic glockenspiel clock.
See also: Where to Stay in Munich
St Peter's Church, dating from the 12th-century, seems to pierce the sky with its spire, while Frauenkirche Cathedral is alluring with its twin bell towers. When sightseeing in Munich has become too much, head to the historic Hofbrauhaus – a beerhouse dating back to 1589 – for steins of beer and a hearty feast.
2. Rothenburg ob der Tauber
Rothenburg ob der Tauber is one of the most beautiful towns on the Romantic Road. Meaning "Red Fortress over the river Tauber," this is the quintessential medieval Bavarian town, the type that comes from storybooks and sparks your imagination. It's all timber buildings along delightful cobbled streets and a patchwork of pretty pastel colors.
One of the most famous things is the Rothenburg Christmas Market, held since the 15th century. Even with tourist crowds, Rothenburg ob der Tauber is a beautiful place to explore. Staying here means you get the town to yourself as the daytrippers leave; night brings the intriguing Nightwatchman's Tour.
1. Fussen
Thanks to its proximity to three castles, Füssen is one for all the castle enthusiasts out there. First of all, there's Hohenschwangau, a handsomely 'classic' castle with turrets and towers, which is where King Ludwig II spent his childhood – possibly why he was so castle crazy.
There's also Hohes Schloss, the late-Gothic castle with white walls and pretty red rooves. But the number one castle near Füssen is Neuschwanstein Castle; this is Ludwig II's masterpiece. It's so beautiful that even the Sleeping Beauty Castle of Walt Disney fame was directly inspired by it. Neuschwanstein is quite literally the stuff of fairytales.
Map of Places to Visit in Bavaria, Germany
© OpenStreetMap © MapTiler © Touropia