Dominating Central Europe, Germany is the largest and most populous country in the region. Home to a diverse range of landscapes, it is bordered by the North Sea and Baltic Sea in the north and the shores of Lake Constance and the towering Alps in the south.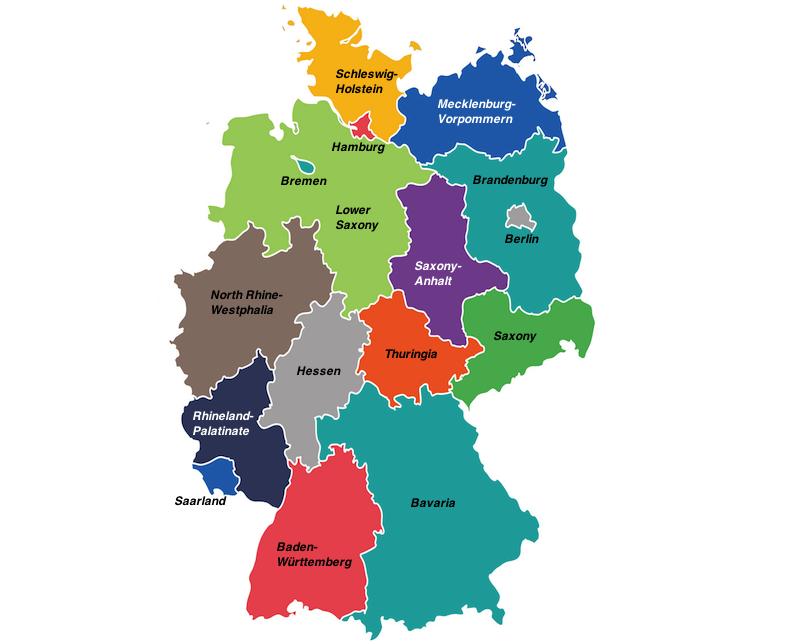 While large swathes of the country are blanketed in endless forest, three major rivers run through Germany in the shape of the Danube, Elbe, and Rhine. Along with the outstanding natural beauty, many pretty towns and vibrant cities dot the magnificent countryside.
In this post, we'll cover:
Baden-Württemberg
Renowned for being home to the spectacular Black Forest, Baden-Württemberg actually has much more to offer up; it is also home to the charming university town of Heidelberg and the famous spa town of Baden-Baden.
Located in the southwest of Germany, the region is packed with glorious nature, as the Black Forest gives way to lovely Lake Constance and the impressive Swabian Mountains. As such, there are lots of great outdoor activities for you to check out, with watersports, hiking, and mountain biking all very popular.
Other cities of note are Stuttgart, Freiburg, and Konstanz, and tucked away amongst the majestic scenery, are lots of impressive age-old castles for you to discover.
Bavaria
As it is Germany's economic powerhouse, Bavaria is a very wealthy region. This is perhaps best demonstrated by its capital Munich, which is bursting with stunning architecture, interesting historical monuments, and plays host to the world-famous Oktoberfest. Indeed, the region boasts a rich folk culture; for many people, the stereotypical image of Germany that pops into their head comes from Bavaria's unique traditions and cultural heritage.
The largest region in Germany, Bavaria is set in the south and is one of the most popular places to visit in Germany. It is home to charming cities such as Augsburg, Bamberg, and Regensburg, the Bavarian Alps, and the delightful Chiemsee, which offers fantastic swimming and sailing.
In addition to all this, there's also the appropriately named Romantic Road for you to drive along, stopping off at impressive castles and medieval villages as you go, as well as the fairytale-like Neuschwanstein Castle, among many other amazing sights.
Berlin
Although most people don't tend to look beyond what trendy Berlin offers in terms of its historical monuments, cultural landmarks, and pounding nightlife, it is well worth venturing beyond the heart of Germany's cool capital to explore the surrounding region.
For a sprawling capital city, Berlin is very green; lots of parks and waterways weave their way among its built-up areas. Most of the region is located on a low-lying plateau, and at the city's outskirts, you'll find some glorious woodland and shimmering lakes for you to enjoy.
Of course, Berlin's multitude of incredible museums, galleries, and thriving arts and culture scene are what many people come for. As the city is constantly changing, adapting, and growing, there is always something new for you to see and do.
Brandenburg
Bordering Poland in the east of the country, Brandenburg surrounds the capital Berlin, and the region is the historic heart of Prussia.
Full of beautiful forests, lakes, and rambling countryside, Brandenburg is delightfully underpopulated in comparison with nearby Berlin. Tucked away among its picturesque landscapes you'll find cute little villages and towns, while the Spreewald with all its scenic little canals is one of its most beautiful parts.
While Potsdam with its magnificent palaces and parks is the main draw, Brandenburg an der Havel and Cottbus are both well worth a visit, and the whole region is dotted with a number of appealing castles and palaces.
Bremen
Although the region of Bremen is mostly made up of the city of the same name, Germany's smallest state has a bit more to it; it also includes the town of Bremenhaven, which lies on the North Sea.
Located on low lying plains with the river Weser running through it, Bremen has long been an important port city in the country. There are lots of interesting historic sights, cultural landmarks, museums, monuments, and more to visit, as it was once part of the Hanseatic League.
If you're looking to escape the youthful and lively city center, you can take a scenic stroll along the riverbanks or head to Blockland; with its green pastures and canals, it is a very popular place amongst locals to go walking, cycling, or kayaking.
Hamburg
Another former independent city-state that was part of the Hanseatic League, Hamburg lies in the north of Germany. Because it is located on a series of islands and waterways with the River Elbe running through, it has the most bridges in Europe, with over 2,300 across the city.
Due to its strategic location and proximity to the North Sea coast, the port city has long attracted trade to its shores. As wealth poured in, magnificent buildings, churches, and monuments were built. As such, there so much to see and do, with lots of interesting maritime and mercantile history.
Although Hamburg is not just a city but a region, in truth, it is Germany's second-largest city that is most worth visiting. In addition to its fascinating history and culture, Hamburg also has a wild nightlife scene for you to enjoy.
Hesse
Located right in the center of Germany, Hesse is full of breathtaking nature; 40 percent of the region is covered in forest, and the rivers Main and Rhine run through it. Consequently, there are lots of great outdoor activities to choose from, with hiking, mountain biking, and boat trips all being popular.
While there certainly are lots of fantastic nature parks for you to enjoy, the cities of Darmstadt and Frankfurt – Germany's financial center – are both well worth a visit, as is the lovely spa town of Wiesbaden.
The Rhine-Main region in the southwest of Hesse is dotted with charming towns and villages, with the Rheinsteig and Bergstasse routes particularly worth exploring, as they take you through some beautiful countryside and lovely vineyards.
Lower Saxony
The most northwestern region in Germany, Lower Saxony is home to a diverse array of landscapes with meadows, plains, and farmland covering much of it. The Elber and Weser rivers also flow through it. In addition to this, mountains and hills are found in the south, and the North Sea coastline and the scenic East Frisian Islands make it one of the country's most popular holiday destinations.
Among all the natural scenery, Lower Saxony also boasts some interesting cities and towns, such as Hanover, Celle, and Luneburg. Two of its main population centers – Bremen and Hamburg – are now considered regions in their own right.
Lower Saxony really does have a wide range of things to see and do. You can go swimming in the Wadden Sea, hiking through the beautiful hills of the Elm Lappwald, or visit historical places such as the medieval towns of Hildesheim and Gottingen.
Mecklenburg-Vorpommern
The delightfully-named Mecklenburg-Western Pomerania (as the region is known in English) consists of the most northeasterly part of Germany, which is home to the beautiful, wild, and bewitchingly beautiful Baltic Sea coastline.
As it is the least populated region in the country, there is lots of amazing nature, with lovely islands, rugged cliffs, and picturesque beaches dotting its coastline. In the interior lie a plethora of lakes, woods, and untouched nature.
Although the main draws are its beautiful beaches and seaside towns – such as Rostock, Stralsund, and Wismar – there is a lot of history to be found further afield. Visiting the castle at Schwerin is a must, as is taking a trip to Rugen, Germany's largest island.
North Rhine-Westphalia
With over 17 million inhabitants, North Rhine-Westphalia is the most populated region in Germany. The western realm is home to some of its largest, most important, and most visited cities, such as Dortmund, Dusseldorf, and Cologne.
While most people come for its wealth of historical and cultural sights, the region actually boasts lots of appealing nature, with the wonderful Teutoburg Forest and the Eifel Mountains, as well as lots of sparkling waterways and Germany's longest cycle highway.
As such, there are loads of great outdoor activities for you to partake in. Taking a scenic cruise along one of its rivers is a must. In addition, Aachen – the former capital of the Holy Roman Empire – and Bonn – the former capital of West Germany – should not be missed.
Rhineland-Palatinate
Lying in the west of the country bordering Belgium and Luxembourg, Rhineland-Palatinate is made up of glorious rolling hills, sweeping valleys, and lovely vineyards with glimmering Rhine and Moselle rivers cutting through them.
The countryside is very picturesque to behold. Dotted away among all the stunning scenery are a wealth of impressive castles and historic towns, with Mainz, Koblenz, and Neustadt an der Weinstrasse among its most popular. The Palatinate Forest alone is home to over 50 castles and crumbling ruins.
As the region is renowned for its wines, vineyards, and wineries, taking a trip along the German Wine Route is a must. As well as sampling delicious local wines and reveling in its astounding natural beauty, you can also go hiking, cycling, or camping in the scenic countryside.
Saarland
Mainly consisting of the Saar river basin, the appropriately named Saarland is an interesting part of Germany to visit; its proximity to both France and Luxembourg means it has a unique cultural make-up and heritage to explore.
Although it was very heavily industrialized in the past, the region is slowly recovering. As such, there are some nice pockets of nature on show. The crumbling, disused ironworks such as Volklinger Hutte that dot Saarland look very impressive.
Also worth checking out are the main population centers of Saarbrucken and Saarlouis. Both have a lot of history to uncover, with the former dating all the way back to Roman times.
Saxony
Lying in the east of the country bordering both Poland and Czechia, Saxony is home to Leipzig and Dresden, two of eastern Germany's most significant cities.
Away from these two must-see cities, Saxony is awash with stunning scenery. Picturesque valleys and hills give way to glimmering lakes and waterways, while in the southeast, the Ore Mountains tower dramatically over the surrounding countryside. The peaks of the Elbe Sandstone Mountains are popular with Dresden locals and international climbers.
In addition to its beautiful nature, there are a plethora of age-old castles and monasteries for you to check out. The historic centers of Freiburg, Gorlitz, and Meissen are also riveting.
Saxony-Anhalt
Full of incredible historical and cultural sights, Saxony-Anhalt is a delightful region to visit. It is dotted with loads of fascinating towns and cities, many of them dating back to the Middle Ages. This is because its central location placed it at the heart of the former German Empire.
While the three major cities of Magdeburg, Dessau, and Halle are worth visiting for their array of museums, monuments, and historical sights, if you head further afield, you'll come across some hidden gems – such as Merseburg and Naumburg.
Although the quaint medieval towns and cities certainly dominate most visitors' itineraries, there is lots of stunning nature to get lost in. The Elbe-Radweg is one of the most popular cycling routes in Europe, while Brocken Mountain and Bode Canyon are an outdoor lover's delight.
Schleswig-Holstein
The northernmost region in Germany, Schleswig-Holstein borders Denmark; one side of its scenic coastline is home to the North Sea, while the other lies next to the Baltic Sea.
Due to its proximity to the Nordic countries, the region and its many cities and towns has its own look and feel, with Kiel, Neumunster, and the Hanseatic City of Lubeck possibly best exhibiting this.
As it has lots of beautiful beaches, it is a popular holiday destination amongst Germans. The seaside towns of Gromitz and Sankt Peter-Ording see huge numbers of visitors every summer.
Thuringia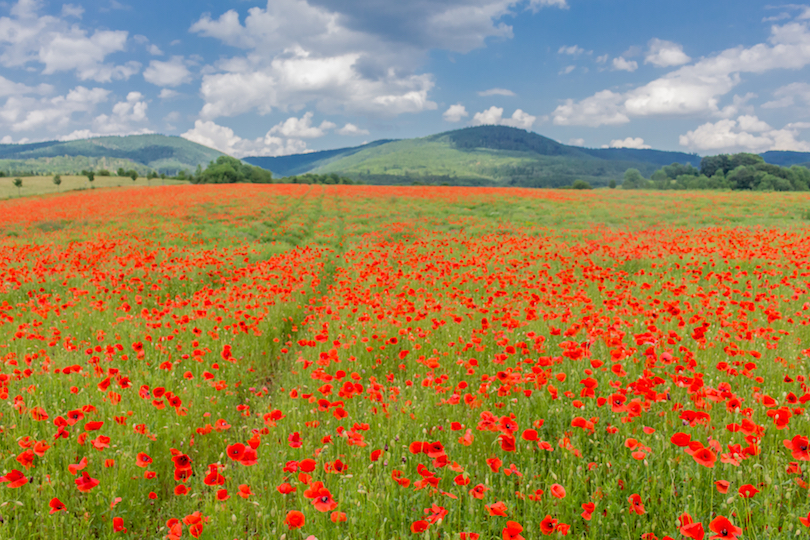 Lying slap bang in the center of Germany, Thuringia is often overlooked by foreign holidaymakers, although it is quite popular amongst Germans, who come here for the wonderful forests, mountains, and historic cities.
The four main places to visit are Erfut, Eisenach, Gera, and Gotha. Each of these ancient cities has its own fascinating history, monuments, and museums for you to delve into.
Tucked away amongst its endless forests are some beautiful little towns, such as Weimar (where Goethe and Schiller came from) and Rudolstadt, which is home to the largest folk festival in the country. Offering up the perfect combination of history, culture, and nature, Thuringia is an off the beaten path destination that will introduce you to the authentic side of Germany.