Both the capital and largest city of Baden-Wurttemberg state, Stuttgart has much more to it than just Mercedes-Benz and Porsche. While it is known as the 'cradle of the automobile', the manufacturing hub also has excellent museums, lavish historic palaces and gorgeous green areas to explore.
Spread across numerous hills and valleys alongside the Neckar River, it has long been an important center of commerce. Due to this, Stuttgart was heavily bombed during the Second World War with almost all its historic center sadly destroyed. Nowadays, there are well-restored castles, churches and palaces to see and some amazing modern buildings hosting fine art collections.
It also lies just short public transport journeys away from some stunning estates and atmospheric old towns like Esslingen and Tubingen. The best things to do in Stuttgart for many visitors though is visiting its two state-of-the-art automobile museums. The traditional Christmas market also sees many millions pour in each winter to celebrate, shop and enjoy the festive ambience.
Map of Tourist Attractions in Stuttgart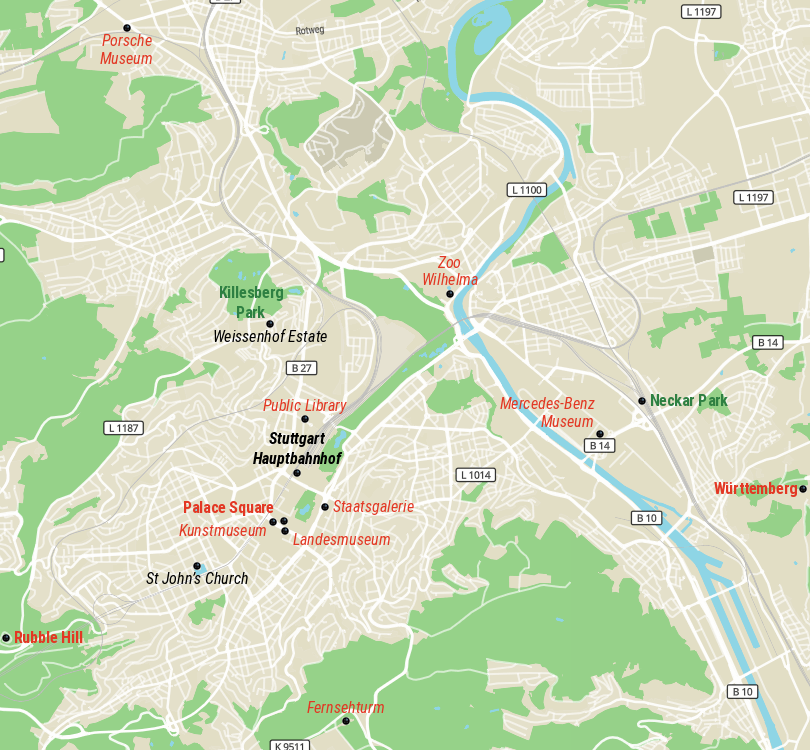 © OpenStreetMap © MapTiler © Touropia
In this post, we'll cover:
23. Kunstmuseum Stuttgart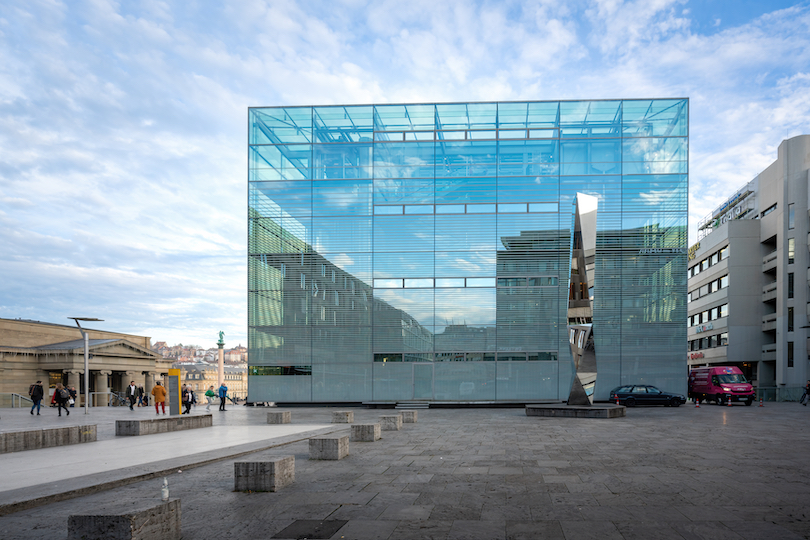 The eye-catching Kunstmuseum Stuttgart is housed in a giant, glass cube, completely in contrast to all the traditional buildings around it. Located on the corner of Schlossplatz, it has a very impressive array of contemporary artworks for you to peruse.
While the origins of its extensive collection date to 1924, the museum's magnificent modern building was only unveiled in 2005. In its equally arresting exhibition spaces which actually include a series of disused underground tunnels, you can see thought-provoking paintings, photos and sculptures. Big names displayed here include Otto Dix, Dieter Roth and Adolf Holzel among many others.
Asides from admiring its unique artworks, architecture and installations, its top-floor restaurant offers panoramic views of the city and square below. Delightfully lit up at night, the museum also regularly hosts interesting temporary art exhibitions.
22. Grabkapelle on Württemberg Hill
Perched high atop Wurttemberg Hill overlooking the winding Neckar River is the very regal-looking Grabkapelle. A peaceful and picturesque place, the ornate mausoleum lies just twenty minutes drive directly east of the center.
Built between 1820 and 1824, its Neoclassical-style chapel was commissioned by King Wilhelm I for his treasured wife Queen Catharina who had died prematurely just a year earlier. The long-reigning monarch and their daughter were also later buried in its crypt.
Other than gazing out over the gorgeous vineyards and rivers below, you can also enter the historic building and marvel at its massive rotunda. Inspired by the queen's Russian Orthodox faith, it is lined by some soaring columns and striking statues of the Apostles. Altogether, its scenic setting, views and architecture make the mausoleum well worth visiting if you have the time.
21. St John's Church
Just a short walk west of the city center is one of its most beautiful buildings: the Gothic Revival-style St. John's Church. Surrounded on three sides by a smallish pond, its fantastic facade, belltower and flying buttresses make for some phenomenal photos.
Very nearly destroyed during the Second World War, it is now known as the 'church without a top' as everything apart from its spire was rebuilt. This was to commemorate the lives lost, the destruction wrought and to stand as a memorial against war.
After having snapped some pics of its weathered sandstone walls from across the Lake of Fire, head inside to see its elegant arches, balconies and enormous organ. Its fine stained-glass windows and fetching columns also look a treat. Thanks to both its moving story and marvellous architecture, the church was one of our favorite buildings in the city.
20. Day trip to Tübingen
If you want to see a bit more of Baden-Wurttemberg, then the attractive university town of Tübingen is a great day trip option. Just a forty-five minute train ride south of Stuttgart, its enchanting Old Town is full of colourful medieval buildings, lively bars and some nice old churches.
Tucked away amongst hills and forests along the Neckar, its charming cobbled streets and crooked half-timbered houses look very much as they would have done in the 1600s. Thankfully spared from bombs during WWII, its remarkably well-preserved center is the main place to amble about.
Besides checking out its old city hall, castle and the colossal St. George's Church, many people take boat trips along the idyllic river. Around the central Marktplatz, there are also tons of terrific bars and beer gardens and some museums to visit too. Due to its sizeable student population, Tubingen has a very vibrant, youthful feel with festivals and cultural events constantly taking place.
19. Weissenhof Estate
An absolute must for architecture lovers is the wonderful Weissenhof Estate on the northern side of Stuttgart. As its hillside site, you can tour around eleven incredible buildings designed by influential architects in the twenties. There is also a small museum that presents the pioneering project and the architectural styles on show.
For the Deutscher Werkbund exhibition of 1927, twenty-one simple yet stylish modern buildings were erected around the estate. The aim was to showcase how good-quality housing could be provided in a cheap and efficient manner. Taking part were renowned international architects such as Mies van der Rohe, Walter Gropius and Le Corbusier.
While the rest were sadly damaged or destroyed during the Second World War, the remaining ones are fascinating to explore. On tours, you'll learn about their innovative modernist approach to design and be able to admire all the functional, sleek living spaces they created. The museum also features exhibits on each architect and the significant impact the housing project had on modern architecture.
18. Solitude Palace
Yet another architectural gem to stop by is the stunning Solitude Palace. Set atop an elongated ridge just west of town, the romantic-looking Schloss Solitude is surrounded by manicured grounds and gardens.
Completed in 1769, the Rococo-style palace was used as a summer residence and hunting lodge by Duke Charles Eugene. Very elegant, its central domed roof overlooks its pretty pale yellow walls and the lovely woodlands, gardens and viewpoints around them.
Guided tours in German can also take you around its sumptuously decorated interior. Here, you'll see lavish ballrooms and halls all decked in glittering gold and glass while fabulous frescoes and shining chandeliers lie overhead. Pamphlets in English are handed out to non-Geman speakers.
While it certainly is a serene spot, we're not sure if it justifies the travel time from the center (at least by public transport). You really need to take the tour otherwise it doesn't take all that long to photo its opulent pavilion. There is a cafe and some hiking trails though should you want to linger longer.
17. Go Shopping at Outletcity Metzingen
If after all the sightseeing and day trips you want to shop until you drop, then Outletcity Metzingen is definitely the place to go. Although it lies about forty minutes drive south of the city, the massive mall has over 150 sparkling stores to peruse, run by the world's biggest luxury brands.
Beautifully laid out and designed, its hundreds of chic shops and a handful of restaurants impressively make it Europe's largest outlet. Each year, thousands upon thousands of eager shoppers flock here for its huge discounts on designer accessories, clothing and shoes. Among the most popular draws along its fashion mile are the enticing outlets of Burberry, Gucci and Dolce & Gabbana.
If you need a break from hunting for bargains, it has both fine dining and fast food options on offer. A shopper's paradise, it is almost impossible to leave Outletcity without at least some new cool clothes and unbeatable deals on designer wear.
16. Hike to Rubble Hill
On the way back to the center from Solitude Palace is the remarkable Rubble Hill; the highest in the area. Boasting some breathtaking scenery, nature and views, it also has a very interesting and unusual story behind it.
Known as Birkenkopf in German, the soaring summit of the 511 meter-high hill was built out of the rubble collected from the city center following WWII. These ruins added an extra forty meters to the mount with huge pieces of buildings and broken facades lining the winding route to the top.
Here you'll find a large steel cross overlooking the center and quiet green spaces to sit, contemplate and take in the views. A plaque explains that Rubble Hill 'stands as a memorial to the victims and a reminder to the living'. While the atmosphere was quite heavy, we'd highly recommend visiting for its unique history and sweeping panoramas over Stuttgart.
15. Public Library Stuttgart
Another place we really enjoyed seeing was the Public Library Stuttgart for its photogenic, light-filled interior. Lying just a ten minute walk from the main train station, its simple cube-shaped structure can be found alongside the countless shops and restaurants clustered about Mailander Platz.
Designed by South Korean architect Eun Young Yi, the state-of-the-art library was inaugurated back in 2011. While its looming facade is not all that special (apart perhaps from when it's colorfully lit up at night), its interior really is a feast for the eyes.
First, take the lift up to its eighth floor for the best view over its very aesthetically pleasing main room. Lined by brightly lit bookcases, it is sleek and white with loads of straight lines while a bewildering series of staircases connect each level of its cavernous interior. You can take some great photos here with a cafe and rooftop terrace also located in the library.
14. Neckar Park
Packed with fun things to see and do, Neckar Park lies along the right bank of the river, just a short drive northeast of the center. At the expansive multi-use complex, you can attend exciting concerts, exhibitions and sporting events or visit the Mercedes-Benz Museum.
Sprawling across a ginormous area, the park contains numerous event spaces and arenas. Among them are the Porsche-Arena which puts on all kinds of thrilling indoor sporting events and the much larger MHPArena home to the city's football club VfB Stuttgart. Its Hanns-Martin-Schleyer-Halle also hosts exhilarating concerts by big name acts.
Other than catching an action-packed game or touring around the museum, there are also swimming pools and sports facilities to make use of. Neckar Park also hosts both the Cannstatter Volksfest and Fruhlingsfest in the Autumn and Spring of each year. These three-week-long fun fairs have tons of rides, attractions and food stalls to enjoy. For adults, there are also vast beer tents full of rowdy revelers!
13. Visit Hohenzollern Castle
If you have a bit of extra time in town, it is well worth visiting the humongous Hohenzollern Castle, an hour's drive south of Stuttgart. The second-largest in all Germany, it has a large collection of artistic and architectural treasures to inspect.
Perched atop the mighty mount of the same name, the colossal castle is the third one to occupy the same strategic spot. While the first was constructed in the early eleventh-century, its soaring towers, sturdy walls and sumptuous halls date to 1867.
The ancestral seat of the Imperial House of Hohenzollern, its palace and treasury display a startling collection of artifacts and artworks. These include not just old suits of armor and glittering jewels but phenomenal paintings, statues and swords too. A must for art and history lovers, its exquisitely decorated interiors, incredible architecture and outstanding views all make for a memorable day out.
12. Konigstrasse
Running right through the center of the city is the very lively Konigstrasse; Stuttgart's main shopping street. Bordered by hundreds of top-class shops and restaurants, it is much more convenient to stop by Outletcity's high-end stores.
One of Germany's longest pedestrian streets, it starts from the main station and stretches well over a kilometer in length. Divided in two by the picturesque Palace Square, the busy boulevard has lots of leafy trees providing some much needed shade down its center. Some small fountains and benches are also dotted here and there.
To either side are elegant boutiques, enormous department stores and plenty of fast food eateries. It also has innumerable cafes and restaurants lying alongside it and the surrounding streets too. With everything so close to hand, it is almost impossible to visit Stuttgart and not pass by Konigstrasse at some point or other.
11. Porsche Museum
Long one of Stuttgart's top tourist attractions, the fantastic Porsche Museum can be found on its very northern outskirts. Housed in a very futuristic-looking building, it traces the history of the automobile brand with dozens of cool classic cars of course displayed in its sparkling showrooms.
Located just outside of Zuffenhausen where the luxurious carmaker's headquarters is based, it now has over eighty vehicles to admire. Interactive exhibits highlight how the design and engineering of the stylish cars have evolved over the decades. As well as examining all its photogenic, flashy Porches, you can take tours of its workshop to see how they're produced and maintained.
Just as impressive is the marvelous modern building of the museum itself. Only opened in 2009, its cutting-edge architecture and brilliantly laid out bright white interior perfectly present the iconic race cars of the internationally-renowned brand.
10. Ludwigsburg Palace
Fittingly known as the 'Versailles of Swabia', the large and lavish Ludwigsburg Palace has hundreds of resplendent rooms and immaculately maintained gardens to explore. In addition to marveling at all its magnificent halls and apartments, it also contains fashion, ceramics and theater museums.
Originally intended to be a hunting lodge, it eventually expanded into the largest palatial estate in the country. Duke Charles Eugene really spared no expense with over 450 impeccably decorated rooms now found across its eighteen beautiful Baroque, Rococo and Neoclassical-style buildings.
Completed in 1733, it now has terrific guided tours to take around its royal apartments. As you amble about, you'll hear about its interesting history and the dukes of old who lived here. Highlighting their extraordinary wealth and power are the stunning chandeliers and statues, frescoes and paintings on show all around you.
After gazing at all its glittering treasures and stopping by a museum or two, you can saunter about its gorgeous grounds and gardens. This really is a treat as English landscaped sections feature next to symmetrical French and terraced Italian gardens too. All in all, the immense palace and the park around it certainly warrant a visit. It normally takes half an hour to reach them from the center of Stuttgart.
9. Killesberg Park
Another hugely attractive outdoor area to stroll around is the ginormous Killesberg Park on the north side of town. Home to lots of gardens, fountains, woods and wide open spaces, it is a very pleasant spot to relax, unwind and immerse yourself in nature.
Formerly a quarry, its expansive site was transformed into a park for a major horticultural show back in 1939. Since then, locals and tourists have headed here to walk and cycle amongst all its blooming flowerbeds and reflective ponds. There are also some animal enclosures to see containing goats, llamas and flamingos and a small train to hop on that takes you around the park.
One of its main attractions is its forty meter high observation tower which has a very cool design as open-air stairways spiral their way up to the top. From here, you bask in commanding views out over the park and city in the distance.
Each year, Killesberg also hosts the enchanting Lichterfest Stuttgart which sees thousands of lovely lanterns strung up amidst its trees.
8. Landesmuseum
Offering up a fascinating look into Wurttemberg's rich history and cultural heritage is the outstanding Landesmuseum. Packed with ancient artifacts and interactive exhibitions, it occupies the Old Castle along one side of Palace Square.
Established in 1862, the museum's collections actually date back even further to the 'cabinet of arts and curiosities' assembled by the dukes since the sixteenth-century. It certainly lives up to its original name as everything from Aztec feather shields and centuries-old celestial globes to medieval art and musical instruments are on display. You can also see the wonderful Wurttemberg crown jewels here among many other treasures.
Delightfully presented, all its old glasswork, jewellery, statues and weapons are amazing to see with something new, interesting and unusual popping up wherever you look. For us, the museum was by far one of our favorite places in Stuttgart thanks to all these unique artifacts. The castle also has a charming courtyard to take pictures in containing a dramatic statue of Eberhard I on horseback.
7. Zoo Wilhelma
One of the favourite things to do in Stuttgart with families, Zoo Wilhelma is home to thousands of exotic animals from all around the world. One of the largest in the nation, its spacious exhibits are set amongst lovingly landscaped grounds with beautiful botanical gardens also making up part of its complex.
Once the private retreat of King Wilhelm I, its grand grounds were first opened to the public in 1919. Since turning into a zoo, it has amassed quite the collection with over 11,500 animals of some 1,200 or so species now represented. These include not just ginormous giraffes and hippos but adorable orangutans and playful penguins too.
What's more, many of its cute residents live in repurposed Moorish Revival buildings that were built back in the nineteenth-century for the king. Along with all its pretty animals and plants, these elegant structures only make the zoo even more memorable to explore.
6. Take the train to Esslingen
As it lies so close by, it is definitely well worth taking the train to Esslingen to see its atmospheric Old Town. Only half an hour away, getting lost amongst all its half-timbered houses and narrow cobbled streets is a fun way to spend an afternoon.
Nestled in the Neckar Valley, the former free imperial city thrived for centuries as an important center of trade. Remarkably well-preserved, its center boasts well over 200 attractive old buildings that date to between the thirteenth and sixteenth centuries. You can snap some fabulous photos of its historic houses and canals from the Old Town's small stone bridges.
Overlooking everything are the weathered ramparts and towers of Esslingen's hilltop castle. From up high, you can gaze out over all the city's red rooftops and verdant vineyards below. The town's other main site is the Church of St. Dionys which looks quite unusual as a lofty bridge connects its two tall towers.
5. Stuttgart Christmas Market
One of the best times of year to visit Stuttgart is in winter when its magical Christmas Market is held. For around a month, over 280 rustic log cabins pack the streets and squares. Here vendors sell everything from handmade arts and crafts to seasonal food and holiday decorations.
One of the oldest and most traditional in all of Europe, the market's origins impressively date way back to 1692. The city certainly goes all out as its hundreds of stands are draped in tinsel and twinkling fairy lights. While some sell wonderfully made wooden toys, knitted clothes and brightly coloured baubles, others have tasty gluhwein, roast chestnuts and sausages for you to try.
Palace Square also has a special children's fairytale land for young ones to enjoy. As well as a Ferris wheel and miniature train, it has a sizable skating rink to shoot around. In a country renowned for its Christmas markets, Stuttgart's is still one of the largest and loveliest. To top it all off, choirs, marching bands and other performers all also put on scintillating shows during the month.
4. Staatsgalerie
Just a stone's throw from the Old Castle and Palace Square is the Staatsgalerie; another of the city's standout sights. One of Germany's most popular museums, it houses an exceptional collection of art that spans more than seven centuries.
First opened in 1843, its 5,000 paintings, photos and sculptures are now spread across a number of buildings. In its original Neoclassical-style gallery, visitors can examine unbelievable paintings by Dutch and Italian masters. Exquisite German Renaissance artworks are also presented here.
While these masterpieces are already incredible to see, the museum is most known for its collection of twentieth-century art. These are displayed in an appropriately colourful and contemporary building designed by James Stirling that was quite controversial when it was first unveiled.
Just as eye-catching as its slanted shapes and bright purples, greens and blues are of course the art installations within. With everyone from Dali and Kandinsky to Miro, Matisse and Picasso, it was probably one of the best modern art museums we've been to.
3. Fernsehturm Stuttgart Observation Deck
For the best views imaginable over the city and its scenic surroundings, head up to the Fernsehturm Stuttgart Observation Deck. Visible for countless kilometers around, the now iconic landmark rises dramatically from its hilltop setting southeast of the center.
The prototype for all modern telecommunications towers, it was completed in 1956. The very first to be built out of reinforced concrete, its tower and antenna soar a staggering 216 meters in total. While the city's inhabitants were initially skeptical, the Fernsehturm has been very popular ever since.
From its 150 meter-high observation deck, you can enjoy phenomenal panoramas over Stuttgart, the Swabian countryside and even the Black Forest far off in the distance. If you want to drink in its epic views even longer, there is also a little cafe where you can sip a coffee while looking out over all the spectacular scenery before you.
2. Palace Square
The heart and soul of life in town, the expansive Palace Square is lined by many of Stuttgart's most important and impressive buildings. Known in German as Schlossplatz, its wide-open gardens, plaza and green spaces have now been its focal point for centuries.
Dominating one side of the square is the enormous Neues Schloss which was erected back in 1807. Now home to various ministries of the Baden-Wurttemberg state government, its lovely late Baroque facade makes for some fantastic photos with the gigantic Jubilee Column rising in the foreground.
One of the square's main landmarks, the massive monument looks quite the sight with the twin fountains and flowerbeds around it. Also attracting lots of attention is its ornate iron-cast bandstand, the Old Castle and cube-like Kunstmuseum.
After wandering along the rather drab, grey Konigstrasse, we were amazed to see the picturesque square suddenly opening up before us. Our favorite part of the city center, it has a very vibrant feel with plenty of people strolling about. Concerts and festivals also take place here from time to time.
1. Mercedes-Benz Museum
With its astonishing architecture, interesting exhibits and, of course, all its seriously cool cars, it is no wonder the Mercedes-Benz Museum is the most-visited attraction in Stuttgart. Part of Neckar Park, it covers over 130 years of automotive history with even non-petrolheads sure to be impressed.
Founded in 2006, the enthralling exhibits and antique vehicles occupy a magnificent modern building just outside the Daimler factory. Once past its glinting glass and metal exterior, you'll find over 1,500 exhibits spread across nine floors. These start with Karl Benz creating the first car in 1885 and take you right up to the present day.
While learning about its invention and evolution is fascinating, the highlight is inspecting the roughly 160 classic cars and modern vehicles on show. Delightfully displayed (the museum is a work of art), these include early carriages, old trucks and legendary race cars.
With so many historic old vehicles and iconic designs to see, the Mercedes-Benz Museum really is a must, even if you're not particularly interested in cars.
Where to Stay in Stuttgart
The most convenient part of the city to stay in is the centre or around the train station. This means you can easily see the attractions in Stuttgart or hop on a metro, tram, bus or train to ones further away.
One such option is the quiet, relaxed Hotel Royal. Located within walking distance of Konigstrasse and Schlossplatz, it has comfy, modern rooms that guarantee guests a wonderful stay. The four-star hotel also has friendly, welcoming staff and a top-class restaurant serving both local German dishes and international cuisine.
Just a tiny bit further out of the center is the peaceful Pension am Heusteig. Simple and small, it provides excellent value for money with the informal guesthouse still only lying fifteen minutes from many main sights. Aside from clean, well-equipped rooms, guests can enjoy a continental breakfast either in its dining room or out on the terrace.
How to get there
Well-connected to the rest of Germany and Europe, the city is served by Stuttgart Airport on the southern outskirts. High-speed trains can also whisk you to Frankfurt Airport – one of the continent's main aviation hubs – in just an hour.
As it is also an important rail hub, cities such as Augsburg, Cologne and Frankfurt are only a couple of hours away. It also runs high-speed international services to Strasbourg, Vienna and Zurich. Even Paris can be reached in just over three hours by train.
Dozens of long-distance buses from all around the country and further afield also check in at the city each day. As Autobahn A8, A81 and A381 all pass by its outskirts, you can quickly drive to and from Stuttgart in no time at all.
Once you arrive, its efficient network of buses, metros and trams will take you wherever you need to go. Other than using the U-Bahn or S-Bahn, your best bet is to walk if you don't have far to go.
Approximate travel times:
Heidelberg – 1.5 hours by car, 1 hour 30 minutes by train
Freiburg – 2 hours by car, 2 hours by train
Strasbourg (France) – 1.5 hours by car, 2 hours by train
Munich – 2.5 hours by car, 2 hours 30 minutes by train
Zurich (Switzerland) – 2.5 hours by car, 3 hours by train
Frankfurt – 2 hours by car, 1 hour 15 minutes by train
Paris (France) – 6 hours by car, 3 hours 30 minutes by train
Vienna (Austria) – 7 hours by car, 6 hours by train
Best Time to Visit Stuttgart
Spread across rolling hills and valleys along the Neckar River, Stuttgart lies in the southwest of Germany, not far from the Black Forest. Already very green, it is most pleasant to visit in summer when temperatures average 21 to 24°C (70-75°F).
While this is also the busiest, most expensive season, strolling about the centre and its hills and forests is particularly lovely in the warm weather. This is also when popular events like the JazzOpen and Stuttgart Summer Festival are held.
Autumn also sees its world-famous Volksfest take over its fairgrounds. Aside from enjoying the beer festival, parade and amusement rides, temperatures of 14 to 20°C (57-68°F) mean you can still enjoy some outdoor activities. Although the weather is unpredictable, people still pour in for its ten-day Weindorf wine festival.
Until spring, the city is rather cold, dull, wet and windy. Its festive Weihnachtsmarkt – one of Germany's oldest and most traditional Christmas markets – does attract millions of visitors though in the dark of December.
While April and May are among the rainiest months in Stuttgart, the return of life and color to its hills and parks can make it a nice time to visit.