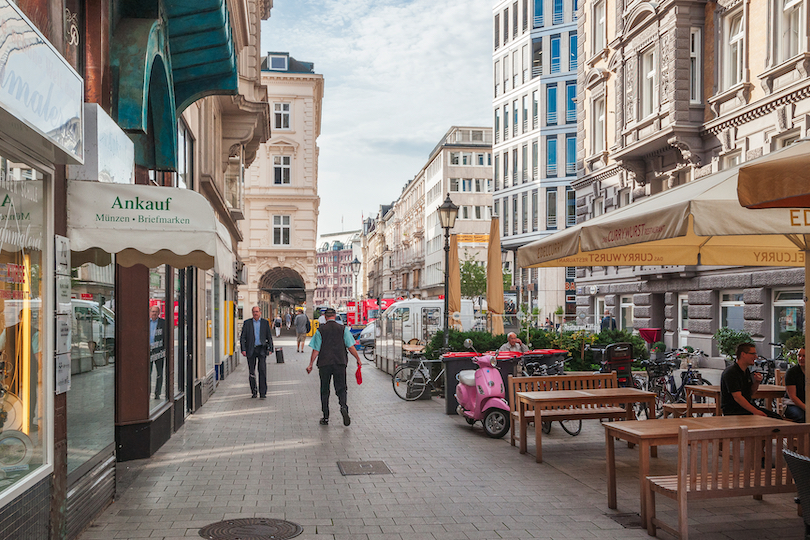 The second-largest city in Germany, Hamburg has long been home to one of Europe's busiest ports. Aside from discovering its rich maritime history, there are plenty of architectural attractions and interesting cultural institutions to check out. It is also famed for its lively nightlife scene with the debauchery of the Reeperbahn being the stuff of legends.
Connected to the North Sea by the Elbe River, Hamburg thrived for centuries as an independent city-state and member of the Hanseatic League. Despite being bombed heavily in WWII, there are still some lovely old churches to see alongside its revitalized warehouse district. Crisscrossing its center are tons of canals, streams and over 2,500 bridges; more than Amsterdam, London and Venice combined.
Apart from trade and transportation, it is an important media center with many of Germany's biggest newspapers being based here. Other things to do in Hamburg include exploring its top-class museums while outstanding concerts are put on in the Elbphilharmonie; one of its defining landmarks.
Map of Tourist Attractions in Hamburg
© OpenStreetMap © MapTiler © Touropia
In this post, we'll cover:
23. U-Bootmuseum
Loads of fun to explore, the excellent U-Bootmuseum sees you enter a Cold War submarine. Launched by the Soviets in 1976, it now lies permanently moored along the Norderelbe, right next to the city's famous fish market.
One of the largest non-nuclear subs in the world, the stealthy Tango class U-boat was mostly used on long patrols or for espionage missions. Decommissioned in 2001, it stretches ninety meters in length with visitors entering and exiting through its bow and stern. As you amble about, you'll see not just the crew's cramped sleeping quarters but its engine and torpedo rooms too.
Although claustrophobic, the museum is definitely worth visiting as it is not every day you see inside a submarine. Examining all its old equipment was really interesting as was navigating its very narrow hallways and hearing about its service in the Soviet Navy.
22. Kunsthalle Hamburg
Just a stone's throw from Hamburg's Hauptbahnhof is the colossal Kunsthalle; one of the country's biggest and best art museums. Full of fabulous paintings, photos and sculptures, its huge collection impressively spans over eight centuries of art history.
Located in the Altstadt not far from the two Alster Lakes, its 'art hall' was established in 1850. Since then, it has amassed a staggering array of masterpieces by renowned names like Degas, Rubens, de Goya and Monet. Accompanying each artwork is a detailed explanation, with the museum's app also providing even more in-depth information.
Now spread across three buildings, its intimate galleries look at everything from the Old Masters and nineteenth-century art to classical modernism and contemporary pieces. Just as eye-catching are the museum's elegant architecture and the lovely layout of its exhibition halls.
21. Schmidt Theater
If instead of old art, architecture and U-boats it is a scintillating show you are after, then the Schmidt Theater is one of the most memorable places to go in Hamburg. Lying along the Reeperbahn in St. Pauli, it hosts a packed schedule of highly entertaining musicals, comedy nights and cabarets.
Instantly recognizable from its colorfully lit exterior, the vibrant venue has been a firm favorite with theatergoers ever since it first opened its doors in 1988. Scattered about before its small stage area are countless tables and chairs while balconies also overlook the performers. This proximity to the actors (and the drinks served during the shows!) helps create an intoxicating atmosphere.
Guaranteed to have you in stitches (well, if you speak German!), the fun theater's quirky productions are now the stuff of legend. Delicious dinners and cocktails can also be enjoyed here while you take in their signature production – the Schmidt Midnight Show.
20. Chocoversum
Those with a sweet tooth will instead want to head to the Chocoversum, just south of the city center. On their ninety-minute tours, you don't just learn about the history of chocolate and sample different kinds, you also make your own bar to take home too!
At their old brick building in front of the iconic Chile House, friendly and enthusiastic staff whisk you around the chocolate museum. On the way, you'll see how cocoa is harvested, nibble the bitter beans and inspect equipment used to produce chocolate.
Informative yet engaging, the tours really make you appreciate the taste, smell and feel of cacao and all the steps that it takes to make each tasty piece. Very highly rated by guests, their interactive tours are available in both English and German. Before stopping by the museum shop, you can also create a bar to take back with you.
19. Europa Passage
Just off of the Binnenalster in the Old Town is the enormous Europa Passage and all its restaurants and shops. While exploring its five floors, you can also admire the phenomenal futuristic architecture on show all around you.
Only unveiled to the public in 2006, its glittering glass building is centered around its cavernous atrium which is lit by giant skylights from above. In total, roughly 150 shops and eateries can now be found throughout the delightfully designed shopping center.
We were very thankful to stumble upon the massive mall just in time to shelter from one of the rather regular rain showers that seem to sweep the city. Although Europa Passage has a wide selection of shopping and dining options, it was its astounding architecture that really stood out the most to us.
18. St. Nicholas Church
In contrast to the modern mall, the soaring St. Nicholas Church offers a very moving look at the past. Largely destroyed during the 1943 air raids over Hamburg, its hollowed out husk now highlights the horrors of warfare while also commemorating the victims of WWII.
Briefly the tallest building in the world, the ginormous Gothic Revival cathedral was heavily damaged during the fierce firebombing of the city in the Second World War. While its heavy roof collapsed and its huge nave was eventually demolished, its charred spire still stands 147 meters tall.
Since 2005, an elevator has taken guests halfway up to a viewing platform which also has historical photos and panels on its past. At its foot there is a small but superb museum that contextualizes everything that you see at the site. An absolute must-visit, the memorial, its museum, sculptures and views were certainly among the best things we saw in Hamburg.
17. Tierpark Hagenbeck
After the haunting memorial, seeing happy animals bounce around Tierpark Hagenbeck makes for a welcome change of scenery. Set on the northwestern outskirts of town, the historic zoo also has an aquarium, playgrounds and picnic areas dotted about.
Dating from 1863, the old zoo is known for being the first to use open enclosures surrounded by moats to house its animals. Nowadays, its spacious outdoor exhibits are home to roughly 1,400 mammals, birds and reptiles from all around the world.
Alongside elephants and giraffes, you can see polar bears, penguins and walruses. As well as wandering about its naturalistic enclosures, its aquaria take you from the Arctic to the tropics with feeding shows also regularly taking place.
16. Reeperbahn
Lined by hundreds of nightclubs, bars, strip clubs and brothels, the Reeperbahn lies right at the heart of Hamburg's debaucherous entertainment and nightlife scene. Part of St. Pauli, it is famed for both its red light district and for being the birthplace of The Beatles.
Nicknamed 'the most sinful mile' or die sundigste meile in German for a reason, the street's raucous, rebellious reputation now dates back centuries. It originally developed as a place for sailors to make ropes and lay them out in long lines. Over the years, tons of rowdy bars and other establishments of ill repute sprung up around where they worked.
In the sixties, The Beatles polished their act and songs here, playing hundreds of gigs in its many live music venues. There are still lots of places where you can catch bands or watch plays, cabarets and musicals.
Pretty sleazy and rundown for the most part though, the Reeperbahn is a very unique (and eye-opening!) place you won't forget anytime soon. Many people even power through til the morning and have breakfast at the fish market while listening to yet more live music.
15. Museum of Art and Design
Once you've recovered from your epic night out, it is worth heading to the Museum of Art and Design. Situated just south of the Hauptbahnhof, it displays a myriad of amazing decorative art pieces, fine furniture and musical instruments.
Modeled after the Victoria and Albert Museum in London, it was founded in 1874 and now occupies a vast Neo-Renaissance palace along Steintorplatz. While some sections focus on ceramics, carpets and sculptures, others contain Expressionist works and items from the Far East. These impressively cover over 4,000 years of art history and hail from Africa, Asia, Europe and the Middle East.
Particularly arresting exhibits include its extraordinary Art Nouveau-decorated rooms from the 1900 Paris Exposition and its incredible old keyboards. The museum puts on terrific temporary exhibitions from time to time and has a cafe for you to stop by.
14. BallinStadt Emigration Museum
Long one of the largest ports in Europe, Hamburg saw more than five million people pass through its emigration halls between the 1850s and 1930s. At the marvelous BallinStadt Museum, you can learn about their journeys and the new lives they started in the Americas.
Located in the Veddel quarter on the island of the same name, the museum occupies the 1901 Swiss chalet-style quarters that the emigrants lived in while waiting to depart. Very well done, its enthralling exhibits trace their arrival in the city and their reasons behind emigrating.
Through engaging texts, videos, photos and old artifacts, you hear people's stories and expectations about their future lives. The museum mostly focuses on the German and East European experience and what they found upon arrival in the States. Make sure to pick up an audio guide or booklet at the entrance or download the app for English explanations about everything.
13. Altona Fischmarkt
One of the quintessential yet exhausting things to do in Hamburg is somehow staggering to the Altona Fischmarkt after a night out along the Reeperbahn. Only open early Sunday mornings from 5am onwards, it has countless fresh fruit, veg and fish stands to peruse while DJs and bands pump out yet more music.
The city's oldest open-air market, fishermen have been hawking their catch here in the Altona district since 1703. Along its wide wharf area you'll also find flower sellers and souvenir booths, food trucks and coffee stalls.
The party continues inside its nineteenth-century Fischauktionshalle where early risers and late-night revelers take over the dance floor. We unfortunately didn't manage to make it, having tapped out a couple of hours too early the night (or morning?!) before!
12. Historic Boats at Landungsbrücken
Just a short walk away along the waterfront is the lovely Landungsbrücken which is also known as St. Pauli Piers. If you have any energy left, its sailing boats and old brick architecture are very interesting to see.
The Port of Hamburg's largest landing site, its piers were first constructed for steam ships way back in 1839. Moored along them now are a number of cool old boats to photograph and explore such as the Rickmer Rickmers and the MS Cap San Diego. While the former is a tall three-masted ship built in 1896, the latter is a squat 1960s cargo ship. Both are now open to the public as museum ships.
Just as distinctive are the green-roofed domes and towers of the pier's 205 meter-long terminal. This now houses loads of fantastic restaurants, cafes and some souvenir shops. From here, you can also take ferry rides along the river, head to the other side of the harbor in the Elbe Tunnel or continue to the unmissable Elbphilharmonie.
11. International Maritime Museum
As Hamburg's history and heritage is tied to the waters surrounding it, you just have to stop by the International Maritime Museum. Overlooking the river in the Speicherstadt part of town – the world's largest warehouse district – it contains thousands of model ships, maritime art and nautical devices.
Now housed in a gigantic Neo-Gothic warehouse erected in 1879, the magnificent museum opened in 2008. Mostly based on Peter Tamm's private collection, its holdings remarkably number more than 40,000 items and a million photographs.
Besides covering the history and future of shipping, it looks at Hamburg's importance as a port and its maritime identity. On show are not just brilliant paintings and big models of boats but exhibits of explorers and diving robots too. Other than trying out its fun ship simulator, we really loved seeing its 3,000-year-old dugout canoe discovered in the Elbe. With nine 'decks' to explore and so many objects to examine, the museum can easily take up half a day.
10. Hamburger Dom
Held three times a year in spring, summer and winter, the humongous Hamburger Dom is one of the country's most popular fairs. For one month each time, hundreds of exciting rides, rollercoasters and tasty food stands pack out the Heiligengeistfeld fairground.
The history of the vibrant Volksfest goes back many centuries with the first recorded instance of the fair dating to 1329. Initially only held around Christmas (Winterdom), it expanded later on to include fairs in April (Fruhlingsdom) and August (Sommerdom).
Nowadays, there are tons of rides and rollercoasters to try as well as classic carousels and carnival games. Rows of stands also serve up typical German fare like currywurst, schmalzkuchen and funnel cakes. A must if you're in town, the fair also has some phenomenal fireworks shows for you to enjoy.
9. Planten un Blomen
If you want to immerse yourself in nature, the picturesque Planten un Blomen is one the best tourist attractions in Hamburg. Spread across a large part of the inner city, its themed gardens, lake and fountains are a treat to explore.
What started in 1821 with the planting of a single Platanus tree has since grown into one of Europe's best urban parks. Centered around a large lake are plenty of pretty paths and gorgeous green spaces to wander around. There are also some great greenhouses to see that display succulents, palms and eucalyptus among many other flowers and plants.
Particularly stunning spots are its fragrant rose garden and immaculately laid out Japanese garden. It is also famed for its colourful musical fountain and the concerts that are held at its outdoor pavilion.
8. St. Michael's Church
One of the city's standout symbols and sights, St. Michael's spire rises dramatically above the rest of Hamburg around it. Known for its ornate interior and organ, it is dedicated to the Archangel Michael. A striking bronze statue of him conquering the devil also lies above its main entrance.
Considered to be one of the finest and most famous Hanseatic Protestant churches, it is actually the third one to stand on the same site. Built in 1762 in beautiful Baroque-style, its bright white interior features intricately crafted altars and pulpits made out of marble.
Asides from admiring its architecture or enjoying an organ recital, you can head to the top of its lofty tower. To reach its 130 meter-high viewing platform, either take the lift or clamber up the equivalent of ten flights of stairs! Once you arrive, you're greeted with 360 degree panoramas over Hamburg.
7. Take the Express Ferry to Heligoland
Although it appears rather far off in the North Sea, Heligoland is actually reachable from Hamburg as a day trip. While the Express Ferry is four hours each way, this leaves you another four to explore the small archipelago. On the relaxing trip, you can also enjoy marvelous views of the Elbe and then the open sea before you.
Thought to mean 'Holy Land', the two isles are by far the furthest of the countries from the mainland. First owned by the Danes and then Brits, it was extensively used by the German military in WWII and bombed heavily by the Allies.
Nowadays, their quiet, scenic confines attract daytrippers, birdwatchers and duty-free shoppers. Lots of people stroll along the top of its ruddy red sandstone cliffs or stop by its delicious lobster stalls. A couple of interesting historic sights and bunkers are also scattered about.
Staying a night allows you to also see the smaller Dune next to it known for its pristine beaches, waters and hundreds of seals.
6. Town Hall
One of the city's defining landmarks, Hamburg's romantic Neo-Renaissance Rathaus dominates the center of the Altstadt. The seat of the state's government, it has terrific tours to take of all its opulent rooms and vaulted hallways.
Occupying an entire side of Rathausmarkt square, the majestic Town Hall and its stupendous central tower were completed in 1897. Beneath its green gabled roof are a staggering 647 rooms, many of which can be visited on guided tours.
Highlights include its appropriately named Grand Hallway, important Plenary Hall and the exquisitely painted ceiling of the Kaisersaal. You can also enter its courtyard and examine the various emblems and statues that stud its walls. We were very glad we took a tour as the guide explained the history of the building and how Hamburg came to be so powerful and wealthy.
5. Jungfernstieg Promenade
Just a couple of minutes walk from the Rathaus is the gorgeous Jungfernstieg Promenade. Lined by chic shops, cafes and art galleries to one side and the glittering lake to the other, it is a very popular place to relax, unwind and enjoy the ambience.
Now stretching 600 meters along the southwestern shores of the Binnenalster, its origins remarkably date to 1665. This was when a line of linden trees were planted along the lake and wealthy families paraded their unwed daughters about, hoping to secure a potential suitor. It is from this tradition that its name is derived, jungfern meaning maiden and stieg to walk.
Over the years, grand Neoclassical, Renaissance Revival and Art Nouveau-style buildings all sprung up. While many have since been replaced, resplendent facades still overlook all its lakeside terraces and bars. Here you grab a drink, sit in the sun or stroll along watching its water jet spurt in the air.
4. Alter Elbtunnel
Quite cool and atmospheric to wander along, the Alter Elbtunnel seemingly stretches away endlessly into the distance. Other than snapping some photos, the old tunnel under the Elbe is a useful way to get from St. Pauli to Steinwerder on the southern side.
First opened in 1911, the 426 meter-long underwater tunnel represented an astonishing architectural and engineering achievement for its time. Located 24 meters below the river surface, the twin tubes connect central Hamburg to all the nearby docks and shipyards. While one is reserved for pedestrians and cyclists the other is solely for cars.
As there isn't much of interest to tourists on the other side, we just walked a short way before turning back. Its old lifts also look impressive while sculptures of fish and other fauna found in the river dot its sides. You can also get some great photos of its glinting tiles and lights stretching in front of you.
3. Elbphilharmonie
Absolutely unmissable, the enormous Elbphilharmonie is certainly one of the most unusual buildings you're likely to ever come across. The tallest in town, the landmark concert hall overlooks the city's revitalized harbor area.
Finally completed in 2017, years late and many millions over budget, its top twenty stories look like a sparkling iceberg, wave or the sails of a ship, depending on your perspective. Perched atop an old red brick warehouse, its curved windows soar 108 meters at their highest point. Eight floors up, there is an observation deck and cafe for visitors to hang out at.
Inside is just as eye-catching as its immense main auditorium resembles a coral cave bathed in light. The rest of its state-of-the-art lobbies, staircases and two other smaller venues are just as tastefully designed. Although spectacular, criticisms have consistently been made about their acoustics. Even so, you just have to go and see the breathtaking building for yourself!
2. Miniatur Wunderland
There is just no way to make it sound cool but Miniatur Wunderland is without a doubt one of the best things to see in Hamburg. The largest model railway in the world, it has countless themed rooms to explore, some dedicated to the Alps and Austria and others to Scandinavia and the States.
Since opening back in 2000, their sprawling railway system in the Speicherstadt has become one of Hamburg's top tourist attractions. It's easy to see why as around 1,120 trains trundle along its 16,100 meters of track at any one time. Incredibly detailed, its huge sets also include thousands of vehicles and tiny human figures. All of this is illuminated by twinkling lights that simulate night and day every fifteen minutes.
This amazing miniature world takes you from Las Vegas and the Grand Canyon in the USA to Venice and the lava-spewing Vesuvius in Italy. There is also a small section of Hamburg to see among other world-renowned destinations. There are just so many tiny details to take in that we spent hours and hours examining its airport, alpine towns and fairgrounds. We really couldn't recommend it enough!
1. Speicherstadt
After finally managing to drag yourself away from its mesmerizing models, make sure to stroll about Speicherstadt outside. The largest warehouse district in the world, its ginormous red brick buildings and glinting waterways make for some fantastic photos. In the evening, they're also delightfully lit up against the night sky.
A prominent part of the bustling Port of Hamburg, it was built between 1883 and 1927 in what is now called the HafenCity quarter. Exhibiting some gorgeous Gothic Revival architecture, the entire area is set atop timber foundations, piled deep into the ground.
Now containing fancy lofts, bars and restaurants and, of course, the Elbphilharmonie, its warehouses are wonderful to walk around. All together, its old bridges and buildings, canals and river views form some of the most iconic images of Hamburg.
Best Time to Visit Hamburg
Lying along the Elbe River crossed by hundreds of canals, Hamburg's history and culture have long been defined by the waters around it. Quite a wet and windy city, it sees between 13 to 17 days with at least some rainfall each month. Make sure to take a coat even in summer!
April to October is the most popular time to visit as temperatures range from around 12 to 22°C (so 53-71°F) with August the warmest month. Although it never gets very hot, exploring the city and sailing about its waterways is very pleasant during this period. Prices remain roughly the same throughout the year though flights are more expensive in summer.
This is also when most of its main events are held starting with the cheery Cherry Blossom Festival in May. Huge parties and a ship parade also take place around then at the port for its Hafengeburtstag. Northern Germany's largest funfair, the Hamburger DOM, also lights up the city three separate times in spring, summer and winter.
The rest of the year is relatively quiet (and cold!) except for December when people pour in for its charming Christmas market. Temperatures plummet to 4°C (39°F) but all the lights and decorations brighten up its dark days.