With more than 2.9 million people, Toronto is the largest city in Canada, ensuring the capital of Ontario province offers plenty of things for visitors to see and do. The list of tourist attractions in Toronto includes world-class museums, great shopping, a smorgasbord of dining options, and summer and winter outdoors activities.
The city is known for its professional sports teams, including baseball's Blue Jays and hockey's Maple Leafs. Toronto is a vibrant city, with its large Chinatown, its restored Victorian buildings and its modern-day skyscrapers.
See also: Where to Stay in Toronto
Map of Tourist Attractions in Toronto
© OpenStreetMap © MapTiler © Touropia
18. Harbourfront Centre
Looking out over Lake Ontario, the huge waterfront complex lies just a stone's throw from the CN Tower. Packed with art galleries and theaters, parks and outdoor stages; the Harbourfront Centre really is an amazing place to visit.
Once a derelict shipping terminal, the area was transformed into a thriving arts and culture center in the 90s with dozens of studios and venues now found alongside cafes and restaurants. Besides visiting its galleries or basking in beautiful views over the lake, visitors can attend one of the more than 4,000 cultural events, dance shows, and festivals held here each year.
17. Bata Shoe Museum
The Bata Shoe Museum takes you on a fascinating journey through over 4,500 years of footwear. Located in a specially designed shoebox-shaped building, its enthralling collection can be found just northwest of the University of Toronto's St. George campus.
Founded in 1979, the museum impressively boasts over 13,000 shoes of all shapes, sizes, and styles. You can find jewel-encrusted slippers and chestnut-crushing clogs on show alongside Japanese geta, Inuit boots, and celebrity footwear. You can learn all about the history and evolution of shoe designs with so many amazing artifacts on display from all around the world.
16. Rogers Centre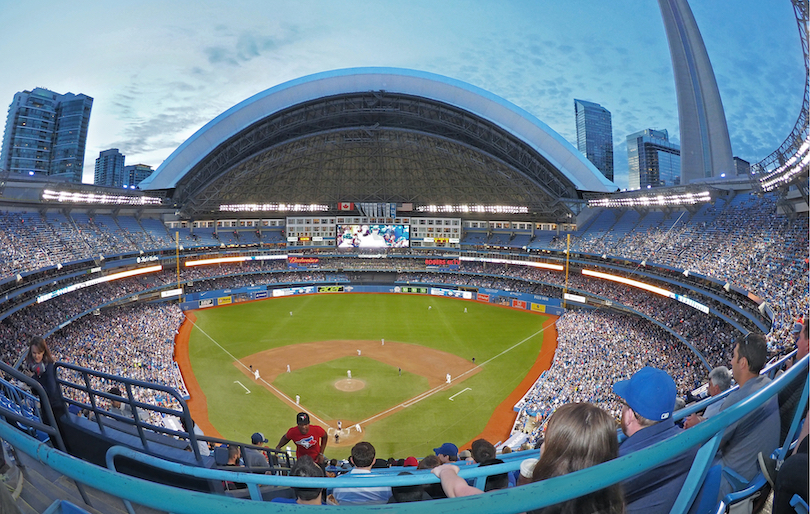 Right next to the soaring CN Tower is another of Toronto's main attractions and most recognizable landmarks: the Rogers Centre. Aside from being the home of Major League Baseball's Toronto Blue Jays, it also hosts innumerable concerts, sporting events, and auto shows over the course of the year.
When it was completed in 1989, the state-of-the-art stadium was remarkably the first arena in the world to have a fully retractable dome roof. This lends it an electrifying atmosphere when the roof is closed and the Blue Jays go to bat. Besides watching a brilliant baseball game, you can also take tours around the stadium or attend one of its conventions, concerts or carnivals.
15. Ontario Science Centre
Home to all kinds of interesting and interactive exhibits, the excellent Ontario Science Centre can be found just fifteen minutes' drive northeast of the center. A fun, family-friendly place to visit, it has plenty of hands-on activities and experiments that shine a light on the fields of science and technology.
Since being established in 1969, it has been a firm favorite with adults and children alike due to its informative yet engaging displays and live demonstrations. While some sections look at the human body and mind, others focus on the natural world around us or on scientific principles and theories with fun games and a fantastic planetarium also being on offer.
14. Kensington Market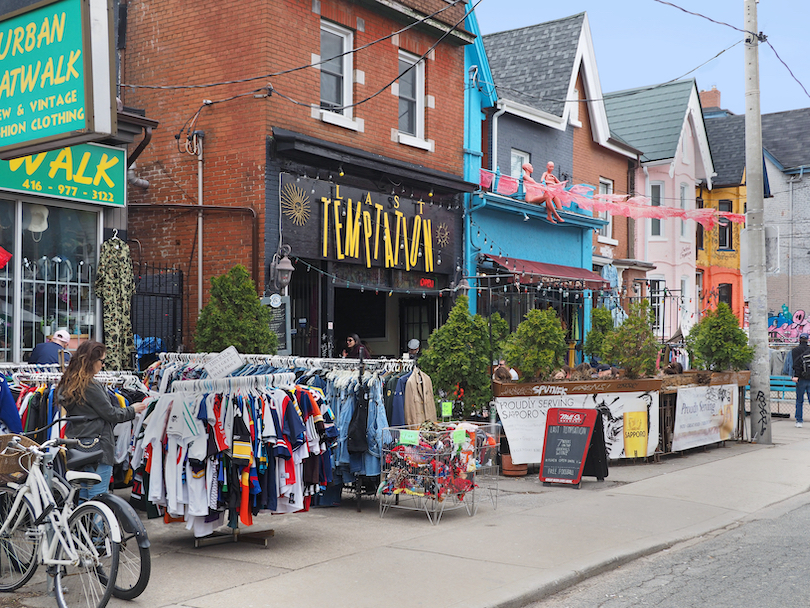 A feast for the senses, the colorful and chaotic Kensington Market really is a delight to explore and perfectly encaptures the city's multicultural make-up. Lined with shops, restaurants, and stands, the vibrant neighborhood lies just ten minutes' drive west of the center.
Once mainly home to eastern European Jewish immigrants, the area is now incredibly diverse and has a laid back bohemian vibe. While strolling around its bustling streets you'll come across fabulous public artworks and vintage stores with Jamaican, Mexican, and Tibetan eateries occupying graffiti-covered buildings. In addition, there are also stalls selling everything, from fresh produce and jewellery to souvenirs, with live music and street shows often taking place.
13. Black Creek Pioneer Village
A must for those interested in learning more about the history of the city and its surroundings, Black Creek Pioneer Village lies just half an hour's drive northwest of the center. A popular place to visit, the huge open-air heritage museum shines a light on what rural life in Ontario was like during the early nineteenth century.
Founded in 1960, the village now has more than forty wonderfully well-restored historic buildings that include a church, blacksmiths, and schoolhouse among others. Aside from its informative displays and exhibitions, costumed re-enactors highlight how villagers would have lived and worked back in the day.
12. Toronto Zoo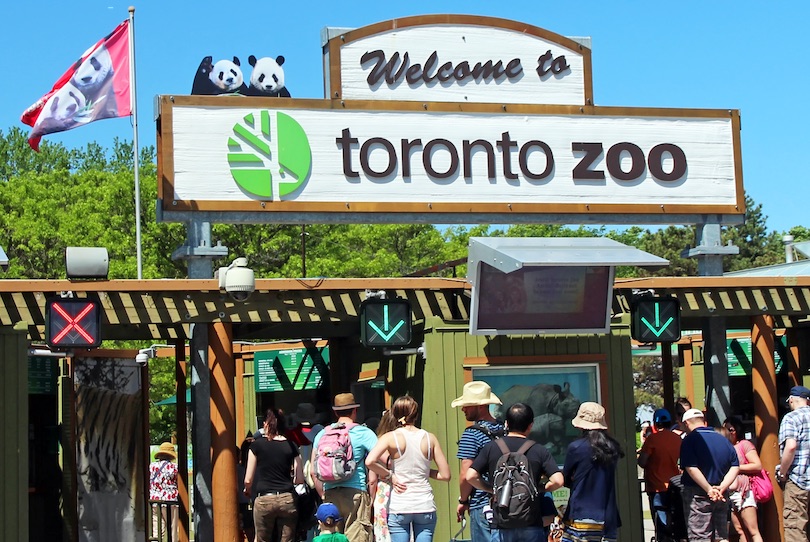 Home to a huge array of animals from all over the world, Toronto Zoo certainly makes for a family-friendly day out. Located just half an hour's drive to the east of town, it boasts everything from pandas and polar bears to rhinos, tigers, and gorillas.
First opened in 1974, the enormous zoo now impressively contains over 5,000 animals both large and small in spacious enclosures that mimic their natural habitats. While some areas and exhibits focus on Canada's animals and ecosystems, others take you to Africa, Eurasia and Australasia. With so many beautiful animals and birds to see, Toronto Zoo is definitely not to be missed out on.
11. Art Gallery of Ontario
Another of Toronto's most popular tourist attractions is the marvelous Art Gallery of Ontario, which is located in the Grange Park neighborhood of downtown. One of the largest art museums in North America, it contains an extensive collection of paintings, photos, drawings, and sculptures.
First opened to the public in 1900, its artworks and exhibitions now occupy a striking modern complex. In total, there are over 95,000 unique pieces to peruse. Fine Inuit carvings and religious works are on show, alongside lovely landscape paintings by the influential Group of Seven, and masterpieces by European artists. In addition, the museum regularly hosts temporary exhibitions, as well as talks, tours and workshops.
10. Hockey Hall of Fame
prasad.om / Flickr
Toronto is ice hockey country and has been since 1917 with the founding of the Toronto Maple Leafs. It's also home to the Hockey Hall of Fame, which makes it a must-see attraction for visitors who love this exciting sport.
Home to the prestigious Stanley Cup, the museum features the greatest players in this sport as well as explains its history through artifacts and film. It also has state-of-the-art interactive multi-media exhibits that allow visitors to project themselves playing against the professionals or to become play-by-play broadcasters.
9. Toronto Eaton Centre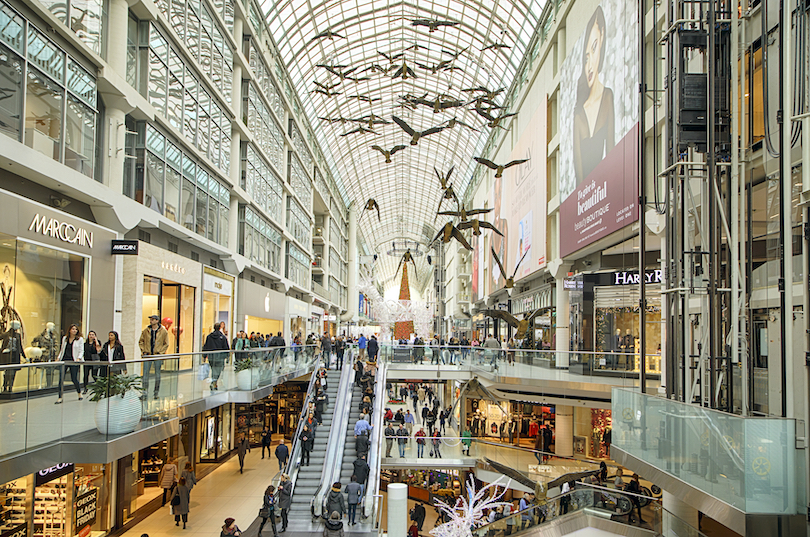 © detsang / Dreamstime
Visitors can shop till they drop at Eaton Centre, Toronto's premier shopping mall. Hungry visitors can take a break at one of the mall's many restaurants, which range from fast foot to ethnic cuisine. Altogether, Eaton Centre has more than 235 stores and restaurants, right in Toronto's city center.
This huge complex, which also contains offices, gets around a million visitors a week, making it the most popular attraction in Toronto. Unfortunately, visitors won't be able to shop at Eaton's, the department store chain for which it is named, since it is no longer in business.
8. High Park
High Park is for anyone who wants to enjoy the outdoors. Toronto's largest public park has hiking trails, a playground for children, gardens and a zoo, among other amenities. It also has a waterfront since it is on Grenadier Pond filled with ducks and other marine birds; the best view is from the observation deck at Hillside Gardens.
For visitors who prefer more activity than walking the nature trails, the park also has an outdoor swimming pool, baseball diamonds and tennis courts. A "maple leaf" made up of flowers or other vegetation is considered the park's most famous landmark.
7. Royal Ontario Museum
The Royal Ontario Museum says it's one of Toronto's favorite museums. With the variety of exhibitions it holds, it's hard to dispute that claim. The museum combines natural history with world cultures, with exhibits ranging from dinosaurs and prehistoric peoples to textiles and biodiversity.
There are plenty of hands-on and interactive exhibits to increase visitors' knowledge of the past and present. It is home to the largest collection of Chinese architectural exhibits outside of China, but also has extensive collections of artifacts from other countries, including Africa and the Middle East.
6. Casa Loma
Casa Loma is a Toronto landmark that's hard to miss. It's a huge castle that has stood out since the moment it was built on a hill in the early 20th century. Casa Loma was the dream of a wealthy man who always wanted to live in a castle, so he built one.
Casa Loma has 98 rooms and was the largest house in Toronto when it was built. It also has secret passageways, lovely gardens, a library, a hunting lodge and even an elevator. Three hundred people worked three years to construct this magnificent complex.
5. Ripley's Aquarium of Canada
© Jamie McCaffrey / Dreamstime
Wow doesn't begin to describe Ripley's Aquarium of Canada, which has 16,000 aquatic animals all swimming in one tank. The tank is not your ordinary home fish tank, however. It's filled with more than 1.5 million gallons (5.7 million liters) of water.
Visitors observe all this marine life by walking through an underwater tunnel that is North America's largest viewing tunnel. See sharks, sting rays and other sea life up close. The aquarium has more than 100 interactive exhibits to teach visitors more about marine life. Live shows starring the animals are presented every two hours.
4. Toronto Islands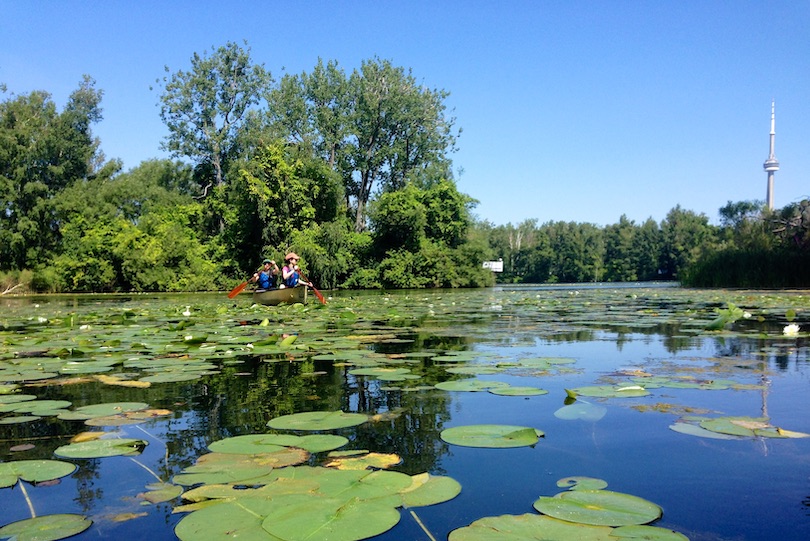 Toronto Islands is another hot-spot recreation destination. Located just offshore a ferry ride away from Toronto proper, they are the only islands in this part of Lake Ontario. Since only a few vehicles are permitted, they are the largest urban car-free zone in North America.
Recreation opportunities abound, from swimming and kayaking to biking and Frisbee golf. Centerville, located on the largest island, Centre, is a 1900s style amusement park for children, complete with miniature railway and antique carousel. Toronto Islands also hosts annual arts and rock music festivals.
3. Distillery District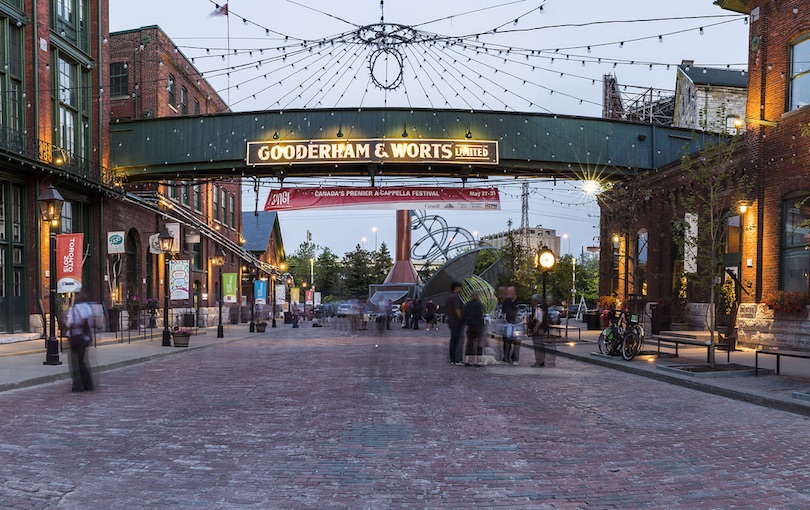 Kevin Cabral / Flickr
The Distillery District is the place for visitors to go when they want to experience the charm of Victorian Toronto. Set in the historic district just a short walk from downtown, this pedestrian-only shopping area centers around restored buildings that were once the Gooderman & Worts whiskey distillery.
Considered one of the hottest spots in Canada, visitors will find more than 80 retail shops, boutiques and eateries as well as art galleries and entertainment venues. The district hosts a number of events, including art shows and music festivals, throughout the year.
2. St. Lawrence Market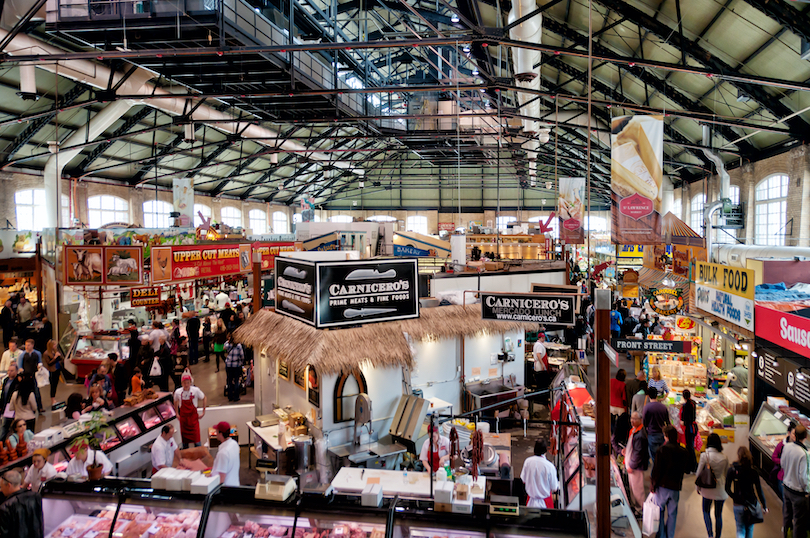 Travelers are shopping in history when they visit St. Lawrence Market, which has been a going concern on the site since 1803. Today it's contained in three buildings, including one for specialty foods, another for a Saturday farmer's market and a third that has retail shops.
The South Market is home to 120 shops selling specialty foods, such as brads and produce; Toronto's cultural services are showcased on the second floor. The North Market hosts the Saturday farmer's market that began in 1803; on Sundays it becomes an antique market. Built in 1850, the St. Lawrence Hall houses retail businesses.
1. CN Tower
Located in the heart of Downtown Toronto, the CN Tower is Canada's most recognizable icon. The communication tower was built from 1973 to 1976 by the railway company "Canadian National" and standing 553.33 meters (1,815.4 ft) tall was the tallest structure in the world for over 30 years until it was surpassed in height by the Burj Dubai.
A glass elevator takes visitors up to where they can look out from behind glass windows or from an outside observing area through a metal screen. Restaurant diners with reservations can avoid the queues for the observatory, and at night the lights from distant Rochester, New York are visible over the lake.