Victoria, the capital city of British Columbia, is set right at the southern tip of Vancouver Island. Thanks to its mild climate and wealth of things to do in Victoria, it is a very popular tourist destination with both Canadians and international travelers alike.
As it boasts an abundance of parks and lovely green spaces, Victoria is fittingly known as the 'Garden City'. While it certainly has a charming coastline and beaches to explore, as well as a scenic waterfront, the city is also dotted with interesting museums and historic tourist attractions with some attractive architecture on show.
With whale watching tours, sightseeing cruises and ferry rides also on offer, lively yet laidback Victoria is well worth visiting if you have the chance.
12. Abkhazi Garden
A very peaceful and picturesque place, Abkhazi Garden is set just a short drive to the southeast of downtown Victoria. Here you'll find an exquisite heritage house, as well as lovely grounds and gardens to wander around.
The property is named for the Prince and Princess Abkhazi who lived here and began creating the landscaped garden with all its diverse fauna and fabulous vistas in 1946.
In addition to ambling peacefully about its paths and taking in all the natural beauty, visitors can enjoy tasty treats in the teahouse. Due to its scenic nature, Abkhazi Garden hosts weddings and private events during the year.
11. Chinatown
The oldest Chinatown in Canada, this vibrant part of Victoria with all of its bustling businesses and busy restaurants, is located in the heart of the city. As well as having countless shops to browse and dozens of delicious dishes to try, the area also boasts attractive architecture and was designated a National Historic Site in 1995.
Following the discovery of gold in Fraser Canyon in 1858, thousands of miners, many of them Chinese, migrated from California to British Columbia and set up home. Initially just a collection of wooden huts, Victoria's Chinatown is now dotted with such sights, as the ornate Gate of Harmonious Interest and Tam Kung Temple, as well as the narrow and atmospheric Fan Tan Alley.
10. Victoria Bug Zoo
Just a short stroll from Chinatown is one of the city's most unusual, yet oddly alluring, attractions; the Victoria Bug Zoo. Packed into its two rooms are around fifty fascinating species with exhibits and knowledgeable tour guides on hand to teach you all about its insects.
Since opening its doors in 1997 the mini zoo has educated and amazed people in equal measure with its wonderful world of bugs. As well as walking sticks and praying mantises, it has leafcutter ants, tarantulas, and glow-in-the-dark scorpions. Each insect or arachnid is more impressive than the last!
Besides teaching you everything there is to know about insects, the zoo's enthusiastic guides often take beetles and bugs out of their tanks so you can get a closer look.
9. Goldstream Provincial Park
Just twenty minutes' drive to the northwest of town is the Goldstream Provincial Park, which is sure to delight both nature lovers and outdoor enthusiasts alike. The park has huge swathes of temperate rainforest and tantalizing hiking trails, with beautiful scenery and nature wherever you look.
Founded in 1958, the picturesque park and its diverse landscapes are dotted with thick cedars and fir trees which conceal some spellbinding sights. These include epic views from atop the lofty Mount Finlayson and gushing Niagara Falls (not the world-famous one).
The park is mostly known, however, for the annual fall salmon runs in the Goldstream River and the numerous bald eagles that swoop down to catch them.
8. Fisherman's Wharf
Located around the corner from the city's Inner Harbour is colorful Fisherman's Wharf, which is the perfect place to grab some seafood or buy some souvenirs. Food kiosks and unique boutiques line the wharf, while float homes and fishing boats bob about offshore. Ferries and sightseeing tours also depart from its docks.
Built in 1948 to accommodate commercial fishing vessels, the wharf has a very lively feel to it with something going on all the time. As fishermen unload their catches, harbor seals and herons can be spied along the waterfront while the music of street performers rings in the air.
Alongside shopping and sampling fresh seafood, you can also rent kayaks here and arrange whale watching tours.
7. Victoria Whale Watching
Whales live and feed in the straits and seas that surround Victoria, so no trip to the city is complete without taking a whale watching tour. Many companies run excursions from the Inner Harbour, with April to October considered to be the best time of year to see them up close and personal.
From the decks of comfy catamarans and open Zodiac-style boats, you can spy pods of whales either feeding or migrating through the Georgia Strait. In addition to orcas and grey whales, are humpback and minke, with seals and sea lions also swimming about.
Adding to the awe-inspiring experience are the knowledgeable crew members who teach you about these majestic marine mammals.
6. Craigdarroch Castle
Perched atop a hill overlooking downtown is the massive Victorian-era mansion of Craigdarroch Castle, which exhibits some of the most attractive architecture in the area. Built back in 1890 for a wealthy coal baron, it is now protected as part of a museum with tours taking you around the National Historic Site.
Looking every bit like a fairytale castle, the well-preserved property boasts turrets and stained-glass windows, as well as wrap-around porches and balconies. Inside elegant halls and suites are decorated with lavish furnishings and period pieces.
Particularly known for its intricate woodwork, the mansion has 39 rooms to explore with informative displays highlighting the history of the castle and the Dunsmuir family who lived here.
5. Beacon Hill Park
Just south of the city center, Beacon Hill Park sprawls over a huge area and has countless landscapes, views, and outdoor activities to enjoy. While pockets of woodland can be found here and there, much of the park consists of landscaped gardens with stupendous coastal scenery and shoreline on show.
Since being established in 1882, the picturesque park has been a firm favourite with both locals and tourists alike due to its excellent amenities and delightful nature. Besides ponds and flower-filled fields, you can find playgrounds, picnic areas, and playing fields with a petting zoo and water park also on offer.
Additionally, it has one of the world's tallest totem poles to check out and fantastic views from its prominent hilltop.
4. Butchart Gardens
One of the most popular places to visit in Victoria, the Butchart Gardens are a twenty-minute drive north of the city in a very serene and secluded spot. Located in what was once a limestone quarry, the gardens have lots of flowers and plants, pools and fountains to explore; all carefully placed and planted to please the eye.
Now a National Historic Site, the sprawling gardens were begun in 1904 by Jennie Butchart as a passion project. They have since grown to include Italian and Japanese gardens, as well as statues and pavilions.
The striking Sunken Garden is one of its standout sights. In total, it is home to 900 kinds of plants ranging from tulips and daffodils to roses and chrysanthemums.
3. Parliament Buildings
Dominating the south side of the city's Inner Harbour is the spectacular set of structures that make up the seat of British Columbia's government. Besides their important function, the Parliament Buildings are also very impressive with exquisite domes, turrets, and facades rising above the surrounding grounds and waterfront.
Built in the 1890s, they exhibit an array of architectural styles with Renaissance and Romanesque elements, as well as beautiful Neo-baroque features. On tours of the buildings, visitors can learn all about their history and that of the legislative assembly and province.
While its lofty blue dome is its undoubted highlight, the Parliament Buildings look best in the evening when the facade is magically lit up with thousands of little lights.
2. Royal BC Museum
Another of the city's main tourist attractions is the Royal BC Museum which offers a fascinating look into the history, culture and nature of British Columbia. Set just a stone's throw from Chinatown, it has many artifacts and exhibits to peruse that are related to the region.
Since being founded in 1886, its colossal collection has grown and now includes over seven million objects and specimens. While some dioramas and displays focus on the animals and ecosystems of British Columbia, other sections look at the traditions and heritage of the First Nations peoples.
With so much human and natural history to explore, the Royal BC Museum is not to be missed when in town.
1. Inner Harbour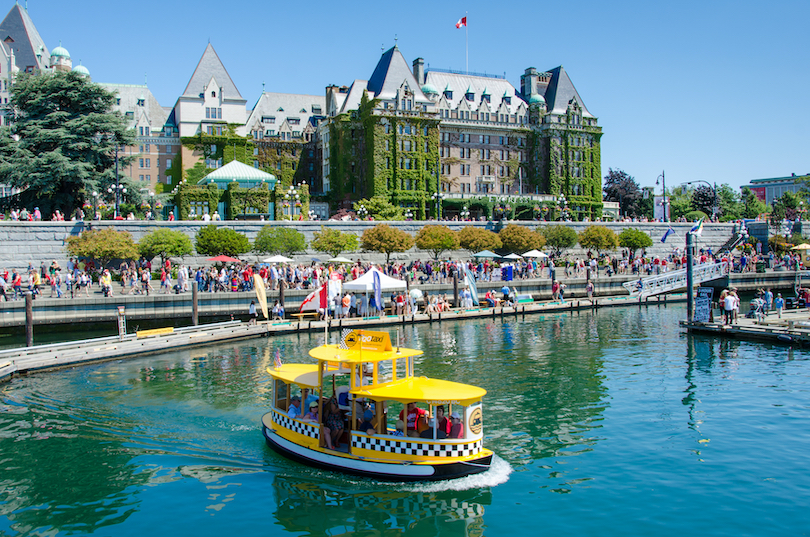 Home to many, if not most of Victoria's major sights, the Inner Harbour is lined by beautiful buildings and green spaces, with fishing boats and floating homes bobbing about the bay. As well as its wonderful waterfront, there are also attractive historic streets to wander along with countless cafes and restaurants dotted about.
While the Parliament Buildings and Edwardian-style Empress Hotel dominate the harbour, other attractions, such as Miniature World and the Maritime Museum, also lie nearby.
Thanks to its innumerable street artists and entertainers, the area has a very lively feel with concerts, festivals, and cultural events held in the summer months. People also take whale watching tours from its docks and watch floatplanes take off from the harbor's airport.
Map of Things to Do in Victoria, BC