Canada is a diverse and scenic nation, and there is no end to the list of things you can see, do and explore in the Great White North. Many travelers gravitate toward big Canadian cities like Vancouver, Toronto and Ottawa.
However, it would certainly be a mistake to skip over the incredible national parks that Canada has to offer. From snowy mountain peaks to coastal greenery, here are some of the best national parks in Canada you'll want to visit on your next trip.
10. Yoho National Park
[SEE MAP]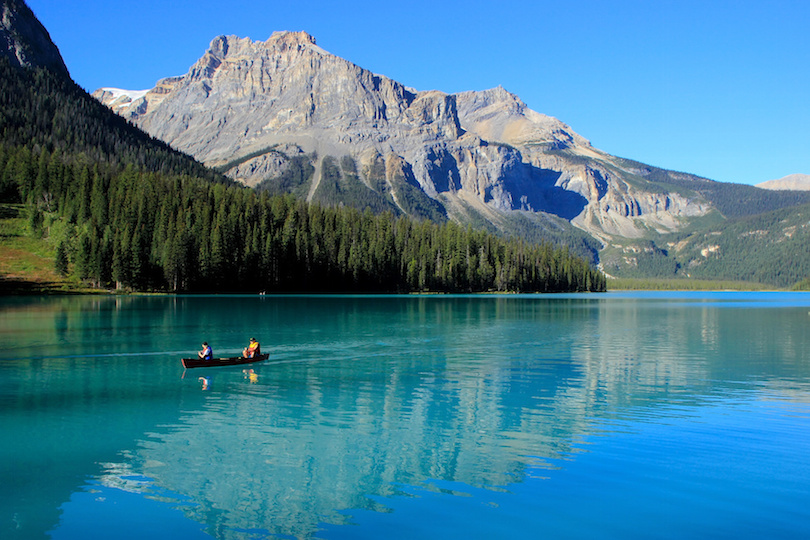 A continental divide separates the Canadian provinces of Alberta and British Columbia. The Alberta side is home to Banff National Park, and British Columbia is home to the very similar but less crowded Yoho National Park.
Just two hours from the bustling city of Calgary, the Yoho National Park is an amazing getaway spot for nature lovers. Emerald Lake looks unreal thanks to its bright, vibrant colors, and Lake O'Hara is just as picturesque. Other top attractions you won't want to miss include the Natural Bridge, Takakkaw Falls and Wapta Falls.
9. Prince Edward Island National Park
[SEE MAP]
As the name suggests, Prince Edward Island National Park is located on Prince Edward Island, the only island province with a location in the Atlantic Ocean. Located on the North Shore of the island, Prince Edward Island National Park boasts red sandstone cliffs that drop right into the water, creating stunning vantage points along miles of coastal trails.
You can also relax on the sand, swim in the sea, or camp overnight while in the park. Several historic landmarks and museums are located within the park, and many visitors will want to make time for a tour of the Covehead Harbour Lighthouse or the grounds of Green Gables Heritage Place, which the fictional Anne of Green Gables described as her home in the iconic children's books.
8. Auyuittuq National Park
[SEE MAP]
Peter Morgan / Flickr
One of the world's largest islands is Baffin Island, which is located in the Canadian region of Nunavut. On Baffin Island is Auyuittuq National Park, an impressive destination known for its indigenous artwork, arctic landscape and incredibly long summer days.
Many visitors to Auyuittuq National Park come during the months of June and July, when the sun doesn't set at all and it is just as bright at midnight as it is at noon. Guided tours are common in this national park, allowing you to try out unique experiences like sleeping in an igloo or taking a guided sled dog tour through the arctic tundra.
7. Gros Morne National Park
[SEE MAP]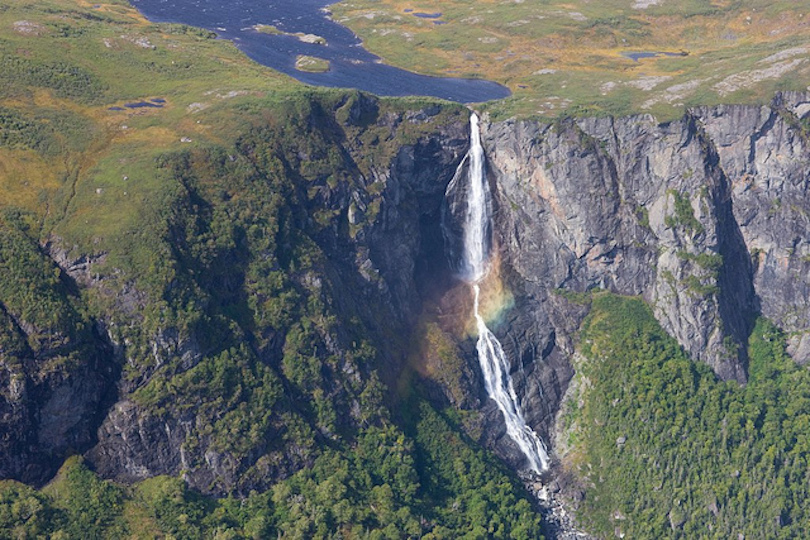 VisitGrosMorne / Flickr
The Gros Morne National Park is located on the coast of Newfoundland, and it is named for its largest peak, the Gros Morne. Much of the park is made up of the Long Range Mountains, which extend up from the Appalachians. A main reason to visit Gros Morne National Park is for the hiking, which provides countless vantage points for breathtaking scenery.
During much of the summer, you can also take a guided boat tour on the waters of Western Brook Pond for a unique perspective on the surrounding peaks. Cow Head Lighthouse is another landmark to add to your itinerary that offers a fascinating display with plenty of history.
6. Riding Mountain National Park
[SEE MAP]
Norm Andreiw / Wikipedia
In the Parkland area of Manitoba is Riding Mountain National Park, which is a wild oasis suitable for camping, hiking and nature photography. Since the park is also home to the settlement of Wasagaming, however, you can still find great local eateries and a handful of nightlife options.
History buffs may want to know that the park was a prisoner of war camp during World War II, thanks to its remote location. If you visit Riding Mountain National Park, don't miss out on the scenic Loon's Island Trail, where you can spot wildlife like beaver, elk, deer, grey wolves, cougars, white pelicans and Canadian geese. There is also a wild bison range located near Lake Audy.
5. Waterton Lakes National Park
[SEE MAP]
One of the most interesting features of the Waterton Lakes National Park is that it straddles the border between the United States and Canada. Waterton Lakes National Park is the Canadian half, and the American side is known as the US Glacier National Park. Together, the two parks are called the Waterton Glacier International Peace Park.
One of the most striking landmarks in the park is Red Rock Canyon, which boasts bright red rocks that look more like an Arizona desert than a Canadian reserve. Also of interest might be the Buffalo Paddock, where you can spot herds of buffalo in their natural habitat, the peaceful waters of Cameron Lake and the powerful and thundering Blakiston Falls.
4. Pacific Rim National Park
[SEE MAP]
Kenny Louie / Flickr
The Pacific Rim National Park is located on Vancouver Island in British Columbia, and it is distinctly divided into three major sections. The section of the park known as Long Beach is found on Wickanninish Bay, and it is one of the most popular spots for camping and surfing in the entire country.
In the section known as Broken Group, you'll find a collection of small islands, including well-known isles like Hand Island and Cree Island. The third section, known as West Coast Trail, is a long hiking path that stretches for miles and overlooks the Pacific Ocean most of the way.
3. Nahanni National Park
[SEE MAP]
viajeacanada / Flickr
Located in Canada's Northwest Territories is the Nahanni National Park, a destination accessible to most visitors via a floatplane. This park is far from the beaten track, making it appealing for intrepid outdoor enthusiasts. The South Nahanni River is a highlight of the park, and you can raft, canoe or kayak along its waters until you reach the stunning Virginia Falls.
The Nahanni National Park is often chosen by people who want to camp overnight or go on multi-day hikes, but day trips are possible by plane if you just want to see the mountains right on the continental divide, the sulfurous hot springs or the fascinating alpine tundra.
2. Jasper National Park
[SEE MAP]
Esther Lee / Flickr
In the heart of the Alberta Rocky Mountains is Jasper National Park, an incredible and large park that offers everything from mountain hiking to stunning glaciers. Jasper National Park is the ultimate place to get active, and there is no shortage of outdoor activities available to visitors.
Hiking, wildlife spotting, rock climbing, fishing, camping and horseback riding are just a few of the many options. Don't miss major attractions in the park that include the magnificent Athabasca Falls, the breathtaking views from aboard the Jasper SkyTram and the beautiful, still waters of Medicine Lake.
1. Banff National Park
[SEE MAP]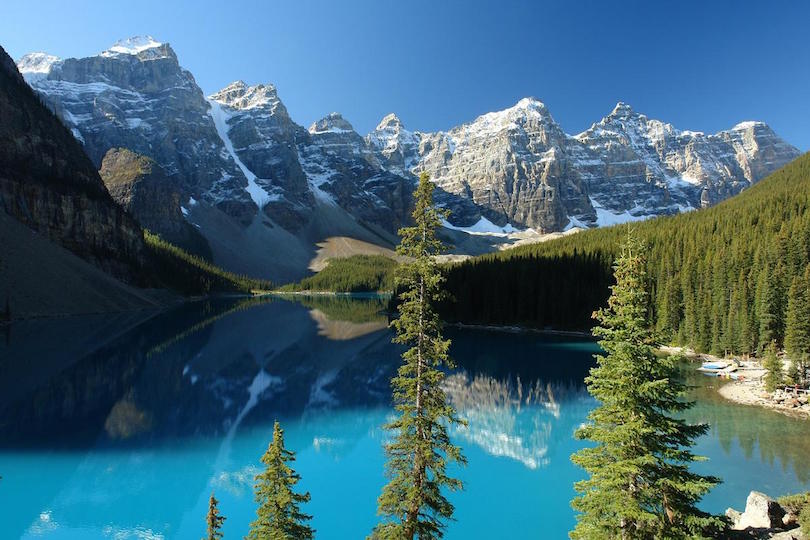 satoru_kikuchi / Flickr
Perhaps the best known of the national parks in Canada is Banff National Park, which is located in the Alberta Rockies. Canada Place is a great place to start your trip, as it offers information and exhibits about the local wildlife, heritage and culture. Then, make sure you walk the trails and spot the hot sulfur springs in Cave and Basin National Historic Site.
Lake Louise is a stunning body of water with scenic views, and the gondolas in the park can provide even more spectacular aerial vistas. Whether you want to ski, hike, golf or spot wildlife, Banff National Park offers something for everyone.
See also: Banff Attractions
Map of National Parks in Canada
© OpenStreetMap © MapTiler © Touropia