The cultural and economic capital of Quebec, Montreal is a cosmopolitan place that has many different sides to it. As the largest francophone city in the Americas it is often called the 'Paris of Canada' thanks to its charming cobbled streets, incredible old-world architecture, and exciting and inventive culinary scene.
While it certainly has a fascinating history and heritage to delve into, modern buildings and museums can be found scattered around the city center. Pretty green parks and gardens are also dotted about, as are a huge selection of tourist attractions, art galleries and concert halls. With so much to do in Montreal, and countless festivals and cultural events taking place each year, Montreal is one of the best places to visit in Canada.
In this post, we'll cover:
12. Biodome de Montreal
Part of the largest natural science museum complex in Canada, the Biodome de Montreal lies just a short drive to the north of downtown. Originally built for the 1976 Olympics, the futuristic-looking velodrome now, instead, has five different ecosystems from around the Americas for you to explore.
Renovated and reopened as a biodome in 1992, its winding paths take you past swathes of steamy rainforest and North American wilderness with even Arctic, Antarctic, and estuary habitats on show.
Besides boasting countless flowers, plants, and trees, the biodome also houses animals and birds that are endemic to those environments. In addition to seeing penguins and macaws, you can also learn about the various ecosystems through its immersive exhibits and displays.
11. Bell Centre
If you're after an exhilarating and quintessentially Canadian experience then you can't beat going to watch a game of ice hockey at the Bell Centre. It is here, in the largest hockey arena in the world, that the Montreal Canadians play their frenetic and fast-paced games in front of thousands of fans.
Opened in 1996, the massive, multi-purpose arena can be found right in the center of town, just a stone's throw from many of the city's main attractions. Although mostly known for hosting action-packed National Hockey League games, it puts on other sports and entertainment events too. As such, it is the best place to head if you want to watch a concert, see a basketball game or a hockey match.
10. Mary Queen of the World Cathedral
Just a short stroll from the Bell Centre is the majestic Mary, Queen of the World Cathedral which boasts some incredible architecture and artworks. One of the most beautiful buildings in town, its exquisite and elaborate design is based on that of Saint Peter's Basilica in the Vatican.
Completed in 1894, its gorgeous Renaissance-style facade is topped by thirteen towering statues of Montreal's patron saints, which are backed by a gigantic green copper dome. Inside is just as alluring, as its elegant aisles, arches and apse are decorated with fine paintings and religious artworks. While it is much smaller than the world-famous basilica in the Vatican, the cathedral certainly makes for a striking sight and was designated a National Historic Site in 2000.
9. Pointe-a-Calliere Museum
An absolute must for anyone interested in history, the fantastic Pointe-à-Callière Museum tells the fascinating story of Montreal's founding and how it flourished through the ages. As well as being home to endless artifacts and exhibits, the modern-looking museum complex is built atop an archaeological site that was the city's first settlement.
Since opening in 1992, the archaeology and history museum has won numerous awards for its well-presented exhibitions and hands-on activities. Besides exploring the foundations of the city's first buildings, visitors can learn all about the arrival of Amerindians in the area and the early days when Montreal was a fledgling colony. In addition to all its educational and interesting multimedia clips, the museum also regularly hosts cultural events and temporary exhibits.
8. Jean-Talon Market
One of the largest open-air markets in North America, the colorful and chaotic Jean-Talon Market can be found in the city's lively Little Italy neighborhood. Hugely popular with locals and tourists alike, it has over three hundred stands to peruse, all laden with fresh produce and local delicacies.
First founded in 1933, the market now sprawls over a huge area with countless stalls, cafes, and small restaurants lining its arcades and central pavilion. As most of its vendors are farmers from the surrounding countryside, visitors will find lots of fresh fruit and vegetables on sale alongside baked goods, cheeses, and meats. Besides sampling tasty treats or stopping off for a coffee, the market is also a great place to shop for souvenirs.
7. Barbie Expo
Set right in the center of the city is the Barbie Expo which has the world's largest collection of Barbie dolls. In total, the expansive exhibition displays over a thousand delightful dolls who are kitted out in all kinds of chic and celebrity-themed costumes.
Since opening in 2016, the museum has been a firm favorite with visitors to Montreal with barbies sporting brands and bridal wear alongside fashions from as far away as Brazil, Jamaica and Japan. The expo also takes you through the history and evolution of the much-loved doll and even has miniature versions of celebrities such as Beyonce, Marilyn Monroe, and Mary Poppins.
6. Musee des beaux-arts de Montreal
Not far from the Barbie Expo is another of the city's main attractions, the Musee des beaux-arts de Montreal. The largest art museum in Canada, it boasts a collection of paintings, photos, and sculptures with over 45,000 artworks displayed across its five pavilions.
One of the nation's oldest and most prestigious institutions, it was founded in 1860 to stimulate an interest in and appreciation for the fine arts. Since then, its collection has grown considerably and now encompasses masterpieces by Rembrandt, Renoir and Picasso among others.
Besides artworks by famous international artists, its beautiful Beaux-Arts building also houses Quebec and Canadian works. With everything from furniture and textiles to glassworks and ceramics on show, the Musee des beaux-arts de Montreal is certainly not to be missed.
5. Montreal Botanical Garden
Home to a huge collection of flowers, shrubs, and trees is the Montreal Botanical Garden, which can be found twenty minutes' drive to the north of the city center. One of the largest and most important botanical gardens in the world, it has picturesque paths to stroll along with stunning scenery and nature wherever you look.
Now a national historic site, the garden and its gigantic greenhouse complex were first opened to the public in 1931. In total, it has ten greenhouses with thirty themed gardens housing more than 22,000 species of flora. As well as tropical and toxic plants, there are also alpine areas and rainforest sections to wander around with its charming Chinese garden being just one of its many highlights.
4. Saint Joseph's Oratory
The highest point in Montreal, the majestic Saint Joseph's Oratory and its massive copper dome can be spied from all around the city. The largest church in the country, it reaches a colossal 129 meters in height with its huge facade exhibiting some exquisite Renaissance Revival-style architecture.
Dedicated to Saint Joseph, the patron saint of Canada, the beautiful basilica was completed in 1967 after decades of work and now attracts millions of visitors and pilgrims each year. This is in part because many people believe its shrines and tombs to have healing powers. There are crutches and sticks left scattered around its Votive Chapel as a testament to this. The oratory is also well worth visiting for its elegant Art Deco interior decorated with magnificent murals and stained glass windows.
3. Mount Royal Park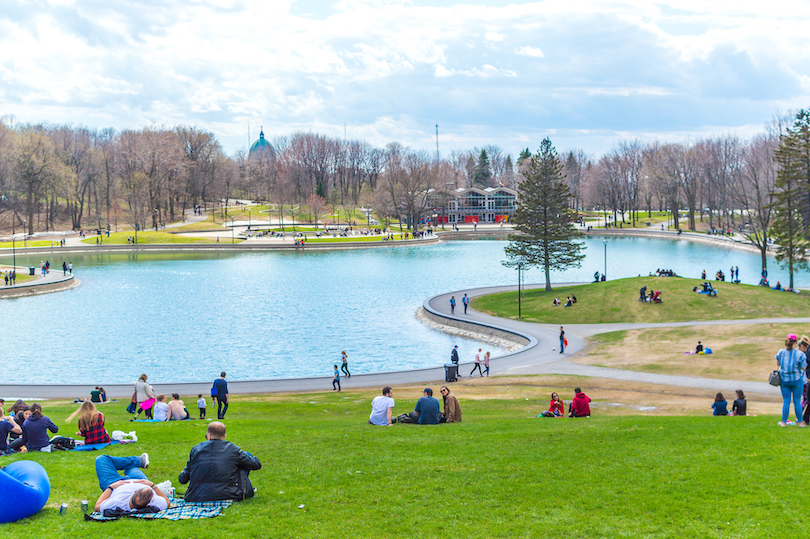 Located right next to Saint Joseph's is the lovely Mount Royal Park which towers above Downtown Montreal and lends the city its name. One of the largest green spaces in town, it has great nature and viewpoints for visitors to enjoy walking, running and cycling.
Protected as a park since 1876, the prominent hilltop and all of its lush forests and scenic paths were laid out by Frederick Law Olmsted – the same man who designed New York City's Central Park. As well as scenic and secluded trails, picnic areas and playgrounds, the park also encompasses two fine belvederes and Beaver Lake has great views on offer from its 232 meter-high summit.
2. Notre-Dame Basilica
Lying right in the historic heart of Old Montreal is the incredible Notre-Dame Basilica, one of the city's most famous symbols and sights. Built in 1829, it boasts Gothic Revival architecture with its two twin bell towers and fetching facade looking out over Place d'Armes.
One of the most visited monuments in North America, the breathtaking basilica receives millions of visitors each year. Besides its breathtaking architecture, people also come to see its decorated interior which is coated with intricate wooden carvings, gilded sculptures, and stained glass windows. So moved by the basilica's beauty was its Anglican architect James O'Donnell that he converted to Roman Catholicism; his tomb lies within its atmospheric crypt.
1. Old Montreal
The heart and soul of the city, Old Montreal has charming cobbled streets and squares for you to explore with beautiful old buildings and attractive architecture wherever you look. As it was the first site to be settled in the city, the neighborhood is packed with interesting historic sites, with many of Montreal's main tourist attractions and museums also located in the area.
Founded in 1642, this picturesque part of town is situated along the banks of the Saint Lawrence River with the Old Port and its large green waterfront popular with locals and tourists alike. In addition, the surrounding streets are lined with centuries-old buildings and have countless art galleries, boutiques, and traditional restaurants for you to check out.
Map of Things to Do in Montreal