The capital, and largest city of Manitoba, Winnipeg is set at the spot where the Red and Assiniboine rivers meet, almost slap bang in the center of North America. Named after nearby Lake Winnipeg, it has many interesting tourist attractions to check out since its history and culture have been influenced by having both Aboriginal and European roots.
Known as the 'Gateway to the West', the city acts as an important cultural, economic, and transport hub and has thriving arts and dining scenes for visitors to delve into. Other things to do in Winnipeg include visiting several world-class museums and galleries, and some well-preserved historic sites and neighborhoods.
With pretty parks, gardens and, of course, the impressive Canadian Museum for Human Rights also on offer, Winnipeg is certainly well worth visiting if you have the chance.
In this post, we'll cover:
12. Saint Boniface Cathedral
An incredible building, Saint Boniface Cathedral can be found in the city center, facing across the Red River. While the original basilica burnt down in a fire in 1968, its remaining walls and historic white-stone facade were later incorporated into the design of the new church.
This combination of old and new makes for a striking sight with the modern cathedral being built onto the back of the old one. The undoubted highlight, however, is its fantastic French Romanesque facade which stands out delightfully against the park that lies around it.
Here too, you'll find the cathedral's cemetery which is dotted with the graves of the region's early settlers and influential figures. The adjacent Saint Boniface Museum is also well worth stopping by.
11. Leo Mol Sculpture Garden
David Stanley / Flickr
A very popular place to visit, the Leo Mol Sculpture Garden lies just fifteen minutes' drive southwest of the city center, within Assiniboine Park. In total, it displays over 300 astounding artworks by the renowned Leo Mol with bronze and ceramic sculptures to be found alongside drawings and paintings.
As it combines artistic beauty with a splendid natural setting, the garden is a treat to wander around; its picturesque plant beds, paths and ponds are dotted with superb sculptures. It also contains the Leo Mol Gallery which exhibits some beautiful bronze pieces and moulds of major works.
Due to its popularity and an ever-increasing collection of artworks, the garden has expanded twice since opening in 1992.
10. Lower Fort Garry National Historic Site
Robert Linsdell / Flickr
Located half an hour's drive northeast of Winnipeg, on the banks of the Red River, is the Lower Fort Garry National Historic Site. The only stone fort still standing from fur-trading days, it offers an interesting look into the lives of the trappers and traders who once lived here.
Since being built in 1830 by the Hudson's Bay Company, the well-preserved fort and its buildings have housed everything, from a penitentiary and mental hospital to a country club. Nowadays, the National Historic Site, instead, welcomes tourists to explore its historic buildings which are furnished with period pieces, and it has hands-on activities for visitors to try out.
There are costumed reenactors on-site to highlight what life would have been like in the mid-nineteenth century and answer questions.
9. Winnipeg Art Gallery
The first gallery to be founded in Western Canada, the Winnipeg Art Gallery was opened in 1912. Since then, it has delighted countless generations with its huge collection of over 25,000 artworks by Canadian, Inuit, and international artists.
Set a short distance to the southwest of the center, the art museum occupies a late-modernist style building that features sharp angular shapes and is clad in Tyndall stone. Its galleries are full of paintings, photos, and decorative arts by artists such as Wolfgang Katzheimer and Lionel LeMoine FitzGerald.
The museum is particularly known for boasting the world's largest collection of Inuit art and displays lots of their captivating carvings, textiles, and prints.
8. Manitoba Legislative Building
One of the most beautiful buildings in the city, the Manitoba Legislative Building can be found to the south of the center, facing the banks of the Assiniboine River. Completed in 1920, it has exquisite neoclassical, Beaux-Arts-style architecture, and is surrounded by landscaped lawns and leafy gardens.
The seat of the province's government also sports a grand facade with Ionic columns and porticos topped by a colossal cupola. This holds up one of the city's standout symbols, the glittering Golden Boy statue which represents the prosperity and entrepreneurial spirit of Manitoba.
The building itself is covered in carvings and statues with secret numerical codes as well as Freemason symbols, Egyptian hieroglyphics, and numerous Roman gods.
7. Assiniboine Park Zoo
Lying at the western end of Assiniboine Park is the excellent zoo of the same name. The zoo sprawls over a huge area and has an incredible array of animals to check out. While the main focus is North American wildlife, its spacious enclosures house over 200 different species from all around the globe.
Since being established in 1904, the zoo has expanded and now also has educational exhibits such as Animals of Asia, Toucan Ridge, and Stingray Beach. These are home to everything, from American bison and Canadian lynx to Bengal tigers, snow leopards, and red pandas.
The zoo is particularly known for its polar bear exhibit which sees the incredible creatures, and other Arctic animals, roam about various habitats that represent northern Manitoba.
6. Royal Canadian Mint
Set on the southeastern edge of the city is the Royal Canadian Mint which remarkably produces, not only all of Canada's circulation coins but coinage for countless other countries too. On tours around the state-of-the-art site, visitors can see how the money is manufactured and learn about the history of coins and currency in its on-site museum.
Opened in 1976, the Winnipeg facility occupies a striking triangular-shaped building that rises dramatically above the lakes and green spaces around it. Since taking over from the original Royal Mint in Ottawa, it has produced over 60 billion coins for more than 75 countries around the world.
Besides seeing its production line in process, you can peruse interactive displays on the facility and buy shiny souvenirs in its gift shop.
5. Forks Market
Home to a staggering array of stands and stalls, the Forks Market can be found at the spot where the Red and Assiniboine rivers meet. Part of the Forks National Historic Site, it lies within two historic horse stables joined together by a courtyard full of dining tables, and is lined by numerous shops and restaurants.
As well as being a very popular place to eat out, the market has over 50 shops that sell everything from fresh produce and ethnic foods to souvenirs, artisanal jewellery, and baked goods. It also has a six-storey viewing platform that looks out over the rivers, and informative displays on the history of the market and The Forks Historic Site.
4. Manitoba Museum
Offering a fascinating look into the history, culture, and nature of the province is the marvelous Manitoba Museum which is north of downtown Winnipeg. Its collection of over 2.6 million artifacts and specimens takes visitors on a whirlwind journey through the ages with interesting and interactive exhibits wherever you look.
Founded in 1965, the massive museum has numerous galleries to explore which look at the province's people, flora and fauna, and landscapes. Besides fossils and archaeological findings, there is also a recreated fur trading post and the famous replica of the Nonsuch – a seventeenth-century sailing ship – to check out. It also boasts a superb Science Gallery and Planetarium.
3. Forks National Historic Site
One of the city's top tourist attractions, the vibrant Forks National Historic Site is so named because of its scenic setting at the confluence of the Red and Assiniboine rivers. Here you'll not only find a bustling market and museums but historic buildings, a port, and a park with countless cultural events and festivals taking place during the year.
Inhabited by Aboriginal groups as early as 6,000 years ago, the Forks was designated a National Historic Site in 1974 to preserve the area's history. Besides informative exhibits on its past, visitors can explore age-old buildings and museums to learn more about the site, city, and Manitoba. It also has pretty outdoor spaces and a riverwalk to enjoy, as well as splendid shops and restaurants.
2. Assiniboine Park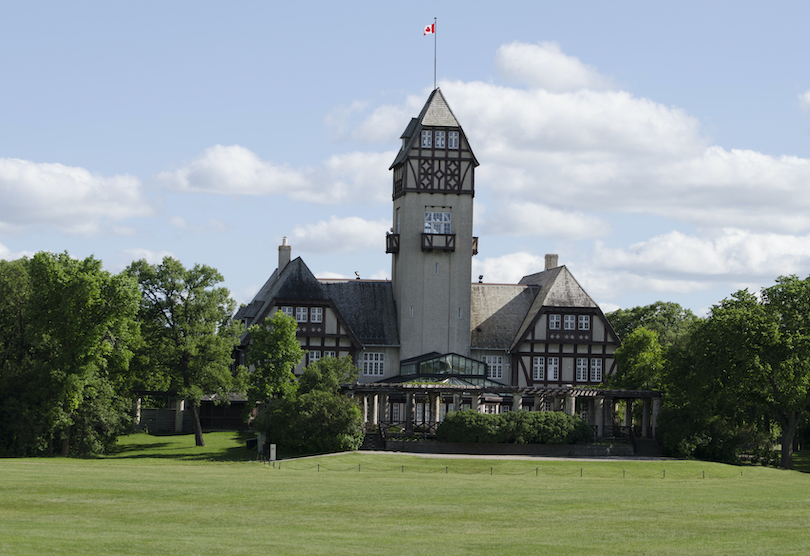 Covering a huge swathe of western Winnipeg is the picturesque Assiniboine Park which offers numerous outdoor recreational opportunities. Besides playgrounds, picnic areas, and playing fields, it is also home to a beautiful botanical garden and animal-filled zoo, as well as many other attractions.
Named for the Assiniboine people, the park opened in 1909 and is located next to both the river and vast forest of the same name. Its lovely gardens have scenic paths and flower beds for you to wander past with hundreds of astounding artworks dotting the grounds of the Leo Mol Sculpture Garden.
On top of all the nature, there is also a fantastic pavilion and theater to stop by; both of which put on shows, concerts, and festivals.
1. Canadian Museum for Human Rights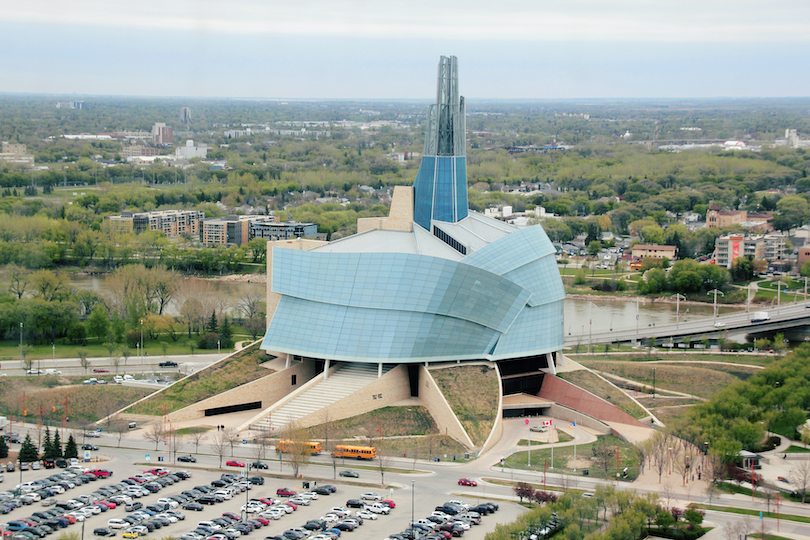 As important to visit as it is interesting, the Canadian Museum for Human Rights can be found right next to The Forks in the center of the city. It was opened in 2014 to explore the subject of human rights, enhance people's understanding of them, and encourage respect for others.
While many of its galleries look at how human rights relate to Canada and its culture, others explore sensitive subjects such as the Holocaust and Holodomor in Ukraine. Through interactive displays, photos, and films that are both engaging and emotional, visitors learn about the evolution of human rights and think about their future.
Just as striking as the exhibitions, is the incredible contemporary building they are housed in and its Tower of Hope which offers commanding views over the city.
Map of Things to Do in Winnipeg