One of the most rewarding countries to travel around, Colombia is a natural draw for tourists to South America. From idyllic Caribbean isles and charming colonial towns to jungle-clad mountains, lush coffee plantations and pulsating nightlife scenes; one could spend months exploring it all.
The only nation on the continent to boast both a Caribbean and Pacific coastline, Colombia is one of just seventeen megadiverse countries on the planet. While sweeping valleys, snow-capped volcanoes and, of course, the endless Amazon rainforest coat its interior, breathtaking beaches and scenic little coves line its sun-kissed shores.
Just as diverse are its cities and towns with Cartagena and Popayan being famed for their attractive old colonial centers and Cali and Barranquilla for their colourful nightlife, salsa scene and carnival. The capital Bogota and second-largest city of Medellin both also have their charms with good food, great views and top tourist attractions found throughout the vibrant metropolises.
Whether it is pristine national parks and nature spots you are after or unique historic sights and age-old indigenous cultures, there are plenty of things to do in Colombia for visitors to discover. And despite it reputation for violence, improved security conditions means now is the the time to go.
In this post, we'll cover:
23. Colonial Churches of Popayán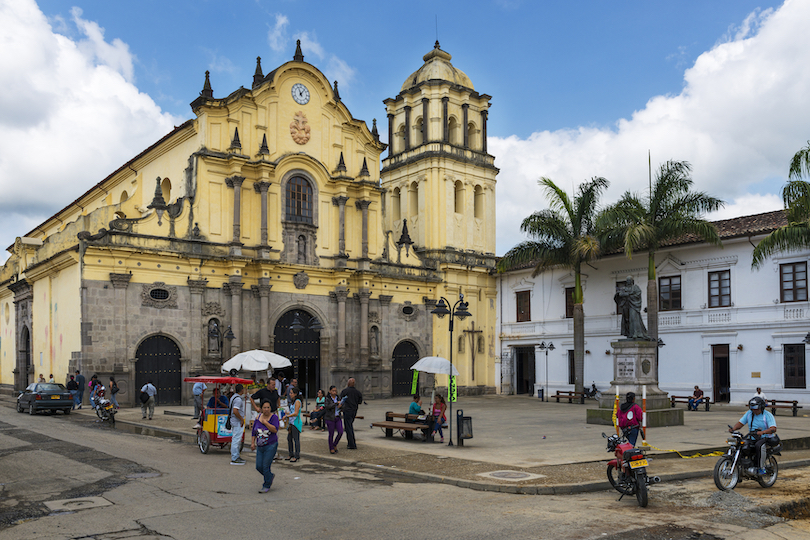 Mostly known for its collection of colonial churches, the wonderful 'white city' of Popayán is set in the southwest, nestled away between various mountain ranges. Due to its strategic location and rich mines, countless beautiful churches have sprung up over the centuries with the historic city still acting as Colombia's religious center today.
Dotted about its charming cobbled lanes are impressive architectural gems such as the Iglesia de San Francisco and Cathedral Basilica of Our Lady of the Assumption. Even older than these two large churches and their elaborately decorated interiors is Iglesia La Ermita which remarkably dates to 1546. Much simpler and smaller, its old building houses a refined altar and religious paintings.
While the art, architecture and history of the city's churches are always a treat to take in, the best time of year to visit is Easter. This is when the Semana Santa celebrations take place and thousands of people parade through the streets starting outside Iglesia Santo Domingo; yet another of Popayán's pretty white-washed places of worship.
22. Whitewater Rafting in San Gil
Niek van Son / Flickr
If you are after an exhilarating experience like no other, then make sure to go whitewater rafting in San Gil. At Colombia's adventure sport capital, there are three rivers for you to navigate. Among the most thrilling things to do in Colombia, there are some peaceful parts suitable for first-timers and others only for expert adrenaline junkies.
From the center of town, numerous companies run exciting excursions out to the nearby rapids with gorgeous scenery and gasp-inducing drops guaranteed wherever you go. While rafting trips upon the Rio Fonce are much calmer yet no less scenic, those along the challenging Rio Chicamocha and Rio Suarez are sure to put your skills to the test.
As you paddle and shoot down the rivers' rushing rapids, you'll pass craggy canyons, verdant woods and striking rock formations on either side. With an experienced guide on hand, visitors can enjoy the Santander region's startling beauty while bravely navigating its rivers and rapids in safety.
21. Guatape Town
Often called the most colourful town in Colombia, Guatape boasts lots of absolutely stunning street art and blocks and blocks of brightly painted buildings. On top of all its cheery colors, the popular resort town is located in a picture-perfect lakeside spot, just two hours drive east of Medellin.
A photographer's dream, the tiny town's traditional houses are decorated with hundreds of zocalos – magnificent murals that depict various animals, events and images of down-to-earth village life. As well as strolling about and snapping photos of its vibrant streetscapes, you can shop for handcrafted souvenirs or stop for a coffee or meal at one of its lovely little local eateries.
After having ambled about its beautiful bright colored center, you can enjoy a boat ride around the lake or clamber up to the top of La Piedra del Penol. From atop the hulking great rock and its 740 narrow, steep steps, you can bask in divine views over the reflective lake and romantic town below.
20. Valle de Cocora
Sure to delight both nature lovers and outdoor enthusiasts alike, the vast Valle de Cocora is home to some of the most arresting scenery and views in the country. Part of Los Nevados National Natural Park, it lies almost equidistant from Bogota, Medellin and Cali, just outside the popular eco-tourist town of Salento.
Tucked away in the Central Cordillera of the Andes, the sweeping valley and its flanking foothills are famed for the lofty wax palms that stud their lush green slopes. Colombia's national symbol, the tall trees sometimes tower over sixty meters into the sky with their unusual appearance making for a surreal sight and some superb photos.
Visitors can either hike around the fetching valley and its steamy cloud forest alone or take a guided tour to learn more about its distinctive fauna and flora. After enjoying a delicious fresh trout dish at one of the valley's restaurants, you can stop by the Acaime Natural Reserve and have dozens of cute little hummingbirds flit about your head.
19. Johnny Cay
If after all the strenuous adventure activities and sightseeing you are looking for some much-needed rest and relaxation, then you can't beat the sun-kissed sands of Johnny Cay. Nestled just north of the neighboring San Andres, the small coral islet lies in the shimmering Caribbean Sea, more than 750 kilometers from the Colombian mainland.
Also known as Cayo Sucre or Islote Sucre in Spanish, the idyllic isle and its palm tree-lined beaches are only accessible from San Andres by boat. Now protected as part of a regional park, its towering coconut groves are home to hundreds of iguanas while the reefs around it teem with marine life.
As swimming and snorkeling in its twinkling turquoise waters can be challenging things to do due to the rough waves and rocks, many spend the day sunbathing on the island's pristine white sands. Cocktails and seafood platters can also be enjoyed at its handful of restaurants pumping out reggae music.
18. Tour a Coffee Plantation
As Colombia is famed around the world for its rich blends and roasted beans, it is well worth taking a tour around a coffee plantation if you have the chance. Dotted all about the Coffee Triangle in the northwest of the nation are numerous farms to visit that explain how the high-quality coffee is harvested, processed and packaged.
One of the largest producers of coffee on the planet, Colombia's fertile plantations mainly lie in the mostly rural and mountainous Paisa region. From its main cities of Manizales, Pereira and Armenia, you can arrange to explore some of the innumerable estates and family-run farms that coat the area's charming countryside.
As you tour the plantations, you'll learn about the rich history of coffee growing in the region and see how the dark beans are harvested before sampling some strong cups of coffee. There is even a fun coffee theme park home to rollercoasters, rides and educational exhibits for you to stop by.
17. San Agustin Archaeological Park
While Colombia is blessed with lots of breathtaking scenery and nature, it also has more than its fair share of fascinating historic sites. One of the best to explore is the San Agustin Archaeological Park which is located in the eastern foothills of the Colombian Massif, not all too far from Popayan.
Unlike the city's colonial-era churches that were erected by the Spanish, its sprawling site contains a large number of pre-Columbian religious sculptures, monuments and burial mounds. Believed to be the largest necropolis in South America, its striking stone statues of animals, humans and spirits are a treat to slowly wander around.
To gain a greater understanding of the significance of the intricately carved images, it is a good idea to get a guide with most megalithic monuments having been made between 100 and 1200 AD.
16. Tatacoa Desert
Once a lush tropical forest, the Tatacoa Desert is now home to a whole host of remarkable red rock canyons and otherworldly-looking landscapes. Due to its pitch-black night skies and other ideal atmospheric conditions, it also hosts one of the most important observatories on the continent.
Ominously called the 'Valley of Sorrows' by conquistador Gonzalo Jimenez de Quesada, the desert's heavily-eroded landforms are painted a magnificent mix of yellows, reds, oranges and greys. As you hike or bike about, you can sometimes spy snakes, scorpions and even wildcats hidden away amidst its arid confines.
Before heading back to the nearby city of Neiva in the south-center of the nation, it is worth staying a night at a hotel in the desert. Aside from giving you more time to explore, it also means you can observe all the bright stars studding the night sky.
15. Castillo San Felipe de Barajas
Just one of the coastal city's many must-see attractions, the enormous and imposing Castillo San Felipe de Barajas has protected Cartagena for well over four centuries. The largest fort built by the Spanish in their colonies, its hulking great walls look out over both the land and sea from atop San Lazaro Hill.
Initially completed in 1536, the already colossal fortress was slowly enlarged and strengthened over the following centuries. Big batteries and bunkers now lie alongside a grand entrance and confusing mess of tunnels that helped the soldiers fend off attacks by both pirates and other European powers.
Other than ogling its impressive architecture and enjoying fine views from its parapets, guests can learn more about the fort's interesting past through artifacts, exhibits and video installations.
14. Piedra Del Penol
Boasting arguably one of the best views in all of Colombia is the phenomenal Piedra Del Penol, just outside Guatape in the Andes area of the country. Renowned for the steep, zigzag flight of stairs that make their way up one side of it, the gigantic granite rock is one of the most spectacular tourist attractions in Colombia. At the top you'll find spellbinding panoramas of the mountains, forests and lakes all around it.
Formed many millennia ago, the Rock of Guatape, as it is also known, rises dramatically above the stupendous scenery surrounding it. Towering 2,137 meters at its highest point, the standalone rock's soaring summit can be reached by panting your way up 740 narrow, steep concrete steps.
Once you finally arrive at the top of the massive monolith, you can gaze out over the glinting waters of the ginormous reservoir before you. Perched atop the rock are several cafes and an observation tower, should you want a drink and rest before making your way back down.
13. Laguna de Guatavita
Head just a couple of hours' drive northeast of Bogota and you'll come across the lovely Laguna de Guatavita which is where the centuries-old legend of El Dorado first began. Hemmed in on all sides by verdant forests, the small, circular crater lake makes for some fantastic photos and viewing with tours teaching you all about its unique history and nature.
For years, Spanish colonizers and conquistadors had heard rumors about a sacred lake in the Eastern Ranges of the Andes and elaborate indigenous rituals involving gold. Although now thought to be a far-fetched myth, the local Muisca people did perform various celebrations out on the reflective lake and throw precious offerings into its waters.
On guided tours, you'll learn more about their culture and hear how these initiation rites and rituals eventually formed the basis of the 'lost city of gold' legend we all know today.
12. Festival Mundial de Salsa in Cali
Wikioutlaw / Wikipedia
As you travel around Colombia, you can hardly fail to hear the infectious rhythms and beats of salsa pouring forth wherever you go. Each year, Cali, the 'Salsa Capital of the World' puts on a week-long festival where you can dance the night away while listening to top-class bands and watching world-class competitions.
Established in 2005, the Festival Mundial de Salsa sees thousands of dancers, musicians and group acts pack out the city's lively streets and nightclubs. Over the course of the week, countless classes, competitions and parties take place with rolling congas and playful trumpets heard at almost every minute of the day.
Besides enjoying all the creative choreography and colourful costumes, there are also plenty of fun concerts, food stalls and informative talks and workshops to attend.
11. Providencia Island
Even further north of San Andres and Johnny Cay is the paradisaical Providencia Island which is set much closer to Nicaragua than it is to Colombia. The perfect spot to relax and unwind, it has loads of superb sunbathing, swimming and scuba diving to enjoy with relaxing little guest houses and local restaurants dotted here and there.
Coated in vast swathes of tropical rainforest, the mountainous Caribbean island is lined by gorgeous beaches and colourful coral reefs. Once the site of an English puritan colony and the base of famed pirate Henry Morgan, its remote reaches now instead attract tourists and holidaymakers looking to enjoy some fun in the sun.
On top of basking in the astounding beauty of its untouched scenery, visitors to the isle can enjoy its friendly, laidback atmosphere and try out some exciting watersports.
10. Gold Museum, Bogota
Long one of the capital's top tourist attractions, the Gold Museum is full of incredible artworks and interesting exhibits on the country's rich history, culture and heritage. Situated right in the center of the city, it displays one of the world's most important and impressive collections of pre-Columbian gold artifacts.
Founded back in 1939, the museum's sleek, modern building now contains over 55,000 stone, bone, ceramic and textile pieces belonging to various pre-Hispanic peoples. Delightfully displayed, these highlight their craftsmanship, cultures and creation myths with exhibits and video installations also accompanying them.
Perusing its glittering masks, plates and anthropomorphic figures is an amazing experience with the marvelous Muisca raft being one of the museum's main highlights. Discovered in 1969, it depicts eleven intricately carved gold figures on a raft with many researchers convinced it refers to the gold offering ceremony that spawned the legend of El Dorado.
9. Medellín Cable Car
For some of the best views imaginable of Medellin and its scenic surroundings, make sure to take a ride on the Metrocable; the city's extensive network of aerial gondolas. While many visitors think of them as a tourist attraction, the cable cars are also an important part of its public transport system.
Due to the city's challenging topography and all the informal settlements that coat its steep hills, the imaginative mass transit system was opened in 2004 to help locals get around. Nowadays, there are six lines to explore with phenomenal views of the barrios below and massive mountains all around.
Some of the most popular places to head on the Metrocable are up to Santo Domingo and further on to Parque Arvi. While the former offers up an interesting look into local life and, of course, provides you with spectacular views of the city, the latter has pretty nature trails and hikes for you to enjoy.
8. Cano Cristales
Mario Carvajal / Wikipedia
Whether it is known as Caño Cristales, the Liquid Rainbow or the River of Five Colors, this is one natural landmark that should be on every traveler's itinerary. Unfortunately Caño Cristales, has been closed to tourism since 1989 due to FARC presence in the surrounding areas but a few tourist agencies have recently began offering carefully crafted tours to the area.
The river is located just outside of the small town of La Macarena in the national park known as Serranía de la Macarena. Plants, rocks, sand and algae give color to the river, which can look black, white, green, yellow or bright red depending on location.
Hiking along the banks of the Caño Cristales is an adventure on its own, but travelers can also head to the waterfall of Los Cuarzos or swim in the natural pools formed by the river itself.
7. Carnaval de Barranquilla
Carnaval.com / Flickr
While most people associate Carnaval with Rio de Janeiro in Brazil, the Colombian city of Barranquilla is actually home to the world's second largest Carnaval. During Carnaval de Barranquilla, the city is overrun with festivals, live music and street parades.
The festivities kick off with La Batalla de Flores, or the Battle of the Flowers, where parade floats are decorated with flowers in magnificent and colorful designs. Attendees often wear bright colors or costumes that represent a figure or a fable in Colombian heritage.
6. Santuario de Las Lajas
Just north of the border with Ecuador is the Santuario de Las Lajas, one of the most fascinating religious structures in all of Colombia. Built spectacularly on a bridge that spans the Guaitara River, the Santuario de Las Lajas looks like it is straight from a fairy tale.
The Gothic style cathedral was built in the early 20th century thanks to a financial donation from locals, and there is now a small museum located within the building. Getting to the Santuario de Las Lajas is easy from the nearby town of Ipiales, where travelers can join guided tours to the cathedral.
5. Monserrate
The Colombian city of Bogota is a unique capital because of its high elevation, something that becomes pronounced with a visit to Monserrate. At the top of the mountain of Monserrate, which overlooks the city, there is a 17th century church that serves as a mecca for religious pilgrims.
One of the best ways to experience Bogota is by riding either the funicular train or the aerial tramway to the top of Monserrate. From there, it is possible to view the sun setting over Downtown Bogota in a truly spectacular fashion.
4. Ciudad Perdida
Much of Colombia is still undeveloped jungle, and Ciudad Perdida is nestled right in the heart of that jungle. Also known as the Lost City of Teyune, Ciudad Perdida is a pre-Columbian settlement that was constructed around the eighth century by the Tayrona Indians.
The settlement was once a thriving hub of culture, but today all that remain are stone terraces in circular shapes, many of them overgrown by the surrounding jungle. The area is popular for longer guided treks, where participants can hike from camp to camp and experience the pristine, natural environment of the jungle.
3. Cartagena's Old Town
An absolute must when in Colombia, Cartagena's Old Town is home to a mesmerizing mess of little cobbled lanes and beautiful colonial buildings. One of the first Spanish settlements in the Americas, its well-preserved center is a delight to wander around as loads of historic churches and picturesque plazas lie within its walls.
Bordering the Caribbean Sea, the charming city was first founded in 1533 and soon flourished as an important port for both exploring the Americas and exporting silver back to Spain. Dozens of sturdy fortresses sprung up to protect the strategic coastal settlement as did countless churches, convents and cloisters such as La Catedral and Iglesia de Santo Domingo.
Besides admiring the architectural gems and taking in the laidback atmosphere in this old neighborhood, you can also enjoy some delicious local dishes and live music in the Getsemani part of town.
2. Tayrona National Park
Often said to boast one of the loveliest stretches of coastline in South America, Tayrona National Park's gorgeous reaches can be found just half an hour's drive from Santa Marta. Just like Colombia itself, it is incredibly biodiverse with forest-clad mountain ranges overlooking its pristine beaches, lagoons and coral reefs.
Established back in 1964, its secluded coves and palm tree-fringed sands are so picture-perfect they could easily feature on the cover of a travel magazine. While many swim and snorkel at either Cabo San Juan or La Piscina – an almost unimaginably beautiful lagoon – others hike and horseback ride about its steamy jungle and steep mountainsides.
While exploring the park, keep an eye out for some of the many macaws, monkeys and iguanas that inhabit its stunning confines. There is also an ancient archaeological site overlooking the ocean for you to check out near the top of one of its prominent peaks.
1. Salt Cathedral of Zipaquira
Just an hour's drive north of Bogota is Zipaquirá, a city known as the salt mining capital of Columbia. As a result of salt mining, Zipaquirá has long had a concentration of extreme wealth.
One of the things that highlights this is the Salt Cathedral of Zipaquirá, which is a Catholic church constructed almost entirely of salt within a now defunct mine. Although this is a major tourism destination, the Salt Cathedral actually accommodates nearly 3,000 parishioners every Sunday, and attending a church service can be an unforgettable experience.
Surrounding the cathedral is an area known as the Salt Park, where visitors can see other landmarks within the mines and learn more about the industry at the Brine Museum.
Map of Things to do in Colombia
© OpenStreetMap © MapTiler © Touropia