Are you searching for a non-touristy destination that boasts stunning beaches, verdant rain forests and picturesque colonial towns? Then you should consider booking a trip to Colombia. This South American country, which is located between Ecuador and Venezuela can offer you all of these things as well as beautiful weather nearly all year round.
While Colombia has managed to remain under the radar till now, with all this country has to offer, chances are that it won't stay that way for long. So if you want to visit this country before the crowds discover it, check out the following 2 weeks in Colombia itinerary.
2 Weeks in Colombia Itinerary
© OpenStreetMap © MapTiler © Touropia
Day 1: Arrive in Bogota, sleep in Bogota
Day 2: To Villa de Leyva, sleep in Villa de Leyva
Day 3: Explore Villa de Leyva, sleep in Villa de Leyva
Day 4: Return to Bogota, sleep in Bogota
Day 5: To Salento, sleep in Salento
Day 6: Explore Zona Cafetera, sleep in Salento
Day 7: To Medellin, sleep in Medellin
Day 8: Explore Medellin, sleep in Medellin
Day 9: Fly to Cartagena, sleep in Cartagena
Day 10: Explore Cartagena, sleep in Cartagena
Day 11: To Santa Marta, sleep in Santa Marta
Day 12: Explore Santa Marta, sleep in Santa Marta
Day 13: Explore Taganga, sleep in Santa Marta
Day 14: To Tayrona, sleep in Tayrona National Park
Day 15: Back to Santa Marta/Cartagena
Bogota (1 night)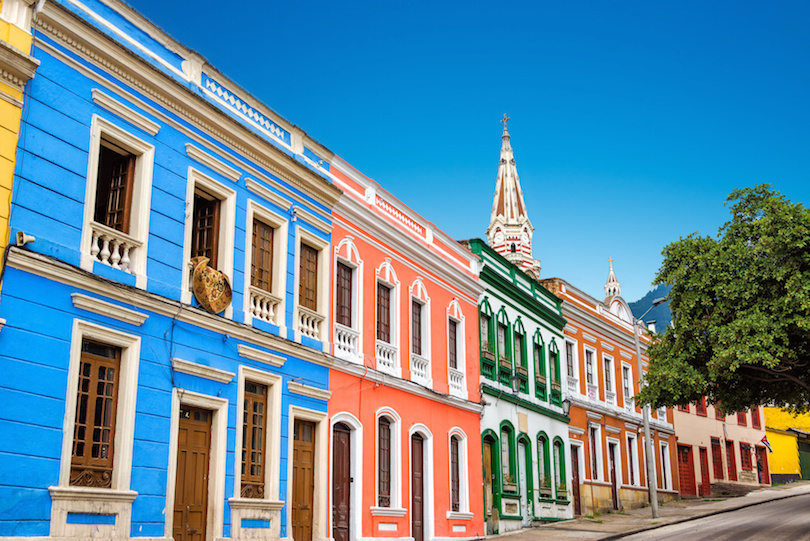 Colombia's biggest airport is located in Bogota, so this capital city makes an excellent place to fly in for your exploration of this country. Bogota is also the largest city in Colombia and home to just under 8 million people. In comparison, New York City's population was just over 8.5 million in 2015.
Not surprisingly for a city of this size, Bogota has a lot to offer visitors, including fine restaurants, excellent museums and La Candelaria, the city's historic center, which boasts cobblestone streets and amazing street art. While in Bogota, make sure to check out the Museo Del Oro, which is the city's most well-known museum. It contains a spectacular collection of pre-Columbian artifacts crafted out of gold, as well as the largest uncut emerald discovered to date.
Villa de Leyva (2 nights)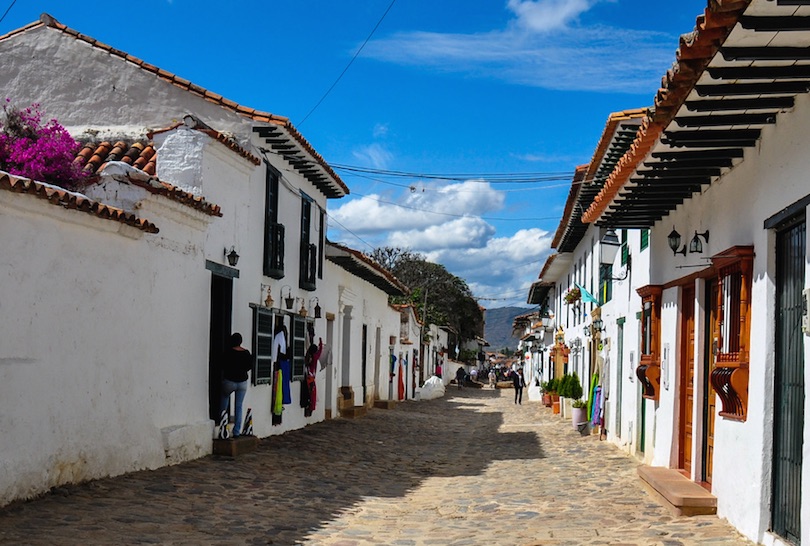 If you are interested in getting a glimpse of old Colombia, then check out Villa de Leyva, a preserved colonial town where you can stroll cobblestone streets while admiring its handsome architecture. Villa de Leyva was founded in 1572 and is part of the Colombian National Network of Heritage Towns.
This town boasts several interesting archaeological sites is also an excellent place to go shopping for local handicrafts. One of Villa de Leyva's most unique attractions is the Terracotta House. This clay structure is considered to be the largest piece of pottery in the world.
Bogota (1 night)
After your visit to Villa de Leyva, head back to Bogota for a night. Now that you've adjusted to the city's 2,400-plus meters (8,000 feet) altitude, this might be a great time to head over to 10,000-foot Monserrate for a hike to see a 17th-century statue of the Fallen Christ or just to enjoy the panoramic views from the top of the mountain.
If hiking isn't your thing, you could always take a funicular to the top of the mountain for a fee.
Salento (2 nights)
Colombia is famous for its delicious coffee. So no trip to Colombia could really be complete without a visit to the Zona Cafetera, which is a coffee-growing region located in this country's Andina region. And one of the best towns to use as a base of your exploration of the Zona Cafetera is picturesque Salento.
This little town, which is actually one of Colombia's most popular tourist destinations, offers a lot of outdoor activities for visitors, including horseback riding, mountain biking and hiking.
Medellin (2 nights)
Medellin is Colombia's second largest city and is probably best known for being the home of the infamous drug lord Pablo Escobar in the 1980s and 1990s. But that was many years ago and, today, Medellin has transformed into an exciting city with lots to offer the adventurous. Set in a valley at just under 1,500 meters (5,000 feet), Medellin boasts excellent year-round moderate temperatures, which is probably why it's popular with outdoorsy types.
In Medellin, you can, for example, enjoy paragliding, mountain biking or just strolling around its Jardin Botanico, also known as botanic gardens. And if you have an interest in Medellin's dark past, you can take a Pablo Escobar tour to learn more about this town's most notorious former resident.
Cartagena (2 nights)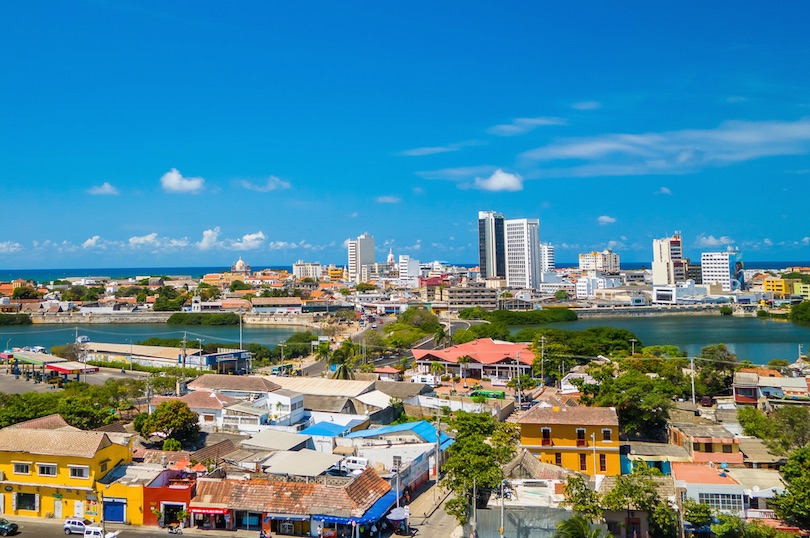 Cartagena, which is the most visited city in Colombia, is an interesting mix of the old and the new. Its modern side boasts towering hotels and fancy restaurants. But it is Cartagena's walled Old City that will dazzle you with its beauty and bright colors. Make sure to set aside plenty of time to explore the cobblestone alleys and beautiful churches in Old Town.
Adding to Cartagena's manmade beauty is its lovely setting — this city is situated on Colombia's northern coast and faces the stunning blue Caribbean Sea. So you'll also find plenty of lovely beaches to enjoy while in Cartagena. These range from fun party beaches in Cartagena, itself, to pretty stretches of white sand on the stunning Rosario Islands, which are located about a 70-km (45-mile) boat trip from the La Bodeguita pier.
See also: Where to Stay in Cartagena
Santa Marta (3 nights)
Santa Marta, which is the oldest surviving city in Colombia and a major port, is a great base for exploring the natural beauty of the surrounding area during the last part of your 2 weeks in Colombia. Founded in 1525 by the Spaniards, this colonial city enjoys an enviable location — it is situated on the beautiful Bay of Santa Marta on the Caribbean Sea and at the bottom of the majestic Sierra Nevada Mountains.
If you're into water sports, you'll want to head to Rodadero Beach, where you can rent a jet ski or go for a swim. Or if birding is your thing, check out the nearby El Dorado Reserve, which is home to an amazing number of species of birds.
Taganga (day trip from Santa Marta)
While in Santa Marta, make sure to head out to Taganga for a day — or a night — trip. This small fishing village is located just three miles outside of Santa Marta on a lovely bay and is very popular with backpackers, scuba divers and snorkelers. It has also earned a reputation for being one of the cheapest places in the world to get a diving certificate.
But it's not all about the underwater life in Taganga. This little town, has also earned another reputation — that of being a fun place to hang out at night. True to its backpacker haven reputation, this little village offers travelers cheap accommodations, fun beach bars and nightclubs.
Tayrona National Park (1 night)
Tayrona National Park, which is considered by many to be one of Colombia's crown jewels, is a stunning mix of verdant rainforests and gorgeous beaches. It is also a popular playground for the locals, who enjoy camping, hiking, surfing and a host of other exciting outdoor activities in this park.
In addition, the area that now makes up this park was once home to the ancient Tairona civilization, so there are also a few interesting archaeological ruins that you can hike to. The most famous, The Lost City, unfortunately takes multiple days to reach, but there are also smaller ruins, including Pueblito that can be reached via an approximately two-hour hike.