Located on Colombia's Caribbean coastline, Cartagena was founded in 1533. It was one of the main ports from which gold and silver poured back to Spain and at which enslaved Africans arrived in South America. Consequently, there are lots of historic tourist attractions in Cartagena on show. Because Cartagena was vulnerable to pirate attacks, its Old Town is encircled by a protective wall and an impressive fortress looks out over the city.
Blessed with warm weather, Cartagena has some of the best food in Colombia and its lively nightlife scene means you can dance the night away to salsa and champeta at some of the city's numerous bars and nightclubs.
See also: Where to Stay in Cartagena
Walking around the colorful streets is one of the best things to do city in Cartagena; there is plenty of lovely colonial architecture, in addition to peaceful, leafy plazas and old churches and convents. With so much to see and do, it's no wonder that Cartagena is one of the most popular destinations in Colombia.
12. Iglesia de Santo Domingo
A very important religious building and the oldest church in the city, Iglesia de Santo Domingo borders a square of the same name and was founded in 1551.
Its baroque marble facade stands out against the orange wall that surrounds it; two bell towers frame the façade, although only one was ever completed and even that one is a bit wonky.
While the interior is not particularly noteworthy, Iglesia de Santo Domingo is well worth checking out when in Cartagena. The square in front of it is a great place to have a coffee and gaze up at its magnificent facade.
11. Barrio Getsemani
The trendiest neighborhood in Cartagena, Getsemani is a beautiful place to visit. There is amazing street art on display as well as brightly colored buildings and colonial-era architecture.
Its bustling streets are home to a plethora of lively bars, restaurants, and nightclubs and it is the most popular spot in the city when night falls.
Plaza la Trinidad is located within the Barrio and is a great place to head to if you want delicious cuisine, cheap drinks, live music, and salsa dancing.
10. Puerta del Reloj
Meaning 'Clock Gate' in English, Puerta del Reloj is the main entrance to the Old Town. It is a very important historical landmark as a drawbridge used to be located in front of it to protect Cartagena from pirate attacks.
Nowadays, Puerta del Reloj links the historic center to the popular Getsemani neighborhood and sees a lot of people pass through it every day.
With wonderful colonial architecture, Puerta del Reloj is an interesting area to visit. You can also climb to the top of the walls bordering it for an amazing view of the city.
9. Museo Naval Del Caribe
Soto / Wikipedia
Opened in 1992 to commemorate 500 years since Columbus arrived in the Americas, the Museo Naval Del Caribe takes you on a whirlwind journey through Colombia's maritime history.
With models of ships and various Colombian cities on show, it is an interesting place to walk around; you'll certainly come away with a greater understanding of the fortresses and ships that defended the cities from pirates.
Located in a wonderful colonial-era building, the museum will open your eyes to how, over the centuries, the country was influenced by the goings on in the Caribbean.
8. Convento de la Popa
Built in 1607, the Convento de la Popa is perched atop a mount overlooking Cartagena; the views from up high are simply stunning.
Once constructed from wood, over the centuries, solid and imposing walls were erected to protect it against pirates. Later, Simon Bolivar would use it as a barracks when he came to liberate Cartagena from Spanish rule.
While the fantastic views are certainly its main attraction, the historic and religious site's picturesque patio is wonderful to behold, as is La Virgen de la Candelaria – a delightful image located in the convent's chapel.
7. Plaza Bolivar
Once known as Plaza de La Inquisicion, the square changed names when Colombia gained its independence. A statue of famous revolutionary Simon Bolivar, who inspired the winds of change in South America, lies at its center.
The historic square is lined by beautiful, colonial-era buildings; one of the most impressive is the Palace of the Inquisition. It is here that unlucky souls were tried for blasphemy and witchcraft and punished in the square.
Now a peaceful place, Plaza Bolivar has lots of quiet outdoor cafes if you want a coffee after a morning of sightseeing.
6. Iglesia de la Trinidad
Located on the lively Plaza la Trinidad, the Church of the Trinity's wonderful yellow facade brightens up the square. The church itself dates to the 1600s.
While the inside is a little gloomy, its yellow walls and bright marble columns lend it some color. It is here that locals congregated in 1811 to march against the Spanish and win Cartagena its independence.
Dripping in history, Iglesia de la Trinidad is a popular tourist attraction. Many people gaze upon it while enjoying a drink at the cafes, bars, and restaurants that line the plaza in front of it.
5. Caribe Jewelry and Emerald Museum
Delventhal / Flickr
Famous around the world for its beautiful emeralds, for lovers of shiny things, no trip to Cartagena is complete without stopping by the Caribe Jewelry and Emerald Museum.
The museum is fascinating to visit and looks at some of the myths and legends that swirl around gold and emeralds. You'll also learn a fair bit about how ancient civilizations set gems and what value they placed on them.
As well as the beautiful gemstones on display, the El Dorado Chamber is well worth checking out; it looks at pre-Columbian rituals and ceremonies that involved the precious stones.
4. Plaza Santo Domingo
John6536 / Flickr
A lively place to visit, Plaza Santo Domingo has loads of fantastic restaurants; this makes it a popular spot with locals and tourists alike, who come to enjoy the delicious cuisine on offer.
The center of the square is crowded with tables, and wonderful street performers play music for the diners' entertainment while street vendors set up stands selling souvenirs.
As well as the ambiance of the square itself, Plaza Santo Domingo is also home to a number of historic sites, including Iglesia de Santo Domingo and the delightful Reclining Woman sculpture by Fernando Botero – a famous Colombian artist.
3. Iglesia de San Pedro Claver
Built between 1580 and 1654, Iglesia de San Pedro Claver is an interesting church to visit due to the amazing architecture. It is one of the main tourist attractions in Cartagena.
Its wonderful facade is made out of stone that was brought from the Tierra Bomba Island, and its impressive altar – a gift from Pope Leo XIII –houses the remains of Saint Peter Claver, after whom the church is named.
Sanctified for his tireless evangelical work, Saint Peter Claver died in Cartagena; the beautiful church with its distinctive dome lies alongside a cloister that also bears his name.
2. Castillo San Felipe de Barajas
Looking out over the city, this huge castle is a must-see when in Cartagena: it is the city's most recognizable and important landmark.
Built in 1536, its strategic location atop San Lazaro hill meant that it could protect the city from any attackers. Wandering around the castle's battlements and underground passages make for an entertaining and educational day out, as display panels tell you all about its history.
Offering a delightful view of Cartagena down below, Castillo San Felipe de Barajas is particularly fantastic to visit at sunset for the glorious, sun-drenched views of the city.
1. Cartagena's Old Town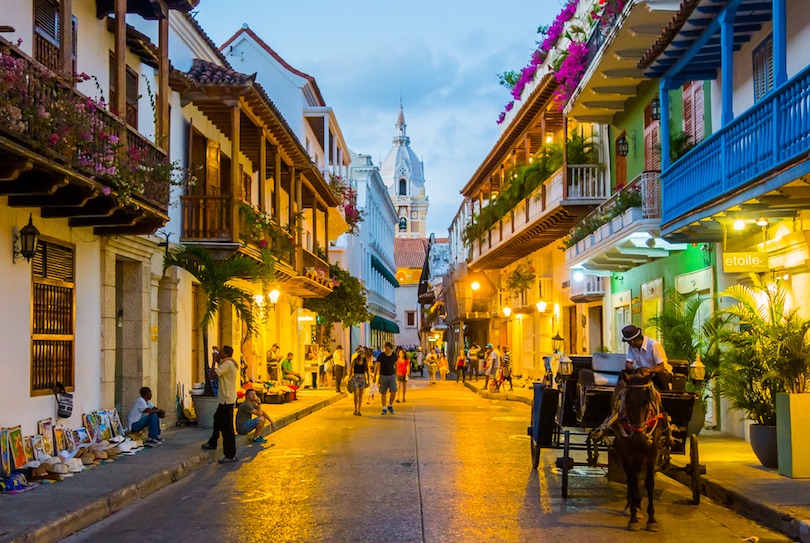 Appearing as if out of a fairytale, Cartagena's photogenic Old Town is a treat to wander around; brightly colored buildings and wonderful colonial architecture are everywhere you look.
The heart of the city is surrounded by sturdy walls that once protected it from pirate attacks, most notably by Sir Francis Drake. A plethora of lively bars and restaurants can be found here as well as picturesque plazas and historic monuments.
Its winding cobbled streets are very charming and atmospheric to amble around. Taking the time to explore the scenic Old Town is a must when visiting Cartagena.