Delightfully known as the 'City of the Eternal Spring', the cool, mountainous Medellin is now one of the top places to visit in Colombia. Once plagued by deadly gang wars and drug trafficking, it has undergone an incredible transformation since the nineties.
The second-largest city in the nation, it occupies a long, narrow valley surrounded by forested mountains and barrio-clad hills. Long an important center of commerce and industry, the metropolis suffered much violence in the eighties as various cartels and Pablo Escobar battled for dominance.
Since then, it has bounced back impressively with it now known for its cool, art-filled neighborhoods and exciting nightlife. Some of the best things to do in Medellin include exploring its top-class museums, picturesque parks and sweeping viewpoints. With loads of great local Paisa food, coffee and culture to experience, Medellin really is a must-visit destination in Colombia.
Map of Things to Do in Medellin, Colombia
© OpenStreetMap © MapTiler © Touropia
18. Plaza Cisneros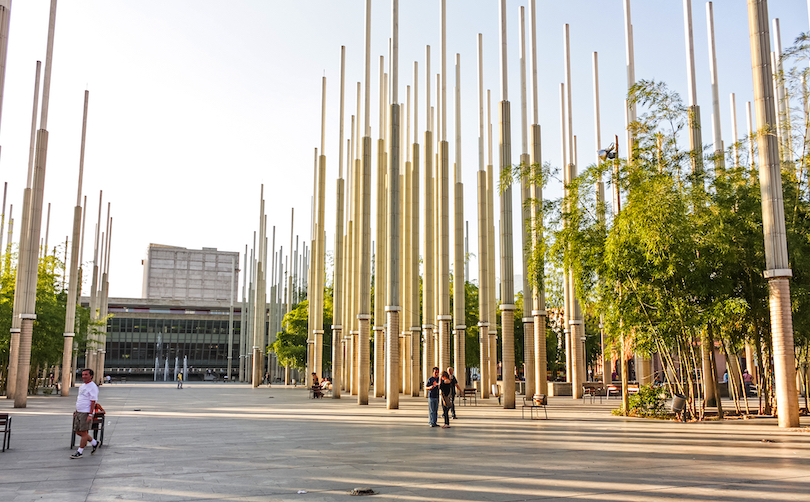 Relatively dangerous until just a few decades ago, Plaza Cisneros is now a popular tourist attractions in the city center. Renovated in 2005, it is delightfully called the 'Park of Lights' due to its artificial forest of enormous light poles.
Dating to the 1920s, the square is named after the Cuban engineer Francisco Javier Cisneros who constructed the historic Antioquia Railway. While a handful of beautiful old buildings border it, people mainly visit for its soaring columns of light.
Numbering 300 in total, the tall poles are made out of concrete and metal with some towering up to 24 meters in height. Clustered together, they make for quite the sight, particularly when lit up at night. After snapping some photos, you can always head to nearby sites like Plaza Botero and the Palace of Culture.
17. Palace of Culture
Just a ten minute walk away on the opposite side of El Centro is the impressive and unmissable Palace of Culture. Lying alongside Plaza Botero, its bold black-and-white colors and colossal dome immediately catch the eye with their unique design.
Begun by Belgian architect Agustín Goovaerts in 1925, it was only completed in 1982 after having been abandoned for decades. The palace showcases some gorgeous Gothic-style features with its vast facade appearing very much like a checkerboard.
Originally home to the Government of Antioquia's administration department, it now contains an art gallery, music archive, cafe and library. It also hosts countless cultural events and community festivals during the year while sublime views can be enjoyed on its roof. After admiring the architectural masterpiece, make sure to see all of Botero's brilliant bronze sculptures in the square outside.
16. Casa de la Memoria
An absolute must-visit, the moving Casa de la Memoria covers the history of conflict in Colombia since the 1950s. Very well done, all its sombre displays shine a light on drug cartels, the civil war and other armed interventions. The museum also provides victims with a space to share their stories and commemorate the lives that were lost.
Only opened in 2012, its striking concrete complex and leafy green outside spaces lie just southeast of El Centro. Inside, dramatic-looking installations and artworks look at the history of drug and paramilitary violence in the country and people's long struggle for peace. Lots of emotive photos and original artifacts also highlight the harsh reality of living in Medellin under the threat of daily violence.
Although many exhibits were sadly only in Spanish, we found the House of Memory invaluable for understanding Colombia's recent past. Despite the upsetting subject, it leaves you with a feeling of hope for the future.
15. Mercado del Rio
If you're looking for a cool, colourful spot to dine out, then the lively Mercado del Rio is definitely the place to go. Located near the MAMM, it has around fifty restaurants to pick from, serving delicious dishes from all around the world.
Unlike Medellín's many other markets, this cavernous food hall only deals in snacks, drinks and sit-down meals. While there may not be any stands laden with fresh local products to peruse, there are more than enough food options to choose from. These range from paella and Peruvian ceviche to burgers, sushi and Colombian classics.
To top it all off, there is often a raucous atmosphere in the food court as crowds of young professionals pack out its tables for lunch and dinner. With tons of shared platters and tasty cocktails to try, dining here certainly makes for a fun experience.
14. Planetario de Medellin
For those interested in the stars, skies and space, the superb Planetario de Medellin lies right at the southwest corner of Jardin Botanico. Appropriately set alongside the Parque Explora science center, it has loads of interactive exhibitions and stargazing shows to enjoy.
Established in 1984, it now occupies a distinctive-looking building that is topped by a high-tech planetary dome. Full of amazing models of planets and engaging exhibits on the universe, the center provides a lot of information in a fun and accessible way.
The highlight though is of course watching one of its spellbinding shows in its on-site planetarium. These take you to the outer edges of the cosmos, to the sun and some of the celestial bodies that light up our night sky. A firm favorite with families, it also has English audio guides should you need one.
13. Centro Comercial Santafe
With so many stores located under one roof, you can easily spend all day exploring the chic, sleek Centro Comercial Santafe. At the massive mall, you can shop til you drop or stop for a meal or coffee. Numerous entertainment options are also on offer.
One of the largest shopping centers in all of Latin America, Santafe was first unveiled to the public in 2006. Across its five vast floors, you can now find around 450 shops and restaurants. These sell everything from accessories and appliances to sports clothes, high-end fashion products and home decor items. Big name brands here include Adidas, Nike and American Eagle among many others.
Other than Starbucks, KFC and McDonald's, there are dozens of other dining options to choose from at its food court. For entertainment, you can play in its arcade, whizz around on go-karts or watch a film at its cinema complex. Thanks to its light and airy design and spacious layout, the mall is a very pleasant place to spend some time.
12. El Castillo Museo
Not all too far away from the shopping center is the enchanting El Castillo Museo and its gorgeous gardens. Situated twenty minutes drive south of El Centro, its lush, leafy grounds are a treat to explore with the grand castle making for some fantastic photos.
Part of the popular El Poblado neighborhood, it was built in 1930 to look like one of the Medieval Gothic castles found in France's Loire Valley. For decades, the private residence hosted exclusive guests and events before becoming a museum in 1971.
Visitors can now admire its fine architecture and fairytale-like towers and take guided tours around its art-filled interior. After hearing about its history, you can head outside and snap some photos of its ornate facade, fountains and flowerbeds. Some statues and classic cars also line its paths which boast divine views over the castle and city.
11. Medellin Museum of Modern Art (MAMM)
Packed with interesting artworks and thought-provoking installations is the Medellin Museum of Modern Art. Also known as MAMM, its extensive collection of paintings, photos, sculptures and videos can be found in the Ciudad del Rio part of town.
Instantly recognizable, its series of box-like buildings are all jumbled together around what was once an old steel mill. An artwork in itself, the striking modern structure has roughly 2,000 modern and contemporary pieces to examine, many produced by local Colombian artists. Loads of the works across its five floors present the history, culture and politics of the country in a thoroughly creative way.
While we're not usually huge fans of modern art museums, we did see quite a few art pieces and exhibitions that we really liked. The building and the views from its rooftop terrace also make MAMM well worth a visit in our view.
10. El Poblado
One of the city's trendiest neighborhoods to stay in, visit and explore is the upscale El Poblado. Spread across the steep hills south of the center, its lovely shady streets are lined by lots of cool cafes, shops and restaurants. A favorite haunt of expats and backpackers, it is where many people base themselves during their time in Medellin.
First settled by the Spanish in 1616, this affluent part of the city is now characterized by tall apartment blocks and high-end hotels. Along its tree-lined avenues are plenty of stylish shopping centers, chic boutiques and hip coffee shops to check out. Aside from wandering along Calle 10, its bustling main boulevard, try some of the renowned Pergamino's hot and cold drinks.
At night, the laidback neighborhood has a very lively feel as people pack out its bars and nightclubs. Very safe to stroll around at any time of day, El Poblado's hilly streets also offer great views over the rest of Medellin and its surrounding mountains.
9. Parque Explora
Right next to Jardin Botanico is yet another of the city's top tourist attractions: the fun, family-friendly Parque Explora. As well as all its exciting science exhibits, it has South America's largest freshwater aquarium for you to explore.
Another eye-catching building, the four giant red cubes that house the museum stand out spectacularly against the city, trees and mountains around them. Inside, its roughly 300 interactive exhibits focus on everything from music and the media to technology, time and neuroscience. Very well-designed, it also has cool light installations and tall dinosaur models to snap selfies next to.
The real highlight though is its enormous aquarium which contains around 4,000 fish and animals from Colombia's rivers, oceans and the rest of the Americas. Besides all the shoals of brightly colored fish, you can see axolotl, snakes and turtles here too.
8. Museo de Antioquia
If you want to see more incredible artwork, then make your way to Plaza Botero and the Museo de Antioquia. Lying along one side of the town square, its galleries contain countless masterpieces by both Fernando Botero and Pedro Nel Gomez; two of the city and country's most acclaimed artists.
The second-oldest museum in Colombia, its extensive collection now occupies what was once the city hall. Across its three sprawling floors are displayed pre-Columbian artifacts, ceramics, furniture and contemporary pieces.
The most arresting artworks however are undoubtedly Gomez's amazing murals and the cute, chubby figures for which Botero is famed. His painting The Death of Pablo Escobar also attracts lots of attention as do his sculptures outside. It ended up being our favorite Medellin museum, thanks to these two artists, the vibrant square and the old building itself.
7. Parque Arvi
Offering all kinds of fun outdoor activities and fabulous viewpoints is the picturesque Parque Arvi. Both an ecological nature reserve and Pre-Hispanic archaeological site, its scenic reaches can be accessed via a stunning ride on the Medellin Metrocable.
Spread across the eastern slopes of Aburrá Valley, the park protects vast swathes of pristine forest. Amidst all its rolling hills and woods, visitors can hike and bike or see some of the crumbling buildings and paths left behind by indigenous people. Guided tours teach you more about their past and point out the area's local fauna and flora.
Just as memorable is the Medellin Metrocable ride up to the expansive park. This is because the short, fifteen minute journey provides such panoramic views of the city down below. Once you alight, there is a small market selling souvenirs and snacks to wander around before entering the verdant forest.
6. Pueblito Paisa
To get a feel for what life in Antioquia used to be like, head to the pretty little replica village of Pueblito Paisa. Perched atop Cerro Nutibara, its charming church, museum and souvenir shops are clustered around a traditional town square. Be aware though that it's quite a steep climb up the hill to the top!
Opened in 1977, the pretend pueblo takes you back in time to around the turn of the twentieth century. Aside from admiring its attractive architecture and small sculpture garden, its museum covers the city's history in an interesting way. On show next to all its cool old historical photos and informative displays is a very detailed birdseye map of Medellin to inspect.
Although a bit of a tourist trap, the colourful square makes for some beautiful pictures when bathed in sunshine. There are also some nice traditional Colombian dishes and phenomenal views over Medellin to enjoy.
5. Jardin Botanico
Full of tropical flowers, trees and shrubs is the gorgeous Jardin Botanico just north of the center. An oasis of peace and calm, its paths, pond and plant-filled greenhouses are a delight to stroll around slowly.
Bordered by Parque Explora and the Planetário de Medellin, its landscaped grounds were once a private estate. Since the seventies, the gardens have been open to the public with their 4,500 or so plant species perfectly highlighting Columbia's incredible biodiversity.
As well as spotting iguanas and turtles, there is a magical butterfly house and several tranquil outdoor cafes to stop by. Not to be missed too is its immense 'Orchideorama' which looks very impressive. Its one-of-a-kind wood meshwork canopy and towering tree-like structures cover a large collection of blooming orchids.
4. Trip to Guatape
When in Medellin, it is well worth taking a trip to the popular resort of Guatape, some two hours drive east of the city. Set alongside a lovely lake, it is known for its brightly painted buildings and blocks of brilliant street art. Many people also come to climb La Piedra del Peñol which looms dramatically above its cheery streets below.
Often called the most colourful town in Colombia, its tiny, traditional houses almost all feature eye-catching facades. Known as zocalos, these murals depict various beliefs, animals and other images connected to the community's farming heritage. Scattered about too are some little local cafes and stalls selling handicrafts for you to check out.
Other than snapping some photos of its vivid bas-reliefs, there are relaxing boat rides to take around the reservoir. You can also clamber your way up the 750 narrow, steep steps to the top of the mighty monolith that overlooks the town. From atop La Piedra, there are outstanding views to be had of Guatape, the lake and islands far below.
3. Ride the Medellin Metrocable
For some of the best views imaginable over the city, make sure to go for a ride on the amazing Medellin Metrocable. Besides boasting breathtaking panoramas, all its aerial gondolas are a cheap, quick and convenient way to get around town.
Constructed across the city's rolling hills, above all its informal settlements, the public transport system was unveiled in 2004. A creative solution to the region's challenging topography, it now has six lines for visitors to explore. These help residents get back home each day and are an essential part of Medellin's mass transit network.
Particularly popular places to head among tourists are Santo Domingo and Parque Arvi. Wherever you go though, you're guaranteed spellbinding views over the barrios below and the massive mountain bowl in which Medellin lies. We couldn't get enough of gazing out the window and spent most of each journey with our eyes glued to what was going on outside.
2. Plaza Botero
The heart and soul of life in town, the pretty Plaza Botero is lined by lots of attractive old buildings and several superb museums. The happening square is mostly known however for the 23 bronze statues donated by Botero that dot its leafy confines.
Lying right in the centre of the city's Old Quarter, it was transformed in 2004 when the artist's iconic artworks were installed there. Very rotund, his daring, distinctive figures include an oversized head, a plump dog and portly women. The largest is his hefty 'The Horse' sculpture with the famous 'Roman Soldier' also attracting lots of attention.
Before or after seeing the curvy statues, you can always visit the adjacent Museo de Antioquia or Palace of Culture. Although the square often contains food stalls, trinket sellers and street performers, the surrounding area does seem a bit dodgy. While we wouldn't really recommend visiting at night, you shouldn't have any problems during the daytime.
1. Comuna 13
Once one of the most dangerous parts of the city, Comuna 13 is now instead one of its most popular neighborhoods to visit. Loads of fun to explore, the hillside barrio is famed for its vibrant feel, fantastic views and phenomenal street art.
Having once suffered incredibly high rates of crime, drug use and violence, increased safety measures and the installation of huge outdoor escalators helped reintegrate it into the rest of Medellin. This and its colourful houses and murals have seen it slowly transform into a top tourist attraction. Despite this, the community still retains its own unique look and authentic feel.
As its warren of narrow streets, steps and escalators are quite confusing to navigate, many people choose to take tours around Comuna 13. Run by local residents, these take you to the best viewpoints and murals while providing more insight into its past. Our favorite part of Medellin by far, its super cool artworks, escalators and endless views over the barrio make it a must-visit in our eyes.