With the hypnotic rhythms of salsa coursing through the streets, Colombia is a fantastic place to head if you're looking for a good time – its cities are home to some incredible nightlife. Great restaurants, lively bars and some awe-inspiring festivals and carnivals only add to what the best cities in Colombia have to offer, and a few interesting museums are scattered about here and there.
With a rich history, the city's picturesque colonial centers are wonderful to explore, with their old churches and monasteries beckoning you on. An incredibly diverse country, Colombia's varied landscapes with towering mountains, dreamy beaches and Amazon rainforest means that its fantastic cities are never far away from scenes of outstanding natural beauty.
Map of cities in Colombia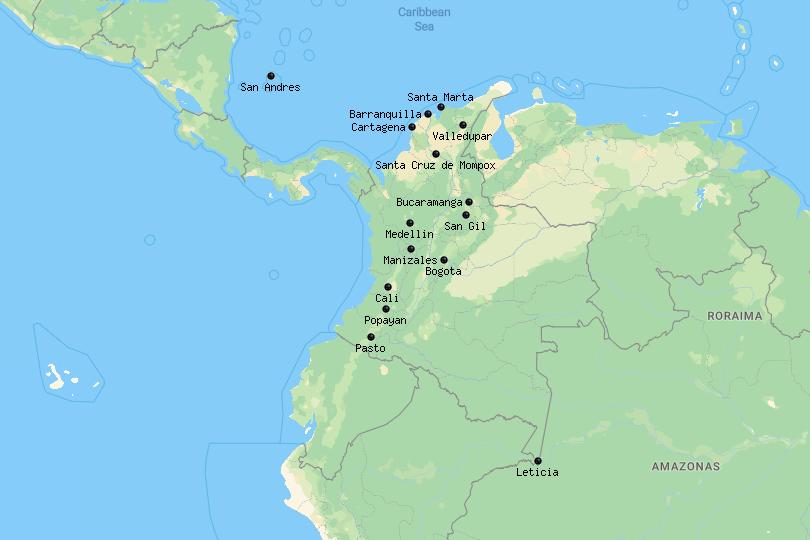 © OpenStreetMap © MapTiler © Touropia
15. Pasto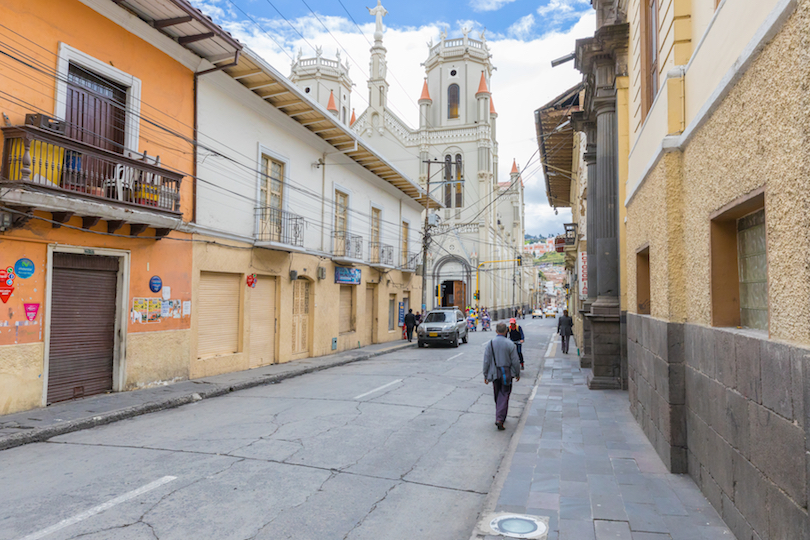 © Markpittimages / Dreamstime
Lying not too far away from Ecuador, Pasto sits in the southwest of the country – visitors mainly stop off here on their way to Colombia's southern neighbor. With a cool climate, some nice colonial buildings and a lively downtown, Pasto is a pleasant enough place without setting the world alight.
While the city itself is not much to write home about, the stunning nature of Laguna de la Cocha or the dramatic Volcan Galeras in the region surrounding Pasto makes it well worth a longer stay.
14. Leticia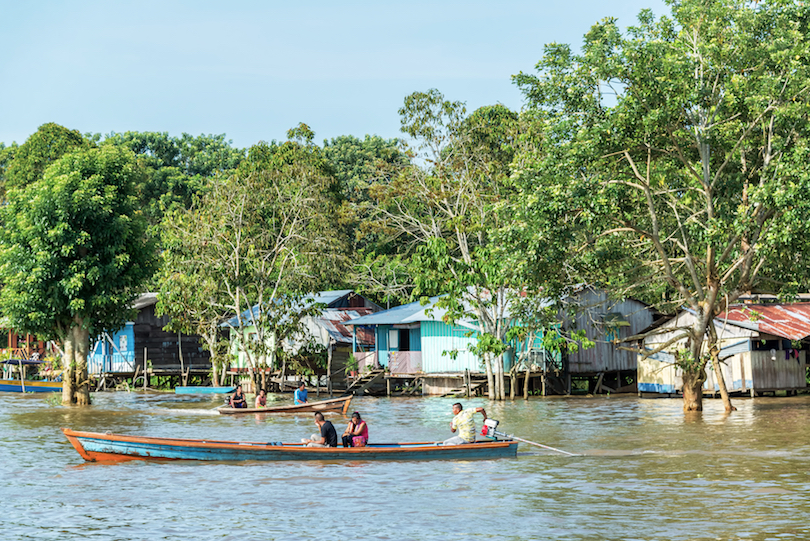 © Jesse Kraft / Dreamstime
Despite being the largest city in the Amazonas region, Leticia has a laidback and provincial air to it – largely due to its secluded location. Lying at the spot where Brazil, Colombia and Peru meet, there is a diverse cultural mix – although there is certainly not much of interest going on in this backwater.
Bordering the Amazon River, Leticia's main draw is that it is the perfect base from which you can take some fantastic trips into the rainforest or along the river itself.
13. Bucaramanga
Lovely mountains form a beautiful backdrop to Bucaramanga's skyscrapers and, although it is not the most exciting place in the world, there's more than enough to see and do here to warrant a visit.
While the growth and expansion of the city superseded lots of its old colonial architecture, a plethora of pleasant parks are interspersed among its high-rises, giving Bucaramanga a relaxing air. At night, however, the city's large student body comes out to play and its multitude of bars and clubs blast out music until the early hours.
12. Santa Cruz de Mompox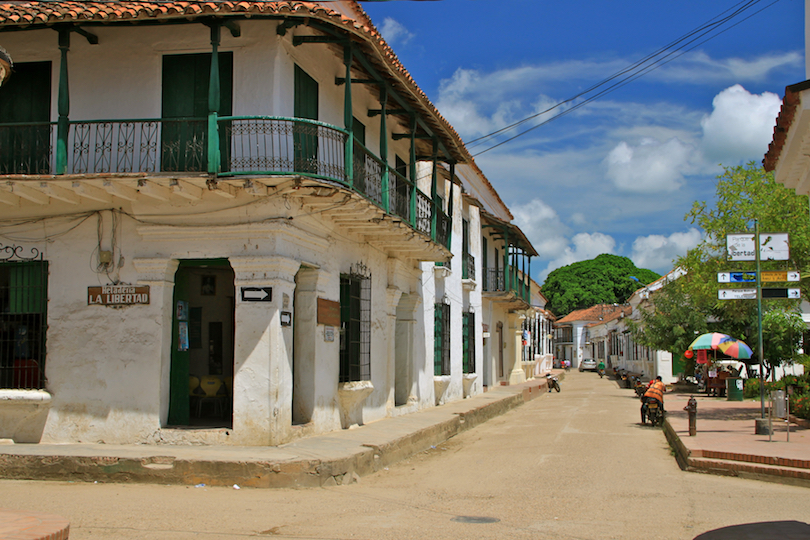 © Ulita / Dreamstime
Lying on an island in the Magdalena River, this peaceful, laidback town has a lovely colonial center full of delightful architecture – funded from its time as an important port during colonial times.
The first place in South America to vote for independence, Simon Bolivar said that he owed his legacy and glory to Santa Cruz de Mompox. A secluded and special part of Colombia, the city is enthralling to explore, and comes alive during the various festivals that it hosts throughout the year.
11. San Andres Town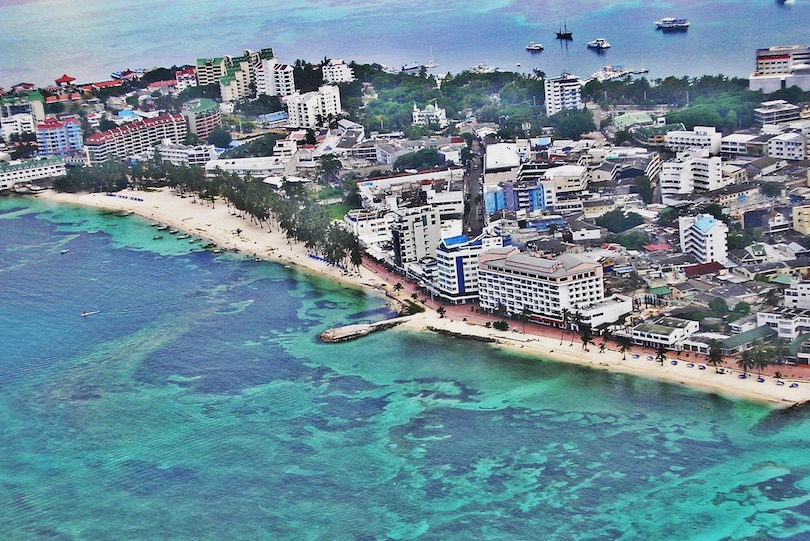 Jhosimar / Wikipedia
Lying closer to Nicaragua than Colombia, this idyllic island's dreamy, palm-tree-lined beaches and pristine waters make it a favorite with Colombians looking to get away for the weekend.
While San Andres Town is not the prettiest place, due to its hectic downtown, the waterside promenade is pleasant to wander along and the tax-free shops and party scene certainly help to attract visitors. The main draws, however, are the beautiful beaches lining the island and the surroundings offshore cays, and there is some fantastic snorkeling and diving on offer.
10. Valledupar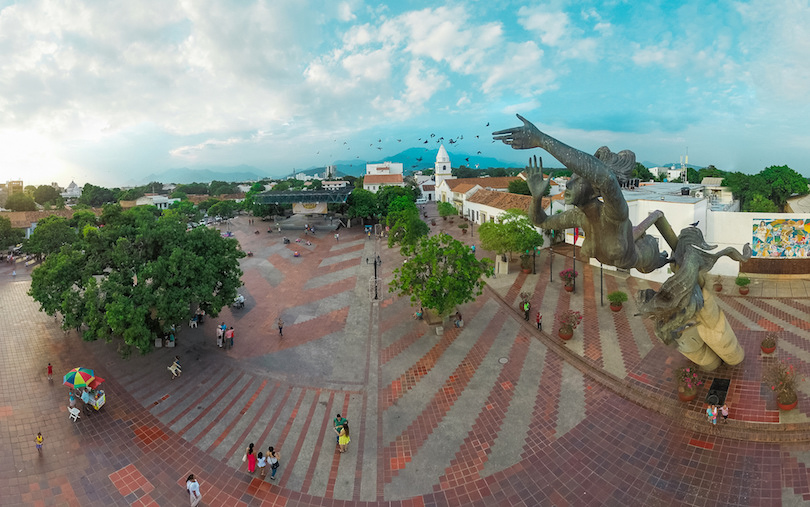 Lying between two mountain ranges, Valledupar is one of the greenest cities in Colombia and has a delightful colonial center with some fun and festive nightlife on offer for visitors to enjoy.
Located in cowboy country, it was cut off from the outside world during the civil conflict by guerrillas, and relatively few visitors stop by to this day. Famous as the birthplace of vallenato folk music, from here there are lots of fantastic outdoor activities for tourists to try.
9. San Gil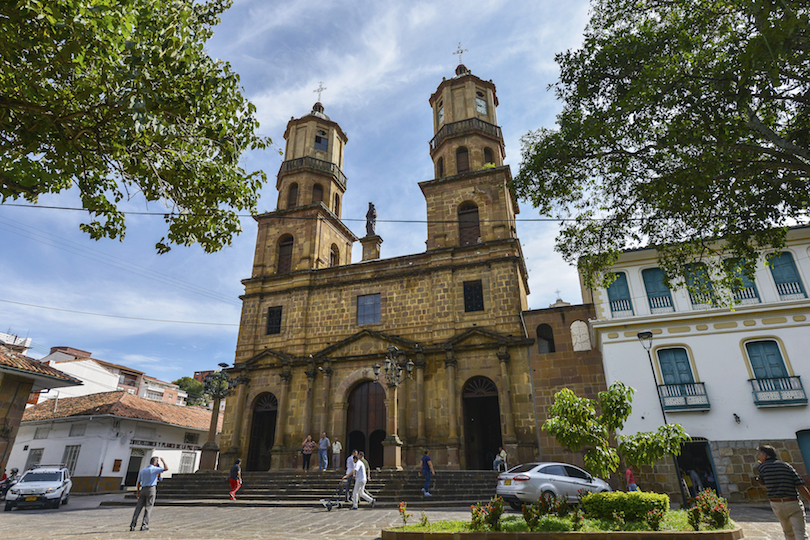 © Villegas / Dreamstime
Nicknamed 'the land of adventure', San Gil's incredible surroundings make it an awe-inspiring place to visit for nature aficionados and lovers of extreme sports.
A small city that is easy to navigate, San Gil's old town square with its delightful cathedral is pleasant to hang out in and, although its friendly population is welcoming, almost everyone heads out of town as soon as they can. This is because it is renowned for fantastic white-water rafting. If you enjoy nature, you can trek through forests, explore caves or even go paragliding if you feel like it.
8. Manizales
© Jesse Kraft / Dreamstime
Lying amidst beautiful verdant mountains in Colombia's coffee-producing region, earthquakes and a tragic fire destroyed many of Manizales historical attractions, although there are some nice Neoclassical buildings scattered about.
With lots of universities in the city, the large student population makes Manizales a lively place to visit; there are lots of fantastic bars and nightlife on offer. Lying at 2150-metres above sea level, you can enjoy some lovely hiking in the rainforests and mountain near the city. The nearby Nevado del Ruiz volcano is well worth a trip.
7. Barranquilla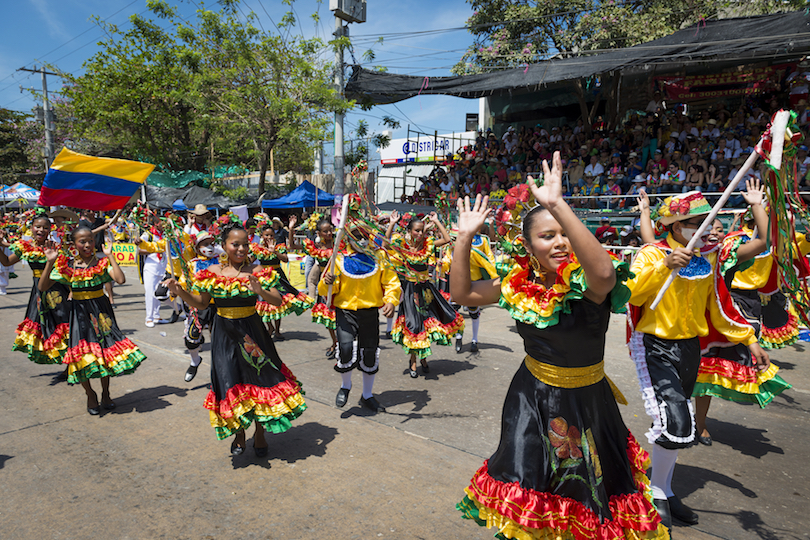 © PCC / Dreamstime
The fourth-largest city in the country, Barranquilla is renowned for its fantastic Carnival, when the streets are inundated with locals and visitors alike who come to enjoy the sounds, colors and vibrant festivities of the carnival.
Away from carnival time, there are some great restaurants and bars to check out and a few good museums. A bustling port town lying on the Caribbean next to the mangroves of the Magdalena River, Barranquilla is often overlooked in favor of other cities along the coast – though it has some great nightlife spots and friendly, welcoming people.
6. Popayan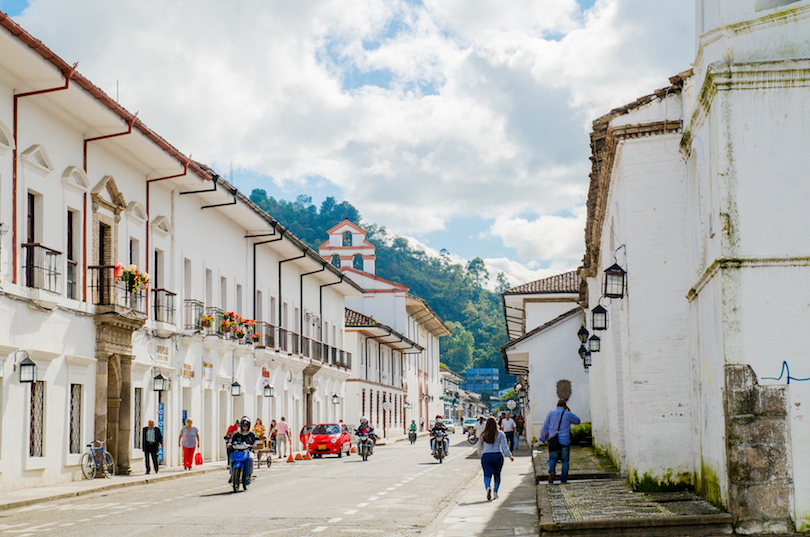 © Pablo Hidalgo / Dreamstime
Although it may come second to Cartagena in terms of the stunning colonial features, Popayan is well worth a visit in its own right. The breathtaking mountains overlooking the city's picturesque streets only add to its scenic charm.
Nicknamed 'the White City' due to its dazzling facades, its old buildings that comprise delightful churches, mansions and monasteries were built during the time when the city lay on an important trade route – the architecture on show is sumptuous.
As a number of universities reside in the city, Popayan has a lively feel to it, and its outskirts have lots of great outdoor activities for visitors to enjoy.
5. Santa Marta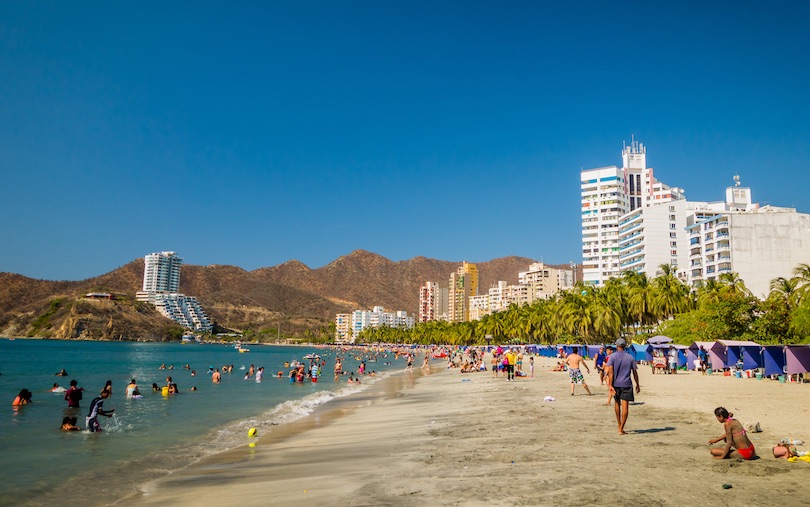 © Pablo Hidalgo / Dreamstime
A charming place to stop by, Santa Marta's historic center is full of delightful colonial buildings. It is actually the oldest town founded by Europeans in the whole of South America. Lying on the Caribbean coast, the city has spread out over the years.
Now, its horrific traffic and endless sprawl detracts somewhat from the attractiveness, though this does mean that it has a slew of restaurants, bars and hotels for visitors to choose from.
With a fantastic range of activities and attractions on offer nearby, you can be in the mountains one moment before scuba diving in Santa Marta's pristine waters or lounging on its lovely beaches the next.
4. Cali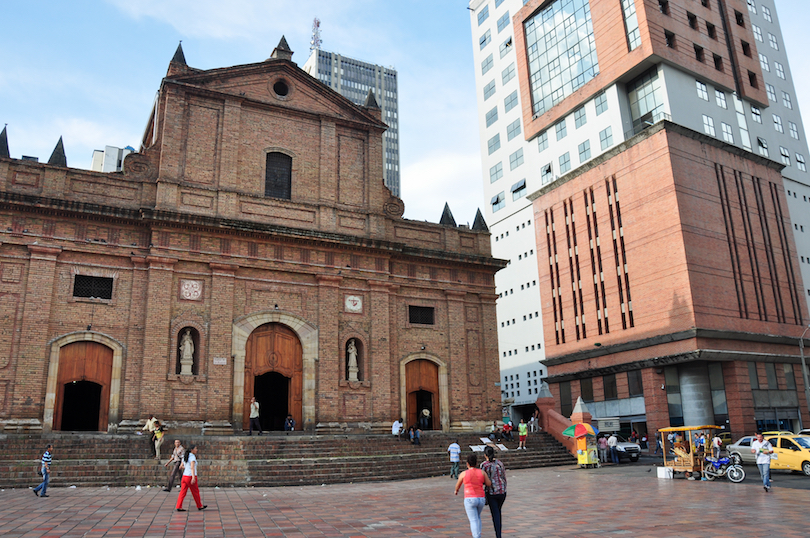 © Brizardh / Dreamstime
Often overlooked in comparison with some of the other fantastic cities Colombia has on offer, Cali has more than enough about it to appeal to tourists – its pounding nightlife is just one reason to visit.
Considered the capital of Salsa, going out here is a fun and wild affair and is not to be missed. Away from the party scene, Cali's great restaurants and rich, Afro-Columbian cultural heritage makes it a captivating place to visit. In addition to this, there are lots of old churches and some good museums too.
With lots of natural wonders nearby, you can use Cali as a base from which to explore the surrounding region – make sure to check out a football match before you leave!
3. Medellin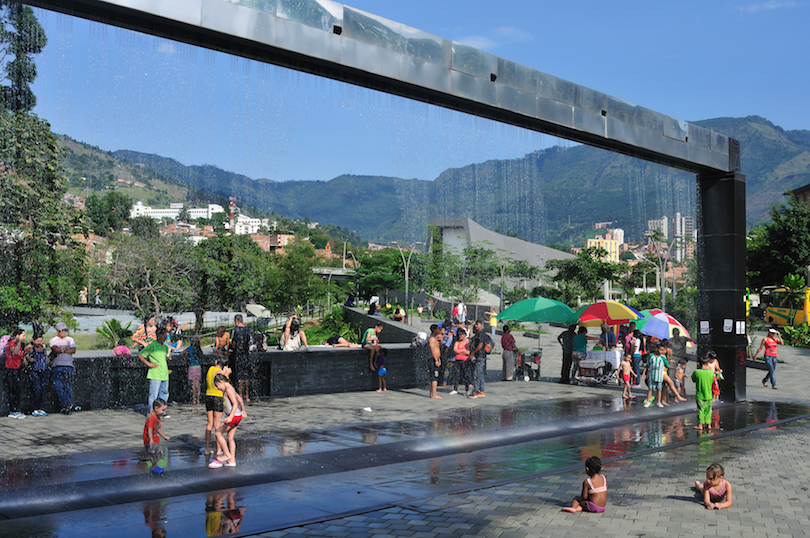 © Carlos Mora / Dreamstime
Lying in a narrow valley, Medellin's towering skyscrapers and high-rises are delightfully framed by the hills and mountains surrounding this industrious and commercial city. A metropolitan place, Medellin was plagued by gang wars in the 80's and 90's, as narco-traffickers battled for supremacy, with the hillside slums being badly affected.
Nowadays, it is a pleasant city to visit. There are some great museums on offer as well as fantastic restaurants, bars and nightclubs. With airy parks scattered about Medellin and a lively art and cultural scene, the second largest city in the country is well worth a visit.
2. Bogota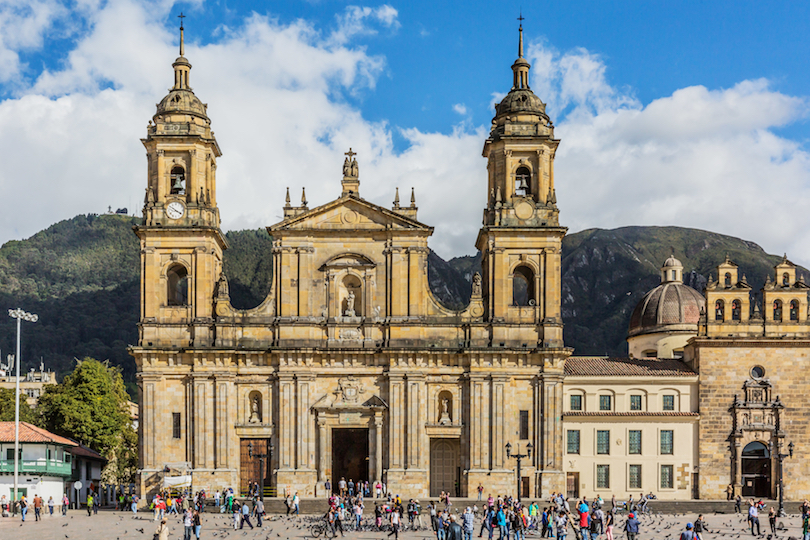 © Pixattitude / Dreamstime
The lively capital of the country lies on a plateau amidst the Andes at an impressive height of 2600-metres, and all visitors to Colombia pass through Bogota at some point. While there is a lot of poverty and crime in the city, as well as packed and rather claustrophobic parts to it, the energy about the place and the wealth of attractions mean that most tourists come away with a positive impression.
The historic center of La Candelaria is full of lovely colonial buildings; old churches and convents dot the cobbled streets. Some great museums, restaurants and bars are scattered about, and the magnificent Cerro de Monserrate looks out over everything. Fantastic sunsets paint the city in glorious yellows, reds and oranges; as night falls, the city's nightclubs begin pumping out the rhythmic music that makes it such a fun city to go out in.
1. Cartagena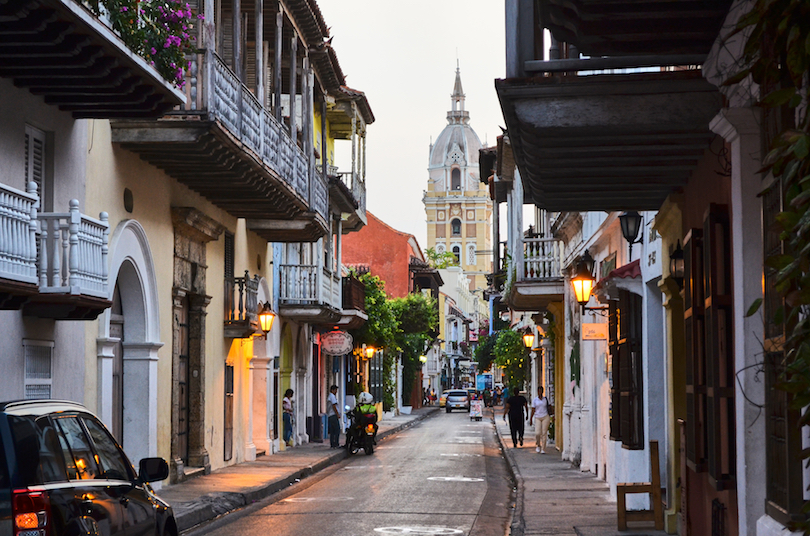 © Edaccor / Dreamstime
Lying on the Caribbean coast of Colombia, Cartagena is full of life and color and dripping with history. The stunning Old City is magnificent to behold as you wander around, with its old stone ramparts enclosing dazzling colonial buildings and tiny, narrow streets.
Horse-drawn carriages trundle past huge churches and mansions, and its lively, leafy plazas are lovely to hang out in, with a fantastic range of restaurants and bars on offer. One of the best preserved colonial cities in Latin America – and certainly one of the most picturesque – Cartagena's raucous nightlife and fine dining scene are yet more reasons to visit. If you want to kick back and relax further, its palm-tree lined beaches are simply divine.