Sprawling across half of South America, Brazil is the fifth largest country in the world. White-sand beaches, tropical islands, music-filled metropolises and charming colonial towns are dotting its 7,500 km (4,600 mi) long coastline.
Inland, Brazil tourist attractions consist of imposing waterfalls, wetlands filled with wildlife, and the untouched wilderness of the Amazon rainforest where several isolated tribes still live without any contact with the rest of the world.
Brazil, the largest country in Latin America, became a Portuguese colony in 1500, remaining under Portuguese rule for 300 years. Remnants of this heritage can be seen throughout historic colonial cities even today. Besides these tourist attractions in Brazil, it also has gorgeous beaches, famed for their surfing waves and scenic beauty. Great beaches can be found in the Rio area, while others may be so isolated getting there is an adventure in itself. Here's a look at the some of the best things to do in Brazil.
27. Porto de Galinhas
[SEE MAP]
One of Brazil's booming beach destinations, Porto de Galinhas attracts hordes of tourists during holiday times. So what makes Porto de Galinhas so special? For starters, it boasts pretty white sand beaches, beautiful weather, warm waters, and a nice selection of accommodations in all price ranges.
But what truly sets Porto de Galinhas apart is the stunning natural pools that form in the reefs at low tide where visitors can swim with large schools of colorful fish.
26. Campos do Jordao
[SEE MAP]
Rodrigo Soldon / Flickr
Also known as the Switzerland of Brazil, this town is the highest in the country, located more than 1,600 meters (5,300 feet) above sea level in the beautiful Mantiqueira Mountains. Because it sits at such a high elevation, this resort town offers visitors a refreshing escape from Brazil's heat during the summer months.
Campos do Jordao is probably best known for its Winter Festival, a popular classical musical event held in July that draws musicians from around the world. This town is also a popular draw with active visitors, who can choose from a large variety of outdoorsy outings, including horseback riding, jeep tours and cable car rides.
25. Lencois Maranhenses National Park
[SEE MAP]
Fred Schinke / Flickr
For most people, Brazil conjures up images of stunning beaches and verdant jungles — not sand dunes. But one of its most interesting national parks, Lencois Maranhenses, is home to massive dunes. But this is not the desert. During July, torrential rains actually create gorgeous clear lagoons that can reach depths of 3 meters (10 feet) in some areas.
Interestingly enough, even though these pools are temporary — disappearing during the dry season — there are fish in them. Swimming is allowed, but visitors should be prepared for warm waters. Temperatures in these pools can be as high as 30 °C (87 °F).
24. Florianopolis Beaches
[SEE MAP]
Also known as Floripa, the 42 beaches of Florianopolis are popular with surfers, partyers and sun worshipers. Arguably, its most popular beach is Joaquina, which boasts huge sand dunes and excellent waves. Though as of late, its neighbor Praia Mole has been stealing some of Joaquina's thunder.
Travelers who like to hangout with the rich and famous should head to Jurere, which boasts huge homes and some of the best night clubs in the area. For those seeking a little solitude, Lagoinha do Leste is the beach they'll want to visit. One caveat, this beach requires about a two-hour hike to reach it.
hood.jonathan / Flickr
Blessed with postcard-worthy beaches, tall cliffs and clear waters, Praia de Pipa has become one of Brazil's best-known beach destinations and is a favorite with both locals and tourists. The town is also known for its vibrant nightlife and offers visitors a slew of activities, including boating and surfing.
But as popular as it is, the town, itself, is limited in size as it is surrounded by Environmental Protected Areas. That means that visitors can still enjoy the natural beauty of this area and swim in waters that are teeming with dolphins and turtles.
22. Museu de Arte Contemporanea
[SEE MAP]
Depending on one's perspective, the Museu de Arte Contemporânea (Modern Art Museum) looks either like an upside down light fixture, a UFO or an elegant serving bowl.
Designed by noted architect Oscar Niemeyer, the museum opened in 1996 in the Niteroi suburb city of Rio where it overlooks Rio and the bay. Some visitors say the building itself is more impressive than its contents.
Travelers who like beaches are likely to gravitate to Buzios, a resort town 105 miles from Rio de Janeiro. Buzios has 23 beaches, catering to a different tourist, i.e., surfers will like Geriba while families may prefer Tartaruga.
The waterfront features a fishing village with a harbor filled with colorful boats. Popular activities include snorkeling, scuba diving, hiking, bike riding, shopping for crafts, and dining on the Rua das Pedras.
20. Aparados da Serra National Park
[SEE MAP]
One of Brazil's first national parks, Aparados da Serra was created to protect Itaimbezinho, one of the most impressive canyons in Brazil. Fringed with subtropical forest, the narrow canyon features sheer parallel escarpments with a depth of almost 720 meters (2360 feet).
Two waterfalls cascade into a stone plunge pool that spills over into the Rio do Boi, which winds its narrow way along the canyon bottom. A steep rocky path leads to river from the canyon rim, but it's a tough, hair-raising walk that shouldn't be undertaken lightly.
19. Cathedral of Brasilia
[SEE MAP]
When does a Roman Catholic cathedral not look like a cathedral? When it's designed by Oscar Niemeyer. The Cathedral of Brasília is unique among cathedrals. It is composed of 16 concrete columns, each weighing 90 tons, which resemble an Indian teepee more than a church.
Completed in 1970, statues of the Four Evangelists, designed by Dante Croce, grace the front. Indeed, there is nothing very traditional about this innovative church.
Pelourinho is the historic center of Salvador, which was the first colonial capital of Brazil, and one of the oldest cities in the Americas, being established in 1549. The Pelourinho, which translates as "pillory." is where slaves were punished.
This old town is filled with graceful, colorfully painted pastel buildings, music and dancing in the streets. It's a good place to buy local crafts as well as enjoy a traditional prawn dish.
Ilha Grande, or "Big Island," is a beautiful island off Rio de Janeiro that is largely undeveloped. It was first a leper colony and then was home to a maximum security prison that closed in 1994.
Consequently, beautiful tropical beaches and virgin Atlantic rainforest abound on Ilha Grande. Vila do Abraão, the largest city on the island, has only 1,900 people. Motorized vehicles are banned from the island.
16. Chapada dos Veadeiros National Park
[SEE MAP]
Aureliano Nobrega / Flickr
Chapada dos Veadeiros is a national park in Goias state about 240 km (150 miles) from Brasilia. Many travelers say their visit here was the highlight of their Brazilian trip: cascading waterfalls, lush greenery, wildlife and hiking trails.
They warn, however, that some of the hiking trails are demanding so hikers need to be in good physical condition. They recommend at least two days in the park.
U C L / Flickr
Jericoacoara, more commonly known as Jeri, may be hard to reach, involving bouncing over dirt roads, but the trip to reach this unspoiled beach town just may be worth it.
Hammocks over the water, white sand beaches, sandy roads that usually don't allow motor vehicles all combine to make Jeri a charming place to just chill out. A popular activity is watching stunning sunsets from atop the Por do Sol dune.
14. Curitiba-Paranagua Train Ride
[SEE MAP]
Torajiro Kuruma / Flickr
The Curitiba-Paranagua Train Ride, officially known as the Serra Verde Express, is considered one of the most scenic train rides in Brazil: It cuts through the Atlantic rainforest, going through 14 tunnels and crossing 30 bridges on its 84 km (52-mile) route between modern Curitiba and historic Paranagua in Parana state. Six days a week, the ride ends in Morretes, only continuing to coastal Paranagua on Sundays.
Otávio Nogueira / Flickr
Travelers who enjoy walking without fear of hit by motor vehicles will appreciate Parati (also spelled Paraty) as vehicles aren't allowed in the historic town center. With colorful buildings and pristine beaches, Paraty is considered one of Brazil's historic gems.
Located 200 km (125 miles) south of Rio, horseback riding through the rainforest that ends at the sea is the area's top attraction. Centuries ago, this 16th century colonial town was a major exporter of gold to Europe.
Located in Rio, Copacabana is one of the world's most well-known beaches. It is approximately two miles long and lined with hotels and expensive homes, though there are also much more modest residences scattered in between. A beautiful boardwalk with a black-and-white checked pattern of Portuguese stone flanks the sand.
This is a very vibrant neighborhood that is home to Rio's famous New Year's celebration and several interesting attractions, including the Copacabana Fort, which was constructed in 1914, and the glamorous Hotel Copacabana Palace.
Accommodation: Where to Stay in Rio de Janeiro
One of Brazil's best-preserved colonial towns, Ouro Preto, meaning "black gold", was founded at the end of the 17th century. It quickly became the epicenter of a new gold rush in the state of Minas Gerais.
The city contains well preserved Portuguese colonial architecture, while modern buildings must adhere to historical standards maintained by the city. 18th- and 19th-century churches decorated with gold and the sculptured works of Aleijadinho make Ouro Preto one of the most popular tourist attractions in Brazil.
10. Teatro Amazonas
[SEE MAP]
Teatro Amazonas or Amazon Theatre is an opera house located in Manaus, in the heart of the Amazon Rainforest.
It was built during the heyday of rubber trade using materials from all over the world, with furniture from Paris, marble from Italy, and steel from England. On the outside of the building, the dome was covered with 36,000 decorated ceramic tiles painted in the colors of the Brazilian national flag.
The first performance was given on January 7, 1897, with the Italian opera La Gioconda. The opera house was closed down soon after however as the rubber trade declined and Manaus lost its main source of income. There wasn't a single performance in Teatro Amazonas for 90 years until 1990 when it reopened its doors.
9. Fernando de Noronha
[SEE MAP]
Fernando de Noronha is a beautiful archipelago with pristine beaches, landscapes and wildlife, situated 354 km (220 miles) off the northeastern coast in Brazil. The archipelago was discovered by Amerigo Vespucci in 1503 and temporarily occupied by the Dutch and French before Portugal established dominion in 1737.
Today only the largest of the 21 islands is inhabited with a population of about 3,500. The islands are a Mecca for divers and snorkelers with warm waters year-round and very good visibility even at depths of 50 meters.
Caio Vilela / Wikipedia
For ecotourists, Bonito is the jumping off point for some of the most unique natural attractions in Brazil, including stunning waterfalls and caves. However, its most popular draw is its extremely clear waterways, where you can swim with fish. And for the most adventurous, there is Abismo Anhumas, where visitors can rappel to the bottom of a cavern and walk among stalagmites and other cave formations.
Visitors can also choose to snorkel or even dive in the cavern's waters, which contain even more otherworldly formations.
7. Historic Center of Olinda
[SEE MAP]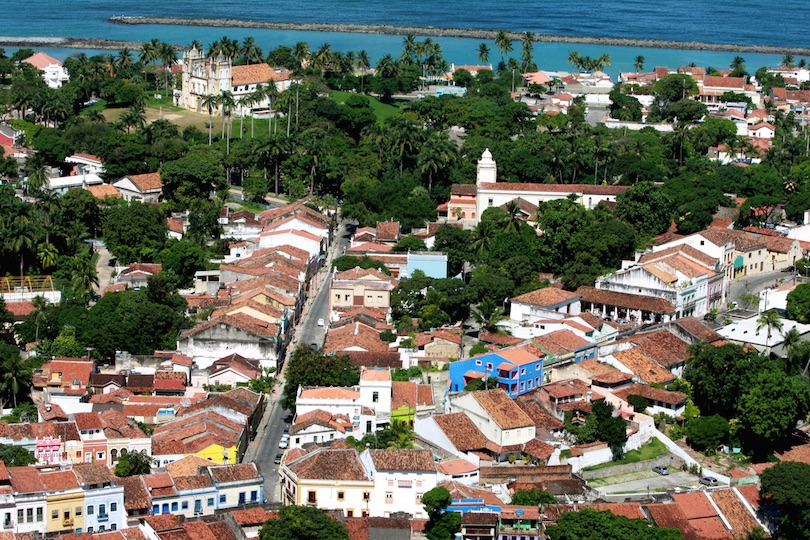 Prefeitura de Olinda / Flickr
Another well preserved colonial city, Olinda is located on the Brazil's northeastern coast, just north of Recife. Olinda is a colorful city, with its red-roofed white buildings that contrast with the blue of Brazil's north Atlantic coast.
The city features a number of major touristic attractions, such as a historic downtown area, churches, and the famous Carnival of Olinda. Many bars, restaurants, artist and craftspeople studios add charm to the old-town setting.
6. Salvador Beaches
[SEE MAP]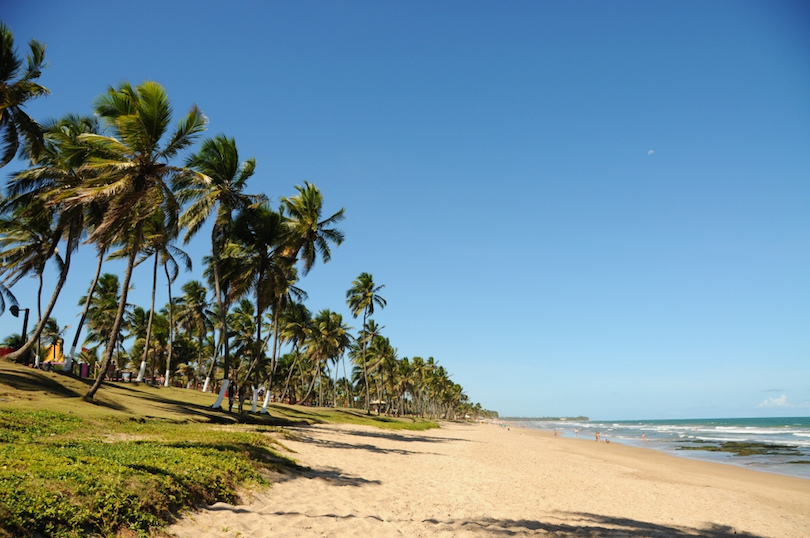 karolajnat / Flickr
Salvador is the capital of the state of Bahia, with an attractive colonial town, a vibrant musical scene and loads of exceptional beaches all around. The beaches range from calm inlets, ideal for swimming, diving and sailing, as well as open sea inlets with strong waves, popular with surfers. There are also beaches surrounded by reefs, forming natural pools of stone, ideal for children.
miquitos / Flickr
The Pantanal is the world's largest wetland, lying mostly in Western Brazil but extending into Bolivia and Paraguay as well. Famous for its wildlife, it is one of Brazil's major tourist attractions.
Unlike the Amazon rainforest, in the Pantanal you are virtually guaranteed to actually see the wildlife. Capybara and the Yacare Caiman are present in the millions. The Pantanal is also home to one of the largest Jaguar populations in the Americas.
Marcus Correa / Flickr
There are carnival celebrations in virtually every corner of Brazil, the best-known ones taking place in Recife together with the neighboring Olinda and Salvador. But the biggest and most famous carnival is undoubtedly the Carnival in Rio de Janeiro. The Rio Carnival attracts two million people per day on the streets and almost half a million foreigners during its 4 day celebration.
The Carnival is all over the place, in the streets and squares, bars, clubs and all other venues in Rio, concluding in the spectacular Rio Samba Parade at the Sambadrome.
At approximately 6,400 km (4,000 miles) the Amazon River is the second longest river in the world, just slightly shorter than the Nile, and the largest river by volume. The Amazon has over 3,000 recognized species of fish and new species are still being discovered.
The Amazon Basin is covered by half of the planet's remaining rainforests. Although a tenth of the world's estimated 10 million living species live in the Amazon rainforest, jungle tours are more about the boating upriver into the damp, buzzing, oppressive ambience than actually spotting animals.
markg6 / Flickr
One of the great natural wonders of the world, Iguaçu Falls is situated on the border between Brazil and Argentina. The waterfall system consists of 275 falls along the Iguazu River. The most impressive of them all is the Devil's Throat a U-shaped with a height of 82 meter (269 ft).
The falls can be reached from the cities Foz do Iguaçu in Brazil and Puerto Iguazú in Argentina, as well as from Ciudad del Este in Paraguay. On the Brazilian side there is a long walkway along the canyon with an extension to the lower base of the Devil's Throat.
1. Christ the Redeemer
[SEE MAP]
Christ the Redeemer is the famous statue of Jesus Christ in Rio de Janeiro. Located at the peak of the 700 meters (2,300 ft) Corcovado mountain, it provides a sweeping panorama from the interior of Guanabara bay to the north, to Lagoa Rodrigo de Freitas to the south.
The Christ the Redeemer statue stands 39.6 meters (130 ft) tall, including its 9.5 meters (31 ft) pedestal and has become an icon of Rio and Brazil.