Sprawling across half of South America, Brazil is the fifth largest country in the world. White-sand beaches, tropical islands, music-filled metropolises and charming colonial towns are dotting its 7,500 km (4,600 miles) long coastline.
Inland, Brazil consist of imposing waterfalls, wetlands filled with wildlife, and the untouched wilderness of the Amazon rainforest where several isolated tribes still live without any contact with the rest of the world.
Brazil, the largest country in Latin America, became a Portuguese colony in 1500, remaining under Portuguese rule for 300 years. Remnants of this heritage can be seen throughout historic colonial cities even today.
Besides these tourist attractions in Brazil, it also has gorgeous beaches, famed for their surfing waves and scenic beauty. Great beaches can be found in the Rio area, while others may be so isolated getting there is an adventure in itself. If you are planning a holiday to this exciting country, here are our recommendations for the best things to do in Brazil.
In this post, we'll cover:
27. Porto de Galinhas
Porto de Galinhas, or "Port of Chickens," on the south coast of Pernambuco in the district of Ipojuca, is a beach town home to some of the most famous beaches in Brazil.
A prominent tourist spot, Porto de Galinhas is breathtaking, with natural crystalline-clear pools, thriving reefs, and white-sugared beaches. Right by the town center, Porto de Galinhas Beach's sands stretch on and on. The section closest to the town is sprinkled with restaurants and bars. Grab refreshing drinks and fill up on food before snorkeling in waters full of tropical fish and tanning in the sun.
The natural pools of Porto de Galinhas are one of the top attractions of Porto de Galinhas. Off the sand strip, these pools are established naturally by the coral reef full of vibrant-colored marine life.
26. Campos do Jordao
Also known as the Switzerland of Brazil, this town is the highest in the country, located more than 1,600 meters (5,300 feet) above sea level in the beautiful Mantiqueira Mountains.
Because it sits at such a high elevation, this resort town offers visitors a refreshing escape from Brazil's heat during the summer months.
Campos do Jordao is probably best known for its Winter Festival, a popular classical musical event held in July that draws musicians from around the world. This town is also a popular draw with active visitors, who can choose from a large variety of things to do, including horseback riding, jeep tours and cable car rides.
25. Lencois Maranhenses National Park
For most people, Brazil conjures up images of stunning beaches and verdant jungles — not sand dunes. But one of its most interesting national parks, Lencois Maranhenses, is home to massive dunes. But this is not the desert. During July, torrential rains actually create gorgeous clear lagoons that can reach depths of 3 meters (10 feet) in some areas.
Interestingly enough, even though these pools are temporary — disappearing during the dry season — there are fish in them. Swimming is allowed and is one of the most popular things to do in Brazil, but visitors should be prepared for warm waters. Temperatures in these pools can be as high as 30 °C (87 °F).
24. Florianopolis Beaches
Also known as Floripa, the 42 beaches of Florianopolis are popular with surfers, partyers and sun worshipers. Arguably, its most popular beach is Joaquina, which boasts huge sand dunes and excellent waves. Though as of late, its neighbor Praia Mole has been stealing some of Joaquina's thunder.
Travelers who like to hangout with the rich and famous should head to Jurere, which boasts huge homes and some of the best night clubs in the area. For those seeking a little solitude, Lagoinha do Leste is the beach they'll want to visit. One caveat, this beach requires about a two-hour hike to reach it.
23. Praia de Pipa
Blessed with postcard-worthy beaches, tall cliffs and clear waters, Praia de Pipa has become one of Brazil's best-known beach destinations and is a favorite with both locals and tourists. The town is also known for its vibrant nightlife and offers visitors a slew of activities, including boating and surfing.
But as popular as it is, the town, itself, is limited in size as it is surrounded by Environmental Protected Areas. That means that visitors can still enjoy the natural beauty of this area and swim in waters that are teeming with dolphins and turtles.
22. Museu de Arte Contemporanea
Museu de Arte Contemporânea de Niterói (MAC), or Niterói Contemporary Art Museum, is well-known for its peculiar architecture, similar to an alien spaceship, that draws in visitors from across the globe.
One of the featured landmarks of the city of Niterói, near Rio de Janeiro, the museum's unique structure was designed by famous Brazilian modernist architect Oscar Niemeyer. The architect, Niemeyer, was one of the main leaders of the Brazilian modernist movement, with Museu de Arte Contemporânea de Niterói being one of his more well-known works.
The museum's location features breathtaking viewpoints of Guanabara Bay, and inside the museum are panoramic views of the bay, Ripe de Janeiro, and Sugar Loaf Mountain. Visitors will also find a diverse array of contemporary art pieces on display to view.
21. Buzios
Buzios, or Armação dos Búzios, is a beach town well-loved by locals and tourists. The town's warm and dry climate, beautiful beaches, and turquoise waters make for a perfect getaway destination.
Northeast of Rio de Janeiro, Buzios is home to many stunning beaches to pick and choose from. You can easily spend more than a few days taking in the appealing tropical weather of Buzios, lingering on the beaches, and soaking up the sun of Brazil's Costa do Sol.
Within Rua das Pedras, the heart of Buzios, are cobblestone streets, boutique shops, restaurants, cafes, and trendy nightclubs popping with activity during the night. Walk down the Orla Bardot Boardwalk, connecting Rua das Pedras to Armacao Beach, for a romantic dinner stroll while peering at the famous statues designed by Christina Motta.
20. Aparados da Serra National Park
One of Brazil's first national parks, Aparados da Serra was created to protect Itaimbezinho, one of the most impressive canyons in Brazil. Fringed with subtropical forest, the narrow canyon features sheer parallel escarpments with a depth of almost 720 meters (2360 feet).
Two waterfalls cascade into a stone plunge pool that spills over into the Rio do Boi, which winds its narrow way along the canyon bottom. A steep rocky path leads to river from the canyon rim, but it's a tough, hair-raising walk that shouldn't be undertaken lightly.
19. Cathedral of Brasilia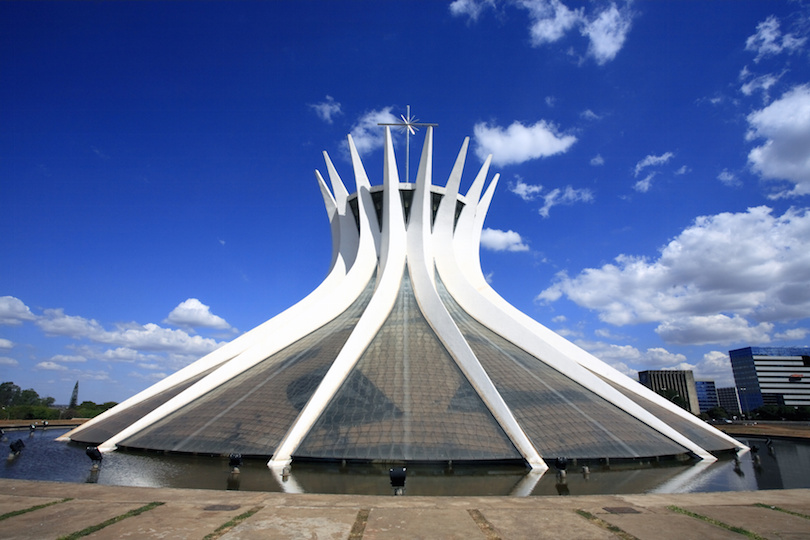 A Roman Catholic church in the capital of Brazil, the Cathedral of Brasilia, acts as the seat of the Archdiocese of Brasilia. Another enigmatic design by famous Brazilian architect Oscar Niemeyer, the cathedral was completed in 1970, showcasing a crown-like structure and a stunning stained glass ceiling.
At the entrance of the Cathedral of Brasilia are four impressive bronze sculptures. These sculptures stand nearly ten feet tall, representing the four Evangelists: Matthew, Mark, Luke, and John.
Within the cathedral's interior are three angel sculptures that hang above the congregation, ranging from 7 to 14 feet tall. The altar within the Cathedral of Brasilia was donated by Pope Paul VI, and the four bells in the bell tower by Spain.
Touring the Cathedral of Brasilia is a popular activity to admire modern architecture and design with its undeniably remarkable appeal.
18. Pelourinho
A historic neighborhood in western Salvador, Bahia, the Pelourinho acted as the city's center during the colonial period. It operated as a slave market until slavery was outlawed in 1835.
Nowadays, Pelourinho is a prosperous hub spot full of culture, history, and opportunities to explore colonial architecture.
There are more than a few noteworthy tourist attractions in Pelourinho. First, visit Igreja de São Francisco, an early 18th-century church established in the High Baroque style. The interior is gilded with intricate artwork that inspires awe, along with the gold-covered ceilings.
Then, watch a live capoeira performance. Capoeira is an Afro-Brazilian martial art intertwining music, acrobatics, dance, and spirituality, performed with traditional Brazilian songs and instruments. Seeing the dazzling displays of spins and kicks is a mesmerizing experience, and a peek into Afro-Brazilian history.
And these are only some of the popular activities and attractions of Pelourinho's rich culture and history waiting to be explored!
17. Ilha Grande
An island located between Sao Paulo and Rio de Janeiro, Ilha Grande is a beautiful and popular weekend getaway destination.
Full of luscious forest trails for hiking, clear water for swimming, and white-sugared beaches for relaxing, it's not hard to lose track of time vacationing in Ilha Grande.
Once upon a time, the island was used as a state prison, a leper colony, and the ideal pirate refuge. Nowadays, Ilha Grande is a flawless vacation spot for locals and tourists looking to get away, relax, and some things to do in the outdoors.
Take a hike to Lopes Mendes Beach, one of Brazil's most frequently ranked top beaches. Its endless coastline, serene atmosphere, and crystal-clear water exude a peaceful vibe that is easy to sink into. Ilha Grande has more than a few hikes available for the avid adventurer.
Hike near Vila de Abraao, passing the old prison that housed political prisoners, or hike to the island's highest point, Pico de Papagayo, for a challenge.
16. Chapada dos Veadeiros National Park
Found centrally in Goias, with access points from Sao Jorge and Alto Paraiso, Chapada dos Veadeiros National Park is situated above an ancient plateau aged at an impressive two billion years.
Throughout the national park are cascading waterfalls, dipping valleys, and steep canyons. The hikes make for a rewarding excursion. For example, the Cachoeira Macaquinhos, or Little Monkey Waterfall, the trail is less than a three-mile hike. It is beginner-friendly, offering up views of emerald-dipped pools poured into by rushing waterfalls.
Check out Vale da Lua in Chapada dos Veadeiros National Park. This unusual rock formation was created by millennia of erosion and is one of the park's top attractions. Then, take pictures at the famous window frame-like landmark, Mirante de Janela, with sensational background views of Chapada dos Veadeiros National Park.
15. Jericoacoara
A small fishing village transformed into a popping beach resort site, Jericoacoara, also known as Jijoca or Jeri, is one of those utopia vacation spots where you end up extending your trip to stay longer.
In Ceara, west of Fortaleza, Jericoacoara is a popular spot for windsurfing, kitesurfing, surfing, swimming, and backpacking. The streets are paved with sand instead of cement—the beach's undeveloped coastlines, packed with sand dunes, stretching beyond sight.
Visit Jericoacoara National Park, which features Lagoa do Paraiso, a stunning turquoise lagoon with nearby hammocks to sway and relax in and bars to enjoy refreshments. Order fresh lobster, oysters, and other seafood dishes from local restaurants. Once nighttime hits Jericoacoara, join locals and fellow tourists at the numerous clubs and bars where live music serenades through the night.
14. Curitiba-Paranagua Train Ride
寅次郎 / Flickr
The most famous railway in Brazil, the Serra Verde Express, is where visitors can hop on a Curitiba-Paranagua Train Ride through southwestern Brazil.
The Belgium-French company Chemin de Fer Bresilien established the Curitiba-Paranagua Railway to gain access to the port of Paranagua. The railway line took five years to construct, an engineering masterpiece of the 19th century.
On this famous scenic ride, passengers can see glorious landscapes as the train passes through thriving forests, up steep mountain slopes, along lengthy rivers, and past sparkling lakes. Then, look out of Veu de Noiva Waterfall, cascading over a steep rock formation for a stunning image said to fall over the stones like a "bride's veil".
13. Paraty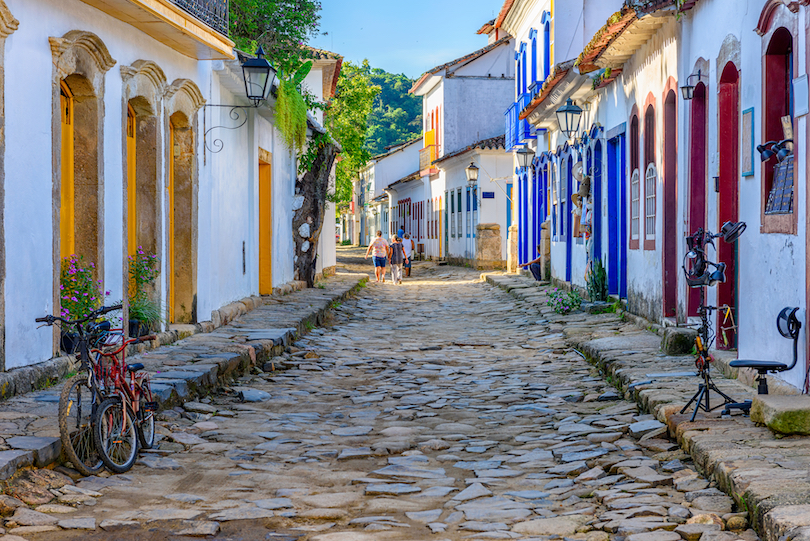 A small, charming town between Sao Paulo and Rio de Janeiro, Paraty is situated at a scenic location featuring mountain backdrops, historic landmarks, and a waterfront setting.
Previously a bustling port during the Brazilian Gold Rush, the town has quickly become a favored tourist spot thanks to its natural appeal, Portuguese colonial architecture, and diverse activity options.
However, its cobblestoned streets are a step back in time, presenting only a piece of Paraty's heritage. Stroll through Matriz Square, past white-painted houses with colorful doors and window frames, to Santa Rita church to bask in local history, culture, and architecture.
Complete the rewarding Mamangua Sugarloaf Peak Hike to the top of Mamangua Peak. Here, you'll see the world's only tropical fjord, the Saco do Mamangua. Kayak through Paraty's mangroves, beaches, and coves, to witness the natural wonders of Paraty that draw in visitors from across the globe.
12. Copacabana
Located in Rio, Copacabana is one of the world's most well-known beaches. It is approximately two miles long and lined with hotels and expensive homes, though there are also much more modest residences scattered in between. A beautiful boardwalk with a black-and-white checked pattern of Portuguese stone flanks the sand.
This is a very vibrant neighborhood that is home to Rio's famous New Year's celebration and several interesting tourist attractions, including the Copacabana Fort, which was constructed in 1914, and the glamorous Hotel Copacabana Palace.
11. Ouro Preto
Ouro Preto is a historic colonial town in the Serra do Espinhaco mountains, north of Rio de Janeiro, featuring baroque architecture and cobbled streets.
Founded at the end of the 17th century, the town played a crucial role in Brazil's late 17th century Gold Rush, quickly becoming one of the richest and biggest towns. It was also the birthplace of Brazil's most noteworthy artist and sculptor, Aleijadinho. Many of Aleijadinho's masterpieces can be seen speckled throughout the city, plus a collection of sculptures in the Museum of Aleijadinho.
Outside Ouro Preto is the world's largest gold mine open to the public, found in Mariana. Guided tours take visitors through the gold mine on an old cable car while exploring the history of the mine. And throughout the town of Ouro Preto are many spectacularly designed churches featuring intricate design and architecture. Many of these churches were embellished with native gold.
10. Teatro Amazonas
Teatro Amazonas or Amazon Theatre is an opera house located in Manaus, in the heart of the Amazon Rainforest.
It was built during the heyday of rubber trade using materials from all over the world, with furniture from Paris, marble from Italy, and steel from England. On the outside of the building, the dome was covered with 36,000 decorated ceramic tiles painted in the colors of the Brazilian national flag.
The first performance was given on January 7, 1897, with the Italian opera La Gioconda. The opera house was closed down soon after however as the rubber trade declined and Manaus lost its main source of income. There wasn't a single performance in Teatro Amazonas for 90 years until 1990 when it reopened its doors.
9. Fernando de Noronha
Fernando de Noronha is a beautiful archipelago with pristine beaches, landscapes and wildlife, situated 354 km (220 miles) off the northeastern coast in Brazil. The archipelago was discovered by Amerigo Vespucci in 1503 and temporarily occupied by the Dutch and French before Portugal established dominion in 1737.
Today only the largest of the 21 islands is inhabited with a population of about 3,500. The islands are a Mecca for divers and snorkelers with warm waters year-round and very good visibility even at depths of 50 meters.
8. Bonito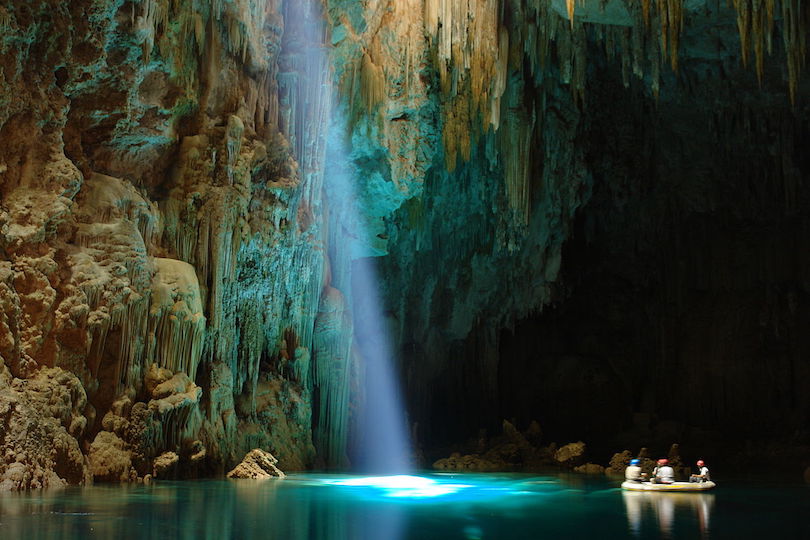 Caio Vilela / Wikipedia
Established in the Bodoquena Sierra, in Mato Grosso do Sul, Bonito is a quaint town and prevalent ecotourism hub.
Crystalline waterways and prosperous forests surround Bonito. One of the biggest attractions of Bonito is Rio de Prata, or Silver River. The river's aquamarine water brims with friendly fish, making it an excellent snorkeling spot.
Another is the Gruta do Lago Azul, or Blue Lake Grotto. The grotto is an otherworldly underwater cave filled with blue water. Scuba diving, swimming, and snorkeling are popular at the grotto; if you're lucky, you might discover fossils of ancient prehistoric animals!
Within Bonito is Aquario de Natural, a marine preserve that is only a short trek through the jungle. Swimming, snorkeling, and glass-bottomed boat tours are popular here for a memorable adventure through the clear waters full of vibrant-colored fish lazily swimming about.
7. Historic Center of Olinda
On the northeastern coast of Brazil in Pernambuco, north of Recife, is the historic city of Olinda. The city was founded in the 16th century and is considered one of the best-preserved colonial cities in Brazil.
The Historic Center of Olinda is teeming with architecturally stunning buildings surrounded by rich vegetation and oceanside backsplashes. The city's history is linked to the sugarcane industry, the historic center presenting the nourishment of wealth that inspired its economy to boom in the 16th century. The Catedral Alto da Se, a former Jesuit church, is the perfect example of Olinda's appealing architecture and prosperous history.
Walking through the Historic Center of Olinda is a journey through Brazil's history, surrounded by monuments, churches, and houses that date back centuries.
6. Salvador Beaches
In the northeast region of Brazil is Salvador, the capital of Bahia, home to some of the best beaches in Brazil.
Praia Itapua is a fine white-sanded beach, palm frond, and coconut tree-speckled paradise. The beach is near the notoriously artistic and culturally rich neighborhood of Itapua. The nearby venues have an eclectic and bohemian vibe paired with entertaining live music and tasty food options, like "acaraje", a spicy fried-bean dish.
Join the locals at Boa Viagem, a beach strip flanked by beachfront bars, nightclubs, seafood restaurants, and a boardwalk perfect for strolling along the beach. Coral reefs protect the shallow waters of Boa Viagem, which is ideal for families to take their kids for a beach day.
The beach options are endless in Salvador!
5. Pantanal
The world's largest flooded grasslands and largest tropical wetland area, most of the Pantanal lies within Mato Grosso do Sul, with some of it extending into Paraguay and Bolivia.
Larger than 29 U.S. states and nearly nine European countries, these wetlands are a fantastical wonderland of nature's beauty. This refuge for wildlife is home to about 10 million caimans and just as many jaguars that hunt caimans in the Pantanal. You can also find the largest parrot in the world here, the hyacinth macaw.
These are only some of the astonishing animals in the Pantanal, drawing in millions of tourists annually to catch sight of the numerous awe-inspiring species living here, including toucans and capybaras.
From horseback to canoe, there are numerous methods to adventuring the glorious commodity of the Pantanal!
4. Rio Carnival
There are carnival celebrations in virtually every corner of Brazil, the best-known ones taking place in Recife together with the neighboring Olinda and Salvador. But the biggest and most famous carnival is undoubtedly the Carnival in Rio de Janeiro. The Rio Carnival attracts two million people per day on the streets and almost half a million foreigners during its 4 day celebration.
The Carnival is all over the place, in the streets and squares, bars, clubs and all other venues in Rio, concluding in the spectacular Rio Samba Parade at the Sambadrome.
3. Amazon River
The largest river in the world by water volume, the Amazon River traverses nine South American countries, including Brazil, Ecuador, Peru, and Venezuela.
Nurturing the largest rainforest on earth, this mighty river is still widely unexplored, hiding discoveries and opportunities. In northwestern Brazil lies Manaus, the only city in the Amazon Rainforest that boasts a population of over one million people.
People travel from all over the world to Manaus to get a chance to explore, whether it be on a one-of-a-kind Amazon river tour or a backpacking adventure through its lush Amazonian jungles. Through these experiences, you can get the unique chance to see sloths, toucans, macaws, and the boto, the phenomenal pink-ish colored river dolphin.
2. Iguacu Falls
One of the great natural wonders of the world, Iguaçu Falls is situated on the border between Brazil and Argentina. The waterfall system consists of 275 falls along the Iguazu River. The most impressive of them all is the Devil's Throat a U-shaped with a height of 82 meter (269 ft).
The falls can be reached from the cities Foz do Iguaçu in Brazil and Puerto Iguazú in Argentina, as well as from Ciudad del Este in Paraguay. On the Brazilian side there is a long walkway along the canyon with an extension to the lower base of the Devil's Throat.
1. Christ the Redeemer
An iconic landmark welcoming visitors to Rio de Janeiro, the Christ the Redeemer statue was labeled one of the New Seven Wonders of the World in 2007.
One of the most visited and well-known tourist attractions in Brazil, the statue was established more than 90 years ago. It is the largest Art Deco statue in the world and, shockingly, only the fourth tallest statue of Jesus Christ in the world.
The cultural icon has become a global symbol, attracting millions of believers and non-believers alike to see the Christ the Redeemer statue in person as it overlooks Rio de Janeiro atop Corcovado Mountain.
Map of Tourist Attractions in Brazil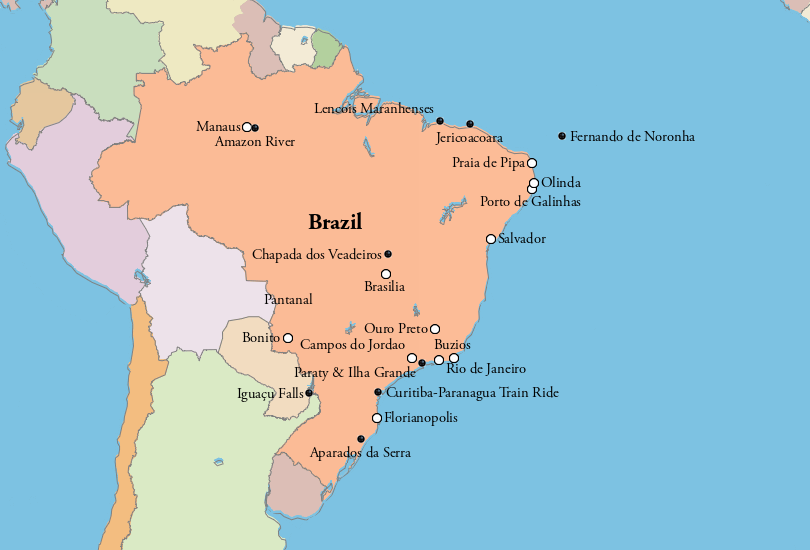 © OpenStreetMap © MapTiler © Touropia