As it is the largest metropolis in the Americas, Sao Paulo offers an intense cultural experience. Tropical plants, charismatic people, and lively, bright colors, sounds and scents surround every traveler here, from the moment they step from the plane.
A concrete jungle punctuated by picturesque parks, the sprawling Sampa is the commercial, cultural, and culinary capital of the country. It is a melting pot city, and has large, integrated populations of Italian and Japanese cultures among others. This fusion of culture has created beautiful combination art, culinary scene, and music that are well worth exploring.
Along and around Avenida Paulista, its main thoroughfare, are tons of tourist attractions with terrific shops and top cultural institutions like MASP to explore.
With famous football teams and world-class concerts to watch, there are always exciting and new things to do in Sao Paulo. Often overshadowed by other cities in Brazil, Sao Paulo's thriving cultural scene, pounding nightlife, and the range of international cuisine available make it well worth a visit.
In this post, we'll cover:
23. Independence Park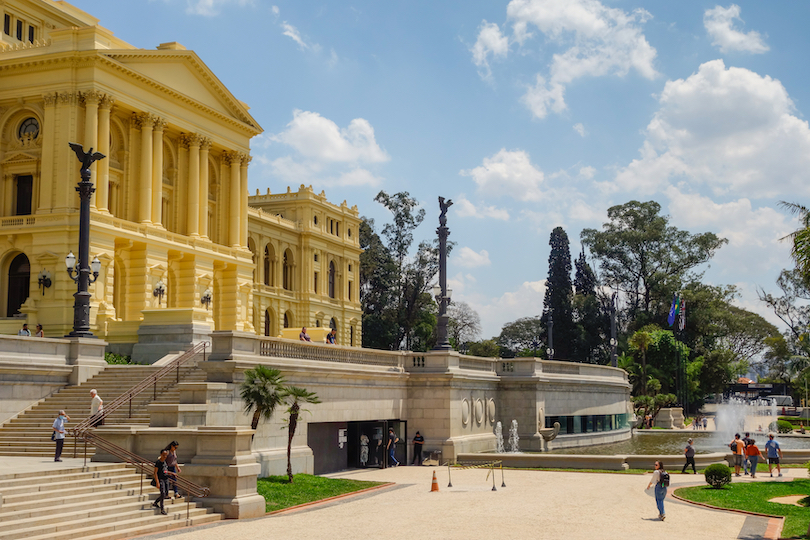 Home to some of the most important monuments and museums in Sao Paulo, Independence Park lies just a short public transport journey southeast of the center. One of the largest green spaces in the city, it has lots of lush, landscaped gardens to wander around.
Remarkably enough, it was along the park's small stream that Brazil's independence was proclaimed by Prince Pedro in 1822. A marvelous monument adorned with dozens of sculptures and bas-reliefs now commemorates this auspicious event. These depict key moments and figures from the country's history with the later emperor and his wives being buried in a crypt below all the dramatic scenes.
To learn more about Brazil's fascinating past, head to the excellent Ipiranga Museum in the park. Its Eclectic-style palace houses all kinds of artifacts and exhibits, furniture, and photos, mainly relating to its empire. The highlight though is definitely its Independence or Death painted by Pedro Americo.
22. Batman Alley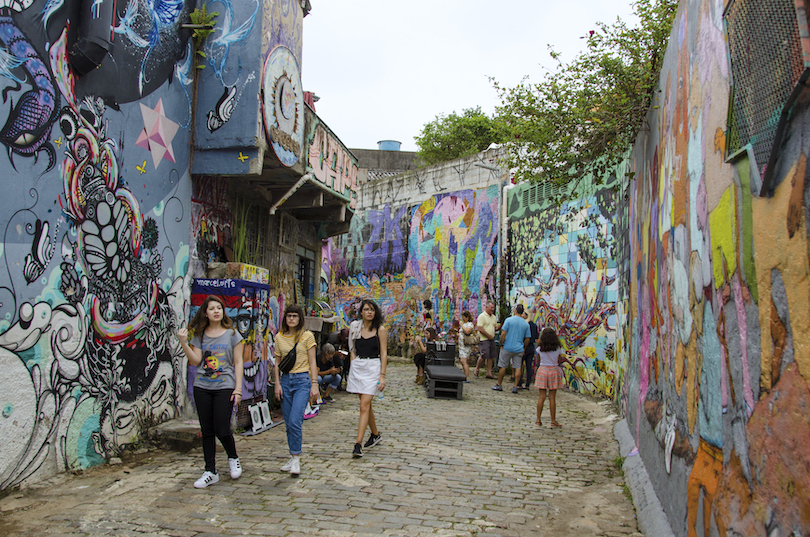 While the city, country, and even continent as a whole is known for its awesome street art, the best place to visit in Sampa for it is certainly Batman Alley. Named after an early piece of artwork that is now long gone, its many colourful, creative murals are ever-changing.
Located in Vila Madalena, Beco do Batman (as it is called in Portuguese) formerly contained a rather sweet mural of the fierce crime fighter hugging world-famous football legend Pele. Long since spray painted over, the alley feels like an open-air gallery with new works displayed all the time. Expect to see everything from brightly-colored animals and flowers to social commentary, lucid scenes, and of course comic book heroes.
Once you've snapped some photos and new, cool profile pics, make sure to explore the surrounding neighborhood. As well as trendy restaurants and bars, there are yet more murals to stumble across in the streets nearby. Its bohemian vibe and, of course, the brilliant Batman Alley made it one of our favorite parts of the city to amble around.
21. Instituto Tomie Ohtake
Not far away too is the Instituto Tomie Ohtake which also displays loads of thought-provoking pieces. Housed in a very intriguing-looking skyscraper, the cultural center puts on countless art, design, and architecture exhibitions.
First opened in 2001, the outstanding institute is named after the renowned Japanese-Brazilian artist who's architect son also actually designed the eye-catching building. Its distinctive curved shape is only fitting considering his mother was a key representative of informal abstractionism in the country.
Now a landmark of the city's skyline, its two towers also contain a convention center, restaurant, and theater. In its seven spacious exhibition halls, guests can inspect avant-garde sculptures, interesting visual art installations or award-winning photo displays. Very highly rated for its rotating exhibits, the institute is one of Brazil's most important contemporary art venues.
20. Italian Building Observation Deck
For some of the best views imaginable over the sprawling metropolis, head up to the Italian Building Observation Deck. From the 46th floor, you can gaze out over its vast sea of skyscrapers spreading endlessly away toward the horizon.
One of the tallest buildings on the continent, Edificio Italia stands a staggering 165 meters in height, having been built between 1956 and 1965. Designed by Brazilian architect Franz Heep, it is located within the Republica district of the city center.
Up high, you really appreciate the immense size and scale of the city with sunset being a particularly memorable time to visit. The enormous office tower also has a fancy restaurant and piano bar where you can enjoy a drink or meal. Make sure to check all the entrance requirements beforehand though as there is a dress code and only online bookings are allowed…
19. Cycle or Walk the Minhocao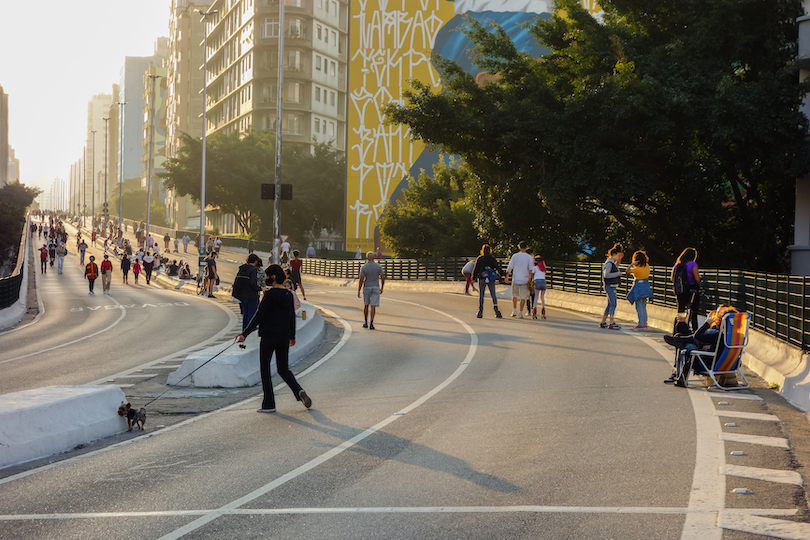 One of the most fun things to do in Sao Paulo and a wonderful way to take in its vibrant atmosphere is to walk, run or cycle along the Minhoção. At weekends and after 8 PM on weekdays, the elevated highway is closed off to traffic. At these times, pedestrians and cyclists take over, creating a lovely laidback ambience.
Literally translated as 'Big Worm', the busy highway is often described as an urban planning disaster. Stretching three kilometers in length, it winds its way above the congested streets of the city center, passing right next to apartment block windows for most of the route.
In the evenings and during both weekends and holidays, the vibe of the viaduct changes completely. Instead of honking and fumes, skateboarders, cyclists, dog-walkers, and families flock to the highway en masse. Here they exercise and picnic or simply hang out, sunbathe, and enjoy the silence.
18. Afro Brazil Museum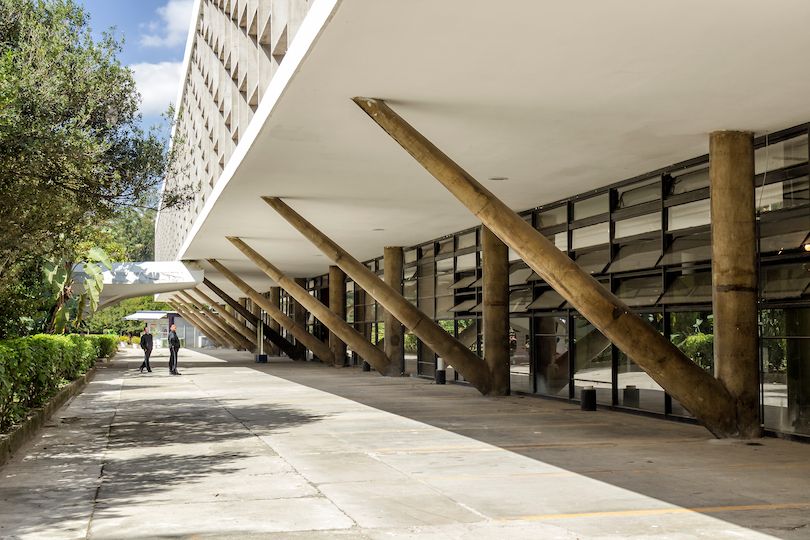 Packed with interesting artifacts and exhibits, the Afro Brazil Museum offers a fascinating look at the history, culture, and heritage of black people in the country. Across its two huge floors, there are tons of paintings and photos, traditional costumes, textiles, and statues to peruse.
Part of the very popular Ibirapuera Park, it was only established in 2004 with its humongous building having been designed by revered architect Oscar Niemeyer. Its exhibits focus on everything from the impact of slavery and Afro-Brazilian cultural spheres to religion, work, and famous figures.
While we really enjoyed all its incredible artifacts and artworks, the museum maybe could have been a bit better laid out. You'll also want to pick up an audio guide as barely any exhibits are explained in English. We'd highly recommend the collection though and were a bit sad that there were almost no other visitors around when we stopped by.
17. Galeria do Rock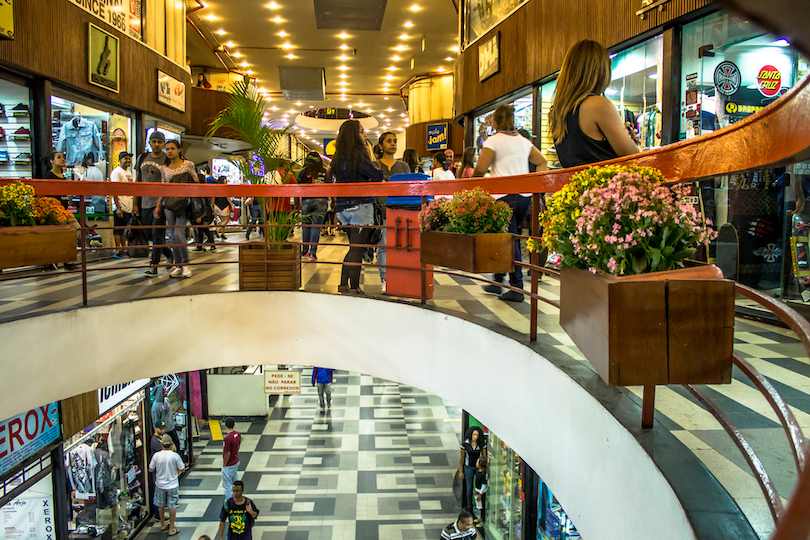 For a fun shopping experience and an alternative vibe, hit up the Galeria do Rock in the Republica part of town. An absolute must for rockers and metalheads, its six floors are full of stores selling CDs and skateboards, band t-shirts, sneakers, and other music-related merch.
Built back in 1962, the massive mall now has roughly 450 shops crammed across its floors to check out. As well as all the endless stores catering to skaters, goths, and hip-hoppers, others specialize in anime, piercings, and tattoos.
While it lies just around the corner from the chic, sophisticated Municipal Theatre, the atmosphere of the streets surrounding the shopping center couldn't be more different. Quite run down, they have a sketchy feel though are safe enough – just keep an eye on your possessions.
Just two minutes walk from the Galeria do Rock is the absolutely brilliant Brazil Tattoo Museum. Well off-the-beaten-path, the renowned Polaco Tattoo Shop has lots of super cool artworks, paintings, and old pieces of equipment to examine. We really loved seeing all the amazing ink designs after having wandered around the heart of Sao Paulo's underground scene.
16. Butantan Institute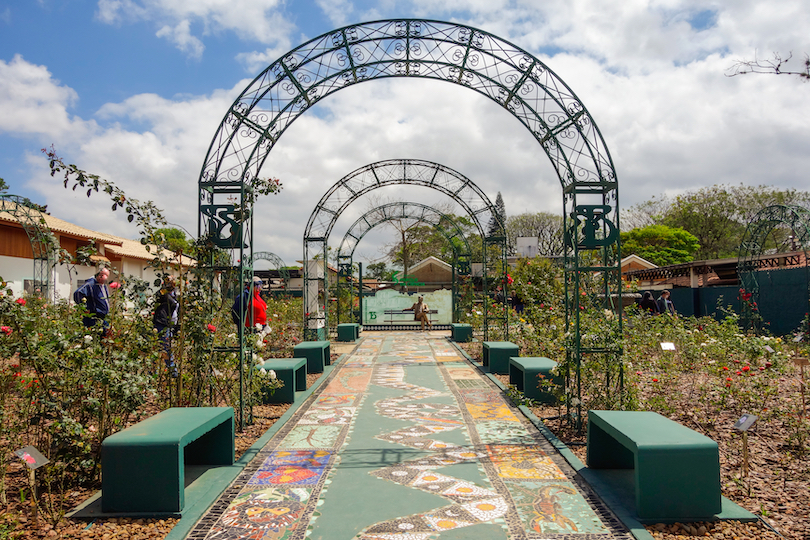 Lying just across the Pinheiros River from Vila Madalena, Batman Alley, and Instituto Tomie Ohtake is the Butantan Institute. One of the world's most important scientific centers, it has three museums and a never-ending number of reptiles, spiders, and snakes to see.
Now the largest immunobiological and biopharmaceuticals producer in Latin America, the research institute was established in 1901. At its expansive site in western Sao Paulo, guests can learn about microbiology, vaccines, and how venom is extracted and used in experiments. Other parts also cover the history, achievements, and evolution of the prestigious science center.
The highlight though has to be seeing all its venomous scorpions, snakes, and creepy crawlies. After ogling at its brightly-colored insects and lizards, you can stroll around its leafy, landscaped grounds.
15. Paroquia Nossa Senhora do Brasil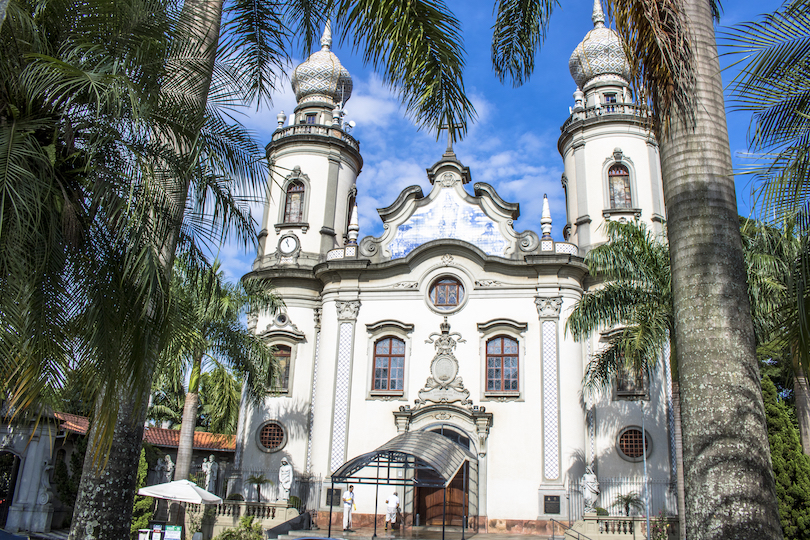 With its two terrific onion domes, fine facade, and exquisitely decorated interior, the Paroquia Nossa Senhora do Brasil is definitely worth stopping by if you have the time. Located just up the road from the Museum of Image and Sound, it is a very popular place to host baptisms and weddings.
Dating to 1940, the beautiful Baroque church has some very pretty Portuguese tiles placed above its already ornate entrance. Yet more of the distinctive blue and white scenes cover its walls inside and the borders around its stunning stained-glass windows. Hand-painted, these depict various religious figures and famed stories from the Bible.
Particularly eye-catching is its phenomenal ceiling painting of a starry sky above the glittering golden altar. Leading up to it too are dozens of delightfully painted scenes that are styled after those of the Sistine Chapel. Many multi-colored tiles and artworks also decorate parts of the lovely little church.
14. Jardim Botanico de Sao Paulo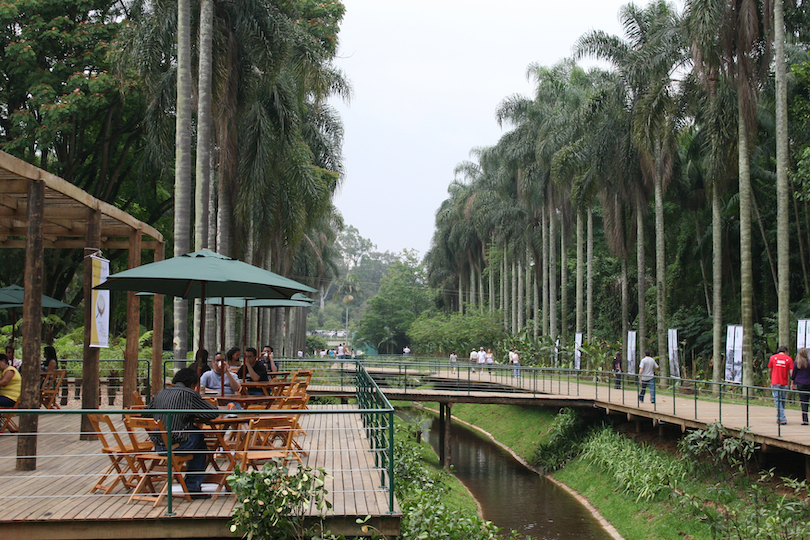 Sprawling across a ginormous area in the city's South zone is the gorgeous Jardim Botânico de São Paulo. Full of colourful plants, flowers, trees, and shrubs, its winding paths and reflective ponds are a treat to amble about.
Once a state park, its lush green confines and vast swathes of Atlantic Forest were transformed into a botanical garden back in 1928. Amidst all its towering trees and dense undergrowth there are now plenty of paths to explore. While moseying along, you may spy some monkeys playing in the canopy or adorable armadillos and agoutis at ground level. There are also a couple of greenhouses home to orchids and aquatic plants to enter.
After the hustle and bustle of the center and all its endless concrete, the picturesque gardens make a very pleasant change of pace and scenery. To make the trip more worthwhile, you can always visit the city zoo right next to it too.
13. Mosteiro De Sao Bento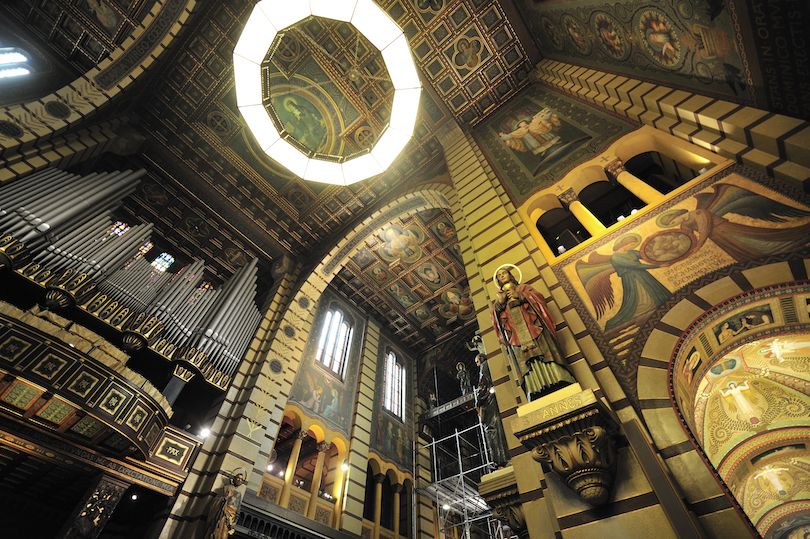 In between Sao Paulo's Municipal Theater and Municipal Market is the magnificent Mosteiro De Sao Bento. Exhibiting some astounding architecture and artworks, its church is often listed as a must-visit with glorious Gregorian chanting also taking place on Sunday mornings.
Although the Benedictine Monastery was founded in the sixteenth-century, the current complex only dates to the early 1900s. Almost certain to be unlike any other church you'll come across in Brazil, its dark, atmospheric interior is coated in muted murals inspired by the Beuron Art School. Only adding to its awe-inspiring look and feel are its wonderful wood statues of saints and its hulking great organ. Sparkling stained-glass windows let in some light while graceful arcades look out over its long nave.
The church's rather austere yet imposing facade also makes for some fabulous photos as do all the artworks inside. Still a working monastery home to a brotherhood of monks, its memorable Sunday morning masses are accompanied by Gregorian chanting and organ music. You can also dine at the religious complex afterwards or pick up some cakes, biscuits, and bread at their bakery.
12. Museu Catavento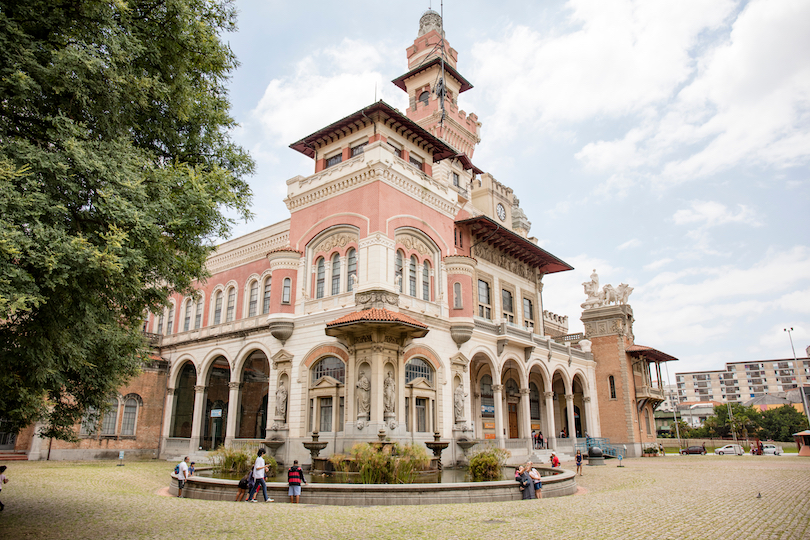 Yet another interesting and unique building to see is the Museu Catavento which lies just across the Tamanduatei River. Long a firm favorite with families and school trips, it now houses lots of thrilling science and technology exhibits.
While the museum was only opened back in 2009, the Eclectic-style palace was completed almost a hundred years earlier. After having originally hosted industrial exhibitions and later even a legislative assembly, it served briefly as the City Hall. The building certainly is grand enough as its lofty, turreted tower overlooks an imaginative-looking facade and old trains and planes dotted around its grounds.
Although we really came for the museum's extraordinary exterior, its hands-on exhibits, and activities were good fun too. These shine a light on everything from Earth and the universe to subjects like the human body, electricity, and engineering. Despite only being explained in Portuguese, they were very well-done with tanks full of fish and butterflies also on show.
11. Sala Sao Paulo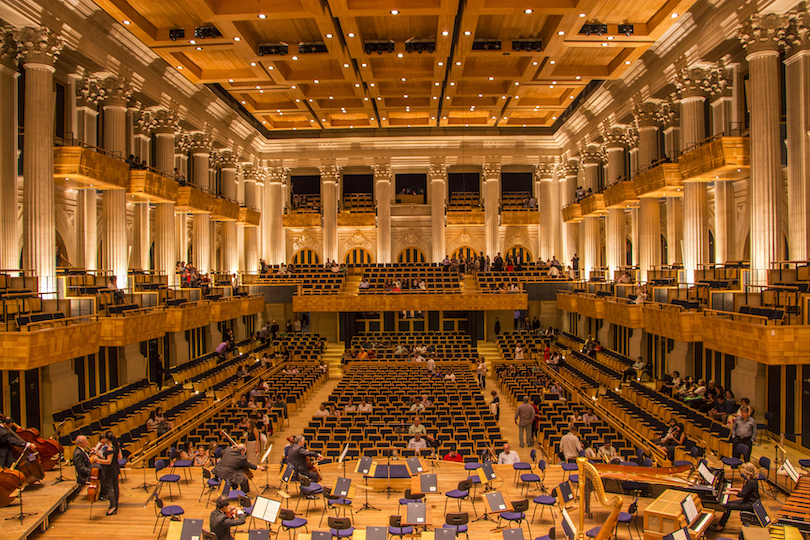 If after all the museums, historic sites, and nature spots you want to see a show, then Sala São Paulo is one of the best places to go. Renowned for its excellent acoustics, the irresistible auditorium puts on a packed schedule of top-class classical concerts and orchestra performances.
Absolutely jaw-dropping, its majestic main concert hall actually occupies what was formerly the Julio Prestes Train Station. Built between 1926 and 1938 by the coffee barons, the enormous neoclassical building was renovated in 1997 to host the Sao Paulo State Symphonic Orchestra.
The plan certainly succeeded as the cavernous 'shoebox-style' hall both looks and sounds out of this world thanks to its adjustable ceiling. Warmly lit, the colossal columns lining its walls are set between fine wooden balconies and mezzanines overlooking the stage. Wherever you sit, you're guaranteed marvelous music in a stunning setting.
10. Mercado Municipal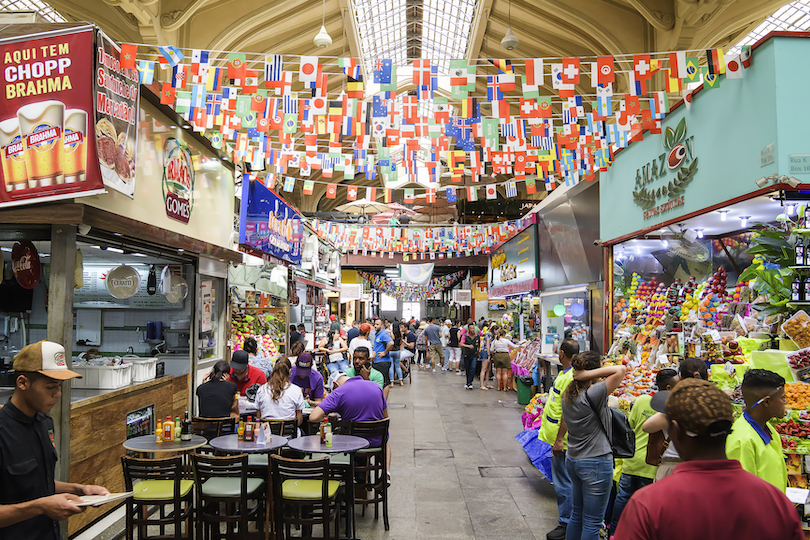 Back towards the river is the massive Mercado Municipal de Sao Paulo. Loads of fun to explore, its stands and stalls sell all kinds of fruit, vegetables, and artisanal food products. Numerous little cafes and restaurants are also scattered here and there.
Similar in style to the Sala, the vast 1933 market building is noted for its soaring columns, vaults, and stained-glass windows. Once past its fetching facade, you'll find rows and rows of endless shops to wander about, all delightfully presented. From its rather boisterous vendors, you can buy exotic fruits and spices or cheeses, meats, and regional wines.
Must-tries here include its signature mortadella sandwich – packed with an absolutely absurd amount of meat – and the bolinhos de bacalhau (fried balls of cod). While the lively atmosphere and artisanal products from the Amazon are fantastic, watch out for the seemingly friendly fruit sellers. As you can see from all the reviews online (and as we experienced!), they are experts at scamming tourists and selling fruit for scandalous prices.
9. Museu da Lingua Portuguesa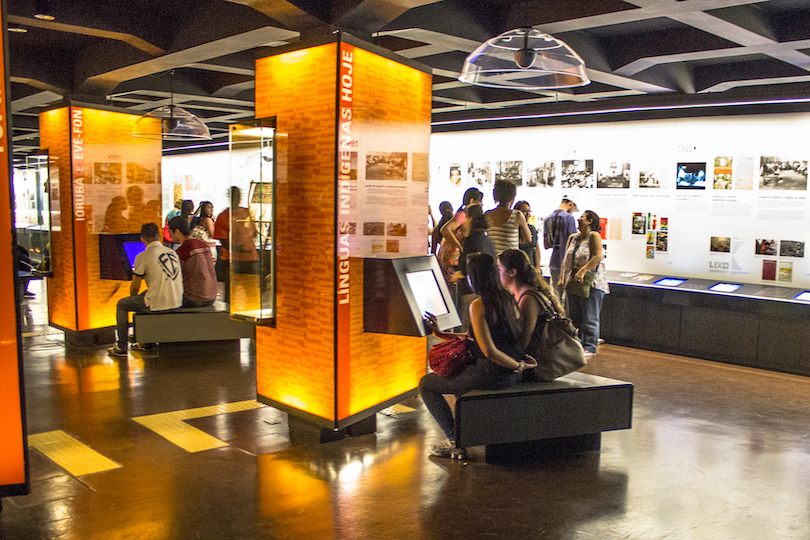 Located right next to the Sala and Pinacoteca, the Museu da Lingua Portuguesa covers the origins, history, and evolution of the lovely language. Across its three floors are tons of interactive exhibitions, images, and sounds with talks and film screenings sometimes taking place.
Founded in 2006, the museum is housed in the very busy Estacao da Luz – the former headquarters of the Sao Paulo Railway. The reason this location was chosen is that thousands of immigrants used to arrive here, ready to start their new lives in the Portuguese-speaking country.
After admiring its formidable facade and famous clock tower, you can learn all about accents, idioms, and cultural influences inside. The museum also contains a small cafe and viewing platform that lies above the station and its adjacent park.
Be aware before heading here though that almost all of its exhibits are only in Portuguese. If you do speak the language, we'd also recommend the moving Memorial da Resistência de Sao Paulo along the same road. The small museum mainly focuses on resistance and repression in the city under the Brazilian dictatorship.
8. Museu do Futebol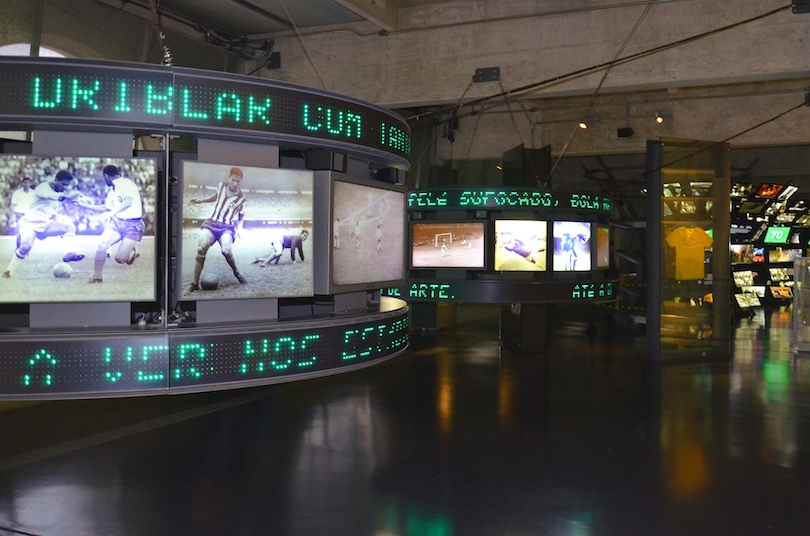 As no other country is so synonymous with the sport as Brazil, you just have to check out the Museu do Futebol if you have the chance. Set within the Art Deco Pacaembu Stadium, it boasts a veritable treasure trove of classic shirts, flags, photos, and trophies.
Inaugurated in 2008, its galleries look at the huge impact football has had on the nation's history and culture. Giant screens play out famous World Cup wins with other rooms covering legendary players like Pele, Garrincha, Ronaldo, and Ronaldinho. All its emotive images and radio interviews perfectly highlight why it is such a key part of Brazil's identity,
Although its exhibitions are again mostly only in Portuguese, its epic videos, photos, and memorabilia still make it a must. There is also a fun shooting game to try and tours to take of this iconic stadium. Die-hard fans of the beautiful game will find it impossible to leave the museum shop without at least a couple of retro jerseys in hand.
As the city is home to some of the biggest teams in Brazil – Corinthians, Sao Paulo, and Palmeiras – it is a great place to catch a match. Thanks to the heaving crowds of passionate fans, the atmosphere promises to be utterly intoxicating and unforgettable.
7. Sao Paulo Cathedral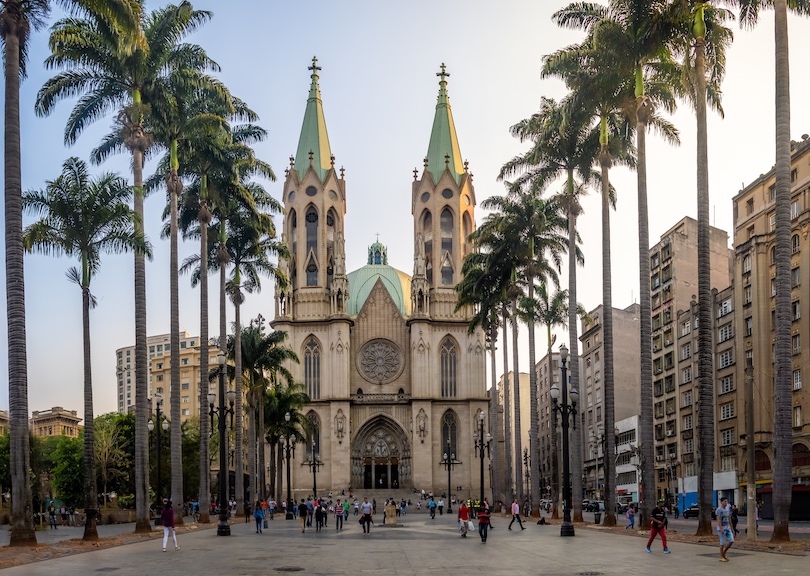 Certainly one of the city's most beautiful buildings, São Paulo Cathedral's gigantic dome, and tall twin towers rise up dramatically above the large square and palm trees below. Exhibiting some gorgeous Gothic Revival-style architecture, it also has a cool crypt for you to enter.
Slowly completed over the course of four decades, it was eventually consecrated in 1954, right in the heart of town. Remarkably enough, a church has now stood in the exact same spot since 1589 when only a small settlement existed. Both from up close and afar, it makes for some phenomenal photos, what with the leafy palms all around it.
Inside is just as spectacular as fine religious artworks and superb stained glass windows decorate its walls. We really liked seeing the cathedral's atmospheric crypt which contains marble sculptures and the tombs of influential figures. This includes the final resting place of Tibirica – the friendly local chief who made the city's founding possible.
Despite the large police presence around the cathedral, the surrounding area is still decidedly dodgy to walk around. Watch out when taking photos outside and keep an eye on your possessions.
6. Teatro Municipal De Sao Paulo
Rivaling the cathedral in terms of its splendor though has to be the Teatro Municipal De Sao Paulo. One of South America's most important venues for the performing arts, it hosts outstanding operas, ballets, and concerts.
As most of the Brazilian bourgeoisie lived in the city in the twentieth century, the decision was made to build an opulent opera house. In 1911, the lavish theater was unveiled with everyone admiring its arresting mix of Baroque, Renaissance, and Art Nouveau architecture. Over the decades, big names such as Bidu Sayao, Tito Schipa, and Carla Fracci have all graced its hallowed stage.
Now home to the city's ballet, choir, and symphony orchestra, its lobby, Noble Room and Great Hall are resplendently decorated. If you don't manage to grab a ticket to a show, you can take tours of all their rich red and gold interiors instead. Besides learning about the landmark theater's past, you can see all its sumptuous stuccowork, sculptures, and stained-glass windows.
5. Pinacoteca do Estado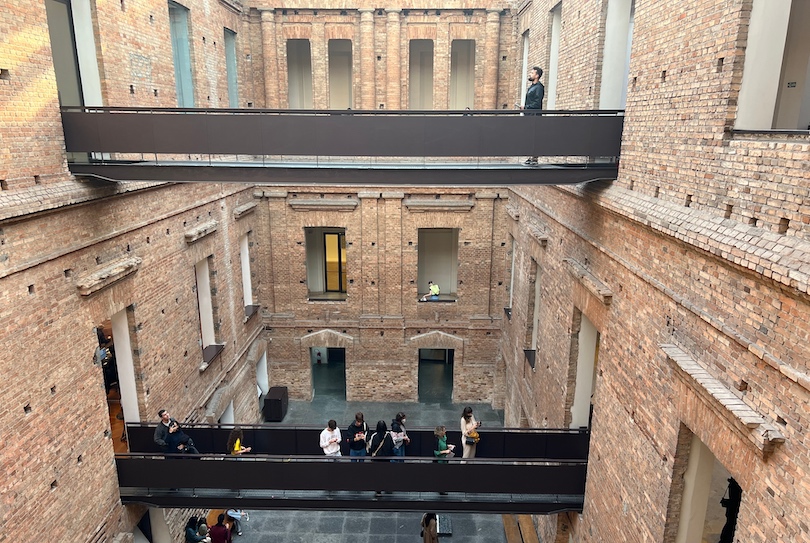 Another of both the city and country's main arts institutes is the prestigious Pinacoteca do Estado. At the very highly-rated museum, you can examine some of the best Brazilian paintings and sculptures from the nineteenth century.
The oldest art museum in Sao Paulo, the Pina was established back in 1905. Its extensive collection of some 10,000 or so artworks now occupies what was once the headquarters of the Lyceum of Arts and Crafts. The renovated building's exposed brickwork, airy central atrium, and impressive staircase already make it memorable to visit.
On display in its light-filled rooms are wonderful masterpieces by Tarsila do Amaral, Anita Malatti, and Lasar Segall among others. With drawings, engravings, and photos also featured, the Pinacoteca is a must for many. It also conveniently lies right next to many of the city's other main sights, just behind the Estacao da Luz in a green park.
4. Avenida Paulista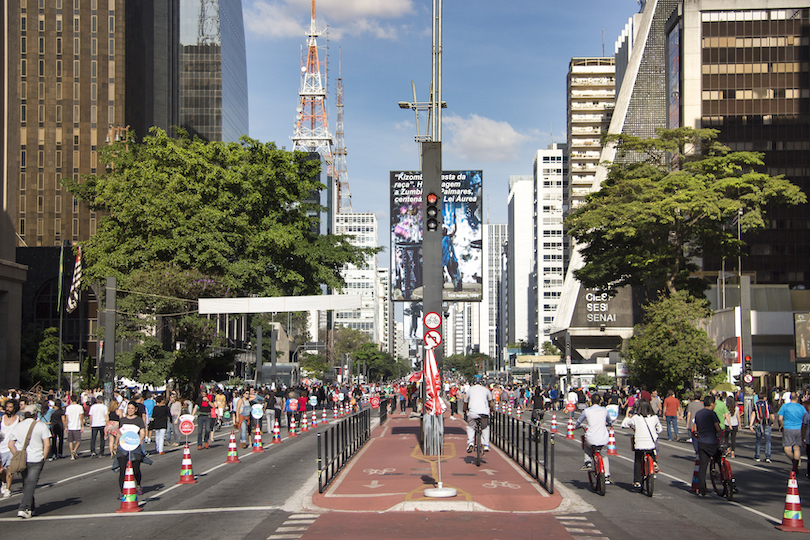 Running its way right through the city is the iconic Avenida Paulista. The pride of Paulistas, the busy thoroughfare is lined by countless shops, restaurants, galleries, theaters, and museums. Overlooked by glinting glass high-rises, it is both an important center of finance and politics and an entertainment and cultural hub.
Connecting numerous neighborhoods together, the seemingly endless, straight avenue stretches almost three kilometers in length. Its bustling sidewalks bristle with cafes, bars, and shopping centers with exclusive private schools and financial institutions also dotted about. At any time of day, it has a very vibrant ambience with something always going on. Along here, we really enjoyed the Itau Cultural Centre's old maps and drawings of the country and Sesc's spellbinding viewpoint.
While we didn't really get all the fuss above the avenue, we admittedly didn't visit on Sundays when it is closed off to traffic. As with the Minhoção, people exercise, picnic, and listen to street performers or shop and hang out with friends and family. Avenida Paulista also hosts some very popular events with both New Year's Eve parties and Pride taking place here.
3. Museu de Arte de Sao Paulo (MASP)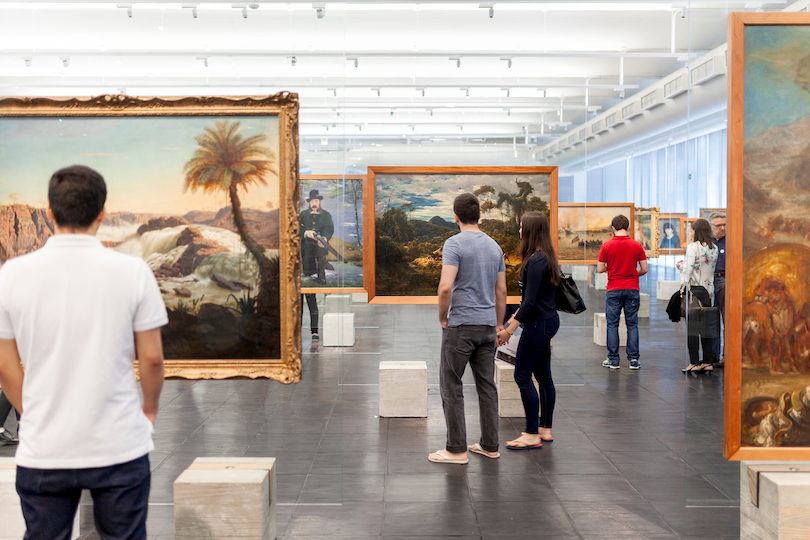 Along it too is the must-see MASP which is yet another of the continent's most celebrated museums. With its distinctive building, delightfully different layout, and hundreds of thought-provoking art pieces, it was definitely one of the best places we visited in Sao Paulo.
Internationally recognized for its collection of European art, the magnificent museum was founded in 1947 with Brazilian, African, and Asian works also featuring. Displayed in its large, open galleries are fabulous paintings by Picasso, Monet, and Van Gogh alongside many others. As they are all mounted on glass in the middle of the floor, you can inspect them from every angle.
Immediately recognizable, the museum's gigantic glass construction is suspended in the air between two bright red concrete supports. One of Brazil's best-known Brutalist structures, it was designed by architect Lina Bo Bardi. Almost as interesting as all the artworks themselves, the imposing modernist building makes for some fantastic photos.
2. Liberdade District
One of the coolest parts of the city to explore has to be the Liberdade District which has a distinctly Japanese look, feel, and identity. As well as all its sushi joints and specialist supermarkets, countless cramped shops sell cheap electronics, manga comics, and souvenirs.
Believed to be home to the largest Japanese community outside of Japan, its origins date to around 1912 when thousands of families moved here for the cheap rent. Loads of Chinese, Taiwanese, and Koreans now also live in the area. As a result, you can find shops and restaurants selling tasty food and traditional products from all three countries.
Although we really liked the Japanese District's different flavor, we did expect the neighborhood to be a bit bigger. It was fun though walking beneath its torii gate along lantern-lined streets and seeing all the cute, colourful eateries. On Sundays, there is also a little street market where you can pick up arts, crafts, and artisanal food products.
1. Ibirapuera Park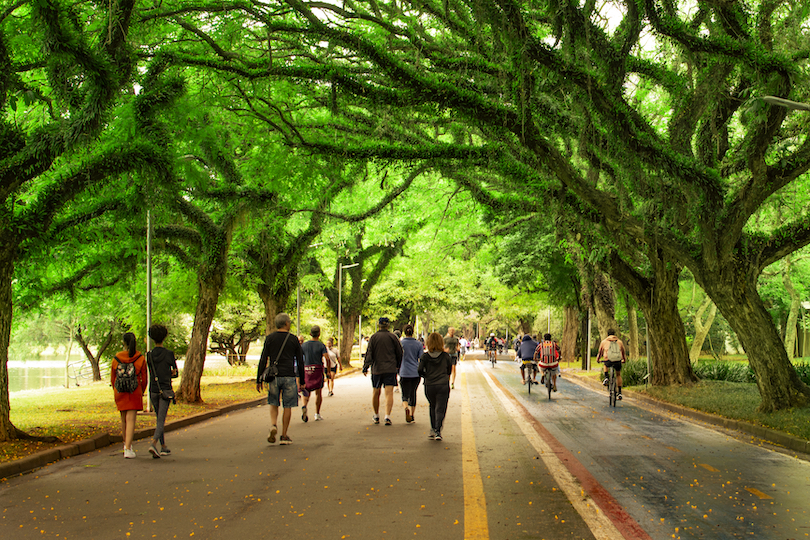 Sampa's answer to Central Park, Ibirapuera Park serves as a major recreational site and is one of the main tourist attractions in Sao Paulo. An oasis of peace and calm, its gorgeous green grounds have lots of paths to walk, run or cycle along. Some of the metropolis' best monuments and museums can also be found here.
One of the largest urban parks in Latin America, it covers a ginormous part of the city's south side. In addition to the Afro Brazil Museum and Ibirapuera Auditorium, there are a handful of other excellent museums to check out, many designed by Oscar Niemeyer. Among its most photographed sites are its enormous obelisk and the Monument to the Bandeiras.
Other than seeing all its statues, artworks, and the Japanese Pavilion, there are plenty of picturesque nature spots to enjoy. Many locals also picnic in the park or practice capoeira, yoga, and play football.
Amidst all its lush woodland and reflective ponds, you can relax and unwind after a hectic time spent exploring the largest city in all the Americas.
Best Time to Visit São Paulo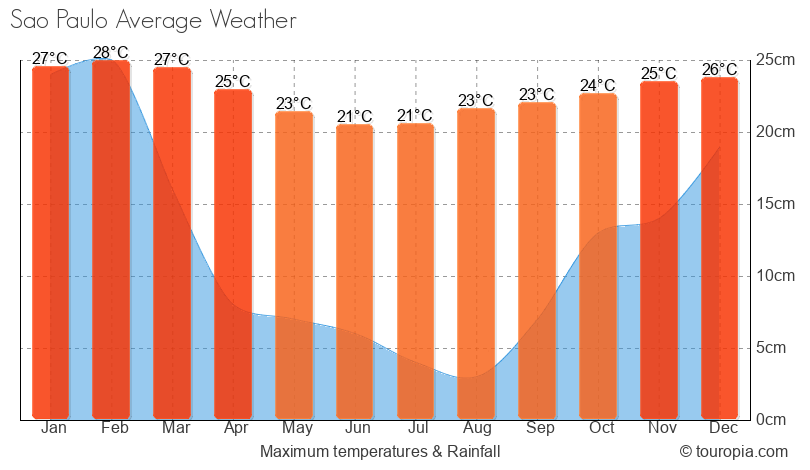 As Sao Paulo is such a massive metropolis and has just so much to see and do, it's a great year-round destination. That said, there are of course better times to visit weatherwise with all kinds of exciting events also drawing large crowds to the city.
While the summers are hot and wet, most people still visit between December and February (the seasons in Brazil are opposite to those in the Northern hemisphere). Aside from all the Christmas and New Year's celebrations, there is of course Sampa's fun-filled carnival to take part in. Prices and temperatures are at their highest with averages of 26 to 28°C (79 to 82°F).
If you want to avoid the worst of the crowds and humidity, then both autumn and spring are better bets. Much drier, March to May has massive events like Fashion Week to attend. While wetter, spring (October and November) instead has its exciting Grand Prix going on.
June to September (winter in Brazil) sees average temperatures of 22 to 24°C (71 to 75°F). Both domestic and international tourists flock here as the dry weather is ideal for sightseeing and strolling around Ibirapuera Park. Parades are also held for Sao Paulo Pride and concerts for the Festa de Sao Vito.
Map of Things to Do in Sao Paulo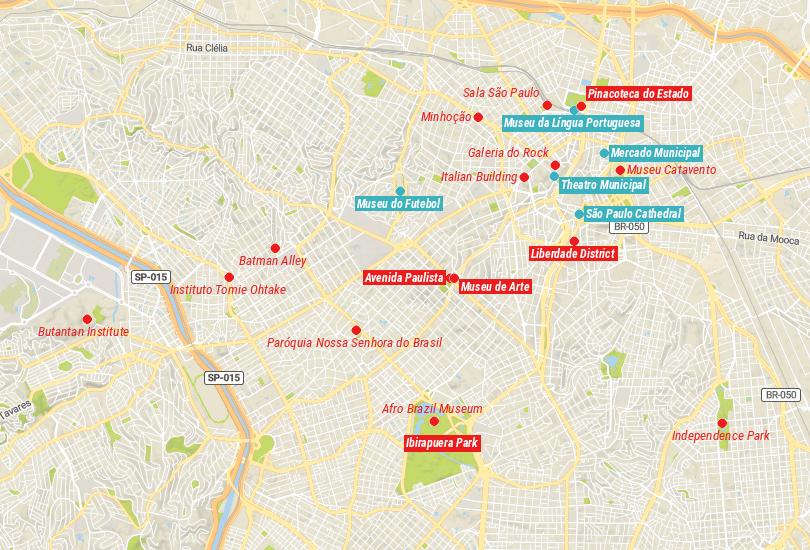 © OpenStreetMap © MapTiler © Touropia