Brazil is an expansive South American nation with diverse cultural influences and spectacular natural beauty. This sample itinerary for spending 2 weeks in Brazil includes some of the world's most photographed natural wonders, white-sand beaches and historic monuments. Boasting one-third of the world's rainforests and an enormous coastline to boot, Brazil is the perfect destination for people who love to explore the great outdoors.
In addition to its natural beauty, Brazil has a rich history that can be experienced through its stunning architecture and world-class museums. Brazil's famous music, food and art fill the streets in the many outdoor markets and festivals that take place throughout the year.
2 Weeks in Brazil Itinerary
© OpenStreetMap © MapTiler © Touropia
Day 1: Arrive in Foz do Iguaçu, sleep in Foz do Iguaçu
Day 2: Visit Iguazu Falls, sleep in Foz do Iguaçu
Day 3: Day trip to the Argentinian side of the falls, sleep in Foz do Iguaçu
Day 4: Fly to Curitiba, sleep in Curitiba
Day 5: Day trip to Morretes, sleep in Curitiba
Day 6: To Sao Paulo, sleep in Sao Paulo
Day 7: To Paraty, sleep in Paraty
Day 8: Explore Paraty, sleep in Paraty
Day 9: To Ilha Grande, sleep in Ilha Grande
Day 10: Explore Ilha Grande, sleep in Ilha Grande
Day 11: To Rio de Janeiro, sleep in Rio de Janeiro
Day 12: Explore Rio, sleep in Rio
Day 13: Explore Rio, sleep in Rio
Day 14: Fly home
Foz do Iguaçu (3 nights)
Begin your Brazilian vacation with a stay in the vibrant, multicultural city of Foz do Iguaçu. Bordering Argentina in the Brazilian state of Paraná, Foz do Iguaçu is most well known for the network
We recommend a three-night stay in Foz do Iguaçu so that you can take in Iguazu Falls National Park by footbridge and boat and also see the falls from the Argentinean side. Don't miss Parque Das Aves where you can get up close with incredible birds like the toucan, macaw, cassowary and pink flamingo.
Curitiba (2 nights)
From Foz do Iguaçu, your Brazil itinerary takes you east to the larger city of Curitiba. Long an important economic center of Brazil, Curitiba boasts restored historic architecture like the Old City Hall and the colonial buildings of Largo da Ordem. On Sundays, a lively artisan market with more than 1,000 vendors can be found on the old cobblestone streets of Largo da Ordem and Praca Garibaldi.
You can also view art exhibits at the Museu Oscar Niemeyer, an incredibly modern and unique building that is shaped like an eye. To take in some natural beauty, visit the Botanical Garden of Curitiba where you can stroll through the palace-like greenhouses, the labyrinthine French gardens and the Botanical Museum.
Morretes (day trip from Curritiba)
Caliel Costa / Flickr
At some point during your two-night stay in Curitiba, you can take a short trip to Morretes, a quaint historic city that is just an hour away. Whether you take the train or bus to Morretes, you'll have the opportunity to enjoy stunning views of the rainforest as you travel down in elevation.
In the city of Morretes, you can view restored churches that were built as far back as the 1700s, walk the cobblestone path along the Nhundiaquara river and dine on barreado, the traditional beef stew of Paraná that Morretes is particularly famous for.
Sao Paulo ( 1 night)
The next stop on our itinerary is a short visit to the country's largest metropolis, Sao Paulo. One of the world's most populated cities and Brazil's economic center, Sao Paolo boasts towering skyscrapers, grand museums and bustling urban markets. Zona Central is where many of the city's historical and prominent buildings are located, including an imposing Neo-Gothic style cathedral.
Make your way to Avenida Paulista to view the exhibits at Museu Arte Sao Paulo, enjoy a relaxing walk through Trianon Park and go shopping at Shopping Pátio Paulista.
Paraty (2 nights)
Paraty is located along the Bay of Ilha Grande and bordered by a backdrop of lush rainforests and mountains. The Trindade district has spectacular white-sand beaches for swimming, surfing and snorkeling. To enjoy a secluded beach, rent a kayak and paddle to one of the tropical islands that lie within the bay. With a rich historic center and art scene, the mainland of Paraty has much to offer visitors as well.
In Centro Historico, you can go inside many of the city's old colonial mansions that have been converted to restaurants, hotels, art galleries and shops. Make sure to schedule a walking tour of the "Gold Path," a historic cobblestone road that meanders through dense vegetation in the Parque Nacional da Serra da Bocaina.
Ilha Grande (2 nights)
From Paraty, this Brazil itinerary brings you to the pristine island of Ilha Grande for a two-night stay in what can only be described as a tropical paradise. Despite its peerless natural beauty, the colorful history of this island has fortuitously forestalled over-development. Once home to pirates, lepers and prisoners, Ilha Grande has nothing left from its harsh past but some stone foundations.
The untouched beaches and rainforest have since become protected parkland, which has helped to further preserve the island's beauty. Stay in one of the luxurious beachside resorts and soak up the local culture in Vila do Abraão.
Rio de Janeiro (3 nights)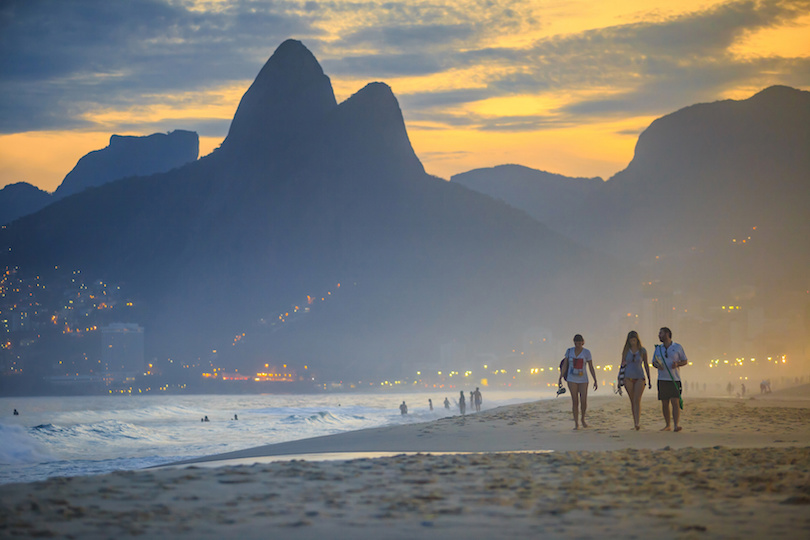 Cap off your 2 weeks in Brazil with a visit to one of the most beautiful cities in the world, Rio de Janeiro. Home to the world famous Carnival festival, the city of Rio dances to a Samba beat all year long. You'll find the year-round party at the outdoor music jams and samba clubs in Lapa, which is considered the center of Rio's nightlife. By day, head to Copacabana Beach and Ipanema Beach for the sun and surf or view Brazil's historic relics and fine art at Museu Histórico Nacional.
Look up from almost any street in Rio and you'll see Cristo Redentor, the open-armed statue of Jesus Christ that sits atop Corcovado Mountain. You can reach this peak and enjoy an unforgettable view of the entire city by taking a narrow-gauge train.
See also: Where to Stay in Rio de Janeiro