One of the northernmost countries in the world, Finland is a beautiful place to explore, as it is home to vast forests and an incredible number of lakes which formed following the last Ice Age, when glaciers cut up its many landscapes.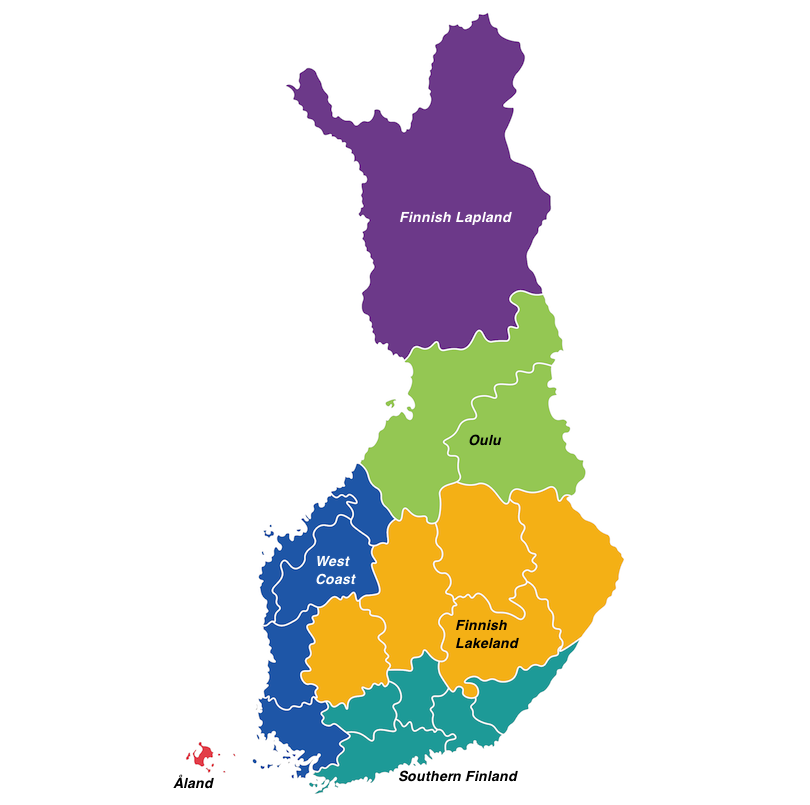 Its long coastline that borders both the Gulf of Bothnia and the Gulf of Finland is home to lots of picturesque towns and villages. Some very impressive national parks can be found dotted around the country, with several located up in the frozen world of its Arctic regions. In addition to this, Finland has a huge number of lovely islands in the Archipelago Sea and Baltic Sea for you to discover.
Finnish Lapland
The home of Santa Claus and the twinkling Northern Lights, Finnish Lapland is a magical place to visit, with endless forests coated in snow and frozen lakes dotting its stunning scenery.
As it is located far north in the Arctic, the wild and remote region is full of delightful nature, with lots of amazing national parks on offer, such as Urho Kekkonen and Lemmonjoki. Consequently, there are loads of fantastic outdoor activities to be enjoyed, with hiking, snowmobiling, and canoeing all very popular. Many people go to see the Northern Lights or go skiing at Suomo and Luosto.
In addition to basking in its outstanding natural beauty, you can also visit Santa's village, see hordes of reindeer wherever you go, and learn more about the local Sami people and their rich cultural heritage. While many people use the main city of Rovaniemi as a base when exploring the region, there are lots of charming towns and villages scattered around Finnish Lapland for you to discover.
Oulu
Lying in Northern Finland and located around the city of the same name, Oulo is home to a diverse array of different landscapes and habitats, ranging from the scenic coastline on the Bay of Bothnia to the rivers and rural areas of its interior.
Oulo – the largest and most important city in the region – is lovely to visit due to its beautiful waterfront. While the surrounding countryside is very sparsely populated, the towns of Kemi, Tornio, and Ylivieska are also well worth checking out for the astounding natural sights that lie nearby.
Indeed, this part of Finland is mainly visited by nature lovers and outdoor enthusiasts. There are a plethora of ways that you can explore its many glittering lakes, rivers, and forests. You can choose to go hiking, fishing, or camping in the pristine nature all around you, white-water rafting down rapids, or skiing at the popular ski resorts of Ruka and Vuokatti. Oulu certainly is a charming place to visit, with so much for you to see and do.
West Coast
Home to some of the oldest cities and towns in the country, the West Coast of Finland offers an appealing combination of history, culture, and nature. Its long coastline on the Gulf of Bothnia contrasts starkly with the fields, farms, and forests that make up most of its picturesque interior.
While the southwest of the region is known as 'the breadbasket of Finland,' due to its agricultural nature, the West Coast, in general, is actually home to some of the country's largest and most important cities.
For instance, Turku – the former capital – and Rauma both boast a myriad of amazing historical sights, with local cultural events regularly held around town. At Naantali, you'll find Moomin World – an amusement park dedicated to Finland's famous and loveable characters.
Away from its historical and cultural attractions, the West Coast is awash with gorgeous nature and charming countryside. Its long coastline is dotted with beautiful beaches and timeless fishing villages. The sparkling waters of the Gulf of Bothnia lend themselves perfectly to swimming, sailing, and watersports, with the stunning scenery of the Kvarken Archipelago one of the region's main draws.
Finnish Lakeland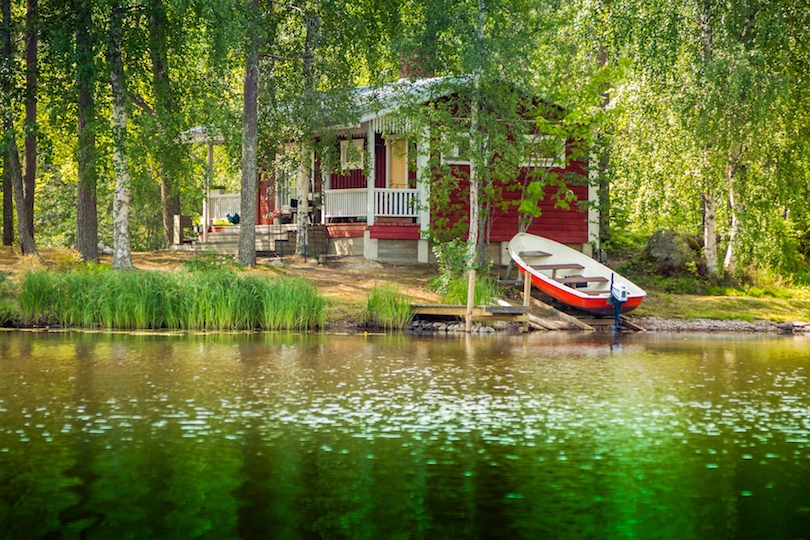 With shimmering waterways and glittering lakes almost everywhere you look, Finnish Lakeland is a breathtakingly beautiful part of the country to explore. Quaint towns and villages are tucked away amongst the breathtaking scenery.
As there are literally thousands of lakes for you to discover, each more beautiful than the last, the region is a nature lover's dream. You can go hiking in its many forests, sailing or swimming in its lakes, or relax in one of its fantastic spas at Kuopio or Savonlinna, which is also home to an incredible castle and a popular opera festival in the summer.
While the major cities of Tampere and Joensuu are lovely to visit, they mainly act as gateways to the region's natural wonders, with Kangasala and Koli National Park just two of its most beautiful features. Be sure to check out Saimaa, the largest lake in the country, home to thousands of islands, and Kerimaki, the largest wooden church in the world.
Southern Finland
Although dominated by Helsinki, Southern Finland has much more to offer than just the nation's capital. Its island-riddled coastline on the Gulf of Finland is home to some of the most beautiful scenery in the country.
While Helsinki is undoubtedly one of the region's main draws with its many museums, monuments, and multitude of things to see and do, it's definitely worth venturing further afield. Hameenlinna's lovely castle, Porvoo's old town, and Nuuksio National Park are all worth a visit.
In addition to this, Hanko's beautiful beaches and its proximity to the delightfully named Archipelago Sea make it a popular summer holiday destination.
Åland
Lying off the southwest coast of Finland in the Baltic Sea, Aland is quite distinct from the rest of the country; its population speaks Swedish, and this is reflected in the unique culture and identity in Mariehamm, the only town found in the archipelago.
As it is sparsely populated, Aland is mainly home to little villages and hamlets that are scattered around its many islands. Its remote and wild, yet stunningly beautiful scenery makes it a very popular place to go hiking, fishing, or camping.
With a proud seafaring history, Aland also attracts tourists who come here to sail around the glittering waters. You can explore the islands by hopping from one to the other on many a scenic ferry ride.