The Republic of Finland is among the most northern of European countries and is bordered by Russia to the east and Sweden to the west.


By some estimates, Finland has just shy of 200,000 lakes, so it's no surprise that they play key roles in Finnish culture and recreation. The beautiful lakes are a great place to experience a steaming hot sauna, Finland's most famous export. Dipping in icy lakes is said to be good for the blood circulation, but most do it simply for the incredible rush.

The southern and central portions of the country are home to the majority of Finland's lakes, especially along its eastern border with Russia, and though many of them appear to be separate, a closer look reveals that they're actually connected to one another, and this is particularly true in the spring and summer when they swell with snowmelt.
Located in southern Finland near the town of Tampere, Lake Ruovesi is one of hundreds of narrow finger-like lakes that form vast chains that stretch vertically from north to south, and many of them are nearly 100 kilometers long.
Due to its lowland location, you won't find breathtaking mountain views from Lake Ruovesi, but it's forest-covered shores, contoured coastline and wide-open tracts of water offer amazing views that are stunning year-round, and especially so at sunrise and sunset.
Lake Ruovesi is a favorite with local anglers, who are attracted to its massive pike, trout and zander.
Many of the lake's remote coves are dotted with old docks, rocks jutting from the depths and colorful cabins and boathouses which make Ruovesi among the most picturesque lakes in the country, and a favorite of artists who come for inspiration. 

Located in the Pirkanmaa Region near the towns of Nokia and Sastamala just west of Tampere, Lake Kulovesi is similar to most other lakes in Finland in that it's part of a large chain of lakes that often become one in the spring and summer months when they're deluged with snow and glacial melt.
Unlike many lakes close to metropolitan areas, Lake Kulovesi isn't very developed which means it doesn't get the tourist crowds that other lakes do, making it a great fit for those looking for a little peace, solitude and alone time with Mother Nature.
For that reason, Lulovesi is a particular favorite of fisherman, kayakers, campers and nature-lovers.

With its southern shore bordering the city of Tampere, Lake Nasijarvi is a favorite sunny-day escape for city residents looking for a change in scenery.
Nasijarvi is ranked in the top 20 of Finland's largest lakes and has been a center of both commerce and recreation for generations.
During the spring and summer months, many visitors take advantage of one of the many boat tours offered on the lake which offer amazing views that you won't see from shore.
The lake is particularly known for its lighthouse, which is located on a rocky island, and during the winter season when the lake freezes it's a popular destination for cross-country skiers and walkers who don't mind braving the elements.
Lake Pielinen is located on Finland's eastern border with Russia in the country's Lakeland District.
For Finn's it's a popular vacation spot and is notable for its many islands, only one of which is permanently inhabited.
The Lakeland District is comprised of more than 1,000 lakes, and among them Lake Pielinen is known for its particularly clean and clear water and the large variety of fish species that draw in anglers from much of the country.
So immense is the lake that its contoured shoreline stretches more than 300 miles making it easy for those with access to a boat to find stretches of shore that aren't already occupied with swimmers or sunbathers.
Most of the lake's shoreline is forested but is interspersed with sheer, rocky cliffs, boathouses and picturesque cabins.

Lake Inari is located in north-central Finland near the Barents and Norwegian Sea coasts, and close to the Russian port city of Murmansk.
Finland's Lapland region stretches across the northern portion of the country which lies north of the Arctic Circle boundary making it a place of long and harsh winters, even by Scandinavian standards.
The lake is generally frozen from October or November until June and is surrounded by evergreen and spruce forests that are home to some of the country's largest mammals including wolves, moose and bear.
Lake Inari hasn't undergone much development, and along with its thousands of islands, gently rolling hills and unobstructed vistas, it's a natural wonderland that many Finns would like to keep a secret.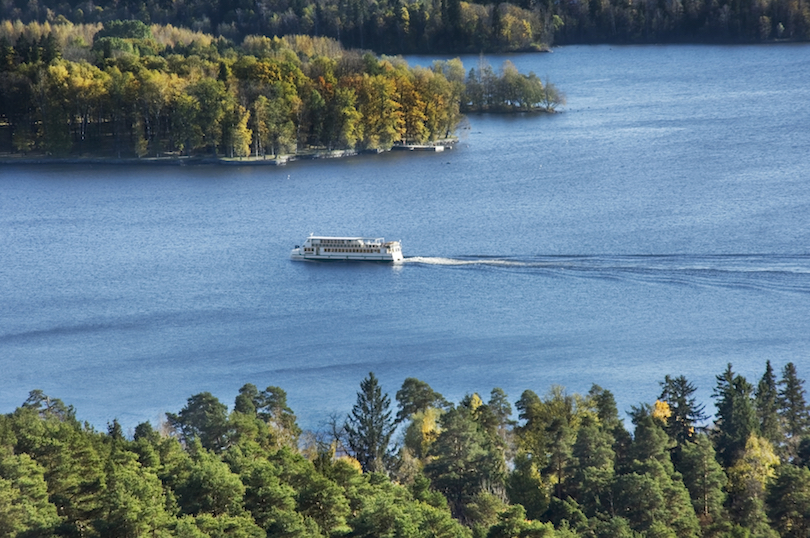 Unlike most other Finnish lakes that are full of crystal clear glacial water, Lake Pyhajarvi's waters are often stained the color of tea due to the peat-rich land surrounding it.
Translated into English its name means 'holy lake,' but it's important to note that many of the country's lakes have the same name, so pay special attention when making arrangements for your trip.
The lake is located about 125 kilometers northwest of the capital of Helsinki, and it's far eastern shore meets the town of Tampere making for some amazing scenes that blend the natural and manmade worlds that are favorites of artists and photographers.
During the winter when the lake freezes it turns into a vast windswept expanse of ice and blowing snow that's quite a sight to behold.
Located in eastern Finland's Northern Slavonia Region, Lake Kallavesi isn't big by Finnish lake standards, but its numerous islands and wooded and rocky shores make up its modest size.
Lake Kallavesi is found among many other lakes in the area and collectively they're known as Iso-Kall, making it an easy place to see more than one attraction in a day.
The lake is full of islands of varying size, and they're favorite areas for boaters and fisherman looking to camp under the stars for a night or two before returning home.
The Lakeland District in which Lake Kallavesi is known for its classic Finnish architecture and many of the nearby towns are popular for destinations for those interested in learning about Finnish culture in addition to its natural beauty. 

Located in south-central Finland just slightly above the horizontal line between Stockholm, Helsinki and St. Petersburg, Lake Vanajavesi is one of the country's most popular destinations and is more developed than many of the lakes on the list.
Though it's still a destination for outdoorsmen and nature lovers, its real claim to fame lies in the world-class amenities that can be found nearby like restaurants, resorts, sportsmen's lodges and even conference facilities.
The lake is located about a half an hour north of Hämeenlinna and offers a variety of summer and winter activities that keep the visitors coming year round.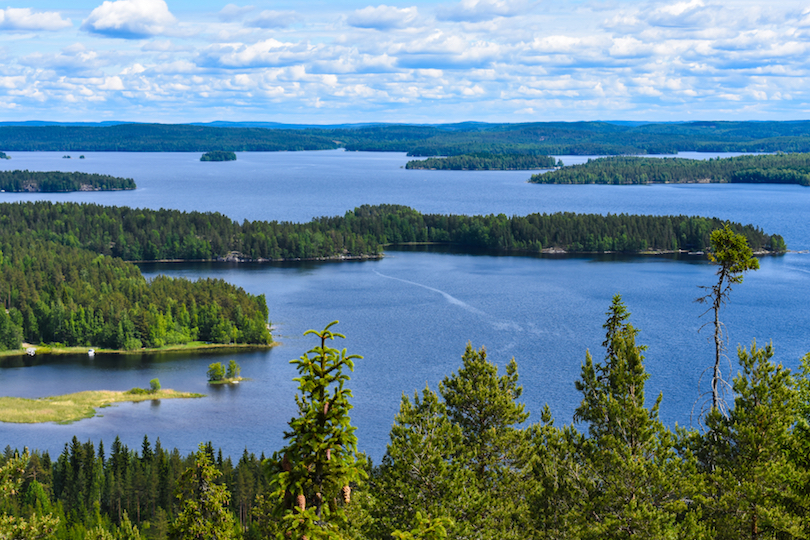 Lake Päijänne is the country's second largest lake, and its proximity to a few of Finland's most popular and stunning national parks makes it a convenient destination for those savvy travelers looking to get the most bang for their buck.
Much of the surrounding landscape includes stark, rocky cliffs and mixed forests, making it feel like it's much farther away from civilization than it really is.
Due to its immense size and the purity of its water, it's a source of drinking water for millions of the country's citizens, and on its journey from source to tap the water travels through the world's longest rock tunnel.
The lake's resorts are famous for their saunas which are popular in the winter, as are ice-fishing and dogsled safaris that are the ultimate winter adventures for rugged outdoorsmen.



For those looking for the classic Finnish vacation experience, Lake Saimaa deserves a coveted itinerary spot.
From a variety of spring and summer festivals to its natural beauty and popular sauna resorts, there's really nothing you can't experience at Lake Saimaa.
It's located in Finland's Saimaa Region, and despite its high annual visitation it's still possible to find quaint cabins on solitary shores that seem just as remote as those on less visited lakes.
Located just a few hours from the capital of Helsinki, the towns of Mikkeli, Savonlinna, and Lappeenranta are near to the lake and offer a variety of accommodations and packages to fit every interest and budget, though they fill up quickly during peak season so plan accordingly.