While most people know Norway for its phenomenal fjords and the flickering Northern lights, the Nordic nation is also home to plenty of breathtakingly beautiful islands. Remarkably enough these number over 230,000 in total with most of them lying just off of the country's rough and rugged coastline which is impressively one of the longest in the world.
Much further afield you can find the isolated and icy island of Jan Mayen and the glacier-coated archipelago of Svalbard, both of which are situated high up in the Arctic Circle. While some of the innumerable islands in Norway are inaccessible and uninhabited, others are dotted with picture-perfect fishing villages and are very popular among tourists due to their stunning scenery and landscapes.
With so many to choose from, the Norwegian Islands certainly have something for everyone to enjoy with the lovely Lofoten Islands being one of the most famous and photographed places in the country.
In this post, we'll cover:
10. Senja
Nestled away in the far northwest of Norway is the scenic, secluded and often snow-coated island of Senja. The second-largest isle in the whole of the country, it is home to everything from fabulous forests and fjords to an incredible coastline that is presided over by lots of prominent peaks.
While often overlooked by foreign tourists, Senja is known domestically for its delightfully diverse and dramatic scenery which has seen it labelled 'Norway in Miniature'. Its undoubted highlight is its wild and rugged western coast which certainly ranks alongside the renowned Lofoten Islands in terms of its breath-taking beauty.
Besides being home to lots of lovely landscapes, Senja also has charming fishing villages for you to check out as well as the world's largest troll statue.
9. Vagsoy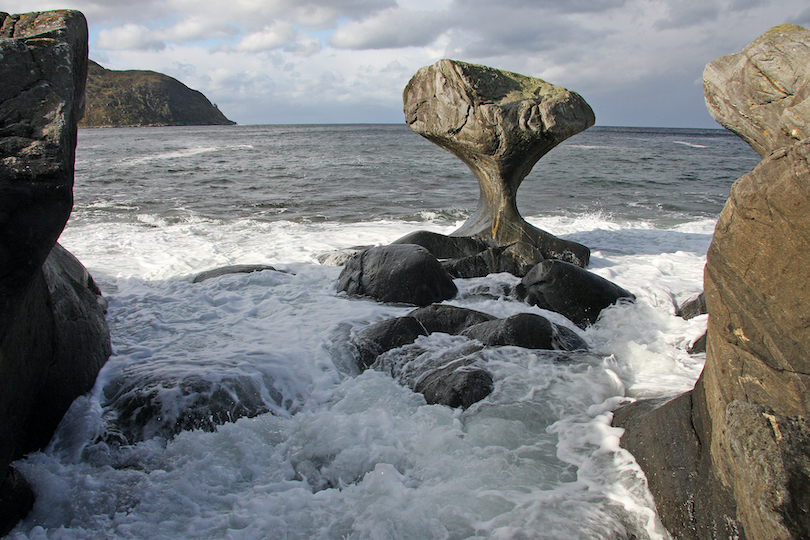 In contrast, the idyllic isle of Vågsøy is situated hundreds and hundreds of kilometers to the south of Senja in Vestland in Western Norway. It lies on the northern side of the mouth of Nordfjorden which is one of the longest and loveliest fjords in the whole of the country.
As it is located on open ocean, the wild waters of the Atlantic pound its wind-swept shores which are quite rugged and mountainous in nature. Looking out over the waves are a number of wonderful lighthouses with those of Hendanes, Krakenes, and Skongenes making for some fantastic photos thanks to their stupendous seaside settings.
The island's largest town of Maloy is also a delight to visit as it is set in a scenic spot beneath two mighty mounts with stunning views on offer from their soaring summits. On top of all this, Vågsøy has the sandy beach of Refvik to visit as well as the unique mushroom-shaped rock of Kannesteinen.
8. Tromsoya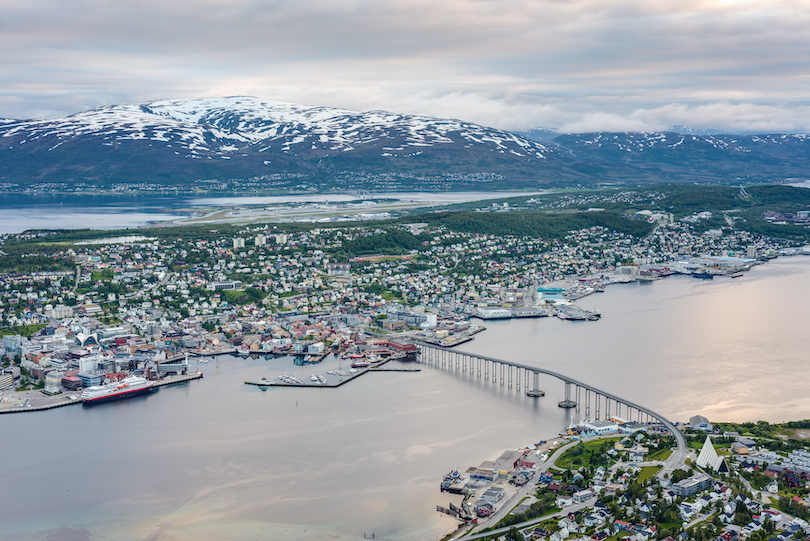 One of the best places in the world from which to see the Northern Lights or explore the icy realms of the Arctic Circle is Tromso which can be found in the far north of the country. Most of the city is set on the small island of Tromsøya which lies in a serene strait with snow-topped mountains rising up all around it in the distance.
While many people simply use it as a base from which to see the huge swathes of snow and ice that surround it, the city itself has lots of handsome historic wooden houses to check out alongside many magnificent museums and the attractive Arctic Cathedral. The island too also has a lot going for it with Prestvannet lake and its nature reserve being a very pretty and peaceful place to visit.
For incredible views out over the whole of Tromsøya, the city, and its surroundings, take the cable car to the top of Mount Storsteinen on the mainland and revel in its unrivaled panoramas.
7. Jan Mayen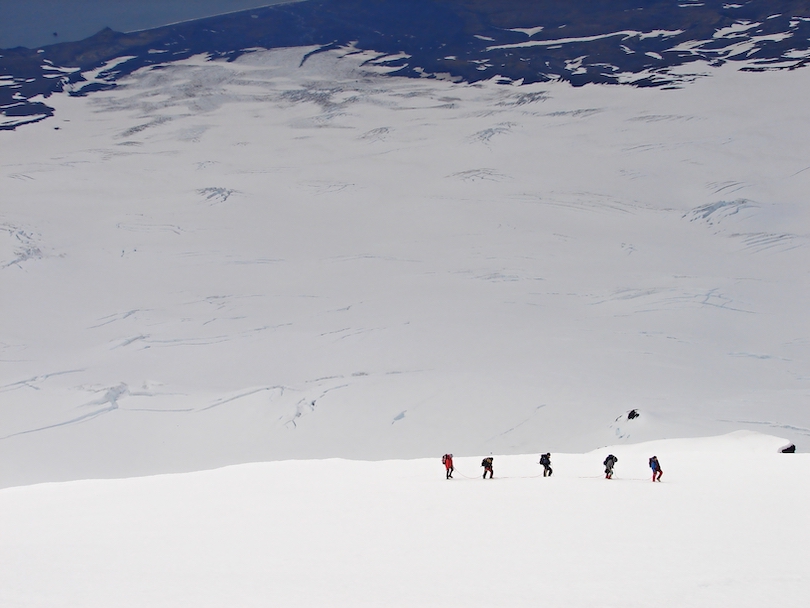 A very isolated, icy, and inhospitable island, Jan Mayen is surrounded by the freezing cold waters of the Arctic Ocean. Only inhabited by a handful of hardy members of the Norwegian Armed Forces, the otherwise deserted and desolate isle is named after a Dutch whaling captain who was credited somewhat controversially with its discovery in 1614.
Now protected as part of a nature preserve and identified as an Important Bird Area, Jan Mayen is made up of two geographically distinct parts. While the southern section of the island is quite low-lying and is home to lagoons, its northern side is dominated by the breath-taking Beerenberg volcano which towers to 2,277 meters in height and is dotted with glistening glaciers.
As it lies hundreds and hundreds of kilometers off Iceland, Greenland and Norway, the bleak, barren yet beautiful island is very hard to access and is only seldomly visited by tourists.
6. Kvaloya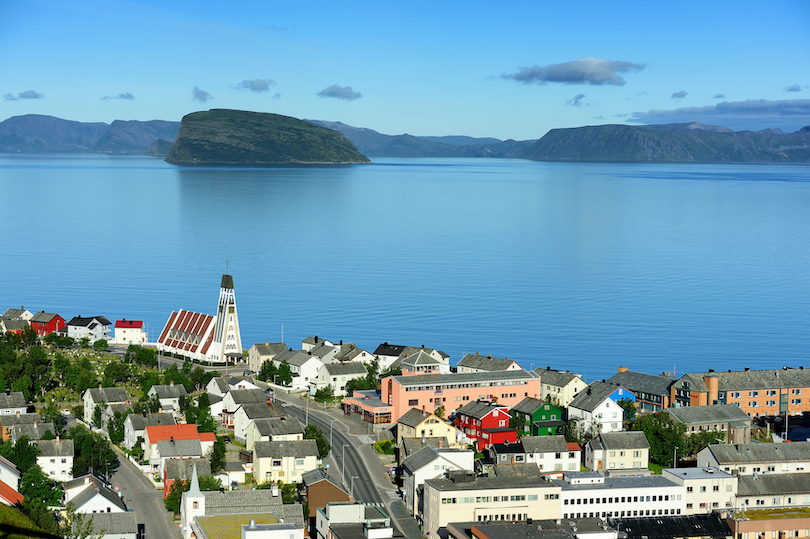 Not to be confused with the island of the same name outside of Tromso, the captivating Kvaløya can be found even further to the north in the Arctic Circle. In fact, its main claim to fame is that it is home to Hammerfest which claims to be 'the northernmost town in the world'.
Despite having been founded centuries ago, the town doesn't have all that many sites of interest besides a couple of churches and museums as it has been destroyed and rebuilt numerous times. It is, however, an important center of Sami culture with the Mikkelgammn Sami Camp teaching you all about their rich history, heritage and traditions.
In addition to all of the fun festivals that take place in town over the course of the year, Hammerfest makes for a great base from which to explore Kvaløya's scenic splendor. Just a stone's throw away you can find everything from majestic mountains and sweeping sandy beaches to lots of delightful coastal landscapes which are often covered in sparkling snow during the depths of winter.
5. Hidra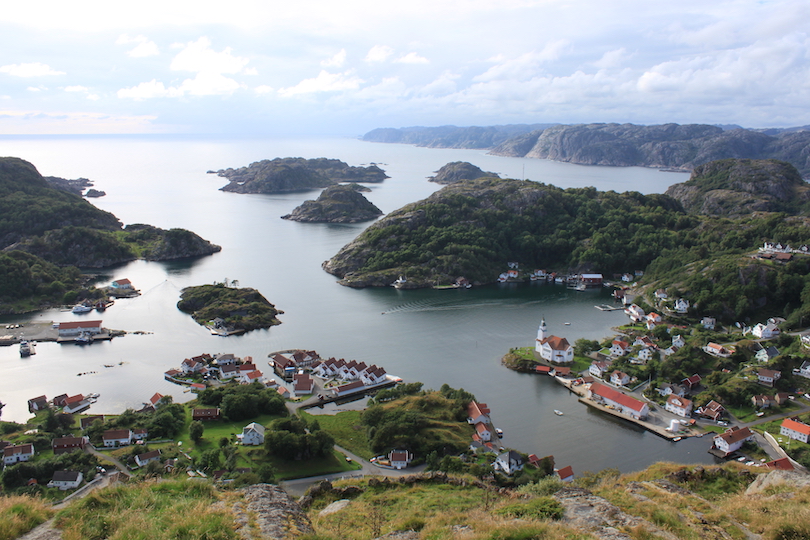 Set right down in the south of Norway is the awe-inspiring island of Hidra which lies at the entrance to the fantastic Flekkefjord. Inhabited for millennia, it boasts a fascinating past for you to delve into with lots of spellbinding scenery also being on show.
While its indented coastline is very rough and rugged, its interior is coated in lush forests and fertile farmland. The island is almost divided in two by the ravishing Rasvagfjorden with the small Eie Canal having been built through its remaining narrow isthmus to allow boats to pass through.
To enjoy phenomenal views out over Hidra and the nearby islands, head to Hagasen Fort which was built during World War II by the Germans. From atop of its prominent peak, you can also spy the centuries-old Hidra Church which is one of its standout sights alongside its coastal museum and the colourful cabins of Sma hytter – an interesting art installation.
4. Mageroya
Located in the extreme north of Norway is the marvelous Magerøya which lies along the Barents Sea, just off of the Porsanger Peninsula and its adjacent fjord which stretches endlessly inland. The incredible island is mostly known for being home to Nordkapp or the North Cape which is billed as the northernmost point of mainland Europe.
Standing atop of the steep and sheer coastal cliff and looking out over the wild waters of the Arctic Ocean is an amazing experience as all you see are the shimmering waves reaching over the horizon. Long a popular tourist destination, its breath-taking panoramas have been enjoyed for centuries with the Sami once having used its precipitous plateau as a sacrificial site.
Besides this, Magerøya also has lots of bleak and barren but bird-filled landscapes to explore with terrific trails taking you along its craggy coast and to the top of Grakallfjellet, its highest point.
3. Vesteralen Islands
Home to lots of wonderful wilderness and spellbinding scenery, the arresting archipelago of the Vesterålen Islands can be found just to the north of Lofoten. Although its captivating coastlines and mighty mountains are just as impressive as those of its nearby neighbor, it is thankfully overlooked by many tourists and so makes for a very picturesque and peaceful getaway.
Encompassed within its scenic confines are around ten islands for you to explore which lie scattered off Northern Norway's indented coast. Dotted about its fantastic fjords and serene and secluded coves are a number of quaint fishing villages with Andenes being a great base from which to take boat trips and whale watching tours to and around the rest of the isles.
In addition, some lovely lakes lie hidden amidst its mountains with part of Moysalen National Park and its epic and undisturbed coastal alpine landscapes to be found on the island of Hinnoya.
2. Svalbard
Mostly made up of gorgeous glittering glaciers with majestic mountains and fjords crisscrossing its isolated islands, the astounding archipelago of Svalbard can be found high up in the Arctic Circle. Located midway between Norway and the North Pole, its icy expanses are famed for being home to more polar bears than people with it being one of the best places in the world to see arctic animals.
As the islands are so inhospitable and inaccessible, only Spitsbergen is inhabited with a couple of small settlements spread around its snowy shores. From here, you can take brilliant boat tours to the surrounding islands which are home to lots of stupendous national parks and nature reserves.
As well as polar bears, the winter wonderland also has arctic foxes and reindeer for you to spy amidst its stunning snow-coated scenery as well as the innumerable seals, walruses and whales which swim about its wild waters.
1. Lofoten Islands
Renowned and recognized the world round for their distinctive and dramatic landscapes, the lovely Lofoten Islands really are a treat to travel around and can be found just off of the nation's northwest coast. Connected to the mainland by a series of tunnels and bridges, the archipelago boasts some of the most spectacular scenery in the whole of Norway with phenomenal views wherever you look.
Rising up impressively above its scenic shores and sheltered inlets are lots of marvelous mountains with fabulous fjords cutting their way through them. Dotted about here and there you can also find beautiful beaches and charming coves with sheep-filled fields and farmland set among all of its untouched and unspoiled nature.
Add in all of its epic outdoor activities, its picture-perfect fishing villages and of course the swirling Aurora Borealis, and it is no wonder that the Lofoten Islands are such a popular place to visit.
Map of Norwegian Islands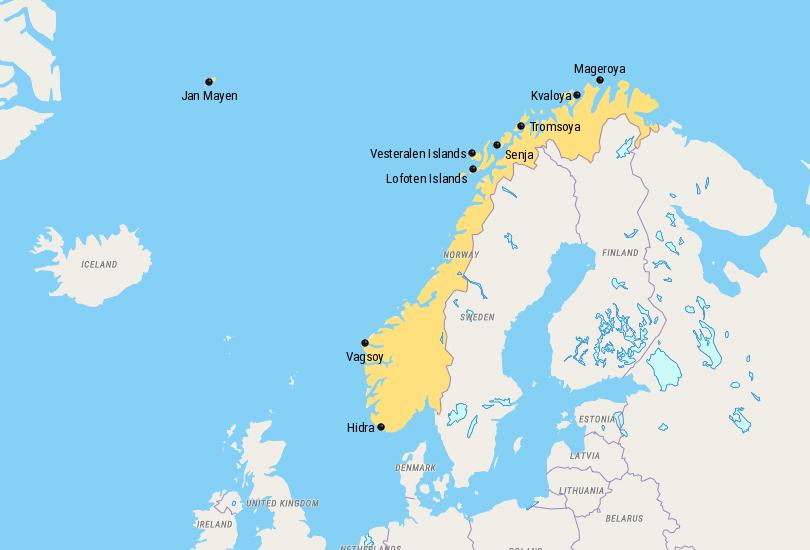 © OpenStreetMap © MapTiler © Touropia