The Scandinavian country of Norway is known for its remote location, its incredible scenery and its surreal fjords. Although it borders Russia, Finland and Sweden, much of Norway's coast is right alongside the Arctic Ocean, offering chilly but impressive views over the water.
Norway boasts large historic cities, magnificent cathedrals, a progressive population and unending ways to stay active outdoors. If you're eager to start planning a Scandinavian getaway, here are some of the top reasons to visit Norway.
10. Skiing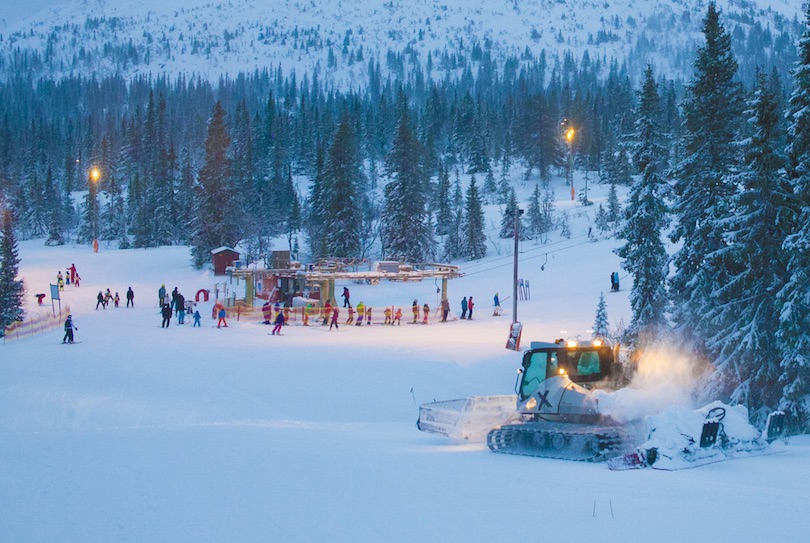 During the winter months, many places in Norway are ideal for both downhill and cross-country skiing. If you're looking for a place that can compete with Alpine runs, however, be sure to check out Hemsedal, which is home to several world-class ski resorts, dozens of slopes and more than 20 ski lifts.
Hafjell is another winter sports destination that boasts alpine and cross-country tracks as well as family fun areas for sledding and tubing.
9. Fisherman's Cabins
Another collection of islands off the northern coast of Norway is the Lofoten Archipelago. These islands are considered to be among the most scenic spots in the country, but some of their most popular attractions are actually manmade. Be sure not to miss the traditional red fishermen's cabins built right along the coastline.
Some are built on stilts and called rorbu, and a few are even available to tour or stay in overnight. Not only are these cabins historic and beautiful, they are often located on remote, secluded and breathtaking beaches.
8. Hiking
To get out and see as much of Norway's natural beauty as possible, hiking is a fantastic choice. Hiking in Norway is also made easier thanks to laws about right to access, making it simple to find walking paths as well as camping spots.
If you're up for a serious challenge, you can tackle hikes leading to the peak of Galdhøpiggen, the highest mountain in Norway. For something far less intense but just as scenic, set off on a trek through the Rondane National Park, where you may be able to spot reindeer in their natural habitats.
7. Stave Churches
Large churches in Europe tend to be made from stone, but in Norway it is possible to find grand and intricately designed churches made entirely from wood. These stave churches are representative of the woodworking industry that has long been a part of Norwegian culture and history.
There are many stave churches located around Norway, but one of the most impressive is the Heddal Stave Church. Heddal was constructed in the 13th century and is the largest of the wooden stave churches in the country.
6. Waterfalls
Alexandre Dulaunoy / Flickr
Thanks in part to the sheer number of glaciers in Norway, there is also an abundance of waterfalls. Some are mere trickles in certain seasons, but others are powerful, breathtaking attractions throughout the year.
Although the greatest concentration of waterfalls are in the western fjords and the mountains, they can be found scattered throughout the country. Arguably one of the most incredible waterfalls in Norway is Mardalsfossen, which is a large, powerful and year-round waterfall where you can stand quite close and even feel the spray of the water.
5. Coastal Towns
Norway boasts hundreds of miles of coastline, so there is no shortage of charming coastal towns worth visiting. These traditional coastal towns are often places where architecture is simple, residents work in industries like fishing and local culinary staples include things like dried and salted cod.
Ålesund is a fantastic example of a coastal town located on a row of islands that boasts breathtaking views and amazing hiking opportunities. Henningsvær is another wonderful coastal town where the brightly colored houses in a row along the water look more like gingerbread out of a fairytale than actual residences.
4. Polar Bears
Directly north of the Norwegian mainland is the Svalbard Archipelago, a collection of islands with a very small population of people but a large population of incredible wildlife. Guided tours are readily available from settlements like Longyearbyen where you can set off and spot polar bears in the wild.
This incredible, majestic creatures are amazing to behold, but don't forget that they are wild and dangerous animals. It is vital that you see them with an experienced guide in Svalbard.
3. Spectacular Photo Opportunities
Whether you're a frequent social media poster or a serious photographer, Norway boasts a staggering array of spectacular photo opportunities. Kjeragbolten, for instance, is an iconic boulder caught between two cliffs that you have to see to believe. At Pulpit Rock, you can take a selfie on a sheer cliff face that overlooks pristine blue water.
At Trolltunga, snap a pic of the rocky outcropping perched hundreds of feet above a river. Each of these photo opportunities is unique, and there are dozens more than you can capture on film while in Norway.
2. Northern Lights
Strolic Furlan / Flickr
Aurora borealis, also known as the northern lights, are undoubtedly a major reason to visit Norway. The best chance to spot them will be in the winter, when the nights are longer. The further north you go, and the further you travel away from cities, the better your view will be.
Many people regard Tromsø as the best place in Norway to see the northern lights, thanks to its northern location and its proximity to the Arctic Circle. Dry weather and a lack of clouds will make conditions perfect for spotting the northern lights in Tromsø.
1. Fjords
A fjord is where a long sea inlet is found between high cliffs, and it is typically the result of a submerged glacier valley. In Norway, the fjords are some of the most beautiful natural attractions around, and no trip to Scandinavia would be complete without seeing some of them up close.
Most of Norway's fjords are along the western coastline, including Sognefjorden, which is the longest fjord in all of Europe.