Although Norway is primarily known for the breathtaking fjords that scar its long Atlantic coastline, the country actually boasts much more amazing scenery and it is remarkably one of the most mountainous in Europe.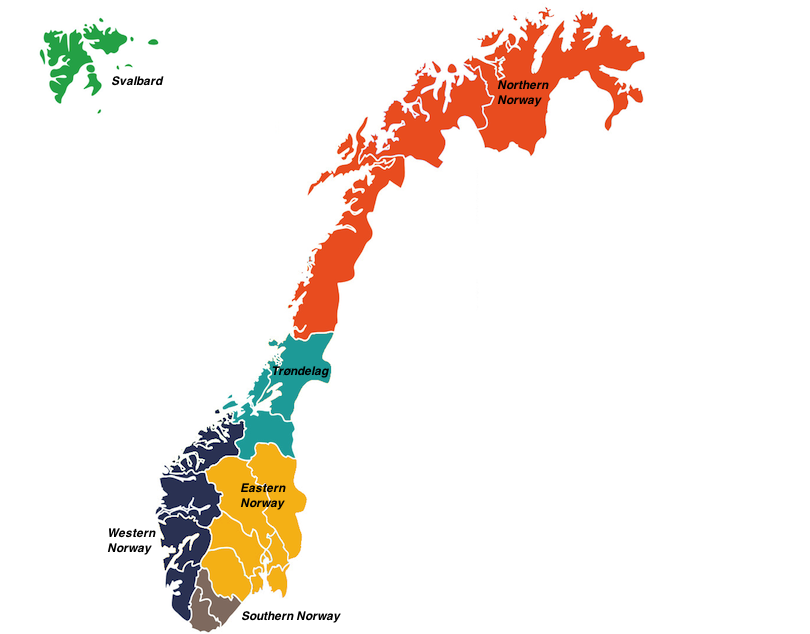 Lying in the northwest of Scandinavia and bordered by Sweden, Finland and Russia to its east, Norway's beautiful regions each have something special to offer up with arresting and varied landscapes greeting you wherever you go. With archipelagos of islands, endless forests and lakes and of course the Northern Lights also on show; Norway's natural sights really are outstanding to behold.
In this post, we'll cover:
Northern Norway

Encompassing almost half of the country's wild and rugged coastline, Northern Norway is undoubtedly one of the most beautiful regions in Norway if not the world. As it was scarred and cut up by the last ice age, the scenery is very varied and so glorious beech forests lie alongside deep fjords, glaciers and alpine mountains.
As most of the region lies above the Arctic Circle, Northern Norway is blessed with twenty-four hours of sunlight in the summer while its dark winter night skies are painted a myriad of colors as the magnificent Aurora Borealis swirls overhead.
Whether it is snowmobiling or reindeer sledding your way through endless snow-covered forests, taking a scenic boat trip through the fjords to see the whales that inhabit the waters around the spectacular Lofoten Islands or learning more about the Sami people who live in the region; the sparsely populated Northern Norway certainly makes for an unforgettable holiday.
Trøndelag
Covering the middle part of the country, Trondelag has lots of great outdoor activities for visitors to enjoy with fishing and sailing along its waterways, skiing in its mountains and exploring its marvellous national parks all being very popular.
As it is home to the former capital of Norway, Trondheim, there is also a lot of history on show and the city has a vibrant arts and culture scene for you to enjoy as well as lots of impressive architecture and interesting museums.
Offering up the perfect combination of history, culture and wonderful nature, Trondelag has lots for you to see and do and you can always stay in one of the charming fishermen's villages or in the interesting old mining town of Roros if you want to get to grips with local life.
Western Norway
Known as Vestlandet in Norwegian, the Western part of the country is home to two of Norway's largest cities in Bergen and Stavanger as well as some of the most incredible fjords imaginable. For instance both Geirangerfjord and Sognefjorden really are must-see sights due to their impressive length, depth and beauty and taking a boat trip through them really is unforgettable.
The region really is achingly beautiful to behold as it is not only home to the most iconic fjords but also to the fantastic mountain national park of Jotunheimen, the humongous glacier of Jostedalsbreen and some of the best summertime skiing in the country at Stryn.
With stunning sights such as the wonderful waterfalls of Latefossen and the fabulous views from atop of Preikestolen for you to hike or climb to; Western Norway is almost unrivalled around the world for what it has to offer up.
Southern Norway

As it is home to what is known as the Norwegian Riviera, it should come as no surprise to learn that the southernmost part of the country has a lovely coastline for you to explore with lots of picturesque villages and towns dotted around its many bays, rivers and inlets.
Its beautiful archipelago is particularly delightful to visit and island hopping around while swimming, fishing and sailing in the region's clear waters is simply divine. Due to its fantastic summertime weather and climate, Southern Norway is a very popular holiday destination amongst Norwegians.
While its interior is certainly less visited, there are still lots of lovely lakes and forests for you to hike around if you want to immerse yourself completely in the area's astounding natural beauty and in winter the region's mountains make for some fantastic skiing.
Eastern Norway

Containing half of the country's population, with many of them based in the capital Oslo, Eastern Norway has a wealth of amazing things for you to see and do with lots of beautiful nature also on show. As it is home to the nation's largest national park in Hardangervidda as well as Trysil, the largest ski resort, there are lots of outdoor activities on offer and visitors can choose to hike, ski or sail their way through the glorious countryside.
Oslo itself is surrounded by forests and the fjord on which it is located has lots of lovely islands and beaches for you to explore alongside its historic sites and cultural landmarks which include the fantastic Viking Ship Museum.
As lots of rivers, valleys and lakes dot the region, Eastern Norway is again a nature lover's dream and a myriad of idyllic trails and paths weave their way through the stunning scenery. The valleys of Gudbrandsdalen and Hallingdal are particularly picturesque to explore as these both border the famous Jotunheimen which is home to the highest mountains in Scandanavia.
Svalbard


With more polar bears than people, the Svalbard archipelago is one of the northernmost places on the planet that humans permanently live and the vast majority of the islands are covered in endless glaciers and barren rock.
As such the snowy scenery is bewitchingly beautiful to behold and the desolate landscapes are home to polar bears, reindeer, arctic foxes and more while whales, walruses and seals swim about in its freezing waters.
Svalbard really is one of the most amazing places on Earth to see Arctic nature at its finest and only the main island of Spitsbergen has any infrastructure and small settlements to speak of. Indeed, most of the islands are made up of national parks and nature reserves which protect and preserve the wild and wonderful wintery world in which you find yourself.