Like its Nordic neighbours, Norway is consistently ranked among the most expensive countries in Northern Europe. However, the best things in life are free, and this is certainly the case in the vibrant city of Oslo.
Situated in a fjord and surrounded by beautiful forest and mountains, Oslo is the perfect city to explore by foot or on a bicycle. Discover colourful neighborhoods with an eldorado of local shops, cosy restaurants, and bars before settling down to soak up the sun in the many green areas.
The beauty of Oslo represents Mother Nature at her finest. Popular things to do in Oslo include skiing in the winter and cruising through picturesque Oslofjord in the summer. Indoors or outdoors, there is an Oslo attraction for everyone.
If you love art and history, prepare to come face-to-face with Edvard Munch's The Scream and lose yourself in one of the many interesting museums that Oslo has to offer. Indoors or outdoors, there is an Oslo attraction for everyone.
And when visitors are ready for some indoor entertainment, the capital of Norway offers world-class museums and art galleries. Indoors or outdoors, there is an Oslo attraction for everyone.
See also: Where to Stay in Oslo
Map of Things to Do in Oslo
© OpenStreetMap © MapTiler © Touropia
23. Nobel Peace Center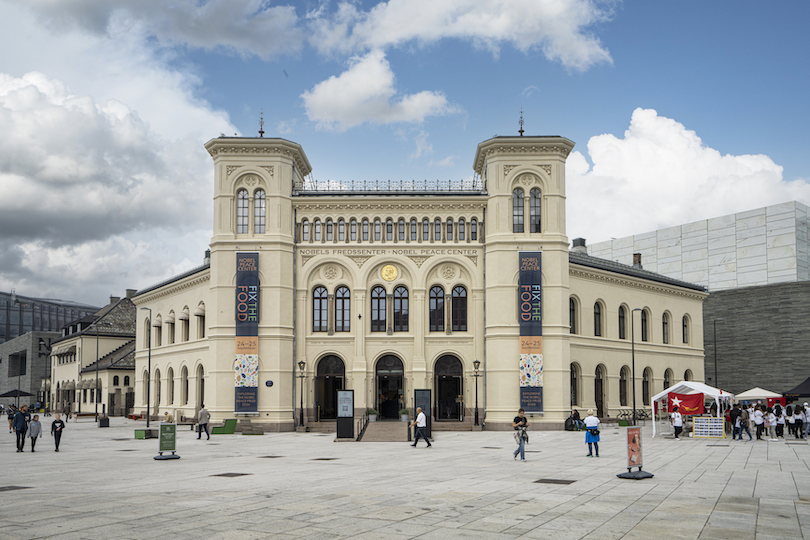 Located in the heart of Oslo in an old train station, the Nobel Peace Center is a one-of-a-kind museum which offers visitors a chance to learn about the inspiring stories of this prestigious accolade. Immerse yourself in the story of Alfred Nobel and his notable work that has kept the world inspired since 1901.
Just one step inside this place and you will instantly feel uplifted by the efforts of the centre to spread world peace and improve awareness of war.
With free guided tours, visitors can look forward to learning about the history of each peace laureate at the museum. Get specific insights about the prize, and maybe even catch the entrance of world figures getting ready to debate important global social issues.
22. Munch Museum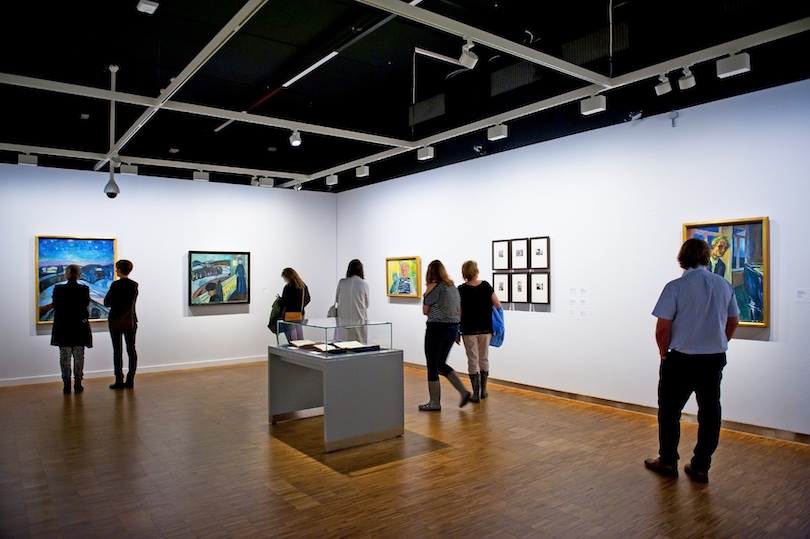 A brand new museum located on Oslo's vibrant waterfront, the Munch Museum is home to the world's largest collection of art by Norway's most famous painter: Edvard Munch.
Immerse yourself in the beauty of Munch's work, as well as his unique life and education. Enjoy learning about one of Modernism's most significant artists and specifically, how Munch earned his unique position and prestige within Norwegian and international art history.
The museum's gift store boasts more than 1,200 paintings by Munch which offer the perfect souvenir! On top of all the artistic inspiration, a visit here will bring you to the very site that attracted two armed robbers in 2004 who were successful in taking Munch's most famous painting: The Scream!
21. Mathallen Food Hall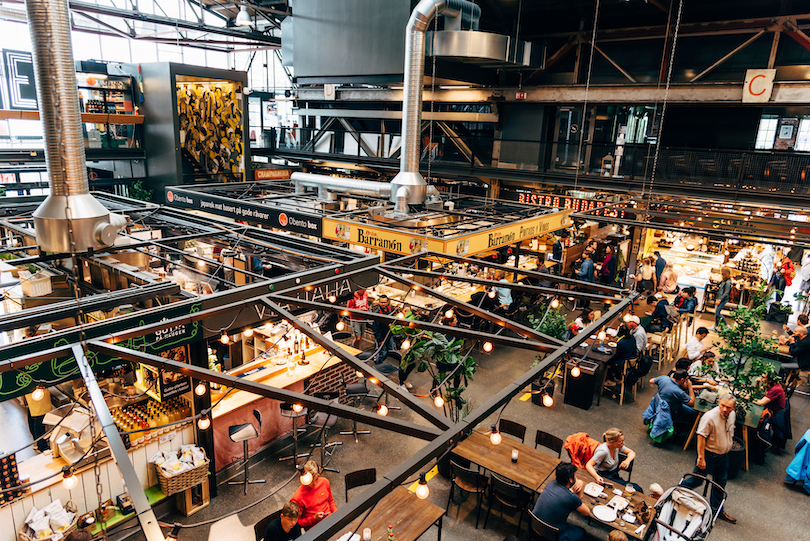 From the curious novices, passionate foodies, and aspiring chefs, a visit to Mathallen Food Hall will please just about everyone (and of course, their tummies!).
Inspired by the great European food courts, visitors can expect to take a leisurely browse through an array of specialty shops, delis, cafés, and restaurants before settling down and enjoying only the finest Norwegian and international food.
Try things like fårikål, a hearty mutton and cabbage stew which is Norway's delicious national dish whilst meeting locals, friends, and other tourists in a lively atmosphere dedicated to celebrating the joy of good food.
Throughout the year, Mathallen Food Hall is also a venue for a plethora of food festivals and interesting events that provide delectable gastronomic experiences!
20. Vigeland Museum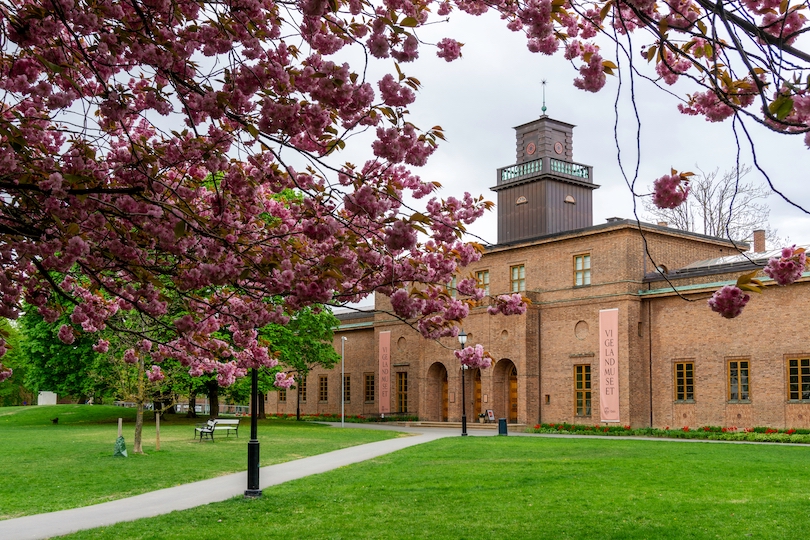 Boasting an extensive collection of Emanuel Vigeland's early works including portraits, monuments, and plaster models for the sculptures in the outdoor park, the Vigeland Museum is one of Oslo's best-kept secrets.
Art lovers can look forward to feeling inspired by Vigeland's specific working processes and techniques which are well-documented in the museum as well as visiting his very own apartment on the third floor.
If not for the sculptures, then a visit to simply admire the building, considered one of the finest examples of neoclassical architecture in Norway is just as recommended.
For those who prefer peace and quiet, consider visiting in the late afternoon when the crowds have left. Finish your day like a local and bring a picnic with you to enjoy a pensive lunch in the adjacent Frognerparken.
19. Karl Johans gate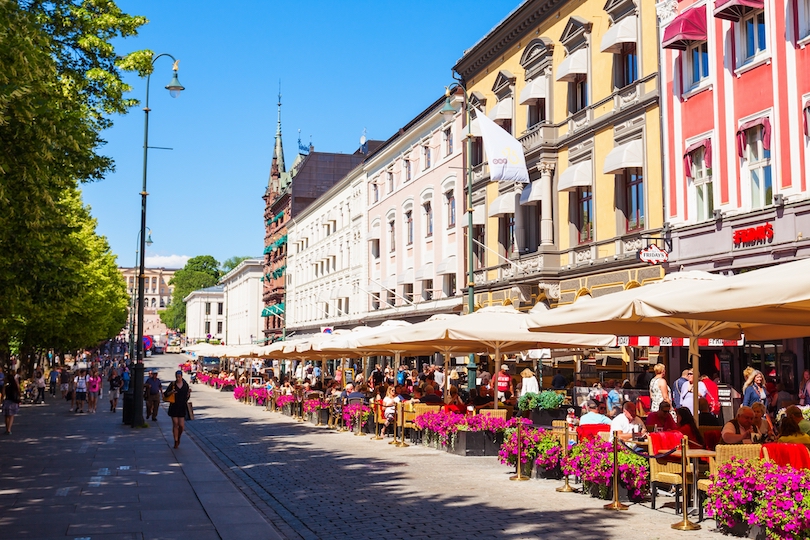 A trip to Oslo would not be complete without visiting the city's principal street: Karl Johans gate. Named in honour of the dual King of Sweden and Norway, King Charles III John, this central street is bursting with life, people, and a lively atmosphere.
Start your walk at the Central Station and appreciate a stroll that will take you past the Parliamentary buildings and down to the impressive Royal Palace of Norway. Enjoy a window-shop or a tasty lunch break at one of the many boutiques, restaurants and cafes.
If you are visiting in winter, look forward to the Christmas Market that transforms the street into a festive celebration: people watching, mulled wine, and delicious local goods!
18. Oslo Cathedral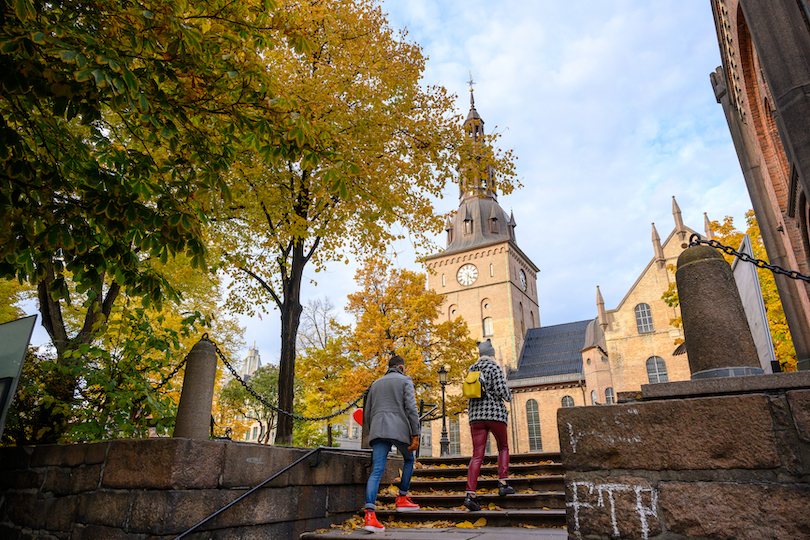 Take a welcome break from all the walking around Oslo with a visit to Norway's most important church.
Although the church has been renovated many times, it dates back to 1697 and much of its charming original baroque interior remains. Once inside, it is no surprise that this magnificent church is often the venue of choice for weddings and funerals by the Norwegian Royal Family and the Norwegian Government.
Look out for the beautiful stained glass windows, altar piece and organ front with acanthus carvings as well as the ornate ceiling murals painted by Hugo Lous Mohr between 1936 and 1950.
For those interested in an immersive and educational experience, guided pre-booked tours with local experts are available on weekdays.
17. Royal Palace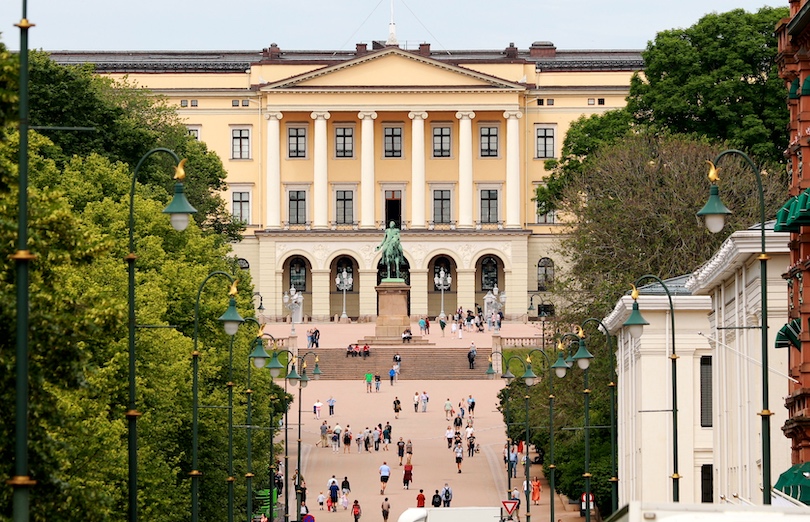 At the end of your stroll along Karl Johan's gate, consider taking a stop at the Royal Palace of Norway. Open to the public during the summer season, this important building is a concrete symbol of the course of Norwegian history since 1814.
Visitors can either choose to follow a one-hour guided tour through the most important rooms of the palace or simply enjoy a free walk around the exquisitely maintained palace grounds and feel like a royal! After all that walking, take a break to watch the daily changing of the guards at 1.30PM.
Remember that if a flag is flying above the palace, then the King is nearby – so keep an eye out to get a glimpse of Norway's royal family!
16. Natural History Museum & Botanical Gardens
Explore 4.5 billion years of our cosmos in Norway's largest natural history museum. With superb displays that represent many of the world's animals and their diverse habitats, including skeletons of dinosaurs and whales, this is a day trip that will leave you in awe of our earth.
At the same time, the museum does well to push forward awareness for important issues: in the Climate House, the power of activism and individual actions are emphasised.
If you love plants, enjoy spending time amongst nature from all corners of the world in the Botanical Gardens. In the months of spring and summer, the garden is bursting with gorgeous flowers and incredible plant aromas whilst in autumn, the park is a beautiful canvas of colours.
15. Ekeberg Sculpture Park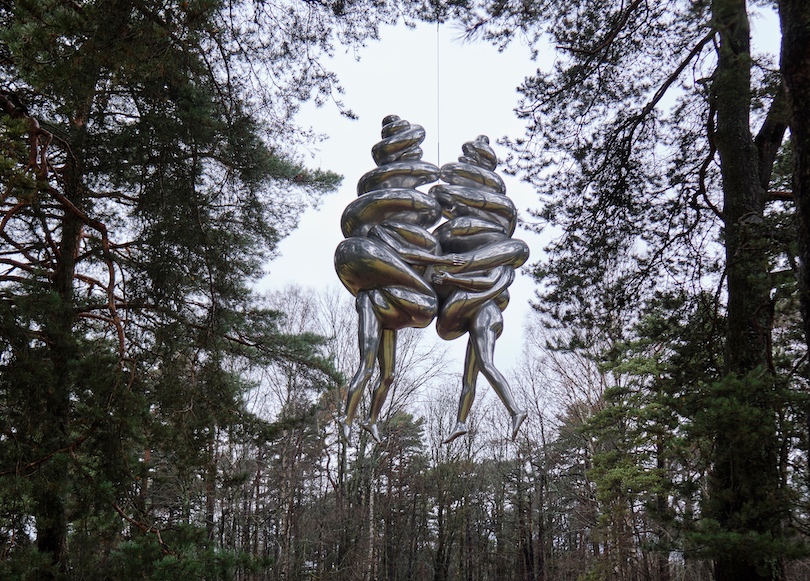 Just a short tram ride outside of Oslo's City Center is all it takes to reach the impressive artwork and sculptures nestled within the Ekeberg Sculpture Park (Ekebergparken). Open all year round and completely free to visit, a trip here will leave you in admiration of work from renowned artists such as the likes of Louise Bourgeois, James Turrell, and Dan Graham.
Surrounded by a beautiful natural oasis, this park certainly offers the perfect backdrop for these sculptures. On top of all the art, visitors can take a journey through Oslo's long and diverse history, exploring interesting rock carvings, ruins from the stone age, and cemeteries that date back to 900-400 BC. Private tours with knowledgeable guides are also available all year round.
14. Oslo City Hall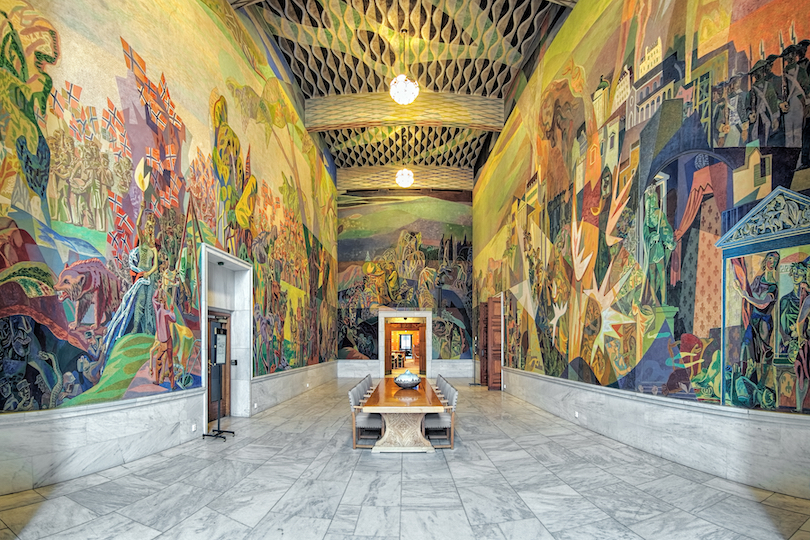 Constructed between 1931 and 1950, the City Hall of Oslo is open to the public every day unless special events are occurring.
Interestingly, the building's architecture combines Functionalism, the leading style in Norway, with elements of modernism and new classicism and is absolutely covered from top to bottom in great Norwegian art. Keep an eye out for the impressive six free-standing sculptures in front of the building depicting the working craftsmen who built the City Hall.
Take a step inside the building and discover the magnificent hall where the annual Nobel Peace Prize ceremony takes place. The perfect backdrop, Henrik Sørensen's immense oil painting will greet you with a short tale through Norway's social reforms, education, wartime, and Norwegian Royal history.
13. Astrup Fearnley Museet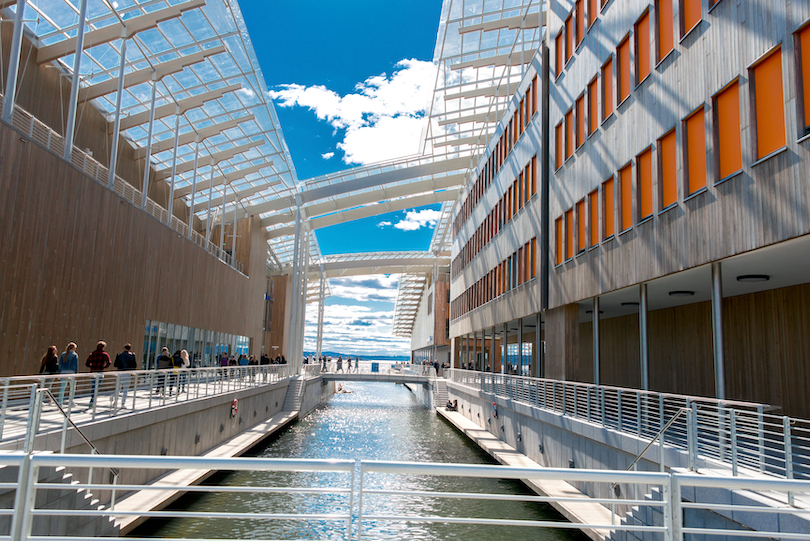 One of Scandinavia's most notable museums for contemporary art, the Astrup Fearnley Museet can be found along Oslo's lively harbour promenade.
A visit to the museum actually starts outside. Explore a network of canals, bridges and lawns which are home to sculptures of the Selvaag collection. Natural light pours into the glass roof as you enter the museum's main pavilion. Explore rotating exhibitions and new commissions by international artists before crossing a scenic bridge to the second building, home to a selection of dazzling modern art by famous artists.
The €90 million building is impressive, boasting ample space for the museum's collections, gift shop and cafe. Come and admire the work of world-renowned Italian architect Renzo Piano, famous for designing 'The Shard' in London.
12. Aker Brygge
Aker Brygge is a unique part of Oslo that you do not want to miss out on. Come day or night, this vibrant neighborhood is heaving with people who come to enjoy the array of exciting shopping, dining, and entertainment options conveniently lined along the boardwalk.
On a sunny day, take a seat by the seafront pier and admire the distinctive architecture at Aker Brygge which combines old shipyard buildings with fun, modern architecture. If you are lucky, you may even catch a glimpse of a concert or a pop-up event for fashion, art and culture in the heart of Oslo's vibrant commercial district.
With over 30 shops and 40 restaurants, this is the perfect spot to window shop, grab a tasty lunch, and enjoy some people watching.
11. Sognsvann Lake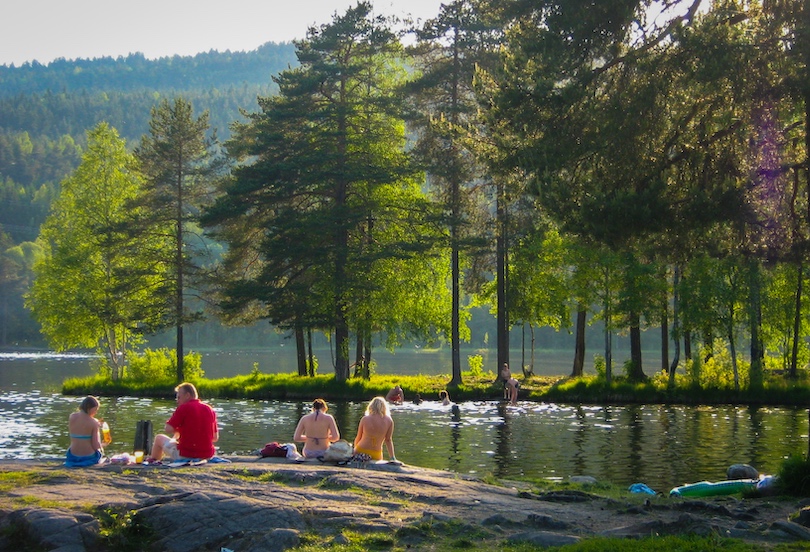 For the nature lovers out there, the Sognsvann Lake should definitely make it to the top of your Oslo list!
With a paved trail, numerous entry points into the lake, and fire pits for that scenic sunset campfire, Sognsvann is a popular hangout spot for students, runners and families alike.
The walkway around the lake is just under two miles long and is perfectly wide and accessible for strollers and wheelchairs alike. Come and walk this lake during any season and enjoy a glowing sunset for the perfect city detox.
This is a truly spectacular place boasting a serene lake, lots of waterfowl, and a peaceful atmosphere to clear your mind and enjoy a well-earned break from Oslo city life.
10. Kon Tiki Museum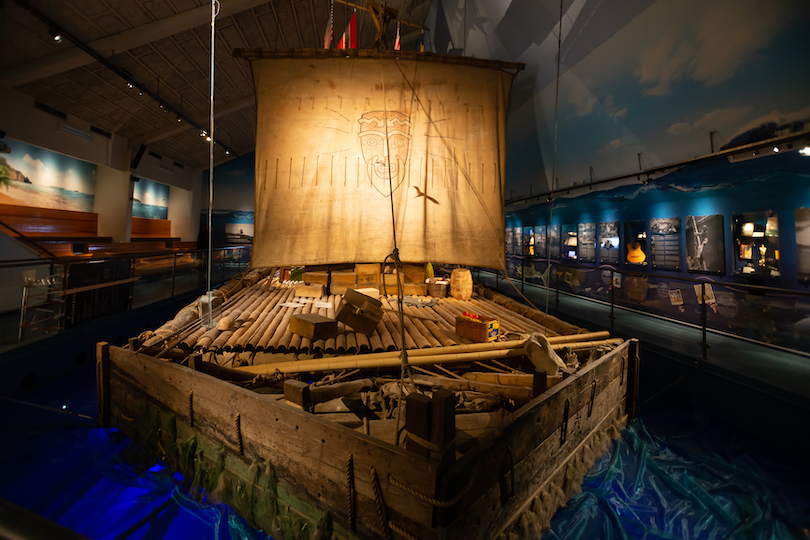 While many Norwegian explorers battled polar elements, Thor Heyerdahl took on the Pacific Ocean in 1947, crossing 8,000 km (5,000 miles) on Kon Tiki, a handmade balsawood raft.
This voyage proved that people from South America could have reached out to Polynesia via sea travel. The Kon Tiki Museum offers a unique opportunity to learn about Heyerdahl and his other sea adventures, including to Easter Island and the Galapagos.
Other crafts he sailed on his adventures are on display at the museum. The museum has one of the world's largest collections of Easter Island artifacts outside that island.
9. Oslofjord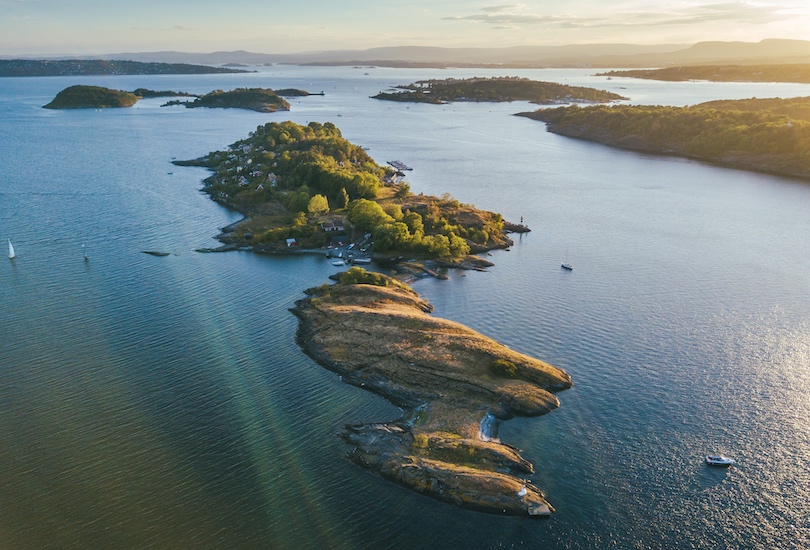 The 107 km (62 mile) long Oslo fjord is arguably the most picturesque gem in all of Oslo! Join in on a fjord cruise along stunning beaches, colourful wooden houses, soaring mountains, and snap pictures of this idyllic island landscape.
During the warm summer days, the fjord becomes a centre for exciting water recreation, with many choosing to ride the waves on stand-up paddle boards or simply enjoying a relaxing swim under the sunshine.
If your visit happens to fall in the winter season and you are daring enough, then perhaps consider stepping into one of the many fjordside saunas after your swim to treat your body with a rejuvenating detox.
8. Akershus Fortress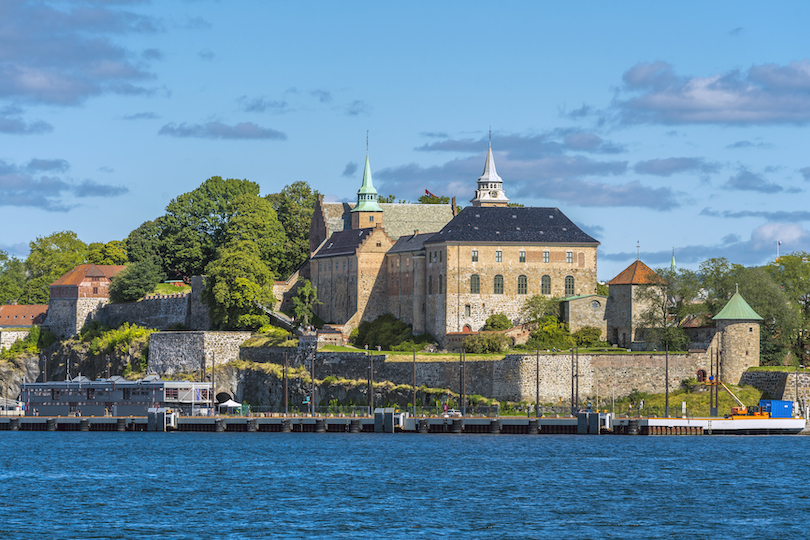 Akershus Fortress is a great place to learn about the history of Oslo. The medieval castle was built in the late 13th century to defend Oslo from invaders, something it did very well. Located at a strategic position on the headland of Oslofjord, a later Norse king had it modernized and converted into a Renaissance castle and royal residence.
From a royal residence, Renaissance castle, military base and prison, it is no surprise that Akershus was the model that Disney used for Elsa and Anna's castle in Frozen! Today, Akershus is an open-air museum free for the public to get an insight into this vast and unique story.
7. Norsk Folkemuseum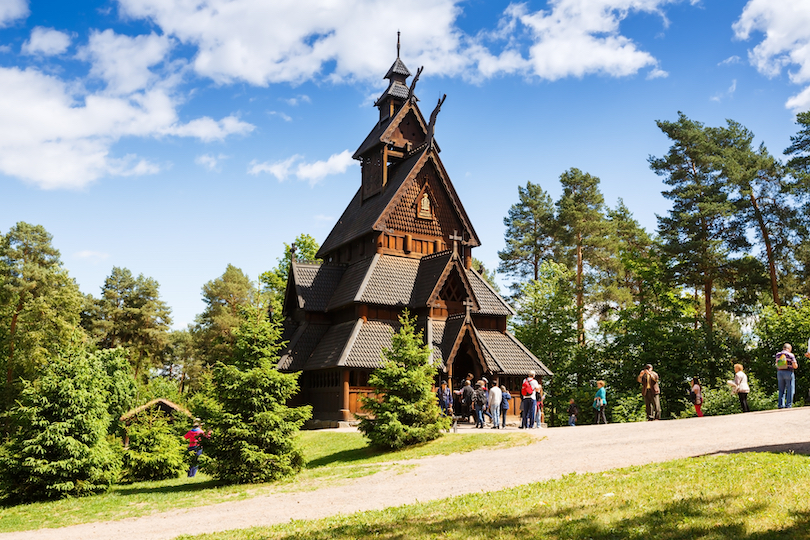 Travelers definitely will want comfortable walking shoes when they tour the Norsk Folkemuseum (Norwegian Museum of Cultural History). Located in Bygdøy, the museum has two parts: museum buildings that house the country's largest cultural heritage collections and a large open air museum made up of more than 150 relocated houses and other buildings, including a 13th century church, found throughout Norway.
A step inside this museum is a journey through time, all the way back to the year 1500. You will find real people dressed in folk costumes working in the field, engaging in sewing, constructing furniture, cooking traditional Norwegian food, or performing crafts of the region.
For those who want to fully immerse themselves in Norwegian culture, visitors are welcome to taste homemade bread, dance to live folk music, and buy local handicrafts.
6. New National Museum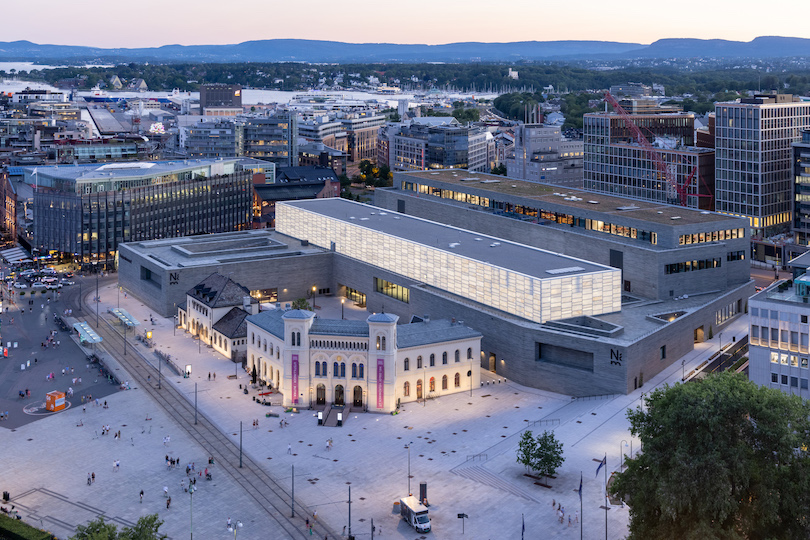 Nasjonalmuseet / Facebook
With room for over 100,000 art items, the New National Museum is the largest cultural centre in all of the Nordic countries.
Upon entrance, visitors are met with diverse and glorious exhibits. Admire stunning coronation dresses of Norway's queens, learn about the techniques behind the infamous Scandinavian design that is the driving force for international stores like IKEA, and be thought-provoked by Edvard Munch's The Scream.
Centrally located right by the City Hall square, this museum is part of a huge project to develop Oslo and represents the assembling of four previous museums and their artefacts. Visitors should keep an eye out for temporary exhibitions held in the museum's most eye-catching room: a huge illuminated exhibition hall on top of the building.
5. Holmenkollen Ski Museum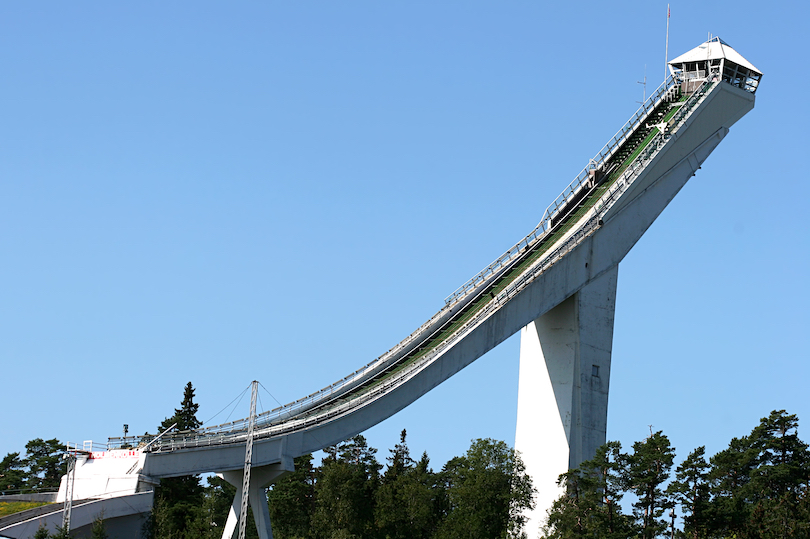 Norway is a country that is known for producing world-class skiers, both downhill and cross country. What better place to learn about skiing than the Holmenkollen Ski Museum & Tower.
Visitors can learn about 4,000 years of skiing at this unique museum, located inside the Olympic ski jump. They can ride to the top of the ski jump tower for stunning views of Oslo. The ski jump is used for competitions every winter, but non-racers will have to settle for a simulator to experience whizzing down the modern ski jump.
4. Vigeland Park
Vigeland Park is a stunning collection of more than 200 sculptures, all created by one artist, Gustav Vigeland, who created these pieces in wrought iron, bronze and granite. It is the world's largest collection of sculptures created by one artist, who, in this case, also designed the mid-20th century park.
The statues are lifelike portrayals of nude people in various poses, some of them of a sexual nature. Most of the sculptures are divided into five parts: Wheel of Life, Fountain, main gate, Monolith plateau and bridge with children's playground. Vigeland Park is one of the most popular attractions in Oslo.
3. Fram Museum
Norway is home to some famous polar explorers, including Roald Amundsen, Fridfjøf Nansen and Otto Sverdrup, so it is fitting for the Arctic nation to celebrate them and their efforts. The Fram Museum concentrates on Norway's contribution to polar exploration. It is home to the Fram, Norway's first vessel used in polar exploration, and the Gjøa, the first ship to sail through the Northwest Passage.
The museum is located at Oslo's Bygdøy peninsula near other maritime museums. Visitors can board the Fram where a northern lights show takes place every 20 minutes. The museum is multilingual, with signage in 10 languages.
2. Oslo Opera House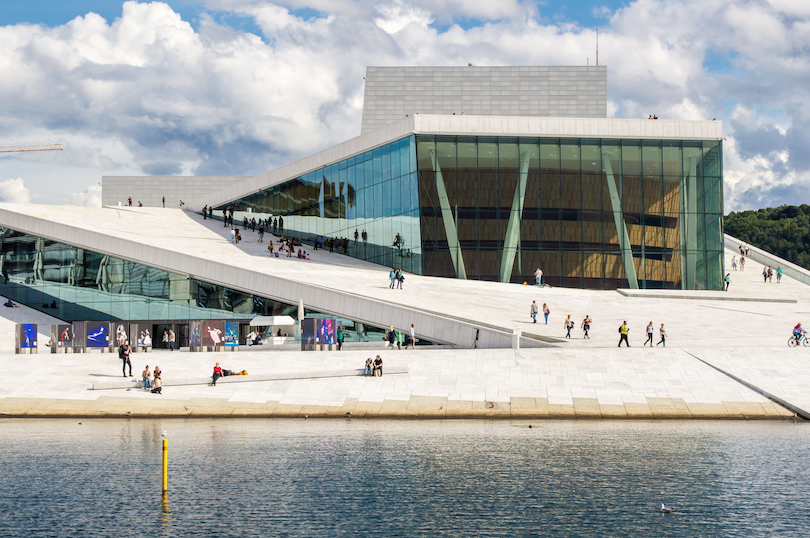 Located right at the harbor with a marble-covered roof that is climbed regularly by visitors, Sydney's Opera House has nothing on the Oslo counterpart.
Being able to walk in Oslo's Opera House is one of the coolest things you can do in Oslo and nothing beats the panoramic views from above. On your left, admire the city landscape of Europe's fastest-growing capital. To your right, lose yourself in the colourful wooden summer houses along the Oslofjord.
If you are afraid of heights then snap pictures of your daredevil friends before heading inside to explore the three theatres, public rooms, and halls. Made of 5,800 handmade crystals, be sure to keep an eye out for the oval chandelier show-stopper in the main auditorium.
1. Viking Ship Museum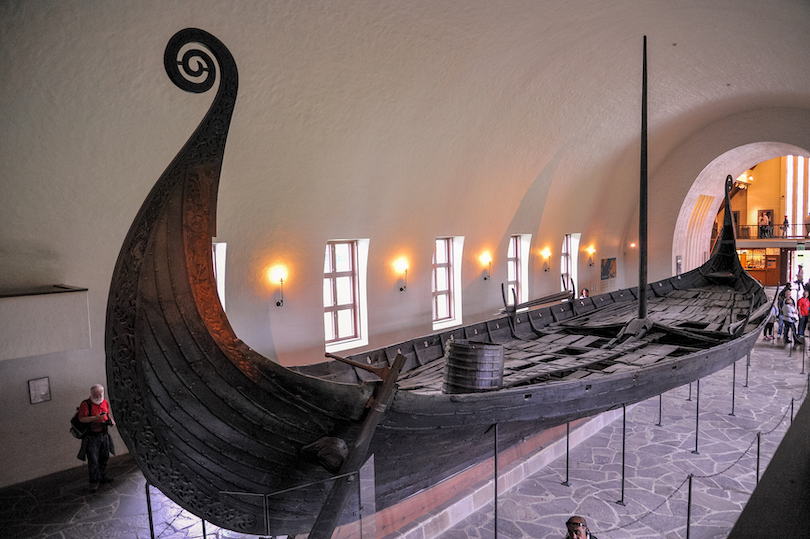 Many centuries ago, the Vikings sailed the northern seas, striking fear in the hearts of the region these fierce warriors were about to invade. Today, visitors can view, unafraid, some of these terror-causing vessels as the Viking Ship Museum showcases some of these great ships.
Ever since the museum first opened its doors in 1926, it has been a national symbol for Norwegian cultural heritage and boasts three original viking ships from the 11th century. The largest of the Viking ships could carry over 60 warriors in its glory days, ensuring the success of Viking raids that once conquered England, Paris, Normandy as well as other towns across Western Europe.
The museum also displays textiles, tools and household items as well as items found in Viking tombs. Visiting these thousand-year-old ships and artifacts should definitely make it on your Oslo bucket list.