It's easy to picture pillaging Vikings and scenic fjords when thinking about Norway. This land of the summer midnight sun, however, offers much more than that, including picturesque waterfronts, well-preserved wooden churches and great hiking trails. Quaint medieval towns, filled with modern amenities, are just waiting to be explored. An overview of the top tourist attractions in Norway:
geithe / Flickr
Roros is a good place to learn about copper mining as it occurred a few centuries ago. Copper mining started there in the 17th century and continued for more than 300 years, until 1977. The town has about 2,000 wooden houses that have been preserved in their blackened state, suggesting a medieval look. The town itself was established in 1646 by the Roros Copper Works. Farmlands surround the former mining operation, which include the remains of a smelter. The town is on the Winter Transport Route that used frozen lakes, streams and rivers to move people and goods.
9. Urnes Stave Church
[SEE MAP]
Micha L. Rieser / Wikipedia
The Urnes Stavkyrkje, or Urnes Stave Church, blends several architectural styles into a medieval church that is still standing after 900 years. What is remarkable about this church, however, is the building material used: wood, instead of the traditional stone. Located on Norway's west coast, the church blends Celtic, Viking and Romanesque features in a church that stands majestically in the woods. Urnes is one of 28 stave (wooden) churches in Norway as well as one of the oldest, having been built in the 12th century. Artifacts link pre-Christian Norse culture with medieval Christianity.
kennymatic / Flickr
Vøringfossen is Norway's most famous waterfall, cascading down 180 meters (600 feet) in a series of drops, though it ranks only 83rd on the list of Norway's highest waterfalls. Vøringfossen is located at Mabodelen, a narrow valley between Oslo and Bergen. Tourists have been visiting Vøringfossen for almost 200 years; a hotel built in 1880 at the top required guests to walk up 1,500 steps to reach their accommodations. The top is easier to reach these days, but the falls aren't as powerful as they once were because of a hydroelectric plant built upstream.
7. Nidaros Cathedral
[SEE MAP]
While William the Conqueror was busy invading Great Britain in 1066, the Vikings were occupied with building Nidaros Cathedral in Trondheim. Nearly 1,000 years later, the cathedral is Norway's most important church and Scandinavia's largest medieval building. The cathedral was built to honor Olav, a Viking chieftain who later became a king and a saint. Olav was killed in a battle near Trondheim in 1030; his nephew began constructing the Nidaros Cathedral in 1066 to house his body; it was basically finished in 1090, though enlargements continued until the 1300s. The cathedral soon became an important pilgrimage destination in Norway.
Nordkapp, or North Cape, is a must for travelers who want to frolic under the midnight sun, since the sun never sets between May 14 and July 29. It is the northernmost point in Europe connected with the international road network. Because it's in the far north, rising 300 meters (1,000 feet) above the Arctic Ocean, Nordkapp is mainly a summer destination, attracting about 200,000 visitors annually. Nordkapp offers stunning scenic views, with plenty of opportunities to hike under the Arctic sun or see puffin in their native habitat.
5. Jostedalsbreen Glacier
[SEE MAP]
GeorgeDement / Flickr
Icy and scenic is perhaps the best way to describe Jostedalsbreen Glacier, the largest glacier in Europe. Situated in southern Norway, the glacier is surrounded by Jostedalsbreen Glacier National Park. Many, many years ago, locals could cross the glacier on foot, perhaps herding animals on their way to market, but this isn't possible today as the glacier has shrunk significantly. Hiking and glacial skiing is allowed, but sportsmen need to be well prepared as these activities can be dangerous. It is much safer, and just as pretty, to take one of the walking tours around the park.
4. Viking Ship Museum
[SEE MAP]
Maciej Zytniewski / Flickr
Many centuries ago, the Vikings sailed the northern seas, striking fear in the hearts of the region these fierce warriors were about to invade. Today, visitors can view, unafraid, some of these terror-causing vessels as the Viking Ship Museum in Oslo showcases some of these great ninth century ships. The list includes ships from Gokstad, Oseberg and Tune, including two of the best preserved wooden ships in the world from that era. The Oseberg ship is the best preserved and was found in a burial mound on a farm near Oseberg. The museum also displays textiles, tools and household items as well as items found in Viking tombs.
3. Heddal Stave Church
[SEE MAP]
The Heddal Stave Church is Norway's largest stave church, with triple naves that stand proudly against the sky. The church, made entirely of wood, was built in the 13th century; according to local legend, it was built in three days by five farmers. After restorations in the 19th and 20th centuries, the church is still in use today for weddings and Sunday services during the summer months. Located in Notodden, the church is dedicated to the Virgin Mary.
Travelers who get "museumed" out may enjoy a visit to the Bryggen waterfront, an informal museum that doesn't seem like a museum. Traditional buildings line the waterfront with boats tied just feet away on Bergen's seaside. The scene is so picturesque, visitors can easily forget Bryggen is linked to Bergen's importance as a trading center for 400 years during the Middle Ages, when it was part of the Hanseatic League. Today's traders can shop in trendy boutiques, visit craftsmen's studios or enjoy a bite to eat down a narrow alleyway.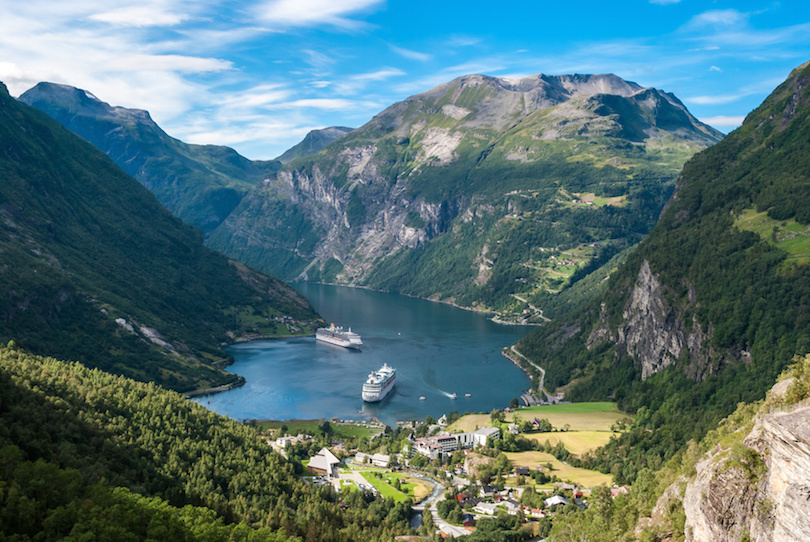 The most famous tourist attractions in Norway are probably it fjords. Among the most beautiful of these fjords is Geirangerfjord, located in southwestern Norway near the coastal town of Ålesund. Stretching for more than 15 km (9 miles) long, Geirangerfjord is a natural wonder of deep blue water surrounded by majestic cliffs and lush green mountains towering more than 1,000 meters (3,500 feet) high. Adding to the spectacular scenery are several stunning waterfalls and lush countryside dotted with picturesque farms.