The fourth-largest state in the US, sparsely populated Montana lies in the northwest of the country on the border with Canada. It boasts delightfully diverse landscapes: the west is very mountainous while the east's endless plains and prairies are only occasionally punctuated by breathtaking badlands and bluffs.
Hidden away among its wild and remote realms are incredible wildlife species, with moose, grizzly bears, and mountain lions all inhabiting its numerous national parks and state parks.
Map of National & State Parks in Montana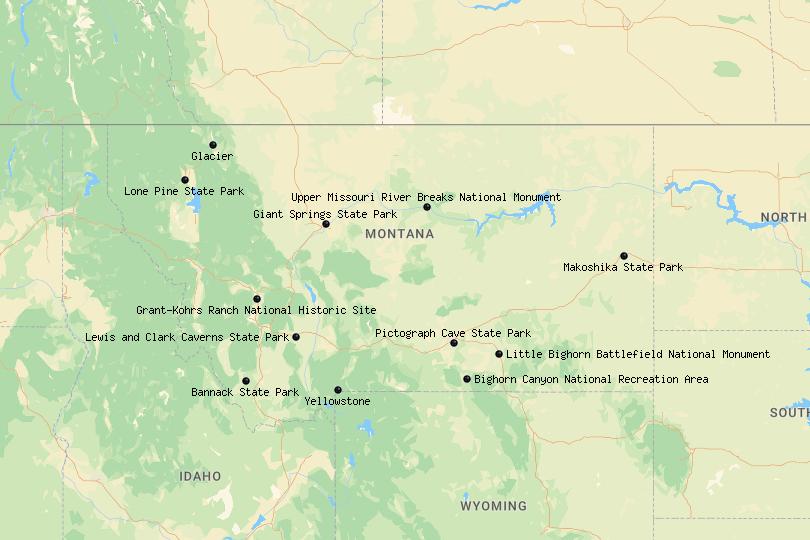 © OpenStreetMap © MapTiler © Touropia
These natural preserves have epic outdoor activities for you to enjoy, while some also protect and interesting and important historical sights. With so many natural wonders on show and two of the States' greatest national parks to check out – Glacier and Yellowstone – 'Big Sky Country' really shouldn't be missed.
12. Pictograph Cave State Park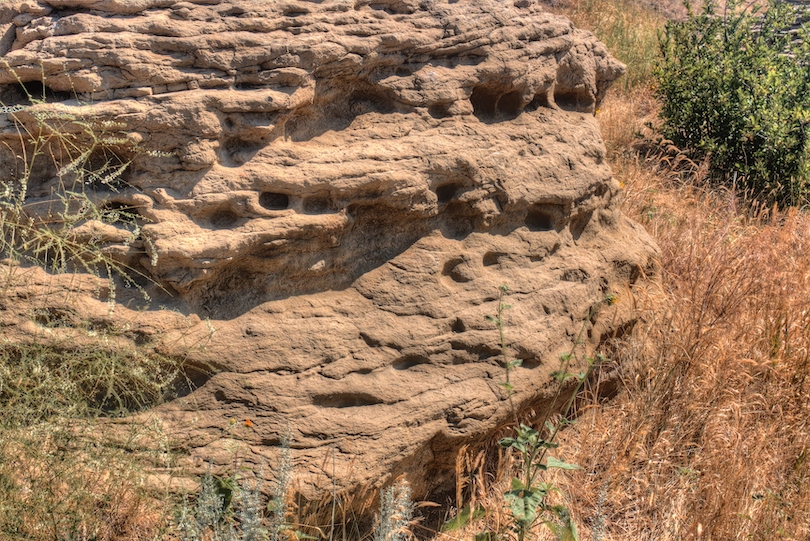 © Jacob Boomsma / Dreamstime
A popular and picturesque place to visit, Pictograph Cave State Park lies in a scenic spot on the outskirts of Billings. Nestled in the side of a sheer sandstone bluff are three captivating caves for visitors to explore, home to more than one hundred remarkable rock art paintings.
Painted over more than two thousand years, these fascinating prehistoric pictographs can be viewed in the cave of the same name. Here you'll find etched images of animals, warriors, and hunting scenes; the cave complex has long been an important spiritual site for local Native Americans.
Since excavations began in the 30s, more than 30,000 artifacts have been unearthed at the archaeological site. To learn more about the findings and the pictographs, visitors can hike along the state park's terrific trail or stop by its center, which has interesting displays and exhibits on the site.
11. Lone Pine State Park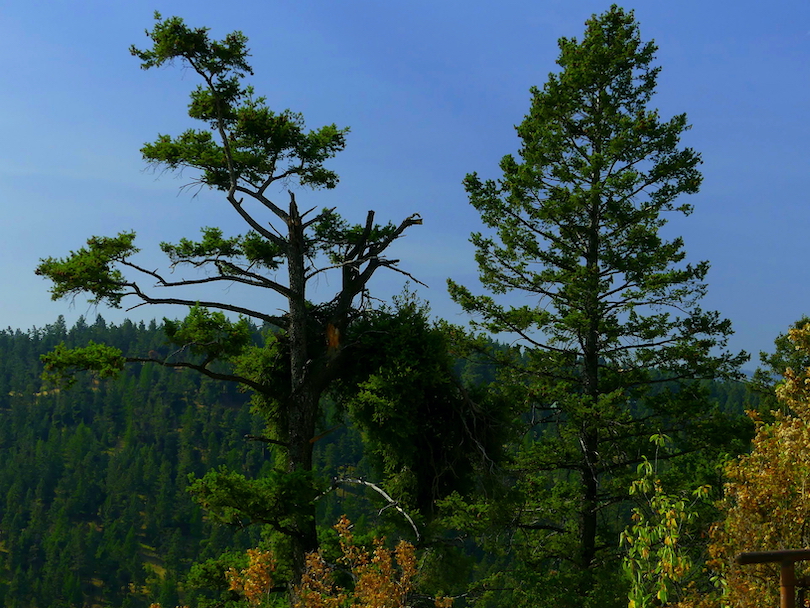 © Mark Peugh / Dreamstime
Lying just to the southwest of Kalispell is the lovely Lone Pine State Park, which looms over the city and Flathead Valley. As it is home to wonderful nature and scenic trails, it is very popular with locals and tourists, with plenty of recreation activities on offer.
Founded in 1941, the park boasts delightful landscapes, with flower-filled meadows and lush forests coating its hilly confines. Reaching 1,110 meters in height, it has more than ten kilometers of trails to explore, with fabulous vistas to be enjoyed from its upper reaches.
Besides hiking, mountain biking, and horseback riding along its peaceful paths, visitors can go wildlife watching and birdwatching. In addition, there is an archery range and volleyball court to try out. Cross-country skiing and snowshoeing are on offer in the winter months.
10. Bighorn Canyon National Recreation Area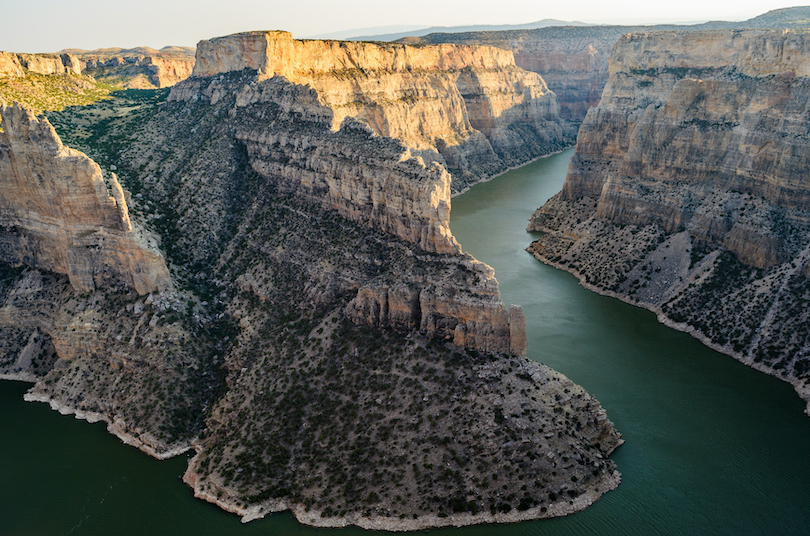 © Zrfphoto / Dreamstime
Home to stunning scenery and landscapes, Bighorn Canyon National Recreation Area sprawls over a vast zone and straddles both Montana and Wyoming. Made up of two delightfully distinct districts, it is a treat to explore, with a wealth of recreation activities to try out.
The main feature of the park is the breathtaking Bighorn Canyon, which towers over the large lake and roaring river of the same name. Its craggy cliffs form a formidable backdrop to the tranquil waters below, which offer fantastic fishing, kayaking, and boating.
While hiking and camping are very popular, the area also has a range of archaeological and cultural treasures to check out. As well as being home to historic ranches, a third of its area is located on the Crow Indian Reservation; part of the park is a range for wild horses. Visitors can learn all about its history, geology, and nature at one of the site's two centers.
9. Bannack State Park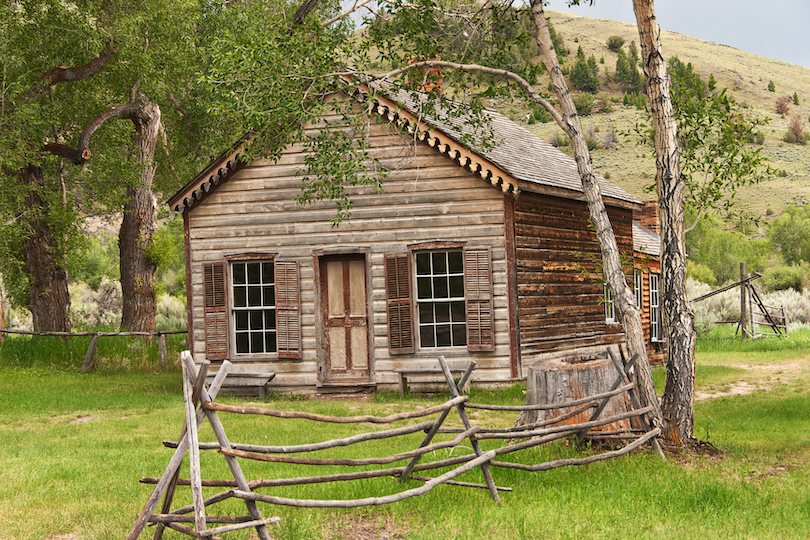 © Sue Smith / Dreamstime
Once a thriving mining town, Bannack was slowly abandoned as the seams of glittering gold ran out, and prospectors moved on. Set in a scenic yet secluded spot in the southwest of the state, the eerie yet enticing ghost town is now protected as part of a state park.
Nestled away among Montana's majestic mountains are more than 50 decaying buildings for visitors to explore, with log cabins lying alongside a school, hotel, and Methodist church. Although they have long been abandoned to the elements, most of them are in remarkably good condition. As such, it makes for an unsettling experience wandering around the empty streets.
One of the best times to visit is in July, when the 'Bannack Days' are held; re-enactors transform the town into what it would have been like during the gold rush. The rest of the year, visitors can take tours of Bannack or rent bikes and set off hiking from the nearby campsite.
8. Makoshika State Park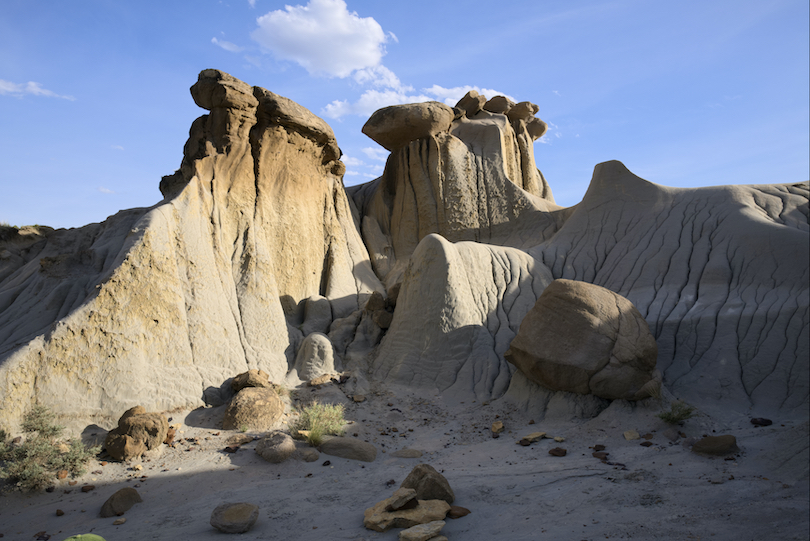 © Daniel Larson / Dreamstime
Set just outside of Glendive in the far east of Montana are the bleak yet beautiful badlands of Makoshika State Park. Meaning 'land of bad spirits' in the local Lakota language, its tortured terrain is home to layered landscapes and photogenic rock formations.
The largest of Montana's state parks, Makoshika sprawls over a huge area, with incredible wilderness for visitors to explore. Besides boasting exquisite hiking trails, it also has some scenic drives to enjoy. Vultures, falcons, and bald eagles can sometimes be spotted swirling above the astonishing landscape.
Over the years, a number of dinosaur fossils have been unearthed within the park's desolate confines. These remarkable remains are now on show at its excellent visitor center, where you'll also find interesting interactive exhibits on the history and geology of the region.
7. Grant-Kohrs Ranch National Historic Site
Ken Lund / Flickr
Located almost equidistance between Missoula and Bozeman is the Grant-Kohrs Ranch National Historic Site, which commemorates the cattle industry and cowboy culture of the American West. Lying on the banks of the charming Cottonwood Creek, this colossal living history ranch now offers a fascinating look into the frontier cattle era that shaped the nation.
Founded in 1862 by the Canadian fur trader Johnny Grant, the ranch was later bought and expanded by the successful cattle baron Conrad Kohrs. At its zenith, over 50,000 head of cattle roamed about his ranch, which sprawled as far as the eye could see.
Nowadays, visitors can tour around its historic buildings and see the ranch in operation. Blacksmiths and cowboys use techniques that would have been used in the 19th century.
6. Giant Springs State Park
david / Flickr
Set around the sparkling springs after which it is named, Giant Springs State Park lies just to the northeast of Great Falls on the banks of the Missouri River. Due to its proximity to the city and its peaceful and picturesque nature, it is a top-rated place with many recreation activities on offer.
One of the largest freshwater springs in the States, Giant Springs has been used for centuries, if not millennia, by the Blackfeet Nation. First described by the Lewis and Clark Expedition in 1805, its waters originate in the Little Belt Mountains, taking around 3,000 years to travel the 100 kilometres underground to surface again at the springs.
Besides visiting the springs, visitors can wander around the park's gorgeous green spaces and explore the scenic shoreline of the river. As well as its picnic areas and playgrounds, it also offers some great fishing, boating, and birdwatching.
5. Lewis and Clark Caverns State Park
© Ronniechua / Dreamstime
Boasting lots of large limestone caverns and stunning stalactites and stalagmites, Lewis & Clark Caverns State Park makes for a spectacular sight. Located just under an hour's drive to the northwest of Bozeman, it is one of the most popular parks to visit in the state.
First documented by the Lewis and Clark Expedition after which it is named, the caves cover a substantial underground area, with illuminating tours taking you around their most fascinating features. Lit up by flickering candles and fairy lights, its subterranean sculptures and formations are a treat to explore.
Above ground is equally delightful: the state park's lovely woods and shimmering streams lend themselves perfectly to hiking, mountain biking, and camping, with fishing and canoeing also on offer.
4. Little Bighorn Battlefield National Monument
© Donyanedomam / Dreamstime
Lying about an hour's drive to the east of Billings, this moving national monument and memorial commemorates the famous Battle of Little Bighorn. It was here on June 25 and 26, 1876, that General Custer made his 'last stand' and lost his life alongside many of his cavalry at the hands of the local Native Americans.
At the sprawling battle-site, visitors can learn all about the epic encounter that came to symbolize the clash of cultures. Fighting to protect their nomadic way of life and stop themselves from being forced onto reservations, it was a momentous but momentary victory for the Native Americans against the ever-expanding advances of the US Army.
Through interesting and informative tours, you'll learn all about the battle and its aftermath, as well as the legendary Lakota leaders Crazy Horse and Sitting Bull. In addition, you can visit the numerous markers and memorials scattered about what is now part of the Crow Indian Reservation.
3. Upper Missouri River Breaks National Monument
© Joe Sohm / Dreamstime
Home to beautiful badlands and breathtaking bluffs, Upper Missouri River Breaks National Monument lies in a remote and rugged region of north-central Montana. Established in 2001 by President Bill Clinton, it will delight nature lovers and outdoor enthusiasts with its serene and secluded scenery.
Referred to as 'The Breaks' by locals, due to the dramatic cliffs and rocky outcrops lining, the river, it has lots of lovely landscapes for visitors to explore. Almost unchanged since the Lewis and Clark Expedition passed through more than two hundred years ago, it is home to everything from plains and prairies to charming creeks and rock formations.
Besides hiking and hunting in its wonderful wilderness, visitors can go fishing, swimming, and kayaking in the Missouri River or simply bask in all the outstanding beauty on show.
2. Yellowstone National Park
© Nyker1 / Dreamstime
While most of Yellowstone lies within the wilds of Wyoming, some picturesque parts of the popular park sprawl over into Idaho and Montana. An absolutely incredible place, it is awash with astounding natural sights: mighty mountains tower above sweeping valleys, verdant forests, and roaring rivers.
The oldest national park in the world, it was founded in 1872, delighting and dazzling countless generations ever since. While its diverse and dramatic scenery is spectacular, it is most known for the more than 10,000 geysers, hot springs, and thermal features dotting its craggy confines.
Of these, one of the most popular is the Grand Prismatic Spring due to its kaleidoscopic colors. Old Faithful never fails to amaze with the staggering size and scale of its spurting spring. With lots of wildlife residing within its remote realms and exquisite hiking, camping, and boating on offer, Yellowstone National Park is not to be missed out on.
1. Glacier National Park
© Mark Sauer / Dreamstime
Home to stunning scenery, landscapes, and nature, the gorgeous Glacier National Park can be found in the northwest of Montana on the border with Canada. Founded in 1910, it protects a vast swathe of unspoiled wilderness and fully deserves its nickname, the 'Crown of the Continent'.
Very mountainous, it is home to two rugged ranges, with vast valleys and rocky ravines left behind by the gigantic glaciers after which the park is named. Dotted about these damaged yet delightful landscapes are over 130 twinkling turquoise lakes, with gorgeous waterfalls and sparkling streams found here and there.
As over half of the park is coated in verdant forests, it is a great place to go wildlife watching with moose, mountains goats and grizzly bears inhabiting its isolated areas. With scenic trails weaving their way amidst the towering trees and mountains and cosy campsites to stay at, Glacier National Park really is one of the most awe-inspiring places to visit in the whole of the States.