Nestled away amid the rearing Rocky Mountains, Bozeman is surrounded by incredible natural sights, scenery, and landscapes. Located in the southwest of Montana, it is the perfect place to head to if you love the great outdoors as it boasts brilliant hiking, skiing, and wildlife watching.
While it's proximity to both the Big Sky Ski Resort and Yellowstone National Park attracts lots of people, the chilled out college town itself also has a lot going for it. Besides exploring its lively yet laidback downtown, visitors can check out its numerous art galleries or head to one of its wonderful museums. With so many natural riches lying on its doorstep, however, most people use Bozeman as a base from which to explore Montana's majestic mountains, rivers, and prairies.
In this post, we'll cover:
12. M Trail
Lying on the outskirts of Bozeman is the magnificent M Trail, which winds up the south side of Baldy Mountain. After hiking through some lovely nature and scenery, visitors can bask in the stunning views of Gallatin Valley from its higher reaches.
The picturesque path is named after the big bright white 'M' that stands out delightfully against the hillside. This stands for Montana State University and was shaped out of white rocks by students all the way back in 1915.
Since then, countless generations have hiked the M Trail; it is a very popular spot to enjoy a picnic or watch the sunset over the valley. As it only takes half-an-hour to two hours to hike, depending on which of the two routes you select, it is well worth checking out when in Bozeman.
11. Gallatin History Museum
Located in what was once the county jail, the Gallatin History Museum does a marvelous job of presenting the region's rich history, culture, and heritage. Set in the center of town, it has plenty of interesting and informative exhibits for visitors to peruse, as well as an extensive collection of more than 20,000 historical images.
Besides learning about Bozeman and Gallatin County, visitors can delve into some of the fascinating characters that shaped Southwest Montana. While the displays on the famed Lewis and Clark expedition (which passed through the Bozeman Pass) attract many people, others flock to learn about the historical role of pioneer women in the county.
In addition to this, the museum has a reconstructed pioneer cabin, hanging gallows, jail cells, and the infamous Big Horn Gun to check out.
10. Gallatin River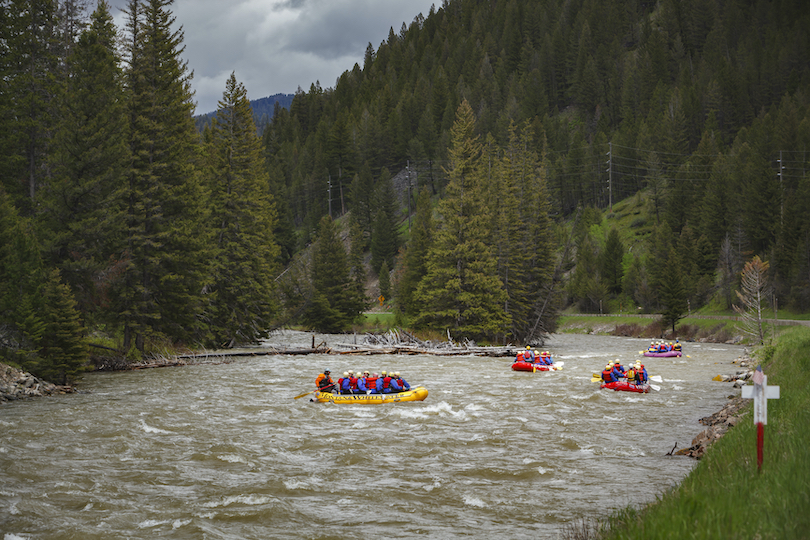 Stretching almost 200 kilometers, the gorgeous Gallatin River passes through diverse and delightful landscapes and can be found just outside Bozeman. Besides its serene and scenic nature, the river's rushing waters lend themselves perfectly to all kinds of outdoor activities.
While some of its more peaceful parts are perfect for fly fishing and rowing, other sections, such as the 'Mad Mile,' attract adventurous whitewater rafters. In addition, there are loads of outstanding hikes and horseback rides to be had in the verdant forests, flower-filled alpine meadows, and rocky canyons lining its banks.
Originating in the Rocky Mountains, this tributary of the Missouri River will delight nature lovers and outdoor enthusiasts with its wealth of recreational activities. With rock climbing, camping, and wildlife viewing on offer, there really is something for everyone to enjoy.
9. Bozeman Hot Springs
Set in the heart of the breathtaking Gallatin Valley, the bountiful Bozeman Hot Springs has been attracting visitors for over a hundred years. Once a small, scenic, and secluded pool, it has since evolved into a popular attraction among locals and tourists.
Nowadays, visitors to the springs will find an array of saunas and steam rooms to choose from, as well as 12 indoor and outdoor pools. The warm and revitalizing waters are very soothing to soak in, with a fitness facility, snack bar, and campsite also on offer.
As it is located not far from Yellowstone National Park and the Big Sky Ski Resort, many people head to Bozeman Hot Springs after a day of hiking or skiing.
8. American Computer & Robotics Museum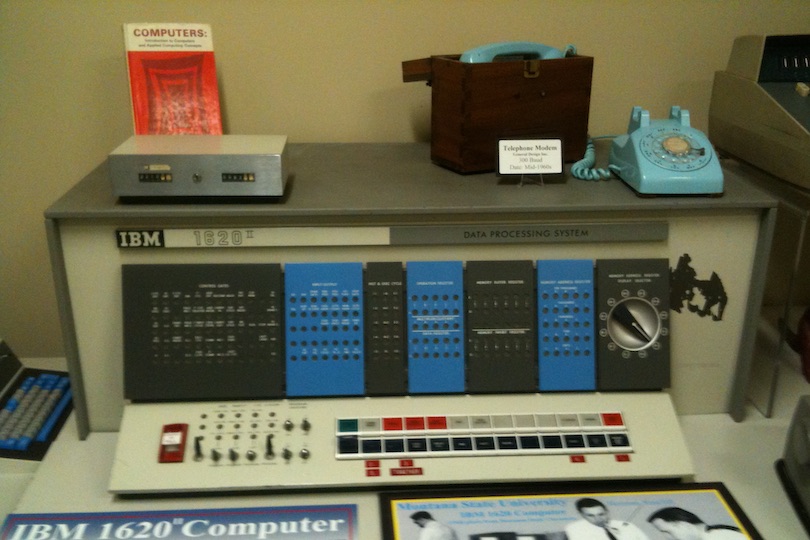 Jon Cassie / Flickr
Founded in 1990, the educational, enlightening and slightly eclectic American Computer & Robotics Museum is now one of Bozeman's top attractions. Set in the south of the city, it provides a fascinating look at the history of computers, communications, AI, and robotics.
Starting with something as simple as an abacus, it chronicles the on-going evolution of computer technology through thought-provoking exhibitions and innovative installations. As well as delving into topics such as the Space Race and Cracking the Enigma Code, it also imagines what the future of the Information Age may look like.
Full of old computers, smartphones, radios, and televisions, this magnificent museum is well worth visiting if you're even slightly interested in computers and technology.
7. Bridger Bowl Ski Resort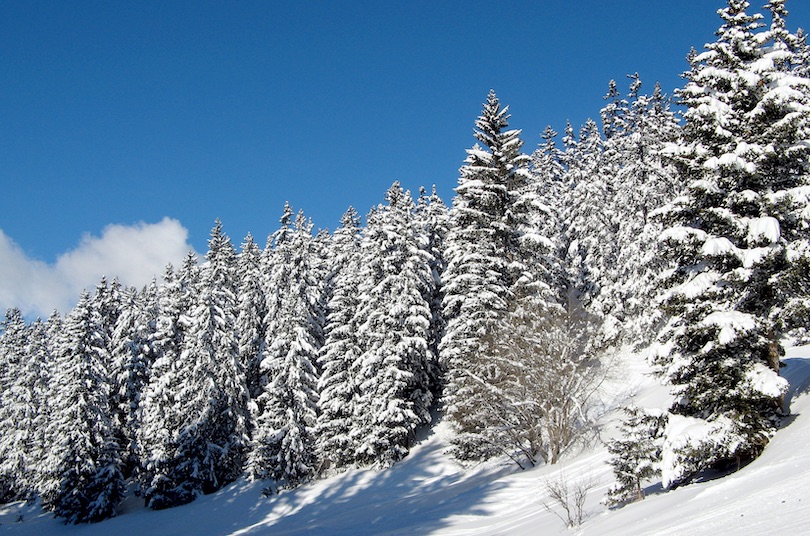 Nestled in the mountains to the north of Bozeman, Bridger Bowl Ski Resort is one of the best places to enjoy winter sports in the region. Boasting terrific terrain, fantastic facilities, and outstanding snowfall, it is particularly popular with locals and university students.
Easily accessible from the center of town, its eight chairlifts take visitors up to everything from snow-covered slopes and pistes to glistening glades and gullies. As it covers such a vast area and has more than 75 runs on offer, it is ideal for beginner snowboarders or advanced skiers. Classes are also available at its snowsports school.
The most challenging sections of the Bridger Mountains can be found at 'The Ridge,' which has scenic, steep, and highly technical slopes for snowboarders and skiers to shoot down.
6. Palisade Falls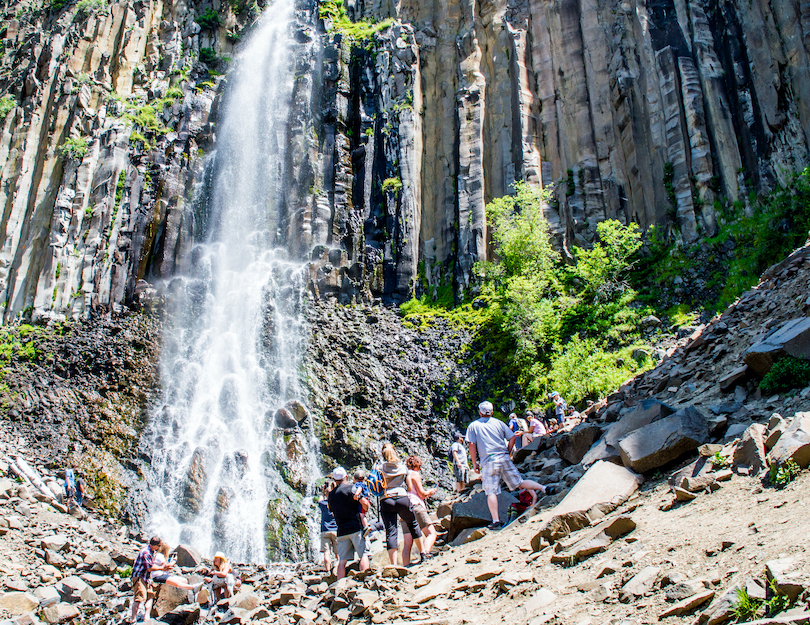 Plunging down a sheer cliff face, Palisade Falls makes for a dramatic sight and can be found around 30 kilometers to the south of Bozeman. Lying at the end of a short hiking trail, it is set amid some spectacular scenery, not far from Hyalite Reservoir.
Towering to 25 meters, the wonderful waterfall courses down the rugged remains of a prehistoric lava flow. Its white waters stand out against the ruddy rocks and tall trees lining the ridge, making for some phenomenal photos.
At the bottom of the waterfall is a picturesque picnic area for visitors to rest at, and lots of great hiking can be enjoyed in the gorgeous Gallatin National Forest surrounding it.
5. Big Sky Ski Resort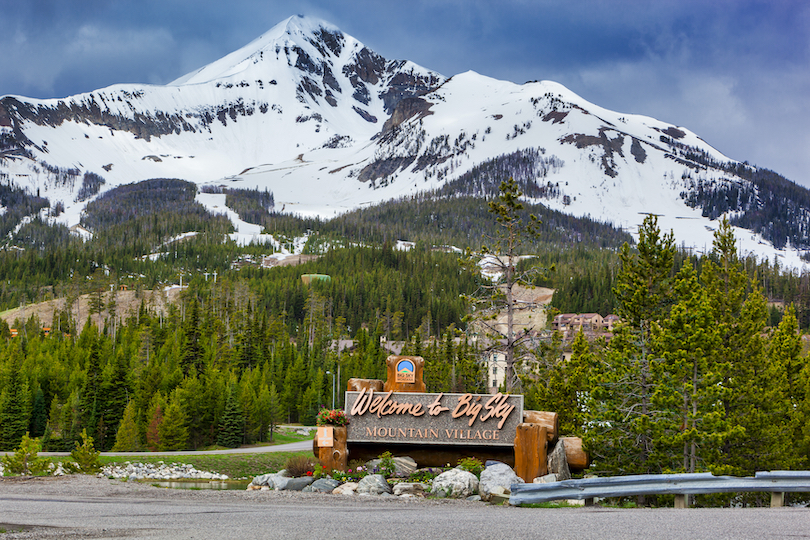 Situated just 70 kilometers to the southwest of Bozeman is the breathtaking Big Sky, the second largest ski resort in the whole of the US. Here, visitors can find sensational ski slopes and sparkling, snow-coated pistes, as well as breathtaking mountain scenery.
Once a private ranch, the area was turned into a ski resort in 1973 and has been welcoming people ever since. Nowadays, 38 chairlifts service its sublime slopes, with hiking, mountain biking, and horseback riding available in the summer months. Guests can stay at either Mountain Village or Meadow Village, both of which have countless condos, shops, and dining options.
Big Sky Ski Resort's undoubted star attraction is the lofty Lone Mountain, which stands at 3,403 meters. To reach its summit, visitors can take an amazing aerial tram before skiing or snowboarding back down.
4. Montana Grizzly Encounter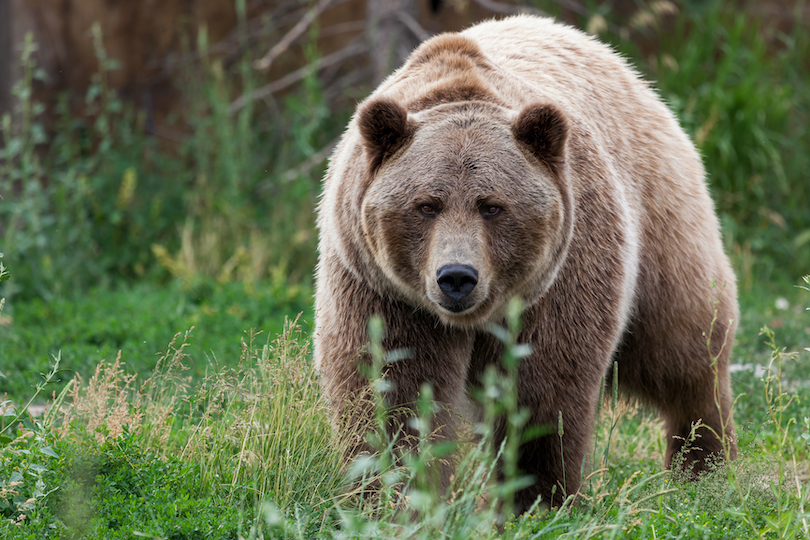 Synonymous with wide-open skies, wilderness, and grizzly bears, Montana is home to the largest population of the majestic mammals in the lower 48 states. The best place to view these endangered critters up close and personal is at the Montana Grizzly Encounter.
Founded in 2004 as a sanctuary for rescued grizzlies, the encounter now houses five furry friends named Brutus, Bella, Sheena, Maggi, and Max. Besides providing them with a safe home in a natural setting, the rehabilitation center educates visitors about grizzlies and the ecosystems in which they roam.
Watching them eat, play, and prowl amid the rocks and trees of their expansive enclosures really is an awe-inspiring experience as you learn about the beautiful bears and the efforts made to preserve their natural habitats.
3. Downtown Bozeman
While many people head to the city to explore the great outdoors surrounding it, Downtown Bozeman is just as delightful in terms of what it has to offer. A captivating mix of contemporary city meets cowboy charm, its countless amenities and attractions sprawl over a couple of blocks of historic brick buildings, with something for everyone to enjoy.
Besides boasting more than 20 extraordinary art galleries, there are plenty of public art installations and murals scattered about for you to check out. In addition to the great Gallatin History Museum, visitors can stop by the Emerson Center for the Arts and Culture, which hosts several cultural events and festivals over the year.
On top of this, lots of specialty shops, thrift stores, and brewpubs can be found in the lively yet laidback heart of the city.
2. Museum of the Rockies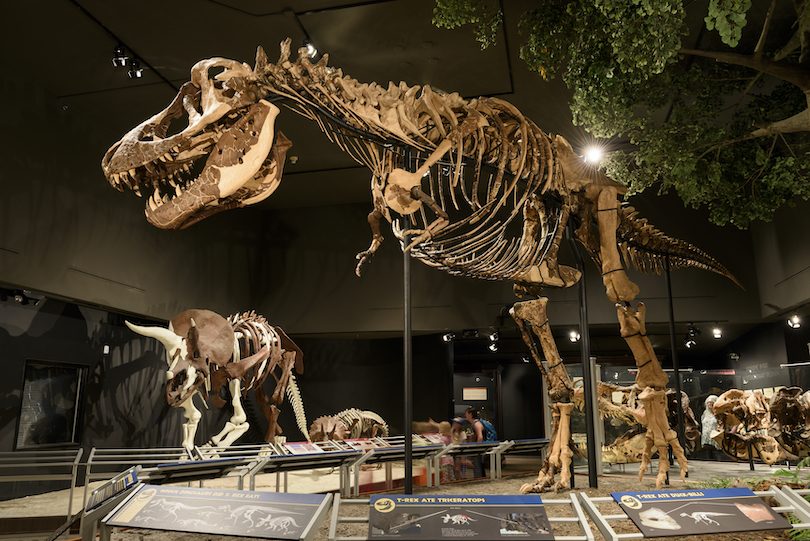 The biggest and best museum in Bozeman, the Museum of the Rockies teaches you everything there is to know about the mighty mountain range. Set just to the south of Downtown, it is packed full of exciting and educational exhibits that look at both the physical and cultural history of the Rockies.
Visitors will not only learn about geology and geography, but also about Native Americans, fur traders, and gold seekers who inhabited the area. In its extensive galleries and exhibition halls, visitors can peruse ancient and awe-inspiring artifacts, artworks, and archaeological findings.
While it focuses on the Rockies, the museum is perhaps best known for housing the largest and most impressive collection of dinosaur remains in the States. In addition to its huge Tyrannosaurus Rex skull – which is undoubtedly its main highlight – there is also a terrific Triceratops to check out.
1. Yellowstone National Park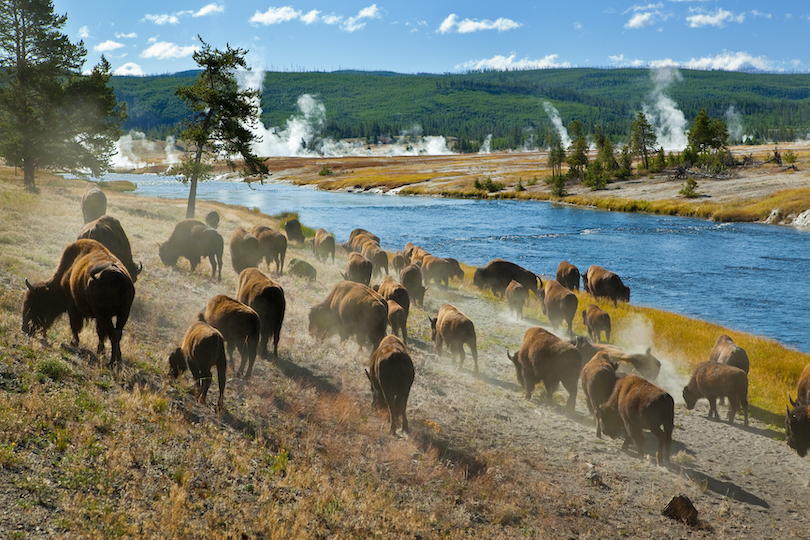 Home to a staggering array of epic scenery, landscapes, and wildlife, Yellowstone National Park is a treat to explore. While most of the park lies within the northwest corner of Wyoming, other parts in Montana lie just over an hour's drive from Bozeman.
Founded in 1872, America's first national park protects and preserves everything from canyons and mountains to rivers, lakes, and forests. As it is set atop of Yellowstone Caldera, it boasts a multitude of hot springs and mud pots, with more than 300 geysers found within the park.
As bison, elk, grizzly bears and wolves reside within its incredible wilderness, wildlife watching is very popular, as is hiking, camping and boating. Due to all the stunning scenery, Yellowstone is very popular to visit with Grand Prismatic Spring and the iconic 'Old Faithful' geyser being its most famed and photographed sights.
Map of Things to do in Bozeman, Montana