With over 25% of the country's territory dedicated to national parks and reserves that protect and preserve its diverse array of incredible ecosystems; it is fair to say that Costa Rica has an abundance of natural wonders just waiting to be explored! Very environmentally friendly, Costa Rica is renowned around the world for its impressive conservation efforts and its focus on sustainable ecotourism.
With dreamy beaches, lush steamy rainforests and a series of towering volcanoes, the changing landscapes of this ecological paradise are dazzling to behold and lucky visitors to its shores will be stunned time and time again by its beauty.
Coupled with its laid-back charm and peaceful ambiance, the natural splendour on show makes the Central American country a top destination for nature lovers. Without further ado, here are the most beautiful national parks in Costa Rica; prepare to be amazed!
Map of National Parks in Costa Rica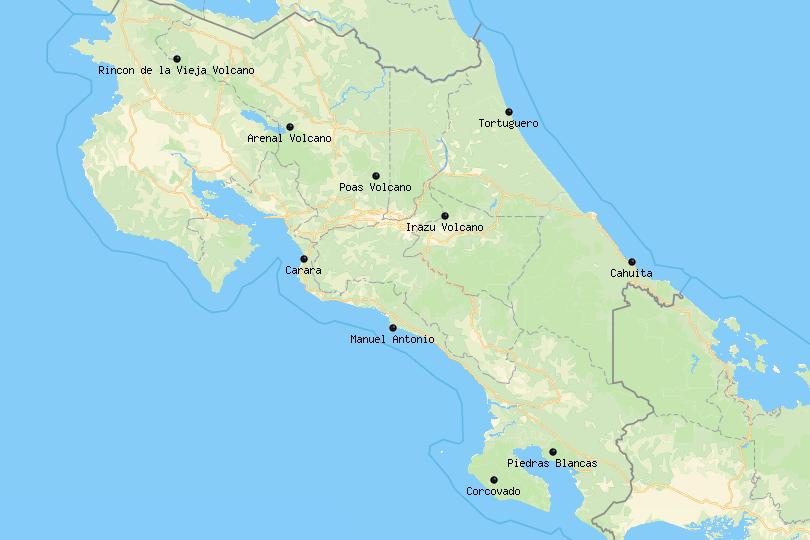 © OpenStreetMap © MapTiler © Touropia
10. Carara National Park
zshort1 / Flickr
This wet and wild national park is covered in dense rainforest which makes visiting Carara a steamy and humid affair. A haven for over 400 different types of birds, a colorful array of trogons, parakeets and hummingbirds flitter between the trees while their calls and songs echo amongst the overgrowth. Consequently Caraca is delightful to visit for the auditory and visual spectacle that surrounds you on all sides as you make your way along its secluded footpaths.
On top of the beautiful rainforest and ample birdlife, sloths hang from the trees as monkeys playfully swing from their branches; everything about this national park is charming in its essence. Crocodiles too abound and many of them can be found sunning themselves on the banks of the Tarcoles River which weaves its way through the park.
This park really does have it all and stumbling out of the rainforest into small clearings containing archaeological ruins dating back almost two millennia makes for yet another unforgettable experience. Caraca National Park will certainly leave you with fond memories of the plethora of amazing things you've seen.
9. Cahuita National Park
Located on the east coast of the country, Cahuita comprises a number of diverse ecosystems but is primarily known for its beautiful beaches and crystal clear waters. Wandering along its sandy shores is to step into the wild as, untouched and untamed, the rainforest spills onto the beach while iguanas bask in the sun and monkeys dart around the forest canopy.
Just offshore are a number of delightful coral reefs for you to explore and the bright underwater colors beaming up at you makes for an amazing snorkeling experience. Sea turtles bite off chunks of coral while shoals of fish sway with the waves before darting off as a predator comes into sight. This beautiful underwater spectacle alone makes Cahuita National Park well worth a visit.
8. Irazu Volcano National Park
© Sergey Uryadnikov / Dreamstime
Named after the volcano that dominates the park, Irazu is the main draw that attracts visitors to the area. Towering 3,432 meters above its surroundings the still active volcano offers stupendous panoramic views from its summit and, above the clouds, perfect blue skies stretch until eternity with only a sea of white below.
On a clear day, the views are even better as you can see the Pacific Ocean on one side and the Caribbean Sea to the other. Wandering around its lunar landscape makes you feel like you are on another planet and the strange green lake nestled in its crater only adds to that feeling. A special place to visit, Irazu Volcano is a lovely national park to explore.
7. Piedras Blancas National Park
Kevin Matteson / Flickr
Located right in the deep southwest of the country, the park contains an array of stunning beaches and pristine rainforest for visitors to enjoy. The low-lying mountains coated in the tangled and twisted trees of the forest slowly slope their way down to the sandy shores that in turn give way into the ocean.
A biodiversity hotspot, the area is home to a multitude of diverse faunas and floras which make for scenic viewing. Hidden away from view amidst the undergrowth, just over a hundred different types of mammals make their way about their lives with jaguars and pumas rarely seen due to their nocturnal nature. Wild and untouched as always, it is the stunning scenery on show that makes Piedras Blancas a hit.
6. Rincon de la Vieja Volcano National Park
Miguel Vieira / Flickr
If you hadn't gathered already, Costa Rica is home to a huge number of active, dormant and extinct volcanoes. This spectacular national park actually contains three of them of which the principal one gives its name to the park.
Imposing its indomitable presence on its surroundings, Rincon de la Vieja towers dramatically above everything around it and as such is the park's main attraction. Trails wind and snake their way up the steep slopes of the volcano and at over 1,900 meters in height; it offers panoramic views from its summit.
The paths are lovely to wander along as you will pass solidified lava fields, hot springs and waterfalls which help to accentuate the beauty of this volcanic terrain. Wildlife also abounds in this special environment as tapirs, pumas and jaguars among others call the park their home.
5. Arenal Volcano National Park
Home to the most active volcano in the country, it is Arenal that also gives the park its name. Due to the frequent eruptions in the past, lava fields have scorched and scarred the earth and the land beneath its crater is barren and arid.
Further down, however, the rich nutrients given off by the eruptions has helped create a beautiful mosaic of colors encompassing the rich fauna and flora that can be found. Consequently the area makes for lovely hiking and with nearly 850 species of bird in the vicinity, birdwatchers too will love this park.
The higher you go up the slopes of the volcano, the better the view gets of the surrounding stunning scenery and, glistening down below, is the beautiful Lake Arenal that shimmers in the sunlight. Simply spectacular.
4. Tortuguero National Park
One of the most popular national parks in Costa Rica, Tortuguero's remote location has helped to protect its environment over the eons. Remarkably, this amazingly diverse landscape has eleven different habitats for visitors to revel in.
With mangrove forests, swamps, rainforests and lagoons; the scenery constantly changes before your eyes, slowly merging one with the other until you emerge into a completely different ecosystem.
Tropical in nature, Tortuguero's humidity and wetness has ensured that fauna and flora flourish in its confines. With trees and plants jumping out at you from every conceivable angle, the stunning scenery on show is lovely to behold. Animals abound and manatees, crocodiles and sea turtles can be found happily swimming just off its beaches.
Wandering through the trails and paths that dot the rainforest, visitors are also able to see monkeys, toucans and more up close in their natural habitats. With such a wealth of natural riches on display, Tortuguero National Park makes for a memorable trip and nowhere else in Costa Rica will you find such diverse landscapes on show.
3. Corcovado National Park
Secluded, wild and untouched, Corcovado's remote location has helped preserve and protect its ecosystems and, named the area with the most biodiversity in the world by National Geographic, this park is a must for nature lovers.
With a plethora of things to see and do, visitors will never be bored as the sheer number of stunning sights and leisure activities will always keep you entertained. Whether it is snorkeling or scuba diving to revel in the marvels of the deep, canoeing through its waters or wandering the paths and trails to catch a glimpse of tapirs or spider monkeys; Corcovado will live long in the memory.
2. Poas Volcano National Park
This volcano is so active that the park is currently shut due to recent eruptions and seismic activity though it is meant to reopen shortly. Formerly the most popular park in the country, Poas Volcano National Park is amazing to visit and its popularity is merited for all that it has on offer.
Within the park is the Botos Crater that holds an arrestingly beautiful turquoise lake within its confines. Up so high with mist swirling around you, the gleam of the lake sparkles through the gloom and is simply stunning to behold. Trekking through the volcanic region makes for lifelong memories and Poas Volcano National Park will certainly regain its place as the nation's most loved park when it reopens.
1. Manuel Antonio National Park
Listed various times among the most beautiful national parks in the whole world, Manuel Antonio is bewitching to behold. With its pristine beaches, verdant rainforest and perfect blue waters, visitors will instantly fall in love with all that the park has to offer.
Its stunning scenery will soothe your soul and bathing in the crystal clear waters while looking at the mesmerising beauty of the shoreline will ensure you never want to leave this haven of tranquillity.
The unbelievable landscapes on show are equally delightful to explore and various trails and paths weave their way through the dense undergrowth. Such is its splendor; Manuel Antonio is the most visited national park in the country.