Renowned for being one of the most environmentally friendly and biodiverse countries in the world, volcanic and rainforest-covered Costa Rica lies on the Central American isthmus in between the Caribbean Sea to the east and the Pacific Ocean to the west.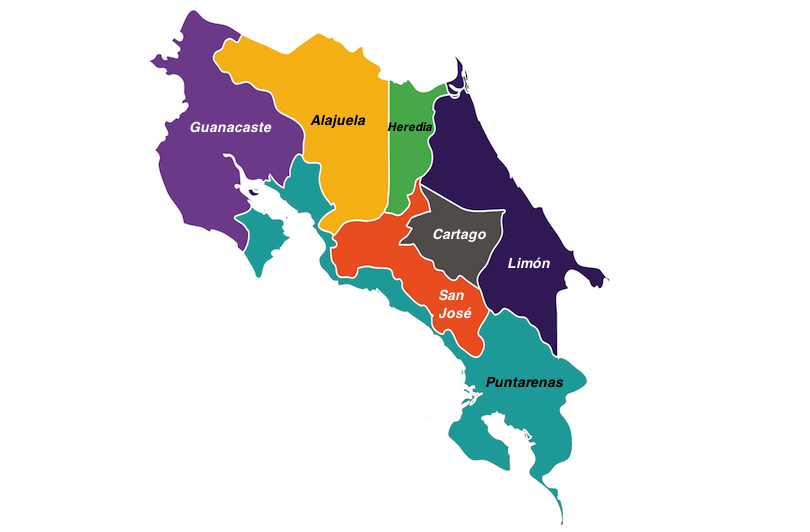 Blessed with a stunning array of incredible natural sights, the country is full off with sparkling waterfalls and gushing rivers, as well as beautiful beaches, majestic mountain scenery, and a wide range of impressive national parks. Tucked away among all this are some wonderful cities and towns for you to visit, with loads of brilliant outdoor activities and watersports on offer.
In this post, we'll cover:
Alajuela
Bordering Nicaragua in the north-central part of Costa Rica, the mountainous province of Alajuela is a delightful place to explore. The Central, Tilaran, and Guanacaste mountain ranges all run through it, with the Frio, San Carlos, and Tarcoles rivers also weaving through the province's expansive plains and dense rainforest.
As such, the scenery is breathtaking. Alajuela boasts some of the best national parks in the country, with Arenal Volcano, Juan Castro Blanco, and Poas Volcano particularly impressive.
Their diverse landscapes and habitats include towering volcanoes and mountain peaks, gushing waterfalls hidden away among dense rainforest, and a wealth of fauna and flora. The province is a fantastic place to enjoy outdoor activities, with hiking, rock climbing, and white-water rafting some of its most popular pastimes.
While much of Alajuela is quite sparsely populated, the city of the same name is bursting with lots of interesting historical sights and cultural landmarks for you to check out, with its centuries-old cathedral and central plaza particularly delightful.
In addition, the cities of Quidada and San Ramon are well worth stopping by for the natural wonders that lie at their doorsteps, while the hot springs at Tabacon are perfect for wallowing in after days spent trekking around Alajeula's enticing national parks.
Cartago
Despite being one of the smallest provinces in the country, Cartago in the central region of Costa Rica boasts some of the most impressive Spanish colonial-era sites; its centuries-old churches and cathedrals still house some of the nation's most important religious ceremonies.
One of the most interesting places to visit in the province is the city of Cartago. The former capital has a beautiful basilica and well-preserved ruins, as well as a compact yet picturesque downtown. Many pilgrims visit the city for its large Good Friday, Romero, and the Return of the Virgin processions, which show that its traditions and rich cultural heritage are very much alive and well.
Its proximity to stunning sights such as the beautiful Orosi Valley – which is filled with coffee plantations – and the famous Irazu Volcano area make it a great base from which to explore the region.
Cartago is full of glorious nature, and much of the province is coated in pristine and untouched rainforest. Lots of great trekking and biodiversity hotspots are found around the volcano-filled Tapanti National Park and the towering Cerro de la Muerte – the tallest peak in the area.
Guanacaste
Making up the northwestern part of the country, the sparsely populated Guanacaste is blessed when it comes to its diverse landscapes; the province is home to a long, scenic Pacific Ocean coastline, majestic mountains, and volcanoes with rivers, flatlands, and wetlands to boot.
Due to its outstanding beauty and vast array of natural sights, Guanacaste is a very popular place to visit. Tourists flock to its beautiful beaches and seaside resorts, with Tamarindo, Coco, and Samara attracting the most visitors, alongside the pretty and pristine Papagayo Peninsula.
Away from its glittering coastline, the inland area of the province is equally fascinating to explore. It boasts seven incredible natural parks, each more impressive than the last, with Guanacaste, Santa Rosa, and Rincon de la Vieja Volcano particularly worthwhile visiting, as they are home to waterfalls, lush rainforest, and rugged volcanoes.
As such, there are loads of fantastic outdoor activities on offer, with horseback riding, white-water rafting, and ziplining all popular. The Pacific Ocean, of course, lends itself perfectly to sailing, snorkeling, and sports fishing.
Heredia
Stretching from the Northern Plains on the border with Nicaragua to the city of Heredia, which is just outside the capital of San Jose in the Central Valley, the province of Heredia is a fascinating place to explore. Lofty mountains, endless coffee plantations, and the gushing Sarapiqui River are found within its confines.
The city of the same name is the main settlement to visit in the province, as it home to a lovely central square that contains lots of interesting landmarks and old buildings and is surrounded by picturesque coffee plantations. The mountain towns of Brava, Sacramento, and San Jose de la Montana are also all worth a visit for their scenic settings.
The main attraction, however, is undoubtedly Braulio Carillo National Park. Located among the stunning Central Mountain range, the park is covered in untouched and unspoiled rainforest, with dormant volcanoes and crater lakes found here and there. A biodiversity hotspot, Braulio Carillo is home to lots of incredible wildlife, and a plethora of great hiking trails and views can be enjoyed in the park.
Limón
Due to its remote location in the country's Caribbean Lowlands, Limon is the least visited province in the country; that may just be a good thing, as its glorious natural sights offer adventurous visitors an off-the-beaten-path experience, as well as a taste of Costa Rica's Caribbean culture.
While the cities and towns of Cahuita, Puerto Limon, and Punta Uva mainly act as gateways to the majestic nature all around them, they are each home to diverse populations, with Afro-Caribbean, indigenous and Spanish cultural influences all making an appearance.
It is well worth spending some time exploring the charming villages and towns that lie along Limon's lovely coastline, which is also home to so many beautiful beaches and fun watersports.
Its spectacular natural sights are what most people come for; both Cahuita National Park and the remote Tortuguero National Park are absolutely incredible to visit if you have the chance. Both hug the Caribbean coastline, and as they are coated in lush rainforest, there is a myriad of amazing mammals, birds, and reptiles for you to spot amongst the undergrowth.
In addition to this, Tortuguero is the place to head to if you want to watch turtles hatching along the sandy beaches.
Puntarenas
Covering much of Costa Rica's Pacific Ocean coastline, Puntarenas boasts some of the country's most majestic natural sights, with both Corcovado National Park and Manuel Antonio National Park located in the province.
While the latter is one of the most visited national parks in Costa Rica due to its outstanding beauty and fantastic wildlife, the former is remarkably one of the most diverse places on Earth.
Impressively enough, this is just the tip of the iceberg in terms of what Puntarenas has to offer. Wherever you go, you'll be greeted with beautiful rainforest canopies, magnificent mountain scenery, and breathtakingly beautiful beaches; those at Jaco, Manzanillo, and Montezuma are particularly worth a visit.
With so much stunning scenery, the province really is a nature lover's dream. The Monteverde Cloud Forest Biological Reserve is yet another of its must-see sights, alongside the beautiful Cocos Island that lies offshore. In addition, there is an endless array of great outdoor activities for you to try out, with lots of excellent hiking, snorkeling, and surfing to be had.
San José
Home to the nation's capital of San Jose, the province of the same name lies in Central Valley on a plateau ringed with awe-inspiring mountains, sweeping valleys, and lush rainforest.
While the city itself is home to amazing monuments, museums, and historic architecture and is the economic, political, and cultural capital of the country, it is well worth venturing further afield, as lots of lovely nature is found scattered around the province.
Both Chirripo National Park and Los Quetzales National Park are home breathtaking mountain scenery and mist-coated cloud forest, with the former named after the tallest mountain in the country, Cerro Chirripo. With lots of fantastic outdoor activities also on offer, San Jose makes for a great holiday destination due to its perfect mix of history, culture, and nature.