It may be a small country in land mass, but Costa Rica is one of the world's biggest natural playgrounds. Bordered between Nicaragua and Panama, Costa Rica boasts the world's largest density of flora and fauna in addition to a varied terrain of mountains, valleys, forests, volcanoes, beaches, lakes and rivers. An overview of the best places to visit in Costa Rica:
Tamarindowiki / Wikipedia
Year-round sunshine, breathtaking views, laid-back atmosphere and close proximity to national parks all make Tamarindo a popular destination for family vacations and eco-adventures. Located on Costa Rica's Pacific coast, Tamarindo is one of the most developed and accessible beach towns in the region with paved roads and plenty of tourist facilities.
Less than an hour from the town of Liberia, Tamarindo is a small tropical paradise that can be easily explored by foot, taxis, rental cars and scooters. Tamarindo's main attraction is its sprawling beach where visitors can enjoy a wide range of activities from swimming to surfing, kayaking, sailing, snorkeling, diving, windsurfing and boat cruises. With deep-sea waters teeming in snapper, marlin, grouper and tuna as well as other trophy fish, Tamarindo is a sport fishing mecca with first-rate fleets and ample operations. Golfers will delight in Tamarindo's world-class golf courses.
With close proximity to the rainforest, visitors can enjoy adventures like jungle trekking, ATV tours, horseback riding and whitewater rafting. Home to one of the country's most important sanctuaries for nesting leatherback sea turtles, the nearby Marino Las Baulas National Park is also a great place for hiking, bird watching and wildlife viewing.
Surrounded by lush green valleys and mountains, Costa Rica's capital and largest city, San Jose, is a modern city, complete with accommodation, shopping, dining, nightlife, and arts and culture. Easily explored by walking, taxis and buses, the vibrant city occupies a plateau in the country's geographical center, making it a great base for exploring other destinations in Costa Rica.
An attractive mix of historic Spanish and modern day architecture, the city's busy downtown area is home to landmarks, government buildings, cultural venues and noisy traffic. San Jose is host to a number of museums that offer an introduction into the country's history, culture, art and wildlife. San Jose also boasts a number of performing arts centers and theaters presenting concerts, dances and dramas year round, including the National Theater, which is admired as one of the country's most impressive architectural attractions. Tourists may also enjoy browsing San Jose's colorful markets for souvenirs as well as the San Pedro Mall, one of Central America's largest malls.
Relaxation and outdoor recreation can be found among the city's charming plazas, green spaces and public parks that feature gardens, lakes, sports areas and artistic works. A few of the most popular are the National Park, San Jose Central Park and the La Sabana Metropolitan Park. The Simon Bolivar Zoo is a good place for the whole family to see animal species from Costa Rica as well as from around the world.
8. Chirripo National Park
[SEE MAP]
amandicacom / Flickr
Spanning over the three provinces of Limón, Cartago and San Jose in southern Costa Rica, the Chirripo National Park protects a diversity of habitats and wildlife species, making it a treasure trove for ecotourists and nature lovers. Named after the country's highest mountain, Cerro Chirripó, the national park features a combination of treeless mountain plateaus, fern groves, marshlands, lush rainforest and glacial lakes that are all home to an abundance of flora and fauna.
Some of the most notable attractions in the national park include the La Amistad International Park Cloudforest, Rabbit Valley, Monte Sin Fe and Cerro Terbi, all natural gems providing breathtaking views. Well-marked trails lead throughout the park, presenting opportunities to admire the diverse landscapes and spot the likes of monkeys, iguanas and rare birds such as the resplendent quetzal. Chilly night temperatures and a 3-day roundtrip should be expected by those wishing to climb to the mountain summit.
The national park is also one of the few places in Costa Rica that is agreeable for technical rock climbing. Ranger stations are available at different locations in the park, offering camping, rustic lodging and visitor information. Chirripo can be reached from the town of San Isidro de El General.
7. Rincon de la Vieja
[SEE MAP]
Steve Jurvetson / Flickr
Located in the North Pacific region of Costa Rica, the Rincon de la Vieja National Park is named after its main attraction, a large steaming volcano. Intriguing, natural features like craters, vapor vents, bubbling mud pits and hot springs as well as an extraordinary amount of plant and wildlife make this national park a popular destination.
Surrounding the volcano are numerous acres of hiking trails leading through wooded greenery and cloud forest to reveal spectacular scenes like stunning waterfalls, volcanic craters, mud cauldrons and plains riddled with purple orchids. The most popular trail, Las Pailas, is a short circuit trail ideal for all experience levels and leads to steaming fumaroles and boiling mud pots. Another trail, the Sendero Cangreja, brings hikers to the park's most acclaimed cascades, the Hidden Waterfalls, which tumble into lovely lagoons and natural swimming pools. More experienced hikers looking for more of a challenge can take on the eight-hour roundtrip trek to the crater at the volcano's summit.
In addition to hiking, park visitors can enjoy other activities like camping, canopy tours, horseback riding, whitewater tubing, soaking in hot springs and spotting some of the many wildlife species that include parrots, toucans, two-toed sloths and howler monkeys. Another experience that may appeal to some is the opportunity to stay at one of the park's several working cattle ranches where they can participate in daily chores such as herding cattle and tending to horses. Most visitors access the national park by rental cars, taxis and buses from the nearby town of Liberia.
6. Corcovado National Park
[SEE MAP]
Christian Haugen / Flickr
Regarded by many as the crown jewel of Costa Rica's national park system, the Corcovado National Park is so overflowing in excellent wildlife opportunities, that it is one place that can guarantee plenty of sightings. Situated on the Osa Peninsula in southwestern Costa Rica, Corcovado National Park harbors several major ecosystems that include mangrove swamps, rainforest, palm forest and cloud forest in addition to beaches and coastal habitats.
With several hiking trails winding throughout the park, visitors stand a better chance here than anywhere else in the country of seeing some of Costa Rica's more elusive and rare species such as red-backed squirrel monkeys, jaguars, harpy eagles, white-lipped peccaries, and Baird's tapirs. It is also possible to see ocelots, pumas, sloths, coatis, monkeys (howler, spider and white-faced capuchin), poison dart frogs, glass frogs and numerous bird species. A stroll along the beach may award glimpses of sea turtles, hermit crabs, pelicans and scarlet macaws flying overhead. Besides the wealth of wildlife, hiking trails also give visitors the opportunities to check out interesting rock formations, exotic plants and beautiful waterfalls. Canoeing on the river is another fun way to experience the park's biodiversity.
Access to Corcovado National Park is by way of the closest town, Puerto Jimenez, where visitors can arrange tours, rent bikes, horses, 4WD vehicles, or opt for a bus ride. Corcovado also has four ranger stations providing lodging, food and camping.
5. Tortuguero National Park
[SEE MAP]
vincentraal / Flickr
Despite the fact that it is remotely located in northeastern Costa Rica and accessible only by boat or airplane, the Tortuguero National Park is one of the country's most visited national parks. One of the most important turtle sanctuaries in the western Caribbean, the park's main draw is the sea turtles that nest and hatch on the beach.
Because of its wet, tropical climate, the Tortuguero National Park fosters a rich environment of rainforest, wetlands, mangroves, beaches, canals and lagoons that are all teeming in plant and wildlife species, making it a nature lover's paradise. The most popular activity here is a guided walk on the beach to spot mother turtles nesting and hatchlings racing to the sea. The best time to view green and hawksbill turtles is between July and October, while the nesting season for leatherback turtles is from February to April.
However, the turtles are not the park's only attraction. Visitors can take boat rides or paddle canoes through the mangroves and canals to glimpse a wide array of wildlife that includes mammals like manatees, sloths, river otters, tapirs, monkeys (spider, howler and capuchin); birds like green macaws, toucans, parrots and herons as well as reptiles such as giant iguanas, basilisk lizards and crocodiles.
Getting to Tortuguero National Park is every bit as adventurous as the park itself. Visitors will need to arrange a boat tour or rent a boat from the village of Tortuguero, which can be reached by airplane from San Jose. Tortuguero village offers restaurants, lodging and tour operators.
wytze / Flickr
Less than two hours away from San Jose, Playa Jaco is a hugely popular destination because it offers the best of Costa Rica from gorgeous beaches to wildlife, outdoor activities and sizzling nightlife. Playa Jaco is a lively beach town well known for its laid-back, party atmosphere and excellent surfing waves.
While Playa Jaco attracts many tourists, it remains a clean, calm beach where people can enjoy sunbathing, swimming, surfing and sport fishing. There are also local surfing schools and classes available for those who want to learn to surf. Because it is nearby tropical jungles nature reserves and national parks, Playa Jaco also offers fantastic eco-tours where visitors can enjoy horseback riding, canopy tours, ATV expeditions, safaris, whitewater rafting and viewing wildlife such as monkeys and scarlet macaws.
Because it is highly tourist friendly, Playa Jaco offers a good variety of restaurants serving international cuisines as well as traditional Costa Rican fare. What's more, Playa Jaco's nightlife scene is one of the hottest in Costa Rica with dozens of choices ranging from casinos to bars, discos, nightclubs and dive bars.
3. Manuel Antonio National Park
[SEE MAP]
It is Costa Rica's smallest national park, but Manuel Antonio National Park is also the country's most visited as it is easily accessible from San Jose. The park offers visitors exceptional beauty and variety of landscapes, wildlife and activities. Located on Costa Rica's mid-Pacific coast nearby the city of Quepos, Manuel Antonio comprises a diverse array of ecosystems including lush rainforests, white sandy beaches and beautiful coral reefs, making it a coveted destination among families, backpackers, surfers, snorkelers, birders and ecotourists alike.
Manuel Antonio National Park provides a wide range of outdoor activities and adventures that include swimming, surfing, snorkeling, diving, sea kayaking, whale-watching, sport fishing, whitewater rafting and mountain biking. A number of hiking trails offer scenic vistas, waterfalls and glimpses of wildlife such as howler monkeys, iguanas, parrots and possibly the endangered titi monkeys.
Visitors can reach Manuel Antonio National Park by one of the frequent buses that operate from the city of Quepos, which also offers accommodation, dining and nightlife choices.
Soaring high in a perfectly symmetrical shape over the green hills and pastures of Costa Rica's northern lowlands, Arenal Volcano is one of the country's most popular tourist destinations. Until the past few years, Arenal was the most active volcano in Costa Rica, and it's frequent, small explosions once provided incredible shows of spewing lava. However, in 2010, Arenal's cycle entered into a resting phase, putting an indeterminate pause on the eruptions. Nevertheless, the area surrounding Arenal still offers plenty of outstanding sights and exciting activities.
The area surrounding Arenal Volcano, along with the dormant Chato volcano, is protected by the Arenal Volcano National Park. Within the national park are picturesque landscapes of lakes, rivers, mountains and rainforests all offering adventures like fishing, whitewater rafting, mountain climbing, hiking, horseback riding, ziplining, canopy tours, caving and waterfall rappelling.
Nature and wildlife enthusiasts will find the Arenal Volcano area a paradise with its many species of exotic flowers, mammals like howler monkeys, deer and jaguar, and birds such as parrots and resplendent quetzals. What's more, due to Arenal's geothermal activity, tourists have the opportunity to luxuriate in a number of hot springs ranging in every style and budget, and all with beautiful views of the volcano. There are also several resorts in the area offering accommodation and tour operations.
The small town of La Fortuna de San Carlos is the gateway to the Arenal Volcano. It easily reached by bus from San Jose.
1. Monteverde Cloud Forest Reserve
[SEE MAP]
celebdu / Flickr
Lush green mountains and tropical jungle, shrouded in clouds, resonate with nature's concert of exotic bird, animal, reptile and insect calls. This is the enchanting setting of the Monteverde Cloud Forest Reserve. Located along the Cordillera de Tilarán mountain range in central Costa Rica, this reserve is one of the country's most coveted tourist destinations due to its astonishing natural beauty, extraordinary biodiversity and abundance of activities.
Accessed by buses from the nearby town of Monteverde, the reserve has a small lodge, restaurant and gift shop. One of the most popular things to do here is hike amid the numerous trails and admire beautiful waterfalls and exotic flowers and plants, looking for a glimpse of wildlife species like tapirs, agoutis, frogs, wild pigs, monkeys, porcupines, butterflies and the rare resplendent quetzel, the bird that was once regarded sacred by the Mayans. Other ways to experience the cloud forest and its abundance of wildlife is by horseback riding, canopy tours over the tree tops, Sky Walks over suspension bridges, and zipline adventures through the jungle trees.
Additionally, there is a dairy farm on the reserve that was established by Quakers in the 1950s in which visitors can buy cheese and ice cream as well as participate in a tour to watch the cheese being made. There is also a nature center where visitors can walk through butterfly gardens and learn more about the rich biodiversity of the Monteverde Cloud Forest Reserve.
Map of Costa Rica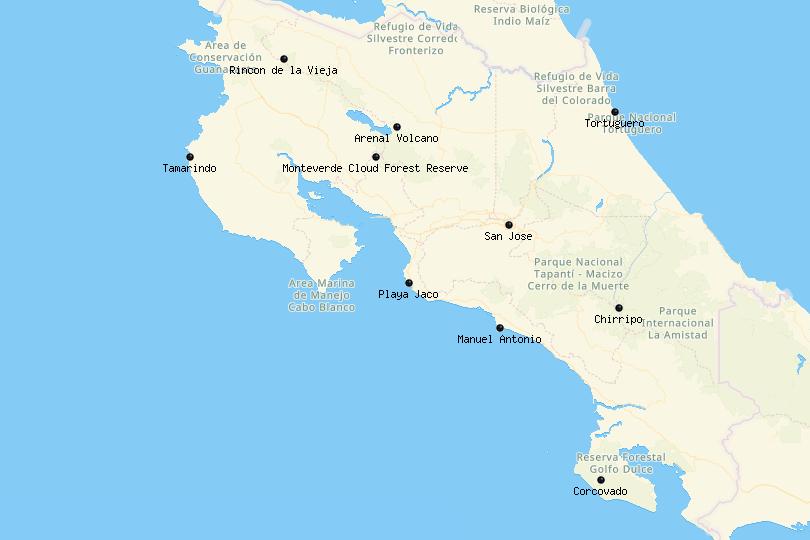 © OpenStreetMap © MapTiler © Touropia