Boasting one of the most scenic harbors in the world, sophisticated Sydney lets visitors to Australia know they're entering someplace special from the moment of arrival. From the unfurled sails of the Sydney Opera House to the soaring arc of the Harbour Bridge, the city's architectural gems are nothing short of astonishing.
Map of day trips from Sydney
© OpenStreetMap © MapTiler © Touropia
It's perfectly possible to spend an entire vacation in Sydney without running out of things to see and do, but there's an abundance of sights and attractions to enjoy within a short drive of the city as well. Day trips from Sydney offer visitors the chance to sample the best of Australia, from lush green parks and vineyards to wide stretches of sun-kissed sand.
Lying at the end of a peninsula, 'Palmy' – as it is known to locals – is blessed with beautiful beaches and famous for being the setting of the classic Australian soap opera 'Home and Away.' At just an hour's drive to the north of Sydney, its beautiful setting attracts a lot of locals and tourists, who flock here to soak up the sun, enjoy a delicious seafood meal, or swim and surf in the sea. With some of the most exclusive real estate in the country, Palm Beach is a popular holiday destination with Australia's rich and famous.
Getting to Palm Beach
From Wynard Station in Sydney, it takes just under two hours to get to Palm Beach by bus; the L90 departs once an hour. Once you alight, you'll find its glistening waters and golden sands just a stone's throw away.
Driving to Palm Beach is very simple; while it usually only takes an hour, the roads can get quite busy at the weekends and during summer. Just head north out of the city center on the M1 and turn onto the A8. Follow this all the way up the coast until you come across Barrenjoey Road and signs directing you to Palm Beach. As Ku-ring-gai Chase National Park is just a short drive away from Palm Beach, it is worth combining the two into one day trip if you have the time.
A lovely way to explore this wonderful part of Australia is to book a guided tour that takes you around Ku-ring-gai Chase National Park; this offers some delightful views of Palm Beach and its beautiful setting. With a two and a half hour catamaran cruise around the area's glorious waterways for you to enjoy, as well as a one-hour Aboriginal cultural presentation, it is a fascinating day out that gives the perfect combination of nature and culture.
10. Kangaroo Valley
[SEE MAP]
With its lovely, rolling hills, sparkling rivers, and dense rainforest, Kangaroo Valley certainly paints a pretty picture. Nestled away amidst the beautiful scenery, you'll also find a number of fantastic wineries. At just two hours' drive from Sydney, it is an idyllic spot to head to, and there is lots of amazing nature for you to immerse yourself in.
Kayaking along the Kangaroo River, for instance, is a lovely experience, as is horseback riding amongst the verdant hills and fields. In the laidback town of Kangaroo Valley, you have lots of dining, drinking, and accommodation options available.
Getting to Kangaroo Valley
To visit Kangaroo Valley by public transport, you first need to take a train from Central Station to Moss Vale Station. From here, take bus 810 to the scenic valley with all its amazing sights. All in all, the journey should take just under three hours, and you'll pass through some lovely countryside along the way.
9. Ku-ring-gai Chase National Park
[SEE MAP]
Lying just to the north of Sydney, Ku-ring-gai Chase National Park is a delightful place to visit and is a favorite spot amongst both locals and tourists. As well as offering glorious nature in the shape of rainforest-coated hills and jagged cliffs overlooking the ocean, the park also has some fascinating Aboriginal sites which are well worth checking out.
The second oldest national park in the country has lots of outdoor activities for you to enjoy, with mountain biking, hiking, fishing, and kayaking all on offer. As such, it makes for a fantastic day trip from Sydney. Whether it is secluded beaches you're after, glorious views out over the ocean, or simply a peaceful hike amidst the spectacular scenery, Ku-ring-gai Chase National Park has you covered.
Getting to Ku-ring-gai Chase
Despite lying just outside of Sydney, it is a bit complicated to visit many of the national park's most beautiful areas by public transport. The simplest way is to take a train from Central Station to Berowra Station, then hike along the scenic trails in Ku-ring-gai Chase from there. Trains depart regularly, and the journey should only take you an hour and 15 minutes, although expect to hike for several hours through the lovely scenery.
Driving is another option and means you can head to any one of three entry points into the national park. The nearest and simplest to get to is Mount Colah, and this takes 40 minutes to drive to. Just head north out of Sydney on the M1, and stay on it until you see signs for Ku-ring-gai Chase National Park. Once you arrive, park up and explore the amazing nature on foot.
Many visitors who wish to visit Ku-ring-gai Chase National Park opt to enjoy a guided tour that takes you around all of its most impressive sights. With a lovely catamaran cruise around its scenic waterways, a visit to ancient Aboriginal rock carvings, and an up-close look at Australia's fantastic wildlife included, it is a great way to see as much of this beautiful part of the country as possible in just one day.
olguin photography / Flickr
Nestled against the Illawarra Escarpment on a coastal plain south of Sydney, Wollongong is best known for its many fine beaches, all of which boast free parking and easy access by public transportation or bicycle. Popular beaches like North Beach One and Austinmer feature nearby cafés, kiosks and barbecues with shady parks bordering the sand. With its caravan park, Windang on the south side of the city is a family-friendly beach that's perfect for an overnight adventure.
Getting to Wollongong
From the center of Sydney, it takes just an hour and 15 minutes to drive to Wollongong. The directions couldn't be more straightforward, as the M1 will take you all the way there. Just stay on it heading south and turn off once you see signs to Wollongong. On the way back, it is well worth visiting the beautiful nature on show at the Royal National Park if you have the time.
If you're after an exhilarating and unforgettable experience when in Australia, you can't beat taking a tandem skydive over Wollongong. With a professional instructor attached to you, you'll fall for 60 seconds from a height of 14,000 feet, before opening your parachute and gliding to earth peacefully while taking in the stunning views on offer in what promises to be an incredible day out.
7. Royal National Park
[SEE MAP]
Only an hour's drive south of Sydney lies the Royal National Park, a sprawling nature reserve that stretches from the rugged coastline to the inland rainforests. Walking and biking are the favorite activities in the park the locals call "Nasho." There's an extensive network of trails to explore, including the self-guided tour along the Lady Carrington Walk, which features historical markers and crosses more than a dozen streams. Located inside the park is the town of Bundeena where a 30-minute walk leads visitors to the ancient Aboriginal rock art at Jibbon Head.
Getting to Royal National Park
As it lies just to the south of Syndey, Royal National Park only takes an hour to get to, and the M1 will take you all the way there. Once you've entered the park, a lovely place to head to is Bundeena. On the way, you pass through some beautiful countryside. After having enjoyed the park to your heart's content, Wollongong is just a bit further along the coast if you want to head on there before driving back to Sydney.
Another option for visiting the Royal National Park is to take a guided tour; this offers you the chance to glimpse some local wildlife as well as delight in fantastic coastal views. In addition to swimming in the glorious Figure 8 pools, you can go for a walk along the beach, ogle at glittering waterfalls, and hike amongst the lovely nature.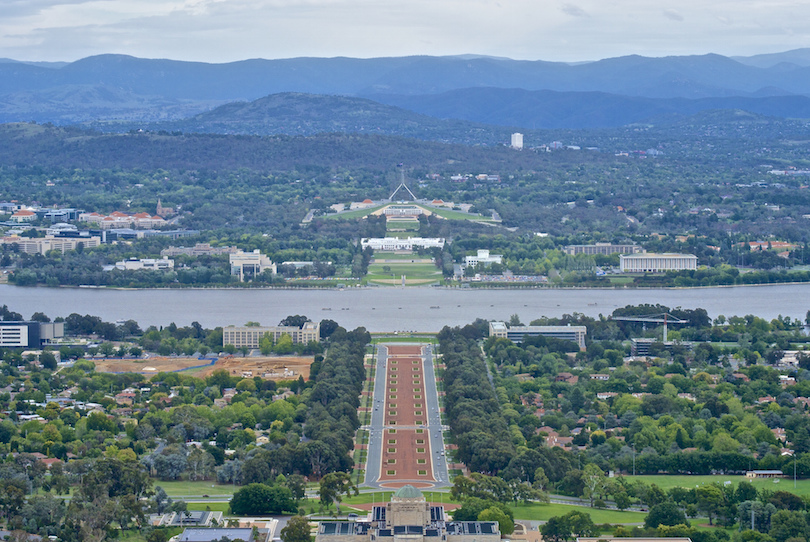 Sidneiensis / Flickr
Australia spent the first half of the 20th century planning, designing and building the country's capital, and it shows. From its large artificial lake to the wheel-and-spoke design of its streets, Canberra is a showpiece of civil engineering. The city's unique bushland location, however, adds an element of wildness to this seemingly prim and proper metropolis.
Kangaroos graze in the evening near government buildings, water dragons thrive in the National Botanic Gardens and Australia's largest collection of big cats call the National Zoo home. With more restaurants per capita than any other Australian city, Canberra's culinary scene begs exploration as well.
Getting to Canberra
By public transport, it generally takes about four hours to get to Canberra, so it is a good idea to set out early. Trains run directly from Central Station to the capital, and once you arrive, you'll find all Canberra's amazing sights just a short walk away. As trains don't depart all that regularly, it is best to look at the schedule a few days before you plan on taking your trip.
A great way to see as much of Canberra as possible in just one day is to take a guided tour around the nation's capital; the Australian War Memorial and Parliament House are just some of the fantastic sights on offer. While exploring the city, your guide will tell you all about the impressive cultural and historical landmarks you come across in this interesting and informative day trip.
5. Hunter Valley Vineyards
[SEE MAP]
The largest grape-growing region in New South Wales is best known for its more than 100 wineries, making it an ideal destination for either a day trip from Sydney or a weekend getaway. Located just two hours north of Sydney, the Lower Hunter is most prized for its Semillon and Shiraz varietals while the rugged bushland of the Upper Hunter produces more aromatic wines like Rieslings. The Upper Hunter is also the largest horse-breeding region in Australia. The entire region is dotted with small towns filled with tasty eateries, country pubs and shops selling arts and crafts.
Getting to Hunter Valley
As there are over a hundred wineries for you to visit in Hunter Valley, it is a good idea to plan your trip in advance so that you know where to head to, as there are a couple of different routes you can follow. From Sydney, head north on the M1 whichever option you decide to take. After that, you can either turn off at Calga and follow Tourist Drive 33 through some lovely scenery to Wollombi in Hunter Valley, or turn off later at Freemans Waterhole and follow the B82 to the vineyards. Both options take around two hours. You really can't go wrong whichever you choose, as the scenery is so picturesque.
If everyone in your party wants to sample the delicious local produce, you're probably better off taking a guided tour that takes you around the vineyards. With several different wineries included on the itinerary, it is a relaxing day out. The scenery is just as astounding as the lovely local wines you get to try out.
Tim J Keegan / Flickr
The second largest city in New South Wales, Newcastle has come a long way since its coal industry beginnings. Newcastle's transformation began when the steel mills closed in the late 1990s and the city's surf culture came to the fore. With its gentrified harbor and beautiful beaches, it's no surprise that most activities in Newcastle center on the water.
A trek along a narrow longshore drift to the landmark Nobby's Lighthouse offers expansive views of the sea. The city is also home to the Mereweather Baths, advertised as the largest ocean-water swimming pools in the Southern Hemisphere.
Getting to Newcastle
From Central Station, it generally takes just under two and a half hours to get from Sydney to Newcastle. The train takes you to Broadmeadow Station, and once you alight, you can head to the city's delightful waterfront by foot, bus, or light rail.
Another option is to drive to Newcastle yourself; this means that you can combine your visit with a trip to the wineries in Hunter Valley, which don't lie all that far away. From Sydney, the M1 will take you all the way there in just two hours. All you need to do is follow the signs once you see directions to Newcastle.
Situated in the Blue Mountains National Park west of Sydney, the Jenolan Caves are considered the oldest system of caves on the planet. Ten of the more than 300 caves in the region are open to the public year round. The underground limestone structures feature an amazing array of stalactites, stalagmites, pools and rivers.
Tours are available for explorations into the most popular caves. They range from one-hour treks that offer peeks into the most popular caves to all-day adventures that include squeezing through narrow passageways and rappelling into the depths.
Getting to Jenolan Caves
To get to the Jenolan Caves by car takes around two hours and 40 minutes. On the way, you'll pass through some gorgeous scenery, with the Blue Mountains National Park all around you. Simply head west out of Sydney on the M4 and stay on it once it turns into the A32. After this, turn off onto the conveniently named Jenolan Caves Road; this will take you directly to the amazing attraction. After having explored the mesmerizing caves, you could head to nearby Katoomba and explore the national park on foot.
Many people combine the Blue Mountains National Park and the Jenolan Caves into one day trip; if you're pressed for time, you might be better off taking a guided tour. With an expert guide on hand, you'll visit all the national park's main sights such as Echo Point and Blue Lake. The spectacular caves are just one of the highlights you can expect to see over the day.
Tim J Keegan / Flickr
With a bay that's twice as big as Sydney Harbour, Port Stephens is a popular destination for active pursuits, from fishing, kayaking and surfing to long walks along the shore and hikes on the sea cliffs. Used a backdrop for scenes in the 1979 movie "Mad Max," the massive Stockton Sand Dunes on the south side of the peninsula are the largest in the Southern Hemisphere.
The dunes are a favorite spot for horseback riding and 4×4 racing. Whale watching cruises leave from Nelson Bay and are well worth it in the seasons that humpbacks pass by (May to November). Local dolphins and penguins can also be seen on these trips.
Getting to Port Stephens
By car, it takes about two and a half hours to get to Port Stephens from Sydney, and the directions couldn't be simpler. From Sydney, stay on the M1 heading north until just past Newcastle, when you want to turn off onto the B63 and follow it directly to Port Stephens. If you have time on the way back, you could stop off to have a look around Newcastle or head to one of the wineries at Hunter Valley.
If you're looking for an action-packed time in Port Stephens, you may want to consider taking a guided tour that not only takes you dolphin watching but sandboarding too. Skimming across the waves with dolphins swimming around you is an unforgettable experience. The day culminates with a fantastic 4WD tour, where you get to see Tasmanian Devils, koalas, kangaroos, and more amongst the Stockton Bright Sand Dunes.
1. Blue Mountains National Park
[SEE MAP]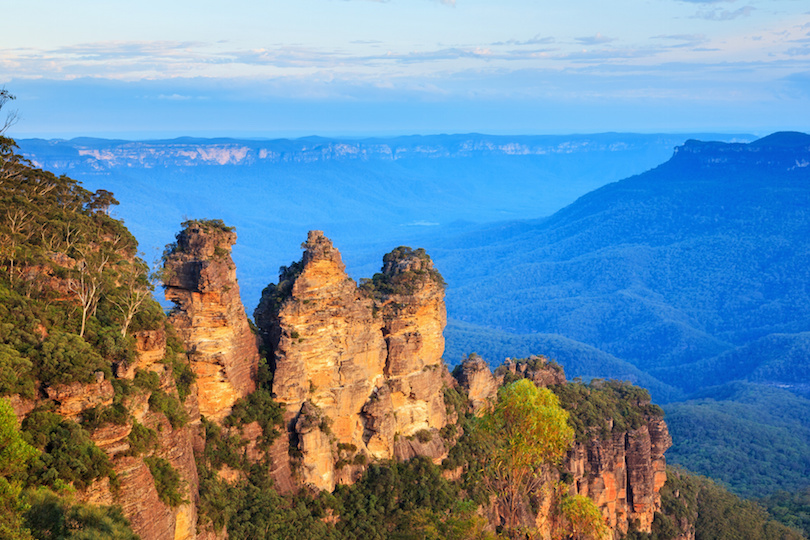 A two-hour drive west of Sydney lands visitors in the midst of the Blue Mountains National Park, named after the blue haze of water, dust and eucalyptus oil droplets that perpetually lingers in the air. Steep sandstone cliffs, tumbling waterfalls and expansive forests provide grand, sweeping vistas of great natural beauty.
One of the best places to enjoy the view is at the lookout at Echo Point in Katoomba, the largest of the four main towns in the national park. The town of Wentworth Falls offers access to one of Australia's most celebrated walks, the National Pass, which leads adventurous travelers in a near-vertical descent to the valley below.
Getting to Blue Mountains National Park
From Sydney, it is very easy to visit the breathtaking Blue Mountains National Park by public transport. Just hop on the Blue Mountains Train line at Central Station; this will take you all the way to Glenbrook in just an hour. Alternatively, you could continue on to Katoomba – another entrance to the park – which is about an hour further along the same line and is located amongst some of the most spectacular scenery the park has to offer. At both stops, you can either continue exploring the beautiful nature by bus or by hiking along some of the trails snaking their way amongst the magnificent scenery. Trains can get quite packed during the weekends, so it is well worth visiting during the week if you can.
Driving to Katoomba yourself is another option; this should only take an hour and a half, although the roads can get a bit clogged during the weekends. Just head west out of the city on the M4, then transfer onto the A32 once you get to Glenbrook. After that, follow the road directly to Katoomba, where you can park and explore the mountains on foot. Later, you can drive to other nearby towns in the park if you feel like it.
A great way to see as much of the beautiful Blue Mountains as possible is to take a guided tour around the national park. With an expert guide accompanying you, you'll visit the mountain towns of Leura and Katoomba, enjoy spectacular views of Megalong Valley, and see native animals such as kangaroos and koalas up close. With so much to see and do, it is a fun day out with something for everyone in the family to enjoy.