Melbourne, the capital of Victoria state, is home to more than 6.4 million people, making it Australia's second largest city. While the city offers a fantastic array of things to see and do, the huge number of people means you'll be sharing the sights with lots of others. After seeing the sights, you'll probably want to get out of town for the day.
Fortunately, for you, the surrounding environs offer a pleasant opportunity to escape the madding crowd. You can take a drive along the Great Ocean Road, stopping to beach comb or surf. You can also sample some great wines on a day trip from Melbourne or maybe get up close and personal with Australia's favorite animals, the koala and the kangaroo. Enjoy!
Map of day trips from Melbourne
© OpenStreetMap © MapTiler © Touropia
Hanging Rock is a gigantic rock formation Mother Nature created from stiff magma 6.5 million years ago. Over the millennia it has gone from being a sacred place for Victoria's native peoples to being a venue for concerts. It was the star of the book and movie, Picnic at Hanging Rock. Hanging Rock, also known as Mount Diogenes, is the most famous landmark in the Macedon Ranges.
Over the eons, Hanging Rock, an excellent example of a mamelon (volcanic plug), has eroded into a variety of rock formations. On a cloudy day, these formations appear almost spooky.
Getting to Hanging Rock
By public transport, it's a bit tricky to visit Hanging Rock, but it is just about doable. From Melbourne CBD, take an hour-long train to Woodend Station. This is the quickest route, but it does mean that you'll need to take a ten-minute taxi ride from Woodend to the spectacular rock formation.
What most people do is drive to Hanging Rock and getting there is much easier if you have your own set of wheels. It takes about an hour and is very straightforward; you follow the M2 until the start of the M79, which you then head along until Woodend, where you'll see signs for Hanging Rock. While in the area, it is well worth checking out the nearby Macedon Regional Park lying right next to it, with some wonderful mountains to explore.
5. Puffing Billy Railway
[SEE MAP]
Puffing Billy Railway got its name because, well, it puffs. This well-preserved narrow gauge steam train has been operating on the same route through the Dandenong Ranges east of Melbourne since the early 1900s. It was one of four such railways constructed in Victoria to access remote areas.
It takes just under two hours to make the scenic 24-km (15-mile) journey from Belgrave to Gembrook. Trains leave Belgrave several times a day, but not all go through to Gembrook. On a day trip from Melbourne, you'll spend about two hours in Gembrook before making the return trip.
Getting to Puffing Billy Railway
Located just 40 kilometers to the east of Melbourne, it couldn't be easier to get to Puffing Billy Railway via public transport. Simply hop on the train at Melbourne CBD and alight around 70 minutes later at Belgrade Station, which is two minutes walk from the attraction.
By car, it takes roughly the same amount of time, depending on traffic and parking spaces once you arrive. From the city center, follow the M1 east out of Melbourne and turn off onto the C413. Continue for around half-an-hour until you come across the C404, which will take you all the way to Puffing Billy Railway.
Another option is to take a guided tour to Puffing Billy Railway. As well as riding the train, you will also stop off at the wonderful village of Sassafras, which is known for its lovely little boutiques. Visitors can even opt to include a tour of Melbourne or a visit to the Penguin Parade on Phillip Island.
4. Mornington Peninsula
[SEE MAP]
Mornington Peninsula is a peninsula southeast of Melbourne that is connected to the mainland in the north. It was home to Australia's early indigenous peoples; today, about 180,000 people live year-round on the peninsula. Because it's a destination for local tourists, the population increases by 90,000 during the busy season.
Besides pretty scenery, Mornington Peninsula offers great beaches with colorful beach houses and associated water sports activities. Before heading off to the beach, you might want to visit a farmer's market for fresh foods and a winery or two for wine for a picnic lunch. Its mazes and gardens are worth a visit, too.
Getting to Mornington Peninsula
By car, it takes just over an hour to get to Mornington Peninsula from the center of Melbourne. Simply head south on State Route 3 – which eventually turns into the M11. This then takes you past Frankston, and after that, it is really up to you where you decide to visit on Mornington Peninsula. By car, it's very easy to visit a number of different places throughout the day. The town of Flinders is well worth visiting, as are its beaches, wineries, and historical sights.
As the peninsula produces so much beautiful produce and artisanal foods, if you're a foodie, a culinary tour may just be the thing for you. With tastings of cheese, chocolate, wine, and cider scheduled throughout the day, Mornington Peninsula comes to life before your eyes as you visit a number of local establishments.
Named after Arthur Phillip, the first governor of New South Wales, Phillip Island is a summer tourist destination just 140 km (87 miles) from Melbourne. The island gets 3.5 million visitors annually, most coming to see fairy penguins; the island is one of the few places in the world where you can see these little tykes.
The island is also home to Australia's largest colony of fur seals as well as wallabies and kangaroos you can feed by hand. Several varieties of whales are increasing in population here, so it's possible you may see some, though whale watching activities aren't too developed yet.
Getting to Phillip Island
When it comes to visiting Phillip Island, visitors have a number of options to choose from. For instance, the V/Line Coach from Melbourne takes you directly to San Remo bridge – the land entrance to the island – and this takes about two hours. The bus also stops at Cowes on the island itself; this adds another half hour to the journey. At either of these stops, you will find tour operators or transport options to take you to the nearby sights that Phillip Island has to offer.

If you want a scenic trip there, you can take an hour-long train ride from Melbourne to Frankston. Here, you will need to take another train to Stony Point, which takes about half an hour. From there, it is a delightful 45-minute boat journey to Cowes.

As Phillip Island is connected to the mainland by a small bridge, it is also possible to drive there; this usually takes about an hour and a half. The drive takes you through some lovely scenery, and once you arrive, you'll find it makes visiting all the different sights a lot easier. Simply head southeast out of Melbourne on the M1 and follow it for about 40 minutes until you turn off onto the C422. Once you hit the coast, you'll find the M420 heading towards Grantville. From then on, just follow it until you see the signs for Phillip Island.
To make the most of your time on Phillip Island, it's not a bad idea to take a guided tour; these will take you to see all the most beautiful parts of the island, as well as the incredible creatures that inhabit it. With a professional guide on hand, you'll come away with a greater understanding of what makes the island so unique. Viewing the penguins up close and personal will live long in the memory.
2. Great Ocean Road
[SEE MAP]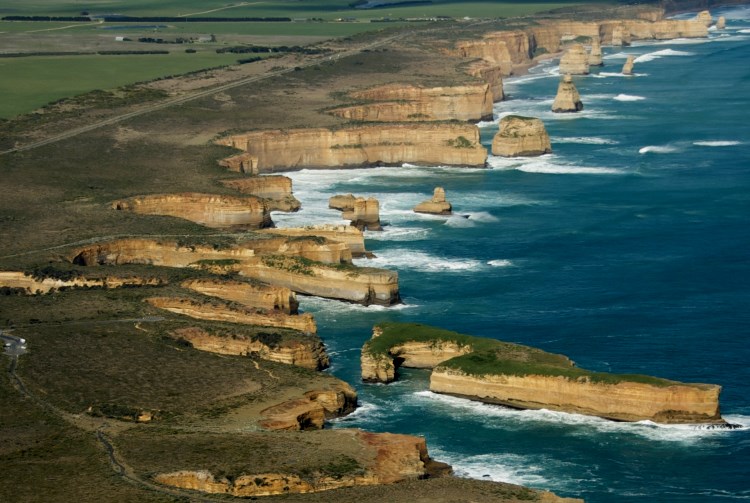 andreweland / Flickr
If you like coastal scenery, put a drive along the Great Ocean Road on your bucket list for Australia. The views along this 243-km (151-mile) route between Torquay and Allansford are simply stunning. Be on the lookout for the 12 Apostles, gigantic rock formations rising out of the sea.
Because there's so much to see and do along the way, you might want to turn this day trip from Melbourne into two. You can choose to walk along the beach, surf, visit an art gallery or museum, eat a gourmet meal at a quaint village or see cuddly koalas and not-so-cuddly emus and kangaroos.
Getting to the Great Ocean Road
Lying around 100 kilometers to the southwest of Melbourne, the Great Ocean Road stretches along the coast for almost 250 kilometers, and there are loads of lovely places to stop off if you go by car. From the center of Melbourne, it couldn't be easier to drive there; all you need to do is follow the M1 out of the city. After an hour, you finally turn off onto C134. From here, you'll see signs pointing you to Torquay – the first stop on the Great Ocean Road. From here, it's really up to you what you stop off to see. There are many charming, laidback towns, beautiful beaches, and incredible scenery for you to enjoy.
Another great way to visit the Great Ocean Road is to take a guided tour. This means you don't have to do all the driving yourself. As well as visiting the Twelve Apostles stacks, tours include stops at a couple of different national parks, where you get the chance to see wallabies, koalas, kangaroos and more.
1. Yarra Valley Wineries
[SEE MAP]
When you simply must have a glass of chardonnay or pinot noir with your meal, the best place to indulge yourself is the Yarra Valley east of Melbourne. The wineries here are best known for these two wines. More than three million people a year visit Yarra Valley wineries, one of Australia's great wine-producing regions.
The Yarra Valley was the first wine grape growing region in Victoria; wines have been produced here since the 1850s. Today, the Yarra Valley is considered one of the world's best wine regions. You'll find more than 100 wineries offering fruits of the vine to tempt your taste buds.
Getting to Yarra Valley
Driving to Yarra Valley from Melbourne is an absolute treat. Once you get out of the city, you'll find yourself surrounded by beautiful countryside. There are loads of wineries to visit, and going by car really is the only way to visit a few of them in one day. From the center of Melbourne, head northeast on the M3 before forking off and taking the 42 to Templestowe. Here, you head north until Research, where you follow the C726 until Yarra Glen, which is the gateway to all the fantastic wineries. All in all, it takes around an hour to an hour and a half depending on traffic. Time flows by quickly as you pass vineyards, forests, and farms on either side of you.
If everyone in your party wants to sample the delicious wines, you may be better off and safer taking a guided tour. These take you around some of the best Yarra Valley wineries. At each one, you'll get to sample some of the fine wines and learn how they're produced, while taking in the stunning surroundings.