The most isolated city in the world, Perth is located on the west coast of Australia. It's about 2,100 kilometers away from Adelaide, the nearest city of any considerable size. Although it certainly takes some getting to, it is one of the fastest-growing cities in the country and is renowned for its laidback lifestyle, beautiful beaches, and sunny skies.
Lying on the banks of the Swan River and the shores of the Indian Ocean, the once sleepy backwater now hums with life, and there is a very vibrant feel to the place. Besides the wealth of historical and cultural tourist attractions in Perth, there are lots of fantastic bars, cafes, and restaurants for you to try out, as well as lots of great shops and boutiques.
Due to its warm climes, 'Perthites' – as they are known – are very outdoorsy people, so there are lots of wonderful places to go cycling, swimming, and walking in the city.
In this post, we'll cover:
12. Western Australian Museum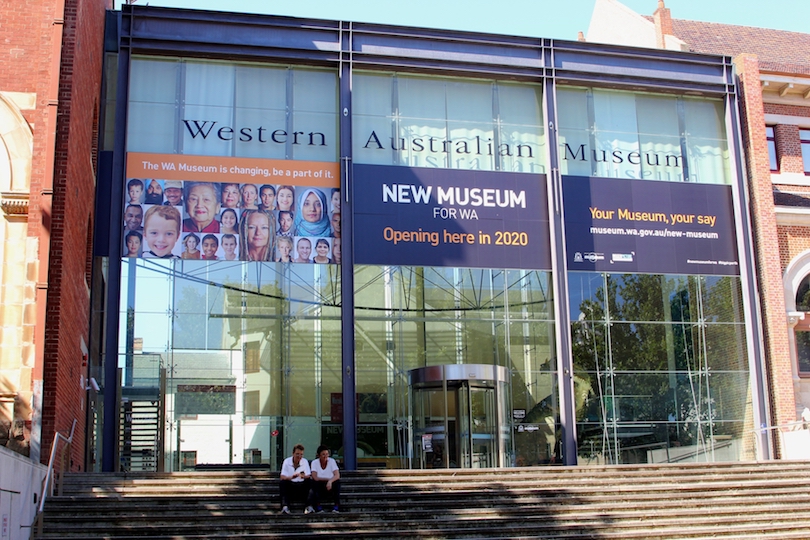 Established in 1891 as a geological museum, the Western Australian Museum has slowly morphed into an institution that deals with the history and culture of the whole state – the largest in the country. Due to its mammoth task, the museum's extensive collection is spread over six sites, with the fantastic museum in the Perth Cultural Center being just one of them.
With fascinating displays on the state's rich cultural heritage, natural history, and humble beginnings found alongside many others, it is a great place to head to if you want to know more about Perth and the state at large.
11. Aquarium of Western Australia
Boasting the longest underwater tunnel in Australia, which stretches for a staggering 98 meters, the Aquarium of Western Australia promises to be a fun-filled day out for all the family. Watching sharks, stingrays, turtles, and fish swim above you is a magical experience and is just one of the aquarium's many attractions.
Focussing on marine species found along the coast of Western Australia, its informative displays teach you all there is to know about everything from leafy seadragons and saltwater crocodiles to sandbar sharks and rock lobsters. With over 400 different species on display, divided among its various marine habitats, a visit to the aquarium is as educational as it is entertaining.
10. Elizabeth Quay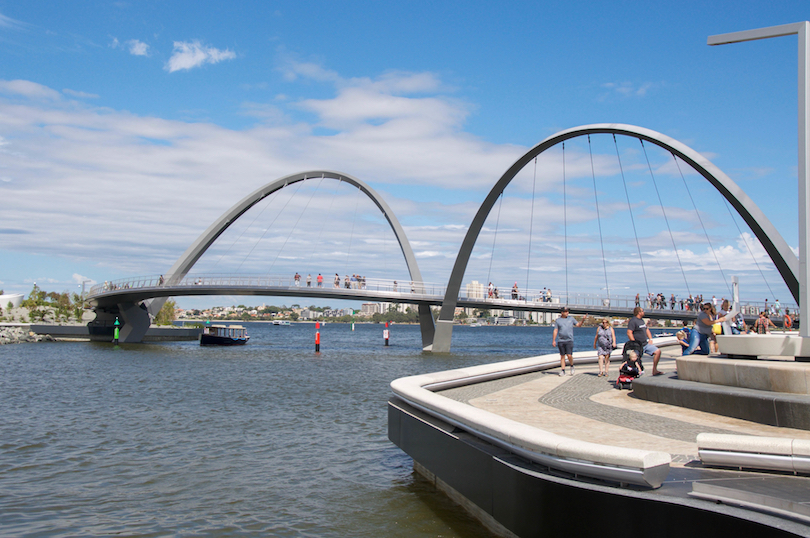 Named after Queen Elizabeth II, this fantastic urban redevelopment project lies on the banks of the Swan River around an artificial inlet, just a short walk away from Perth's CBD.
Only opened in 2015, Elizabeth Quay exhibits some wonderfully innovative architecture. The gentle curves of its bridge and the abstract shapes and sculptures on show seem to mimic the motion of the water all around them.
Besides its colorful playground, the quay has some great waterfront restaurants and cafes for you to try out, and regularly hosts different cultural events and festivals. Due to its proximity to the center of the city and the bus, train, and ferry links that lie nearby, the quay also functions as a transport hub, so lots of people pass through during the day.
9. Swan Valley Vineyards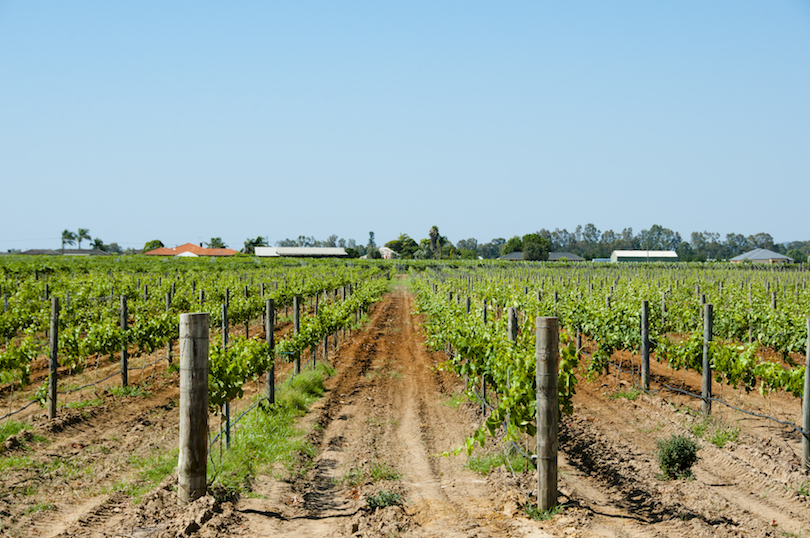 Lying just outside of Perth, Swan Valley has long been noted for its fertile soils, which lend themselves perfectly to viticulture and other types of agriculture. Over the last 50 years or so, numerous wineries and vineyards have sprung up in the region. Nowadays, there are over 40 different estates for you to visit.
Set among picturesque countryside with rolling fields and vine-covered hills all around them, the Swan Valley Vineyards are a brilliant place to head to if you want to sample some of the finest wines in Australia. As well as taking a peaceful cruise along the river, visitors can also stop off to taste some of the excellent cheeses produced in the area.
8. Bell Tower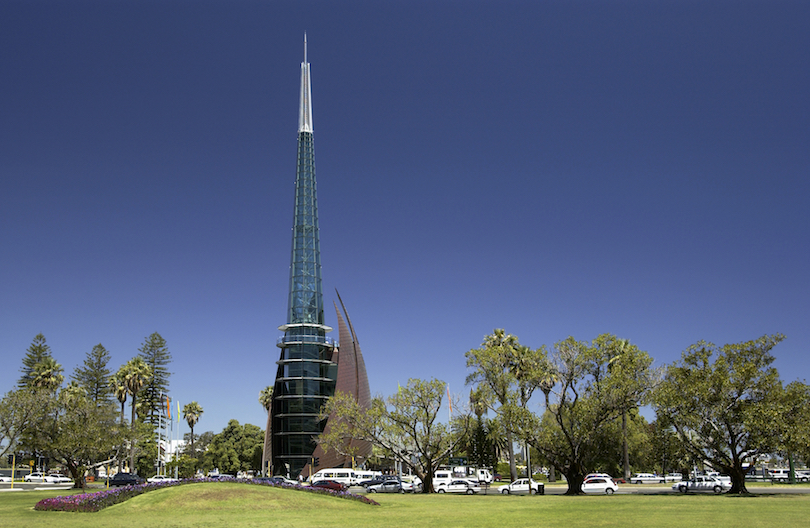 Overlooking the Swan River, this futuristic-looking building is certainly unlike any other Bell Tower you've seen before. It is one of the most unique and iconic designs in the whole of Perth.
Remarkably enough, the spaceship-shaped bell tower houses a number of historic bells. The oldest of them is from St Martin-in-the-Fields church in London and dates to 1550. These still ring out, centuries later, for all to hear.
From the top of the bell tower, you can enjoy fabulous views out over the city and its surroundings. Designed by local architects, the glass-clad spire and giant steel columns originally received criticism from Perthites, although they are now widely lauded as a success due to the increased interest and investment the tower has brought to the riverside area.
7. State War Memorial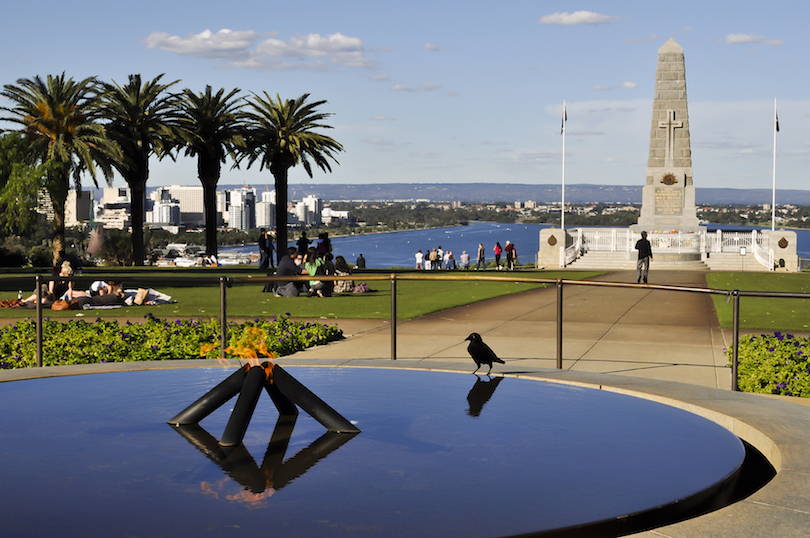 Located within Kings Park, the State War Memorial commemorates all the Australian servicemen and women from the state who lost their lives serving their country. Looking out over the Swan River, its commanding cenotaph was first unveiled after the First World War.
Since then, a crypt, Roll of Honour, and glass cases exhibiting the colors of fallen battalions have been added to the precinct. Its serene setting makes it a peaceful and poignant place to visit, and each year, thousands of people attend its moving Anzac Day Dawn Service.
6. Penguin Island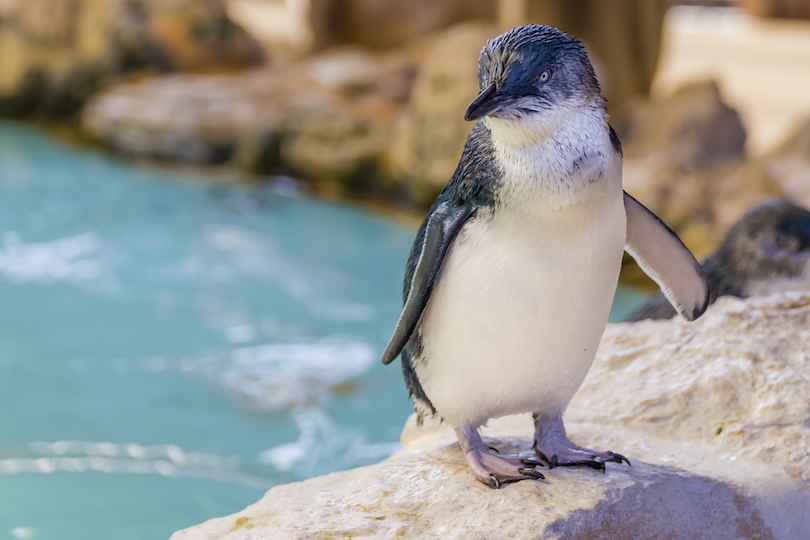 Lying just off the coast of Rockingham to the south of Perth, Penguin Island is named after the cute little critters that inhabit its cliffs, headlands, and beaches. Connected to the mainland by a tidal sandbar, at low tide, the island can be walked to – although most people simply take a ferry. A few intrepid adventurers opt to kayak or even swim to its rugged shores.
Numbering around 1200 or so, the colony of penguins is just one of the island's many draws. Walking along its numerous boardwalks and walkways is also a popular pastime; they offer fantastic views out over the ocean.
Due to the rough waves that pound the shore, Penguin Island also boasts some brilliant surf spots. At some of the more secluded beaches, you can even go swimming in the inviting waters of the Indian Ocean.
5. Perth Mint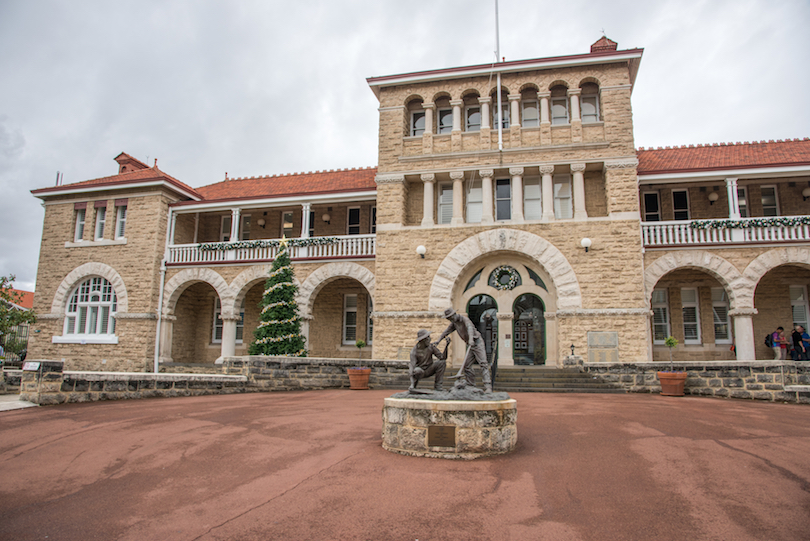 One of the oldest buildings in the city, the Perth Mint was established all the way back in 1899 and was one of the country's last colonial branches of the UK's Royal Mint. Nowadays, it has a glittering array of shimmering coins and shiny gold bars for you to peruse.
The heaviest, largest, and most valuable coin in the world is its most prized possession. Weighing in at one tonne and made of 99.99% pure gold, the coin is worth a cool $60 million.
Besides its many interesting exhibitions on the history of the Mint and Western Australia's gold mining past, the Perth Mint also has a section where you can mint your own coins and watch gold melt before your eyes. Located in a beautiful heritage building, the Mint is well worth a visit. Children's eyes will light up at the opportunity to touch gold bullion worth almost a million dollars.
4. Cottesloe Beach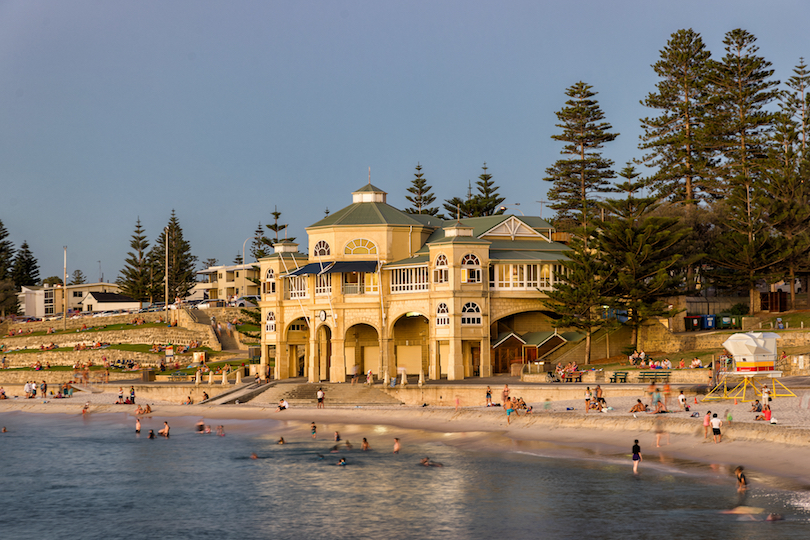 While beautiful beaches litter Perth's Indian Ocean coastline, Cottesloe is perhaps the most famous and popular of them all. Bordered by a lovely ocean way that separates its fine sands from the Cottesloe suburb of Perth behind it, the beach is one of the best places to go swimming in the region. Snorkeling and surfing are also popular pastimes.
With lots of cafes, bars, and restaurants lining the beach, there is lots for you to do if you should ever get bored of lounging on the sand and gazing out over the ocean. As it faces westwards, Cottesloe Beach is also blessed with one of the most stunning sunsets imaginable, so it is well worth waiting until evening before heading back to the city center.
3. Rottnest Island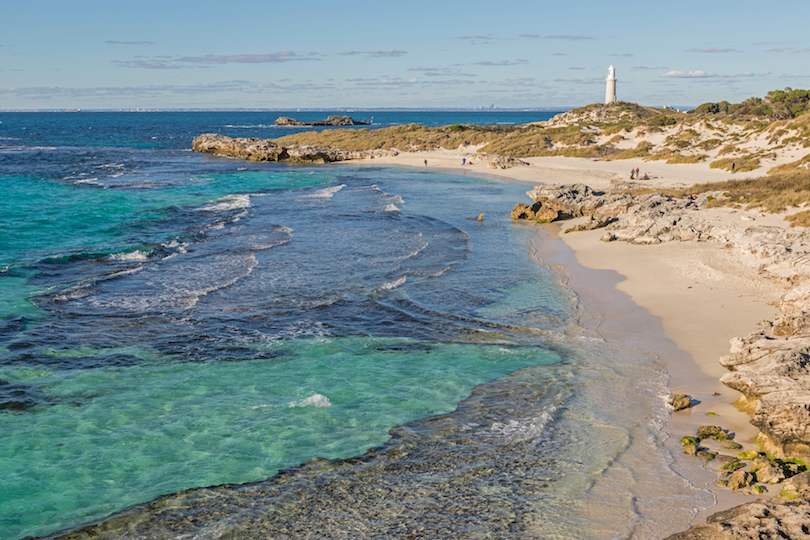 Lying in the Indian Ocean, around an hour's ferry ride from Perth, Rottnest Island is a popular day trip among locals and tourists alike due to the spectacular scenery and wealth of recreational activities it provides.
Affectionately known as 'Rotto' to Perthites, the low-lying island is dotted with several salt lakes and woodlands, while its secluded beaches, bays, and offshore reefs attract sunbathers, swimmers, snorkelers and surfers.
Due to its remote location, at one time or another, the island acted as both a penal colony and internment camp. Many of its colonial-era buildings now serve as accommodation for holidaymakers. Renowned for being home to the cute and adorable quokka – reputed to be the smiliest animal on Earth – Rottnest Island is now listed as a reserve; this helps protect and preserve the pristine environment of its local species.
2. Fremantle Prison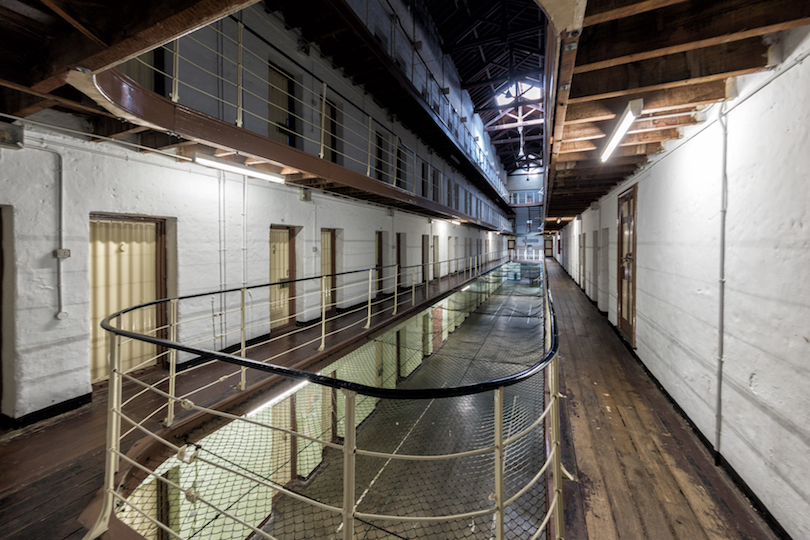 As Perth and indeed Australia's history is inextricably intertwined with the fortunes of the British convicts that were shipped to its shores, it is well worth visiting Fremantle Prison to see what life in the maximum-security jail was like. Only decommissioned in 1991, the prison was in operation for almost 140 years; it was remarkably opened back in 1855.
Little changed since colonial times, the imposing building was actually built by the prisoners themselves. Taking a tour of their dingy cells and living quarters is quite an eerie experience. This sense of unease may be due to the fact that 44 of the prisoners were executed on-site for their crimes. With some of the tours venturing into the dimly-lit tunnels below ground, a visit to Fremantle Prison certainly isn't for the faint-hearted.
1. Kings Park & Botanic Garden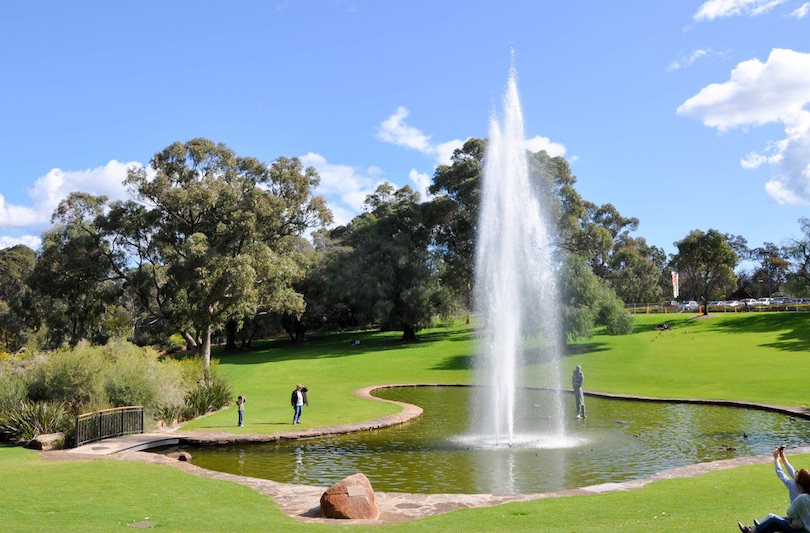 Covering a vast expanse of territory right in the city center, Kings Park is a natural wonderland, with beautiful, untouched bushland and green grasses lying next to its brilliant botanical garden.
With lots of trails and cycling paths weaving their way around the park, it is a fantastic place to head to if you want to enjoy the great outdoors. There are plenty of playgrounds and picnic areas scattered about too.
In addition to the park's touching State War Memorial and fabulous Aboriginal Art Gallery, you can also enjoy breathtaking views out over Perth's CBD and the winding Swan River. Yet another highlight is its magnificent Botanic Garden, which has over 2,000 different types of local flora on display.
With so much for you to see and do, Kings Park and its Botanic Garden are not to be missed out on when in Perth; it is remarkably the most popular tourist attraction in the whole of Western Australia.
Best Time to Visit Perth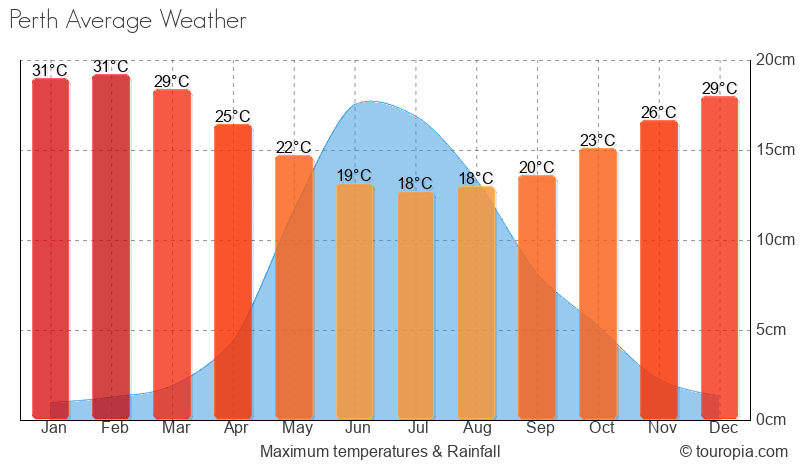 Spring and autumn are generally considered to be the best times to visit Perth as you avoid its strong summer sun and mild wet winters. September to November is the city's absolute peak season when prices are highest and its hotels, restaurants and beaches are packed.
During spring, temperatures average a comfortable 20 to 25°C (68 to 77°F) with its lush green spaces looking particularly lovely. You can enjoy its pretty flowers at the popular Kings Park Festival with the Perth Royal Show also going on around the same time.
Due to the holidays, December is another busy month with many lounging on its beaches or enjoying some of its fun watersports. As it is a couple of degrees hotter, applying sunscreen is an absolute must.
After Christmas and New Year's, the city quietens down a bit before the cooler temperatures and Easter holidays draw people back again in March and April. Its Fringe Festival and Perth Festival do attract large crowds though during the sweltering summer months.
As May through August is much rainier and colder, making its sunbathing, outdoor activities and watersports less enjoyable, Perth is quieter and cheaper to visit. Temperatures of 18 to 21°C (64 to 70°F) are instead better suited to exploring its many museums and historic sights.