Located on Australia's northeast coastline in the state of Queensland, Cairns is surrounded by pristine forest reserves and national parks, with the Great Barrier Reef lying just offshore. Due to its many natural tourist attractions, both above and below water, most people use Cairns as a base from which to either venture into the rainforest or explore its many brightly-colored coral reefs.
Although it is very touristy in nature, with a plethora of souvenir shops, tour agencies, and resorts wherever you look, there is a lovely laidback feel to the place. While the small city may not have its own beach, there is a delightful esplanade, marina, and human-made lagoon for you to relax at, with some beautiful beaches to be found further up the coast.
Besides the stunning scenery and a wealth of adventurous things to do in Cairns, the town is also a great place to get to know some of the local indigenous cultures, with a number of Aboriginal communities inhabiting the area.
In this post, we'll cover:
14. Babinda Boulders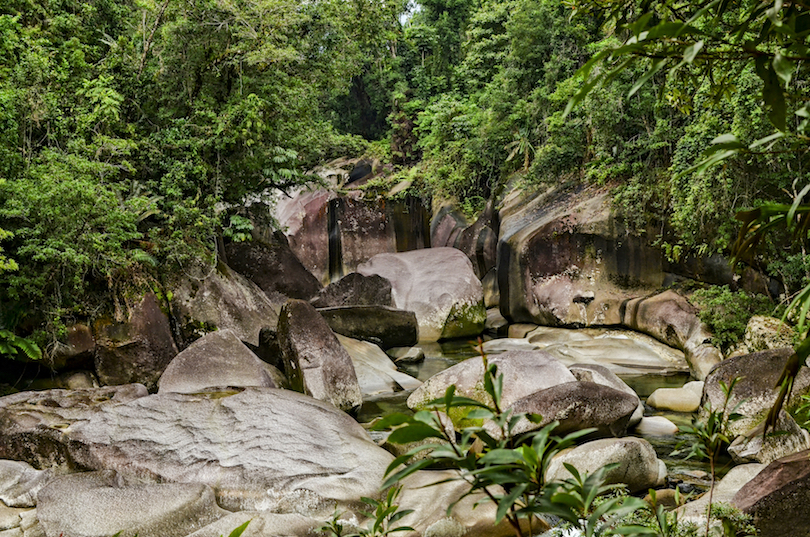 Nestled away among the rainforest, Babinda Boulders is an idyllic spot to while away an afternoon, and is very popular with locals and tourists alike. Coursing through a small gorge, the Babinda Creek's crystal clear waters are ideal for bathing or swimming in, although the current can be quite strong, especially after heavy rains.
As the scenery is so picturesque and peaceful, many families come here to enjoy a picnic on the banks of the river or sunbathe on the rocks. From Babinda Boulders, you can easily visit the Devil's Pool and Boulder Gorge, both of which lie nearby.
13. Reef Teach
Before heading to the Great Barrier Reef to go snorkeling or scuba diving, it is well worth giving Reef Teach a visit. At the education and research center, a professional marine biologist will provide you with a fun, engaging, and informative presentation on all the underwater marvels you can expect to see.
After the interactive demonstration, you will be much better equipped to enjoy the Great Barrier Reef fully; you will now recognize all the amazing fish, marine mammals, and coral reefs you pass by.
12. Tjapukai Aboriginal Cultural Park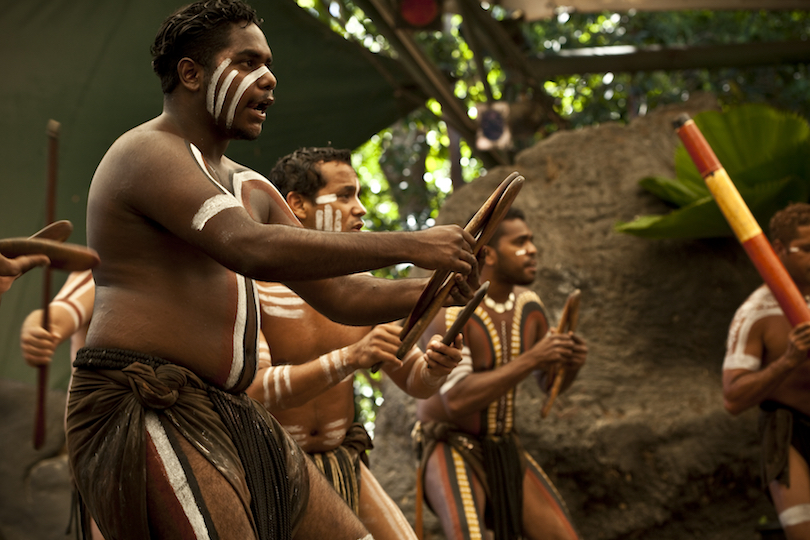 If you're looking to learn more about Australia's rich array of indigenous cultures, then the Tjapukai Aboriginal Cultural Park is the place to go. Founded in 1987, the cultural park has since shared the customs and traditions of the local Djabugay people with the world. As well as watching them perform their riveting creation myth, you can enjoy demonstrations on how to throw boomerangs and spears, and listen to a didgeridoo show.
Run by the Djabugay, the award-winning center also has lots of authentic indigenous art for you to check out, as well as interesting exhibitions and displays that showcase their fascinating history. To top it all off, partaking in a corroboree and learning traditional Dreamtime stories around the campfire is an unforgettable experience.
11. Crystal Cascades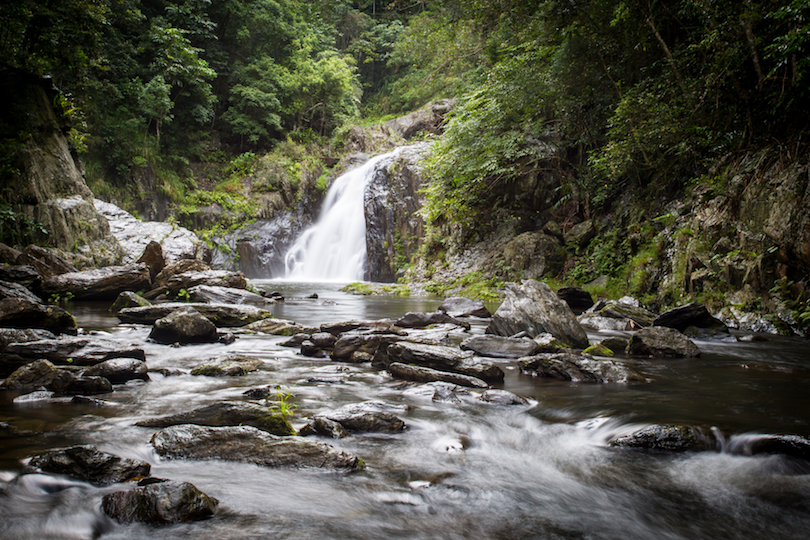 Lying around 15 kilometers to the west of Cairns, the Crystal Cascades is a fantastic spot at which to kick back and relax with some stunning nature all around you. The series of small waterfalls look gorgeous with the dense rainforest all around them, and the surrounding area has several wonderful paths and trails for you to explore.
Alongside the swimming holes, which are perfect for splashing about in, there are a couple of picnic areas where you can light up a barbecue. Thanks to their serene setting, the aptly-named Crystal Cascades is well worth visiting if you're looking for a relaxing day out.
10. Daintree National Park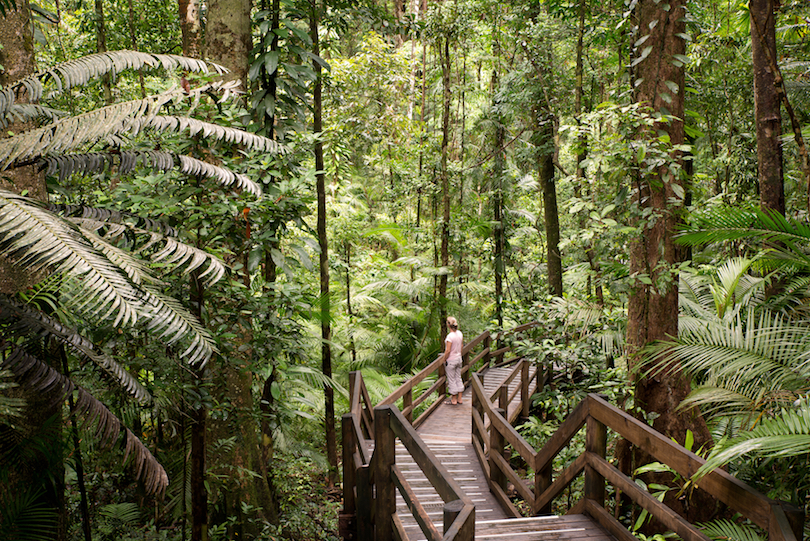 Part of the Wet Tropics of Queensland, Daintree National Park was founded in 1981 to protect and preserve some of the oldest and most biologically diverse rainforest in the world. Boasting lots of unique fauna and flora, the national park is a delight to explore, with stunning rainforest scenery wherever you look.
Besides its many natural wonders and rich array of bird and animal life, Daintree also has a plethora of exhilarating adventure sports, with its jungle surfing zip line being one of the best ways to see the rainforest canopy up close.
Other fun activities include paddleboarding on one of its many waterways, going for a cruise along the breathtaking Daintree River, or hiking to see one of its many glittering waterfalls.
9. Fitzroy Island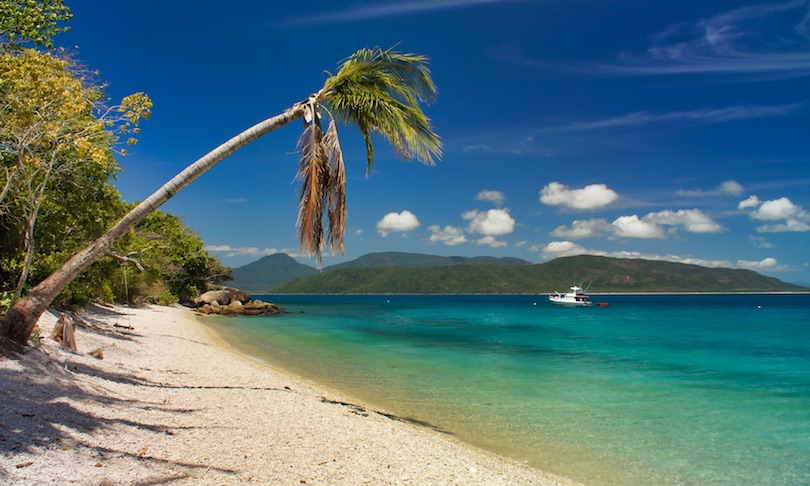 Lying just a short and scenic ferry ride away from Cairns, Fitzroy Island makes for a popular day trip, although you can also stay overnight at its fantastic resort. Rising from the sparkling sea, it really is an island paradise; beautiful beaches line its shores, and thick jungle coats its mountainous interior.
Now a national park, the island is surrounded by coral reefs, which are home to lots of marine life. Many people come here to go snorkeling or scuba diving. With watersports and rainforest hikes also on offer, Fitzroy Island is a great place to visit, whether you're looking for an active holiday or simply want to take in the marvelous scenery and lounge on one of its stunning beaches.
8. Australian Armor & Artillery Museum
Only opened in 2014, the Australian Armor & Artillery Museum boasts one of the largest collections of tanks and artillery in the whole of the southern hemisphere. While the oldest date all the way back to the First and Second World Wars, many of the armored vehicles date to more recent times.
Perusing the extensive collection of tanks from the U.S., Russia, and Czechoslovakia will delight military and history aficionados. Australian models are also included, alongside examples from Germany and Japan. Besides wandering around the informative displays, visitors can also go for a ride in a tank or shoot rifles at the museum's shooting range.
7. Atherton Tablelands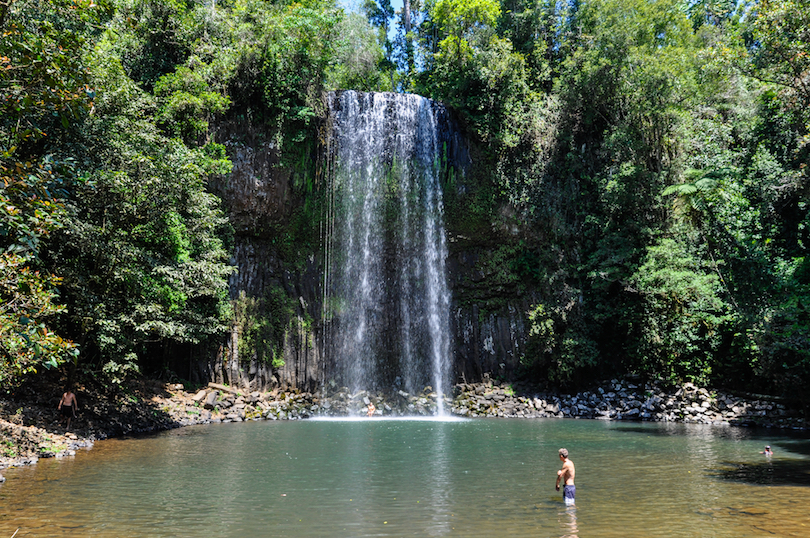 Covering a vast swathe of land, the Atherton Tablelands act as the food bowl of the region, as the fertile plateau is awash with farms and fields. Tucked among its picturesque countryside are lots of quaint towns and villages for you to check out. The cooler weather means that many people come here to escape Cairns' steamy, tropical climate.
While the Atherton Tablelands have lots of peaceful eco-lodges and charming bed and breakfasts for you to stay at, there are also a wealth of astonishing natural sights for you to enjoy. Hiking through the majestic scenery is a magnificent experience. On the way, you'll pass sparkling waterfalls and glimmering lakes, as well as some of the highest mountains in the northeast.
6. Josephine Falls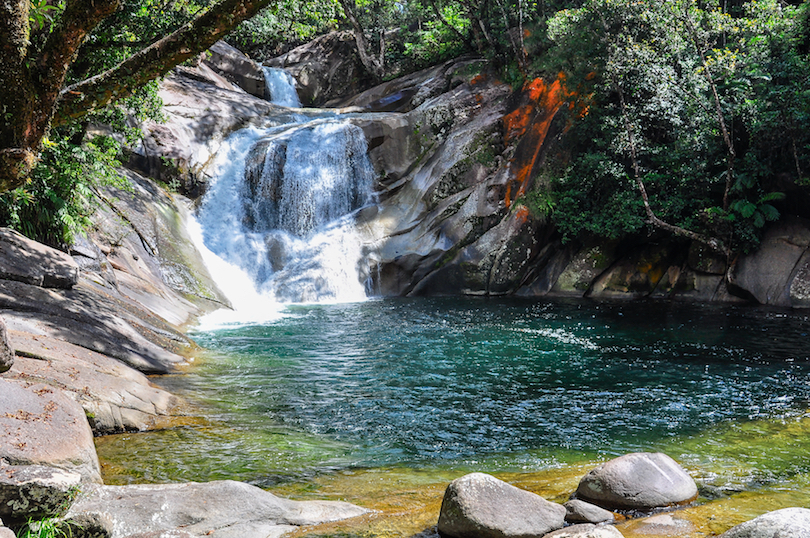 Widely considered to be one of the most beautiful waterfalls in the whole of Australia, Josephine Falls certainly looks spectacular as the series of cascades tumble their way down rocks and boulders in the jungle. Below the falls are some fabulous sandy beaches where you can unwind.
A couple of viewing platforms offer up brilliant views of the powerful waterfall and the lush rainforest surrounding it. Located around an hour's drive from Cairns in Wooroonooran National Park, Josephine Falls has lots of lovely paths and trails for you to amble along, as well as several picnic and barbecue areas.
5. Green Island
Part of the Great Barrier Reef, Green Island is remarkably the only one of its 300 or so coral cays to sport a rainforest. This is, in part, what makes it so special to visit. Bordered by alluring turquoise waters that are home to colorful coral reefs, the paradise island is now a national park, so there is lots of pristine and untouched scenery on show.
While exploring its steamy rainforest is a great way to spend the day, its underwater delights are equally alluring for what they have to offer up. Swimming, snorkeling, and scuba diving are all very popular pastimes. Located around a 45-minute boat cruise from Cairns, visitors can either stay the night at Green Island's luxury resort or simply enjoy a memorable day-trip to its jungle-clad shores.
4. Cairns Aquarium
Balou46 / Wikipedia
With over 15,000 specimens on show, Cairns Aquarium's endless array of freshwater tanks are home to everything from multi-hued fish and playful turtles to fierce-looking sharks and moray eels.
Only opened in 2017, the large aquarium has ten different ecosystems for you to explore, with reef habitats similar to those of the Great Barrier Reef found alongside those of rivers and estuaries.
Besides its entertaining and informative displays, there are also a number of great talks and shows that take place during the day. Boasting not only the largest freshwater tank in the country but also the only tidal motion tank in the world, Cairns Aquarium is the perfect day out for all the family.
3. Cairns Botanic Gardens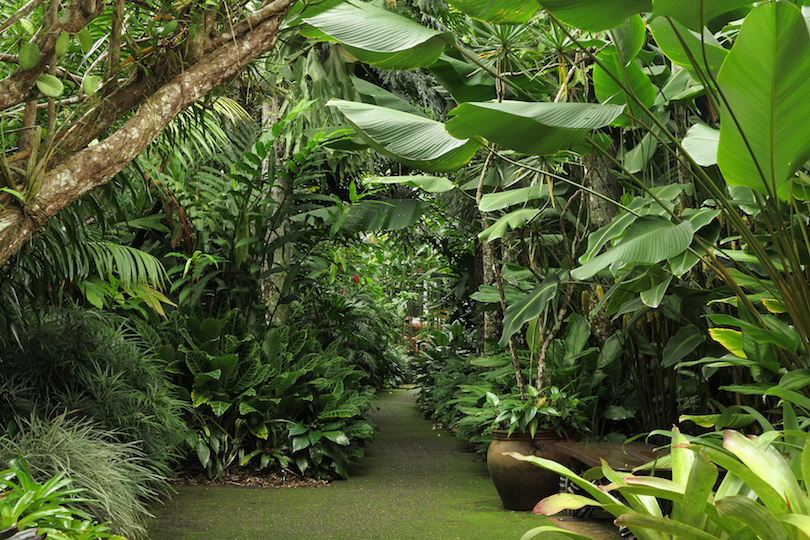 Located on the outskirts of the city on the way to the airport, the Cairns Botanic Gardens are a charming place to go for a stroll. Formerly known as the Flecker Botanic Gardens, they were designed and founded in the 1870s, with substantial work on them being done by the botanist Eugene Fitzalan and the naturalist Hugo Flecker.
Awash with color, the gardens have a wealth of local plants, flowers, and birdlife for you to spot. There is also a lovely, butterfly-filled conservatory for you to wander around. Hemmed in on all sides by lush rainforest and tropical plants, its many paths and trails feel a world away from the touristy center of Cairns.
2. Kuranda Scenic Railway
Completed all the way back in 1891, this historic railway line takes you on a marvelous journey through the mountains and rainforest to the charming town of Kuranda on the Atherton Tablelands. Weaving past some stupendous scenery, such as Barron Falls and Stoney Creek Falls, the train ride takes just under two hours.
Once you arrive, you'll be greeted with the colorful, flower-filled Kuranda Station. Sitting in the delightful old carriages watching the world go by is a wonderful experience, and audio-commentary tells you all about the history of the Kuranda Scenic Railway and the magnificent landscapes you pass by.
1. Cairns Esplanade, Boardwalk & Lagoon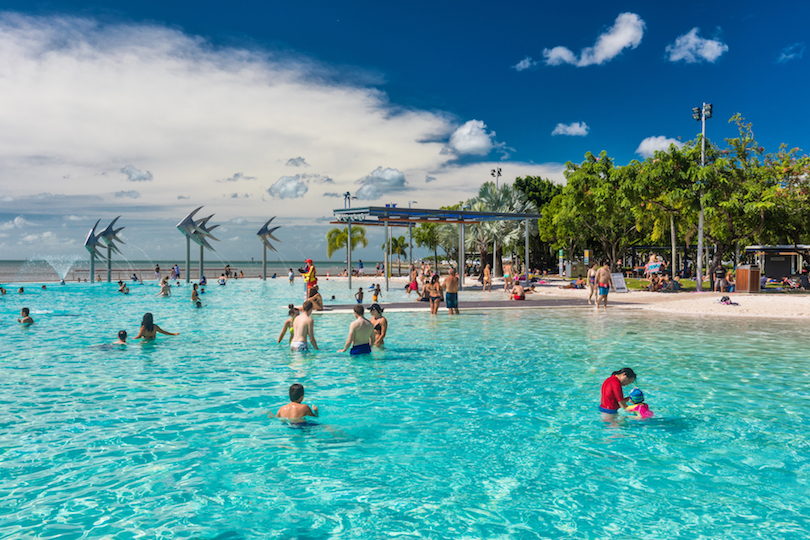 Looking out over the ocean, the Cairns Esplanade, Boardwalk & Lagoon is where locals and tourists alike flock to due to the wealth of recreational activities, restaurants, and coffee shops that it has to offer. Lying right next to the waterfront, its artificial swimming lagoon is ideal for splashing about in. The surrounding park has lots of picnic tables, barbecue facilities, and fitness equipment for you to make use of.
With playgrounds, beach volleyball courts, and a skatepark also found nearby, there really is something for everyone to enjoy. Lively yet laidback at the same time, the Cairns Esplanade boardwalk is busy at any time of day, as joggers, cyclists, and tourists mill about beneath the shady trees taking in the magnificent views.