Victoria's second-largest city of Geelong is an increasingly popular place to visit. Set just to the southwest of Melbourne, the natural delights and small seaside towns of both the Bellarine Peninsula and Great Ocean Road lie nearby.
Once a thriving center of industry, thanks to Port Phillip Bay, it has a rich history and there are plenty of things to do in Geelong with grand old buildings and interesting museums to explore. As well as exquisite gardens and galleries, there are also brilliant bars and restaurants to try out at the lively Corio Bay waterfront.
Bordering the city is the Bellarine Peninsula which has countless beautiful spots. Idyllic ocean beaches and superb surf spots sit next to small coastal towns, historic forts and heritage railways.
With so much to see and do, Geelong and the Bellarine Peninsula definitely warrant at least a visit or weekend away from the state's cosmopolitan capital of Melbourne.
In this post, we'll cover:
11. Point Lonsdale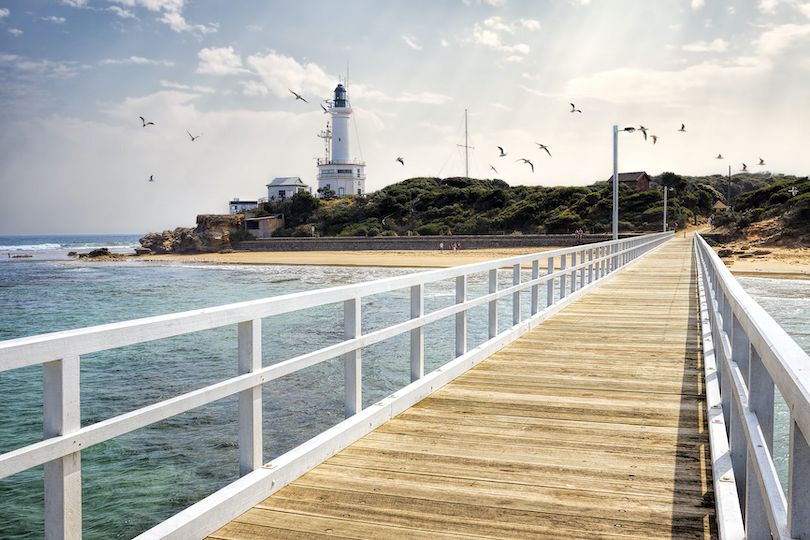 Perched at the southeastern end of the Bellarine Peninsula you can find the small sleepy settlement of Point Lonsdale, half an hour's drive from the city of Geelong. Despite overlooking rather rough waters, it is a peaceful place to explore and offers great views, outdoor activities and historic tourist attractions.
Located right at the entrance to Port Phillip Bay, it was established in 1863 following the construction of its bright white lighthouse. Remarkably still operating to this day, the atmospheric old concrete tower makes for a spellbinding sight. It acts to guide ships through the 'Rip' – one of the most treacherous navigable passages in the world.
Besides taking in breathtaking views from the rocky headland and watching all the boats pass by, visitors can lounge on its beach or swim in the sheltered bay.
10. Ocean Grove Beach
Just a short drive west of Point Lonsdale is another outstanding place to head if you are after some sand, sea and surf; idyllic Ocean Grove Beach. Popular with both locals and tourists alike, it looks out onto Bass Strait with lifeguard stations and safe swimming spots dotted up and down the coast.
Stretching over two kilometers in length, its soft sands are perfect for kicking back and relaxing, while various rips, barrels and breaks can be surfed offshore. Aside from swimming, beachgoers can explore nearby nature reserves or enjoy scenic hikes, kayaking, canoeing and fishing.
On top of all this, countless local cafes and restaurants can be found in the centre of Ocean Grove, which is a lively seaside resort.
9. Geelong Gallery
If it's awe-inspiring artworks that you are interested in, then you'll definitely want to check out the exquisite Geelong Gallery. Full of paintings, photos and sculptures, it is widely considered to be one of the leading and oldest regional art galleries in Australia.
Impressively founded in 1895, it now boasts a huge collection of over 6,000 works by Australian and International artists displayed in its light and airy galleries. As well as contemporary prints and centuries-old ceramics, it showcases iconic artworks, such as Frederick McCubbin's 'A Bush Burial' and Eugene von Guerard's 'View of Geelong'.
Set in the center of town, the gallery occupies a grand historic building and is an important and prestigious part of Geelong's Cultural Precinct.
8. You Yangs Regional Park
Rising dramatically above the low-lying plains are the distinctive granite peaks of the You Yangs. Protected as part of a regional park, their craggy confines have all kinds of epic outdoor activities and stunning scenery wherever you look.
Held sacred by the local Wathawurrung people, the ridge reaches 319 meters at its highest point. And the summit of Flinders Peak offers commanding views over the seemingly endless plains. While the higher reaches are quite bare, the lower slopes are home to fauna and flora. Koalas, kangaroos and wallabies can be spotted amidst the bushland.
There are over fifty kilometers of trails to hike, bike and horseback ride along. The park is also renowned for its brilliant birdwatching. As it lies less than half an hour's drive north of Geelong, the You Yangs are certainly well worth visiting when in town.
7. Fort Queenscliff
Rexness / Flickr
Located to the north of Point Lonsdale is another interesting historic sight to check out besides the lovely old lighthouse. Set in a strategic spot atop Shortlands Bluff, Fort Queenscliff was once instrumental to the defense of the Victoria coastline. Its sturdy fortifications now act as one of the area's top tourist attractions.
Initially built in 1860 to defend the entrance of Port Phillip, it later became the headquarters of a huge chain of forts all around the bay. The most heavily fortified port in the Southern Hemisphere, its defenses bristled with guns with batteries, barracks and even two lighthouses around its ruddy red brick keep.
As well as taking tours around the historic fort, visitors can stop by the magnificent museum that contains old and important weapons, uniforms and documents.
6. National Wool Museum
The National Wool Museum is not to be missed if you want to learn all about Geelong's past as the 'wool center of the world'. Well-presented artifacts and exhibits highlight the profound impact the wool industry had on not only Geelong's economy and society, but even its architecture too.
Opened to the public in 1988, it occupies a delightful bluestone building in the center of town that used to be a wool store. Inside are interactive displays and dioramas that focus on everything from sheep and their wool to how fleeces were selected and turned into textiles on the giant looms.
Aside from shining a light on Australia's centuries-old wool industry and highlighting all the grand buildings that sprung up in Geelong due to the flourishing trade, the museum also regularly hosts temporary exhibits on a wide range of different subjects.
5. Barwon Heads
Lying at the mouth of the Barwon River, the small seaside town of Barwon Heads makes for a great afternoon out or quiet weekend getaway. Set on the southern shores of the peninsula, its beautiful beaches and stupendous coastal scenery can be reached in just twenty minutes' drive from Geelong.
Since the popular TV show SeaChange was shot here in the eighties, the town has seen a significant increase in tourism, and it is easy to see why. Besides lounging on either its ocean beaches or those of its gentle estuary, visitors can surf offshore, see awesome animals at the Jirrahlinga Koala & Wildlife Sanctuary or explore the rich habitats of the Barwon Bluff Marine Sanctuary.
Despite hotels and golf courses shooting up, the town still retains its charm and slow pace of life, with friendly local cafes and shops located along Hitchcock Avenue in the center.
4. Geelong Botanical Gardens
The gorgeous Geelong Botanical Gardens can be found within Eastern Park along the city's waterfront. Home to myriad plants, flowers, trees and shrubs, it is the perfect place to relax and unwind after a busy day of sightseeing.
One of the oldest botanic gardens in Australia, it was established in 1851 and its massive collection now includes colorful plants from all around the world. Lovingly landscaped, its many manicured lawns and flowerbeds lie alongside sections dedicated to oak and walnut trees, ferns, camellias and roses.
While wandering along its paths you'll come across conservatories full of tropical plants and marvelous modern garden sculptures. There's also a charming tea house where you can stop for a coffee, tea or snack.
3. Bellarine Railway
Marcus Wong / Wikipedia
A wonderful way to see as much of Geelong & the Bellarine Peninsula as possible is to take a ride around the peninsula on the Bellarine Railway. The oldest Victorian branch line still in operation, its heritage trains take you from Queenscliff to Drysdale with sightseeing trips running most weekends of the month.
First opened in 1879, the line used to connect South Geelong station to both the port and fort at Queenscliff, transporting passengers, goods and military ware along its tracks. It was closed just under a century later, so a dedicated team of volunteers opened up one branch as a tourist service in 1979 and still operate and maintain the trains to this day.
Nowadays, the sixteen kilometer-long stretch of track is lots of fun to ride along with its old steam trains and locomotives helping you relive the sights and smells of a by-gone era of train transport.
2. Geelong Waterfront
Curving its way gently along Corio Bay is the lively Geelong Waterfront, which is undoubtedly the most popular place in town. Packed with things to see and do, it boasts umpteen attractions, activities and amenities with something for everyone to enjoy.
Once a humble port that fell into disuse, it was revamped and revitalized in the nineties. Scenic piers and striking sculptures are now to be found beside grassy sections, swimming areas and historic sights. As well as a nineteenth century carousel and Ferris wheel, there are playgrounds and picnic spots to make use of, while grand houses and more than a hundred gaily painted Baywalk Bollards line the promenade.
On top of all of this, the bars and restaurants that dot the waterfront offer phenomenal views over the bay, with particularly spectacular sunsets. With white sand beaches to laze on, a 1930s Art Deco pool to enjoy and resplendent botanic gardens to stroll around, the Geelong Waterfront really is the heart and soul of life in town.
1. Great Ocean Road
One of the most scenic drives in Australia, and the world, the Great Ocean Road meanders its way along the south coast of Victoria. Stretching 243 kilometers in length, it takes you past epic limestone sea stacks and secluded coves, with pristine beaches, lush tracts of rainforest and fertile winelands also on show.
Due to its proximity to the seaside town of Torquay – the rambling route's start point – Geelong is often called the 'Gateway to the Great Ocean Road'. As such, it is certainly well worth driving along at least part of it when in town. Stupendous natural sights such as Bell's Beach and Point Addis Marine National Park lie not too far away.
Nearer to the road's end point in Allansford, you can find other fantastic features, such as the Twelve Apostles sea stacks while the majestic landscapes, scenery and nature of the Great Otway National Park lie around the midway point. With so many superb surf spots to stop by and incredible ocean views wherever you go, it is no wonder that driving along the Great Ocean Road is the highlight of many people's visit to Geelong.
Map of Things to do in Geelong