Set in the Deep South of the United States, Mississippi is a fascinating state to visit. It is known as much for its literature and music as its rich and at times raw history and heritage. While traveling around, visitors will come across everything from beautiful beaches and verdant fields and hills to glitzy casinos, college towns, and Civil War Battlefields.
Dominating the state and defining its western border is the mighty Mississippi River that flows to the glittering Gulf of Mexico. In its delightful delta region, the beautiful music style known as the blues was developed.
Map of Places to Visit in Mississippi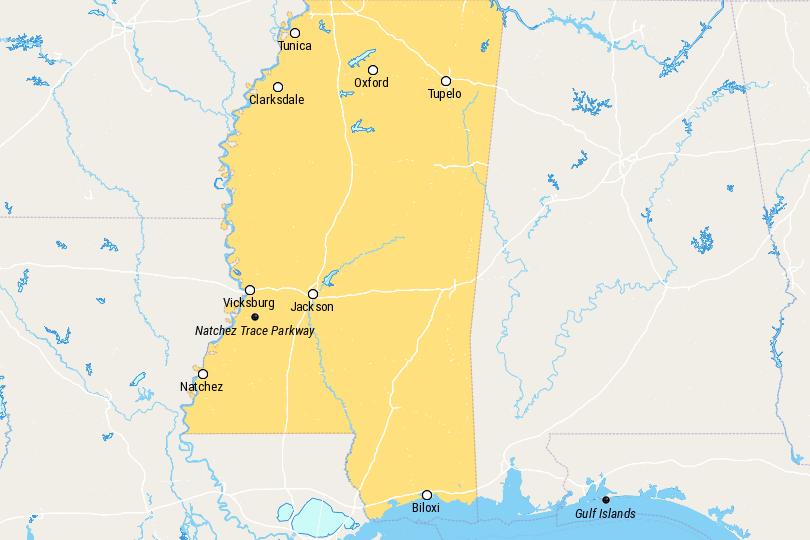 © OpenStreetMap © MapTiler © Touropia
As such, there are plenty of bars and clubs where you can enjoy live music. A friendly and welcoming place to visit, Mississippi certainly lives up to its nickname of 'The Hospitality State.'
10. Vicksburg
© Jai Mo / Dreamstime
Perched atop a prominent bluff overlooking the Mississippi River, the small city of Vicksburg is set in a scenic spot. Located in the west of the state on the border with Louisiana, it is famed around the country for being the site of a long siege and battle that swung the American Civil War in favor of the North.
While General Ulysses S. Grant's infamous victory is still commemorated in its artworks, museums and traditions, there is much more to Vicksburg for visitors to enjoy. Besides this unique history and heritage, it also has a wonderfully well-preserved center full of beautiful old buildings and attractive streetscapes, as well as a handful of magnificent museums.
Visitors to Vicksburg can also take a romantic carriage ride around its historical center or a delightful boat ride down the river, while some quality hiking can be had in the surrounding forests and hills.
9. Tunica
© James Kirkikis / Dreamstime
Long one of the most impoverished places in the whole of the US, the town of Tunica is nestled in the northwest of the state, just an hour's drive to the south of Memphis, Tennessee. Following the introduction of gambling in the 1990s, its fortunes dramatically changed. People now flock to what is the third-largest gaming market after Las Vegas and Atlantic City.
The popular resort town now boasts a wealth of grand and glamorous casinos, home to a myriad of slot machines, table games, and poker rooms. Each has an extensive array of rooms and suites for visitors to stay in, with everything from swimming pools and spas to gourmet restaurants and golf courses on offer.
While most if not all people who visit Tunica come for its glitzy casinos and Las Vegas-style shows, the nearby Tunica RiverPark is home to some superb scenery, nature, and hiking trails. In addition, Memphis isn't far away should you want a change of scene.
8. Oxford
© James Kirkikis / Dreamstime
As picture-perfect as they come, the pretty and pleasant city of Oxford lies amid the dense forests of Mississippi's North Central Hills region. Named after the prestigious seat of learning in the UK, life in the town is dominated by the University of Mississippi and its large, lively student body.
While the state's most famous college town certainly has a wild side, it is also noted for its scenic and sophisticated central square and sweet Southern charm. As well as being home to lovely oak-shaded neighborhoods, the city showcases some astounding old architecture and historical sights, with many treasures found on its sprawling university campus.
Due to its sizeable student population, Oxford also hosts a staggering array of concerts, conferences and cultural events, with new shows and performances taking place all the time. On top of this, The Square has plenty of great restaurants and bars where you can sample the town's famous nightlife.
7. Gulf Islands National Seashore
© Jason P Ross / Dreamstime
Set just to the south of both Mississippi and Florida, the Gulf Islands National Seashore are a series of beautiful barrier islands. Home to lots of wonderful white sand beaches and wilderness, the breathtaking scenery offers untold outdoor recreation opportunities.
Due to their serene and secluded settings, the islands are delightfully undeveloped and unspoiled, with stunning sands lying next to wild wetlands and intriguing forests. While the islands of Horn, Sand, Petit Bois, and East Ship boast the loveliest landscapes, they are also the toughest to get to: guests need to charter a boat to them before camping overnight amid the dunes.
Thanks to the park's pristine and protected nature, there are loads of excellent outdoor activities to enjoy, with hiking, cycling, and swimming particularly popular. Besides this, visitors can go snorkeling in the glittering Gulf of Mexico or snap photos of the diverse bird species inhabiting the barrier islands.
6. Natchez Trace Parkway
© Marek Uliasz / Dreamstime
Encompassing everything from steamy swamps and boggy bayous to epic overlooks, Indian burial mounds, and lots of exceptional scenery, the Natchez Trace Parkway is one of the most popular places to visit in Mississippi. Stretching from Nashville, Tennessee to Natchez, Mississippi, the 715 kilometer-long national parkway is fabulous to hike, cycle, or drive along, with lots of spectacular sights to stop off at on the way.
Winding through wonderful woods and wilderness and past roaring rivers and reflective lakes, the scenic route follows what was once a Native American footpath. Later used by explorers and Ohio Valley farmers, it has been in use since pre-Colonial times. As such, numerous historic sights dot the route, with age-old battlegrounds and burial mounds found alongside marvelous monuments and museums.
Besides its rich history, heritage, and culture, the Natchez Trace Parkway has sublime scenery, with sparkling waterfalls, phenomenal views, and dramatic landscapes all on show. Along the route in Mississippi, there are also some great towns and cities for visitors to stop off at, such as Tupelo, Jackson, and Natchez.
5. Tupelo
© Calvin L. Leake / Dreamstime
Lying in the northeast of the state, the small, sleepy city of Tupelo is primarily known for being the birthplace of one of the world's most famous pop icons – Elvis Presley. While most of its main sights relate to 'the King', the town is a perfectly pleasant and peaceful place to visit, particularly if you're traveling along the Natchez Trace Parkway.
In the center of the city, visitors will find a thriving restaurant scene to delve into, as well as some magnificent murals that have added some much-needed color and life to the downtown area. Besides the Birthplace of Elvis Presley, there is also the Tupelo Buffalo Park and Zoo to check out, while a fun and festive flea market takes places the second weekend of every month.
Just outside the city are a couple of American Civil War battlefields well worth visiting, as well as the Natchez Trace Parkway Visitor Center, which can point you towards all of the route's most scenic tourist attractions.
4. Natchez
© Stevengaertner / Dreamstime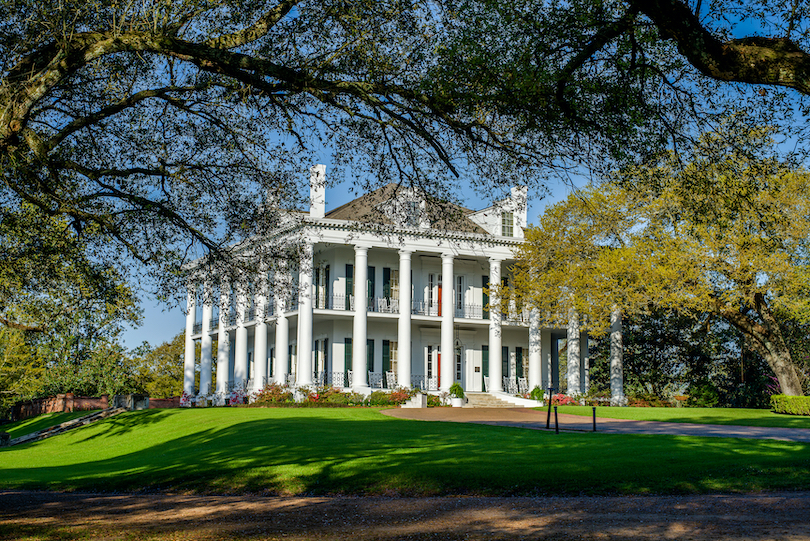 Set in the southwest corner of the state, Natchez lies perched atop a prominent bluff overlooking the Mississippi River. Lying on the border with Louisiana, the small city boasts a beautiful historic center full of astounding old antebellum homes that evoke images of the Old South.
Before the Civil War, the small settlement was an important center of trade. As such, wealth and riches poured into its scenic streets. Nowadays, its charming center is a delight to visit, with horse-drawn carriage rides one of the most memorable ways to take in its grand collection of elegant homes and historical landmarks.
While history and heritage are on show wherever you go, Natchez is very much a living city with a fun party atmosphere on the weekends. Besides stopping by its numerous bars and live music venues, the final stop of the Natchez Trace Parkway also has lovely nature and scenery for visitors to enjoy nearby.
3. Biloxi
© Fasterhorses / Dreamstime
Situated along the state's scenic and sun-kissed shoreline, Biloxi is a popular place to visit due to its beautiful beaches and oceanfront casinos. While it can appear brash and blingy at first sight, the city has numerous sides to it, with a delightful historic center for visitors to explore.
Most people, however, come for its glut of glitzy casinos, which look out over the glittering Gulf of Mexico and are home to innumerable slot machines and table games. Many of them have cowboy, tropical, or live music themes, with plenty of restaurants and entertainment also on offer.
Besides gambling, gaming, and reveling in the city's lively nightlife, visitors can also relax on the golden sands or enjoy sailing and watersports along the seafront. In addition, New Orleans is just an hour away should you want to combine your trip to Biloxi with a visit to 'The Big Easy.'
2. Jackson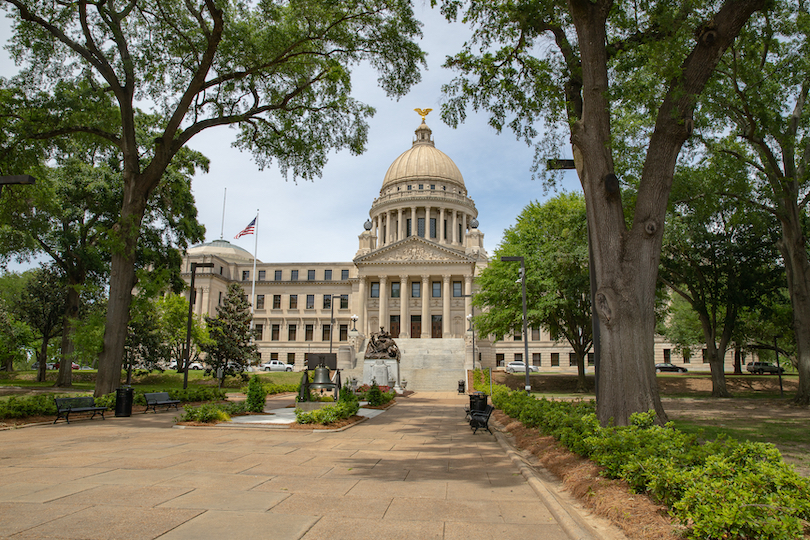 © C5Media / Dreamstime
Although tourists often overlook it, Mississippi's capital and largest city, Jackson certainly has enough going for it to warrant a visit. Set on the banks of the Pearl River, it boasts a brilliant live music scene and a handful of excellent museums and historic buildings.
Its two main tourist attractions are the Museum of Mississippi History and the Mississippi Civil Rights Museum. While the former offers a fascinating look at the state's history and culture, the latter highlights the fight for racial equality in Mississippi. Besides the magnificent museums, there is also the artsy Fondren District with all its boutiques and coffee shops to explore.
As 'The City with Soul' is Jackson's slogan, it should come as no surprise to learn that there's a load of great live music to discover in its numerous bars and venues. Weekends are a particularly good time to visit: this is when blues, folk, and jazz can be heard on every street corner.
1. Clarksdale
© Peek / Dreamstime
Set on the banks of the Sunflower River, the small and slightly dilapidated city of Clarksdale has long been popular with tourists as it lies at the heart of the Delta blues scene. In the early 20th century, many African-American musicians developed the blues here before migrating north and performing in cities such as Chicago and New York.
This captivating past is now explored in depth at the delightful Delta Blues Museum, while markers and monuments relating to the mesmerizing music and its most-distinguished musicians can be found around town. In addition, big-name blues acts regularly perform in the scattering of bars and clubs, while a handful of cultural events and festivals take place during the year.
As it lies just a couple of hours' drive from most of the main blues sights, Clarksdale also makes for a great base if you want to explore the Mississippi Blues Trail. On top of this, both the lively college town of Oxford and the major city of Memphis aren't far away if you want to explore the rest of what the region has to offer up.