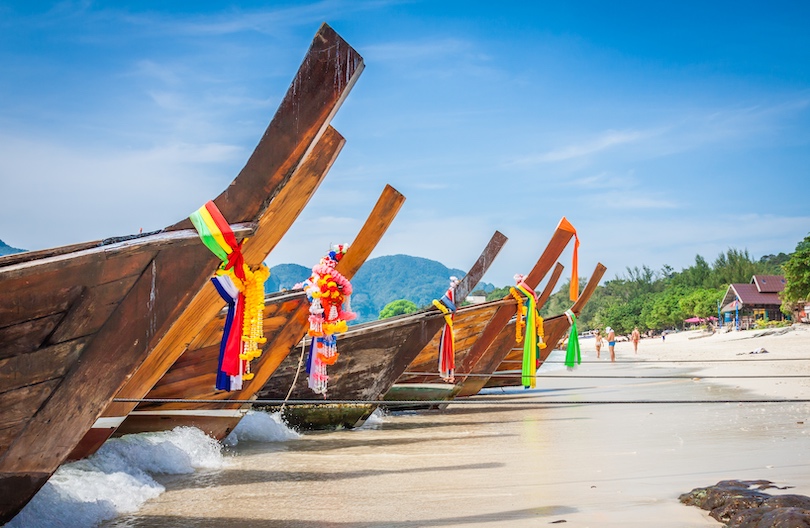 White sand beaches, turquoise water and magical underwater worlds are spread throughout Asia. In a part of the world that is growing exponentially, these islands and their surrounding shores often remain untouched. They harbor cultures that continue in peace and, for most travelers, an everyday rhythm that is hard to come by.
Some of these Asian islands you would have heard of such as Phi Phi and Boracay. They're home to famous resorts that hover across the open seas. But there are plenty more that you won't have come across.
Whichever direction you choose, arching palm trees, calm beaches and rich jungles are par for the course here.
In this post, we'll cover:
23. Phu Quoc, Vietnam
Depending on how you like your island getaways, Phu Quoc could easily be higher up this list. The famous Vietnamese island is great for all sorts of travelers. But particularly families who can make use of the wide range of activities.
Some islands can be remote and sleepy. Phu Quoc is different. Here you'll find amusement parks packed with soaring rides and water adventures. Then there are safaris through jungles and the world's longest cable car over water.
But its collection of beaches provides all the necessary beauty from Bai Dai to Khem Beach, not to mention purely epic sunsets.
22. Phuket, Thailand
The rugged and mountainous island of Phuket rewards explorers as much as resort-goers. Home to some of the best beaches in Thailand, especially along its brilliant western coast, where day trips to Phang Nga Bay promise to be a highlight.
While many beautiful islands are small and tranquil, Phuket is entirely different. A larger island, you'll find ancient Thai culture among the old towns and Wat Chalong. By day, the world revolves around the beaches or hikes to towering peaks. However, at night, the bright lights shine upon the night markets and the infamous Bangla Road.
21. Penghu Islands, Taiwan
Few may have heard of the Penghu Islands or even had Taiwan in mind for their next island getaway. But let us change that real quick. Away from modern city life in Taipei, island life is at its best here.
At the heart of a 90-island archipelago is (ironically) Magong City. This provides an excellent base to explore the Marine National Park or venture to Qimei Island. The latter is home to the Twin Heart Stone Weir.
The best of them, however, is Jibei Island. The island's stunning tear-shaped beach is great for relaxing.
20. Boracay, Philippines
Over-tourism has affected Boracay as it was certainly one of the few spots that put the Philippines on the proverbial map. But the beaches that made Boracay famous, along with some hidden gems, still make this island one of the best.
Experience the incredible white sand beaches with a cocktail in hand or admire the colors from the massage bench under the coconut tree. The exploring type will be quick to venture underwater to discover vibrant reefs and marine life.
Later, you can watch the sun go down before making your way to Station 2 where Boracay's reputation as a party island comes to the fore.
19. Ishigaki, Japan
South of the mainland, Ishigaki is Japan's own version of pristine paradise. While images of Japan evoke futuristic cities and cherry blossoms, Ishigaki and the Yaeyama Islands go in the other direction.
A common Japanese getaway, Ishigaki is confounded with natural beauty. The organized chaos of Tokyo is quickly switched to island time. Off-shore you'll find the Osaki Hanagoi Reef and the Manta Scramble where manta rays gather in immense numbers.
The island itself sees few international tourists outside of China and Taiwan, making it a unique experience compared to the many islands on our list. Oh, and it has some of the best (and cheapest) wagyu beef.
18. Ko Phi Phi, Thailand
It's long been a backpacker's dream, and Koh Phi Phi continues to show travelers why. Not only does it put the beauty of the Andaman Sea on a silver platter but the island town is always pulsing with activity.
The stunning island is shaped almost like an infinity symbol, with its best beach curving around the thinnest part. This makes walking from the port to the beloved beachfront a breeze. Not to mention all the accommodation is within walking distance of the golden sand.
Bars and restaurants stretch along the water's edge and inland, providing ample options for delicious eats and over-the-top cocktails. But before you do so, grab a kayak and venture out into the bay where remote beaches and monkeys await.
17. Havelock Island, India
Encased in the mesmerizing waters of the Andaman Sea, Havelock Island is a different take on travel to India. Away from the bustling cities, Havelock is a true paradise in every measure.
It's home to one of the best beaches in Asia, Radhanagar. Its soft white sand is as captivating as its green-blue water. This is the place to kick back and enjoy doing absolutely nothing. That is until it's time to revel in the beach's famous sunsets.
For a little more action, check out Elephant Beach. A beloved stomping ground for snorkelers, where you can swim among turtles before opening up a book on the sandy shores.
16. Pulau Tioman, Malaysia
The heart of the Tioman Island Marine Park, Pulau Tioman, is a spectacular mix of culture and epic marine life. Its relatively remote location allows you the chance to get away from the tourist path and experience the local villages, taste the treats and slow down.
Jungle trails guide you through lush forests where monkeys swing above and often an unspoiled beach is the reward at the end. But no time spent here is complete without exploring the marine park in depth.
Snorkelers and divers will be stoked to see beneath the surface and enter a world where turtles, manta rays, schools of fish and the odd whale shark roam.
15. Koh Rong, Cambodia
Once a quiet fishing village, Koh Rong has become the go-to island destination in Cambodia. Fortunately it has maintained its relaxing charm, where you can choose between lazy days and adventures in and out of the water.
On White Beach, you can bask in the sun and admire the smooth transition from ivory sand to light blue sea. Later, get a quick workout in with a kayak along the coast.
But before you retire for a night of live music "downtown", take your pick of a myriad of adventures. These include scuba diving off the coast, jungle trekking along Long Beach or completing a classic zipline through the dense, lush jungle.
14. Komodo Island, Indonesia
Home to the world's largest lizard, Komodo Island is an ode to the wondrous work of Mother Nature. The UNESCO-designated island is the only place you can see the prehistoric ora (aka the komodo), in the wild. Better yet, you'll see them slowly wandering along gorgeous white and pink sand beaches which crumble beneath their hefty claws.
But there's much more to this island, in addition to the other two that make up the Komodo National Park. You'll find water buffalo, Timor deer and boars. Off-shore the marine life harbors rays, turtles, whales and dolphins, all of which hover over the coral below.
13. Penang Island, Malaysia
Providing an experience foodies and beach-lovers will revel in, there's a lot to love about Penang Island. The white sand beaches mark the boundaries and within, a vibrant mix of city life, rainforest and epic street food awaits.
The city Georgetown is a UNESCO World Heritage Cultural Site. It's a capital that hails from the colonial era and today is a melting pot of surrounding nationalities and Victorian-era architecture set alongside temples and mosques. It's easy to see why the food is so memorable with Indian, Chinese, Indonesian and Malay mixed in to create a party for the taste buds.
12. Jeju Island, South Korea
A great part of traveling is going where the locals go. This particularly rings true in the case of Jeju Island. Off of the southern peninsula, Jeju is a popular escape for South Korean families.
A beautiful mix of culture, geography and, of course, weather makes this spot great at any time of year. Travelers can enjoy a sub-tropical climate, where waterfalls cut through dense green forests and trails lead to fields of tangerines and golden beaches.
A highlight is Mount Halla. This 2,000-meter beast of a volcano is a presence wherever you are and is home to the memorable Dol Hareubang figurines.
11. Gili Islands, Indonesia
A chain of three islands set just off the coast of Lombok, the Gili Islands, takes you a few steps back in time. A boat ride lands you meters from the shore where your first trip into the aqua water is dipping your ankles and walking onto the beach.
Alongside your luggage, you'll board a horse and cart to head towards your accommodation. Electricity is fleeting and it all feels like a stripped-back acoustic set. But this is exactly what makes the Gilis amazing.
Between the three islands, of which Gili T is the most built, you'll find a wonderful underwater world.
10. Cat Ba Island, Vietnam
Arguably the best island in Vietnam, Cat Ba Island, is overshadowed by the might of Ha Long Bay. But this is good news for you, seeing as you'll enjoy a mesmerizing place devoid of massive crowds.
Surrounded by golden beaches and charming seaside towns, travelers will be able to balance kayaking and swimming with local eats and markets.
Inland, the coast quickly rises to form the limestone-rich Karst Mountains that reach a height of over 300 meters and form the bulk of Cat Ba National Park. From the top, enjoy unmatched views of the surrounding seas.
9. Siargao, Philippines
Shaped like a teardrop, the small island Siargao is encased in emerald-hued waters and has wonderful food. That's in addition to arguably the best surf break in the country, Cloud 9.
Off the coast of Mindanao, Siargao remains accessible despite its laid-back, rustic and adventurous aura. Golden sand beaches curve around a short distance from the local reefs, which create a surfer's paradise.
But there's more than just good waves here. You can swing on a rope across the Maasin Secret River and kayak along the calm waters that course through fields of palm trees. Later, motorbike down the Coconut Roads that show off the island's immaculate coastline.
8. Koh Chang, Thailand
Thailand's second-largest island, Koh Chang, is encased in amazing beaches that cater for all travelers. Some like Lonely Beach (not so lonely) bring the backpackers together over a round of Singha beer. Here, the night is always young.
To find some peace, head towards Bang Bao to discover Klong Koi Beach. On the island's southern end, you'll find some charming markets and local eats. Palm trees provide the shade and alongside White Sand Beach offer the perfect island beach day.
Looking inland, travelers can uncover a horde of bird species, hovering monkeys and almost ten individual waterfalls, including Klong Pu.
7. Perhentian Islands, Malaysia
A group of five islands, the Perhentian Islands, provides the perfect opportunity to put down your luggage and slow down. Translating to "stopping point", you'll quickly find yourself delaying that departing flight.
Two of the five islands are inhabited, with Perhentian Kecil being the best option for action and budget accommodation. Head to Long Beach to find a sunbathing spot or hire a kayak. From there, trails lead into the jungle where flying foxes and monkeys meander above.
To cool off, go for a swim or scuba dive the surrounding islands home to lively coral, reef sharks and turtles.
6. Yakushima Island, Japan
Home to cedar trees over 1,000 years old, incredible turtle nesting sites and beautiful beaches, it's clear why Yakushima Island is a UNESCO World Heritage Site.
It can be tough to choose between days spent hiking through the old-growth forest and exploring the beaches. The latter takes you by centuries-old cedar trees. Then through monsoon-soaked forests that use the rain as a successful skin-care routine and where monstrous waterfalls await.
Yakushima's golden beaches remain peaceful thanks to its remote location. As the coast rises to an incredible, biodiverse forest, your eyes are still drawn to the electric seas where the heads of turtles bob above the surface.
5. Koh Tao, Thailand
Divers looking to complete their certification have come to Koh Tao for years. One to save money and two to experience the sheer brilliance of life below the surface.
Life on the island is equally memorable. Lazy days by the beach enjoying the views quickly turn into something more. The stars shine above and the flicker of lights and humid evenings combine to create a lively party scene.
Off-shore ocean life darts between shipwrecks and colorful coral, creating a magical expanse for scuba divers. Snorkelers can hover above among large schools of fish, who quickly depart when the reef sharks wander near.
4. Raja Ampat, Indonesia
Bali may overshadow Raja Ampat, but snorkelers, scuba divers and travelers that love all things quiet should not pass up the opportunity.
Raja Ampat is set in the Halmahera Sea in eastern Indonesia and is home to three-quarters of the world's coral species. This rich, diverse and utterly kaleidoscopic array of corals makes it a beloved destination for divers. You can add reef sharks and turtles, too.
Once you've explored the underwater Amazon, experience the Four Kings. These are the four major islands within the 1500-island archipelago. Discover calm lagoons where outcrops rise towards misty hills, creating an untouched paradise.
3. Palawan, Philippines
Tasked with making the Philippines a destination for all kinds of travelers, the Palawan Islands didn't miss a beat. From Puerto Princesa, the surrounding world opens up like a platter.
Here, you will travel from the top of rich, charcoal cliffs through lush, rain-soaked jungles and past remote villages to the base where cerulean seas expand from the edge of golden sands.
You could spend your days sunbathing, eating the best mangos on earth and swimming in the calm seas around El Nido. But day trips to the Underground River and island hopping around Honda Bay will prove tempting.
2. Bali, Indonesia
The only constant in the world is change. That's the case for Bali. However, the famous island still evokes the captivating spiritual aura that embellished travelers in the decades past.
Kuta, Canggu and Seminyak have quickly risen from quiet beachfront abodes to bustling coastal towns. Eloquent resorts and happening beach clubs welcome visitors year-round.
But elsewhere, the lush green landscapes spread as far as the eye can see. Waves break left and run along the rugged coastlines until the eyes are led towards towering volcanic peaks.
However, it's the people, the culture and the food that really makes Bali beautiful. One that rewards everyone for getting off the beaten path.
1. The Maldives
One of the most famous island chains on earth can be found just south of India. The Maldives is a collection of vibrant atolls and over 1,100 islands. To keep it simple, choosing one is difficult, but there are no wrong answers.
Each is straight from your most elaborate island dreams. Here, blue skies are matched by the blue, translucent seas that lap the cloud-white sands with a soft, effortless touch.
From the sands, elaborate resorts spring out and hover over the water like the branches of palm trees. These allow you to sleep above the turquoise sea and wake up with a morning swim.
Map of Beautiful Islands in Asia