With excellent weather, warm ocean water, and palm-fringed beaches, Thailand is island living at its very best. Pair that with top-notch accommodation and a pleasing exchange rate, and you have the ultimate holiday destination.
An abundance of islands each offers their own unique personality, from bustling markets and extraordinary temples to enchanting swimming spots, beach bars, and coral reefs. Whether you're looking to keep busy kayaking, swimming, and snorkeling, or simply want to relax with a cocktail in hand – you'll find a Thai island to suit you.
In this post, we'll cover:
21. Ko Kradan
According to the Thai tourist board, Ko Kradan boasts one of the most beautiful islands in Trang. Unlike many of Thailand's bigger islands, Ko Kradan doesn't have a village or proper roads – it's just beach resort after blissful beach resort on one side and the lush greenery of Hat Chao Mai National Park everywhere else.
The main beach promises a long, powdery stretch of white sand alongside a brilliant blue ocean. The views are amazing, overlooking limestone karsts and a vibrant underwater coral reef. There are precious few activities on the island of Ko Kradan, but that's part of its allure. Tourists come here to relax and enjoy the charms of beach life.
Spend your days sunbathing and sipping cocktails on the sand or, if you're feeling more energetic, kayaking around the island. In the evenings, take the path through the forest to Chonglom Bay Beach and enjoy some of the island's best sunsets.
20. Ko Phayam
If it's true R&R you're after, you'll find it in Ko Phayam. Despite being the second-largest Thai island in the Andaman Sea, it's still relatively undiscovered and offers deserted beaches and a laidback atmosphere: no cars, limited cell reception, just absolute, get-away-from-it-all bliss.
Ko Phayam is just a 45-minute speedboat ride from the port town of Ranong, within easy reach of Bangkok. A little backwater with a tourism industry that's just starting up, the island is home to just over 500 permanent residents. The friendly local community will welcome you with open arms and those famous Thai smiles.
Two beaches form the main attractions in Ko Phayam. Aow Yai (Big Bay) Beach is where the activities are– from boogie boarding to surfing – while Aow Khao Kwai (Buffalo Bay) is the quieter alternative, surrounded by mangroves and dramatic rock formations.
Other activities include hiking, biking, yoga classes, diving, and scootering around the island's dusty trails. Eating out is a treat, especially for the diet-conscious, as Ko Phayam boasts a surprisingly good veggie food scene.
19. Ang Thong
Declared a national park in the 1980s, the Ang Thong Islands (Golden Bowl Islands) are a group of isles characterized by limestone cliffs, coral reefs, wild jungle, and white sandy beaches.
With endless waterfalls, hidden coves, and lakes to explore, the islands are a popular hiking, snorkeling, kayaking, and diving destination. Within the national park and the protected waters around it, you'll find a plethora of creatures and birds, from langurs and otters to sea turtles and little herons.
While most of the smaller islands are off-limits to tourists, some of the larger islands can be visited with a day trip from Ko Samui or Ko Phangan. Explore Ko Paluay, the only inhabited island of the 40-plus archipelago (home to sea gypsies), or Ko Mae (the Mother Island) with its beautiful beach and glorious Emerald Lake.
Have a fresh seafood lunch at a Ko Phaluai, the largest island, discover the coral reef off Ko Sam Sao, and stay overnight in the rustic bungalows at Ko Wua Ta Lap – you won't regret it.
18. Ko Chang Noi
Ko Chang Noi (Elephant Island) in south-western Thailand is one of three Thai islands with the same name. Not to be confused with its bigger namesake in eastern Thailand, this one is located near Ranong in the Andaman Sea.
Granted, this small island is lesser-known than its larger counterpart, but it's becoming more and more popular amongst adventure travelers – or anyone who can trade in hot water and electricity for the appeal of the wilderness.
Offering a true escape, the order of the day in Ko Chang Noi is eat, sleep, explore, repeat. Perfect for couples looking for some time away in nature, or those who appreciate the raw basics, Ko Chang Noi is accessible only by boat and offers rustic 'resort' accommodation.
Spend your days relaxing or taking a stroll along Ao Yai (Big Bay) or exploring the island on foot or by scooter.
17. Ko Jum
Ko Jum is a peaceful, jungle-clad island in western Thailand. Characterized by the forested Ko Pu peak, the northern section is known as Ko Pu (Crab Island). With beautiful quiet beaches and a warm community, the appeal of this island is in its inactivity – travelers are encouraged to put their feet up and relax on one of the island's best beaches.
Whether you choose to hang out on palm-lined Coconut Beach, read a book on gorgeous Ao Si Beach, have a drink at Fu Bar on Golden Pearl Beach, or spend time at Magic Beach Bar at sunset, you'll find everything you could need and more.
Take your time exploring sleepy villages by bike or scooter, hiking Pu mountain, and fishing (guided trips are available). Don't miss the traditional Muslim village of Baan Ko Pu and the unspoiled Lubo Beach. For those wanting to explore further afield, day trips to Ko Ruk, Ko Ha, and Phi Phi Island are available.
16. Surin Islands
The Surin Islands are a group of beautiful islands that make up Mu Ko Surin National Park. Ko Surin Nua and Ko Surin Tai are the two main islands, while three satellite islands complete the archipelago.
With superb white-sand beaches, transparent water, and a distinct lack of overly commercial tourist attractions, visiting these islands is like stepping back in time. Visitors can enjoy snorkeling, diving, hiking, and game fishing, or rent a longtail boat to discover these untouched shores.
Visit a local Moken village, home to a community of a hundred sea gypsies, sleep in a tent on the beach in Ko Surin Neua, and explore Ao Chak's extraordinary coral reefs, often frequented by whale sharks.
15. Ko Samet
Ko Samet, an island along Thailand's eastern seaboard, is the perfect weekend getaway from Bangkok. Part of a national park – and named after the trees that grow here – this protected island has a surprisingly good nightlife scene, with everything from fire juggling to beach barbeques on the social calendar.
Ko Samet sees much less rainfall than any of Thailand's other islands, which makes it perfect for lazy beach days. Haad Sai Kaew (Diamond Beach) is the most popular, with bars and restaurants along its scenic stretch. Sunthorn Phu, a 19th-century poet, set some of his poetry here, and you'll find statues of the main character from Phra Aphai Mani and a mermaid on the beach.
Other decent beaches include the quieter Ao Hin Khok, secluded Ao Tubtim, and Mae Ramphueng Beach, home to various mammals, birds, reptiles, amphibians, and marine life.
Thrill-seekers are well catered to, with jet skiing, parasailing, snorkeling, diving, and motorcycling. Shop for souvenirs in Samet town center or simply relax with a beach massage – the choice is yours.
14. Ko Kut
Ko Kut – also known as Ko Kood – is easily one of Thailand's most picturesque islands for escape-it-all luxury. Unlike the nearby island of Ko Chang, it promises peace and quiet, with an abundance of coco-palm beaches, remote jungles, and cascading waterfalls.
It may be the second-largest island in the region, with a pleasant mix of basic beach bungalows and luxury resorts to choose from, but it's still relatively undeveloped in some areas. Explore the two picturesque fishing villages along the east coast and chill out on the public beaches – Ao Tapao Beach is a highlight.
Popular activities include sea kayaking, snorkeling, and waterfall hikes, particularly to Klong Chao Waterfall. With hardly any traffic, many prefer to explore the island by scooter.
13. Ko Mak
Ko Mak is Thailand off-the-beaten-track. Included in the Sunday Times' list of the ten most beautiful undiscovered islands, it remains one of Thailand's relatively best-kept secrets today. Small and largely undeveloped, you won't find 7-Elevens here.
But while it may not be built up, Ko Mak is definitely not boring. Spend your days practicing yoga or Muay Thai, diving and snorkeling, touring rubber tree plantations, or taking up a Thai cooking class. Don't miss a visit to the Ko Mak Museum and Ko Mak's Erotic Art House.
Other popular activities include tennis, mountain biking, sea kayaking, beach volleyball, and beach massages – you can be as active or relaxed as you like!
12. Ko Yao
The islands of Ko Yao are twin islands tucked within the beautiful waters of Phang Nga Bay with its limestone rock formations and mangrove forests. With authentic local homestays in wooden houses surrounded by coconut groves, rice paddies and rubber plantations, Ko Yao Yai and Ko Yao Noi offer a traditional Thai experience.
Less than half an hour from Phuket by ferry, the islands of Ko Yao feel worlds away. You won't find ATMs or banking facilities here, and they are home to just one 7-Eleven – and even this is fairly new.
Which of the two islands you visit is really up to you. Both are incredibly underrated and offer the stereotypical island escape – secluded beaches, fantastic scuba diving, and spectacular sunsets. There's a bit more to do on Ko Yao Noi as it is slightly more built-up than Ko Yao Yai, but that's using the term loosely.
You will find a couple more big-brand luxury resorts on Ko Yao Noi, but there are still plenty of backpackers. Spend your days rock climbing and visiting the Big Tree on Ko Yao Noi. On the other hand, Ko Yao Yai is likely the more discreet of the two. It offers mid-range, family-friendly accommodation, a more traditional village, and possibly the better beaches – but it's a very high bar.
11. Ko Tarutao
The biggest of Tarutao National Marine Park's 50-plus island archipelago, Ko Tarutao is one of the most scenic islands in Thailand. This wild and wonderful island boasts jungles, mangroves, remote beaches, and limestone cliffs perfect for exploring on foot or by bike.
Once a prison island, there are some historic places of interest on Ko Tarutao. Highlights include visiting the Ao Ta Lo Woo Pier and the winding historic trail that connects several buildings that once served as the political prison.
The headquarters of the national park are located on this main island. Idyllic and remote, Ko Tarutao has limited facilities and is only open to tourists from October to April each year. The perk of this solitude is that you can get back to nature by hiking, mountain biking, and sea kayaking, or discovering the national park's wildlife – from wild boars and langurs to 100 species of birds.
10. Ko Muk
Ko Muk, also known as Koh Mook, is a much quieter island in southern Thailand. Nearly half of it is made up of national park and the rest of it by fishing villages home to unusual stilted houses perched above the sea. Ko Muk, which means Pearl Island, is as far from touristy as it gets, reached with a 45-minute ferry ride from the town of Trang.
Ko Mook boasts two sandy beaches, dramatic cliffs, and beautiful mountains along with an interesting mix of Thai and Muslim cultural influences. The Sivalai Beach is the most scenic of the two beaches, located on a promontory known as 'the Wing,' while Farang Beach is perhaps the most popular, overlooking Ko Kradan.
Highlights include taking a trek through the jungle and exploring the village of Baan Koh Mook. Don't miss a visit to Tham Morakot (the Emerald Cave) – the island's main claim to fame – and its secluded Sabai Beach at low tide by boat or sea kayak.
9. Ko Lanta
Nestled within mangroves, coral-fringed beaches, and rainforests, Ko Lanta is the perfect mix of developed and uncrowded. Part of Mu Ko Lanta National Park, it's filled with ancient caves, jungle-clad mountains, and waterfalls to explore.
Ko Lanta is made up of a group of islands in the southern part of the Krabi province. The largest island of the group, called Ko Lanta Yai, is where all the tourist action is.
Take a stroll along Pra Ae (Long Beach), or head further south to find the quieter, wilder beaches along the west coast. Chase incredible sunsets at Khlong Dao or Khlong Nin, practice yoga, walk a rescued dog, or go caving – adventure awaits!
Exploring Ko Lanta's National Park is an absolute must. You can do this on foot using the network of hiking trails that will lead you to the beach or the lighthouse. Don't miss the chance to see amazing bioluminescent plankton on the beach when the sun goes down.
Other attractions include Ko Lanta's old town, the Khao Mai Kaew cave network, and Khlong Chak Waterfall. It may not have the steadfast reputation that Phi Phi does, but Ko Lanta is home to some of the best diving and snorkeling spots in Thailand, so bring your flippers!
8. Similan Islands
The Similan Islands (Nine Islands) are a group of low-lying forested islands located in the Andaman Sea. Forming part of the Mu Koh Similan National Park, the islands are home to a plethora of natural wonders, such as curiously-shaped boulders, white sandy beaches, and dense forests full of wildlife.
These same unusual boulders are not just found scattered across the series of Similan islands. They're also found in the waters offshore, where they've formed natural reefs. With these rocks and crystal-clear water, the islands are home to some of the best scuba diving sites on Earth. Aside from diving, snorkeling, hiking, and bird watching are popular activities.
Ko Similan is the largest island of the archipelago and a great place to base yourself for exploring the islands' attractions, such as Sail Rock, Sunset Point, and Similan Viewpoint. Bear in mind that there are no hotels, but you can stay in wooden bungalows and campsites.
7. Ko Samui
The second-largest island in Thailand, home to its own international airport, Ko Samui is a tourist favorite. Heralded for its palm-dotted beaches, wild rainforest, and coconut groves, it's also one of Thailand's most beautiful islands.
But this natural beauty hasn't escaped the eyes of tourists – you'll find endless luxury resorts and spas on the island too. Many travelers come here to take advantage of the hedonistic spa treatments available, from traditional Thai massage to yoga retreats, cleansing fasts, tai-chi camps, and chakra-balancing treatments.
The main attraction of Ko Samui is the Big Buddha statue at the Wat Phra Yai temple that can be found on an islet connected by a causeway. Rent a scooter and beach hop or visit highlights like Chaweng Beach, Fisherman's Village Bophut, Wat Plai Laem temple, Grandfather's Rock, and Tan Rua or Hin Lat Waterfall.
6. Phuket
Phuket is the largest island and also the most prosperous province in Thailand. The second-busiest tourist destination, after Pattaya, Phuket attracts hordes of holidaymakers every year, all looking to enjoy a slice of paradise for themselves.
While the increase in infrastructure and nightlife makes it an appealing spot for millions of travelers, this isn't the island for those looking for solitude. If you're excited for the nightlife, then Patong is the must-see spot with the largest resort atmosphere. In Chalong Bay, you can go beyond the beaches and explore some incredible Buddhist monuments.
Phuket island boasts luxury resort after luxury resort as well as some gorgeous casuarina-dotted tropical beaches. With enchanting coral reefs and fascinating islands offshore, snorkeling and diving here is truly spectacular – in fact, it's some of the best in Thailand. Back on land, activities include bicycle tours, mini-golfing, and traditional cooking classes.
5. Ko Phangan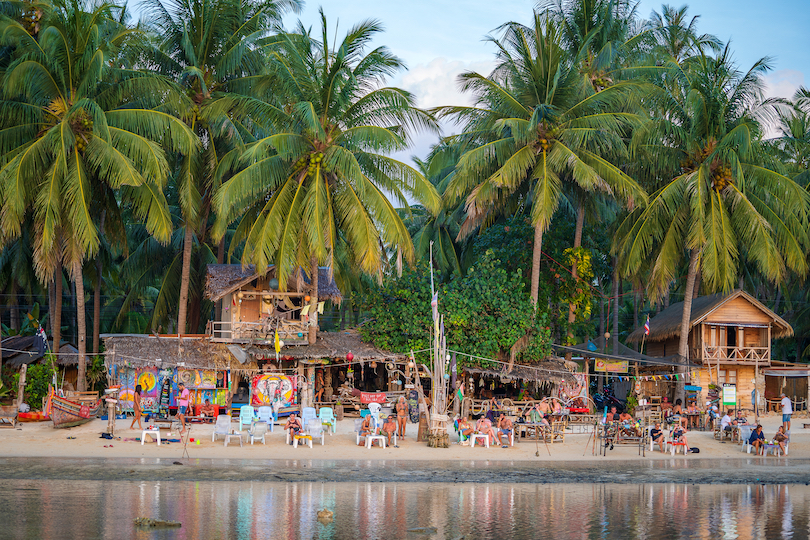 Ko Phangan is the fifth-largest island in Thailand. Immensely popular with the backpacking community, the island doesn't have its own airport, so it's often combined with a visit to nearby Ko Samui. With lush jungle, granite boulders, and white-sand beaches, it's not hard to see why the island is such a popular choice.
Ko Phangan is synonymous with the raucous Full Moon parties held on the island every month. Half Moon and Black Moon parties are also popular reasons to visit Ko Phangan – wild late-night beach parties that involve fire dancers and plenty of neon.
But there's more to Koh Phangan than partying. Other activities include beach hopping – from busy Sunrise Beach to the quieter white-sand beaches of Hat Khuat and Hat Thian – as well as beach games, snorkeling, diving, hiking, jet-skiing, sea kayaking, and more. Don't forget to test out the Challenge Phangan Park, visit the island's viewpoints, and have dinner at Thong Sala Night Market.
4. Ko Chang
Located near the border with Cambodia, Ko Chang is the third largest island in Thailand and the biggest in the Ko Chang Marine Park archipelago. It is a mountainous island known for several waterfalls, thriving coral reefs, rainforests and long white sandy beaches.
In less than ten years, Ko Chang has become a major tourist destination in Thailand although still far quieter than islands like Phuket or Ko Samui. White Sand Beach is one of the most popular beaches on the island. Located on the island's northwestern corner, it's the longest beach on Ko Chang. The central section of the soft sandy beach is lined with resorts and hotels.
The island marks the site of the 1941 Battle of Ko Chang between the Thai and the French when an armada of French warships attacked a larger fleet of Thai naval ships, including two coastal defense vessels. Today, while nothing much remains as a reminder barring an annual memorial ceremony, the island of Ko Chang and its surrounding waters have been declared a Maritime Nature Reserve.
3. Ko Lipe
Tucked close to the Malaysian border, Ko Lipe is simply extraordinary. A part of the Adang-Rawi Archipelago, it boasts small islets and coral-abundant waters that encompass Tarutao National Marine Park.
Once home to sea gypsies, it's become one of the new tourist havens today – for obvious reasons. It features all the ingredients of an idyllic paradise: white-sand beaches, clear waters, and a laidback vibe.
There are three main beaches in Ko Lipe: Sunrise Beach, Sunset Beach, and Pattaya Beach, and a host of snorkeling and diving spots are known for their coral-rich waters. Diving hotspots include 8 Mile Rock, Sting Ray City, and Stonehenge.
Other activities include hiking up to the Ko Adang or Ko Lipe viewpoints, yoga sessions, guided fishing expeditions, and getting a traditional bamboo tattoo.
2. Ko Tao
Ko Tao (Turtle Island) is fast becoming the favorite destination of those who come to Thailand for recreational purposes. The island's caters especially to scuba divers, rock climbers, and hikers. Around 7000 new divers get certified on Ko Tao each year making it one of the most popular destinations in the world to learn to dive.
Get your scuba gear on and explore Ocean Utopia with its submerged statues, such as the HTMS Sattakut shipwreck, Japanese Gardens, and more. Other activities include kayaking, wakeboarding, sailing, fishing, yoga, and tai chi.
Living up to its name, Ko Tao is also a breeding ground for hawksbill and green turtles. Head to Haad Tien or Rocky Bay, also known as Shark Bay for the number of black-tip reef sharks you can snorkel alongside, For the best views of the island, head to the John-Suwan Viewpoint, Mango Viewpoint, and Two Views – the highest peak on the island.
1. Ko Phi Phi
Thailand's pride and joy, Phi Phi is actually a series of islands off the coast of Phuket. Easily the first island you picture in your mind when somebody mentions Thailand, Ko Phi Phi is a Thai island celebrity – and perhaps slightly overrated, but we'll let you decide that.
The islands that make up the Phi Phi archipelago are pure paradise. Ko Phi Phi Don is the largest island, the busiest island, and the spot where you'll most likely find your accommodation. During the day, however, you can check out the other five islands. Whichever island you visit, you're promised thick jungles, glorious beaches and crystal-clear water offering a snorkelling and diving paradise. But with great scenery comes plenty of party-seeking crowds; many visit Phi Phi for the day and stay up partying on the sands until sunrise.
The biggest highlight is Maya Bay on Phi Phi Leh, featured in the movie 'The Beach'. Even if you've never been to Thailand, you'll probably recognize the image of Maya Bay with its iconic limestone cliffs and beautiful beach cove. Often inundated with tourists and boat tours – thousands of tourists descend here every day – you should be prepared to share the beach and the water with others.
If you'd prefer to escape the crowds of Maya Bay, hire a private longtail boat for the day – it's super affordable – and discover the surrounding islands: Bamboo Island, Mosquito Island, and Monkey Beach, home to a plethora of cheeky monkeys, are must-dos.
Other highlights include Phaya Naak Cave in Phi Phi Leh and the quieter Hin Khao Beach, Phi Phi Viewpoint and cliff jumping in Ton Sai Bay on Phi Phi Don.
Map of Islands in Thailand
© OpenStreetMap © MapTiler © Touropia