When the summer sun arrives, Virginia Beach welcomes travelers from across the country and the globe. With its gorgeous beaches and a whirlwind number of attractions, it's a fantastic destination for families.
From along the celebrated Virginia Beach Boardwalk, you'll be surrounded by delicious food, fun shopping, and thrilling activities that will quickly become holiday highlights. Days start early, with picturesque sunrises, and go late with live music floating along the waterfront.
Beyond the golden sand and touristy things to do in Virginia Beach is a historic coastline where the British first arrived in the 1600s. That history is well-preserved within state parks, which along with nearby wildlife refuges, add hikes, kayaking, and beautiful nature to the itinerary.
23. Atlantic Wildfowl Heritage Museum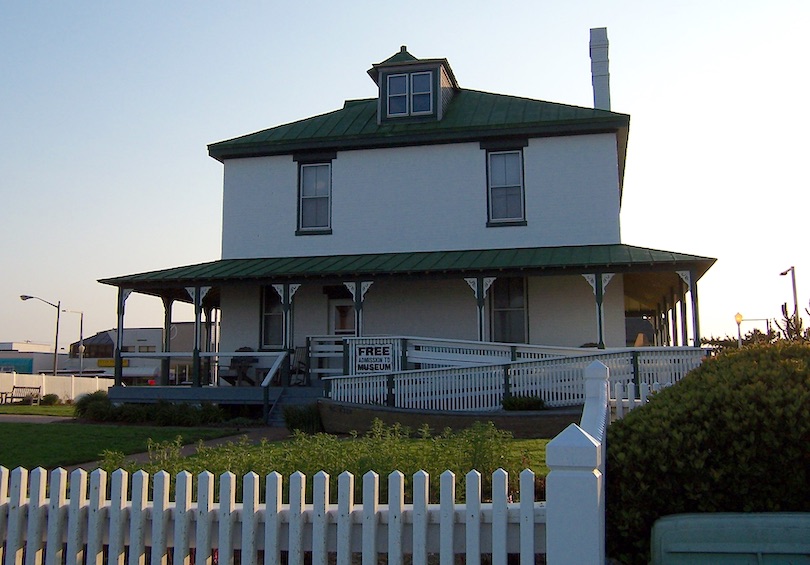 lori05871 / Flickr
The coastline north and south of Virginia Beach is renowned for its bird migration. Places like Back Bay Wildlife Refuge and False Cape State Park welcome thousands of birds every year. To learn more about this, pay a visit to the Atlantic Wildfowl Heritage Museum.
The small but insightful space explores the migratory patterns of some of the world's most interesting birds. You'll find hands-on displays, including a computer program that allows you to immerse in the subject at hand.
The museum is based within the beloved De Witt Cottage that is on the National Register of Historic Places, having been built in 1895.
22. False Cape State Park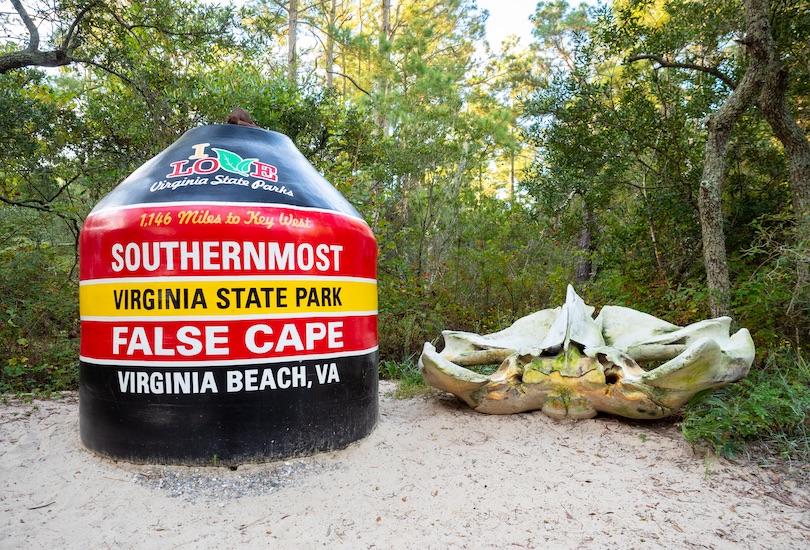 After several days of food, cocktails, and sunbathing, you'll be sure to be in the mood for some time in nature. Just 30 minutes south of Virginia Beach, False Cape State Park represents just that, providing five hiking and biking trails connecting you with beaches, marshlands, swamps, and rolling sand dunes.
As the crowds flock elsewhere, you'll feel a sense of remoteness and privacy as you explore. This feeling grows even stronger as you stumble upon the ghost town of Wash Woods which has laid dormant and in ruins for over 80 years. After several hours of exploring, enjoy the six miles of untouched beach.
21. Grommet Island Park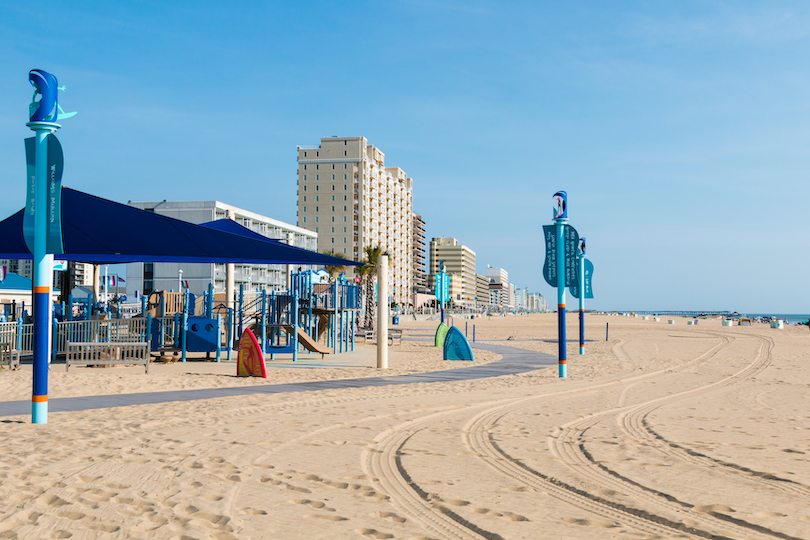 Along the waterfront, Grommet Island Park is an ADA-accessible public space that welcomes the whole family. It's one of the top attractions in Virginia Beach along the boardwalk featuring an array of flowing palm trees, a sandy beach, and ample room to play.
On arrival, the young ones will race to the raised sand tables where they can construct the wildest sand castles imaginable. The play area also features a number of eye-catching permanent sculptures, including dolphins and waves, a fun sway boat along with a sensory board for autistic kids and the visually impaired.
While the kids are at play, relax under the umbrellas and gaze out to the sea.
20. Naval Air Station Oceana
Tucked away from Virginia Beach is Naval Air Station Oceana, the headquarters for Strike Fighter Wing Atlantic and Carrier Air Wings. It's a classified master jet base that's home to F18 fighter jets, seven miles of runway, and thousands of military and civilian personnel. Since 1943 it has been a vital piece in US naval operations along the eastern seaboard.
Unfortunately, the public are not able to tour the Naval Air Station Oceana. However, you can pay a visit to Observation Park where you can view the aircraft as they take off and land. The base opens to the public once a year in September during the NAS Oceana Air Show.
19. Virginia Beach Fishing Pier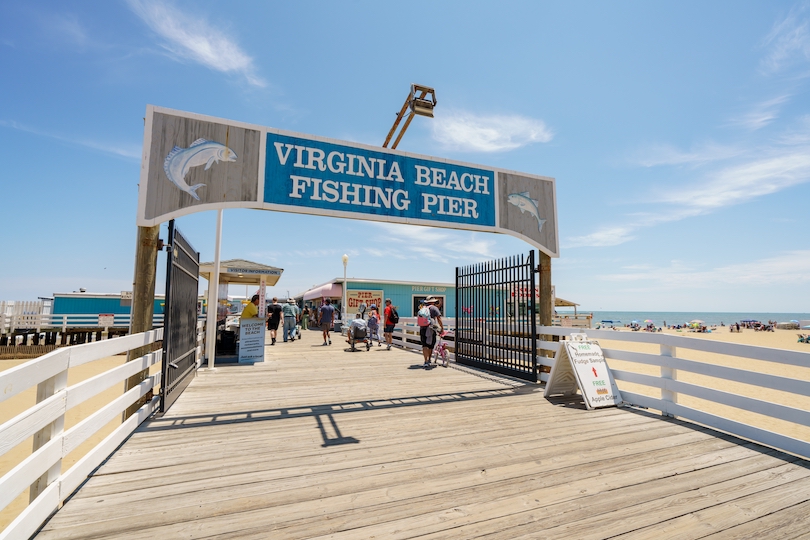 In the heart of town, Virginia Beach Fishing Pier juts out into the Atlantic. In the early hours, the sun reaches the eastern horizon, first painting the pier in golden rays before lighting up the beachside town. From late May to the end of October, locals and newcomers can wander down the old pier to fish or simply admire the far-reaching views.
For anglers, there's no better spot to fish in Virginia Beach than right here. Swimming below you are mackerel, red drum, kingfish, and even sharks. But walking to the end of the pier and back comes with an astounding vista of a bustling waterfront where hotels, shops, restaurants, and amusement parks mash together in a wide display of color and excitement.
18. Ferry Plantation House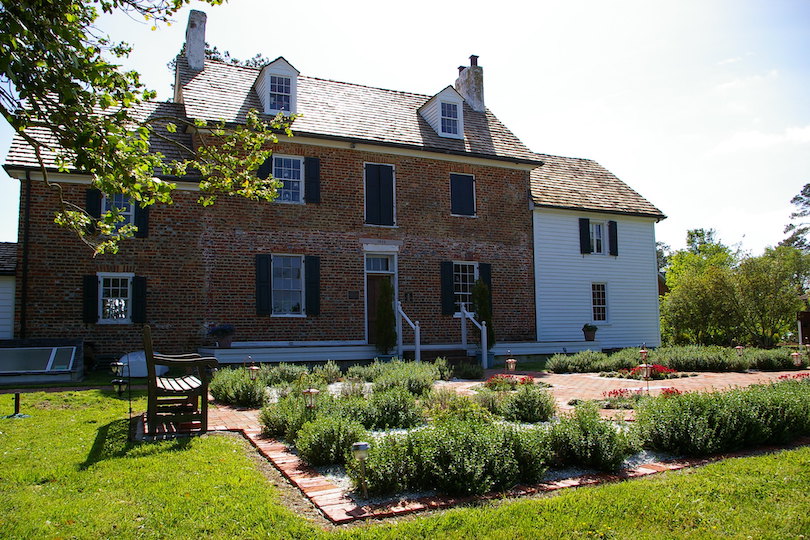 L. Allen Brewer / Flickr
Back in the 1640s, the Old Donation Farm was established. The historic property, which is now home to the 1830s Ferry Plantation House is an insightful look into life on a southern plantation. The manor house got its name thanks to the ferry service that serviced the Lynnhaven River.
Throughout its almost 200 years of history, the Ferry Plantation House has lived a lot of lives. It's been used as a school, courthouse, and even a post office. But today it's most famous for being haunted by Grace Sherwood. The last witch to be tried in Virginia, the famous Witch of Pungo, was sentenced here in 1706.
17. Virginia Museum of Contemporary Art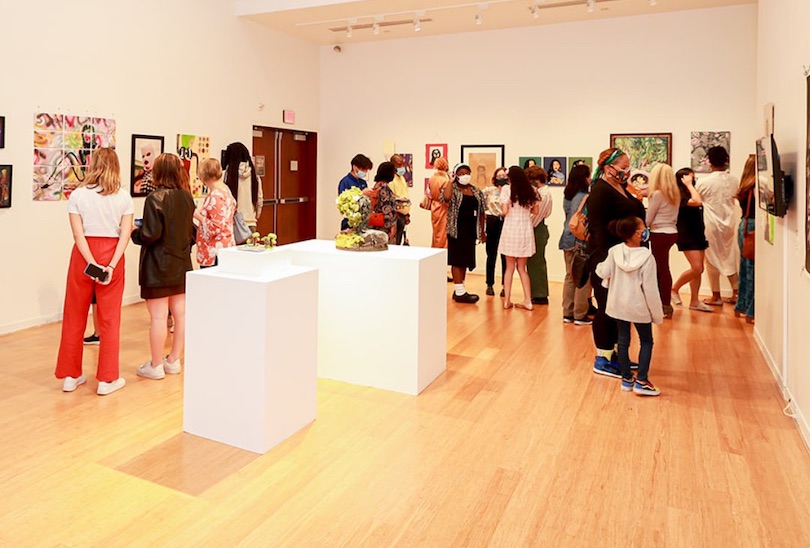 VirginiaMOCA / Facebook
Much of life in Virginia Beach is about being outdoors, but if it's raining or the sunburn needs some relief, check out the Virginia Museum of Contemporary Art. The expansive space has won several awards and is home to a vast collection of contemporary sculptures, glassworks, paintings, and pictures.
The museum focuses not just on local artists but works from around the United States and overseas. Lovers of art will appreciate is spread of art genres and unique styles. Exhibits come and go, and along with the permanent collection, allow for a fairly hands-on experience. The museum also features the ARTlab which will surely grab the kid's attention.
16. Neptune Festival
One of the most memorable sights along the Virginia Beach Boardwalk is the King Neptune Statue. Towering over the public at 34 feet tall, Neptune grips a giant loggerhead turtle. The addition of the statue was made possible with the help of Virginia Beach's annual Neptune Festival.
The famous local festival has drawn in crowds each year since 1973. It's a multi-day event held in September and October featuring live music spread along 30 blocks of the boardwalk. Between the live events, several hundred local artisans peddle their wares to the adoring public. There's craftwork to discover and almost 20 sand sculptures created by some of the best sand crafters in the world.
15. Chesapeake Beach
A trip to Virginia Beach doesn't mean you'll only see one stretch of sand. Quite the opposite. There are some great beaches not far from the heart of town, one of those being Chesapeake Beach. Otherwise known as Chic's Beach, travelers will enjoy the two miles of beautiful sand and endless views.
North of Virginia Beach, Chesapeake Beach looks out across the expansive Chesapeake Bay and the incredible Bay Bridge Tunnel that connects both peninsulas. Aside from enjoying the sights and the soft sand, there is plenty of local dining to devour, with seafood being the regional specialty. You can also wander up to Lynnhaven Inlet to fish, windsurf and kayak.
14. Mount Trashmore Park
Boasting a delightful play on words, Mount Trashmore Park is a former landfill that has garnered international attention on its way to becoming a lush public park. Gone are the days of compactors and plastic flying through the air. Today visitors can explore two lakes, a couple of man-made mountains, and kids' playgrounds.
Mount Trashmore is the main "hill" standing at 60 feet tall. It offers great views from the top down to a park that contrasts remarkably with its humble beginnings. As you wander around the hiking and biking paths, you'll discover a skate park and two lakes. The latter is a fun spot to fish, but don't be in a rush to dive in.
13. Hunt Club Farm
Hunt Club Farm
If you're traveling to Virginia Beach with kids, you'll have a long list of family-friendly activities to embark on. But you can't pass up the opportunity to pet alpacas, feed goats, and ride ponies at the Hunt Club Farm.
The farm has storied connections to the centuries of agricultural history around Virginia Beach. The family-owned farm now welcomes guests to experience life on the farm where chickens, pigs, peacocks, geese, llamas, and more are raised.
After petting and feeding as many of the adorable creatures as you can, take a stroll through the BirdWalk Aviary, go for a pony ride, and soar above the farm on the TreeWalk Adventure.
12. Ocean Breeze Waterpark
One of the best family attractions along the Virginia Beach Boardwalk is Ocean Breeze Waterpark. Home to water slides, playgrounds, and wild wave pools, this is a great place to cool off, thrill seek and enjoy a hair-raising afternoon.
With over 30 attractions spread across the impressive park, you'll always have something new to experience and even a reason to come back again. The little ones will love Runaway Bay, a giant "ocean" where everyone can swim. Later, bring the whole family together on a raft as you fly through the vortex loops on Operation Splashdown. Finish off with a tranquil and sometimes turbulent ride along Adventure River.
11. Dolphin and Whale Watching Tour
Virginia welcomes dolphins and whales to its beautiful coastlines in amazing numbers. With easy access to the Atlantic and the treasures it brings, embarking on a dolphin and whale-watching tour is an easy decision.
There are many ways to do so, whether that be from the Virginia Aquarium & Marine Science Center or through numerous private organizations. Many tours will come with onboard narration, allowing you to grow a better understanding of these impressive animals. This includes an exploration of their migration patterns, and how they navigate the vast oceans and interact with each other.
Dolphins are most common during the warmer months, while whale migration occurs between December and March.
10. Back Bay National Wildlife Refuge
South of Virginia Beach, Back Bay National Wildlife Refuge presents miles of unspoiled coastline. Hiking trails abound, snaking their way through the expansive refuge to showcase a side of Virginia few get to see.
In 1938, Back Bay National Wildlife Refuge was established. Since then the fragile local habitat has been protected. Every year, over 10,000 migrating and wintering birds make use of this spectacular environment on their travels. But it's not just birds that call this place home, the refuge welcomes a wide range of fish, mammals, and reptiles across upland forests, marshes, dunes, and golden sand beaches.
The diverse habitats leave much to be explored and you can do so on foot and kayak.
9. Cape Henry Lighthouse
In 1791, the Cape Henry Lighthouse shun across the Chesapeake Bay, opening up the harbor to safe navigation for the first time in history. The structure was built using Aquia sandstone, the same material used to build much of the original Washington, DC. The Cape Henry Lighthouse was the first of its kind to be federally funded for 100 years, welcoming an untold number of vessels into the vast bay.
In Fort Story, the lighthouse stands alongside the striking, black and white checkered New Cape Henry Lighthouse, which was built 90 years later. The newer lighthouse is closed to the public, but the OG remains open every day of the week.
From 10am to 4pm, locals and travelers can venture into the Cape Henry Lighthouse and climb 191 steps to the top.
8. Adventure Park
Theme park meets nature at Virginia Aquarium Adventure Park. Here, the young, and young-at-heart, can jump into the canopies and explore the 17 unique "Nature Paths" that guide you on a thrilling experience, well above the ground floor.
Adventure Park is an exciting obstacle course, complete with over 30 zipline rides that will stoke the adrenalin and help you journey between 258 treetop platforms. Like any obstacle course worth its salt, there are a variety of skill levels to complete, each a little more challenging than the last.
With your harness strapped on, take to the skies as you navigate a gorgeous forest from above. With the course now complete, test your balance on Adventure Park's low and high ropes courses.
7. Sandbridge Beach
Located on a stretch of land that becomes North Carolina's famous Outer Banks, Sandbridge Beach is a quieter beach destination. Here, rows of expensive homes line the coastlines leading to a lack of parking and yes, a lack of crowds.
Around 30 minutes south of Virginia Beach, travelers will experience a more relaxed day on the sand. Sandbridge Beach is an unspoiled oasis, where white sand splits the vast Atlantic and rolling dunes awash with seagrass. Swim, sunbathe and read a book without worrying about tripping over hordes of beachgoers.
But there's more to Sandbridge than just a scenic, chill afternoon. Anglers come from far and wide to partake in fishing along the Gulf Stream. Go out to sea or pop by the Little Island Fishing Pier to cast out and hope for a bite.
6. Virginia Beach Surf and Rescue Museum
To discover the history of local communities and maritime endeavors along the local coastline, be sure to add the Virginia Beach Surf and Rescue Museum to your bursting itinerary.
Found on the famous Virginia Beach Boardwalk, this old-timey museum stands out among the modern marketplace. Once home to the US Coast Guard and built in 1903, the museum was saved from the scrap heap in the 1970s.
Today, the Surf and Rescue Museum takes you on a journey into the past as you learn about the founding years of the US Coast Guard, the country's beach life-saving service, and local tales of historic ships and prominent shipwrecks. The museum helps you explore a rarely told past close to where so many important events occurred.
5. First Landing State Park
Just moments from Virginia Beach, First Landing State Park presents the history and natural beauty in equal measure. It was here that British colonists arrived in 1607 and appropriately it became Virginia's first-ever state park. The history of the park doesn't end there, with the infamous Blackbeard known to have made his presence felt.
Today, visitors arrive at First Landing State Park to seek a range of outdoor adventures that showcases the park's resplendent beauty. There's a mix of landscapes to discover from swamps home to lizards, fish, and turtles to dense forests where birds call throughout the day.
The park boasts 19 miles of hiking trails, spread across 9 routes. They'll bring you through diverse topography and provide an instant escape from the modern world.
4. Military Aviation Museum
With aircraft well over a hundred years old, the Military Aviation Museum is not to be missed. It's home to one of the biggest warbird collections on earth and each, remarkably, remains in flying condition. This sort of maintenance of historic aircraft ensures you'll get plenty of value for money.
The complete collection dates between 1910 and the late 1950s. You'll find military airplanes from both World Wars along with several foreign planes from Germany, Russia, Japan, and the UK. The impressive collection doesn't stay stagnant, with more historic planes arriving regularly.
For aviation and military buffs, you must time your run to the Military Aviation Museum to coincide with spring and fall, when the hangar opens and these aircraft take to the skies.
3. Virginia Aquarium
Kelly Verdeck / Flickr
Ready to experience the world without having to leave Virginia? Well, get along to the Virginia Aquarium & Marine Science Center. The vast aquarium boasts more than 800,000 gallons of entertainment and education, being a home for over 700 species.
The family-friendly adventure will bring you up close and personal with more than 12,000 marine animals, from a diverse range of turtles to sharks, seals, and even the unforgettable Komodo Dragon. Each exhibit aims to educate and promote awareness of different ecosystems around the globe.
You won't just be admiring these creatures from beyond the glass pane, however. Guests can embark on boat expeditions to spot whales, dolphins, and migrating birds. Once you're ready to sit down, settle into the six-story theater for 3D nature films.
2. Virginia Beach Boardwalk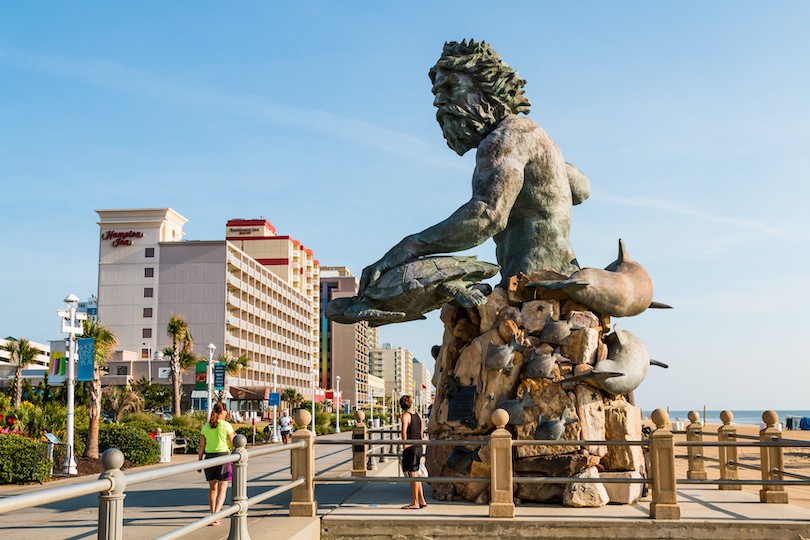 Connecting several highlights on this list, the Virginia Beach Boardwalk is a thrilling hub of action, restaurants, and shopping. With the golden sands of Virginia Beach on one side and the boisterous array of establishments on the other, a stroll along the boardwalk is littered with opportunity.
The boardwalk has been a part of the local community since the 1880s. In the 140-odd years since, it's grown into a veritable landmark that brings families, friends, and travelers together. At 28 feet wide, you can walk, skate, ride and run along the boardwalk, taking in all the sights and sounds at your own pace.
Highlights along the three-mile walkway include JT's Grommet Island Park, the Surf & Rescue Museum, and some of the best dining in town.
1. Enjoy the Beach
Not far from Norfolk, Virginia Beach is one of the top destinations in the state. Attracting travelers from across the country and indeed, the world, Virginia Beach is a conglomerate of attractions and a vast, golden stretch of sand.
Many of the top sights we've discussed above, from the famous boardwalk to the aquarium. But sometimes it pays dividends to wind things down, relax and enjoy the beach. All told, there are 14 miles of beachfront to discover, combing three beaches that offer ample sand, swimming, and surfing.
Beyond diving into the Atlantic and basking in the warm Virginia sun, you can settle in for a game of beach volleyball, rent a kayak or sup and explore or cast a reel off the side of Virginia Beach Fishing Pier.
Map of Things to do in Virginia Beach