Part mountains, part dense forests, part rugged, intricate coastline, Washington lies on the border with Canada and features all the natural beauty you could wish for in America's Pacific Northwest.
With its history rooted in trapping, fishing, logging, and mining, the small towns in Washington act like mirrors to the wealth of their respective pasts.
At the same time, as one of the most liberal states in the country, you can expect to find art galleries, fun festivals, and friendly, open-minded communities in the chilly and charming small town Americana of this state.
Officially becoming a town in 1891, Anacortes is set on Fidalgo Island in Skagit County. With all the water and little islands in the area, Anacortes is rightfully well known for the Washington State Ferries dock, with services to nearby places like San Juan Island and even Victoria on Vancouver Island, Canada.
This small town is known for Mount Erie, where hiking and walking on its scenic trails is prime for mountain and water views. For some maritime history of the area, head to Anacortes Wt Preston Museum, complete with a rare and historical steamboat to explore.
14. Bainbridge Island
[SEE MAP]
The beautiful Bainbridge Island has found fame in recent years as being the setting for scenes from the hit American TV series Grey's Anatomy.
Not just a location for fans of the show, the town is also a hit with stylish Seattleites, who make the half-hour ferry journey from Downtown Seattle to take time out in the laid-back, waterside town.
Bainbridge Island is the ideal getaway for outdoor lovers, with plenty of nature to lap up in the surrounding area. Renting a bike to pedal around the town and stopping off at one of Bainbridge Island's many chic eateries is the order of the day here.
The beautifully picturesque North Bend is dominated by the imposing figure of Mount Si. This impressive peak may be a little too much to hike up, but there's a popular trail that leads to the top of a much smaller peak – Little Si. Hike up here for incredible views of the town and the mountain itself.
North Bend has the perfect small-town feel, made even more perfect given that it is the filming location – and inspiration – for David Lynch's cult TV series, Twin Peaks.
Located on Whidbey Island, Coupeville sits on the south shore of Penn Cove and is the second oldest town in Washington.
Named after Thomas Coupe, who settled the island in 1850, the town is abundant with historic buildings and nature. The waterfront area of town is where many of the 19th-century oak buildings can be seen, many of which are now high-end B&Bs and restaurants.
The town's Front Street has a distinctly old fashioned, laid back atmosphere and is home to numerous museums, shops, and cafes, making for a perfect area to stroll around.
gillfoto / Wikipedia
Originally founded in the late 19th century as a coal mining town, Roslyn had to feature a watering hole to keep workers from going thirsty; thus, The Brick Tavern opened in the 1880s and is still going strong. This is the oldest tavern in continuous operation in the state of Washington.
Other historic buildings abound in picturesque Roslyn, like the Old City Hall & Library, the Immaculate Conception Church, and the Roslyn Museum, where you can learn a thing or two about the town's history.
Nearby is Lake Cle Elum, a perfect spot for year-round outdoor activities.
The small waterfront town of Gig Harbor stretches for just a mile along a bay near Puget Sound. Set in the shadow of majestic Mount Rainier, the town is located in proximity to many state parks and labels itself as "The Gateway to the Olympic Peninsula."
Whether you're you are a keen hiker or water sports enthusiast or just want to spend time by the water, Gig Harbor provides a getaway from the stress of the modern world.
The town has an in-depth Harbor History Museum and old boatyard to explore, as well as numerous waterfront restaurants. It's the ideal place to stop off and enjoy a long, leisurely lunch.
Featuring a unique climate, Sequim is famous for its lavender production, with the title of the "Lavender Capital of North America."
This unique climate also makes Sequim an excellent starting point for exploring some of the wettest temperate rainforests in the US (bar Alaska). Hoh Rainforest is an excellent place to experience an almost prehistoric forested landscape.
Even closer, Sequim Bay State Park is ripe for hiking, crabbing, and birdwatching. Want to know more? Head to the informative Museum & Arts Centre, housed in a former post office building.
The town of Snohomish was founded on the banks of the Snohomish River by early Washington settler E.C. Ferguson in around 1858.
Ferguson set up home here and built the town store and hotel. People began to follow suit and settle in Snohomish to develop their own stylish homes.
The town's 19th-century architecture remains much the same as it always has. The mismatch of architectural influences of the early settlers of Snohomish can be seen along the town's small lanes – from English cottages to Dutch homes.
Each of the historic buildings has a style and charm of its own, but now they house chic shops, restaurants, bars, and hotels.
Joe Mabel / Wikipedia
Founded in the 1880s by Jørgen Eliason, a Norwegian immigrant, Poulsbo soon attracted waves of other Scandinavian settlers relocating from America's Midwest. In fact, until World War II, many residents used Norwegian as their first language.
You'll find remnants of this ancestry dotted around town; at the corner of Viking Avenue-Lindvig Way, there's a 12-foot tall statue of a Viking, called the Norseman.
This small town in Kitsap County is famous for its bread – named Poulsbo Bread, inspired by a passage in the bible. This used to be sold worldwide, but now you can only get it at the source in Poulsbo.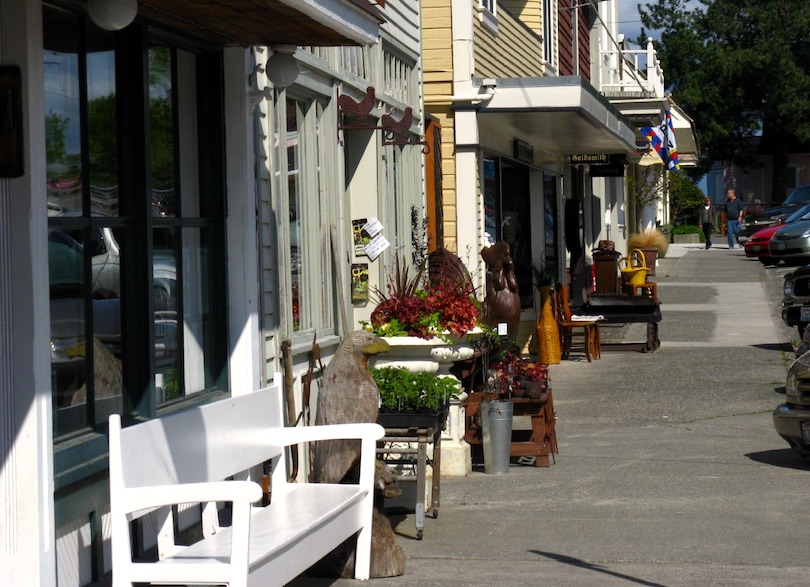 Jasperdo / Flickr
The small, quaint town of Langley is located on Whidbey Island and covers a mere 0.8 square miles. Founded in the 1800s, the town's original bunkhouse for loggers remains today, as a museum dedicated to the history of the area.
The town's sunny waterfront and New England style architecture ha relaxed, liberal atmosphere and is home to a thriving arts community.
Notably, soon after women were given the right to vote, Langley elected its first female Mayor; its liberal attitude led it to become home to a vibrant hippie community during the 1960s and '70s.
This laid back lifestyle lives on; now Langley's lanes are home to studios and galleries displaying local arts. There are also numerous creative community events and quirky cafes for visitors to enjoy.
Leavenworth began life as a logging town, boasting the second largest sawmill in Washington by 1903. After seeing the success of the Danish-themed town of Solvang, California in 1965, Leavenworth became a popular tourist destination soon afterward, when it was rebranded and modeled on a Bavarian village.
Adopting this theme also meant putting on an annual Oktoberfest, of course, which it still does every year. It's also famous for the Leavenworth Nutcracker Museum, a collection of more than 5,000 nutcrackers through the ages – from thousands of years old to modern day iterations.
Port Townsend is set on the very tip of the Olympic Peninsula and boasts a number of Victorian-era buildings.
Walking around this small city, you can get a feel for the 19th-century heyday. The officially designated Port Townsend Historic District is packed full with beautiful buildings, from the impressive County Courthouse to the picture-perfect St. Paul's Episcopal Church, built in 1865.
For even more history, and a slice of natural beauty, head to the 1879 Point Wilson Lighthouse, which is also the place to go for scenic views overlooking Puget Sound.
Officially dating back only to 1924, the town of Winthrop originally grew when gold was found in the late 19th century, prompting many a white settler to move here permanently to find their fortune.
The history of gold and the people who settled here trying to get rich from it is documented at the historic Shafer Museum.
For a spot of skiing – both regular and cross-country – head to Methow Trails. If you'd prefer something more laid back, how about some wine tasting at the Lost River Winery?
Jasperdo / Flickr
Downtown Ellensburg is well known for its hefty helping of historic buildings, including the ornate Davidson Building (1890) and Central Washington University's beautiful Barge Hall.
But you might want to start your journey at the Kittitas County Historical Museum, where you can learn the story of the area.
Art is big here, as evidenced by galleries from the Clymer Museum of Art – complete with Western-themed paintings – and the decidedly more modern 420 LOFT Art Gallery.
For a slice of in-city serenity, head to Irene Rinehart Riverfront Park for a stroll.
It doesn't get much more scenic than this; the river, the pines, the mountains – all of it combines to create a picture-perfect postcard of a Washington town.
It's not just about the natural beauty of La Conner; it's also about the culture. You can swing by The Museum of Northwest Art – charting the artistic movement of the Northwest School of artists – The Skagit Historical Museum – which also boasts a fantastic view, or the Quilt Museum, set in one of La Conner's oldest houses – the Gaches Mansion.
This small town also hosts many events featured in the annual Skagit Valley Tulip Festival, too.