Appropriately known as the Evergreen State, Washington is awash with pristine nature, spellbinding scenery and dramatic landscapes. While it boasts beautiful mountains and forests, coasts and volcanoes, it also has world-class cities, museums and tourist attractions.
Part of the Pacific Northwest, its rugged terrain is bisected by the Cascade Mountains with Canada, Idaho, Oregon and the ocean lying all around it. Many of its largest and most important settlements, such as Seattle, Tacoma and Olympia, can be found clustered along the Puget Sound. Here you can discover many things to do in Washington State with historic sites and lively markets.
For many, however, it is Washington's innumerable wild areas, islands and national parks that appeal the most. This is because you can completely immerse yourself in nature and hike, bike, kayak and camp til your heart's content amidst all its scenic splendor.
In this post, we'll cover:
27. Fort Worden State Park
Right at the entrance to Puget Sound, you can find fantastic Fort Worden State Park. Located just north of Port Townsend, it has loads of brilliant outdoor activities to enjoy with lovely scenery, nature and views.
Due to its strategic importance, three sturdy forts were constructed about the entrance of the inlet in the late 1880s. Although they never had to fire a single shot, visitors can now explore the crumbling batteries, fortifications and buildings of the 'Triangle of Fire'.
Besides visiting the former military base's museum and castle, guests can hike, bike and camp in the pristine park. Its coastal bluffs and beaches also offer up some outstanding views with many opting to swim and boat about its waters.
26. Mount Baker-Snoqualmie National Forest
Another idyllic nature spot to hit up is massive Mount Baker-Snoqualmie National Forest, a two hour drive east of Seattle. Very rugged and remote for the most part, its almost endless forests and valleys occupy the western slopes of the Cascade Mountains.
Extending all the way from Canada to Mount Rainier, it covers a huge area with glimmering lakes, rivers and glaciers punctuating its verdant confines. Amidst the sublime scenery, you can hike, bike and horseback ride or ski and snowboard down the slopes of the majestic Mount Baker.
Wildlife watching is also very rewarding as deer, grizzly bears and bald eagles reside upon the steep mountainsides. With waterfalls, rock formations and commanding viewpoints all to be found within the park; the national forest really does make for a great place to explore.
25. Palouse Falls
Protected as part of a state park, Palouse Falls is certainly one of Washington's most stunning natural sights. Set in the southeast of the state, the breathtaking waterfall lies in a very secluded spot amidst rolling hills and colossal canyons.
Lying along the Palouse River, its powerful waters plummet their way some 200 feet down the side of a steep cliff. At the bottom of the gigantic gorge is a picturesque pool that slowly turns into the winding Snake River.
From the rim of the canyon, you can enjoy phenomenal views of the falls and the craggy rock walls lining the jet white waters. Aside from snapping some photos of the waterfall, it is also well worth hiking around the park's high desert plateau.
24. Museum of Pop Culture, Seattle
Next to the Space Needle is yet another of Seattle's must-visit sites: the magnificent Museum of Pop Culture. As well as containing all kinds of iconic artifacts and award-winning exhibitions, it has plenty of fun hands-on activities for visitors to try out.
Instantly recognizable due to the striking shapes and colors of its shiny exterior, it was founded in 2000 by Microsoft co-founder Paul Allen. Dedicated to contemporary popular culture, its collection and galleries look at everything from cinema and literature to music, television and video games.
Alongside historic photos, costumes and film clips, guests can see instruments used by Jimi Hendrix and Nirvana amongst others. After having explored its interactive exhibits and Hall of Fame, you can test your DJ skills in its Sound Lab or take photos of its movie memorabilia.
23. Winthrop
A pleasant place to spend some time, the small town of Winthrop lies in a scenic spot amongst the North Cascades. Thanks to its Wild West theme, it is a hugely popular tourist destination with its ample outdoor activities also attracting lots of people.
Formerly a struggling mining town, it was transformed in the seventies when State Highway 20 through the mountains was opened alongside it. To entice tourists, locals renovated each building in town with cosy cabins, weathered wooden houses and atmospheric saloons now peppering its streets.
In addition to enjoying the Old American West aesthetic, visitors can venture into the surrounding mountains, valleys and forests. Here you can hike, rock climb or river raft while some superb cross-country skiing can be had in winter.
22. Skagit Valley Tulip Festival
One of the biggest, best and most beautiful events to attend in the Pacific Northwest is the colorful Skagit Valley Tulip Festival. Held every April, its flower-filled fields and gorgeous display gardens are dotted about the vast valley of the same name.
As early as the 1890s, bulbs were grown in the fertile soils of the Puget Sound region before a series of freezes saw growers move south to Skagit County. While the festival only dates to 1984, visitors had already been flocking to the tulip farms for several decades prior to its founding.
Top destinations to stop by are Tulip Town and Roozengaarde; both of which boast huge fields and gardens full of flowers for you to photograph. Lively street fairs, art shows and sporting events also regularly take place over the course of the month.
21. Lake Chelan
If you're looking to relax, unwind and enjoy some outdoor activities, look no further than lovely Lake Chelan. Sure to delight nature lovers, the long lake is nestled amidst the marvelous mountains and forests of north-central Washington.
In total, its shimmering surface stretches just over fifty miles in length with secluded beaches, coves and state parks lining its shores. As such, outdoor enthusiasts can hike or bike along its trails or fish and swim in the alluring waters. Lots of watersports, campsites and some wineries are also on offer with fabulous vistas of the lake and mountains guaranteed wherever you go.
Aside from the tiny communities of Manson, Chelan and Stehekin, most of the surrounding area is wonderfully untouched and unspoiled. At each of these, you can find peaceful lakefront lodges, small shops and restaurants and marinas where you can rent boats, kayaks and jet skis.
20. North Cascades Highway
A wonderful way to see as much of the Evergreen State as possible is to embark on an unforgettable road trip along the incredible North Cascades Highway. The longest road in Washington, it traverses the rugged northern realms, taking you past spellbinding mountains and valleys, forests and lakes.
Initially established in 1896 as a wagon route, it was later paved over and extended for its official opening in 1972. Over the course of 436 miles, the rambling route passes through numerous ranges such as the Kettle, Selkirks and North Cascades. It also crosses Whidbey Island and the Okanogan Highlands too.
Due to all the stupendous scenery on show, many people take days if not weeks to complete the epic journey. This is because it is almost impossible to not stop and hike amidst the valleys and forests or take photos of the soaring mountains and sparkling lakes.
19. Washington State Capitol, Olympia
Exhibiting exquisite architecture, the Washington State Capitol can be found right in the center of Olympia. Surrounded by lush grounds and gardens, its lofty dome overlooks Capitol Lake from atop its prominent hillside setting.
Built between 1922 and 1928, the state's seat of government sports a fine facade that features sturdy Corinthian columns and a pretty portico. Its defining attribute however is its humongous dome that rises up dramatically above the other buildings, monuments and art installations scattered about the capitol campus.
On tours, guests can explore its grand chambers and elegant rotunda which are coated in marble and adorned with portraits, paintings and busts. As you stroll around, your expert guide will explain all about its history and architecture and various important events and influential figures.
18. Columbia River Gorge
Making up much of the state's southern boundary with Oregon is the colossal Columbia River. One of the most popular and picturesque parts to visit is the ginormous gorge which cuts its way through the Cascade Range.
Impressively enough, the enormous canyon stretches more than eighty miles in length and reaches a staggering 4,000 feet deep in places. Due to its size, scale and splendor, the delightful recreational area is now protected as part of a national scenic area. As such, many people now come to hike and bike along the trails, raft the rapids or rock climb up the steep cliffs.
A great way to take in all its divine scenery and landscapes is to drive along the Historic Columbia River Highway. This takes you beside the river, below mountains and past the famed 620 feet high Multnomah Falls.
17. Pacific Crest Trail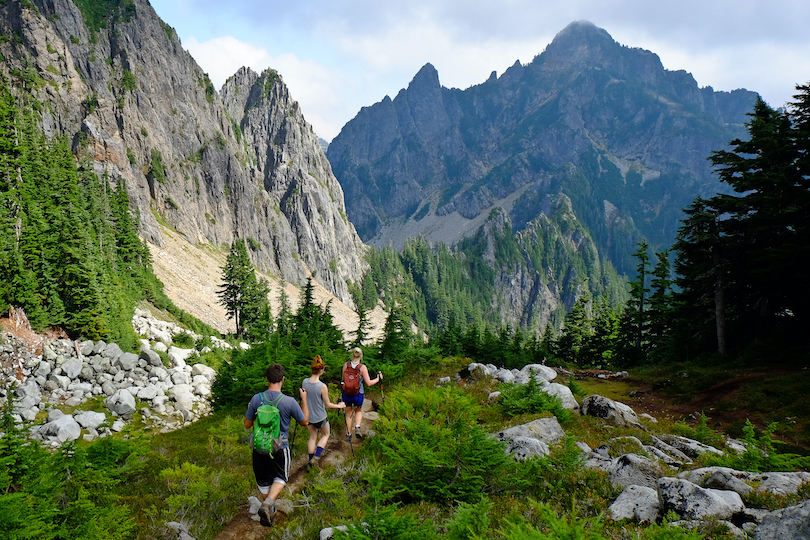 An even more memorable way to explore more of Washington and the West Coast is to hike along the Pacific Crest Trail. The 2,653-mile-long route remarkably connects Canada to Mexico, passing through California, Oregon and the Evergreen State on the way.
Meandering here and there along the crest of various mountain ridges, the well-traveled path takes you through innumerable wilderness areas and national parks. In Washington, highlights include, not just the national parks of Mount Rainier and North Cascades, but the ski resorts of Stevens Pass and Snoqualmie Pass too.
While the entire trail can take months to complete, it is well worth dipping in to hike some shorter sections. This is because each part passes through wild and pristine nature spots and offers gorgeous views over the mountains and forests.
16. Leavenworth
Like Winthrop, the Bavarian-styled Leavenworth attracts hordes of tourists thanks to its alpine look, feel and atmosphere. Nestled amidst the Cascade Mountains of central Washington, the year-round resort town has plenty of activities, cultural experiences and festivals for you to enjoy.
As with its northern neighbor, the whole town center was transformed into a mock German village in the sixties. As well as taking in all its attractive architecture, visitors can shop for souvenirs and try out all its traditional Bavarian restaurants and bakeries.
While most come for its enticing aesthetic, the Christmas markets and Oktoberfest, the surrounding mountains just beg to be explored. Hiking and mountain biking are both popular pastimes while ski resorts and wineries can be found nearby.
15. Museum of Glass, Tacoma
Full of incredibly colorful creations, the Museum of Glass lies right in the heart of Tacoma. Within its distinctive cone-shaped building you can find countless galleries and workshops with arresting artworks wherever you look.
Founded in 2002, it celebrates the studio glass movement and highlights the immense contributions of renowned artist Dale Chihuly. The Tacoma native's creative sculptures feature throughout with exhibitions also focusing on the history of the art form and its ongoing evolution. One of its main sights though is the bewitching Bridge of Glass outside that links the museum to the center.
Besides simply perusing its collection, guests can actually watch fascinating live demonstrations in the Hot Shop amphitheater. Before heading off, make sure to check out its gift shop and see if any of its amazing glass creations take your fancy.
14. Mount St Helens National Volcanic Monument
Since its infamous and enormous eruption of 1980, Mount St Helens has almost been synonymous with the state. At its lava-scarred site, outdoor aficionados can now hike up its crumbling cone and enjoy exquisite views over the barren yet beautiful landscapes all around.
Until the avalanche and explosion, the mighty mount was the fifth highest peak in the country. After the extraordinary event, its 9,677 feet summit was reduced by more than a thousand feet to the, still considerable, horseshoe-shaped crater we see today.
Aside from hiking up to Windy Ridge and its prominent peak, you can peek into its caldera and take photos of the flora and fauna that are slowly recovering. At its visitor center and the Johnston Ridge Observatory, you can learn all about the deadliest and most destructive volcanic event in US history.
13. Pike Place Market, Seattle
One of the top tourist attractions in not just Seattle but the state, Pike Place Market is set alongside the Puget Sound in downtown. A vibrant place, its vendors sell everything from fresh produce and fish to antiques, collectibles and arts and crafts.
Since 1907, the market has enticed both locals and tourists alike with hundreds upon hundreds of shops, stands, stalls and street performers. This all leads to a very lively atmosphere as fishmongers and farmers hawk their wares next to specialty shops, local restaurants and flower sellers.
As well as exploring the bustling market, having a bite to eat and listening to the buskers, there are also several attractions to stop by. These include the original Starbucks store and a bronze statue of its unofficial mascot Rachel the Pig.
12. Washington State Ferries
Another quintessential Seattle experience is to hop on one of the Washington State Ferries and cross Puget Sound. While the fabled service connects residents and commuters to the nearby islands and communities, tourists also appreciate the sweeping views on offer from the deck.
For well over a century, fleets of automobile and passenger ferries have plowed the peaceful waters of Puget Sound. In total, just over twenty of the big boats now transport people and vehicles to places such as Port Townsend, Southworth and the San Juan Islands.
From aboard a boat, visitors can bask in breathtaking panoramas of the Puget Sound, Olympic Mountains and the sparkling Seattle skyline. In addition, the largest fleet of ferries in the States is a very quick, efficient and affordable way to see yet more of Washington State.
11. Museum of Flight
Situated on the southern outskirts of Seattle is the massive Museum of Flight which lies next to the King County International Airport. The largest private air and space museum in the world, its huge hangars house a whopping number of artifacts, aircraft and exhibits.
Established in 1965, its extensive collection is a treat to peruse as over 150 civilian and military aircraft pack its exhibition space. These include not just giant Boeings and a Concorde but WWI fighter planes and a replica of the Lockheed Electra Amelia Earhart was flying when she disappeared over the Pacific Ocean. Photos and displays also document the history and evolution of the aviation industry.
On top of exploring its interactive air traffic control tower exhibit, you can also pull off barrel-rolls and land on the moon with its fun flight simulator.
10. Columbia Valley Wine Region
Sprawled across a vast swathe of the south and central parts of the state is the wonderful Columbia Valley Wine Region. One of the largest viticultural areas in the nation, it remarkably has around 950 wineries where you can taste terrific wines and take tours about the facilities.
Centered around the winding river and its tributaries are fertile plains and rolling hills that are perfect for growing grapes. Thanks to its volcanic soil, sufficient sunshine and setting under a rain shadow, award-winning Chardonnays, Cabernet Sauvignons and Merlots are all produced here.
While traveling around the region you can either stop off at or take tours around some of its superb wineries. At their atmospheric tasting rooms and terraces, you can sample delicious wines and learn how they are produced. Completing the experience is the idyllic scenery, nature and views over the valley and its vineyards.
9. Historic Fairhaven
A very charming and quiet place to stroll around, the Historic Fairhaven is located on the south side of Bellingham. Home to lots of attractive old architecture, art galleries and eateries, it lies along the scenic shores of Bellingham Bay.
At the small turn-of-the-century settlement you'll find blocks of well-preserved brick buildings that are all home to locally owned shops and restaurants. Cozy cafes and bakeries also line its streets as do tiny inns, live music venues and a brilliant book store.
Aside from simply taking in its appealing ambiance and aesthetic, you can also venture down to its picturesque waterfront. From here you can kayak about the bay or go hiking and cycling in the hills and woods that surround the town.
8. Snoqualmie Falls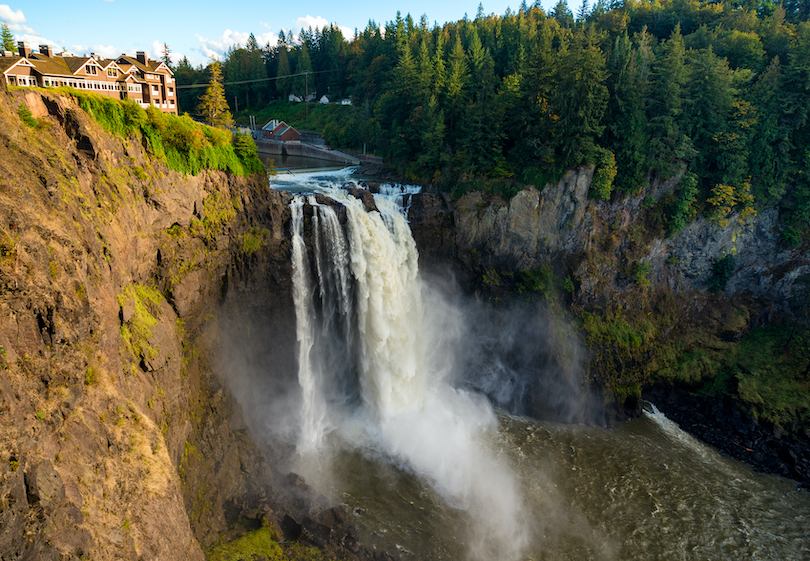 Making for an absolutely magical sight is the stunning Snoqualmie Falls, some half an hour's drive east of Seattle. One of the state's most popular natural attractions, its jet white waters can be found in between Snoqualmie and Fall City.
Lying along the river of the same name, the gorgeous waterfall towers 270 feet in total and courses its way down the side of a sheer cliff. From its observation platform, you can snap some marvelous photos of the falls and the pretty pool, rocks and trees around it.
Long considered a sacred site by the Snoqualmie People, the falls were catapulted to international fame when they appeared in the cult TV series Twin Peaks. Now protected as part of a small park, it also has some short hikes for you to do and picnic areas and benches to sit at.
7. Deception Pass State Park
Home to loads of lovely landscapes, scenery and nature, Deception Pass State Park has all kinds of fun outdoor activities for visitors to enjoy. Named after the strait that separates Whidbey Island and Fidalgo Island, its lush green confines lie about an hour north of Seattle.
Formerly a military reserve, its secluded islands, coasts and beaches were turned into a state park in 1923. Thanks to its dramatic coastal scenery, commanding views and the iconic bridge at its heart, it has since proven one of Washington's most popular parks.
Besides exploring all its tidal pools and hiking trails, you can sunbathe and swim or kayak and boat about its waters. At its interpretive center, guests can learn about the area's rich fauna and flora with camping and scuba diving also being on offer.
6. Riverfront Park, Spokane
Packed with umpteen attractions and amenities, Riverfront Park lies right in the center of Spokane. Surrounded by the rushing river of the same name, it has lots of pristine green spaces and ravishing riverside walks and views for you to enjoy.
Widely considered to be one of the best urban parks in the States, it was originally a railyard before hosting the Expo '74 World's Fair. As such, impressive historic landmarks such as the 1902 Clock Tower and antique Looff Carrousel are dotted about beside public artworks, playgrounds and picnic areas.
As well as gazing out over its falls and ambling peacefully along its paths, visitors can check out the park's island, ice skating rink and IMAX. To top it all off, the US Pavilion hosts countless festivals and cultural events each and every year.
5. Mount Rainier National Park
Another natural landmark often associated with the state is the massive and majestic Mount Rainier. Now protected as part of a national park, it has a myriad of epic hiking trails and mountain climbing routes for outdoor enthusiasts to try out.
Due to its staggering size, the snow-capped stratovolcano is visible from many parts of Washington with its summit towering 14,410 feet in total. Coating its steep slopes are glittering glaciers, gushing rivers and flower-filled alpine meadows. Vast valleys and old-growth forests also feature as do merry waterfalls and mirror-like lakes.
As Tacoma and Seattle are located less than two hours away, many people come to hike, camp and climb amidst its scenic confines. Particularly popular parts of the park to explore are Paradise for its phenomenal views and Longmire for its museum, inn and campsites.
4. San Juan Islands
Totting up to more than 400 in total, the idyllic San Juan Islands occupy the sheltered waters north of the Puget Sound. Uninhabited, hilly and forested for the most part, they really are a treat to kayak and boat around with awe-inspiring orcas often spotted offshore.
Studding the Strait of Georgia, the isolated archipelago lies between Vancouver Island and Canada to the west and north and Washington to the east and south. While some are rocky outcrops, others are home to quiet coves, bays and sandy beaches. Four of the largest are connected to the mainland by the Washington State Ferries service.
During the summer months, both locals and tourists head to the isles to enjoy their striking scenery and views. Aside from hiking, biking and kayaking around yourself, you can also arrange cruises about the archipelago in search of orcas and bald eagles.
3. Future of Flight Aviation Center & Boeing Tour
Jetstar Airways / Wikipedia
Even if you're not into planes, exploring the Future of Flight Aviation Center and taking the Boeing Tour is sure to be a fascinating experience. At its state-of-the-art facility just outside of Everett, you can peruse aircrafts, engines and equipment and watch big Boeings be assembled.
Set next to Paine Field airport you'll find the sprawling center that contains interesting exhibits on the past, present and future of flight. Historic photos and videos complement all the aircraft-related memorabilia. Guests can enter a genuine cockpit, enjoy a virtual flight and venture up to its rooftop observation deck for views over the ginormous planes outside.
Taking a tour about the Boeing Everett Factory is even more enlightening as you see airplanes at all stages of construction. With a knowledgeable guide on-hand, you'll learn all about the monumental undertaking which sees millions of parts put together to make the planes we fly through the skies in.
2. Space Needle, Seattle
Undoubtedly Seattle's standout symbol and sight, the Space Needle rises up dramatically above the city's skyline. From the iconic landmark's lofty observation deck, visitors can delight in unrivaled panoramas of the Puget Sound, Emerald City and far-off Olympic Mountains.
Originally built for the 1962 World's Fair, it towers 605 feet tall with elevators taking you to the top in just forty seconds flat. From its windows, you can gaze out and see Mount Baker, Mount Rainier and the Cascade Mountains too with innumerable islands dotting the waters below.
One of the most memorable times of day to visit is at sunset when the city, snow-capped mountains and sound all sparkle in the fading sun. Guests can also eat at its exquisite rotating restaurant before checking out the countless attractions set about its foot.
1. Olympic National Park
Sure to delight nature lovers and outdoor aficionados alike, Olympic National Park covers almost the whole peninsula west of Seattle. An astonishingly diverse place, it encompasses everything from enormous mountains and ancient glaciers to lush rainforests and dramatic Pacific Ocean coastline.
The crown jewel of Washington's national parks, it was established in 1909 to protect its vast swathes of untouched wilderness. Besides hiking through its forests and meadows and scrabbling up mountainsides, visitors can kayak in rivers and lakes or ski and snowboard in winter.
Its wonderful coastline is also well worth exploring as beaches, rock formations and sea stacks line its shores. With more than 135 miles of trails to hike along and dozens of cozy campsites to stay at, Olympic National Park is definitely not to be missed when in the Evergreen State.
Map of Things to Do in Washington State