Located between Seattle and Portland, Tacoma certainly warrants at least a stop or even a weekend stay as you explore the Pacific Northwest.
Long derided for the 'Tacoma Aroma' that was emitted by the city's paper mills, the rejuvenation of Tacoma's downtown and waterfront areas have turned it into an increasingly popular tourist destination.
Lying along the shores of the Puget Sound, there are several fun things to do in Tacoma with interesting museums on every subject imaginable, from art and history to cars, glasswork and even bonsais.
Add in its wealth of parks and nature spots, its historic tourist attractions and zoo and it is easy to see why Washington's 'City of Destiny' has been enticing more and more people in recent years.
12. Union Station
Set in the center of the city, the distinctive Union Station and its lofty dome is one of Tacoma's standout symbols and attractions. Currently serving as a courthouse, the former train station showcases beautiful Beaux-Arts architecture with its elegant interior just as impressive.
Completed in 1911, its enormous size and striking aesthetic were designed to highlight Tacoma's new image as a prosperous, thriving metropolis. Built by the same architectural firm that created New York's Grand Central Station, it was described as the grandest building north of San Francisco when it first opened.
While trains haven't left from the station for several decades now, the landmark building's massive rotunda, magnificent marble walls and gorgeous glass chandeliers still make for a stunning sight.
11. Wild Waves Theme Park
Martin Lewison / Flickr
If you're after an exciting time in Tacoma then head to the Wild Waves Theme Park. Located just fifteen minutes drive east of the center, the fun and family-friendly amusement park has rollercoasters, rides, and water slides for visitors to enjoy.
Originally opened in 1977 as The Enchanted Village, it has since expanded considerably with plenty of pools and lagoons, thrill rides, classic carnival games, and attractions for kids. Dotted about are some excellent eateries and shops, with cabanas, lockers and tubes also available for rent.
Very popular in the sunny summer months, the water-themed park is the ideal place to splash about, shoot down wild and wet log rides or enjoy an adrenaline pumping ride on one of its rollercoasters.
10. Washington State History Museum
Back in the city center you can find another of Tacoma's top attractions: the fascinating Washington State History Museum. Lying right next to Union Station, it offers an interesting insight into the history and culture, nature and peoples of both the state and Pacific Northwest.
Established in 1891, its extensive collection of artifacts, artworks, and archaeological findings occupies an attractive modern building reminiscent of the historic station next door. While one floor focuses on Native American tribes of the Northwest, and on subjects like women's suffrage and industrialization, another has hands-on activities and interactive exhibits.
The top floor is home to a huge model railway which highlights the impact the railroads had on both Tacoma and Washington's history and development.
9. Pacific Bonsai Museum
crdt723 / Flickr
A peaceful and picturesque place, the Pacific Bonsai Museum lies twenty minutes drive to the northeast of downtown, just past the Wild Waves Theme Park. Its scenic and serene outdoor setting contrasts with the wild and wet rides and rollercoasters of its nearby neighbor.
One of only a few museums of its kind in the world, it was first opened in 1989 with its collection including over 150 bonsai from all around the globe. At any one time, sixty are on show, with trees from as far afield as China, Japan, and Korea regularly displayed alongside informative texts on each one's history and natural habitat.
Strolling around the twisting trees and their lovingly manicured limbs and leaves really is a treat as they are all so elegantly exhibited. In addition to its beautiful bonsai, the museum regularly puts on temporary exhibitions and art installations.
8. Cheney Stadium
Chelsea Nesvig / Flickr
On the opposite side of town you can find Cheney Stadium, home to a number of Tacoma-based sports teams. Located just ten minutes' drive west of the center, it is a great place to head if you want to watch a scintillating soccer match or action-packed baseball game.
Built back in 1960, the stadium impressively only took forty-two days to complete with its historic grandstand still offering up fantastic views over the pristine pitch today. It now not only serves as the home of Minor League Baseball's Tacoma Rainiers but the two professional soccer teams OL Reign and Tacoma Defiance.
Whichever sport you choose to watch, the atmosphere is always electrifying but intimate thanks to Cheney Stadium's small size and old school look and feel.
7. Tacoma Art Museum
Phil Venditti / Flickr
If it's paintings, prints, and photos you're interested in, then you won't want to pass up on the Tacoma Art Museum. Also located next to Union Station and the Washington State History Museum, it primarily focuses on art and artists from the Pacific Northwest.
Established in 1935, the museum is a firm favorite with locals and tourists alike due to its captivating collection that now encompasses more 5,000 artworks. Besides boasting the world's largest collection of Dale Chihuly glass artworks, it also displays Native American jewellery and beadwork, plus masterpieces by big names such as Renoir and Degas.
Renowned for its thought-provoking yet accessible exhibitions, the Tacoma Art Museum is certainly well worth visiting as it always has something new and interesting going on.
6. Stadium Historic District
Jeff Hitchcock / Flickr
A delightful area to explore, the Stadium Historic District lies at the northern end of Tacoma with beautiful old buildings and scenic streets. Mainly residential in nature, its leafy avenues are lined by handsome historic homes that exhibit an arresting array of architectural styles.
While the district's Victorian, Tudor and Colonial-style homes are a treat to stroll past with many dating to the late nineteenth century. The undoubted highlight is the castle-like school after which it is named. Having famously featured in the 1999 hit film 10 Things I Hate About You, Stadium High School makes for a striking sight thanks to its cliffside setting and distinctive 'bowl' stadium.
Besides taking in the school's fetching features and fine views over Commencement Bay, visitors can also stop by Wright Park. This features a conservatory and arboretum full of pretty plants, trees, and shrubs.
5. Point Defiance Zoo & Aquarium
Lying within the enormous park of the same name you can find the outstanding Point Defiance Zoo & Aquarium, which has long been one of the Tacoma's top attractions. Home to all kinds of amazing animals and exhibits, it makes for a fun day out for all the family.
First opened in 1905, with the aquarium following thirty years' later, the zoo lies just fifteen minutes drive northwest of the center. Impressively enough, its spacious enclosures and aquariums now house over 9,000 animals with tigers, elephants, sharks, polar bears, and sea lions on show.
While some sections focus on animals and ecosystems from the Pacific Northwest, others take you to explore verdant Asian forests or bleak Arctic tundra and icy underwater environments. With a petting zoo, botanical garden and awesome animal encounters also on offer, the superb zoo and aquarium are definitely not to be missed when in town.
4. Chihuly Bridge of Glass
Connecting the Museum of Glass to all the attractions and establishments of downtown Tacoma is the brilliant Bridge of Glass which spans the busy Interstate 505 below. While it is not actually made out of glass, the pedestrian bridge is decorated with incredible glass artworks and installations the whole way along.
Opened in 2002, it is named after Tacoma native Dale Chihuly who is renowned around the world for his astonishing glass creations. Lining the bridge are three of his installations with the colorful sea life inspired 'Seaform Pavilion' set next to the two large 'Crystal Towers' and 'Venetian Wall', which feature over a hundred individual Art Deco-style artworks.
Exquisitely illuminated at night, the 150 meter-long Chihuly Bridge of Glass is not just a thing of beauty but also a practical way to move between the Museum of Glass and downtown.
3. Museum of Glass
One of the city's top tourist attractions, the amazing Museum of Glass, can be found along the Thea Foss Waterway in downtown Tacoma. Occupying a striking cone-shaped building, its galleries and workshops are a treat to peruse with awe-inspiring glass creations.
Founded in 2002, the museum acts as a tribute to the influential artist Dale Chihuly and highlights the Pacific Northwest's immense contribution to the studio glass movement. Aside from seeing its astounding artworks and exhibitions, visitors can also watch glass blowing demonstrations by its resident artists.
In addition to learning about the interesting art form and watching shows in its enormous Hot Shop amphitheater, there are several outside installations to see with the Bridge of Glass being one of its standout sights.
2. LeMay – America's Car Museum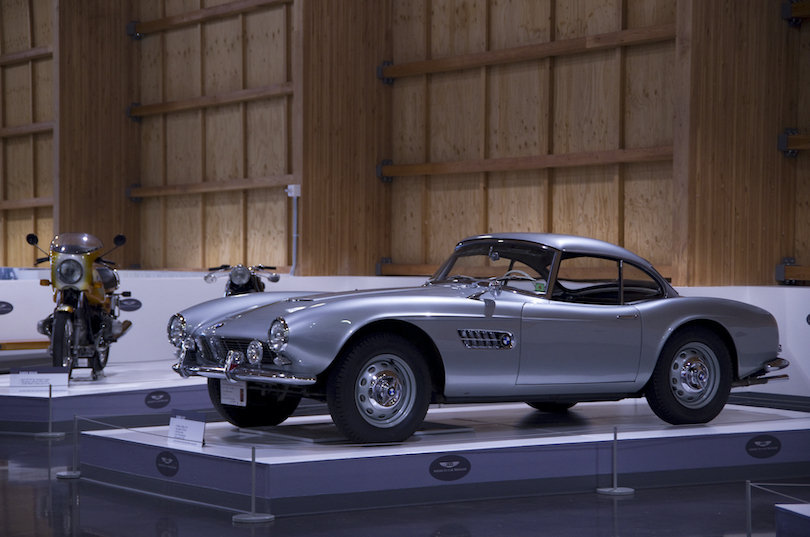 Another of the city's many excellent museums is LeMay which houses an extensive and impressive collection of cars. Set right next to the Tacoma Dome multi-purpose arena, its sparkling showrooms and supercars lie just a short drive south of both Museum Row and downtown.
Established in 2012, the museum is named after local businessman Harold LeMay who amassed the world's largest collection of cars during his lifetime. In total, over 350 are now on display with sleek Ferraris and shiny Chevrolets lying alongside classic cars from the 1930s and even earlier.
Besides taking in all their fine features, visitors to America's Car Museum can also learn all about the history of the automobile, its evolution and impact on the country. In addition to exhibits on car culture in Britain and the iconic Route 66, there is also a fun driving simulator for you to try out and a hands-on family zone for kids.
1. Point Defiance Park
Aside from its many museums, Tacoma also has gorgeous scenery and outstanding outdoor activities at Point Defiance Park. Sprawling over a huge area, its lush woods and gardens, beaches and attractions can be found just fifteen minutes drive northwest of the center.
Formerly a military reservation, it was turned into a park in 1888. Its scenic coastal cliffs and beautiful beaches have been popular with locals and tourists alike ever since. Aside from basking in phenomenal views over the surrounding waters, mountains and islands, you can also enjoy some lovely swimming and sunbathing with boats and kayaks being available for rent.
In addition to its wealth of paths, picnic areas and playgrounds, the park also has fabulous formal gardens for visitors to explore. Add in its zoo, aquarium and living history museum and it is no wonder that Point Defiance Park attracts so many people every year.
Map of Things to Do in Tacoma